Skip to: Overview | Location | Restrictions | Fear factor | Fun fact | Guest reviews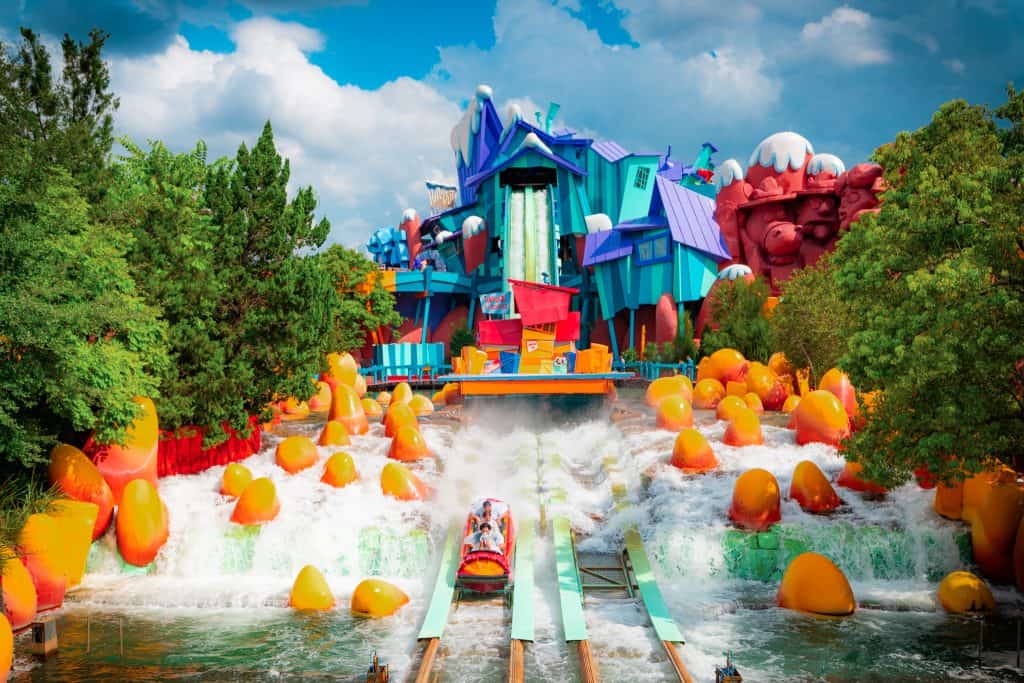 What is Dudley Do-Right's Ripsaw Falls?
Join Dudley Do-Right (of Rocky and Bullwinkle fame) on this flume ride that is akin to Disney's Splash Mountain on steroids. The goofy, quirky humor of this attraction will keep you laughing up until the top of that steep hill; then, prepare to be drenched.
If you don't want to get wet, this one is almost as much fun to watch as it is to ride.
Where is Dudley Do-Right's Ripsaw Falls located?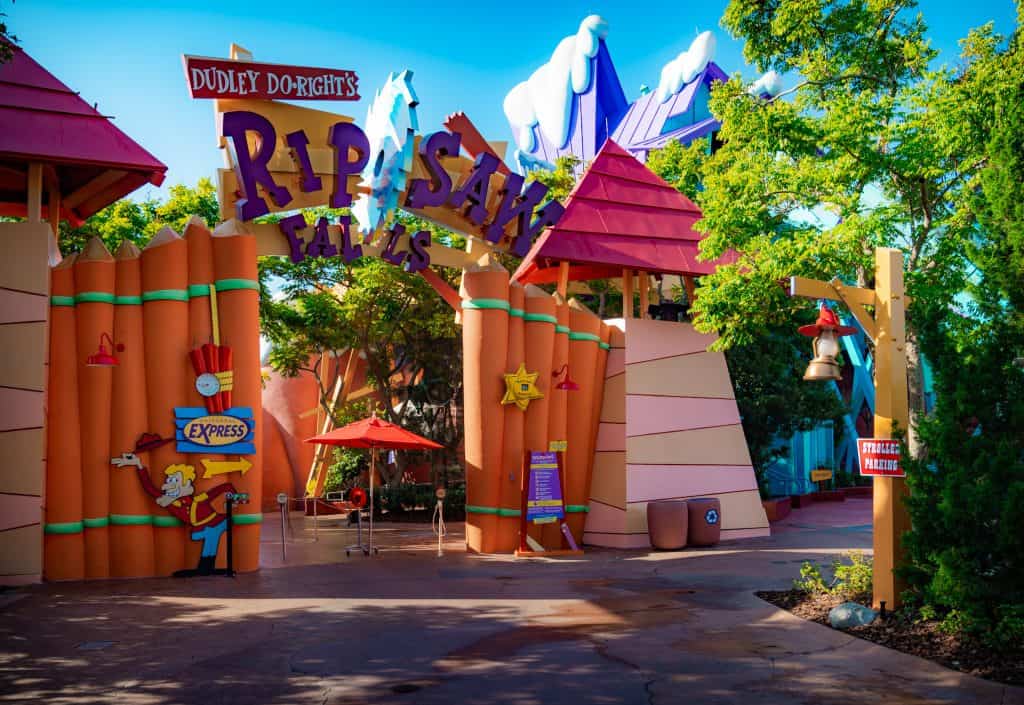 In Toon Lagoon, which is in Islands of Adventure.
Dudley Do-Right's Ripsaw Falls – height restrictions and other factors
Height requirement is 44 inches; riders under 48 inches must have a supervising companion; has Express Pass access and a single-rider line; Child Swap is available. There are lockers nearby that can be used for a small fee, but you are not required to stow loose articles in them — just be sure to note that there is no storage on the Ripsaw Falls ride vehicles.
Dudley Do-Right's Ripsaw Falls – what you wish you knew before you experienced it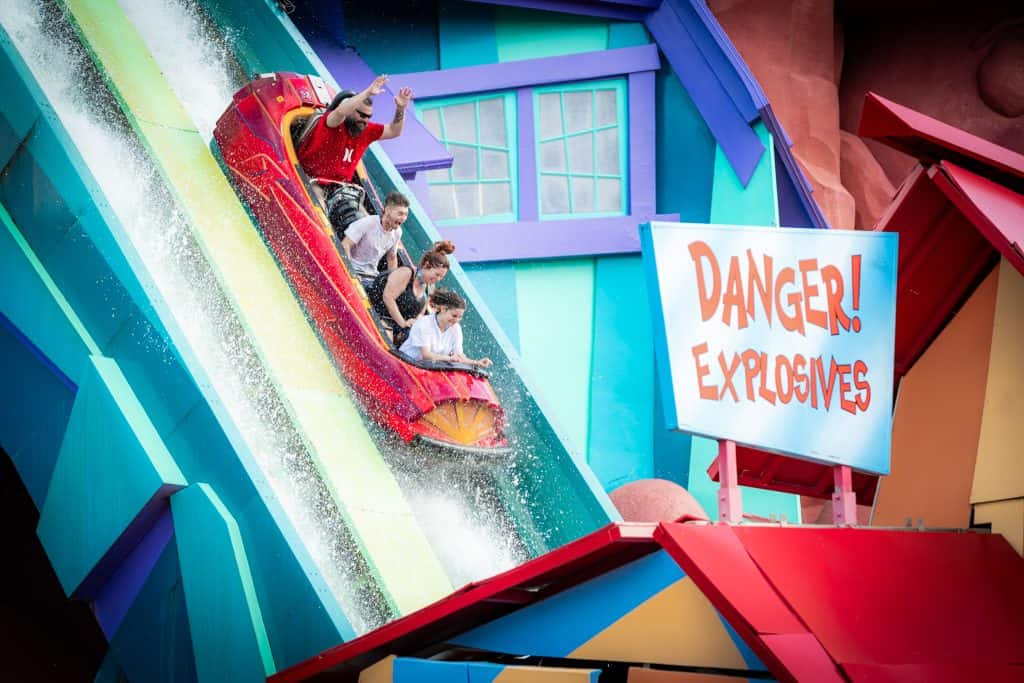 It's worth considering either wearing some water-friendly clothing or saving this as your last ride of the day, because you will get soaked. One of our favorite strategies is to visit this attraction, along with Popeye & Bluto's Bilge-Rat Barges, just before a midday break.
Luckily, Universal sells ponchos – and, even, extra socks and shorts, should you need them. As you exit the ride, there are human-sized drying machines that you can stand in to aid the drying process for a $5 fee.
How scary is Dudley Do-Right's Ripsaw Falls?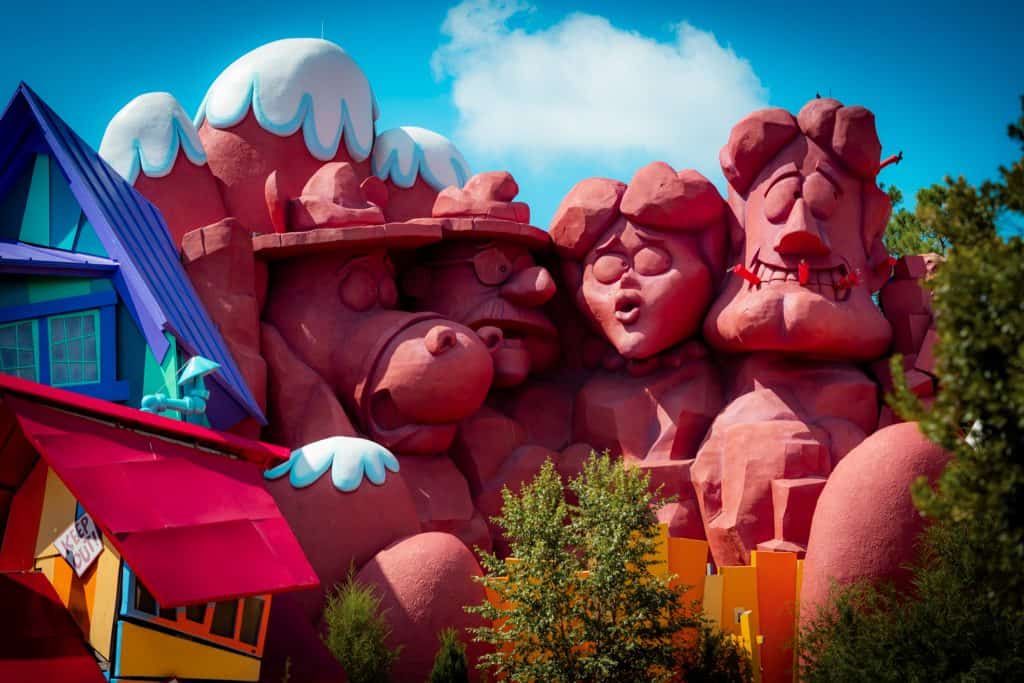 We rate Dudley Do-Right three out of five sticks of dynamite in terms of fear factor. The plot and atmosphere of the ride are nothing to be afraid of, but the hill is quite steep. Plus, it's hard not to be frightened by the sopping-wet guests you'll see exiting the ride!
What was Dudley Do-Right's Ripsaw Falls's opening date?
May 28, 1999
Dudley Do-Right's Ripsaw Falls – OI fun fact
There are water cannons staged along the bridge that overlooks Ripsaw Falls. For a dollar, you can blast riders with even more water.
Dudley Do-Right's Ripsaw Falls – photo gallery
Dudley Do-Right's Ripsaw Falls – real guest reviews
Dudley Do-Right's Ripsaw Falls
Average rating:
14 reviews
Sep 10, 2016
Mixed emotions about this one
Date Of Last Visit:
9/4/16
The ride itself is pretty good....quite a few exciting twists before the big drop. The props and story line were pretty cheesy. The biggest complaint is the que line. It is all indoors in a very dark, narrow walk way. There was NO AIR (not even fans) while we were there on a very hot and humid day, and being surrounded by hot, sweaty, stinky people did not help! We used express passes and still had about a 30 minute wait. We made it to the ride just in time, I only had about another 5 minutes left before i had to get out. There just wasn't enough free air....I felt like i was suffocating.
Aug 13, 2014
First Time Riders
Date Of Last Visit:
08/02/2014
The whole family plucked up the courage and rode this for the first time in 3 visits.



It's a great ride for a hot day but we all noticed the overpowering unclean smell of the dirty brown water. This was not a problem on Disney's Splash Mountain. Just make sure your mouth is closed tight during that last big drop!
May 26, 2014
WET WET WET
Date Of Last Visit:
03/09/2014
I'm sure people who watch from the bridge know that they'd get soaked riding this.

I love this ride, and I was so bummed out when it was closed off for renovation... but now it feels like it rides faster during the "big drop!"



If you have gone to Disney, this is just like Splash Mountain, except it has a different theme.
May 25, 2014
No Splash Mountain
Date Of Last Visit:
4/26/2014
I normally prefer any Universal ride over it's Disney equivalent, but I have to be completely honest here. Ripsaw Falls is a pale copy of Splash Mountain with only about half the charm. It's nice on a hot day to ride, just for the great splash at the end, but I don't feel it has much else going for it. The line is usually very long, especially on a hot day, and the inside queue always feels damp and musty. The talking characters on the wall are kind of annoying. The Single Rider Line is the only reason I ever ride this one. It is almost nearly a walk on with the single rider line, and you get to skip the musty queue with the annoying characters. The ride itself is gentle at first, with a damsel-in-distress storyline that just doesn't capture the imagination. There is one nice thrill effect with an oncoming train, but other than that, the ride does not offer many thrills or even chuckles. The big drop at the end is pretty awesome, though, so my advice is take the single rider line and do it once just for the drop.
May 25, 2014
Favorite Ride at Islands of Adventure
Date Of Last Visit:
January 22, 2014
I've visited Universal three times and this has always been my favorite ride hands down. Maybe it's because I'm old enough to know who Dudley Do-Right is, but even if I didn't have any idea who the characters were, the ride is just non-stop fun.



The first time I rode this was probably in 2004. We visited in an off-peak time and were able to go on this ride again and again with virtually no waiting.



The ride itself is a great combination of inside and outside, with mini splash drops and multiple times that make you think you're about to hit that big plunge down but you're not quite there yet. The ride is long enough and there are enough drops along the way that you don't realize how high you've actually climbed before the final drop and splash down occur.



Even after the drop, the ride isn't over. You wind through an area where the spectators can soak you with water cannons as you're making your way to the end.



A few tips. Be prepared to get soaked, there are enough splash areas on this ride that you will get drenched! There are lockers to rent outside that are perfect to store your belongings (or a change of clothes). They do have giant people dryers for $5 but I'd honestly save your money. I don't think it really dried anything for me.



Last tip - if there's someone in your group you want to soak, put them in the back of the log. I visited with a college basketball team and three of the biggest and heaviest guys climbed into the front and stuck a smaller assistant coach in the back. The added weight made it feel like the ride was going even faster. As they hit the final plunge, all the guys crouched as low as they could and the wave of water washed over them and drenched the guy in the back!
Do you have a question about the information on this page or would you like to provide feedback? Please let us know by posting in our
Orlando Informer Community
on Facebook.