Skip to: Overview | Location | Restrictions | Ride experience | Fear factor | Fun fact | Guest reviews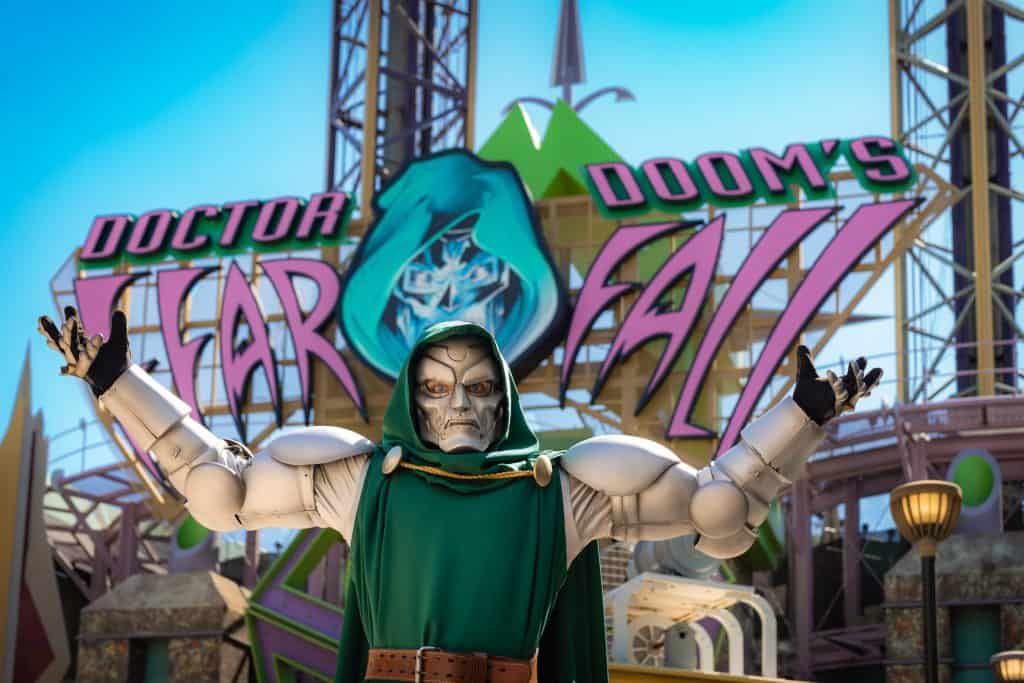 What is Doctor Doom's Fearfall?
Doctor Doom demands fear in order to function, and you have agreed to provide him with an unlimited supply by going on this attraction. Sit back and enjoy as you are thrust up one dueling tower and help Doctor Doom finally defeat the Fantastic Four.
Where is Doctor Doom's Fearfall located?
In Marvel Super Hero Island, which is in Islands of Adventure.
Doctor Doom's Fearfall – height restrictions and other factors
Height requirement is 52 inches; has Express Pass access and a single-rider line.
What is the Doctor Doom's Fearfall ride experience like?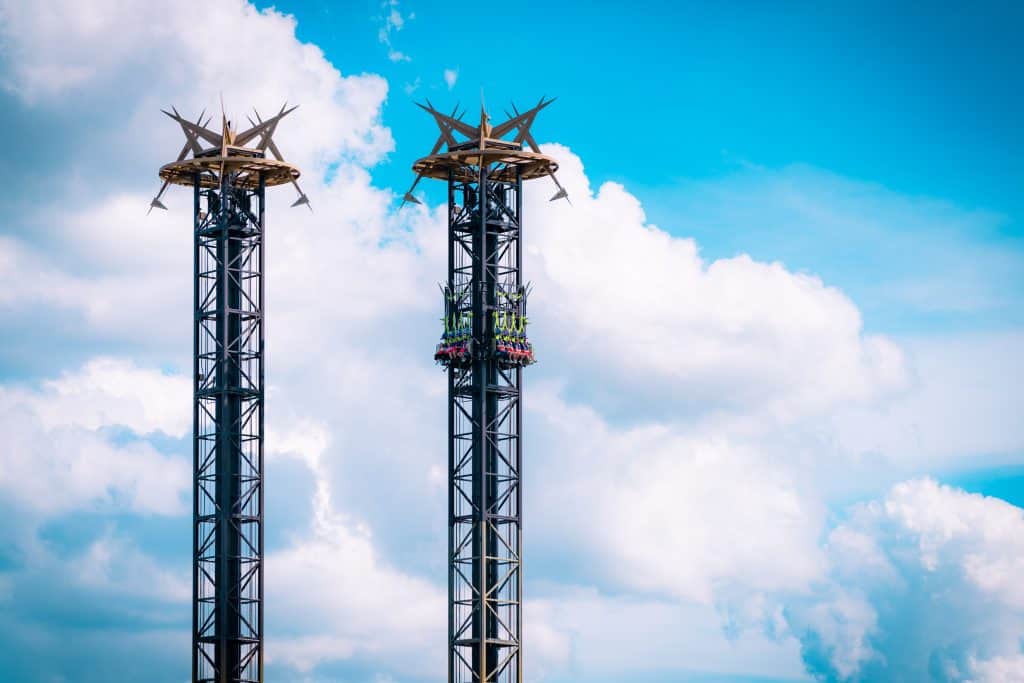 The sporadic up-and-down motions of Doctor Doom's Fearfall are comparable to a briefer version of Disney's Twilight Zone Tower of Terror. You're shot 185 feet into the sky, where you'll catch a stunning view of both Universal theme parks, before soaring back downwards.
How scary is Doctor Doom's Fearfall?
The fear factor of Doctor Doom depends entirely upon your fear of heights. If you don't mind getting shot into the air, it's a one out of five supervillains on our fear scale, as it's not too long or intense of a ride; if the skyward prospect terrifies you, then it's a five out of five.
What was Doctor Doom's Fearfall's opening date
May 28, 1999
Doctor Doom's Fearfall – OI fun fact
There are small stones in the pavement leading up to Fearfall – presumably, all that's left of the Fantastic Four after Doctor Doom dispatched our brave superheroes with his powerful, fear-based weapon. And you helped!
Doctor Doom's Fearfall – photo gallery
Real guest reviews of Doctor Doom's Fearfall
Doctor Doom's Fearfall
Average rating:
11 reviews
May 26, 2014
A bit short!
Date Of Last Visit:
03/09/2014
I remember the first time I was tall enough to ride this, I was scared. I am NEVER scared to ride something, and when I was younger and shorter I would cry because I was too short and couldn't ride something.



Now the first time I got to ride this, I was actually nervous when I was seated... my brother had told me something like "you'll shoot up when the green gas starts flowing" and I was like "There's no green-" and then I was flown into the air... lol! It has such a great view of Islands (if you're seated on the right row).



The only downside to this ride is that it is way too short.



I love this ride! It is nice for getting a bit of fresh air... trust me! 🙂
May 25, 2014
My favorite ride
Date Of Last Visit:
4/26/2014
Doom is my favorite ride at Islands of Adventure. I only wish it lasted a bit longer! The line is not usually very long, and there is a single rider line if you want to save some time, so I always make sure to ride this whenever we go. The anticipation of the upward thrust is part of the thrill for me. You just never know when that seat is going to take off into the sky! The feeling of weightlessness as you hit the zenith of the tower is the best feeling. I love it! Then you get to bounce up and down a few more times while taking in a spectacular view. I know a lot of people overlook Doom because it seems like just a basic drop tower. But I find it to be a pure adrenaline rush every time.
May 25, 2014
Brilliant Ride!
Date Of Last Visit:
06/13
We absolutely love this ride! Often I have seen it compared to rides such as "Tower of Terror" and being slated due to not being as 'fearful' but this is still a brilliant ride for all of the family. Located in Marvel Island the ride gives a brilliant view of the rest of the parks, if you have time to look!



I think this ride is different to others due to the fast acceleration to the top. The anticipation for this is nerve wrecking but equally as fun. Another great feature of this ride is that usually the wait time is pretty low which can break up long queues on hot days!! Defiantly visit this ride!!!
May 25, 2014
The Anticipation is Killer!
Date Of Last Visit:
March 21, 2014
I think a lot of people tend to overlook this because it isn't necessarily an "impressive" drop tower. I mean, there's some pretty ridiculous record setting towers elsewhere. However, I end up going on this one repeatedly on a trip because I love it. It's not necessarily the crazy drop that gets me, it's the anticipation in waiting. Occasionally one of the operators will talk on the mic and absolutely sike you out on when the ride is going to shoot up.



Of course, it's a pretty amazing view too. If it's a slow day or we have express passes, we usually request/wait for the side where you can see Hogwarts. It is definitely worth it! I definitely love it - although I wouldn't go waiting in any crazy queues for it.
Mar 11, 2014
Great way to see the parks!
Date Of Last Visit:
10/19/2014
It's not your typical drop tower: Most will raise you up slowly and hold you for several seconds before dropping you. Doom shoots you up really fast then it slows down significantly from there. From there you "bounce" several more times, slowing down greatly each time until you come to a complete stop. It is a very fun ride, albeit not as thrilling as the Hulk next door, but still awesome.



Make sure you request a seat that is facing the park because it adds that much more to the ride to be able to see everything IOA has to offer high in the sky as opposed to seeing some hotels and roads.
Do you have a question about the information on this page or would you like to provide feedback? Please let us know by posting in our
Orlando Informer Community
on Facebook.