Skip to: Overview | Location | Restrictions | Fear factor | Fun fact | Guest reviews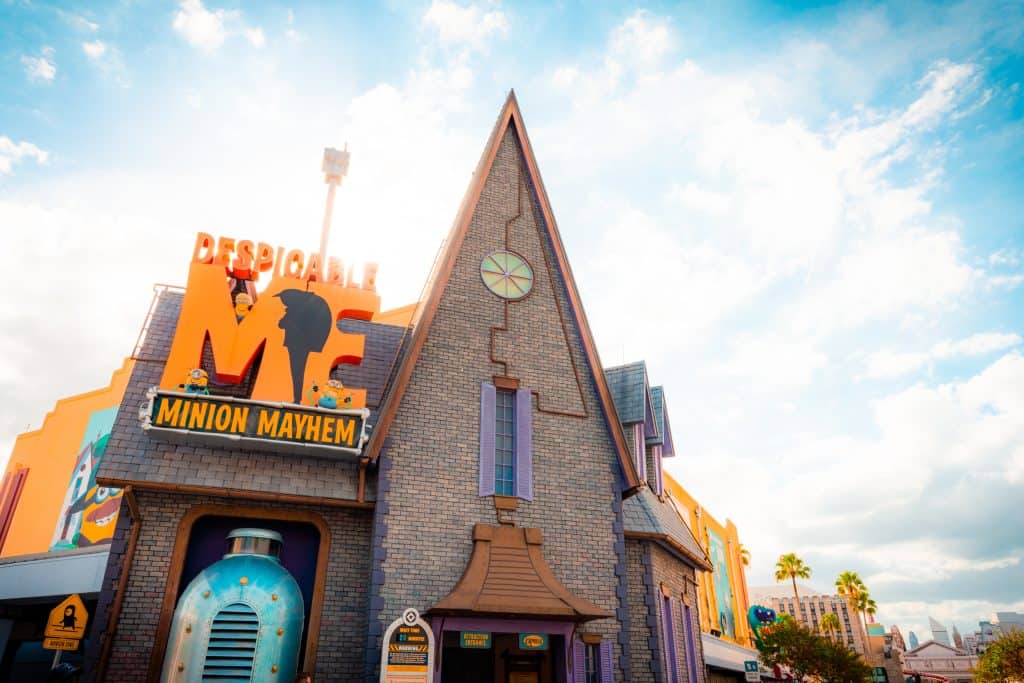 What is Despicable Me Minion Mayhem?
Enter through the front door of Gru's house to find Universal Studios Florida's silliest attraction, where you'll be recruited to "become" a Minion and accompany Margo, Edith, and Agnes on a motion-simulator theater ride with a unique storyline. Things never seem to go as planned in the supervillain's laboratory, however, so keep an eye out for danger in this madcap adventure.
Where is Despicable Me Minion Mayhem located?
In Production Central, which is in Universal Studios Florida.
Despicable Me Minion Mayhem – height restrictions and other factors
Height requirement is 40 inches (though guests under 40 inches may ride in the stationary seating); Express Pass access; single-rider line may be available. Please note that guests may remain seated in a standard wheelchair in the stationary seating without the need to transfer, and service animals and most medical devices are allowed.
Despicable Me Minion Mayhem – what you wish you knew before you experienced it
To fully enjoy this attraction, watch at least the first Despicable Me film before you ride, and don't forget to look for the Minion dance party as you exit through the gift shop. Because of its front-and-center location in the park, the line for Minion Mayhem builds quickly – try to ride first thing in the morning or towards the end of the day.
How scary is Despicable Me Minion Mayhem?
We would rank Minion Mayhem two out of five bananas in terms of scariness. The motion simulator is smooth, and the movement is basic; however, just like in the movies, there is quite a bit of cartoon Minion violence.
What was Despicable Me Minion Mayhem's opening date?
July 2, 2012
Despicable Me Minion Mayhem – OI fun fact
This attraction debuted in July of 2012 as a 3D motion-simulator ride, but almost exactly seven years later, it was converted to 2D (and motion-sickness sufferers rejoiced!).
Despicable Me Minion Mayhem – photo gallery
Despicable Me Minion Mayhem – real guest reviews
Despicable Me Minion Mayhem
Average rating:
43 reviews
Apr 30, 2017
I remember the Hanna-Barbera ride...
Date Of Last Visit:
April 18, 2017
...but Minions is essentially the same, only with theming that is more relevant to modern audiences.
Jun 6, 2016
Crazy fun!
Date Of Last Visit:
August, 2015
My kids really seem to be in the Minion obsession phase right now(which I can handle, because I really like the Despicable Me movies). So when I saw some Minions in a park commercial, I knew I should order a stay at the resort area. We went on the ride first thing in the morning, and we all really enjoyed it! The idea of becoming Minions sounded pretty cool, and the main plot with Gru and the girls was adorable. My only complaint is that the vehicles were a little too nauseating for someone my age, but we still really enjoyed it none the less.
Feb 11, 2016
Date Of Last Visit:
02/11/2016
Jarring
Jan 2, 2015
Not Worth the Wait
Date Of Last Visit:
12/25/14
This is the most over rated ride in the park. Not at all worth the wait time. There are some really good rides like the Mummy that have hardly any wait that are much more worth it than this. Yeah I guess Minions are the craze right now but this ride is useless.
Dec 5, 2014
Jarring, injured neck
Date Of Last Visit:
12/4/2014
This ride would be great if the motions were a bit less abrupt. The ride snapped my neck around so much I got whiplash and had to leave the park after the ride. There are stationary seats in the front and I so wish I had viewed the video from there. Cute concept, very painful execution.
Do you have a question about the information on this page or would you like to provide feedback? Join us in our OI Community Facebook group, and let's talk about it!