Skip to: Overview | Location | Restrictions | Fear factor | Showtimes | Fun facts | Guest reviews
What was A Day in the Park with Barney?
A Day in the Park with Barney was a lighthearted sing-along show where youngsters could see their favorite purple dinosaur in person. It featured several classic kid songs and a "dance party" with Barney and his pals, and, as such, it was a great choice for families with little ones who love the TV show. There was also an interactive indoor playground designed for very young kids – called Barney's Backyard – in the same building.
Where was A Day in the Park with Barney located?
In Woody Woodpecker's KidZone, which is in Universal Studios Florida.
What were A Day in the Park with Barney's dates of operation?
July 11, 1995 to February 3, 2021 (date of closure announcement).
A Day in the Park with Barney – height restrictions and other factors
This attraction was accessible to all, and it also offered Express Pass access.
A Day in the Park with Barney – what you wish you knew before you experienced it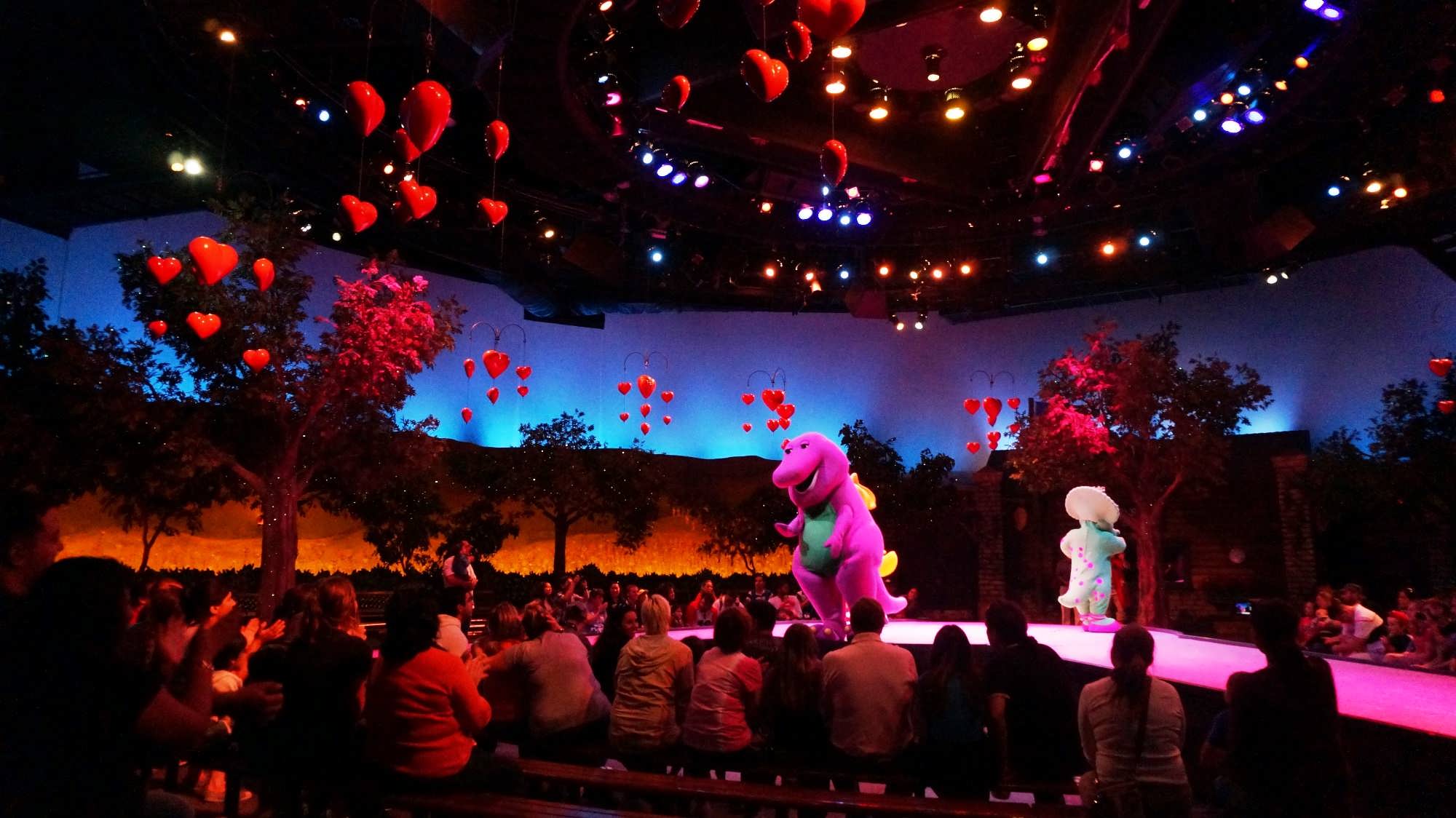 A Day in the Park with Barney was very much geared towards toddlers and young children – older children and teenagers might not have found the simple nature of the show to be as enjoyable. If you didn't have littles ones in your party, you didn't have to worry too much about fitting Barney into your schedule.
How scary was A Day in the Park with Barney?
We rated Day in the Park with Barney zero out of five purple dinosaurs in terms of fear factor – this attraction was as child-friendly as it got. There was only a brief moment of darkness before the stage lights came up to welcome Barney and his pals, and a short segment that played soft rain and thunder sounds. Neither scene, however, was meant to be frightening.
What were the showtimes for A Day in the Park with Barney?
The first show of the day was typically around noon, with performances following every hour and a half after that. (The doors for Barney closed immediately when the production began, so we recommended getting there early.)
Former sample summer show schedule: 11:30 am, 12:30 pm, 2:00, 3:15, 4:30
A Day in the Park with Barney – OI fun fact
Dialogue recordings of Bob West, the original voice actor for Barney, were still used in A Day in the Park until its final day, despite his retirement from the television show in 2000 (nine years before its termination, and a whopping 21 before the attraction's demise).
Why did A Day in the Park with Barney close?
Read our analysis here.
What replaced A Day in the Park with Barney?
Nothing, as of yet.
A Day in the Park with Barney – photo gallery
A Day in the Park with Barney – real guest reviews
A Day in the Park with Barney
Average rating:
6 reviews
Apr 18, 2018
Amazing Show
Date Of Last Visit:
October 2011
I took my 1 1/2 Barney Fan to see this show. Nothing was more amazing then to look at her reaction when Barney and his friends came out on stage and sang all of her favorite songs.
I know Barney is not the newest thing for kids, but he has so much more to offer then some of the newer toddler shows. Universal does a great job of making this show entertaining for all ages.
Jun 27, 2016
Old IP, Quality Show
Date Of Last Visit:
6/22/16
It is a good, high quality theme park production. Sure the IP is outdated, but still a good show for the little ones.
Aug 23, 2014
Barney Show
Date Of Last Visit:
August 2014
Any parent knows that it is hard to keep a toddler entertained so when I found out the show was still there we went to see it 3 times! Thank you for keeping Barney because my son loves it!
May 24, 2014
Keep him!
Date Of Last Visit:
June 1998
Oh my gosh I cannot believe this show is still actually there. This show has fantastic memories for me. In 1998 (my first orlando trip when I was 6), I was the biggest Barney the dinosaur fan! All I wanted to do was meet him, when we found this show I was so excited! Not only did I get to see him, but he sang all of my favourite songs and even had leaves and snowflakes falling into the audience. I was mesmerized! Also, I'm not sure if they still have this, because obviously I am too grown up now to visit, but they had an indoor interactive playground too which was educational and fun. I remember lots of slides and some musical water. It was just so fun to a 6 year old girl.
May 24, 2014
Get rid of it!
Date Of Last Visit:
05/17/14
Seriously who watches Barney anymore. There are so many more educational, fun, entertaining toddler shows. Barney is over and dated. Either put a different show there or knock it down and put a fun toddler/small children ride that they will love. In fact that entire area of the studios needs a major face lift. Love what you did with Seussville. Now something like that needs to be done in the Studios as well.
Do you have a question about the information on this page, would like to provide feedback, or did you spot an inaccuracy? Please let us know by posting in our
Orlando Informer Community
on Facebook.