Skip to: Overview | Location | Restrictions | Fear factor | Fun fact | Guest reviews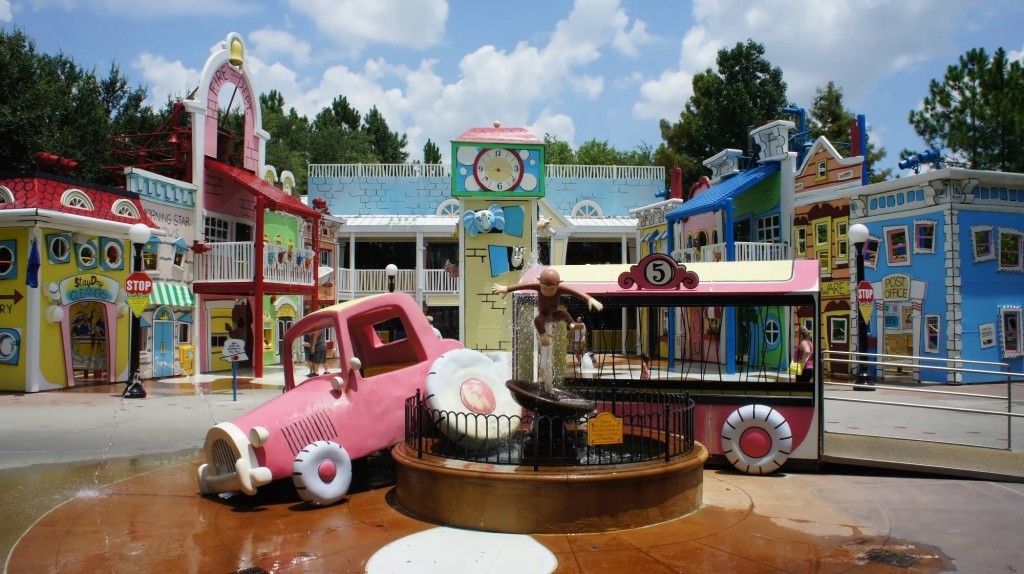 What was Curious George Goes to Town?
Curious George Goes To Town was a large and unique splash playground with multiple levels to explore. You'd prepare to have your curiosity matched with gallons of water in this interactive area based on the stories of a beloved monkey named Curious George.
Where was Curious George Goes to Town located?
In Woody Woodpecker's KidZone, which is in Universal Studios Florida.
Curious George Goes to Town – height restrictions and other factors
This attraction was accessible to all. Express Pass access was not offered, as this was an open play area with no queue.
Curious George Goes to Town – what you wish you knew before you experienced it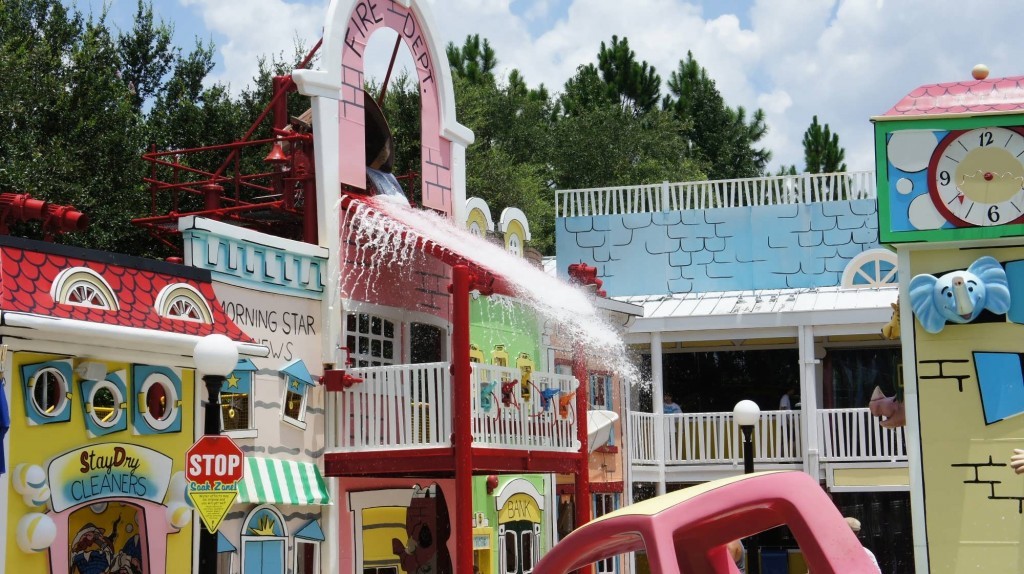 Curious George Goes to Town offered plenty of ways to get soaked from head to toe. You would have wanted to bring an extra pair of clothes (or a bathing suit) if you or your youngsters wished to experience it.
How scary was Curious George Goes to Town?
We rated Curious George Goes to Town zero out of five monkeys in terms of fear factor. This watery wonderland was designed for children to take a break and have fun, so it had no scary or intense features.
Curious George Goes to Town Operating Dates
1998 to January 15, 2023
Curious George Goes to Town – OI fun fact
Behind the water-based area of this attraction was a dry play zone called The Man with the Yellow Hat's Ball Factory. This spot offered hundreds of squishy foam balls for children to toss and blast at each other using various contraptions.
Curious George Goes to Town – photo gallery
Curious George Goes to Town – real guest reviews
Curious George Goes to Town
Average rating:
10 reviews
Aug 20, 2014
Backyard Nerf/Waterplay to the Extreme
Date Of Last Visit:
8/18/14
If you need a water ride at the Studios side of Universal, you are WELL taken care of here. You can get soaked, soak others, shoot others with nerf balls, pretend you're a monkey, what more fun could anyone have?



This attraction is the dead end of the kid's section, but well worth the walk to let loose with your children or your group. Just keep those cell phones away from the water!
May 26, 2014
Perfect Cool Down
Date Of Last Visit:
06/13
Having visited universal many times, we ALWAYS make a pit stop to Curious George. I love the fact you are in a mini town and can walk up and down the stairs! This is a perfect area for anyone wanting to cool down or just have a break from the lines.



One of our best (and funniest) memories of this area is asking our family friend to stand underneath the fire department! (We ensured he had nothing on him which would be ruined.) The children were keeping him busy before he could realise the bells were going and the water was about to fall on him!! Safe to say now he stays well away from the fire department!! You should have seen his face!!



There are many pipes, buttons and spray guns for children to play with to ensure everyone is soaking wet! Somewhere for all the family to cool down and to get away from the standing in lines of the park!!
May 26, 2014
Get Out Of Town!
Date Of Last Visit:
08/05/13
Upon approach, this place comparable to a zoo. Forget Curious George, these are real, wild monkeys. And they absolutely 'went to town' on my poor son who received a face full of water and came running over to me immediately. I think this is the place where the lazy parents leave their over-hyped children to run amuck whilst they sit their tired selves down after enduring the Barney show. I don't know about their parenting but my son has some decency. The attraction itself is fun - well laid out, and interesting - but the crowd is not. It's actually anything but. Leave your 'curiosity' be, this place is not worth the struggle.
May 25, 2014
Perhaps not just for the little ones?
Date Of Last Visit:
May 18th, 2014
I see that most other reviews are from parents saying how great it is for their children or grandchildren, but I am here to tell you as someone who is approaching their 20th birthday that it is just as fun now and I have plenty of friends who'd agree!



Upon first approach you see brightly coloured streets and "buildings" that provide plenty of places for one to splash around and get wet, as well as soak other people! There's even a giant bucket of water filled with many gallons of water that will dump out on everybody at periodic intervals! If you are invested in staying dry, this area is not the place for you!



Never fear though, all you have to do is follow the marked footprints to the back of the area where you will enter into a huge building with two floors of fun! It's filled with foam balls and plenty of things to do with them! You can see them flying through the air after they are shot from cannons, there are air vents to make them float, and if you team up with someone you can even pull them up to the second floor with pulleys!



All in all, this is a great area to take a break from the hustle and bustle of the park and partake in some shenanigans for a while! Bring out your inner child!
May 25, 2014
great break from lines and heat
Date Of Last Visit:
May 24 2014
No lines no waiting. Fun pretty much for all ages. All sorts of gadgets for the kids to pull and tug with one purpose in mind "get wet". Nicely tucked away in the back is this water playland. Kids could of stayed there for hours. Benches for the parents to sit and watch the kids go nuts with excitement. We may just go back and splash around here for the day instead of doing everything else (we have year passes).

My only complaint was that there wasn't a locker nearby so I could stash my belongings and join in on the fun.
Do you have a question about the information on this page or would you like to provide feedback? Please let us know by posting in our
Orlando Informer Community
on Facebook.