Skip to: Overview | Location | Hours | Menu | Guest reviews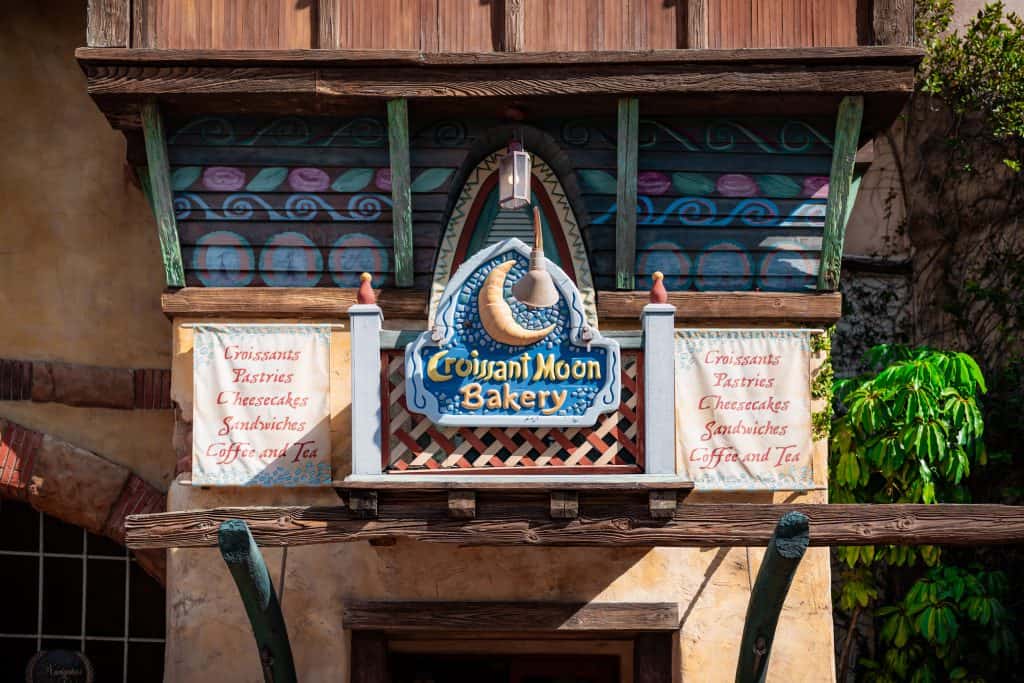 What is Croissant Moon Bakery?
Croissant Moon Bakery has quick, fresh, on-the-go options as you make your way into Islands of Adventure. From healthy options to sweet treats, this bakery spot has whatever you need to fuel up for the day or to satisfy your sweet tooth with a tasty pastry.
Where is Croissant Moon Bakery located?
In Port of Entry, which is in Islands of Adventure.
Croissant Moon Bakery – hours and reservations
Opening and closing times are subject to change, but you can typically find Croissant Moon Bakery open from the time the park opens until an hour before closing.
What's on the menu at Croissant Moon Bakery?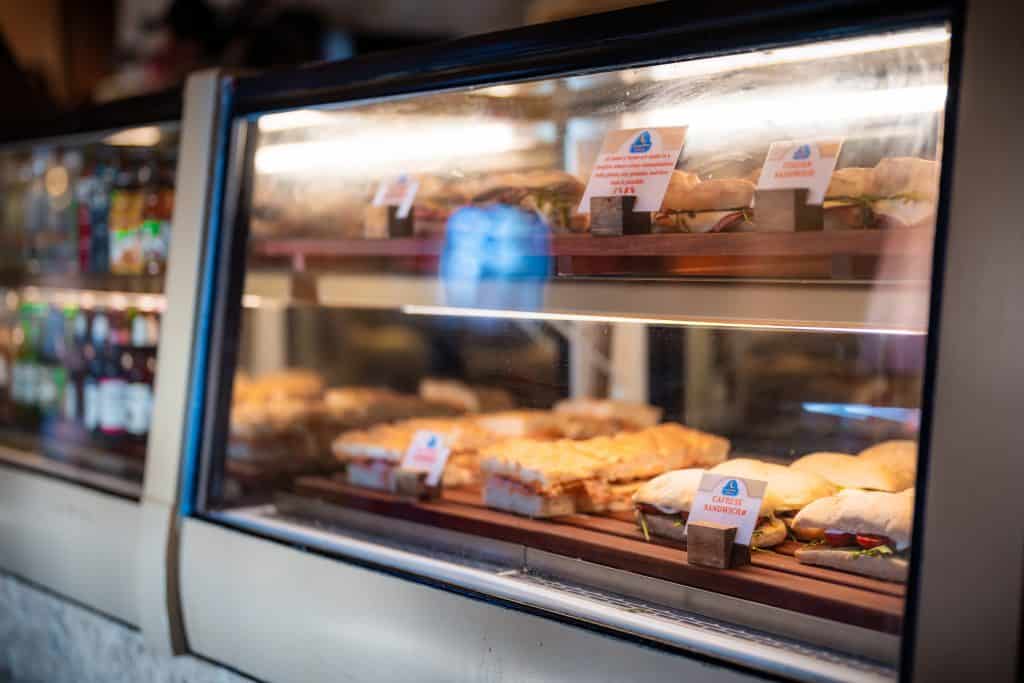 Port of Call Sandwiches
Served with potato salad and seasonal fruit
Italian Sandwich – $12.99
Salami, spicy capicola, ham, smoked mozzarella, arugula, pickled onions, sun-dried tomato pesto, and basil aioli, served on a crusty baguette, with potato salad and seasonal fruit
Ultimate Sandwich – $13.99
Turkey, ham, roast beef, and Swiss cheese piled high on a French baguette, topped with arugula, pickled onions, and spicy mustard, served with potato salad and seasonal fruit
Hot Turkey Platter – $12.99
Shaved turkey, Gouda, Bacon, and Roasted Tomato Aioli served on warm ciabatta
Caprese Sandwich – $12.99
Fresh mozzarella, vine-ripened tomatoes, sun-dried tomato pesto, and basil aioli, served on warm ciabatta, with potato salad and seasonal fruit
Sides
Tradewind Fruit Cup – $4.79
Bag of Chips – $3.49
Passport Pastries and Baked Goods
Croissants, Danishes, etc. – $4.29
Choose from a variety of pastries
Fresh Muffins – $3.99
Assorted fresh muffins
Cheesecake – $5.99
Assorted cheesecakes
Pies and Tarts – $5.49
Cookies – $3.79
Éclair – $4.99
Sunrise Breakfast
Breakfast served daily until 11:00 am
Ham, Egg, and Cheese Croissant – $7.99
Ham, egg, and cheese on a freshly baked croissant
Bacon, Egg, and Cheese Croissant – $7.99
Bacon, egg, and cheese on a freshly baked croissant
"On the Run" Continental Breakfast – $9.99
Includes a fruit cup, danish or muffin, and a breakfast drink
Ham, Egg & Cheese Empanada – $8.99
Ham, Egg, and Cheese filled Empanada
Fountain Beverages
Coca-Cola Freestyle Souvenir Cup – $17.99
Extra day of Freestyle refills – $10.99
Fountain Soda – $4.29
Coca Cola, Coke Zero Sugar, Diet Coke, Sprite, Cherry Coke, Fanta Orange, Lemonade, Root Beer, Gold Peak Iced Tea
Bottled Beverages
H20+ Premium Water – $5.50
Perrier Water – $5.50
Minute Maid Juice – $3.29
Choice of apple or orange
Powerade – $5.50
Choice of Mountain Berry Blast or Fruit Punch
Milk – $3.69
Choice of two-percent or chocolate
Coffee Beverages
Iced Coffee & Cold Brew – $5.79
Hot Coffee and Hot Cocoa – $3.49
Coffee, decaf, hot cocoa
Hot Tea – $3.49
Choose from a variety of flavors
Cappuccino, Espresso, etc. – $3.99
Cappuccino, espresso, latte, macchiato, Americano, mocha
Beer, Wine, and More
Bottled Beer
Michelob Ultra, Miller Lite, Budweiser, Coors Light  – $8.50
Corona, Heineken – $9.50
Dogfish Head IPA – $10.00
White Claw – $10.50
Wine & More
Guenoc Chardonnay – $10.00
Pinot Grigio – $10.00
Prosecco – $12.00
Mimosa – $13.00
Cabernet Sebastiani – $11.00
Croissant Moon Bakery – photo gallery
Croissant Moon Bakery – real guest reviews
Croissant Moon Bakery
Average rating:
5 reviews
May 26, 2014
Start your day off right!
Date Of Last Visit:
9/23/13
Croissant Moon caught my eye on our last trip. I always wanted to try it but the title of Bakery confused me. Upon entering, I saw that they served breakfast food! This was perfect for me because being a vegetarian, it is sometimes hard to find breakfast foods without meats that are still substantial in the parks. I ordered the Croissant with only eggs and cheese. The croissant was flaky and buttery (so delicious) exactly as I like them! The eggs were not spectacular but they tasted pretty good and the cheese was melted well on the sandwich. The shop was too small for us to sit inside but it turned out to be a good thing as the cute tables and chairs outside made for a relaxing and somewhat romantic start to our day!
May 25, 2014
Reasonable Price and Tasty Food
Date Of Last Visit:
January 22, 2014
My wife and I visited the Croissant Moon Bakery on the last day of our three-day trip. We started with early admission to Harry Potter and having eaten at the Three Broomsticks the day before, we wanted to try something different.



We were a little tired and it was a little cold that day (it was below freezing the night before) so we ducked in after our hour at Harry Potter.



The multiple doors and entrances made it slightly confusing, because the line moves from only one direction, but once you figured out where to start, the line moved quickly and the food was delicious.



There was a ton of fresh rolls and breads, but we both settled for breakfast sandwiches (ham, egg and cheese croissant). They were hot and delicious and hit the spot. They have coffee and plenty of other beverages to choose from.



While we just had the sandwiches, there was fresh fruit, pastry, rolls, panini sandwiches and more to choose from, so you could easily do lunch or a snack here as well.



So as you're walking into the entrance of Islands of Adventure and wonder where that delicious smell is coming from, odds are, it's coming from the Bakery. Stop in and you won't be disappointed!
Nov 5, 2013
cream horns
Date Of Last Visit:
10/31/2013
This place has the best....and I do mean the best cream horns in the entire world....they are to die for.
Jul 19, 2013
All pros, no cons! Come and get your grub on
Date Of Last Visit:
October 2012
This is more than just a bakery. It is a cozy, cool, "smells like heaven" must-go! On one of the days my family and I were visiting IOA we had decided to grab lunch before the rush. The family decided to go to Suess Landing to eat from one of the quick-service venues. Being a vegetarian the options were slim for me, but I was very hungry and wanted more than just sharing fries, so I took off in search. When I walked into the Croissant Moon Bakery I was over- taken not only by the delicious smell, but the amazing display of baked goods and fruit in cases at the cash wrap. I asked if they had any veggie options and they accomodated me quickly, giving me one of the most delicious, fresh, and quiet big, veggie croissants Ive ever had. They made it right in front of me and added a little fruit on the side as well. All in all it was around $11, not bad at all considering it was a decent sized meal, made fresh and not fried! I also believe this is a better option when you plan on riding many thrill rides during your visit, no grease just greens:) Now, they do have a variety of meaty meals as well, and when leaving the park you can swing in here and take care of that sweet tooth, so this nice little place has it all! I highly encourage you to give this a try!
Jul 13, 2013
The Moon Bakery is Out Of this world
Date Of Last Visit:
September, 24, 2012
There is nothing like getting up in the morning and knowing that you are going to get a great breakfast. Whenever we headed for the Islands Of Adventure in the morning we would stop there to get a danish, or cookie, or a bagel. You can tell everything is fresh just from the aroma you sense right when you walk through the door. Another great thing about this place is that it is fairly close to the best roller coaster ever The Incredible Hulk. So after your done eating you feel energized enough the day from the sweet's and take your day in the park head on.
Do you have a question about the information on this page or would you like to provide feedback? Please let us know by posting in our
Orlando Informer Community
on Facebook.