It is time to decide which of Universal Orlando Resort's eight hotels is best for you and your party: Loews Portofino Bay Hotel, Hard Rock Hotel, Loews Royal Pacific Resort, Loews Sapphire Falls Resort, Universal's Cabana Bay Beach Resort, Universal's Aventura Hotel, and the multi-property Universal's Endless Summer Resort.
Let's start with what is the same about all eight venues.
What do all of Universal's hotels have in common?
Universal divides its eight resorts into four different categories:
Premier:
Portofino Bay Hotel
Hard Rock Hotel
Royal Pacific Resort
Preferred:
Sapphire Falls Resort
Prime:
Cabana Bay Beach Resort
Aventura Hotel
Value – Endless Summer Resort's two constituent hotels:
Surfside Inn and Suites
Dockside Inn and Suites
This is important to keep in mind because the two more prestigious tiers, premier and preferred, feature perks that the two more inexpensive levels, prime value and value, don't. We'll get to those differences in just a second – first, however, let's go over what all four categories do have in common:
Transportation to all three parks and CityWalk (you can also walk from almost all of the hotels to CityWalk)
Resort-wide charging privileges
Delivery of merchandise purchased
Character appearances
Non-smoking rooms with:

flat-screen TVs
hairdryer
safe
iron and ironing board
coffee maker

Free basic wifi, with premium available for a fee
Heated, themed pools with lifeguards on duty
Game room
Complimentary fitness center
Laundry services
Supervised children's activities

All hotels offer supervised children's activities, such as arts and crafts, storytime, computer play, movies, and more, so parents can explore all that the resort has to offer
Supervised children's areas are open Sunday through Thursday, 5:00 pm to 11:30 pm, and Friday through Saturday, 5:00 pm to midnight. Times are subject to change
There is a supervised children's area at most Universal Orlando Resort hotels, but availability may only be offered at one resort per night on a rotating basis. Hotel guests are welcome to bring their kids to the venue in question, even if it's not the one they're staying at
Kids must be age 4 to 14, and they must be potty-trained. The fee is $15 per child, per hour, plus meals
For reservations and more information, contact the concierge or star service at your hotel
IMPORTANT: this is not a one-on-one babysitting service. The concierge can arrange a third-party sitting service, if desired

Access to Mandara Spa at Portofino Bay
What do the premiere and preferred hotels have in common (and not)?
Okay – now it's time to get down to brass tacks.
Each of the four top venues at Universal Orlando (which, once again, are Portofino Bay Hotel, Hard Rock Hotel, Royal Pacific Resort, and Sapphire Falls Resort) is an AAA Four-Diamond resort property, meaning – regardless of which you choose – you'll be staying at a higher-end hotel with detailed theming and upscale amenities, such as large pool areas, fine-dining restaurants, supervised kids' activities, and business centers.
These four hotels all feature:
Water taxi transportation to the Universal theme parks and CityWalk

Each hotel offers water-taxi service that begins 30 minutes before Early Park Admission and runs about every 15 minutes until 2:30 am
Water taxis are assigned to a particular hotel and go directly from that hotel to the CityWalk drop-off area and back. They do not pick up at multiple hotels before going to CityWalk
Water taxis can be used by general park guests, as well, with the twin exceptions of during peak seasons and late at night; at these times, water-taxi access is restricted to hotel guests, and the boats' captains may ask to see room key cards
Both water taxis and all other transportation options are ADA accessible

Individual suites
Pets allowed
Valet parking
Concierge desk
Business center
24-hour room service
Despite all these commonalities, however, there are still some differences to be found among them, and it's very important to keep these in mind, as well. The premier resorts offer two extra benefits that their five brethren don't: priority seating at Universal Orlando's various restaurants and, more notably, free Unlimited Express Passes for each hotel guest.
Yes, this means that Portofino Bay, Hard Rock, and Royal Pacific are considerably more expensive than the others, but it also means that, depending upon your group size and dates of your stay, you can save money as compared to buying Express for each member of your party separately.
What do the prime value and value hotels have in common (and not)?
Universal Orlando's two lower tiers were designed for family accessibility. While their (comparative) affordability is an obvious example of this, arguably the bigger one is their brandishing of family suites – Cabana Bay Beach Resort and Endless Summer Resort feature units that can sleep up to six and that contain a kitchenette/dining area and multi-compartment bathrooms, which allow multiple members of the family to get ready simultaneously. (You'll notice Aventura Hotel is the only one to not come equipped with family suites; Universal wanted to have at least one offering that was a traditional hotel at the reduced price point.)
So what, then, differentiates a prime value property from just a value one? To put it in a word, distance – not only from the theme parks, but also from Volcano Bay. Let us explain.
First and foremost, Endless Summer is located on a separate chunk of land from the rest of Universal Orlando. While it's still technically a Universal Orlando Resort hotel (meaning you get Universal's trademark theming and an array of benefits, such as Early Park Admission), and while the bus ride to CityWalk lasts just as long as Cabana Bay's, this new value hotel complex won't allow you to (easily) stroll to the parks on foot.
And that leads us directly to the next point: in order to compensate for Cabana and Aventura's lack of water-taxi access to the theme parks, they feature a private walkway directly to Volcano Bay (everyone else, including all the other guests at all the other Universal Orlando Resort hotels, have to hop on a shuttle, which is a more involved process). This is, of course, something that Endless Summer can't offer, so its classification – and pricing – reflects that.
A rundown of Universal's hotels
There are four primary characteristics that differentiate the eight hotels from each other: theming, number of rooms, size of the rooms, and price. Ultimately, these four elements combine to make each resort a good match for particular groups. Let's take a closer look.
(To learn more about the specific amenities and room types at each of Universal Orlando Resort's hotels, click on each individual property's name below to view all of our info and sub-pages.)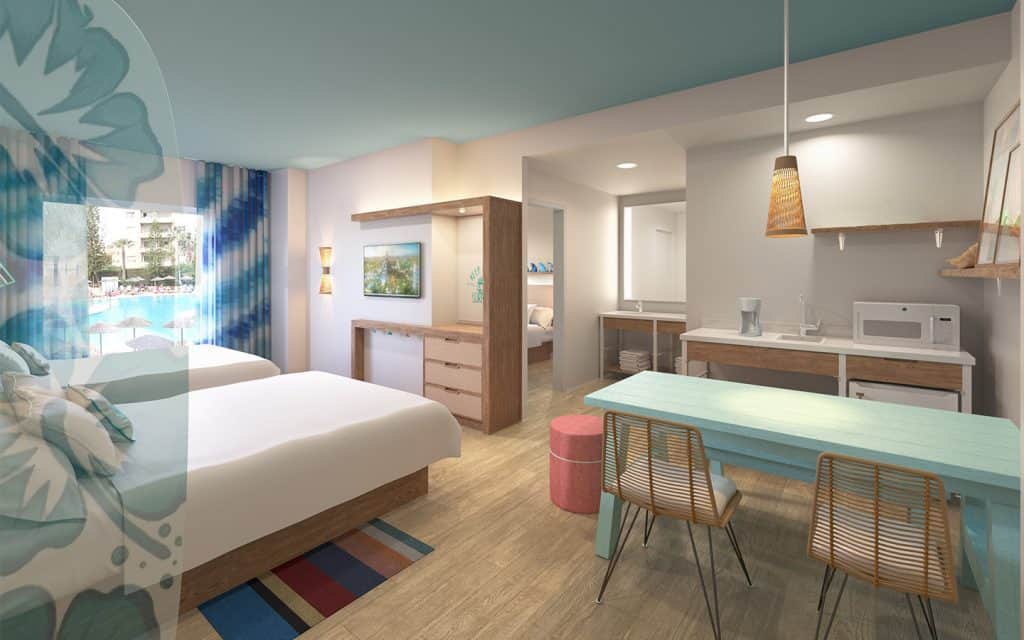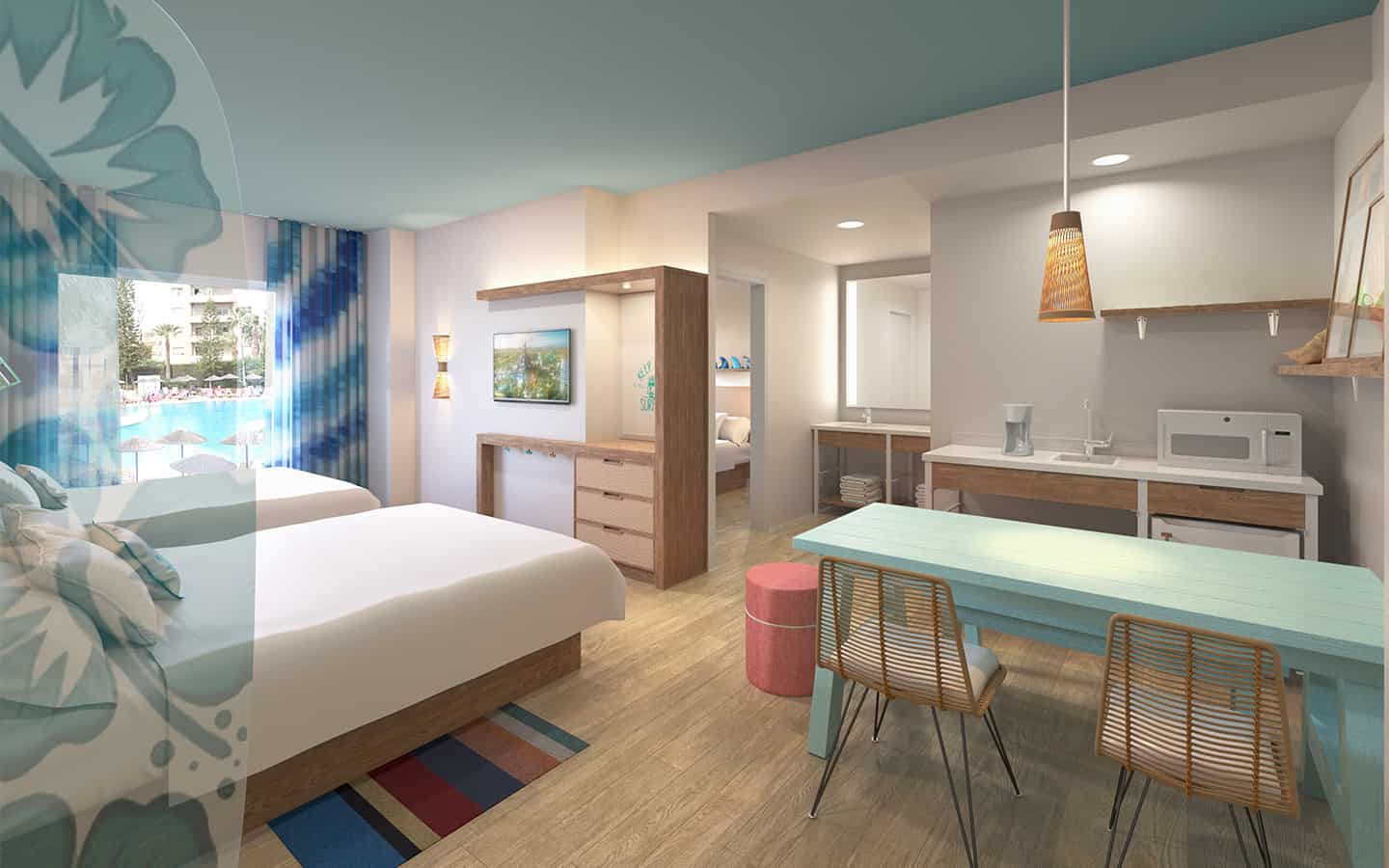 Theming: a fun, coastal, laid-back beach vibe – which the next-door lake will only accentuate.
Number of rooms: 2,800 combined (750 at Surfside Inn and Suites, 2,050 at Dockside Inn and Suites) – the largest overall of the eight Universal Orlando Resort hotels.
Room size: standard rooms are 314 square feet.
Price: standard rooms will start at $96 per night (using certain promos during certain times of the year)
Best match: Endless Summer is a best match for any party traveling on a tight budget.
Keep in mind: Endless Summer does not offer either complimentary Express Pass access or water-taxi service.
Theming: a sleek, modern hotel that is light on theming but still heavy with style.
Number of rooms: 600 – the smallest of the eight Universal Orlando Resort hotels.
Room size: standard rooms are 314 square feet.
Price: standard rooms range between $144 and $244 per night.
Best match: Aventura is a best match for those who are less concerned with theming and more concerned with a 17-story rooftop bar or the iPads that come equipped with each room.
Keep in mind: Aventura does not offer either complimentary Express Pass access or water-taxi service.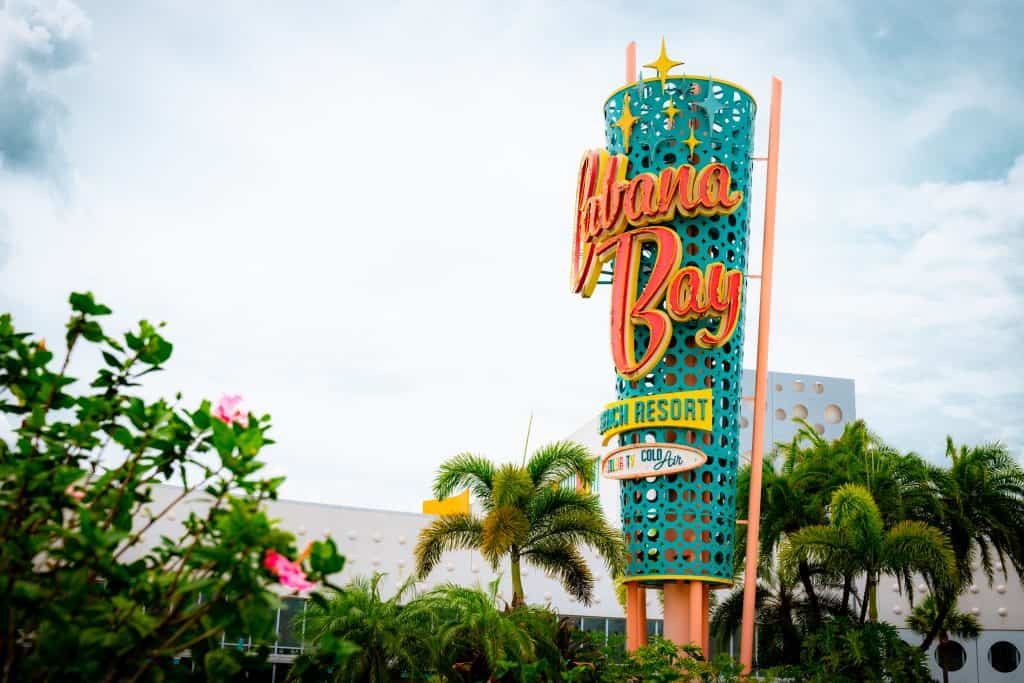 Theming: splash back to the 1950s and '60s, a vintage look pulled right from the blockbuster TV show Mad Men (with a dash of Old Florida).
Number of rooms: 2,200 – the largest of the individual Universal Orlando Resort hotels.
Room size: standard rooms are 300 square feet.
Price: standard rooms range between $144 and $244 per night.
Best match: Cabana Bay is a best match for any party traveling on a tight budget but that still wants to be close to the action (especially Volcano Bay).
Keep in mind: Cabana does not offer either complimentary Express Pass access or water-taxi service.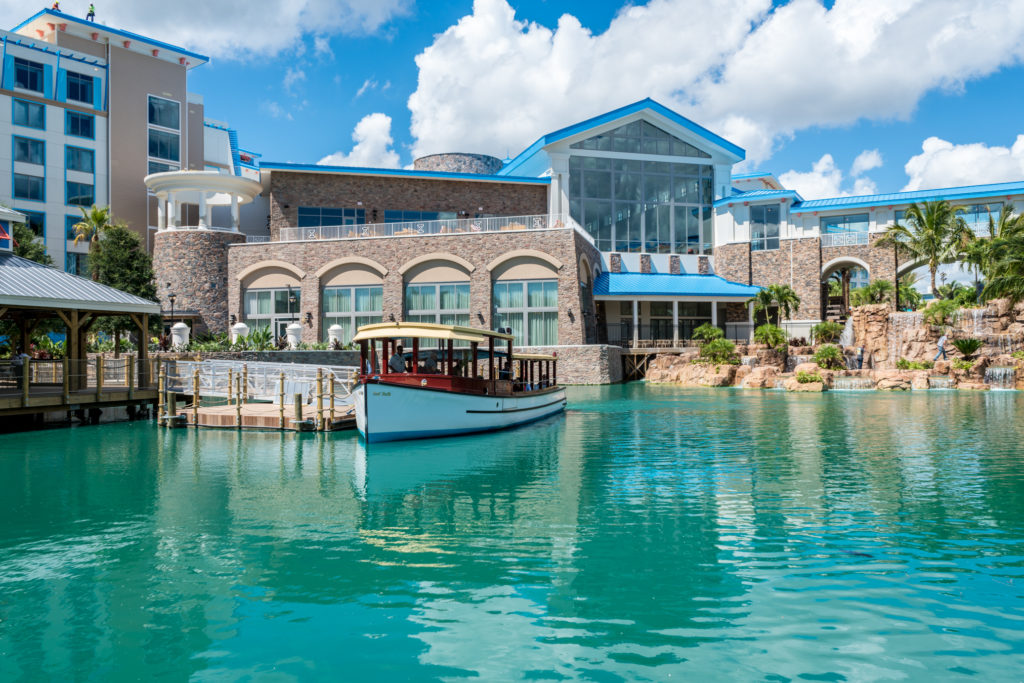 Theming: a paradise where shoes are optional, blue waterfalls cascade across lush grounds, and the invitation to cool relaxation is everywhere.
Number of rooms: 1,000 – tied for the third-largest of the eight Universal Orlando Resort hotels.
Room size: standard rooms are 321 square feet.
Price: standard rooms range between $202 and $314 per night.
Best match: Sapphire Falls is great for meeting and convention attendees. In addition, it may be the perfect fit for a family looking for additional accommodations over the (prime) value hotels but isn't interested in having Express Passes.
Keep in mind: Sapphire does not offer complimentary Express Pass access.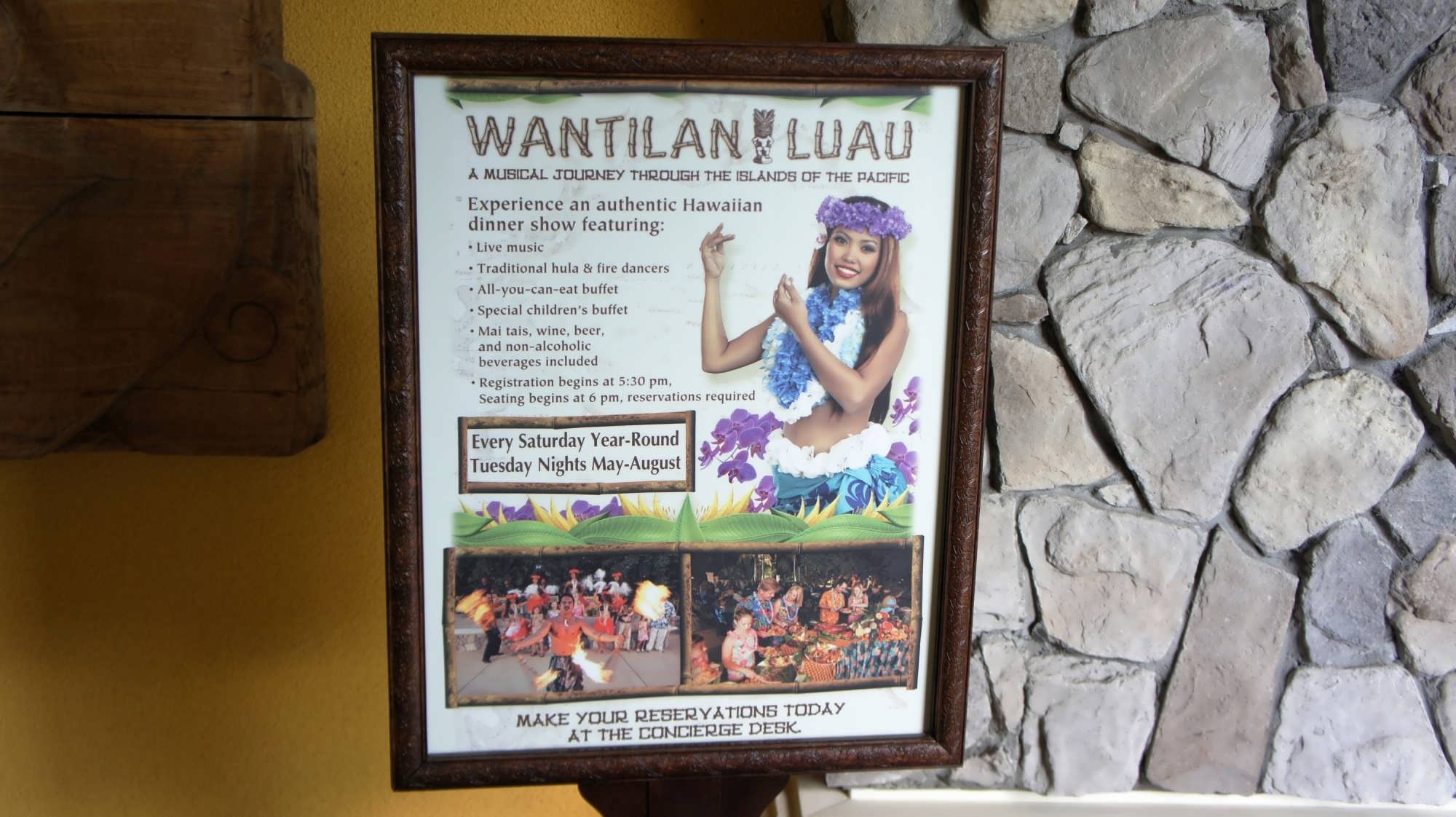 Theming: the South Seas. It has a tropical, festive feel to it, with a mix of relaxation and excitement. If you are someone who really enjoys immersive theming, you should be pleased with Royal Pacific.
Number of rooms: 1,000 – tied for the third-largest of the eight hotels.
Room size: standard rooms are 335 square feet.
Price: standard rooms range between $312 and $479 per night.
Best match: Royal Pacific is a best match for families with young children. And, as Universal Orlando's most economical hotel that still offers complimentary Express, it is the best bet for travelers during a peak season on a budget.
Keep in mind: Royal Pacific is the closest of the three hotels to Islands of Adventure – it usually takes less time to walk from this resort to the park's turnstiles than it does to take the water taxi. In general, Royal Pacific is the third of the eight hotels to sell out. While all Universal hotel properties receive positive reviews, we see the most about this one. It is also the venue that has treated us the best in our hundreds of stays.
OI tip: Royal Pacific has a number of rooms that look out directly toward Islands of Adventure, giving you a clear view of Hulk, Hogwarts Castle, and more. If you'd like one of these rooms, be sure to request a "park view" room on the seventh floor of Tower 2, the sixth floor of Tower 3, or the seventh floor of Tower 3 (club level).
Theming: California mansion, like the one featured on the front of the Eagles album Hotel California. It is true that this resort is fairly striking from the outside, and the pool area is a pleasure. When you move inside, however, the story changes: the clean white walls and modern styling come off as rather boring. If you are not looking at a piece of Hard Rock's collector memorabilia, you will probably feel like you are just in another hotel.
Number of rooms: 650 – the second-smallest of the eight Universal Orlando Resort hotels.
Room size: standard rooms are 375 square feet, or 10 percent larger than Royal Pacific.
Price: standard rooms range between $359 and $549 per night.
Best match: Hard Rock is about image and attitude, and who in the family does that remind you of? Yes, Hard Rock is a big hit for families with teens. Younger couples also find their way here, searching for the free spirit of the rock 'n roller. Despite what we noted in the theming section about the interior spaces, Hard Rock does have an energetic atmosphere – but it comes from the guests hanging out and looking for a good time.
Keep in mind: in case you are at all concerned that Hard Rock may be a little too "hard" for your impressionable kids, you need not worry – it is a very family-friendly property. Because of its smaller size and popularity with teens (which, coincidentally, is a huge demographic for the Universal Orlando theme parks), Hard Rock is almost always the first hotel to sell out. If you want to stay here, book your room now!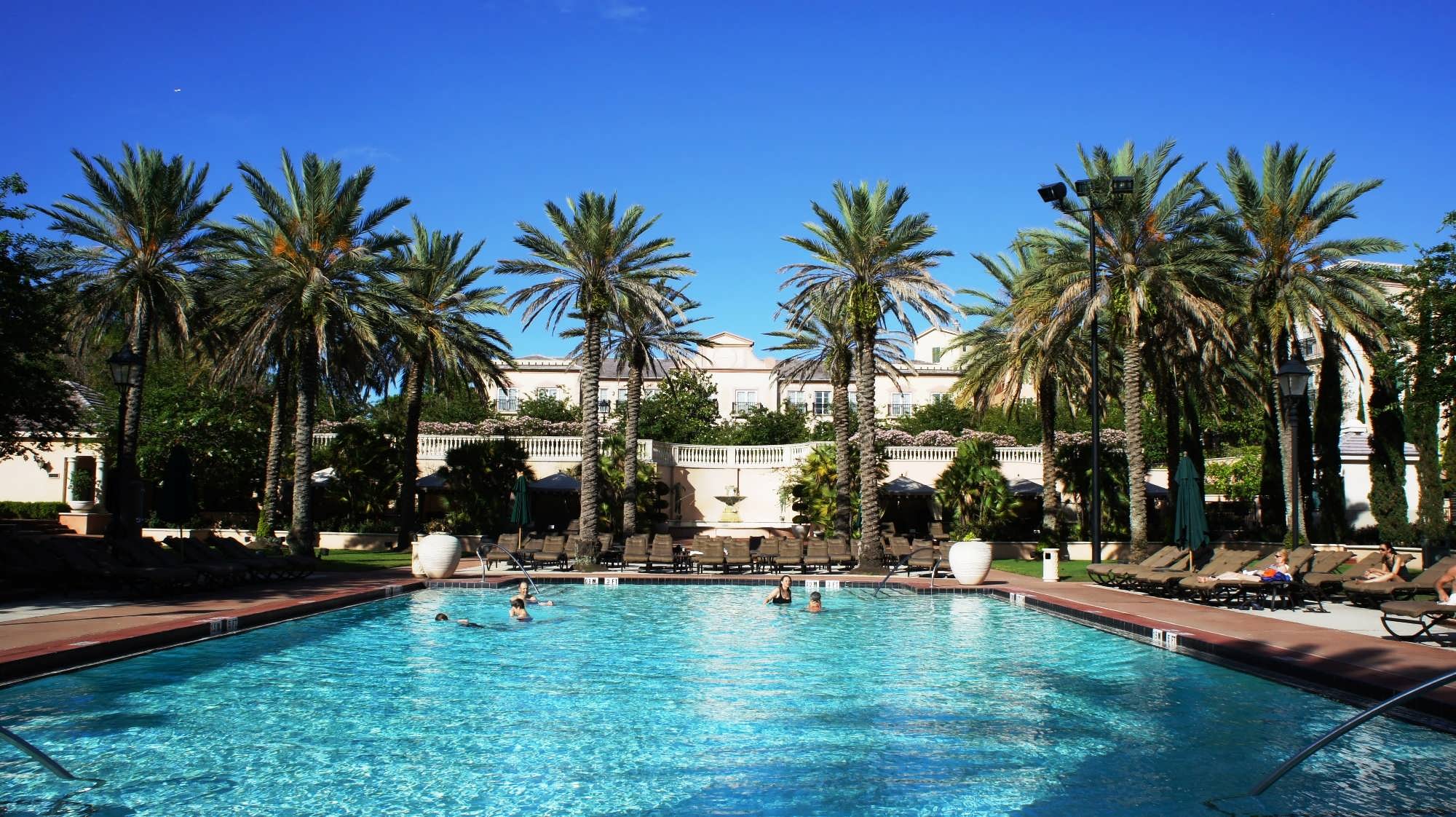 Theming: modeled after its namesake, the famous fishing village in the Italian Riviera. As Universal Orlando's flagship hotel property, Portofino Bay features the most impressive theming of the eight hotels (although Royal Pacific is not too far behind). The property is also somewhat offset from CityWalk and the three parks, further adding to its immersive qualities.
Number of rooms: 750. It is worth noting that while Portofino Bay has fewer rooms than Royal Pacific, the physical layout of the hotel is more expansive; it is not unusual for guests to feel a bit lost the first time they walk around. However, this is not a frustrating sensation – in the case of Portofino Bay, it only helps to elevate the theming and the sense of having been swept away to an exotic Italian retreat.
Room size: standard rooms are 450 square feet. That is 25 percent larger than Royal Pacific and about 15 percent larger than Hard Rock.
Price: Standard rooms range between $372 and $544 per night.
Best match: Portofino Bay, as already mentioned, is the flagship resort at Universal Orlando. Not only is it the most impressive in terms of theming, it also features the widest selection of amenities. For example, it has three pool areas while Hard Rock, Royal Pacific, and Sapphire Falls only have one. It also has more restaurants and shops than the other seven hotels. Perhaps more importantly, Portofino is tied (with Sapphire) for the largest selection of room types, including five separate suite categories. All that we have described makes Portofino Bay the obvious choice for older couples or parties in the mood for romance.
Keep in mind: Portofino Bay may be designed for guests who are looking for a more upscale experience than any of the other properties, but it's worth mentioning that this venue is also a very good match for families who want a break from the craziness of the parks. Royal Pacific and Sapphire Falls have a lot more rooms and only one pool each, so they can be hectic. Hard Rock is, well, Hard Rock. And Cabana Bay, with its staggering room count, is always crawling with people. But Portofino, with its expansive property layout, larger number of amenities, and secluded location away from the theme parks, offers plenty of peace and quiet. Also, Universal Orlando's full-service spa is at Portofino Bay!
Staying at a 28-star resort
Many guests are delighted to find out that by staying at one of the Universal Orlando Resort hotels, they have complimentary access to the amenities at all the others. This is particularly useful to know if your hotel of choice is sold out. Most common scenario: a family with teens wants to stay at Hard Rock, but there are no more rooms available. Well, they will most likely be able to stay at Royal Pacific and save a little bit of money, and they can still hang out at Hard Rock's pool (be sure to bring your room keys!).
Visiting Universal Orlando Resort Hotels
Theme park veterans know this already, but just in case you are a first-timer, we will let you in on a little secret: anyone can visit the Universal Orlando Resort hotels. (The same goes for all of Walt Disney World Resort's hotels as well, just for the record.) Now, you do not necessarily have access to all the amenities – don't plan on bringing your swimming trunks – but you can still visit, check out the theming, and grab a meal. We highly recommend that anyone visiting Universal for more than two days jump on the water taxis (or shuttle) and tour the resorts.
That brings us to one important reminder: all Universal Orlando Resort hotel properties charge for parking. And they charge more to day guests than Universal's main parking garage, so don't think you can skip the parking fee by grabbing a spot at a hotel like you can at Disney World.
Speaking of pricing…
Get ready for extra fees
If you are going to stay at one of Universal Orlando Resort's hotels, please be aware that the hotels charge for many things guests usually assume are included with the room, such as parking. We should also mention that none of Universal's properties operate their own shuttles, whether paid or complimentary, to Orlando International Airport (unless you're a vacation package holder, that is).
What about the hotel's cancellation policy?
Since all eight Universal Orlando Resort hotels are operated by Loews, they all feature the same cancellation policy: if you cancel your reservation six or more days in advance, you will receive a full refund. If it's anything fewer than five days beforehand, however, you will be charged one night's room rate, plus tax.
It's important to note that this cancellation policy is only for when you book the hotel by itself; if you have arranged accommodations through a Universal Orlando vacation package or through a third party, there will potentially be various fees with various timetables involved.