For only the second year, Christmas will be in full effect at The Wizarding World of Harry Potter!
Encompassing both Hogsmeade in Islands of Adventure and Diagon Alley in Universal Studios Florida, the holiday party will have all of the same wonderful experiences from its inaugural showing in 2017 to make guests feel as if they've stepped into their favorite films to celebrate the season with Harry and his friends.
There are four different parts to Christmas in The Wizarding World of Harry Potter. A slew of holiday decorations (including individualized decor for each of the wizarding shops) will cover both Hogsmeade and Diagon Alley from end to end; new seasonal food and drink options (which Hot Butterbeer will be a part of) will be on hand; festive live entertainment will get you in the spirit, with new yuletide performances by the Frog Choir, Celestina Warbeck and the Banshees, and London's street buskers; and, finally – and most excitedly – a state-of-the-art projection-mapping nighttime show, called The Magic of Christmas at Hogwarts Castle, will transform Hogwarts Castle into a holiday wonderland, bringing "Christmas moments inspired by the Harry Potter series to life."
Christmas in The Wizarding World of Harry Potter runs from Saturday, November 17, 2018 to Sunday, January 6, 2019.
Skip to: Christmas decorations | Live entertainment | Holiday foods | The Magic of Christmas at Hogwarts Castle
Christmas in the Wizarding World 2018 – Christmas decorations
How do you make the Wizarding World even more beautiful? Easy – you take a whole bevy of intricately-detailed holiday decorations and string them all throughout Diagon Alley and Hogsmeade Village.
What really makes the decor stand out is how the elements of each individual store are incorporated into its holiday accoutrements – Weasleys' Wizard Wheezes, for example, features fireworks worked into its garland, while Spindlewarps has a wreath festooned with giant balls of yarn. This makes pausing and examining the decorations absolutely necessary (as well as absolutely fun!), as just a quick glance is likely to miss some pretty sublime theming.
Just to set the stage for you, we have some video walk-throughs of the marvelous sights. Trust us when we say you've never seen Christmas done quite this way.
And be sure to check out our full photo galleries at the bottom of the page for even more decor goodness.
Christmas in the Wizarding World 2018 – Live entertainment
Be prepared for a special holiday version of both the Celestina Warbeck and Hogwarts Frog Choir shows.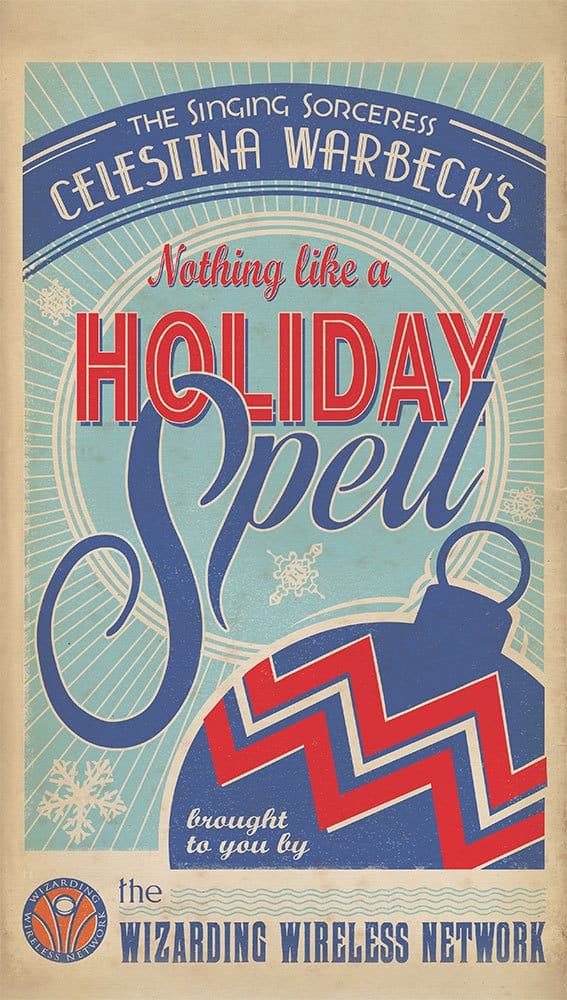 Celestina Warbeck, the Singing Sorceress, will be serenading guests with the greatest hits from her chart-topping Christmas album, Nothin' Like a Holiday Spell: the titular "Nothing Like a Holiday Spell," "A Witch and Wizard's Wintry Wondrous Land," "My Baby Gave Me a Hippogriff for Christmas," and "Accio Christmas" (which is calypso-inspired).
The Frog Choir, over in Hogsmeade, meanwhile, will perform the traditional "We Wish You a Merry Christmas" along with the wizarding carols of "Christmas at Hogwarts," "The Most Magical Yule Ball of All," and "I Cast a Spell on Father Christmas" (which asks young witches and wizards to "be sure of the incantation before casting a spell").
That so much of this seasonal musical content is brand-new is not only impressive – we, frankly, would've been perfectly content with the standard roll-call of holiday favorites – it also speaks volumes about the future of further exclusive items in the Wizarding World (maybe even those experiences that have never arrived in Orlando). Color us excited.
Be sure to read our in-depth impressions of Celestina's and the Frog Choir's new holiday shows in our review.
2018 dates and times
Frog Choir
Nov. 17-30, Dec. 1 – 10:30 am, 11:30, 12:30 pm, 2:00, 3:00, 4:00
Celestina Warbeck and the Singing Banshees
Nov. 17-30, Dec. 1 – 1:30 pm, 2:30, 3:30, 5:00, 6:00, 7:00
Christmas in the Wizarding World 2018 – holiday foods
Three new seasonally-exclusive dishes have been added to the Wizarding World's menu.
The first treat is also the biggest:  the absolutely massive Holiday Feast ($64.99), which serves four (although additional individuals can be added on for $15.99 a pop) and which consists of two courses. First up is a fresh Winter Harvest Salad, tossed with a mustard ale vinaigrette dressing; following it is oven-roasted turkey, wild-mushroom-and-sage stuffing, English chipolata sausages, brown-butter-and-walnut Brussels sprouts, root vegetables, and roasted potatoes, with traditional gravy and spiced cranberry sauce served on the side.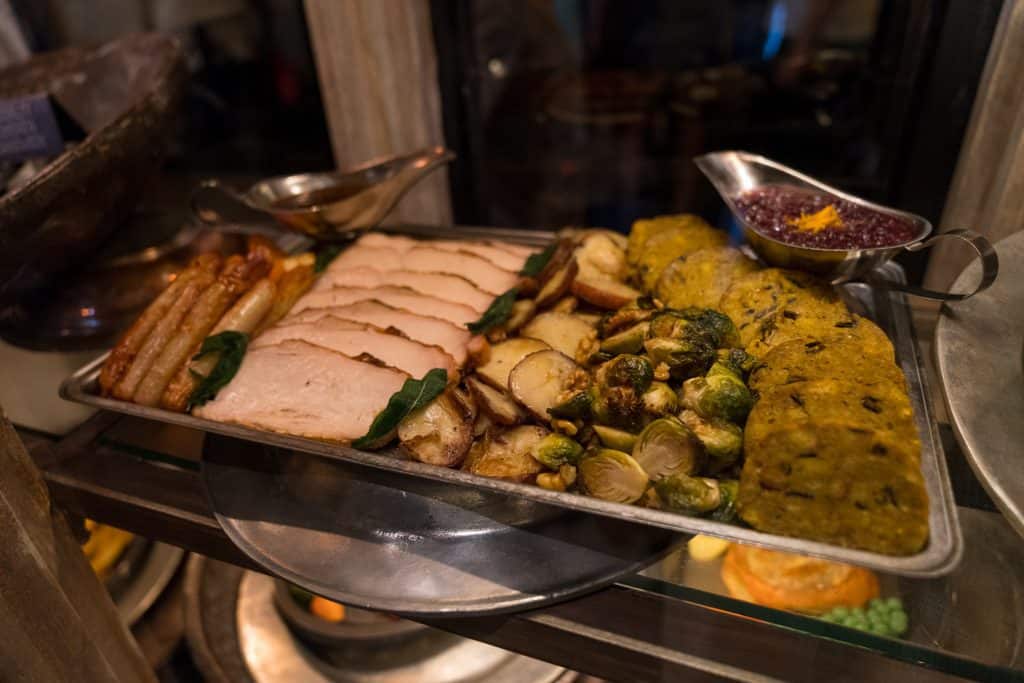 Christmas Pudding ($6.99) is next on our new list, combining the traditional dessert with hot brandy butter and a crystallized orange glaze.
The last item is Butternut Squash Soup ($9.49), which comes replete with a garnish of chives and a drizzle of sour cream – and, we should add, a salad with your choice of dressing. Just a word of warning here, though – whereas the first two dishes can be found at either Hogsmeade's The Three Broomsticks or Diagon Alley's The Leaky Cauldron, this soup is exclusive to Leaky, so be sure to plan your yuletide excursion accordingly.
Finally, we should also note that the limited-time Hot Butterbeer is also on tap, although this is the case every winter in the Wizarding World.
Christmas in the Wizarding World 2018 – The Magic of Christmas at Hogwarts Castle
While both Universal Studios Japan and Universal Studios Hollywood have been enjoying projection-mapping shows revolving around their Hogwarts Castles since early 2017, Orlando had been left out in the cold – until last Christmas. The Magic of Christmas at Hogwarts Castle wraps the ancient building in the sights and sounds of the season, including a majestically-large Christmas tree, the Hogwarts ghosts singing carols, a recreation of the Yule Ball, and students riding broomsticks and creating snowmen. It's a beautiful show, and one every bit worth watching.
Speaking of which: unlike any of the other elements of Universal's Holidays celebration – whether that be the Holiday Parade Featuring Macy's or the Mannheim Steamroller concerts – the wizarding projection-mapping show doesn't have set showtimes; all the company will say is that the performances are "ongoing from dusk until park close." Because of this ambiguity, and because of the sheer interest in The Magic of Christmas at Hogwarts, crowds can be heavy not only in front of the castle, but all throughout Hogsmeade as muggles struggle to find a good spot to catch the next performance.
Worry not, however – we have some secret wizarding tips to help you get through the experience intact. Whether you're looking for insight on where the best vantage points are, where the least-crowded viewing areas are located, or how to safely (and efficiently) bypass the area altogether on your tour of Islands of Adventure, we have you covered.
What time does the Harry Potter nighttime show start?
The Magic of Christmas shows typically start around 6:00 pm and last for approximately seven minutes. The performances tend to occur every 20 minutes, with a final showing at park close and, if you're really lucky, a no-we-really-mean-it final showing at 20 minutes after park close.
The pyrotechnic display (that is, fireworks) that accompany the climax of the production are a really good indicator of how much time you have until the next Magic of Christmas starts up, particularly since the pyro can be seen nearly anywhere in Islands of Adventure. Once you spot the fireworks, know that you have about 13 minutes until Hogwarts Castle is awash in projection-mapping again (13 minutes because the shows are spaced 20 minutes apart from the beginning of one showing to the beginning of the next, and the production, again, runs for about seven minutes).
Traffic flow in and around Hogsmeade is a big deal. Once dusk falls, the entranceway from The Lost Continent is made into the land's only entrance (though, once inside, you can still leave through this gate), while the doorway with Jurassic Park is a one-way-only exit. If you have absolutely no interest in dealing with the wizarding crowds but you still want to stroll around the park, you'll need to take the bypass bridge that links Lost Continent directly with Jurassic Park.
Tape has been laid out all throughout The Wizarding World of Harry Potter – Hogsmeade. The main pathway running straight through the village and up to Hogwarts Castle has two lanes: on the right is generally up, towards Hogwarts (you can try to walk the other way, but you'll be fighting an incessant wave of people), and the left is down only, toward the land's main entrance. And lest you think you can bypass this congestion by taking the back alleyway that sneaks behind Dervish and Banges and leads to the Frog Choir stage, think again – Universal closes this off come nightfall.
The best viewing area is in front of the Frog Choir/Triwizard Spirit Rally stage. Not surprisingly, this is also the most-crowded area, as well. If you want to minimize the throngs of people around you as much as possible, try going on a less-crowded day (see our FREE crowd calendar for help with that) or, barring that, shoot for the last few showings of the night; not only do you have much more breathing room, Universal recommends these as being the optimum performances, anyway.
If you have no choice but to visit on a busy (or busier) day, then we have two recommendations for less-populated-but-still-good vantage spots: the back porch of The Three Broomsticks has a few trees that partially obstruct the view of the castle, but it still provides a good perspective overall; and the bridge that leads from Hogsmeade to Jurassic Park, if you get there early enough to nab a spot.
Both Harry Potter and the Forbidden Journey and (usually) Flight of the Hippogriff are still operational during a Magic of Christmas at Hogwarts showing, and their wait times are lessened while everyone else is busy looking at the castle. Take advantage of that either before or after you've had your Christmas projection-mapping fill.
Finally, just a small-but-still-incredibly-magical point to consider: even if you're moving through the area in the 13-minute lull between Magic of Christmas showings, you should still pay close attention to Hogwarts – Universal leaves the projectors on the whole night through, showing a castle that is covered in snow. In this way, guests who visit during the holidays will be able to see a different version of the iconic building no matter what.
For even more on The Magic of Christmas at Hogwarts Castle, be sure to read our in-depth impressions in our review.
The Christmas decorations of Hogsmeade – photo gallery
The Christmas decorations of Diagon Alley – photo gallery
The Magic of Christmas at Hogwarts Castle – photo gallery