Skip to: Overview | Location | Restrictions | Fear factor | Fun fact | Guest reviews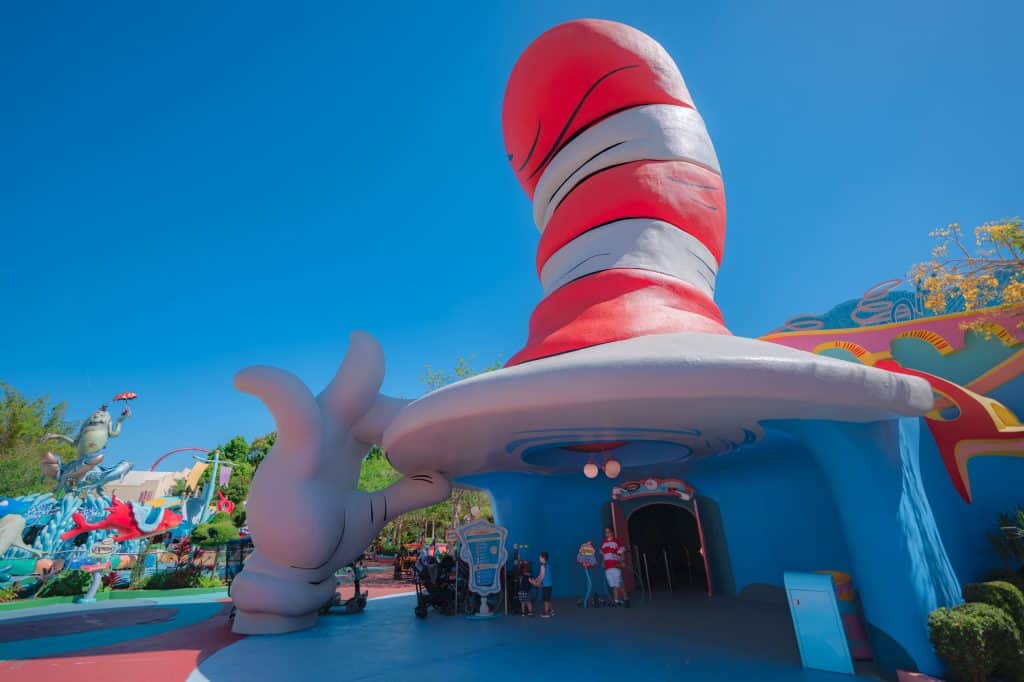 What is The Cat in the Hat?
Step into the world of Dr. Seuss as you follow along with the classic tale of two kids who long for something to do – but could never have imagined that their wish would come true in the form of hijinks with the Cat in the Hat. This dark ride takes you through the quirky scenes of the book, where you'll meet the cynical fish, chase down Thing 1 and Thing 2, and encounter lots of colorful fun.
Where is The Cat in the Hat located?
In Seuss Landing, which is in Islands of Adventure.
The Cat in the Hat – height restrictions and other factors
Height requirement is 36 inches; supervising companion required for riders under 48 inches; has Express Pass access.
The Cat in the Hat – what you wish you knew before you experienced it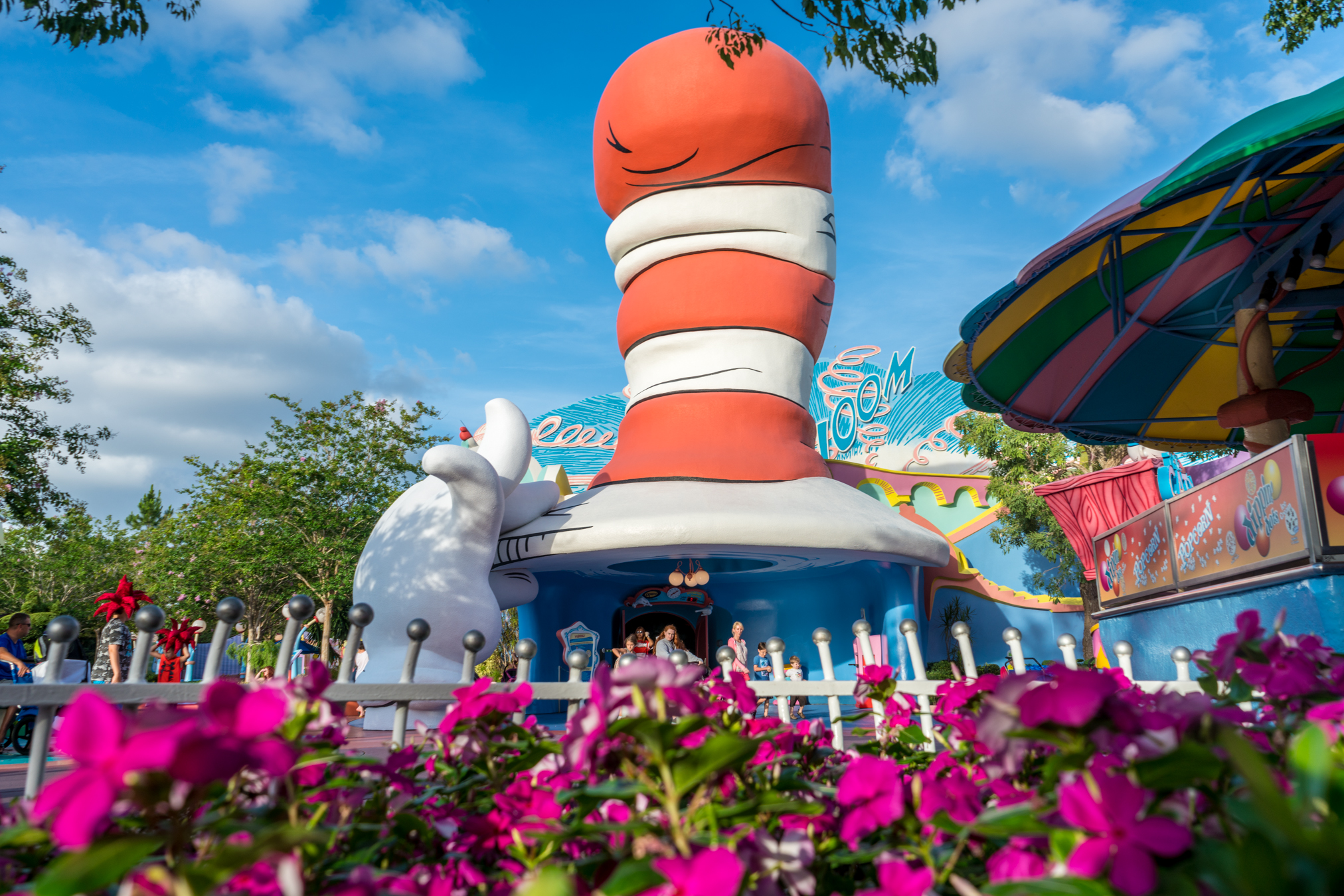 You may have heard horror stories of intense spins on this attraction, but have no fear – the extreme motion was eliminated from Cat in the Hat a few years ago, making it much more tame.
How scary is The Cat in the Hat?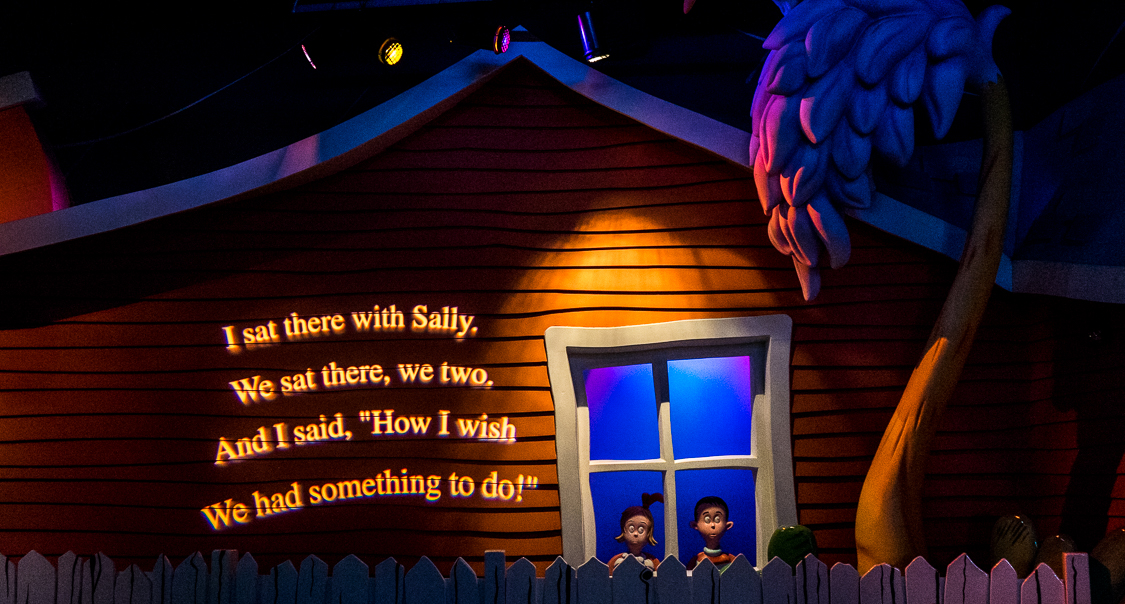 We rate The Cat in the Hat one out of five playful Things in terms of fear factor. While the ride has plenty of surprises, it is definitely kid-friendly, with a few exciting movements thrown in.
What was The Cat in the Hat's opening date?
May 28, 1999
The Cat in the Hat – OI fun fact
This ride's vehicle design was adapted for use in the Men in Black Alien Attack attraction over at Universal Studios Florida.
The Cat in the Hat – photo gallery
The Cat in the Hat – real guest reviews
Cat in the Hat
Average rating:
12 reviews
Dec 18, 2014
Just...meh...
Date Of Last Visit:
12/14/14
It's not a bad ride, great for kids. But unless the wait is under 10 minutes, not worth it. It's cute and goes well with the book, but it just needs SO much renovations. As much as I love all the new interesting things going on in the parks, US/IOA needs to give a little love to their older rides...
May 25, 2014
A Fun Reminder of My Childhood
Date Of Last Visit:
June 2013
I must begin by saying our main motivation for standing in line to ride this attraction was the fact that a downpour had ensued and we were looking for shelter. Having said that, I'm so glad we did!



I, as many, grew up on the Dr Seuss books and this was a fun, vibrant, retelling of one of his most famed stories via Disney-esque dark ride. As an adult, it was refreshing to be taken back in time and reminded of the joy these books gave me as a child.



The one "downside", if you want to call it that, was that halfway through the ride, it broke down and we were stranded in the middle of the story for a brief amount of time as the operators fixed the problem. As an optimist, I was actually amused by the happening. After all, we weren't hanging upside down or elevated 50 feet in the air on a roller coaster, so the inconvenience of sitting in such a colorful setting for a few extra moments did not ruin the experience one bit. If anything, we were able to enjoy the detail of the sets a little more, as we sat waiting for the ride to start up again.



I can see why some may not want to wait in long lines to ride this one, but if you're a fan of Seuss and the line isn't too awfully long, I'd recommend giving it a shot. Not nearly as thrilling as the coasters or simulators throughout the rest of the park, but an enjoyable throwback to simpler times in our lives for sure.
May 25, 2014
Finding your inner child
Date Of Last Visit:
April 2014
If you left your inner child at home, you'll find it on the Cat in the Hat ride! If you didn't read this book as a child, you might not love it so much. If you read it 5 million times, like I did, you'll love how the ride brings the book to life. Universal seems to cater more to adults than kids. This ride is a refreshing change into whimsy from thrill rides and edgy comics. It's sweet and sassy and you feel like you are the one in trouble with Thing One and Thing Two visit. The lines are relatively short and it's inside (out of the Florida heat). While I wasn't as enchanted this trip as the last time I rode it many years ago, it's still a classic.
May 25, 2014
Universal's Best Overall
Date Of Last Visit:
July 15, 2013
This ride is by far one of Universal's best rides yet. They managed to make the pages of a childhood classic come alive. I visited with a friend in July (busy season) and we managed to get a car all to ourselves. We were amazed by how exact the art and theming was. It made us feel like we were kids living out one of our favorite books. The smiles on our faces lasted us long into the afternoon after a spin with the forever infamous Cat in the Hat.
May 24, 2014
Love!
Date Of Last Visit:
05/17/14
This is my 5 year olds favorite ride. He loves Dr. Suess and knows this story by heart. All the spinning is the bonus. Great family ride. In fact the entire Seussville area is perfectly designed. We would love to see more attractions in the area. 48 books, I'm sure more can be added!
Do you have a question about the information on this page or would you like to provide feedback? Please let us know by posting in our
Orlando Informer Community
on Facebook.