Skip to: Overview | Location | Restrictions | Fear factor | Fun fact | Guest reviews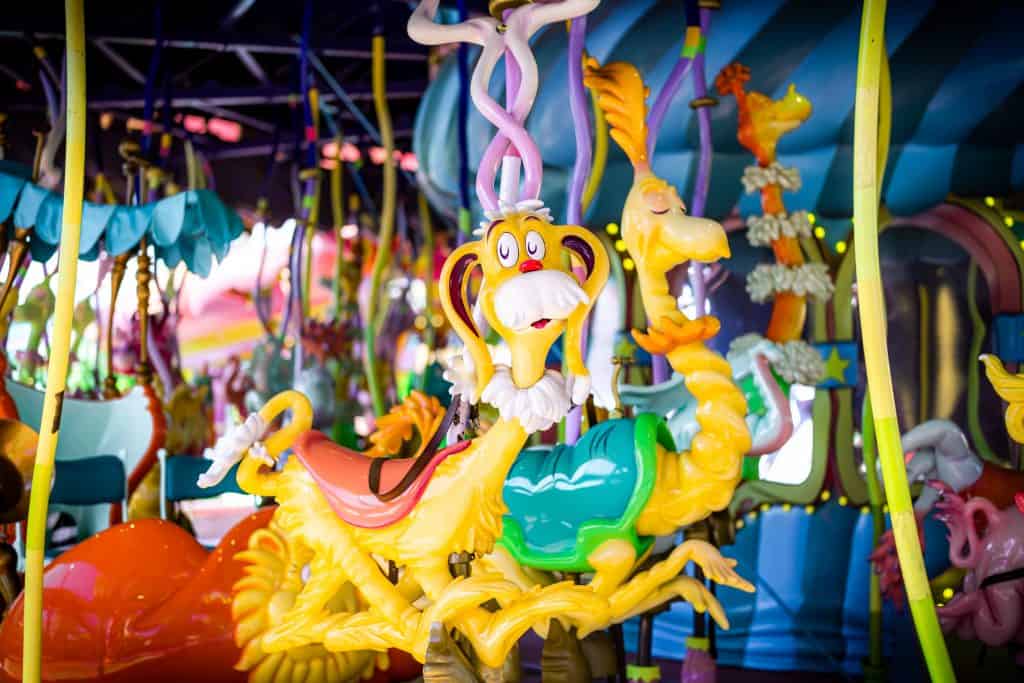 What is Caro-Seuss-el?
Caro-Seuss-el is a merry-go-round that replaces the traditional horses with unique Dr. Seuss characters, including the cowfish from McElligot's Pool, Mulligatawnies from If I Ran the Zoo, and elephant birds from Horton Hatches the Egg. Vibrant colors and fun music bring this carousel to life, along with a few interactive surprises.
Where is Caro-Seuss-el located?
In Seuss Landing, which is in Islands of Adventure.
Caro-Seuss-el – height restrictions and other factors
A supervising companion is required for riders under 48 inches; has Express Pass access.
How scary is Caro-Seuss-el?
Unless you're specifically scared of going in a circle or of Dr. Seuss characters, we rate this attraction zero out of five Drum-tummied Snums in terms of fear factor; Caro-Seuss-el is designed to delight everyone in your family.
What was Caro-Seuss-el's opening date?
May 13, 1999
Caro-Seuss-el – OI fun fact
A first in carousel design, riders can "animate" the character they're riding by pulling on the reins or pushing the levers on the characters' necks.
Caro-Seuss-el – photo gallery
Caro-Seuss-el – real guest reviews
Caro-Seuss-el
Average rating:
4 reviews
May 26, 2014
Get On and Go Beyond Zebra
Date Of Last Visit:
July 15, 2013
Dr. Seuss is one of the greatest authors ever and this ride captures the whimsical nature of his books. Carousels are pretty standard and this one doesn't differ in the basis of the ride. The major change is that instead of riding horses, you are riding every possible creature imaginable from his books! There are elephant-like creatures, dog-like creatures, fish-like creatures, and a ton more. It's good, clean, fun for the whole family!
May 26, 2014
Fun Twist on Merry-Go-Round
Date Of Last Visit:
Dec 24, 2013
My husband and I went to Universal on our honeymoon and Seuss Landing was my favorite island. This ride is your basic merry-go-round but it uses Seuss characters instead of animals. That added effect makes this ride more enjoyable than your normal merry-go-round. It is definitely not the most exciting ride in the park, but if the line is short (it seemed to be most of the time we were there, even on Christmas eve when the park was REALLY busy) and you enjoy Seuss stories this ride is one you should experience at least once!
May 25, 2014
No straight lines in Seuss land
Date Of Last Visit:
April 2014
Oh what great things to see, than a Seuss carousel ride for you and me! The creatures are hopping up this way and that while Mommies and Daddies hold on to their hats. The children squeal happily, hap hap hap happy, the creatures colors and styles are quite merrily snappy! The poles wind crookedly to their Seussical tunes, as straight lines are not allowed when you ride with Dr. Seuss!
Nov 10, 2013
A Magical Ride
Date Of Last Visit:
12/13/2012
This is the most charming carousel I've ever seen, anywhere! Set in this amazing land where everything is brighter-than-life you choose a mythical creature to ride. The mythical animals are whimsical and charming and the ride moves quickly enough that the queue never seems to linger for more than a few minutes. This is no ordinary merry-go-round, so take the time to ride and to look all around- note "who" is on top of the building!!
Do you have a question about the information on this page or would you like to provide feedback? Please let us know by posting in our
Orlando Informer Community
on Facebook.