Skip to: Overview | Location | Hours | OI tip | Menu | Guest reviews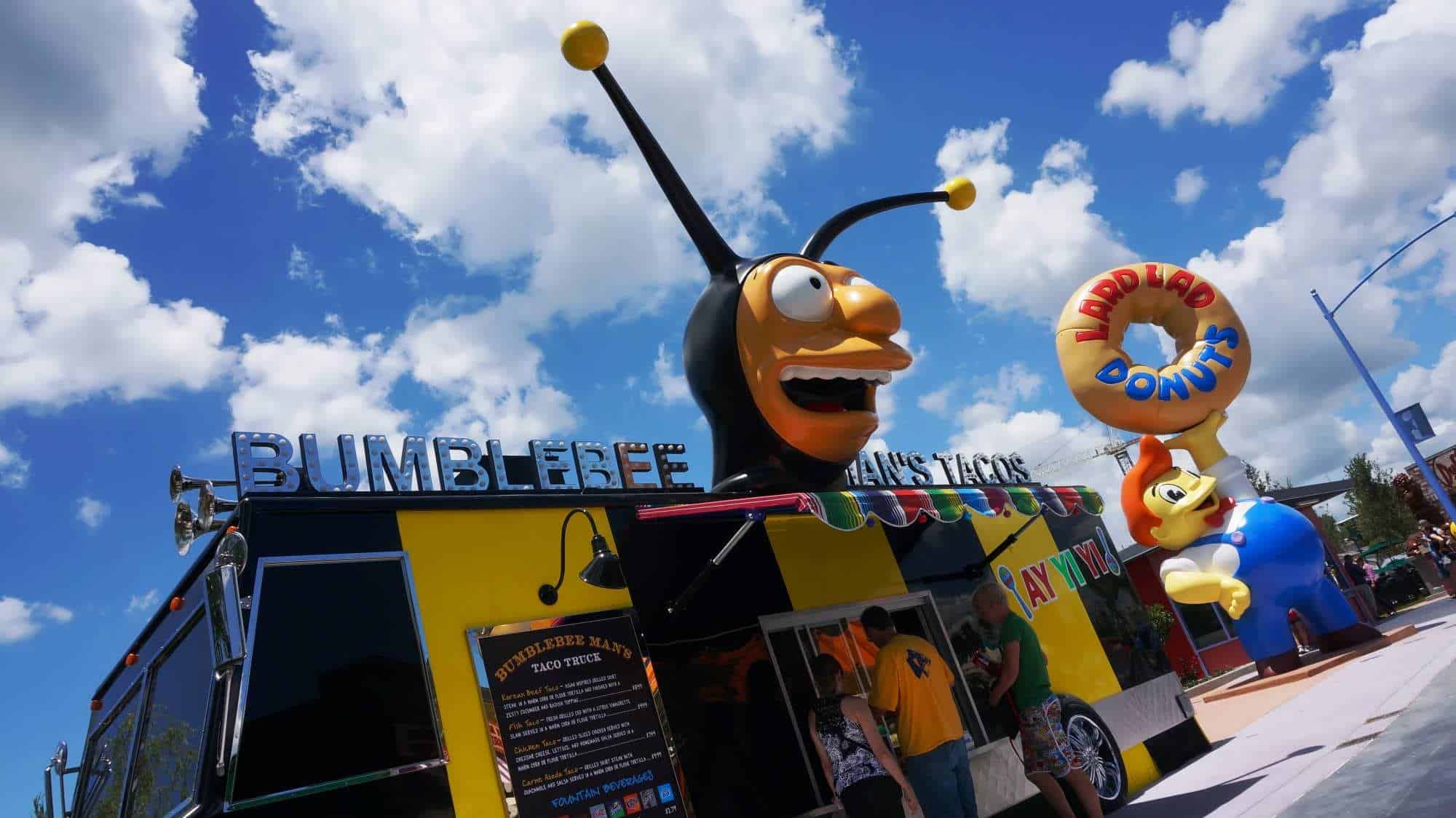 What is Bumblebee Man's Taco Truck?
One of The Simpsons's quirkiest characters, Bumblebee Man has fallen into the food truck craze! Place your order at his quick-service vehicle near the entrance to Springfield for tasty, grab-and-go tacos. Find your way to several outside seating areas with shaded tables and chairs, including the lagoon area near Duff Brewery – or, for a vast open space, backtrack to Universal Studios Florida's Central Park (across from Woody Woodpecker's KidZone).
Where is Bumblebee Man's Taco Truck located?
In Springfield: Home of the Simpsons, which is in Universal Studios Florida.
Bumblebee Man's Taco Truck – hours and reservations
Bumblebee Man's Taco Truck is open daily from 11:00 am until park close.
Bumblebee Man's Taco Truck – OI tip
Duff beer is only available in 12-oz. bottles from Bumblebee Man. If you'd like a draft beer (either just because you want more or because you want to refill your souvenir Duff mug), grab your food and head over to Duff Brewery a few paces away.
What's on the menu at Bumblebee Man's Taco Truck?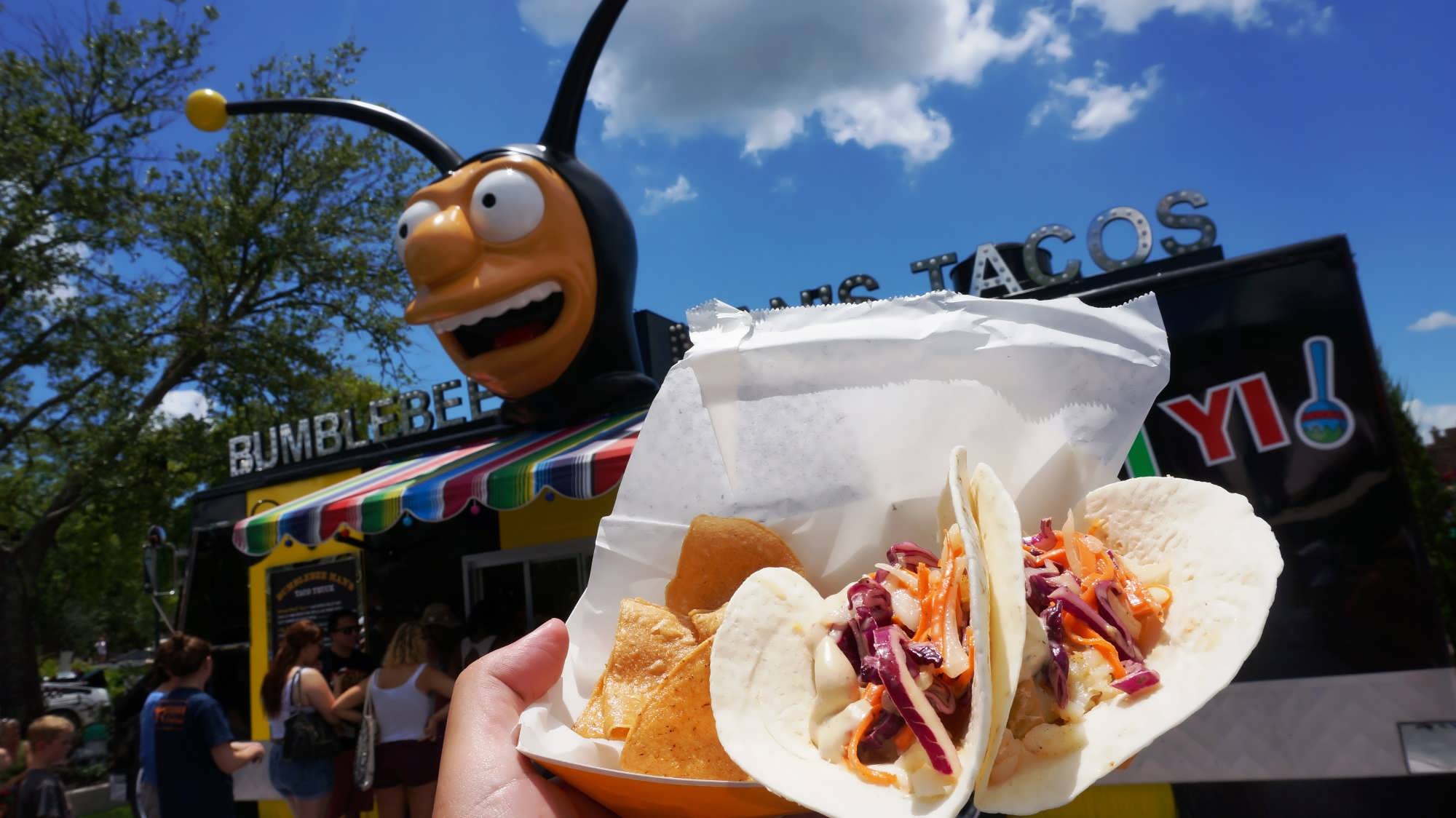 Tacos
All Tacos served with a side of tortilla chips and choice of red or green salsa
Pollo – $11.99
Marinated chicken served in soft tortillas with onions and cilantro
Carne Asada – $11.49
Tender marinated grilled beef served in soft flour tortillas with onions and cilantro
Carnitas – $11.99
Roasted pork shoulder served in soft tortillas with onions and cilantro
Beverages
Fountain Soda – $4.19
Coca-Cola, Coca-Cola Zero Sugar, Diet Coke, Sprite
Niagra Bottled Water – $3.50
Duff Beer – $10.00
Duff, Duff Lite, and Duff Dry
Bumblebee Man's Taco Truck – real guest reviews
Bumblebee Man's Taco Truck
Average rating:
4 reviews
Apr 3, 2018
Date Of Last Visit:
2/17/2018
I am surprised this has not been turned into a restaurant! The tacos are great!
Aug 16, 2014
Mediocre at best
Date Of Last Visit:
08/05/2014
The Korean "themed" or "inspired" tacos were absurdly awful. Skip these and go for the other tacos on the list which are way tastier.
Jun 30, 2014
Very Tasty
Date Of Last Visit:
October 2013
I sampled these tacos during Halloween Horror Nights and was pleasantly surprised! I tried the chicken, the Korean beef, and the carne asada tacos. The Korean beef was easily my favorite, though all three were fresh tasting and tasty. I would definitely eat here again!
Dec 23, 2013
Fresh and Delicious
Date Of Last Visit:
September 2013
Bumblebee Man's Taco's are fresh and delicious! My husband and I had at least one every day during our 5 day trip. We tried each of the tasty taco's but we both agree that the Korean beef taco was our favorite. The warm Asian skirt steak paired with the cool cucumber and radish combination was absolutely delicious. Such a fresh flavor. It was very satisfying, on a hot day, without feeling heavy. We completed our meal with by sharing a Buzz Cola and a big pink frosted lard lad doughnut. We had such a nice time sitting on the benches near the taco truck, enjoying our food and people watching. Visit Bumblebee Man's taco truck if you are looking for something quick, satisfying and fresh.
Do you have a question about the information on this page or would you like to provide feedback? Please let us know by posting in our
Orlando Informer Community
on Facebook.