Skip to: Overview | Location | Hours | Menu | Guest reviews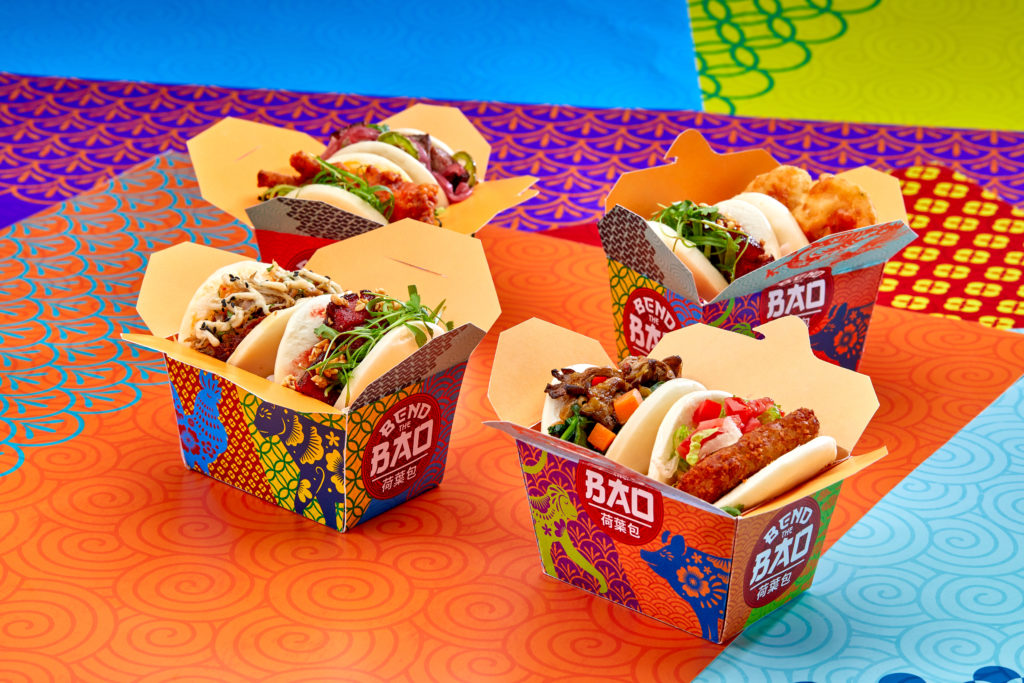 What is Bend the Bao?
Situated on the second floor of CityWalk, where it overlooks Hollywood Drive-In Golf, Bend the Bao is a colorful explosion of both theming (check out all that Chinese zodiac iconography!) and cuisine, fusing a disparate range of Asian tastes in bao-bun form. This quick-service eatery may just be a glorified take-out window, but there's a good amount of seating to be found around the little venue, and the menu of delicious bao and refreshing sake more than warrants a visit (or three).
Where is Bend the Bao located?
At Universal CityWalk Orlando. Look for it up on the second level, right next to the exit of the Universal Cinemark movie theater.
Bend the Bao – hours and reservations
Bend the Bao's hours are 10:30 am to 11:00 pm daily (though this is subject to change, of course).
What was Bend the Bao's opening date?
June 15, 2021
Bend the Bao – OI fun fact
Bend the Bao's location in CityWalk and the timing of its opening, in the topsy-turvy year of 2021, are both very interesting when taken in the full context of Universal history. We break it all down for you in our announcement article.
What's on the menu at Bend the Bao?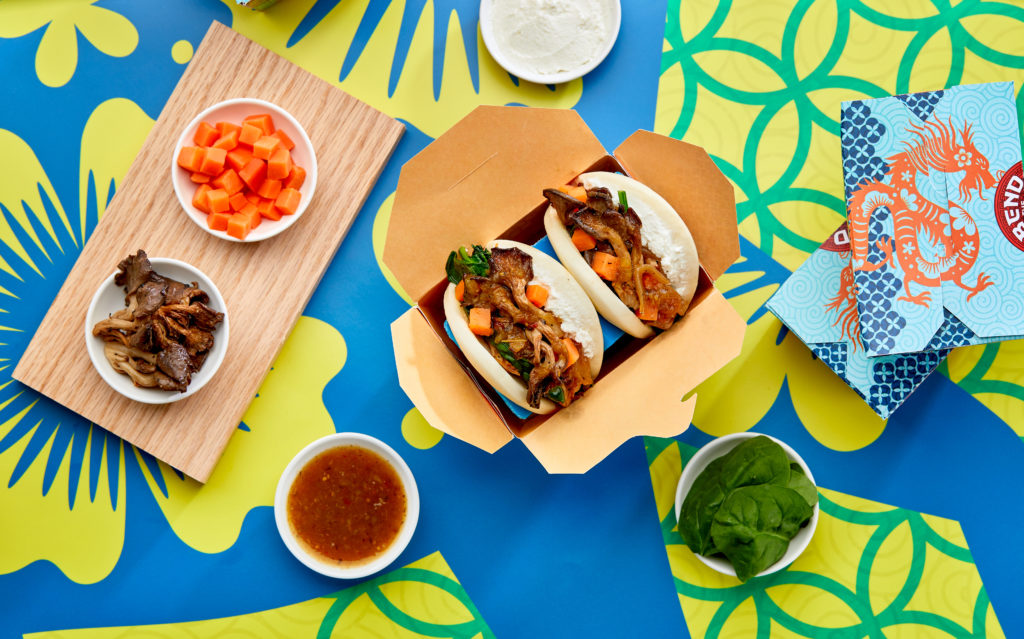 Bao
Two bao for $12.29; $4.49 to add an additional bao
Kimchee FC
Kimchee fried chicken, kimchee butter, gochujang, cucumber, stallion, sriracha aioli
Pork Belly
Pork belly, scallions, cucumber, honey-roasted peanuts, cilantro
Duck
Braised duck, kimchee slaw, XO sauce, cilantro, five-spice aioli
Beef Brisket
Beef brisket, fried jalapeno, pickled red onion, cilantro, avocado lime crema
Veggie
Roasted oyster mushrooms, spinach, sweet potato, caramelized onion, smoked ricotta cheese, tomatillo salsa
Shrimp
Fried shrimp, shredded cabbage, avocado, pico de gallo, chipotle sauce
Crab Cake
Maryland-style crab cake, shredded lettuce, diced tomato, mustard aioli
Beverages
Boba
Blue Bao Boba – $7.79
Bright fruit and berry flavors with almond milk, purple Taro, crystal boba, and pineapple jellies
Dark Roasty Boba – $7.79
Traditional Hokkaido milk tea with vanilla almond milk, black sugar, and topped with crystal boba
Sake
Sho Chiku Bai Junmai Sake – $11.00
Moonstone Coconut-Lemongrass Nigori Sake – $14.00
Beer
Asahi – $9.50
Kirin Ichiban – $9.50
Coors Light – $9.50
White Claw – $10.50
High Noon Hard Seltzer – $11.25
Peach, Pineapple, Watermelon
Wine
Beringer Founders Chardonnay – $9.00
Spellbound Cabernet – $9.00
A to Z Reisling – $13.00
Soda, Tea, & Water
Fountain Soda – $4.29
Coca-Cola, Diet Coke, Coke Zero Sugar, Sprite, Fanta Orange, Minute Maid Lemonade
Premium Bottled Water – $5.50
Bend the Bao – real guest reviews
Orlando Informer
Average rating:
0 reviews
Do you have a question about the information on this page or would you like to provide feedback? Please let us know by posting in our
Orlando Informer Community
on Facebook.