Skip to: Overview | Location | Hours | Menu | Guest reviews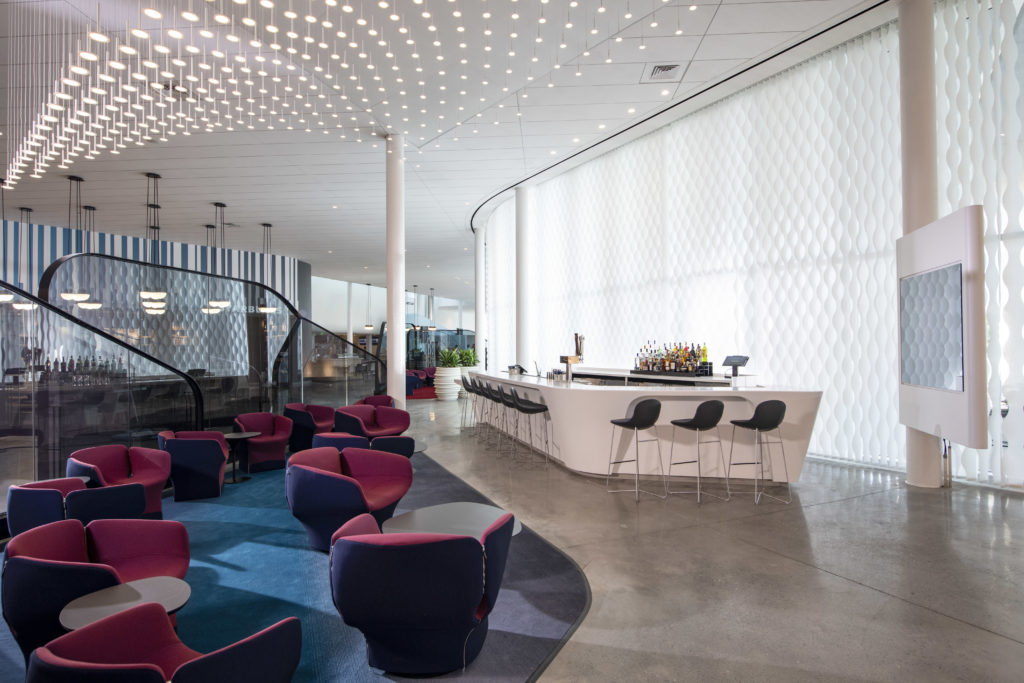 What is barVentura?
barVentura is the contemporary lobby bar at Aventura Hotel, serving only libations. The menu may be limited – offering only wine, cocktails, and beer – but the atmosphere is open, breezy, and inviting. Universal describes barVentura as the perfect before- (or after-) dinner hangout, and we couldn't agree more.
Where is barVentura located?
At Aventura Hotel, one of Universal Orlando Resort's hotels.
barVentura – hours and reservations
barVentura is open on daily from 5:00 pm until 11:00 pm.
Reservations are not available at this lounge/bar.
What's on the menu at barVentura?
Wine
Pommery Champagne, Brut
France
Lunetta, Prosecco Sparkling Wine
Italy
Alto Vento, Pinot Grigio
Italy
Daou, Sauvignon Blanc
California
Z Alexander, Chardonnay
California
Candoni, Moscato
Italy
Jean-Luc Colombo, Rosé
France
 Nobles Vines 667, Pinot Noir
California
14 Hands, Merlot
Washington
H3 Horseheaven, Red Blend
Washington
Bonanza by Caymus, Cabernet Sauvignon
California
Aruma, Malbec
Argentina
'INVITATION' by Chateau Souverain, Chardonnay
California
'INVITATION' by Chateau Souverain, Souvignon Blanc
California
'INVITATION' by Chateau Souverain, Cabernet Sauvignon
California
'INVITATION' by Chateau Souverain, Pinot Noir
California
Cocktails
Rum Old Fashioned
Diplimatico Planas Rum, banana syrup, Fee Brothers 'West Indies Orange' bitters, Angostura bitters
Purple Rain
Martel Blue Swift Cognac, lime, agave, coco, blackberry, mint
Lobby Ninja
Sake, New Amsterdam Vodka, cucumber, lemon, lime
Spritz
New Amsterdam Vodka, Aperol, Moscato, Triple Sec, Lemon Juice
Commonwealth
Aviation Gin, orgeat, lemon juice, blackberry
Southside Daiquiri
Bacardi Superior, St. Germain, lime, mint, passion fruit
Cocoanut Martini
Malibu Coconut, Baileys, chocolate, cream
Perfect Paloma
Patron Silver Tequila, triple sec, grapefruit soda, lime
Mocktails
Hopped Hibiscus Soda
Hibiscus Water, Simple Syrup, Hops, Lemon Juice
Draft Beer
Stella Artois, Blonde Pilsner
Belgium
Blue Moon Belgian White, Witbier
Colorado
New Belgium "Voodoo Ranger" IPA
Colorado
Michelob Ulta Pale Lager
Missouri
Can Beer
Light Lager, Miller Lite
Wisconsin
Light Lager, Budlight
Missouri
Lager, Budweiser
Missouri
Lager, Corona Light
Mexico
Spirits
Vodka
Absolut
Absolut Citron
Grey Goose
Ketal One Oranj
Stoichnaya
Tito's
Gin
The Botanist
Hendrick's
Tanquery
Aviation
Scotch
Dewar's
Johnnie Walker Red
Johnnie Walker Black
Macalan 12 Speyside
Glenlivet
Bourbon/Whiskey
Canadian Club
Crown Royal
Jameson
Maker's Mark
Woodford Reserve
Yellowstone
Bulleit Rye
Larceny
Templeton Rye
Tequila
Jose Cuervo Gold
Patron Silver
Don Julio Blanco
Juarez Silver
Rum
Sailor Jerry
Bacardi Superior
Malibu Coconut
Diplomático Planas
barVentura at Aventura Hotel – photo gallery
barVentura at Aventura Hotel – real guest reviews
Orlando Informer
Average rating:
0 reviews
Do you have a question about the information on this page or would you like to provide feedback? Please let us know by posting in our
Orlando Informer Community
on Facebook.