Skip to: Overview | Location | Attractions | Entertainment | Dining | Shopping | Fun facts | Additional services
What is Toon Lagoon?
Toon Lagoon largely serves as the water-park area of Islands of Adventure, with three attractions where guests will find it very difficult to stay dry. Based on the Sunday-morning newspaper comics of King Features Syndicate, guests of a certain age will enjoy seeing familiar friends from their childhood. If you have younger park-goers in your party, be prepared to answer many questions from the youngsters, such as, "Who is that character?," "Why is that funny?," and, also, "What is a newspaper?"
Apart from the cacophony of images, sculptures, and visual gags spread throughout the land, the main attractions here for older kids are a Rocky and Bullwinkle-inspired log flume ride (with an immense lift hill and drop) and a Popeye-themed river-raft ride, while the younger ones can cool off in the water play area of Popeye's ship, the Olive.
The food locations are nothing to write home about, but if you find yourself hungry in this area, Blondie's has made-to-order sandwiches, while Comic Strip Cafe and Wimpy's serve burgers and more. The shopping in Toon Lagoon spotlights merchandise featuring the characters that you'll see around the land (such as Betty Boop and Rocky and Bullwinkle) but also includes newer Universal franchises, like The Secret Life of Pets.
Where is Toon Lagoon located?
Toon Lagoon – attractions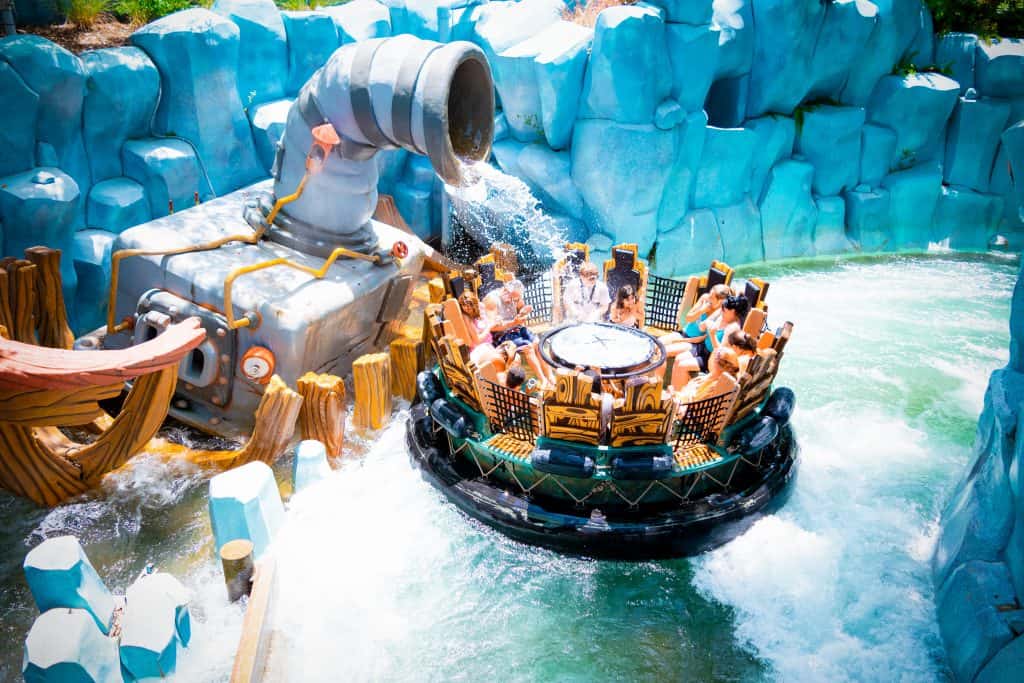 Strap into a 12-person raft and prepare to get completely soaked as you take a ride on Popeye's river tour. This innocent excursion goes awry when passengers are diverted into the rapids by Bluto in an attempt to kidnap Olive Oyl. If you're not too busy trying to avoid getting sprayed by the water cannons on the bridges above, keep your eyes open for plenty of visual gags and signage jokes.
The perfect place for kids to both cool down and blow off some steam, adults will still want to explore Popeye's famous ship, named after his one true love. Climb the stairs into this multi-level play area that's decked out with rope ladders, slides, and water cannons. From the top level, you can shoot at the riders on Bilge-Rat Barges below and take in the amazing views that overlook the park's lagoon.
If you're brave enough to line up for this attraction after seeing logs come down the 75-foot drop, then be prepared for a wet and wild ride. Join Dudley Do-Right and his horse (named Horse) as they attempt to rescue sweet Nell from Snidely Whiplash. Trek through indoor and outdoor ride portions with some small drops before you plunge below sea level in the final explosive flume.
Toon Lagoon – entertainment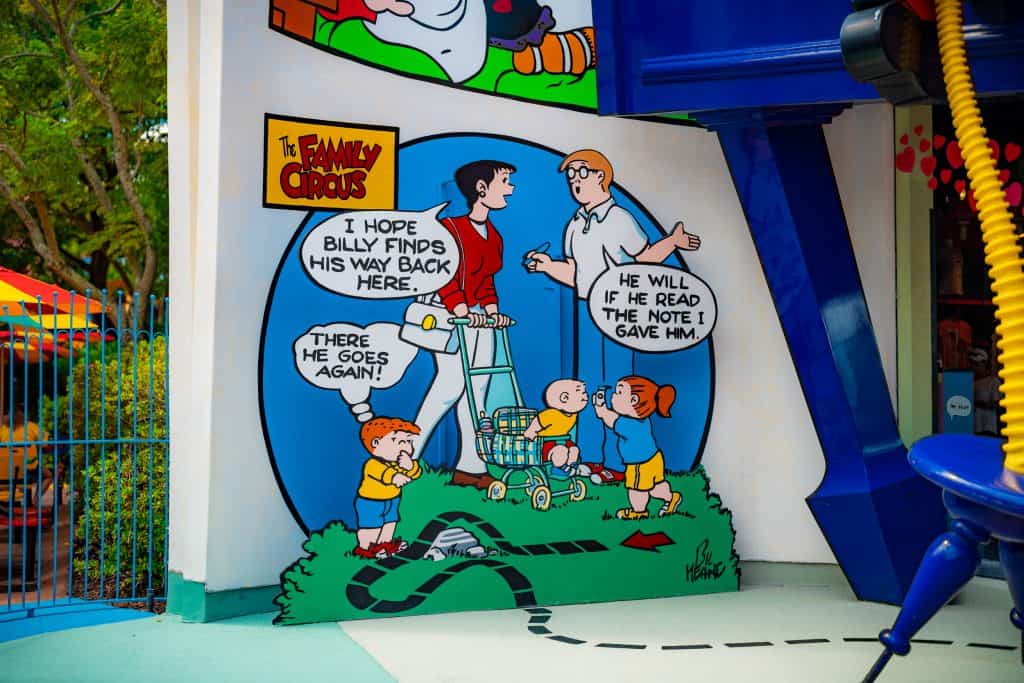 Classic comic character meet-and-greets
As you stroll through Toon Lagoon, keep an eye out for iconic cartoon characters coming to life, including Betty Boop and Popeye and his sweetheart, Olive Oyl. (If you don't see any characters, there are still many photo opportunities among this land's unique theming.)
Toon Lagoon games
On the walkway between Marvel Super Hero Island and Toon Lagoon, several carnival-style games, like the basketball toss and whack-a-mole, let you take a chance to try and win a prize of your choice.
Toon Lagoon – dining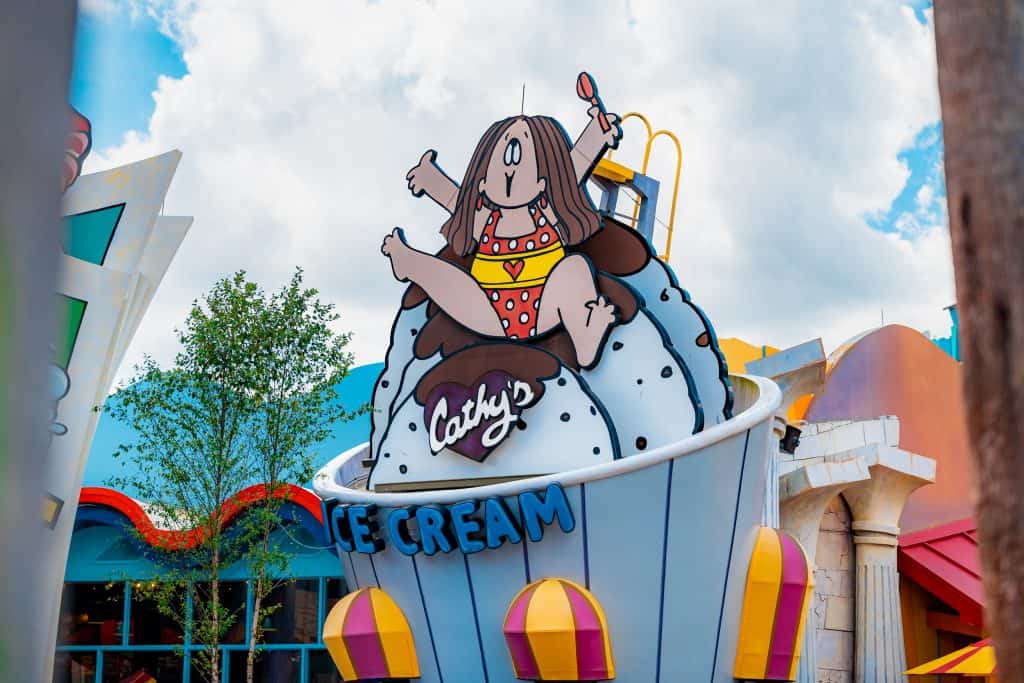 Comic Strip Cafe is a mixed bag of flavors, with something that is sure to please everyone in your group. Open for lunch and dinner, the cafe has burgers, pizza, pasta, salad, fish and chips, egg rolls, sweet and sour chicken, and more. And your family will be entertained as you eat by all the larger-than-life comics that cover the walls.
Although this is Blondie's catering shop, it's Dagwood who fashions the multi-decker sandwiches that make this worth a stop. All sandwiches are made-to-order, and guests can choose from bread options, meats, cheeses, and all the toppings. If you're looking for something hot, Blondie's also has chili and Chicago dogs, with fries, cole slaw, or potato salad on the side.
With his claim to fame as Popeye's best buddy, Wimpy is on a mission to serve the best hamburgers at this quick-service counter. A simple menu features the Wellington Cheeseburger Platter and a Vegan Supreme Cheeseburger Platter, which are both served with curly fries. Guests can also order chicken fingers, a caprese salad, or pineapple Dole Whip sorbet for dessert.
No one loves ice cream more than Cathy, and she's happy to serve up sundaes, ice cream floats, and milkshakes at her kiosk of frozen treats (featuring Ben & Jerry's ice cream flavors).
Toon Lagoon – shopping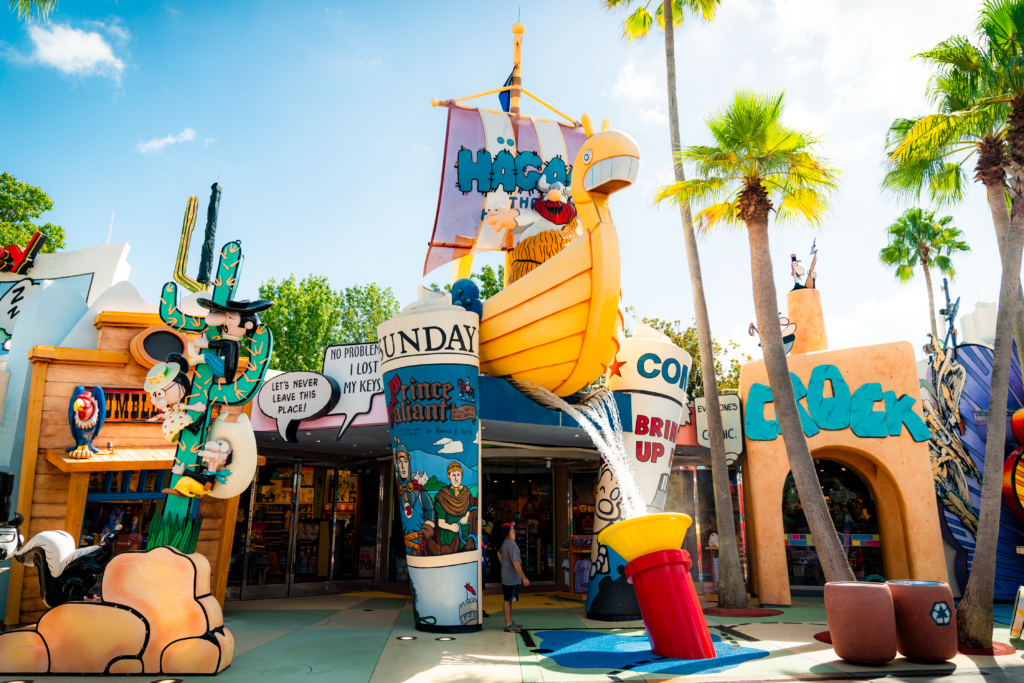 Toon Extra
Walk under the fountain as Hagar the Horrible sails up above, and enter Toon Extra to find souvenirs, toys, and clothing based on both new and classic comic-strip characters, such as Popeye, Hagar, Cathy, and more.
Betty Boop Store
This sassy lady has her own store in Islands of Adventure (as well as one over at Universal Studios Florida), with her image on everything from mugs and keychains to home decor, jewelry, and toys.
Wossamotta U
At Wossamotta U, shoppers will find souvenirs from their favorite DreamWorks Animation characters from The Secret Life of Pets, Kung Fu Panda, and Shrek.
Gasoline Alley
Swing by this life-sized gas station from the comic strip Gasoline Alley if you're looking for vacation apparel and sundries, like beach towels, hats, sunscreen, and t-shirts (or long-sleeve shirts and sweatshirts if the weather turns chilly). In addition to these useful items, Gasoline Alley has a spot to design your own personalized metal signs.
Toon Lagoon – OI fun facts
The Toon Lagoon area is so full of classic comic references and visual gags, it's hard to know where to start. It's clear that the designers had a real love for their subject and were able to integrate dozens of beloved characters for a dynamic and fun-filled land. Here are a few of the easy-to-miss highlights if you're rushing from ride to ride:
Stop to grab ahold of Marmaduke's leash for a photo-op where the friendly Great Dane appears to drag you along on his walk.
Explore the walkway behind Me Ship, the Olive for visual gags such as a "school of fish" and a "Plymouth rock" and to get a glimpse of Popeye's mailbox.
"X" marks the spot as Billy from The Family Circle goes missing and ends up on an adventure in another comic strip.
Be sure to check out the parody movie posters in the queue for Dudley Do-Right's Ripsaw Falls.
Several comic-strip dogs gather around (what else?) a fire hydrant for a frolic.
Are there guest services available in Toon Lagoon?
Restrooms
Toon Lagoon has three restroom areas: the first is on the left side of the walkway as you come from Marvel Super Hero Island; the next one is by Wimpy's hamburger shack; and the third is over at the Gasoline Alley shop.
Lockers
Lockers are not required to stow your personal items when you ride either Dudley Do-Right's Ripsaw Falls or Popeye & Bluto's Bilge-Rat Barges, but guests might want to seriously consider making use of the paid lockers that are outside each attraction, as you and anything you bring on these rides may get completely soaked. The lockers start at $4 for the first 90 minutes, and $3 for each additional hour.
People Dryers
With the high probability of getting wet on Dudley Do-Right's Ripsaw Falls or Popeye & Bluto's Bilge-Rat Barges, People Dryers are available to aid the drying process for a $5 fee.
First aid
The nearest first aid location is back in Port of Entry.
ATMs
There are no ATMs in Toon Lagoon, but guests can find one at the arcade in Marvel Super Hero Island, and another in Jurassic Park by Jurassic Park River Adventure.
Toon Lagoon – photo gallery
Do you have a question about the information on this page or would you like to provide feedback? Please let us know by posting in our
Orlando Informer Community
on Facebook.