Skip to: Overview | Location | Attractions | Entertainment | Dining | Shopping | Fun facts | Additional services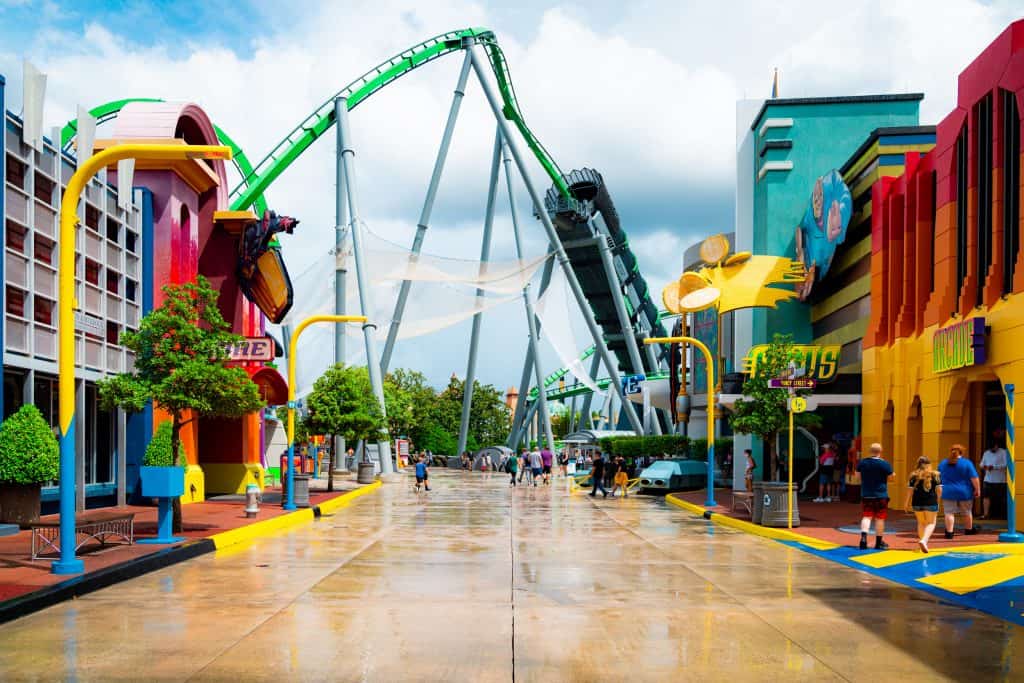 What is Marvel Super Hero Island?
Step into the world of Marvel Comics and fight alongside some of your favorite superheroes, including Spider-Man, the X-Men, the Incredible Hulk, and more! One of the most thrilling lands at Islands of Adventure, Marvel Super Hero Island is home to four attractions, including The Incredible Hulk Coaster and the revolutionary Amazing Adventures of Spider-Man.
The architecture and theming is straight-up comic book-style, with a cartoonish color scheme, amplified angles, and larger-than-life cutouts of the most popular Marvel characters. Guests can meet Spider-Man and other superheroes throughout the day, or stock up on Marvel-branded souvenirs.
Where is Marvel Super Hero Island Located?
In Islands of Adventure. It is the first land past Port of Entry if you go around the lagoon counter-clockwise.
Marvel Super Hero Island – attractions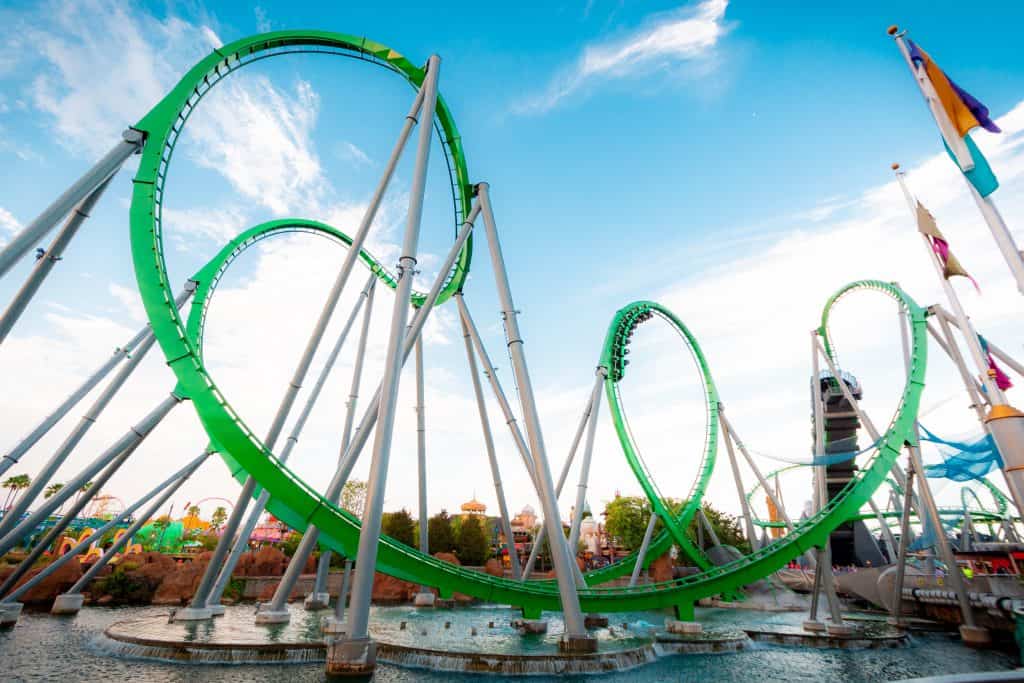 Enlist as a test subject for the experiments of General Thaddeus Ross and get a high-dosage blast of gamma radiation on this green-hued coaster. Riders will launch at speeds of over 60 miles per hour, rolling through seven inversions, while rocking out to the on-board audio composed by Patrick Stump of Fall out Boy.
This teacups-style spinning ride encourages riders to spin up a storm, in order to help X-Men Professor Xavier and Storm defeat the evil Magneto. Use your ride vehicle to generate storm energy, circling around amid thunder and lightning sound and light effects.
Shoot up 185 feet into the air on this giant drop tower when you become a participant in Doctor Doom's experiment to suck the fear out of unsuspecting guests and use it in his weapons against the Fantastic Four. In order to do just that, this attraction pulls guests up and down at almost 40 miles per hour.
A major technical achievement upon its debut in 1999, The Amazing Adventures of Spider-Man recruits riders to the newsroom of the Daily Bugle, where they'll take a ride on a "Scoop" vehicle through a 3D adventure, with both screened sets and practical effects. Swing around New York City to foil the Sinister Syndicate's evil plan to kidnap the Statue of Liberty, and come face-to-face with Spidey's many nemeses, including Electro, Scream, Doctor Octopus, the Hobgoblin, and Hydro-Man.
Marvel Super Hero Island – entertainment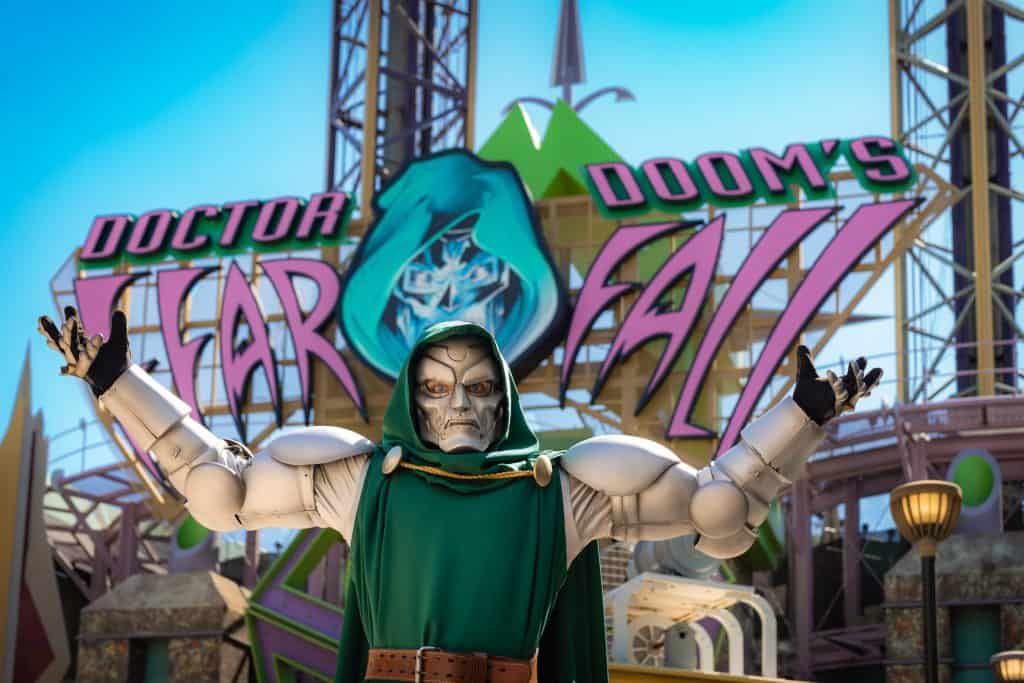 Meet the amazing Spider-Man
As the most popular Marvel character, Spider-Man gets his own meet-and-greet along with a green-screen photo opportunity. Across the street from Dr. Doom's Fearfall, and across the open-patio area of Captain America Diner, a small queue leads guests to the back of the Marvel Alterniverse Shop, where they can snap a picture with Spidey. These photographs are included in a My Universal Photos package or can be purchased immediately after your interaction.
Character meet-and-greets
In addition to Spidey's photo-op, characters from your favorite Marvel comics and films may appear throughout the day, including Captain America, Wolverine, Cyclops, Storm, and Rogue, and villains such as the Green Goblin and Dr. Doom. Check your times guide when you arrive at the parks for the most up-to-date info on character appearances.
Kingpin's Arcade
The villain of Spider-Man: Into the Spiderverse has his very own arcade, where you can spend your coin to play some of the newest arcade and prize-machine games.
Marvel Super Hero Island – dining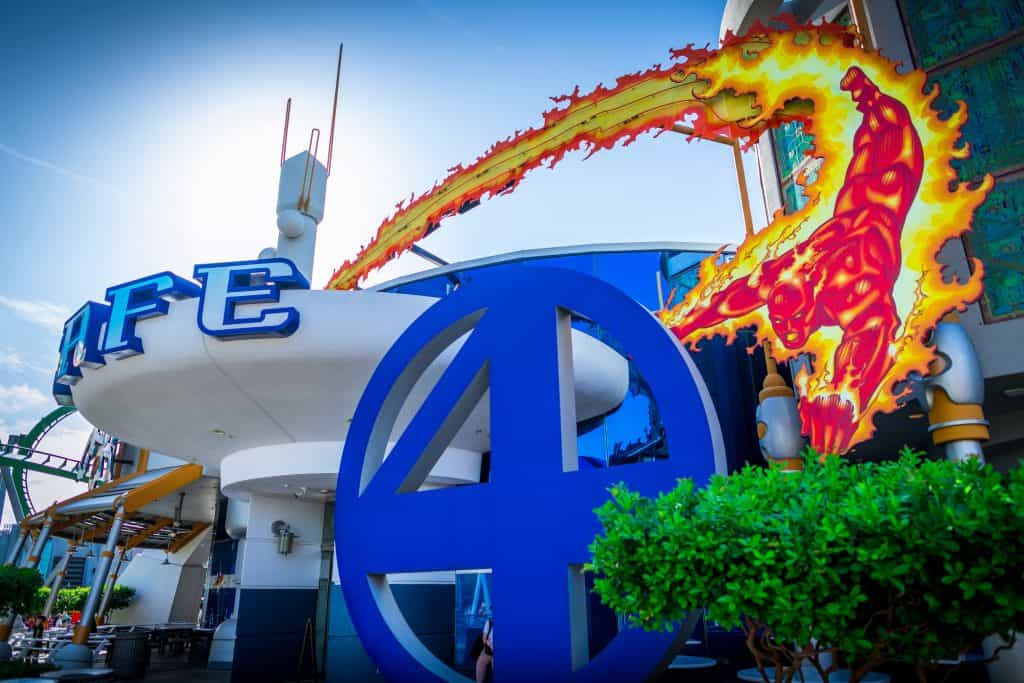 Get an all-American meal at Captain America Diner, a quick-service location open for lunch and dinner, which features a variety of burgers (including vegetarian burger options), chicken fingers, fries, and salads. Be sure to look up as you dine for more comic-book artwork, or grab a seat outside so that you won't miss any of the action while you chow down.
Cafe 4 is inside the Baxter Building, home to the headquarters of the Fantastic Four (originally Mister Fantastic, Invisible Woman, the Human Torch, and the Thing). This quick-service café has Italian-themed eats, like meatball subs, fettuccine, and chicken Caesar salads.
Held on select nights inside Cafe 4, the Marvel Character Dinner is your chance to eat and mingle with Marvel's favorite personalities. Served as a dinner buffet of salads, pastas, pizzas, and desserts, guests will need to purchase a separate ticket in advance for the opportunity to spend time with the heroes, who may include Wolverine, Captain America, Spider-Man, and others.
Nestled among all the superhero action is a small stand serving Auntie Anne's famous warm and delicious pretzels, pretzel bites, and soft drinks.
Marvel Super Hero Island – shopping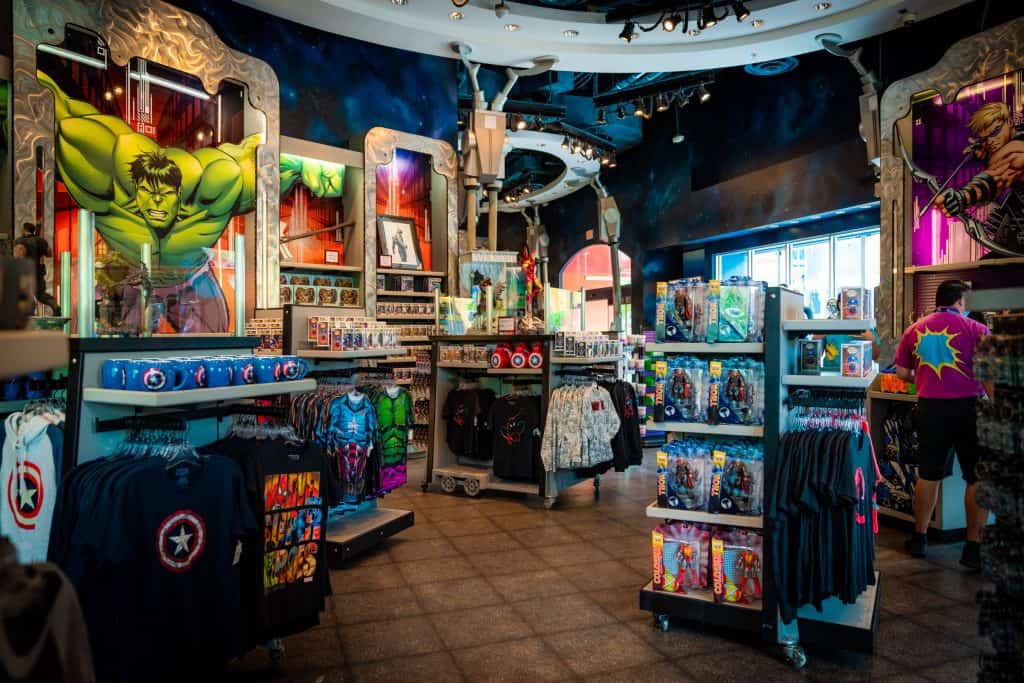 Marvel Alterniverse Store
The largest souvenir shop in Marvel Super Hero Island, the Alterniverse Store has a variety of sections dedicated to a wide range of Marvel characters, both heroes and villains – and is also home to the photo-op meet-and-greet with Spider-Man himself.
Spider-Man Shop
This shop is all Spidey, all the time, with every type of souvenir or collectible you can imagine. Stock up on toys, action figures, hats, t-shirts, mugs, keychains, and more.
Marvel Boutique
An unassuming little shop, Marvel Boutique is where fashion-forward Marvel Comics fans pick up the latest sartorial trends, including dresses, tops, and leggings, as well as accessories like scarves, purses, wallets, and backpacks.
Comic Book Shop
If your visit to Marvel Super Hero Island has inspired you to dive deeper into the comic book world, swing by the Comic Book Shop to browse both current and past issues of the books and graphic novels that have inspired Marvel readers for over 75 years. And for the die-hard Marvel fanatic, the Comic Book Shop has a variety of collectibles and memorabilia to take home.
Marvel Super Hero Island – OI fun facts
"Isn't Marvel owned by Disney?" you might ask as you wander through this land, and you'd be correct – but it was Universal who first obtained the theme-park rights to Marvel's characters back in 1994. When Disney acquired Marvel Entertainment in 2009, it agreed to honor several previous contracts, including the one that keeps certain Marvel figures exclusive to Universal in perpetuity. Until that deal changes, you won't see any of the 30-plus characters found in Universal's Marvel Super Hero Island at the Orlando Disney parks.
Some of the buildings in Marvel Super Hero Island are painted with a special paint called Chrome-Illusion, which contains three-sided crystals and produces different colors depending on the angle it's viewed from and the position of the light on the object.
Are there guest services available in Marvel Super Hero Island?
Restrooms
There are restrooms located at each end of Marvel Super Hero Island: the first is in the Cafe 4 building, across from The Incredible Hulk Coaster, and the second is on the right-hand side heading towards Toon Lagoon.
Lockers
Ride lockers are available at The Incredible Hulk Coaster, as loose articles of any size are not permitted on this attraction. Smaller lockers are free for the duration of your ride, while larger ones can be used for a fee.
First aid
The nearest first aid is back in Port of Entry, just under the first bridge.
ATMs
You'll find an ATM conveniently located near Kingpin's Arcade.
Marvel Super Hero Island – photo gallery
Do you have a question about the information on this page or would you like to provide feedback? Please let us know by posting in our
Orlando Informer Community
on Facebook.