After a nearly four-month-long closure, stretching from Monday, November 2, 2020 to yesterday, Saturday, February 27, 2021, Universal reopened its iconic water theme park, Volcano Bay. And – naturally – we arrived bright and early in the morning to experience the park's reawakening from its winter slumber.
Just as a brief reminder, Universal had originally announced the temporary shutdown back on October 2, due to the ongoing consequences of COVID-19 on the tourism industry. (Don't forget that, just a few weeks beforehand, Disney had made the same announcement regarding its two water parks, Typhoon Lagoon and Blizzard Beach; since then, the Mouse House has said that it's going to reopen the latter on Sunday, March 7.)
Want to know what Volcano Bay was like on its first day of reopening in 2021? Join us as we embark on a watery (or, shall we say, Waturi?) adventure through the rides, food, drinks, and interactive surprises that this park once again has to offer.
Universal's Volcano Bay reopening: the atmosphere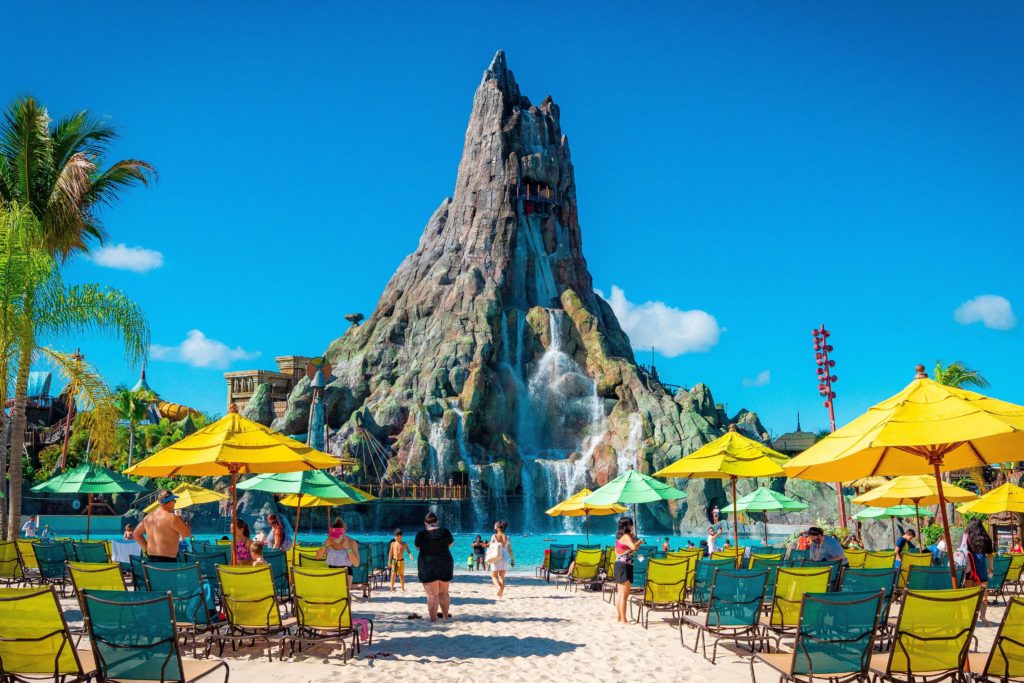 To make the most of our day, we took advantage of Early Park Admission and arrived before the park opened at 10:00 am. Boarding the bus to take us to Volcano Bay was a simple and well-organized process – like before, each party is assigned a section of seats, and plexiglass sheets separate each row. Every team member we encountered upon entry was full of energy and enthusiasm, welcoming us with bright smiles and cheerful voices. It seemed as though they were just as excited to be back as we were!
Safety guidelines, such as face coverings in non-water areas and social distancing, were politely implemented along the way. Even our TapuTapus got in on the squeaky-clean action by sending us reminders every now and then to wash our hands.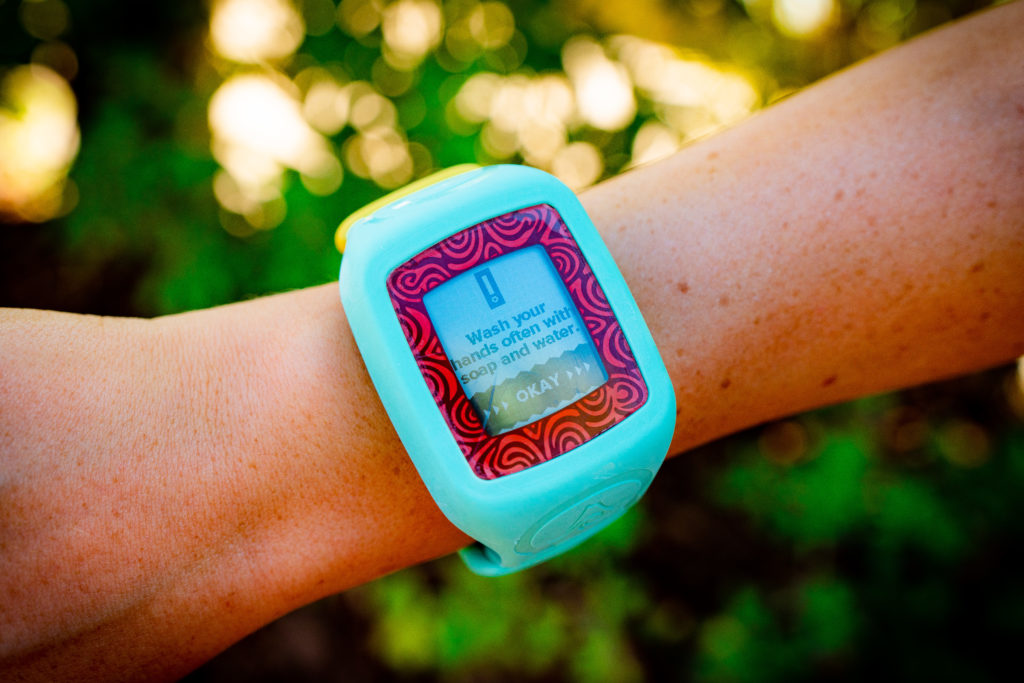 As we ventured into the park and around the corner to Krakatau's scenic reveal (as pictured above), we were met with the familiar vibrance and liveliness that Volcano Bay is known for – it was as if the park never took a day off. With carefree, tropical music floating through the air, warm sunshine beaming down on crystal blue water, and a majestic view of the volcano ahead, we knew we were about to have an awesome day.
Universal's Volcano Bay reopening: the rides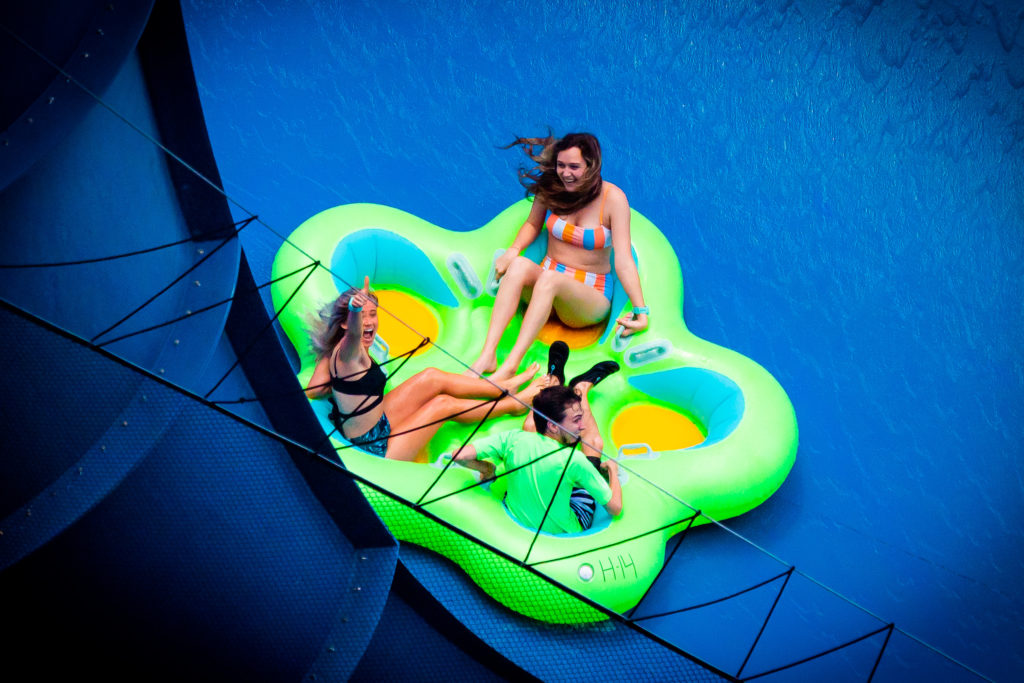 If you couldn't already tell from the photo above, we had an absolute blast making our way through the park's many attractions. A few of the most exciting rides we conquered were Honu ika Moana, Ohyah & Ohno Drop Slides, and – my personal favorite – Krakatau Aqua Coaster. What better way to wake yourself up than dropping, twisting, and splashing your way through a plethora of tropical thrill rides?
As always, these attractions upheld Universal's current safety standards, requiring social distancing in queues and the sanitization of rafts between each use (except for Krakatau Aqua Coaster, which requires hand sanitization before boarding).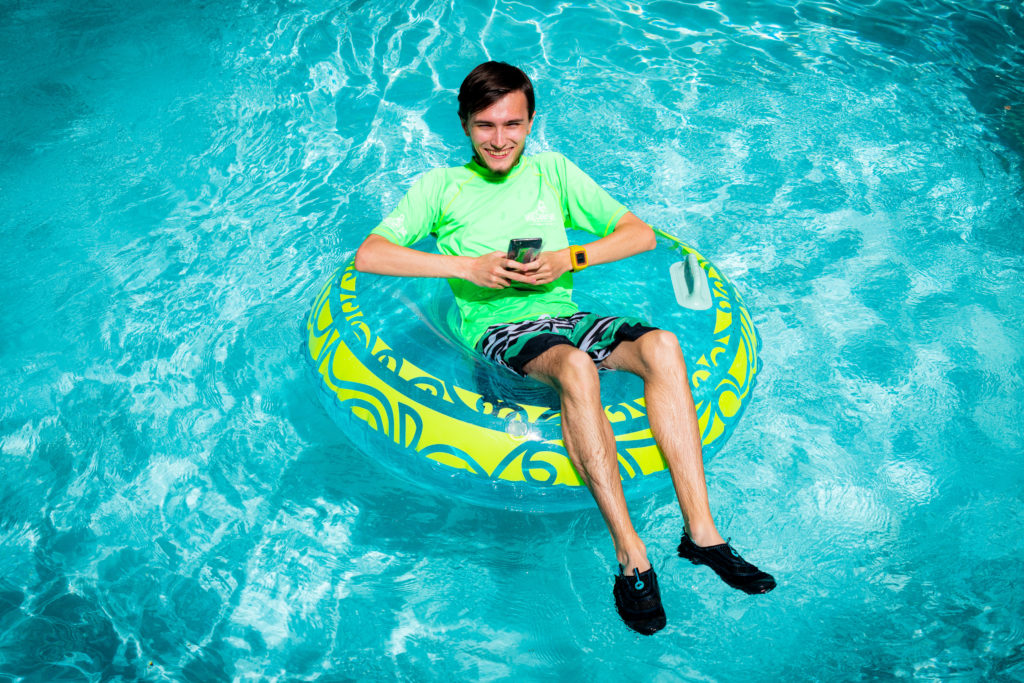 Of course, adrenaline-boosters weren't the only thing we were after. One of Volcano Bay's moods is pure relaxation, and we found a leisurely escape in Kopiko Wai Winding River. The variety of both thrill and chill rides was perfect for those of us who craved adventure and serenity during our time among the Waturi.
Utilizing our TapuTapus ensured that we never waited too long for any attraction, as it held our spot in Virtual Lines and alerted us when we could go ahead and hop on our next ride. This way, we were able to enjoy our favorite amusements with plenty of time to spare for another one of the Bay's major highlights: the food.
Universal's Volcano Bay reopening: the food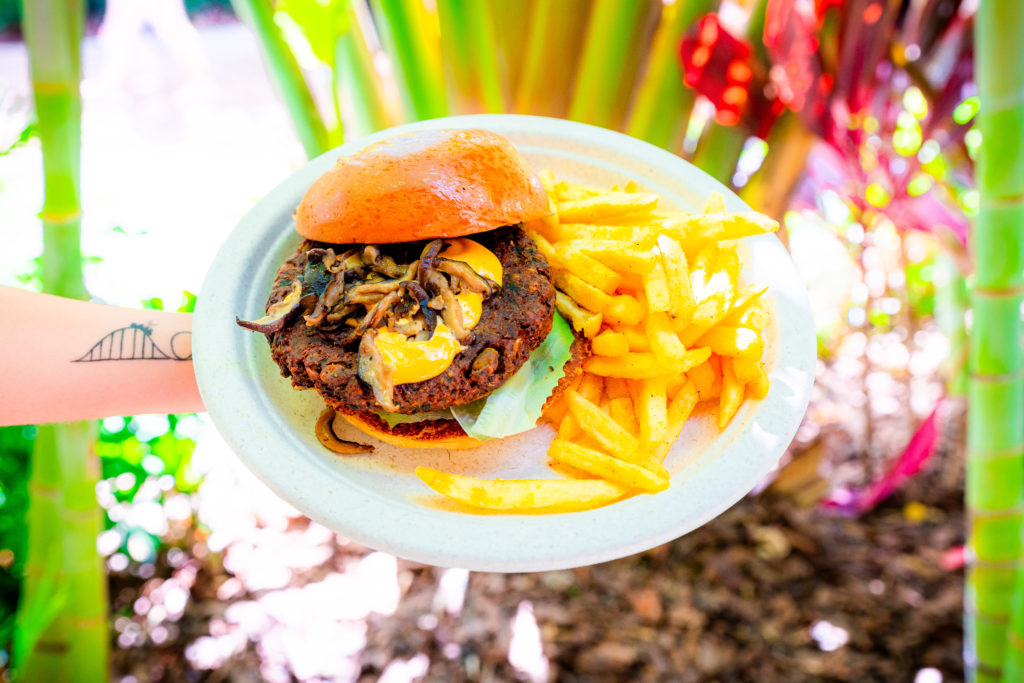 One of the things we missed the most about Volcano Bay was its delicious food and beverage offerings. In my opinion, it has the highest-quality food of any water park around, and our most recent meal there only further confirmed my beliefs.
We decided to have our lunch at Kohola Reef Restaurant & Social Club. Here, we used mobile ordering through the Official Universal Orlando App to order the Island Chicken Salad and the Quinoa Edamame Burger Platter (pictured above). Both meals received a 10/10 satisfaction rating from our team!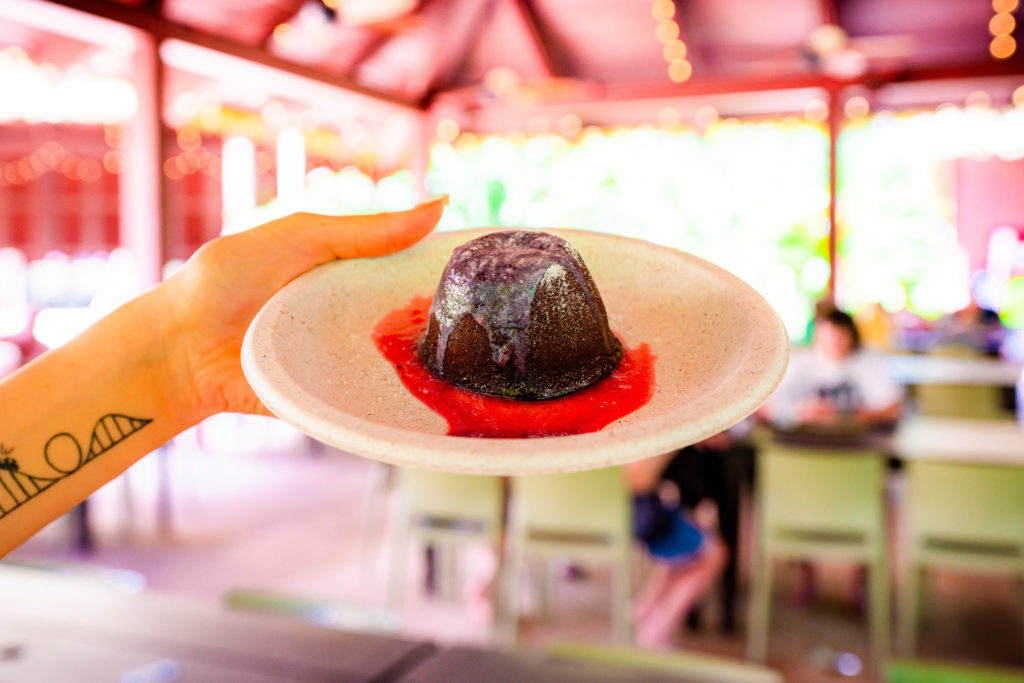 For dessert, we felt the urge to splurge a little and go for a Chocolate Lava Cake, which adorably resembles a tiny volcano oozing raspberry syrup. We love it when treats are as a yummy as they are photogenic!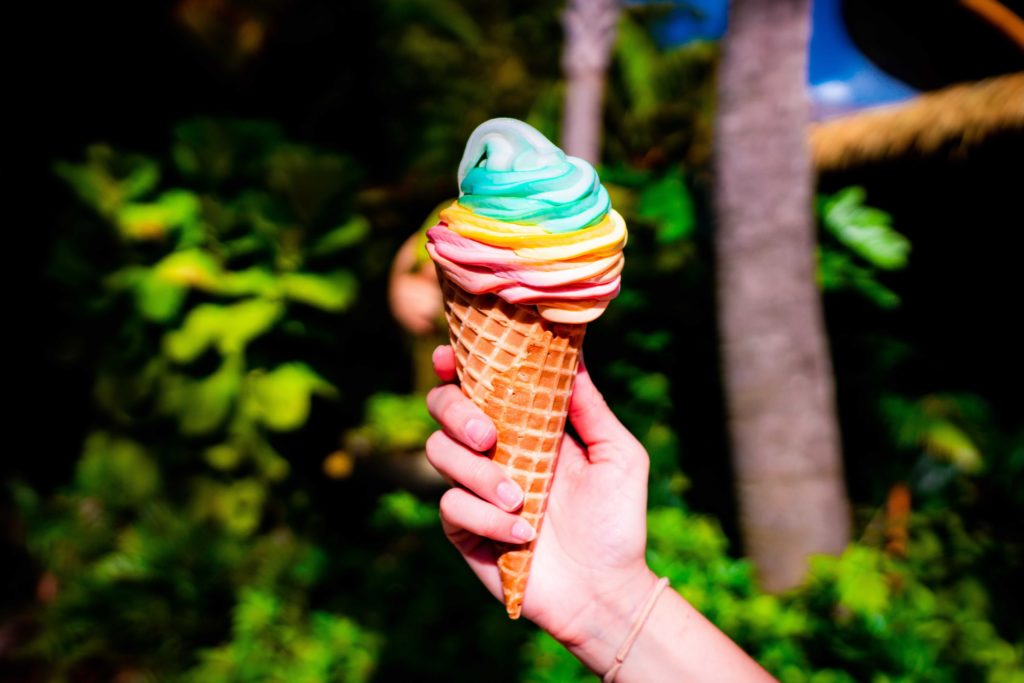 Speaking of photogenic, we couldn't fully celebrate our first day back without indulging in Volcano Bay's most Instagram-worthy delicacy: the Waturi Fusion from Koka Poroka Ice Cream Kona. This colorful cone is layered with sweet swirls of orange, blue raspberry, strawberry, and banana, making it a treat for both your taste buds and your vacation pics.
Universal's Volcano Bay reopening: the drinks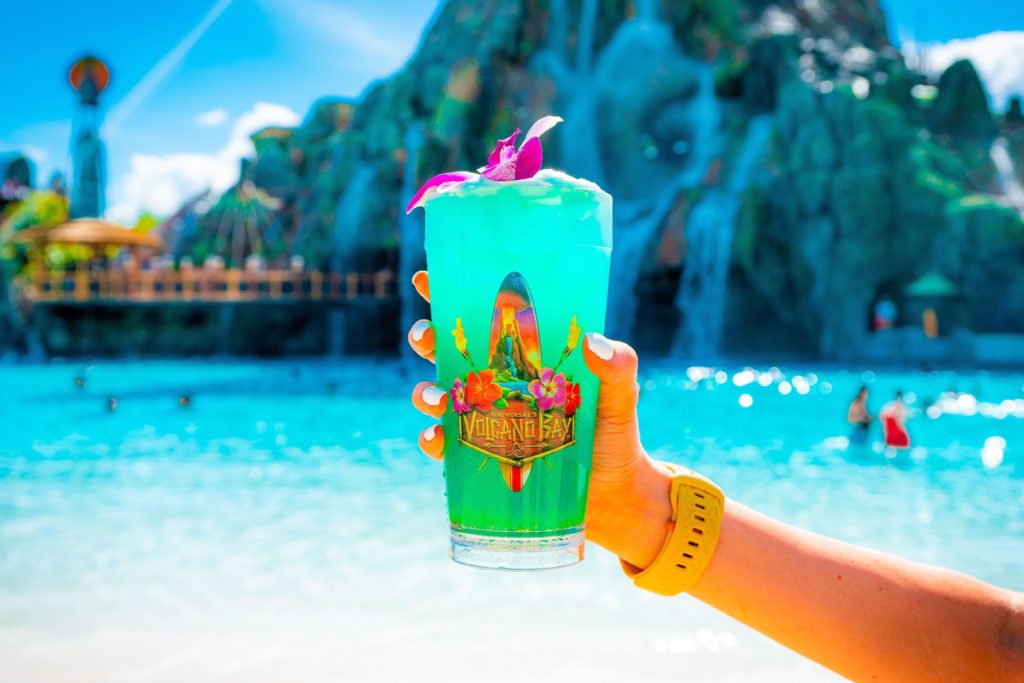 If you're 21+ and looking to enhance your island-getaway state of mind, I'd highly recommend swinging by Dancing Dragons Boat Bar for some of the tastiest – and prettiest! – selection of drinks you can find at Volcano Bay. This was our next stop after lunch and dessert, where we were greeted by an energetic bar staff and gorgeous views of Waturi Beach.
We were in the mood for something fruity and refreshing, so we ended up ordering a Blue Hawaiian (Malibu, fresh pineapple juice, and Blue Curacao) and a Wai-Waitermelon (Three Olives Vodka, watermelon syrup, fresh raspberries, and watermelon). Each signature drink comes in a souvenir cup and is typically garnished with fruit or a flower.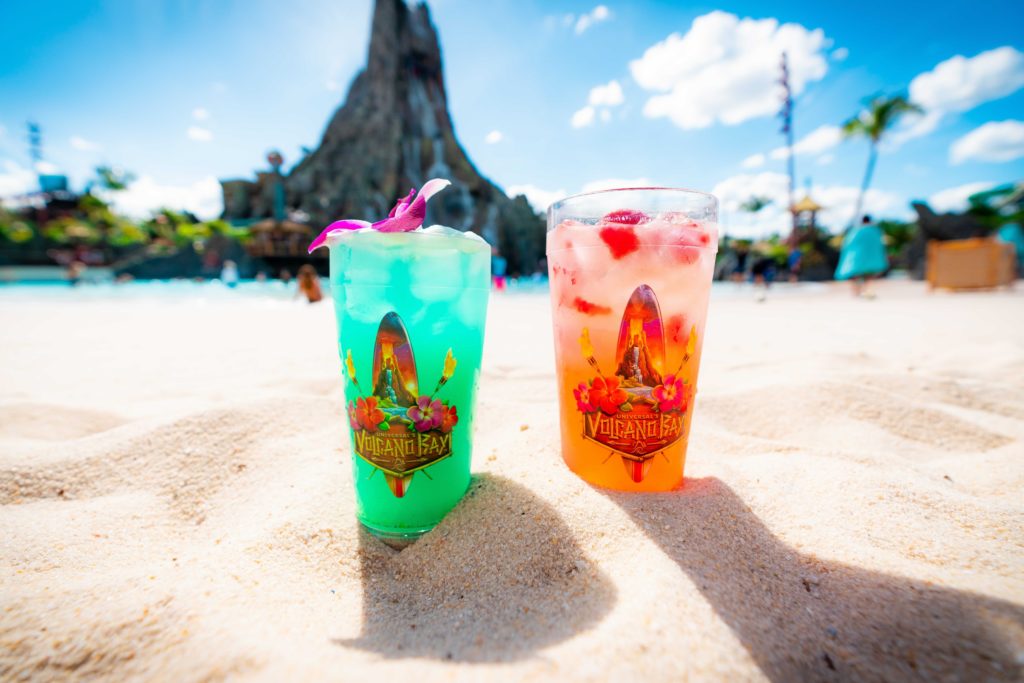 Current safety guidelines did not allow us to sit at the bar; however, tables were available nearby, and we decided to find a spot on the beach and catch some rays while sipping away.
(Note: if you're interested in a more private location to retreat to, cabana rentals are still available.)
Universal's Volcano Bay reopening: the interactive experiences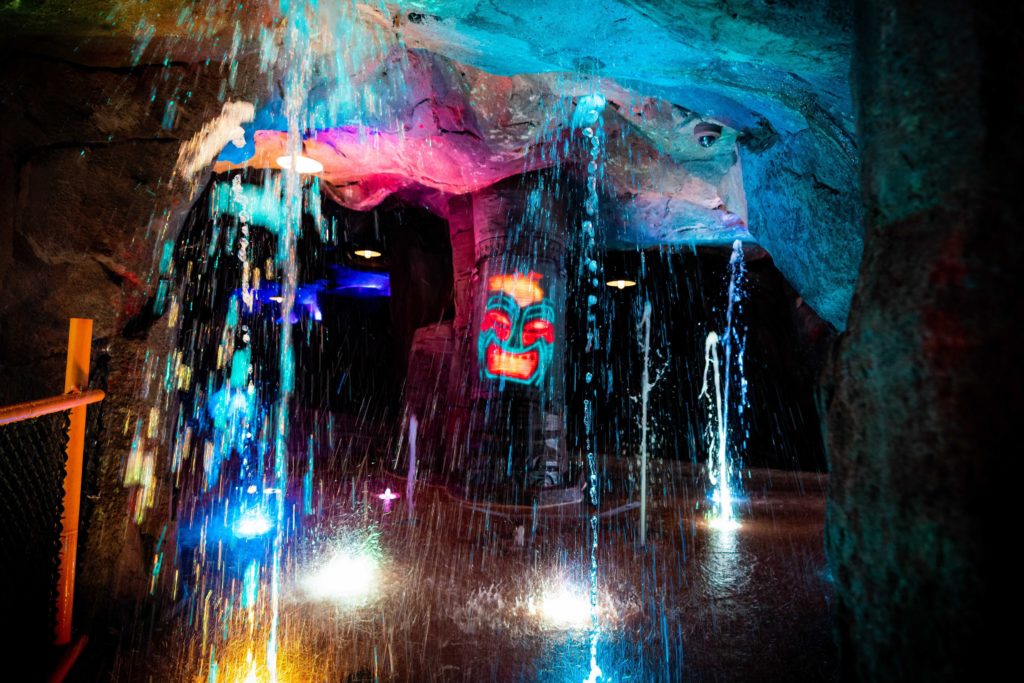 To finish off the day, we decided to journey into the heart of the volcano to pay a visit to our old friend, Vol, the spirit of Krakatau. This chatty, ancient being was thrilled to welcome us back, springing to life with fountains, mist, and mystical lighting as soon as we walked in. Our conversation included an exchange of names and a few intriguing tales of the Waturi. I may have dodged a few streams of water shot at me, but it was all in good fun.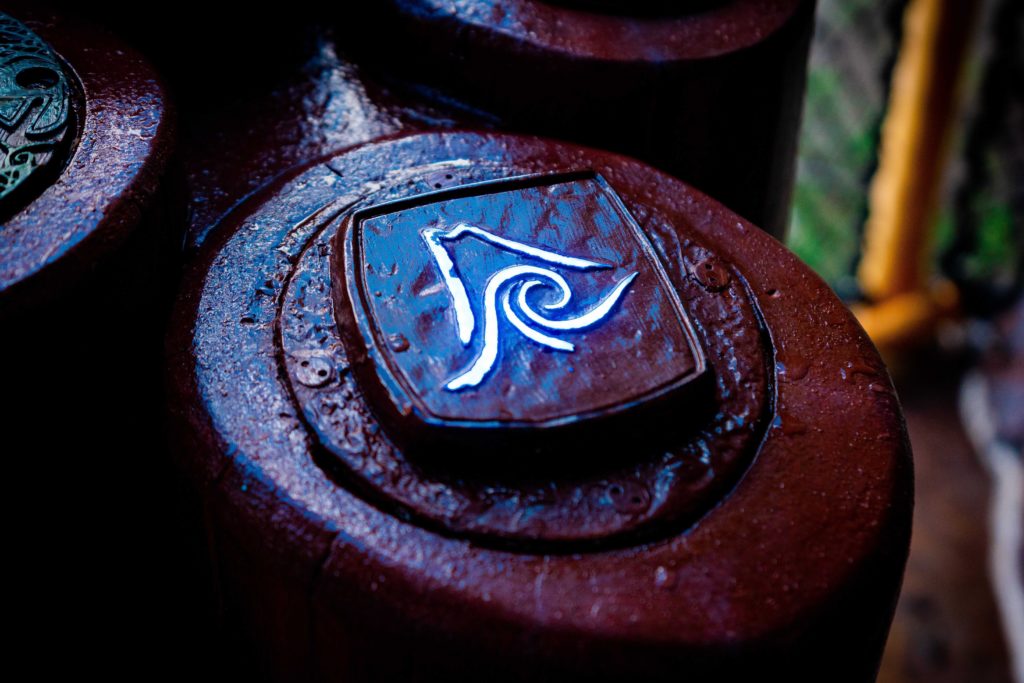 TapuTu Play points can still be discovered and interacted with throughout the park, and we found great amusement in stumbling across points that activated water jets, dazzling light displays, and a few other humorous surprises. Trekking about the lush scenery in search of these hidden gems was the perfect way to conclude an all-around awesome day.
It's safe to say that our whole team considered Volcano Bay's 2021 reopening to be a huge success. Between exhilarating rides, gorgeous views, and mouth-watering food and drinks, we already can't wait to plan our next Waturi staycation.
---
Which of Volcano Bay's offerings have you missed the most? Which are you most excited to try for the first time? Share and discuss your thoughts with 120,000+ other theme-park fans in our Orlando Informer Community on Facebook.
And be sure to follow Orlando Informer on Facebook, Twitter, and Instagram for the latest news and tips at Universal Orlando, Walt Disney World, and other Orlando destinations.