Disney's Hollywood Studios opened as Disney-MGM Studios on May 1, 1989. This movie-themed park has seen a number of changes over the past three decades. From name and park icon changes to the loss of opening day attractions and the opening of new, immersive lands, thirty-three years later we've found ourselves in a completely different park! To celebrate Disney's Hollywood Studios' anniversary, we're sharing thirty-three things that you must do there on your next trip!
Visit Gertie the Dinosaur
This larger-than-life dino is more than just a great place to grab ice cream. It's a nod to one of the first popular animated characters in the history of film, Gertie! Originally debuting on February 18, 1914, Gertie the Dinosaur was the first animated film to use animated techniques that would influence the next generation of animators, including Walt Disney. Some of these techniques include animation loops, keyframes, and registration marks.
When constructing Disney-MGM Studios in the 80's, Walt Disney Imagineers included an over-sized Gertie in their plans for Echo Lake. Thirty-three years later, she can still be found in this area of the park today!
Get Backstage Passes to Aerosmith's Concert on Rock 'N' Roller Coaster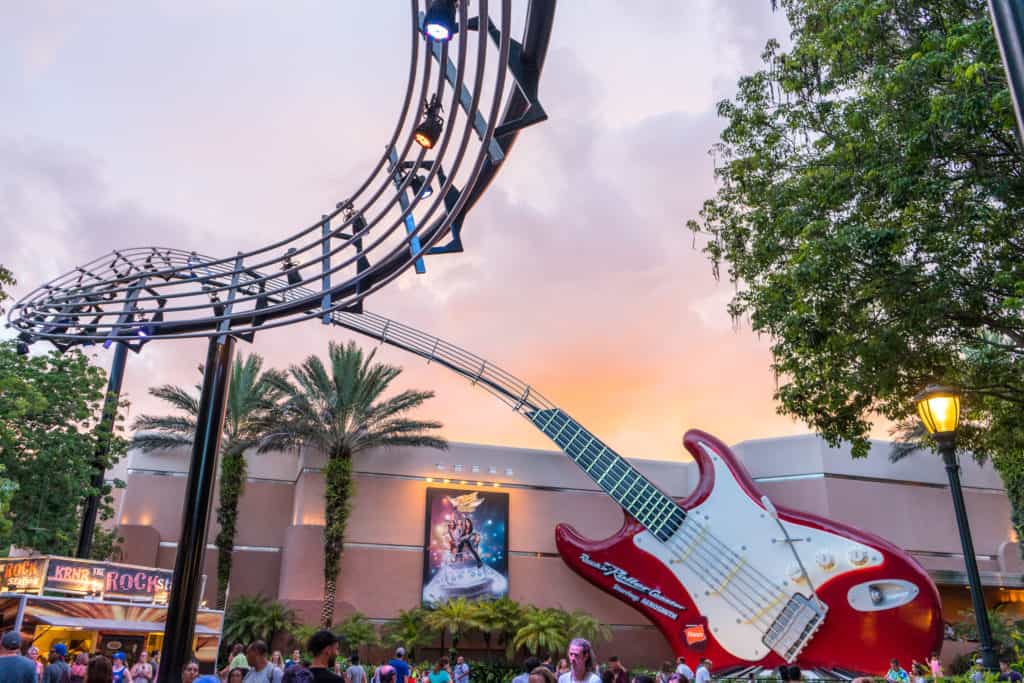 One of the biggest thrills at Disney's Hollywood Studios is Rock 'N' Roller Coaster Starring Aerosmith. This coaster takes guests from 0 to 60 miles per hour in 2.7 seconds, and they race through Hollywood to make it backstage in time for Aerosmith's concert. While waiting in line, keep an eye out for any touring posters that may feature you as the headliner. Just don't forget to keep your head back and smile for the camera as Steven Tyler counts down for your big launch!
Try Blue or Green Milk
Will you go blue or go green? When you're enjoying Batuu's legendary frozen beverage, you really can't go wrong! The Milk Stand in Star Wars: Galaxy's Edge is serving up Blue and Green Milk to guests daily. Blue Milk has a more fruity taste, while Green Milk has a tropical citrus taste. Guests 21 and older can even add rum or tequila to their Blue or Green Milk for an alcoholic twist!
Find the Original Park Logo
Disney-MGM Studios became Disney's Hollywood Studios in 2008, changing the park's name and logo for the first time in almost two decades. While Disney's Hollywood Studios is proudly displayed around the park today, there's still a place where you can find this park's original logo if you know where to look!
As you make your way toward the Chinese Theater at the park's hub, pay the cameraman statue on the left a visit. You'll find a Dedication Plaque for Disney-MGM Studios displayed near the base of the statue. It features the park's original logo, its opening date, and a quote from Disney CEO at the time, Michael Eisner.
Take A Ride on Slinky Dog Dash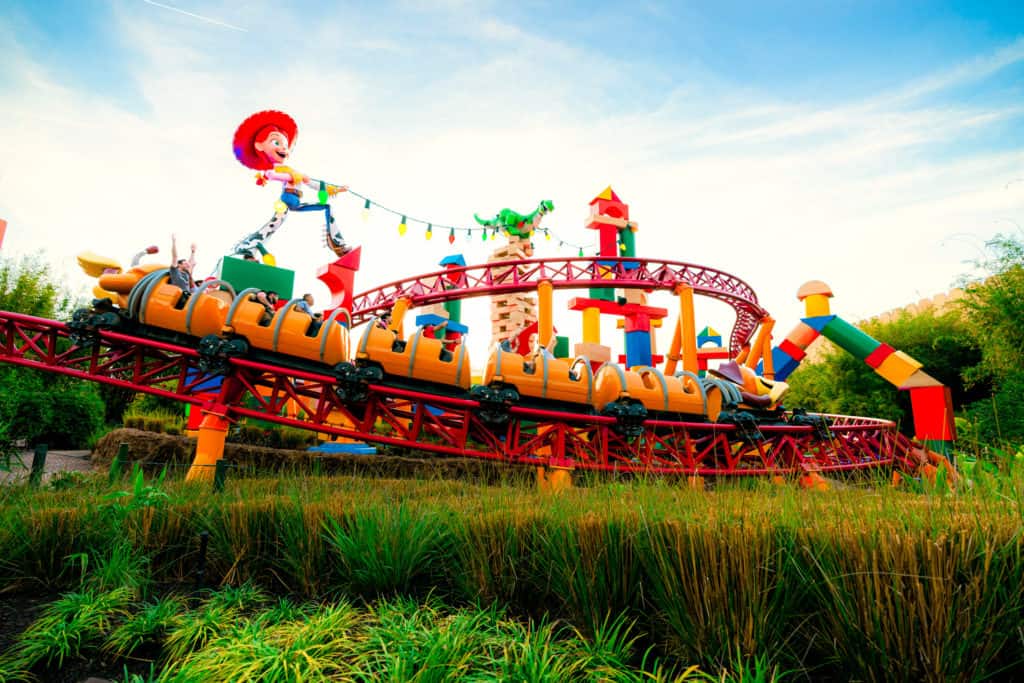 Andy got creative with his Mega Coaster Play Kit, adding his Slinky Dog and making a family-friendly coaster for toys of all ages! Slinky Dog Dash features unique views of Andy's backyard and quite a few hidden details in plain sight. From nods to important dates and Pixar shorts to remnants of Pixar Place and the name of the smaller company that created Rex and was purchased by Mattel in a leveraged buyout, there's a lot to take in on this attraction!
Meet Minnie and Sorcerer Mickey
Strike a pose with the park's finest, Minnie and Mickey Mouse! The stars of Disney's Hollywood Studios are ready for their close up at Red Carpet Dreams, and you can join them. Minnie is dressed in her Tinseltown best and red-carpet ready, while Mickey rocks his Sorcerer's Apprentice costume from his hit Disney film, Fantasia. This memorable character meet and greet is open daily from 9:00 AM to 5:00 PM.
Drop in to the Hollywood Tower Hotel
If you're a thrill-seeker, the Twilight Zone Tower of Terror is a must-do at Disney's Hollywood Studios. Did you know this attraction boasts the title of second tallest ride on property? At 199 feet tall, the Tower of Terror is only a half of an inch shorter than Walt Disney World's tallest attraction, Expedition Everest.
Since opening in 1994, the Twilight Zone Tower of Terror has undergone a few updates when it comes to its drop sequences, but the overall theming and storytelling it is known for has remained virtually untouched, standing the test of time almost three decades later. Don't forget to make time to check in on your next Disney's Hollywood Studios day!
Have A Meal At The Hollywood Brown Derby
Disney's Hollywood Studios is home to a replica of a famous Hollywood restaurant from the Golden Age, The Hollywood Brown Derby. This signature dining restaurant has been a part of the park since its opening day and is known for its famous menu items like the Cobb Salad. You'll feel like a celebrity taking a trip back in time to the Golden Age of Hollywood when you check this spot off of your must-do list!
Conquer Star Wars: Rise of the Resistance
Whether you're a Star Wars fan or not, you won't want to skip one of Walt Disney World's most technologically advanced attractions to date. Star Wars: Rise of the Resistance puts guests right into the adventure of this galaxy far, far away. You find that this attraction features familiar faces from the Star Wars universe, while you'll also meet new allies along your journey.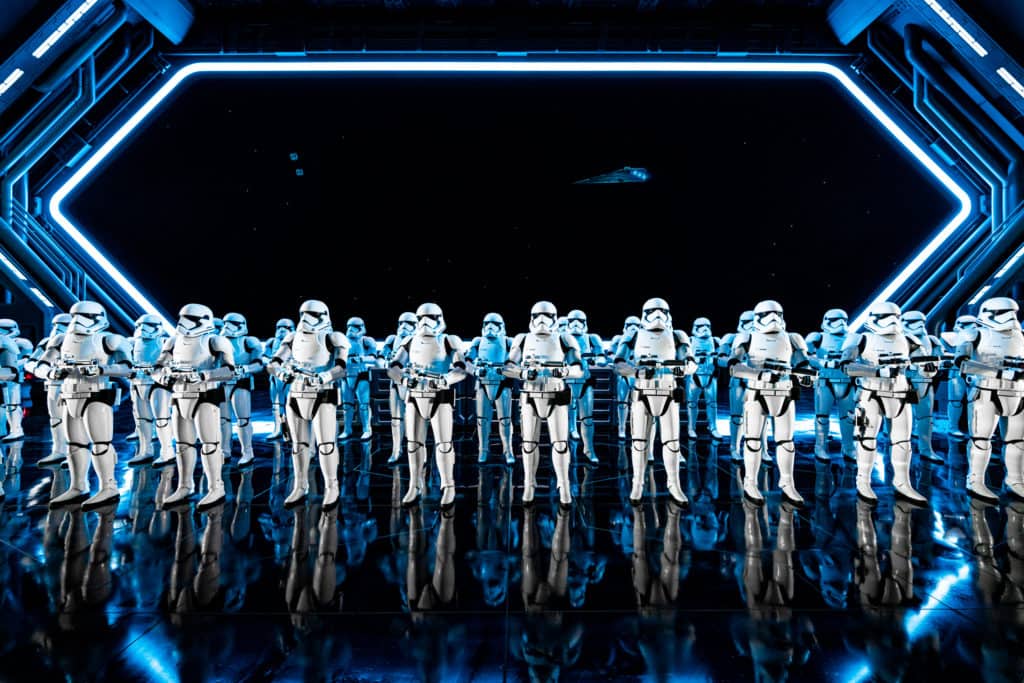 While it may be one of the longest waits in Disney's Hollywood Studios, this immersive attraction has a longer ride time than most making it worth the wait. It's guaranteed to be a new park favorite for you and your crew.
Use the Play Disney Parks App
The Play Disney Parks App is a free app available in the App Store and on Google Play. It helps guests get even more out of their Disney parks day thanks to trivia, digital achievements, playlists, interactive experiences and more. At Disney's Hollywood Studios, you'll want to pull up this app while waiting in the queue for both Toy Story Mania and Slinky Dog Dash and while visiting Batuu.
Experience Chewie Mode on the Millennium Falcon
It's a big deal for Star Wars fans to check piloting the Millennium Falcon off of their bucket list, but have you heard of this hack? While riding Millennium Falcon: Smugglers Run, guests can replace the voice of Hondo Ohnaka with Chewbacca for the entire experience! Activating Chewie Mode requires all six willing participants in the vehicle and the help of a Cast Member to unlock it. This is one hack that not every Millennium Falcon: Smugglers Run-goer will experience, so ask your Cast Member about Chewie Mode next time you board the Millennium Falcon at Star Wars: Galaxy's Edge!
Watch Muppet*Vision 3D
This 3D show is fun for the entire family! Muppet*Vision 3D was one of Jim Henson's final projects before he passed away in 1990. This area of Disney's Hollywood Studios had plans for a much larger Muppet footprint, including additional restaurants and attractions like a Muppet version of the Great Movie Ride. Although Jim Henson's original vision for Muppet Courtyard was shelved after his untimely death, guests can still enjoy the attraction that inspired it all.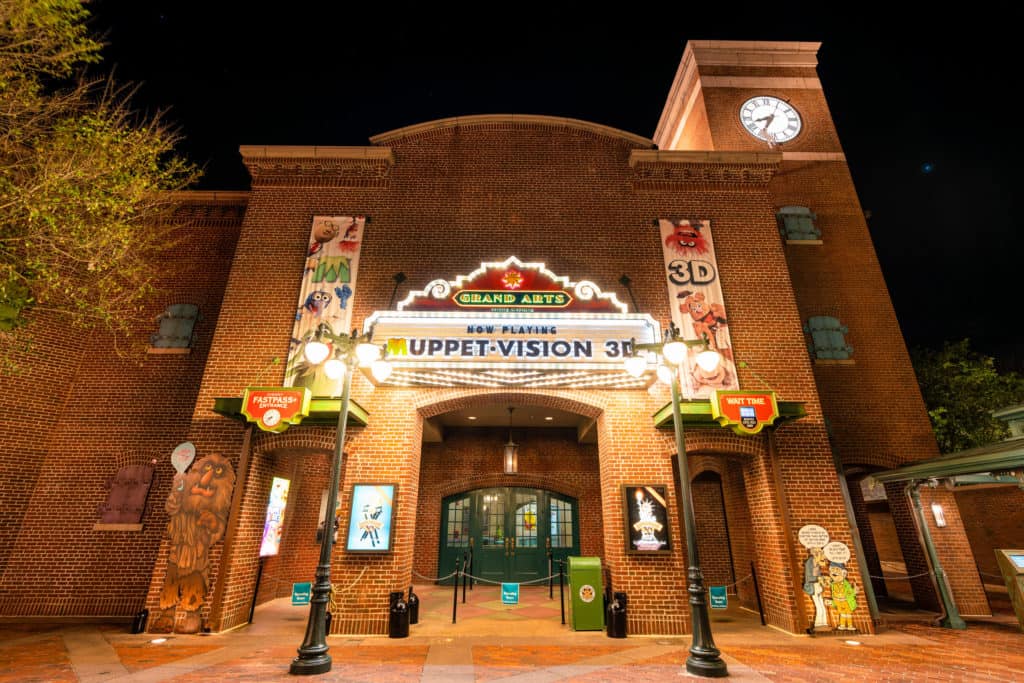 While you're visiting Muppet*Vision 3D, keep an eye out for some extra special details. When you walk into the attraction's building you'll see a sign that states the crew will be back soon and the key is under the mat. Find the mat and you'll see that there really is a key there! While in the lobby waiting for the show to start, take a look around. You'll spot "a net full of jello" hanging from the ceiling – a visual gag that pays tribute to "Annette Funicello," one of the original members of the Mickey Mouse Club. A photo of the Muppet version of Jim Henson can also be found in this room.
Have a Meal at '50s Primetime Cafe
Take a trip back in time to the 1950s at this one-of-a-kind restaurant experience. Enjoy classic American comfort food like meatloaf, pot roast, and fried chicken at your cousin's. Best part? There's a television at every table! It's no wonder that this restaurant has been serving guests ever since Disney-MGM Studios' opening day.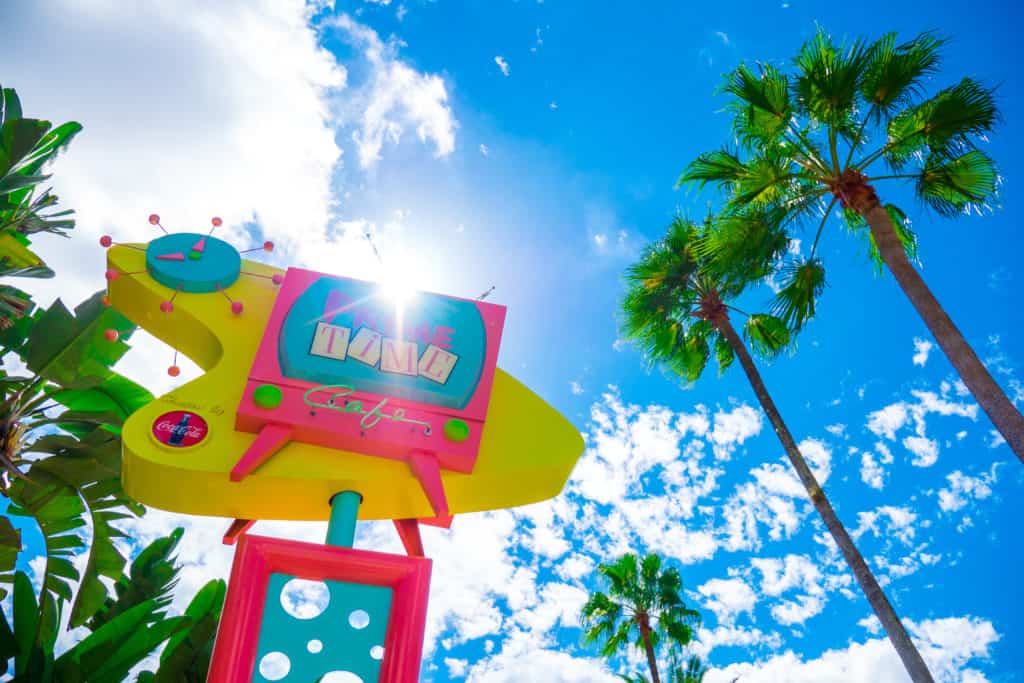 You'll feel like you stepped right into a 1950's sitcom. You can make your cousins proud and become an official member of the Clean Plate Club, but make sure you save some room for their famous Peanut Butter and Jelly Shake!
Assemble Your Own Droid at Droid Depot
Star Wars: Galaxy's Edge is home to a number of Star Wars experiences that you can't find anywhere else. Building your very own droid is a big one! Build your own BB-Series or R-Series droid from the colorful components that roll by on the conveyor belt in the Droid Depot. When you're done you'll have your very own travel companion, ready to take on all of your Batuu adventures with you!
To secure your spot at the Droid Depot, you'll have to book a reservation based on availability. Each appointment for this experience is about 20 minutes and will cost $99.
Visit Olaf at Celebrity Spotlight
There's only one place that guests can give Olaf a warm hug at Walt Disney World resort, and it's located at Disney's Hollywood Studios. Since character hugs are officially back, there's never been a better time to visit your favorite snowman! Olaf can be found daily at Celebrity Spotlight in Echo Lake, meeting guests from 9:00 AM through 5:00 PM. He's finally doing what frozen things do in summer, and he can't wait to meet you!
Character Dining with Hollywood & Vine
Hollywood & Vine is a great choice for character dining at Disney's Hollywood Studios. Open for breakfast, lunch, and dinner, guests can interact with some of their favorite characters while enjoying a meal. At breakfast time, you'll be joined by Disney Junior stars like Vampirina and Fancy Nancy for Play 'n Dine, while for lunch and dinner Minnie, Mickey and friends will greet you at Minnie's Springtime Dine.
Peep the Handprints Outside of the Chinese Theater
Disney-MGM Studios opened with some pretty impressive Hollywood details and the Chinese Theater exterior is one that's remained virtually unchanged over the past three decades. Did you know the Chinese Theater at Disney's Hollywood Studios is a full-scale replica of the original Grauman's Chinese Theater found in Hollywood? While the attraction found within the building has changed, the iconic celebrity hand and footprints in the forecourt can still be found right out front.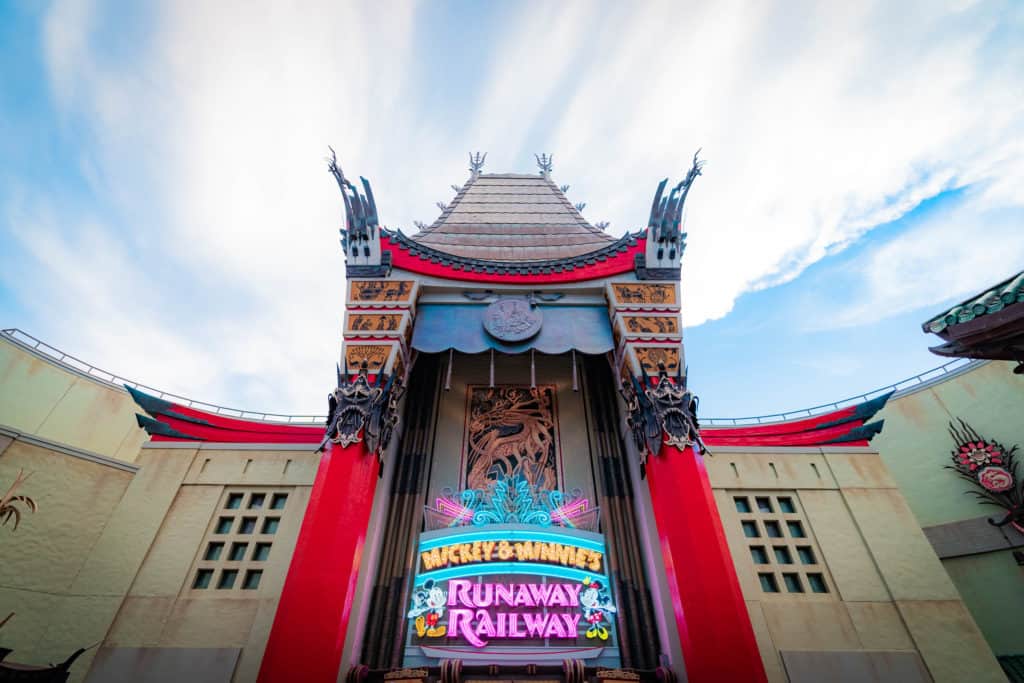 When you visit Disney's Hollywood Studios next, make your way to the Chinese Theater forecourt and take a look at some of the stars that left their mark in this movie-themed park over the years!
Train At Lightning McQueen's Racing Academy
Step into the Cars universe as a rookie racer getting trained by the best – Lightning McQueen himself! This first-of-its-kind attraction is high octane and gets you up close to all of the racing action. Find Lightning McQueen's Racing Academy at the end of Sunset Boulevard near Rock 'N' Roller Coaster!
Learn About Walt Disney at Walt Disney Presents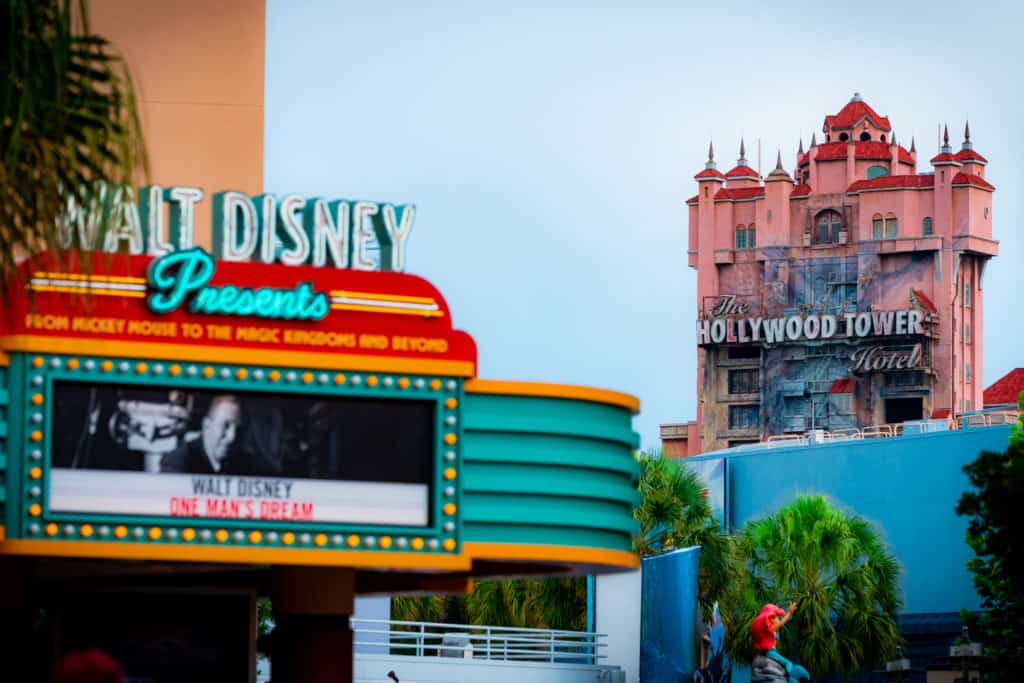 In 2001, Walt Disney Presents opened as a part of the 100 Years of Magic celebration, in honor of Walt Disney's 100th birthday. Over two decades later, guests can still learn all about the man that started it all, Walt Disney on this self-guided gallery tour. Walt Disney Presents features rare artifacts, Disney merchandise through the ages, models of the Disney parks, and more. At the end of your tour, stick around for Walt Disney: One Man's Dream, a 15-minute documentary about Walt featuring historic footage, rare audio clips, and Disney family home movies. Walt Disney Presents should be a must-do for any Disney's Hollywood Studios-goer looking to learn more about the visionary before the Disney name.
Take a Walk Through Andy's Backyard
Toy Story Land shrinks us down to the size of a toy. This is a land where guests feel like they are truly immersed into the story of Pixar's first film franchise, Toy Story. If you're a fan of Disney details, you'll want to spend a little extra time exploring Andy's Backyard on your next Disney's Hollywood Studios day. A number of Pixar Easter Eggs have been worked into this land through dominos, blocks, price tags, and more. You can even find Andy's dog Buster's collar tag if you know where to look!
Watch Vacation Fun at the Mickey Shorts Theater
If you've never watched the new Mickey Mouse cartoons prior to experiencing Mickey & Minnie's Runaway Railway, watching Vacation Fun at the Mickey Shorts Theater is a must-do. This original animated short film will get you all caught up on the new style of Mickey animation before you board your train on Mickey & Minnie's Runaway Railway! After you exit the theater, you can step right into some of the scenes from the film thanks to life-sized photo spots. You'll feel like you really visited Potatoland, Yodelburge, and more.
Grab a Drink at Oga's Cantina
This flagship eatery is the most popular place to grab a drink in all of Batuu. Oga's Cantina features an extensive menu of galactic concoctions (both with and without alcohol) that will make you feel truly immersed in the Star Wars universe. This experience requires an advanced dining reservation, so plan ahead to lock yours in before your next Disney's Hollywood Studios day.
Experience Disney's Hollywood Studios' Oldest Attraction
Did you know that none of the opening day attractions from Disney-MGM Studios are still in operation at Disney's Hollywood Studios today? The attraction that boasts the title of oldest Disney's Hollywood Studios attraction today is Indiana Jones Epic Stunt Spectacular! While this stunt show did open in 1989, it was still quite a few months after Disney-MGM Studios' opening day.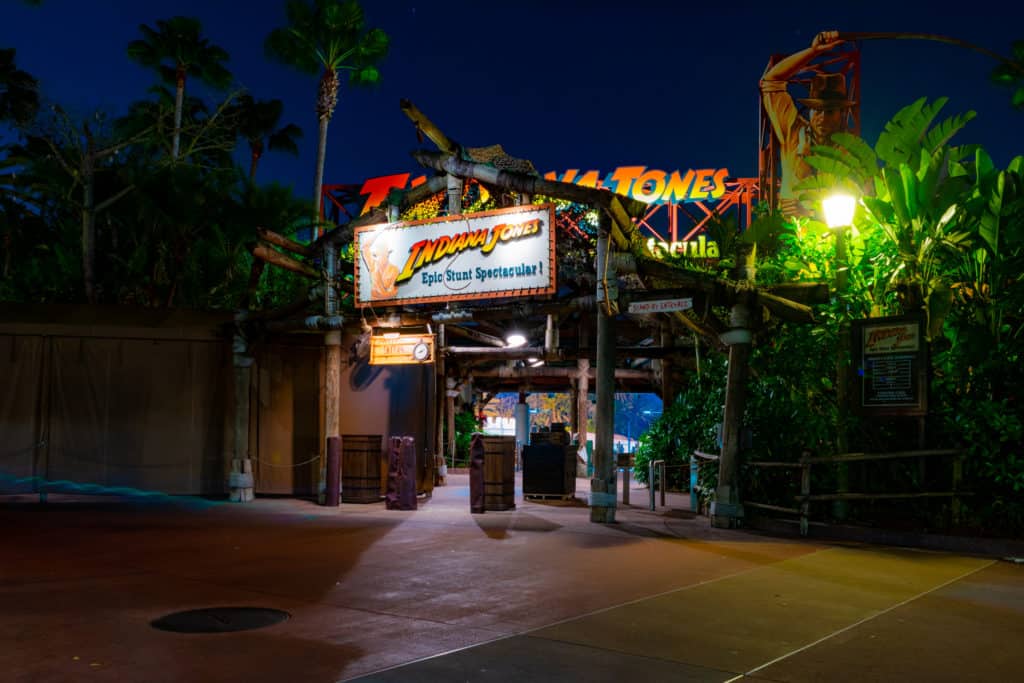 Almost thirty-three years later, this action-packed show is still exciting audiences of all ages on their Disney's Hollywood Studios day. So next time you visit Indiana Jones Epic Stunt Spectacular!, just know that you're experiencing an important part of this movie-themed park's history.
Sing Along with Elsa & Anna
Can't get enough of Frozen? Disney's Hollywood Studios has got you covered. For the First Time in Forever: A Frozen Sing-Along Celebration lets guests sing-along to their favorite songs from Frozen with Anna, Elsa, Kristoff, Olaf, and the royal historians of Arendelle. This sing-along takes place hourly from 9:30 AM to 6:30 PM, giving you plenty of opportunities to squeeze it into your ultimate Disney's Hollywood Studios day!
Disney Visa Cardmember Photo Op
If you're a Disney Visa Cardmember, this next must do is for you! Disney's Hollywood Studios is home to an exclusive photo opportunity for Disney Visa Cardmembers, and you can find it at Star Wars Launch Bay in the Animation Courtyard. These free photo downloads will be digitally enhanced to show Star Wars characters posing right beside you. Eligible guests bring your Disney Visa Card and post for this special Star Wars photo opportunity! Available daily from 11:00 AM to 4:00 PM.
Hop Aboard Mickey & Minnie's Runaway Railway
Nothing can stop us now! Hop right into Mickey & Minnie's cartoon world on this colorful, family-friendly attraction. Did you know Mickey & Minnie's Runaway Railway boasts the title of very first ride-through attraction to star Mickey Mouse and his friends? Located inside the iconic Chinese Theater, this attraction features an innovative ride system, groundbreaking technology, and an unforgettable experience for guests.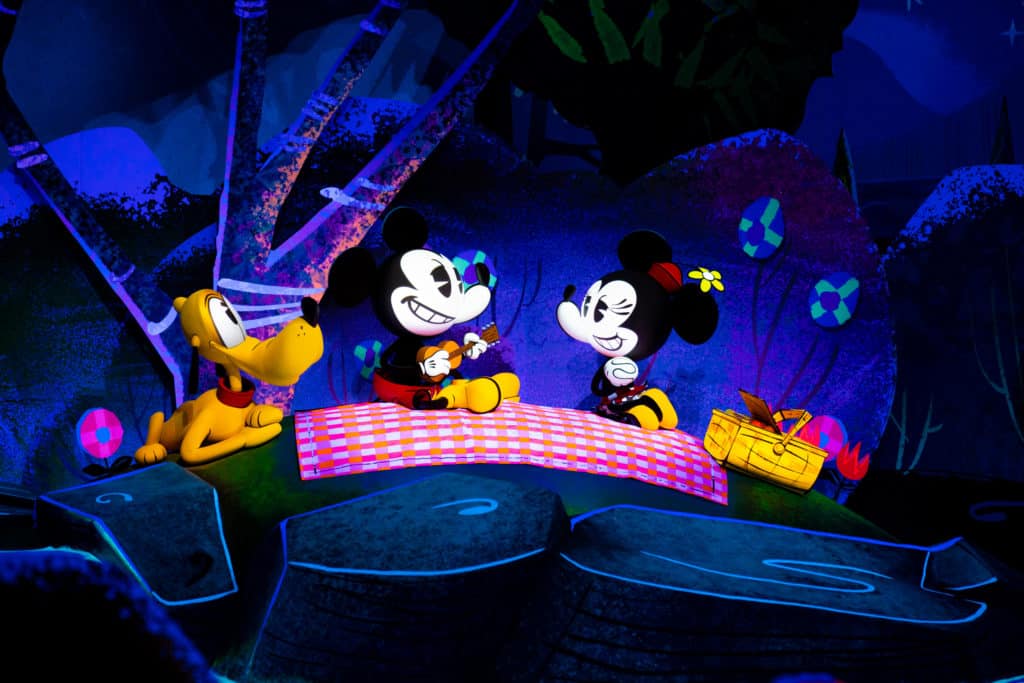 Keep an eye out for hidden Mickeys! Between the queue, attraction, and exit area of Mickey & Minnie's Runaway Railway, hundreds of Hidden Mickeys can be found.
Handcraft Your Own Lightsaber
Have you always dreamed of handcrafting your own Lightsaber? At Star Wars: Galaxy's Edge, this dream can become a reality! Savi's Workshop at the Black Spire Outpost is where you'll choose your path to construct your very own Lightsaber. After choosing from one of the four hilt themes and the color of your kyber crystal, you'll assemble your hilt and connect it to a 31" lightsaber blade, deeming you ready for any galactic adventures in your future! Savi's Workshop does require a reservation and lightsabers are $219.99.
Watch Beauty & the Beast Live on Stage
There's no business like show business, and at Disney's Hollywood Studios you can expect to find some of the best stage shows on property. Beauty & the Beast Live on Stage has been its recent return and it offers five showtimes daily for guests. Did you know this Broadway-style musical debuted on the same day as the animated film it's inspired by? That's right! The day that Beauty and the Beast hit theaters, November 22, 1991, this stage show also opened at Disney-MGM Studios.
Experience Star Tours – The Adventures Continue
Another 1989 attraction that can still be experienced at Disney's Hollywood Studios today is Star Tours! While its location hasn't changed in decades, the attraction itself got a major upgrade in 2011. Star Tours – The Adventure Continues takes you on one of 700 possible ride experiences, making every trip in the StarSpeeder 1000 an exciting adventure. Guests could end up traveling to locations from any of the nine films in the Star Wars saga, and you never know who will get chosen as the Rebel Spy on your trip!
Keep An Eye Out For Roger Rabbit Details
When Disney-MGM Studios opened in 1989, Roger Rabbit from Who Framed Roger Rabbit? had a pretty big presence as one of the new park's focal point characters. Imagineers had planned for an area, Roger Rabbit's Hollywood, to be located near the end of Sunset Boulevard where we find Rock 'n' Roller Coaster Starring Aerosmith today. Although this area never came to be, there are still remnants of Roger Rabbit to be found around the park over three decades later.
Some details include the Roger Rabbit Window above Hollywood & Vine featuring the facade of Detective Eddie Valiant's office with a Roger Rabbit-shaped hole through the window, Roger Rabbit's hand and footprints that can still be found in the Chinese Theater forecourt, and a Maroon Studios billboard featuring Baby Herman, Roger Rabbit, and Jessica Rabbit is still overlooking Echo Lake.
Enjoy the Nighttime Entertainment
Although we're still waiting for a reopening date for Fantasmic! sometime this year, there's still Disney's Hollywood Studios-exclusive nighttime entertainment to experience! First, there's Disney Movie Magic which begins nightly at 8:40 PM, projecting classic Disney movie moments onto the Chinese Theater under the stars. Immediately after at 9:00 PM is the Wonderful World of Animation. This nightly projection show takes guests on a journey through over 90 years of animation from Disney and Pixar. Make sure to head over to the Chinese Theater in advance to grab a great viewing spot!
Experience the Hollywood Tower Hotel: A Beacon of Magic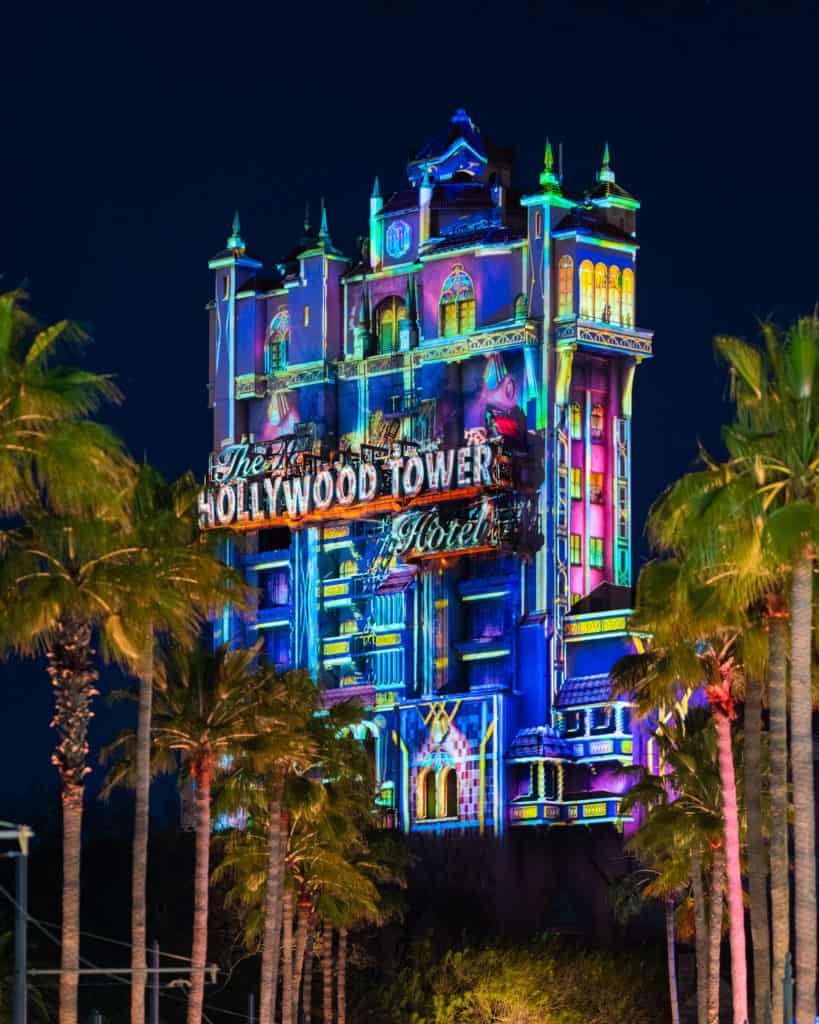 During the World's Most Magical Celebration, all four of Walt Disney World's park icons become Beacons of Magic after dark. Disney's Hollywood Studios' current park icon, the Hollywood Tower, serves as the park's Beacon of Magic during the 50th anniversary celebration. Each night after dusk guests gather below the iconic Hollywood Tower Hotel to watch it glitter with EARidescence. This nightly occurrence is only available during the World's Most Magical Celebration, so don't miss your chance to watch this park icon come to life!
Grab A Disney's Hollywood Studios Map
Before you leave the park at the end of your Disney's Hollywood Studios day, don't forget to grab a map. This complimentary souvenir is a great way to look back on your visit to the Most Magical Place on Earth, especially if it's during an important celebration like Walt Disney World's 50th anniversary!
Over three decades later, Disney's Hollywood Studios continues to wow guests of all ages. With its immersive lands, big thrills, and authentic theming it's no wonder Disney lovers keep coming back for more! Did your Disney's Hollywood Studios' must do make our list? Discuss it all with 150,000+ other Disney die-hard fans in our Orlando Informer Community on Facebook.