SeaWorld Orlando offers a number of live entertainment options and high-thrill attractions, in addition to several notable animal exhibits. The blend of these elements is what makes SeaWorld such a unique place for families to enjoy. This guide will provide a brief overview of each of the attractions, what to expect from them, and where to find them.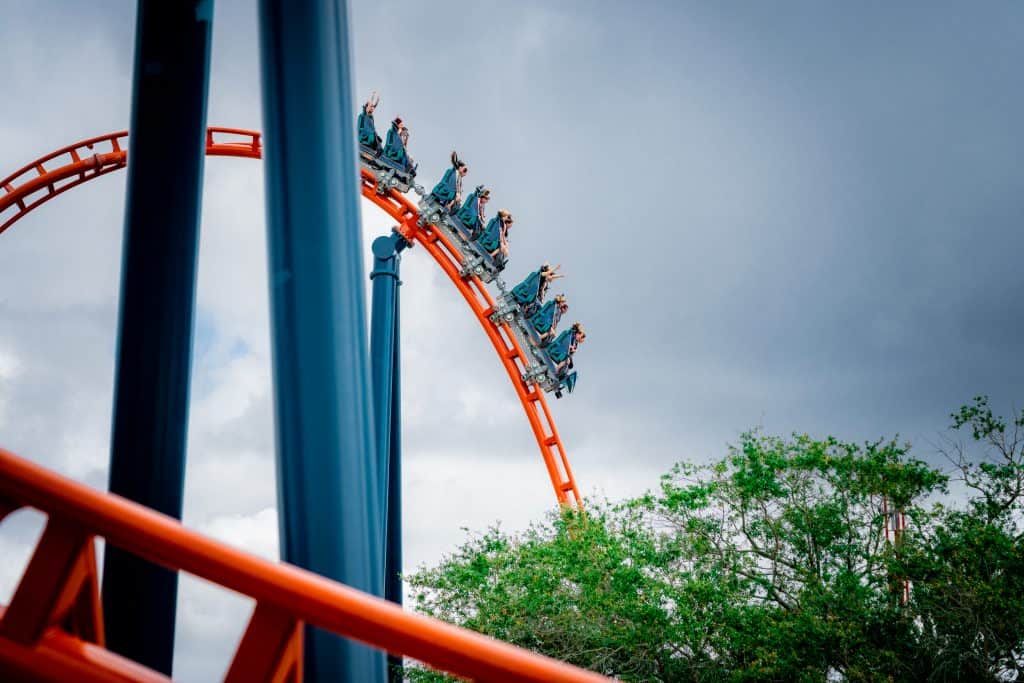 Ice Breaker is a high-thrill roller coaster that boasts a number of unique movements and combinations, including the steepest vertical drop in Florida.
This raft ride is a more adventurous version than most of its kind. With a 1500-foot track and a 40-foot drop, it delivers excitement and thrill to all who dare come aboard.
Guests will explore the lost city of Atlantis in this thrilling water coaster. Prepare to get soaked! Located near Antarctica: Empire of the Penguin.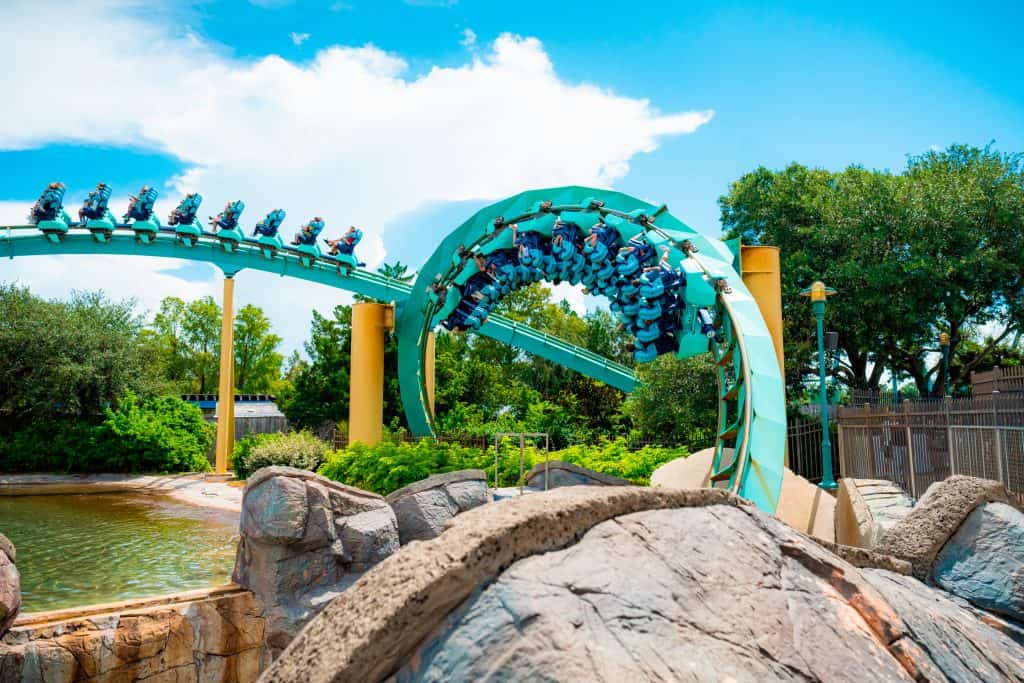 Named after one of the most feared mythical sea beasts, Kraken will have you screaming from nearly 150 feet up! Your feet will dangle over SeaWorld Orlando as you move on this high-speed coaster.
Named after one of the fastests sharks in the water, Mako lives up to the hype. This coaster won its category in USA Today's 10Best poll. This monster steel coaster reaches speeds of 73 miles per hour and a height of 200 feet.
This high-speed coaster takes guests through an experience you won't likely soon forget. This ride mimics what it would be like to be a manta ray gliding through the ocean. Once guests are buckled in, this unique ride vehicle pivots to put riders on their stomachs, flying through the air head first.
Flamingo Paddle Boats
For a small fee, guests can upgrade their SeaWorld experience and rent a paddle boat experience. This gives you the chance to view SeaWorld from the lagoon and relax for a few minutes.
Embark on this family launch coaster expedition that will take you and your snowmobile through Antarctica across a 3,020-foot track at speeds of 43 miles per hour to ultimately discover a penguin habitat.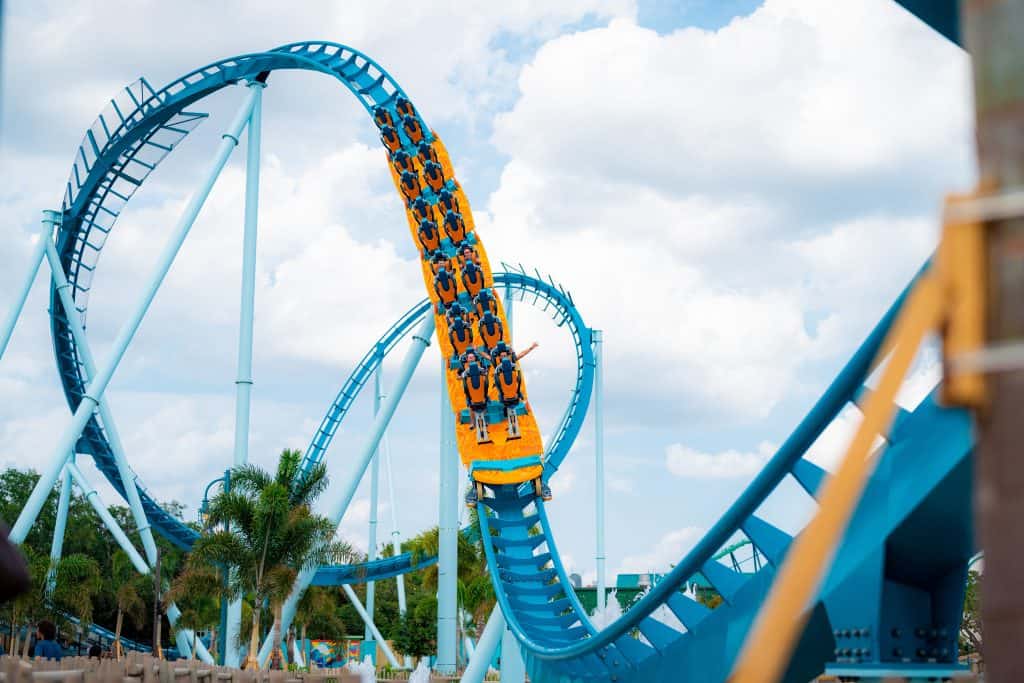 A first-of-its-kind thrill that features a dynamic restraint that keeps you secure and simulates wave movement for the ultimate surfer experience on land while reaching top speeds of up to 60 miles per hour and extending up to 110 feet in height.
Sesame Street has its own collection of rides, attractions, and shows for little ones. For a full listing and description of everything Sesame Street offers, head over to our guide!
Sky Tower
The tallest observation tower in Florida, Sky Tower gives guests the opportunity to view SeaWorld Orlando from 365 feet up.
Five species of penguins are featured in this unique exhibit. Guests can come just feet away from the penguins, and watch them swim up-close. Bring your jacket though – the enclosure mimics the conditions in Antarctica.
Turtle Trek & Manatee Rehabilitation Area
This walkthrough attraction features a large aquarium where guests can view beautiful sea turtles and manatees. SeaWorld Orlando rescues these animals and gives them a home, sometimes permanently if the animal can't live on its own in the wild. At the end of the Trek, guests can step into a 360-degree theatre for a short video of a sea turtle's life – from hatching from an egg to growing into an adult turtle enjoying the ocean.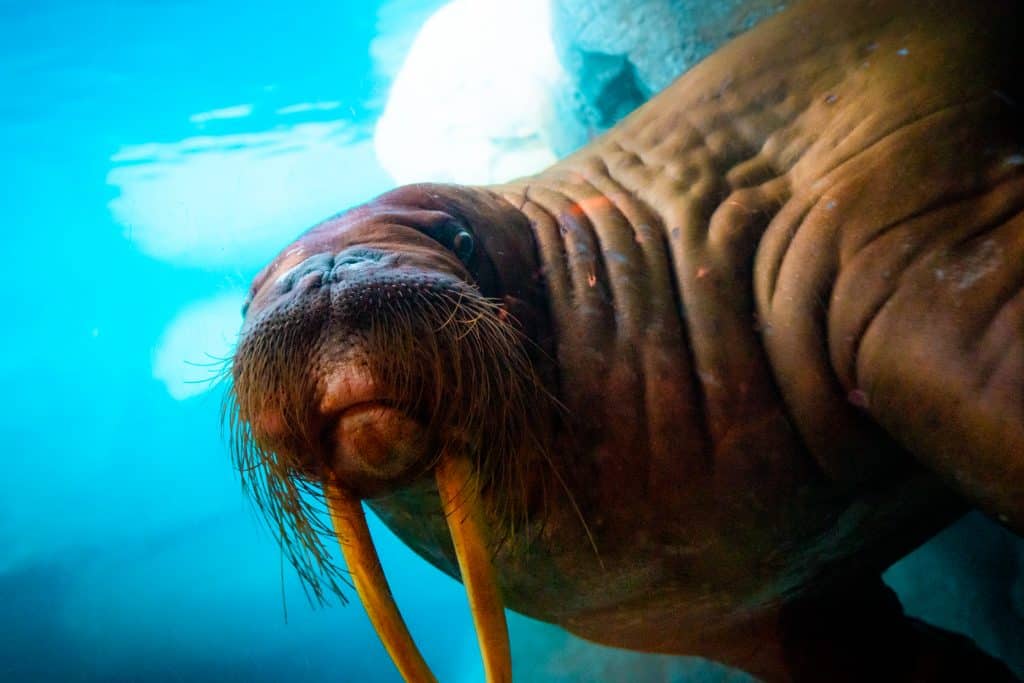 This walkthrough attraction brings guests face-to-face with walruses and beluga whales. You'll find it hard to believe that you're in Florida when you experience this exhibit.
Dolphin Theater
The Dolphin Theater currently houses one of the newest shows at SeaWorld Orlando – Dolphin Adventures! Guests gather here to learn about these beautiful animals, their nature, and what we can do to help protect them.
Nautilus Theatre
The Nautilus Theatre houses a number of live shows and entertainment. In addition to a few of the well-established shows, this theatre is often where you need to go to see the holiday-specific or seasonal entertainment.
Shamu Stadium
Home of the famous Orca Encounter, Shamu Stadium is the flagship attraction at SeaWorld Orlando. Here, guests have the opportunity to learn all about the impressive Orca whale.
Bayside Stadium
Bayside Stadium is the go-to spot for many of the nighttime festivities at SeaWorld Orlando. Featuring partially covered stadium seating and a stunning view of the lagoon, fireworks have never looked better.
Sea Lion and Otter Theater
Guests learn about California sea lions and Asian small-clawed otters. Through partnership with Pacific Point Marine Conservation Center, SeaWorld Orlando puts on an educational demonstration of these interesting creatures.
Seaport Theater
Located near the waterfront, Seaport Theater hosts the delightful show, Rescue Tails. This is an educational presentation of exciting and exotic animals. Here, in the AC, guests of all ages can learn something new about the animals we love.