Skip to: What is Key West | Attractions | Entertainment | Dining | Shopping | Fun Facts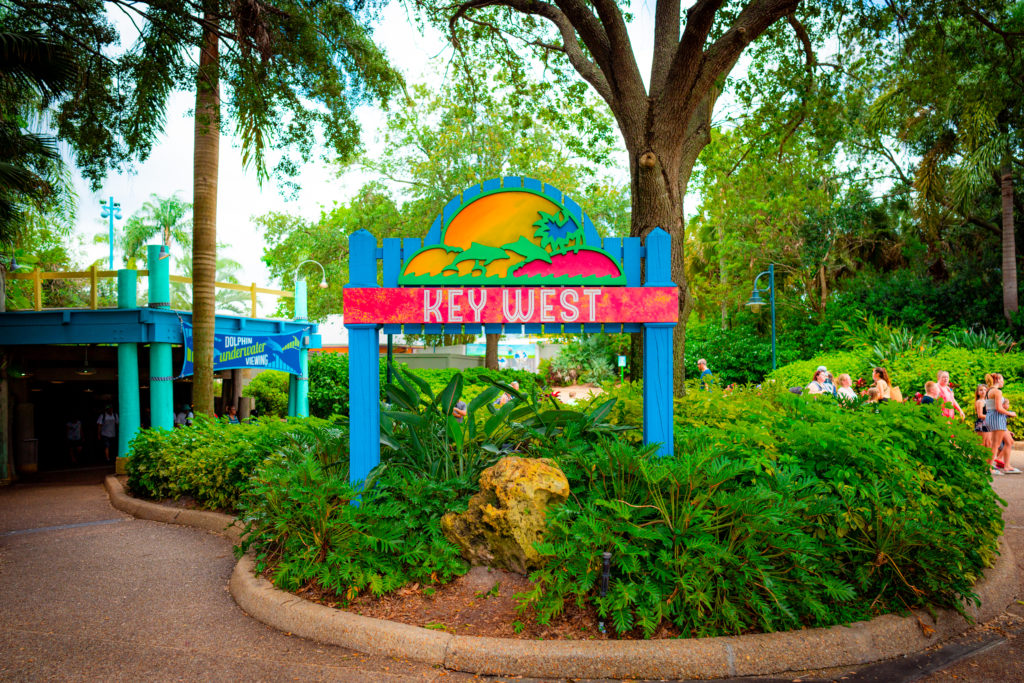 What is Key West?
Key West is one of the first areas to greet guests at SeaWorld Orlando. Although visitors are 400 miles away from the real deal, Key West at SeaWorld Orlando makes you feel like you're in the southernmost part of the continental United States. It's the perfect area to start your day, acclimating yourself to the Florida setting.
In terms of what Key West to offer, guests can find a number of animal attractions, grab a bite to eat, or pop into a shop for Florida-themed souvenirs. While it might seem redundant for a major resort in Central Florida to devote a section of their campus to, well, Florida, we guarantee that the area is a well-spent and highlights just how much this part of the U.S has to offer in terms of wildlife and conservation efforts.
Where is Key West located?
In the Sea of Shallows at SeaWorld Orlando
Key West – Attractions
Stingray Lagoon and Feeding
For a one-of-a-kind experience, head on over to the Stingray Lagoon. In this shallow pool, you will see more than a hundred stingrays float through the water. Guests are welcome to dip a hand in the water to gently pet them, and can even purchase food to directly feed the animals. Despite their reputation, stingrays are some of the most quiet, gentle creatures you will come across at SeaWorld Orlando, and we fully recommend this free experience!
Manatee Rehabilitation and Turtle Trek
Guests sometimes forget that SeaWorld Orlando has a fully-functioning rescue facility. One of the biggest – literally- functions of rescue efforts is the manatee rescue and rehabilitation facility. In this area, guests can walk through the manatee rescue and learn from the SeaWorld Animal Rescue Team. One of our favorite animals here is Sarah, the 3000 lb manatee that calls SeaWorld home. This same facility houses the Sea Turtle rehabilitation center, so guests can see both beautiful creatures in the same habitat.
Dolphin Cove and Dolphin Encounter
They're not the hallmark animal at SeaWorld Orlando, but the dolphins can probably claim second prize as guest favorite. The dolphin cove is a wonderful place for you to see these animals in action. Guests can even pay a nominal fee to be up-close-and-personal with a dolphin, learning from a SeaWorld Animal Rescue Team Member and getting a brief training session before taking a photo opportunity.
Key West – Entertainment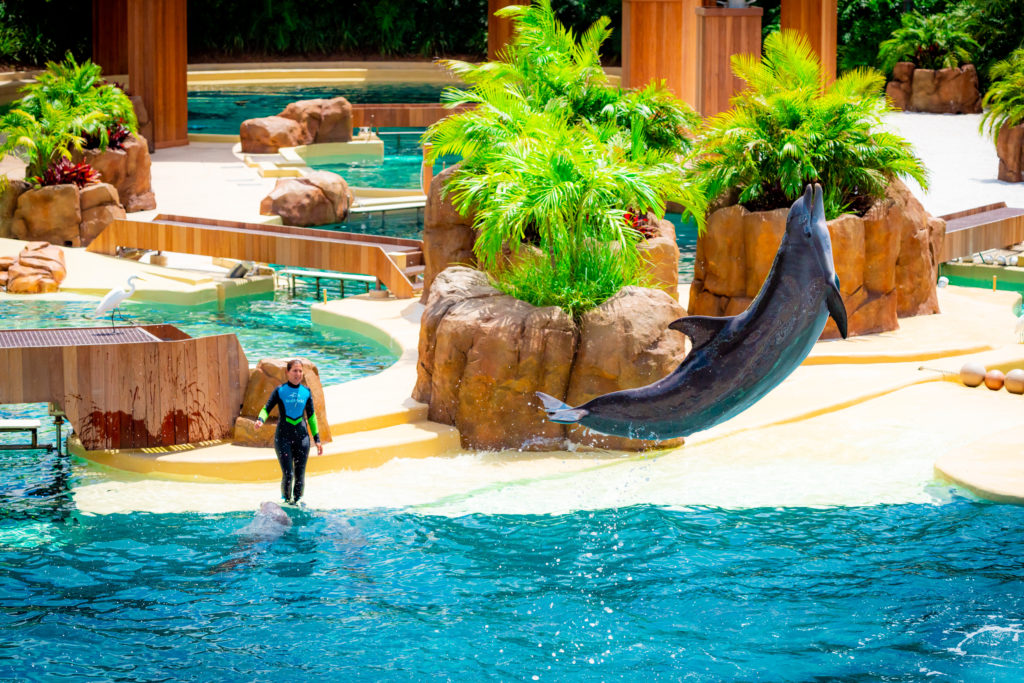 Aside from the numerous animal encounters in Key West, guests can find entertainment in Dolphin Adventures, the newest dolphin show at SeaWorld Orlando. This show will teach guests all about the bottlenose dolphin and their adventures! This outdoor show takes place at Dolphin Stadium.
Key West – Dining
Dining options at Key West are limited in terms of what else you can find throughout the resort. If you are hungry, your best bet in Key West is to eat at Captain Pete's Island Hot Dogs. This quick-service stand can be found by the Stingray Lagoon and offers a small assortment of snacks and beverages in addition to – you guessed it – hot dogs.
Key West – Shopping
Key West offers a couple of small shopping options. In most of these stores, you can find necessities to get through your day in addition to the shop-specific wares.
Build a Bear Workshop
This new Build-A-Bear Workshop allows kids of all ages to come in, select, and personalize their one-of-a-kind animal to remember their trip to SeaWorld Orlando.
Coconut Bay Traders
This store features dolphin-themed everything. Find souvenirs, jewelry, toys, and more.
Flamingo Pointe
Like the animal in its name, Flamingo Pointe is a colorful, playful shop for guests to pop in and get their tropical gifts. Taking home a souvenir from here will make you feel like you never left Florida!
Trek Treasures
Near the Turtle Trek and Manatee Rescue, Trek Treasures carries merchandise and memorabilia with those animals featured prominently. You can also pop in here for some light refreshments – sodas, snacks, and bottled water are all available.
Key West – Fun facts
The real Key West is closer to Cuba (90 miles) than to Miami (150 miles)!
Key West – real guest reviews
Orlando Informer
Average rating:
0 reviews