One of SeaWorld Orlando's newest summertime offerings is a one-of-a-kind festival called Electric Ocean. Most of the action takes place after dark, but it's not just a fireworks show (though there are those, too). We've outlined everything you need to know about this festival here.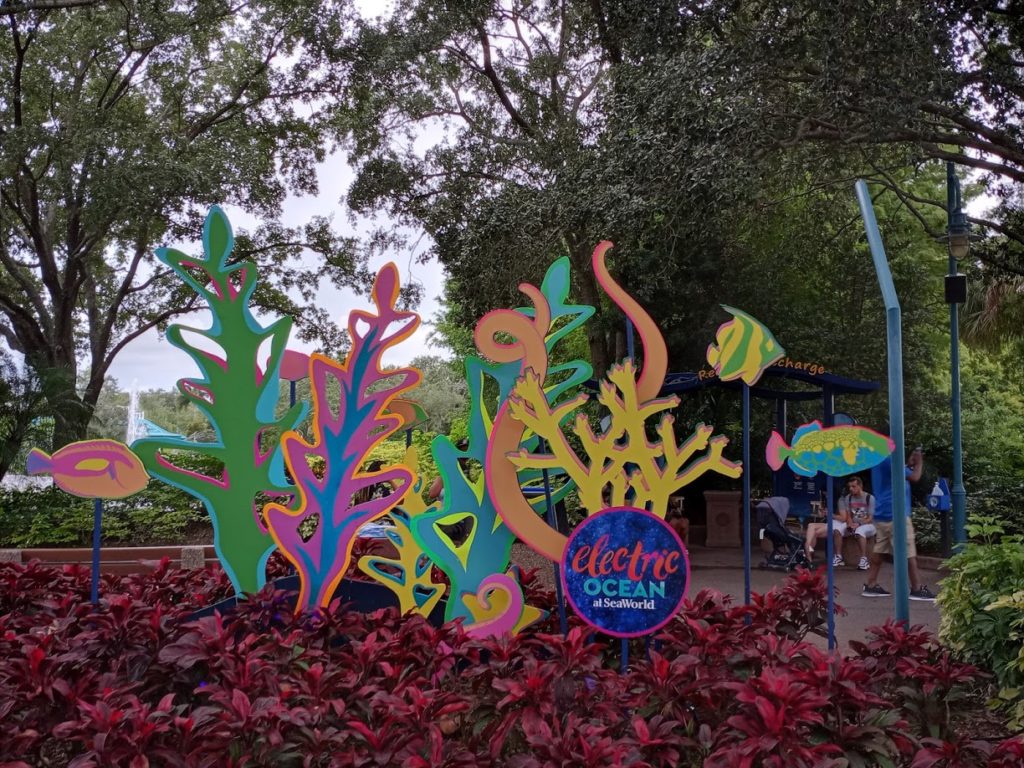 What is SeaWorld's Electric Ocean?
Electric Ocean is a family-friendly festival focused on dancing, fun music, cool lighting effects, and of course, a fireworks and pyrotechnics finale to conclude your day. There are custom beverages you can purchase in dayglow cups, and a disco ball cup (which is even more fun in the black lights), but unlike Viva La Musica or The Seven Seas Food Festival, there are not extra food offerings other than the usual restaurants and booths you'd find any other time of year. Electric Ocean is included with admission to SeaWorld Orlando.
When does SeaWorld's Electric Ocean take place?
This year, Electric Ocean takes place from May 27 – September 5, 2022. Electric Ocean can be enjoyed almost every weeknight and weekend until August, when dates start to thin out a bit to just weekend availability. Additionally, most of the Electric Ocean weekends in August also overlap with the Craft Beer Festival, so be sure and check out the calendar for when that is happening as well.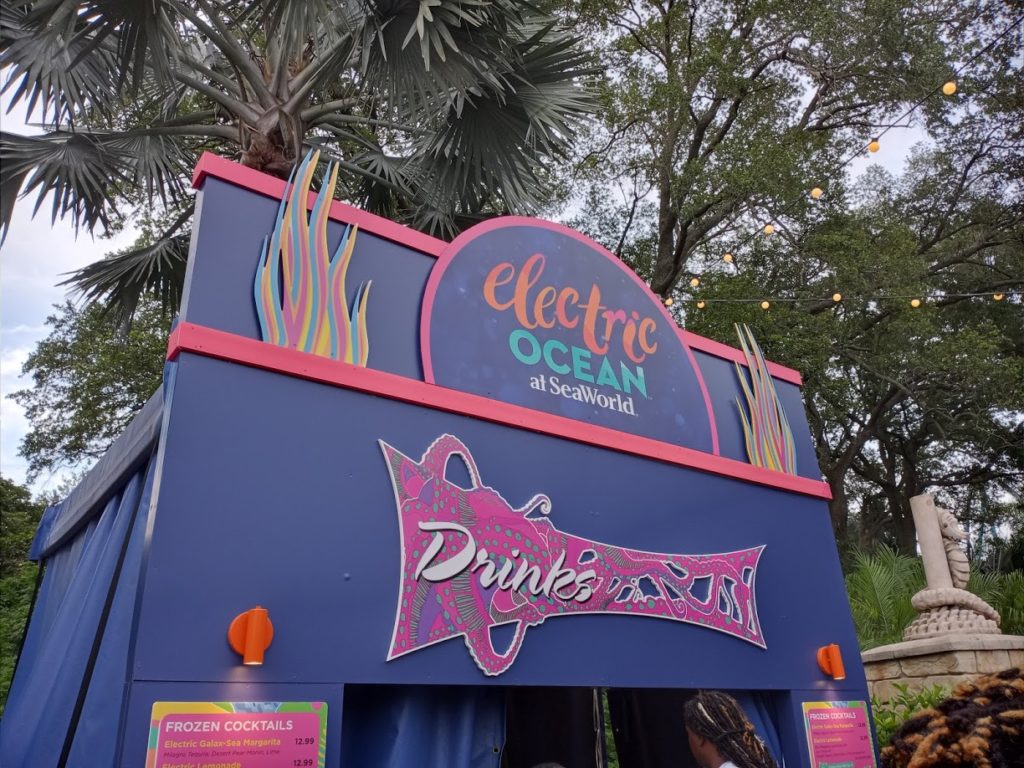 What can I do at SeaWorld's Electric Ocean?
There are exclusive shows and attractions to check out during Electric Ocean. The first of these is Rescue Tails, an experience where you can meet several animal ambassadors and learn their unique stories. The show also demonstrates how SeaWorld contributes to conservation for all types of animals, including reptiles, primates, and of course, ocean creatures. Rescue Tails is located in Seaport Theater.
Another new show, geared toward the younger set, is Elmo Rocks! Head toward the Nautilus Theater to join Elmo and his friends as they form a rock 'n' roll band and put on a rock concert.
Besides the two indoor shows listed above (starting even before the sun goes down) the park comes alive with colorful Electric Ocean signage, stilt walkers, dancers, and more as you wander. There are also interesting art installations made completely out of recycled plastic and promoting one of SeaWorld's big conservation messages: reduce, reuse, recycle.
If you want to get the dance party started early, you can! Just outside of the Seaport Theater, there's a DJ booth and vibrant dancers who will help you have a great time, teach you some new dances, or just impress you with their own!
Once the sun goes down, you'll want to head to Bayside Stadium (where the live musical acts usually perform) which is transformed into Club Sea Glow. Whether you feel like dancing to a world-class DJ playing all the best dance tunes or just sit and people watch, you'll be entertained. Club Sea Glow features not only dancing for the whole family, but interspersed acrobats, jump-ropers, professional dancers, and even puppeteers, all decked out in fun, blacklight-responsive gear. And if you're feeling particularly festive, you can grab your own glowing merch at one of the many stands around the parks.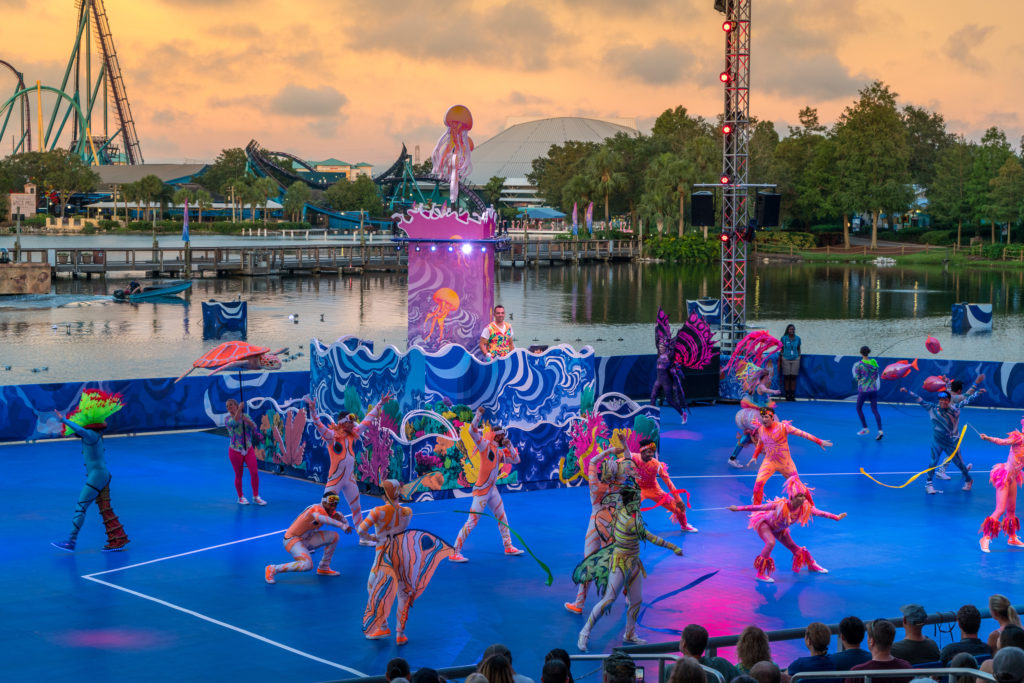 Are there fireworks at SeaWorld's Electric Ocean Festival?
Yes. Club Sea Glow eventually winds down as everybody settles in for Ignite, SeaWorld's fireworks show. There are three viewing areas: Bayside Stadium, the walkway outside of Orca Stadium, and the area just on the other side of the bridge that goes across the lagoon (near the Sky Tower). I watched from Bayside Stadium and would recommend moving to one of the other viewing areas, as there is probably a less obstructed view. (The lighting rig at Bayview Stadium did obstruct the view somewhat, but I definitely still enjoyed the fireworks from my seat.) Ignite starts at 10pm each night of the Electric Ocean Festival.
Electric Ocean is included with your SeaWorld admission ticket. Be sure and get your tickets here.