Preview this Page
Overview
Step inside Central Florida's slice of paradise! Enjoy this all-inclusive day resort by relaxing on the beach, delighting in the included food and beverages, meeting a variety of animals, and discovering the vast array of surprises in store. Purchase discounted Discovery Cove admission here and read on to learn more about this unique adventure!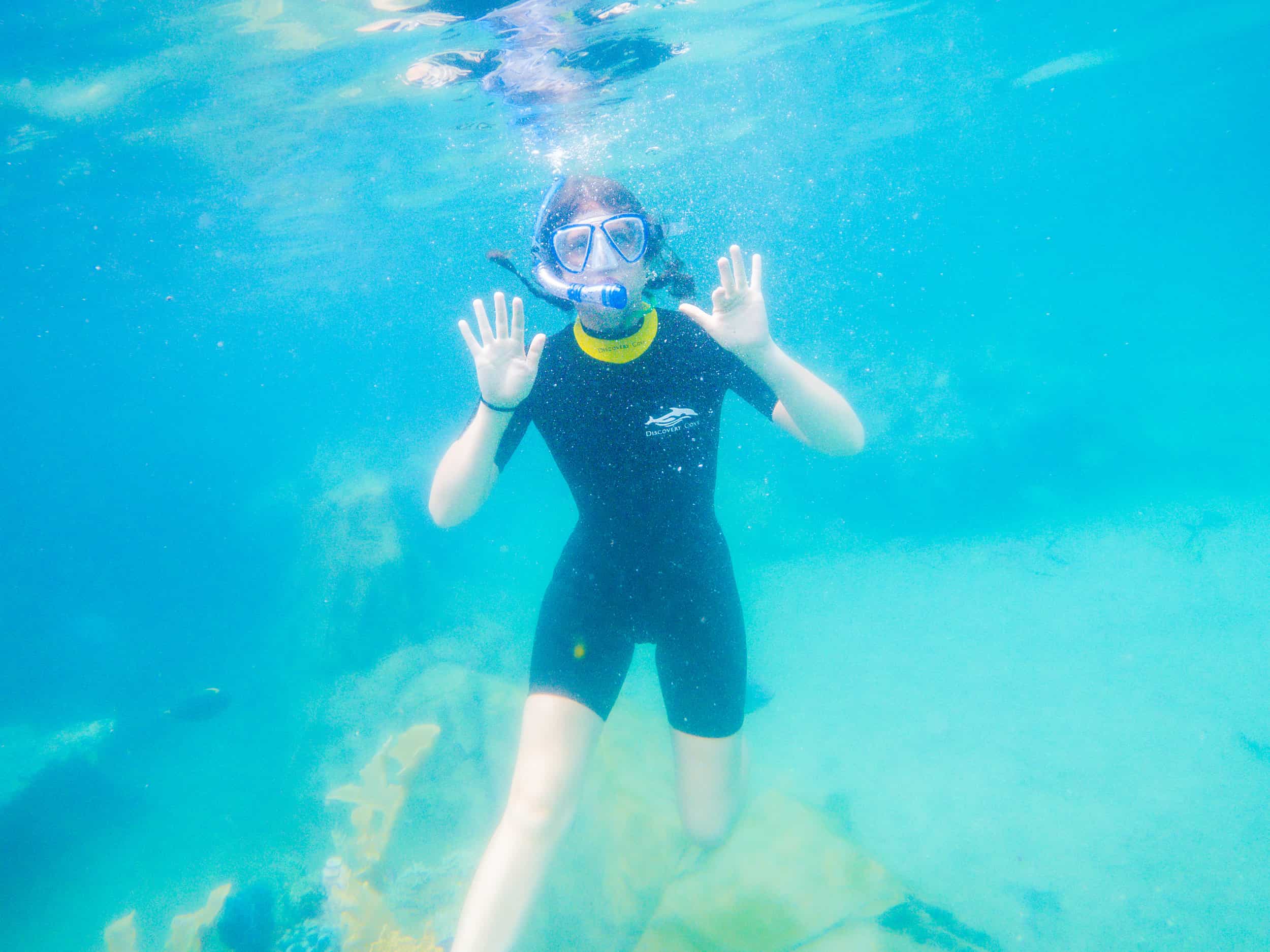 What is Discovery Cove?
Discovery Cove is an all-inclusive day resort that is owned and operated by SeaWorld Parks & Entertainment. Just a stone's throw away from SeaWorld Orlando is a tropical oasis offering guests included food and beverages included with admission, up-close and personal experiences with animals, breathtaking scenery, and so much more.
With its opening in 2000, Discovery Cove has had over 20 years of experience creating an unforgettable tropical paradise for its visitors. This unique property requires reservations that are at a limited quantity to ensure that you feel like a VIP while digging your feet in the sand and basking in the sun.
Tickets to Discovery Cove
How much are tickets to Discovery Cove?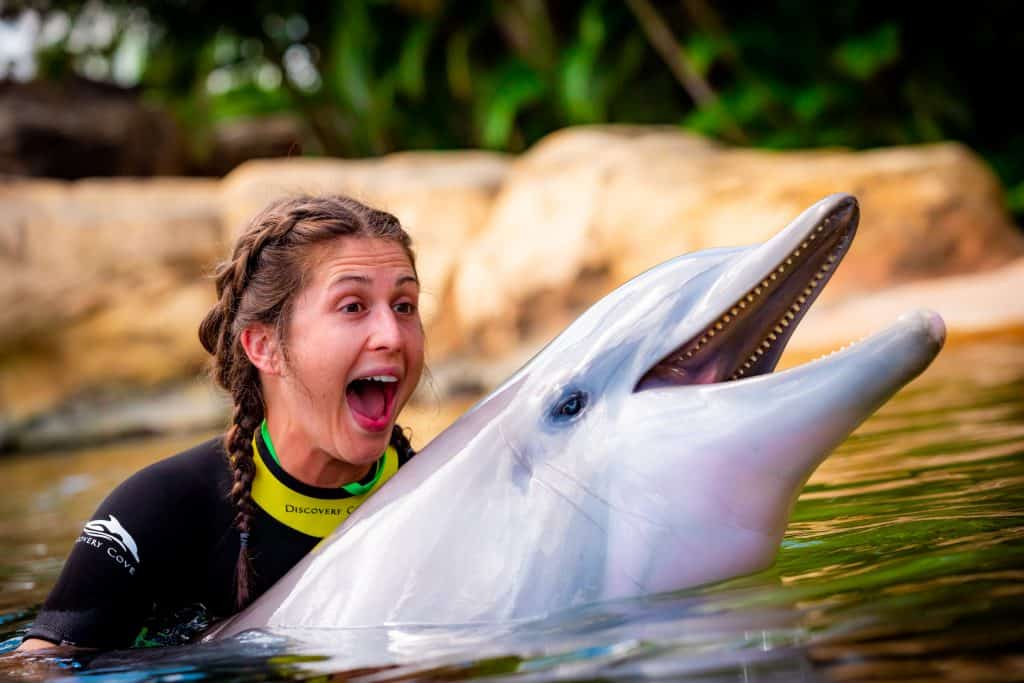 The answer to this question depends on the ticket type you wish to purchase. To access this unique, all-inclusive paradise, you'll need to purchase Discovery Cove Resort Package tickets. There is an additional ticket type that allows you entry to Discovery Cove with a Dolphin Swim Experience included. This ticket is known as the Discovery Cove Resort Package with Dolphin Swim. Additional admission options that grant you access to SeaWorld Orlando, Busch Gardens Tampa Bay, and Aquatica are also available.
Save on your Discovery Cove getaway by purchasing your tickets from us here!
What is included with a ticket to Discovery Cove?
A Discovery Cove Resort Package, which is considered standard admission to this getaway, is considered "all-inclusive" and encompasses the following:
Free Parking
Breakfast
Lunch
Beer & Wine (Guests 21+)
Lockers
Animal Safe Sunscreen
Towels
Wet Suits
Snorkel Gear
Shower Facilities with Soap, Shampoo, & Conditioner
Access to Explorer's Aviary, The Grand Reef, Freshwater Oasis, Serenity Bay, and Wind-Away River
When you choose to purchase the Dolphin Swim Package, you have access to all of the amenities above with the add-on to interact with the resident dolphins of Discovery Cove.
Discovery Cove Included Experiences
Explorer's Aviary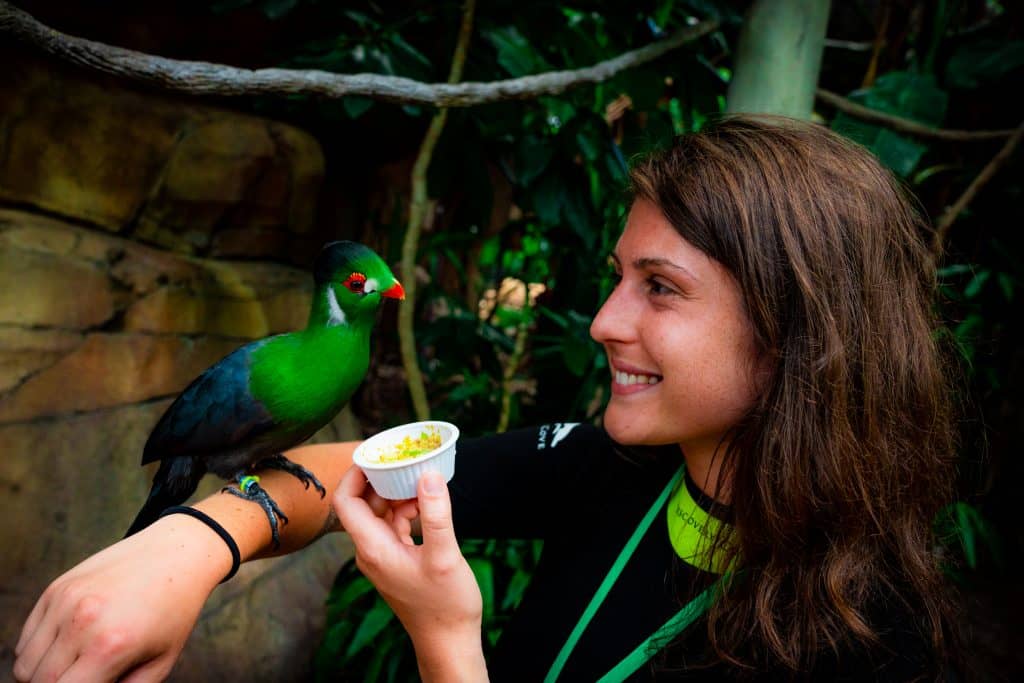 Take flight and head to the Explorer's Aviary to enter the habitat of our feathered friends. See them soar, sing their songs, and watch as they eat fruit from your hand.
Freshwater Oasis
Step into this spring to take a dip alongside Asian Clawed Otters and gaze upon Marmoset Island, where its namesake has staked its claim as their own playground.
The Grand Reef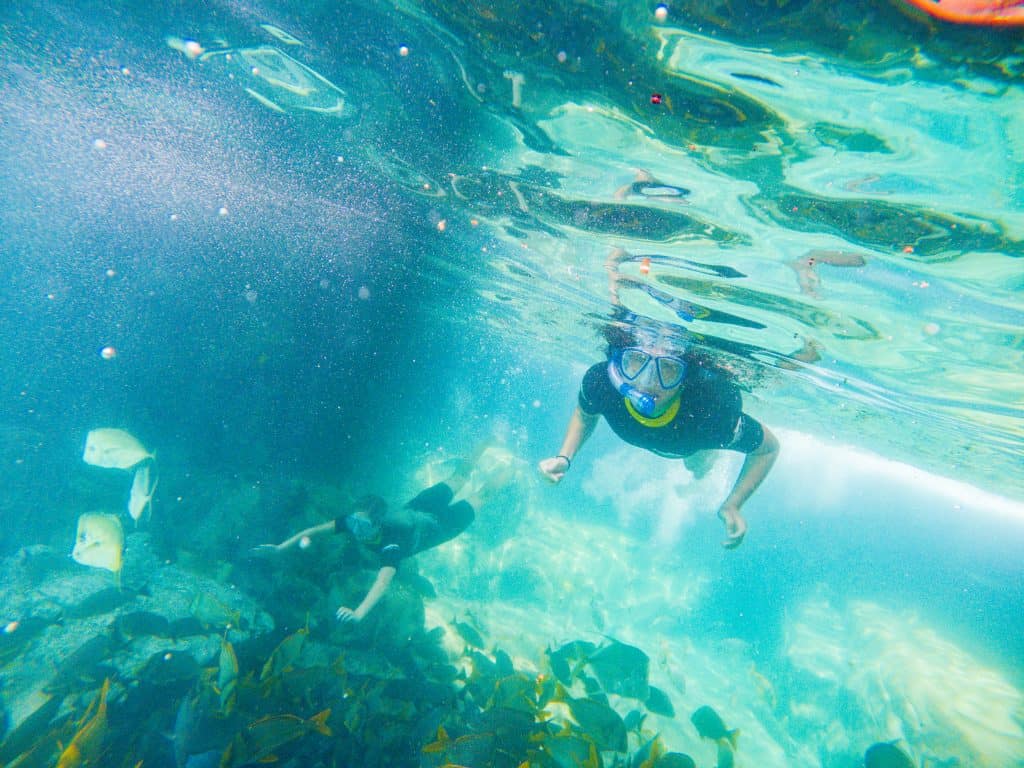 Pop on your snorkel and gaze upon thousands of fish in this flagship environment. Breech the surface to find hidden grottos or cross bridges over shark-infested waters.
Serenity Bay
Looking for a break from all the adventure? Head over to the next two spots on our list! Serenity Bay is a relaxing, freshwater pool. Unwind in 85-degree waters or soak up the sun while you stick your toes in the sand.
Wind-Away River
Experience tranquility while floating on Discovery Cove's lazy river. Its currents will take you past beaches and waterfalls as well as venture through the aviary and underwater cave. Grab a raft and laze as this babbling brook takes you away.
Add-On Discovery Cove Experiences
Animal Trek
This 30-minute tour will take you behind the scenes to interact with various bird species, such as a macaw and a rescued screech owl. Continue on to meet small mammals, like anteaters, armadillos, kinkajous, or sloths. Prices start at $89 per person.
Swim with Sharks
It's always Shark Week at Discovery Cove! Swim alongside more than 20 sharks in their habitat while also learning more about this predator of the deep. Prices start at $169 per person.
Flamingo Mingle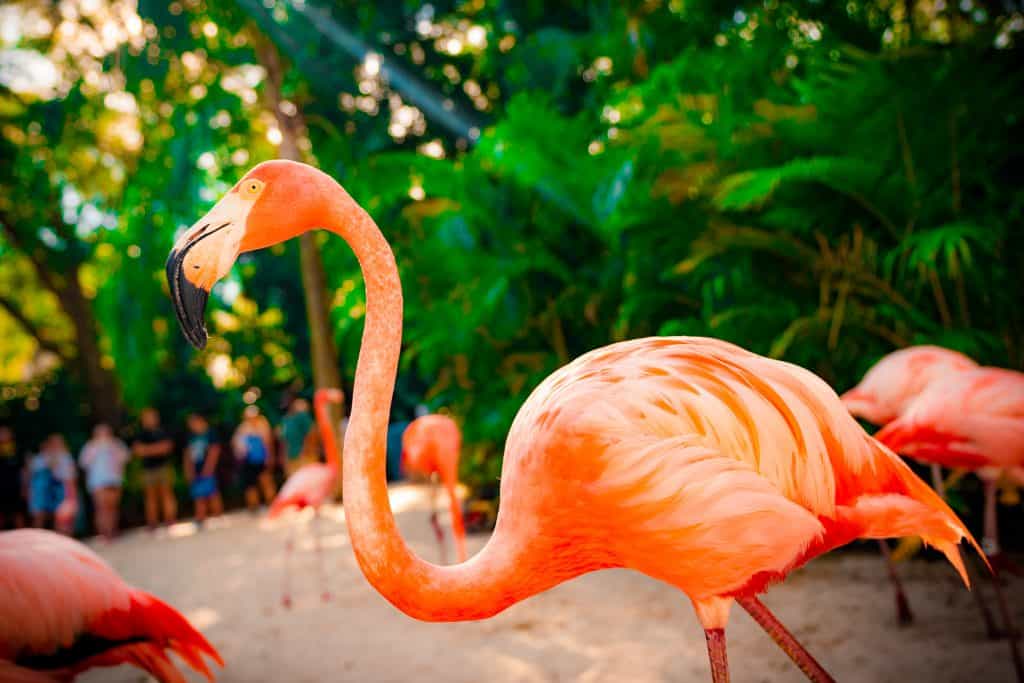 Greet and feed a flamboyance of Caribbean flamingos with a photographer to capture these special moments and an expert on hand sharing facts about these pink avians. Prices start at $69 per person.
Ray Feeding
While catching rays at Discovery Cove, take the opportunity to help feed Cownose and Southern Rays as you learn about caring for these wondrous creatures. Prices start at $69 per person.
Trainer for a Day
Want to know what it takes to be part of the Discovery Cove team? As an add-on to your Discovery Cove Dolphin Swim admission package, you will go behind the scenes at Discovery Cove for a second dolphin interaction, meet small mammals and tropical birds, feed the fish in The Grand Reef, and check out a romp of otters in the Freshwater Oasis. A photographer will be there to capture the picture-perfect moments that you'll have with our bottlenosed friends. Prices start at $249 per person.
SeaVenture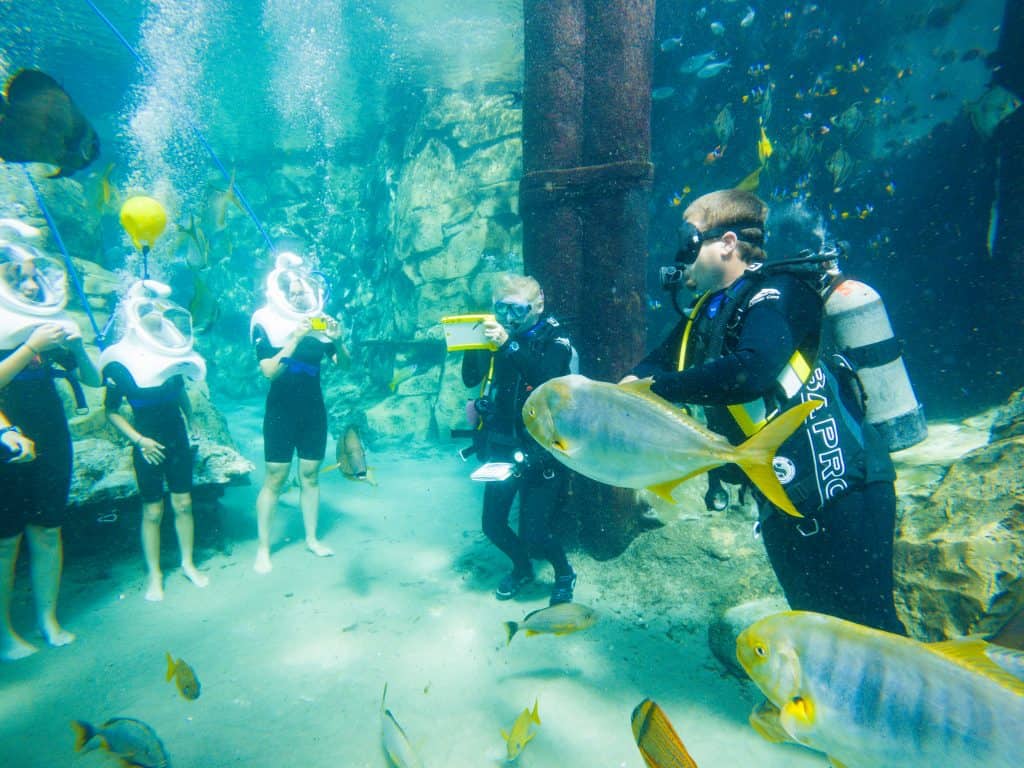 Dive under the surface of The Grand Reef for this walking er– swimming tour while sporting a dive helmet. Get a whole new perspective of the fish, rays, and sharks that call Discovery Cove home. This unique adventure starts at $59 per person.
Discovery Cove Upgrades
Cabanas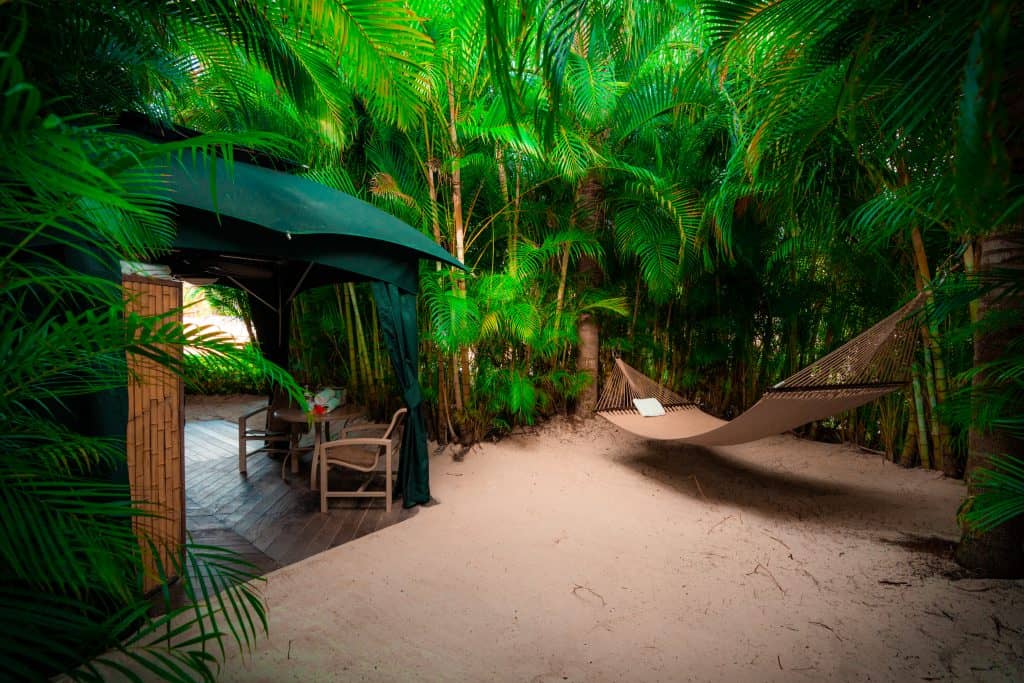 Take your day of relaxation to the next level with a cabana rental! All three categories of this amenity include towel service, a snack basket, and a mini-fridge stocked with complimentary Coca-Cola products and water. The Elite and VIP cabanas come with a photo package and a personalized buoy delivery during your signature dolphin swim. The top tier of cabana encompasses all of the previously mentioned benefits while overlooking the picturesque Dolphin Lagoon, a cabana host, exclusive animal encounter, and reserved seating at Laguna Grill.
Private Cabana – Starting at $299
Elite Cabana – Starting at $499
VIP Cabana – Starting at $899
Day Beds
Another way to enjoy this luscious oasis is by kicking your feet up on a tranquil day bed. Each amenity fits up to two adults, and prices start at $149 per bed.
Premium Drink Package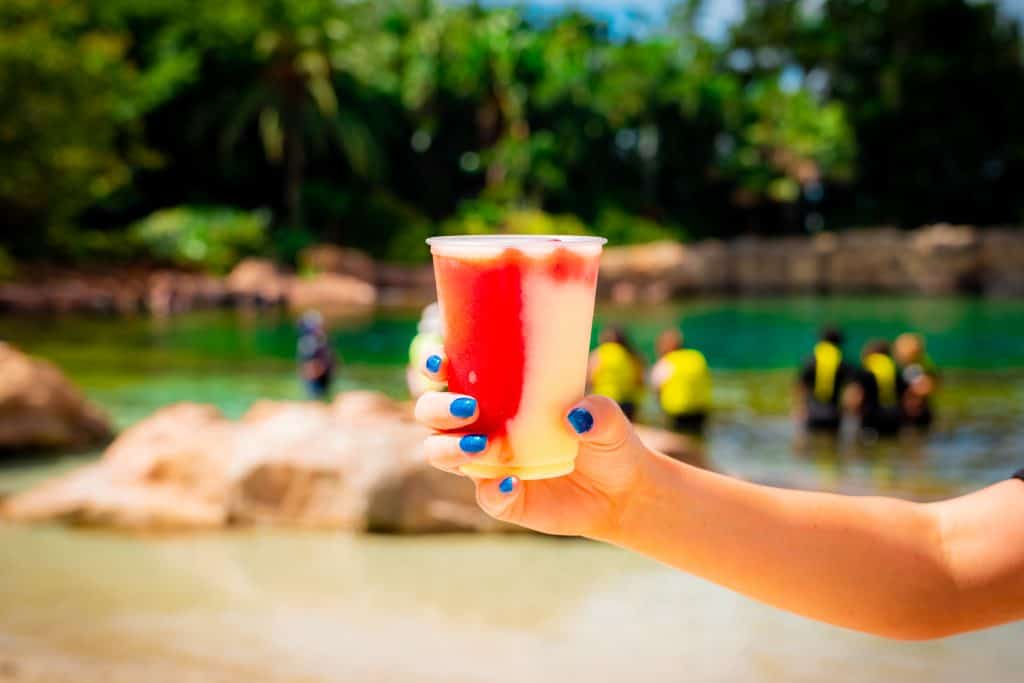 While beer and wine are included with admission, there is nothing like basking in the sun while holding a margarita in your hand. Starting at $40, enjoy a selection of signature cocktails and a fully stocked liquor bar.
Photo Packages
As they say – pics or it didn't happen, right? Purchase a photo package to capture mementos from your dolphin swim as you go nose to nose with these majestic mammals. Each package includes its own set of perks, from digital downloads to photo frames.

Digital Photo Package – $229
Island Photo Package – $99
Adventure Photo Package – $169
Discovery Photo Package – $224.10
Premier Photo Package – $254.15
What are Discovery Cove's park hours?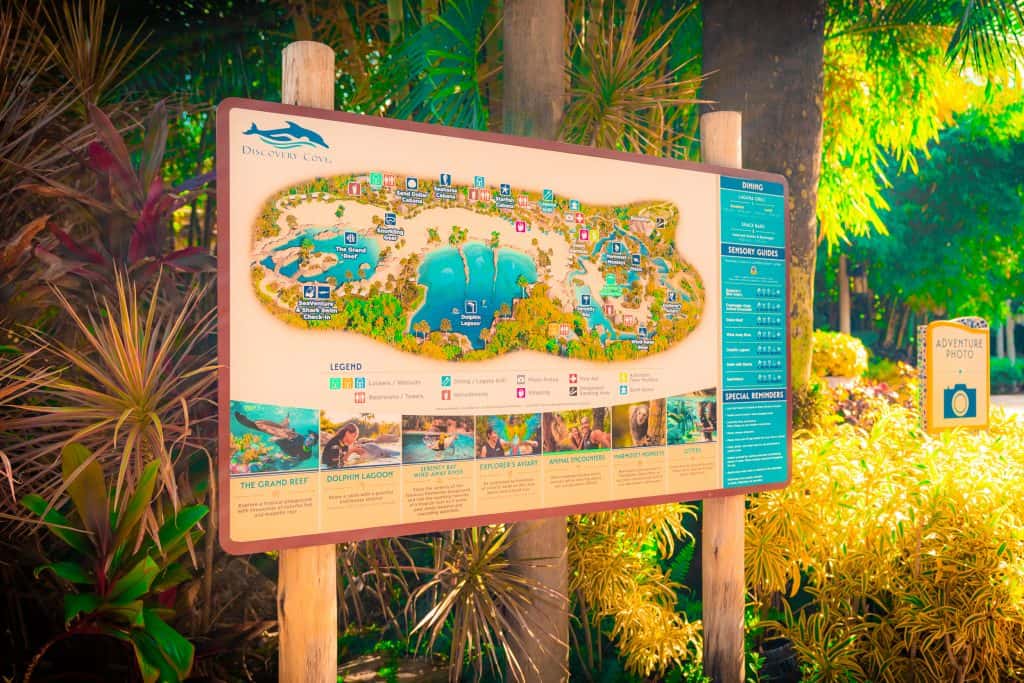 While waterways are open from 9:00 am to 5:00 pm daily, it is suggested that you arrive between 7:00 am and 8:30 am. This gives you plenty of time to prepare for your day and enjoy your included breakfast.
Discovery Cove Unlimited Food & Beverages
A major perk to a day at Discovery Cove is the all-inclusive food and beverages. Breakfast, lunch, snacks, drinks, as well as wine and beer for guests older than 21, are served fresh and readily available throughout the day.
Laguna Grill
Breakfast hours: 7:30 AM – 10:30 AM
Lunch Hours: 11:00 AM – 3:30 PM
Breakfast Menu
Chicken & Belgian Waffles
Powdered sugar, maple syrup
Scrambled Eggs, Southwest-Style Scrambled Eggs, Sausage Links, Breakfast Potatoes, French Toast Sticks
Seasonal Fresh Fruits
Whole apples, oranges, bananas, mixed cubed melons, pineapple, and seasonal berries
Assorted Breakfast Pastries
Mini muffins, petite cheese and fruit danish, mini cinnamon buns
Yogurt Parfait and assorted yogurts
Assorted Dry Cereals
Orange Juice
Regular and Chocolate Milk
Brewed Regular & Decaffeinated Coffee, Tea, and Hot Chocolate
Lunch Signature Entrées
Laguna Beach Burger
Served with French Fries
Impossible Burger
Served with French Fries
Veggie Burger
Served with French Fries
Coconut Crusted Salmon
Served with French Fries
Mojo Pulled Pork
Sweet Plantains and Caribbean Cole Slaw

Jamaican Pepper Steak
Island Style Rice
Grilled Jerk Chicken
Island Style Rice, Fire Roasted Vegetables, Mango Salsa
Lunch Cold Wraps & Salads
Laguna Signature Salad
Mango Vinaigrette, Arcadian Blend, Tomato, Red Onion, Black Olives, Mandarin Orange, Feta Cheese
Grilled Chicken Caesar Salad

Quinoa Salad
Quinoa, Tomato, Shaved Red Onion, Roasted Red Peppers, Cilantro, Sweet Garlic Chili, Red Wine Vinegar

Grilled Jerk Chicken Wrap
Grilled Jerk Chicken, Lettuce, Peppers, Mango Salsa

Lagina Island Ceviche
Shrimp, Pico de Gallo, Lime Juice
Lunch Desserts
Assorted flavorful cakes and bars
Kids Lunch Menu
Chicken Tenders
Served with French Fries
Hot Dog
Served with French Fries
Macaroni & Cheese
Hibiscus Hideaway
Hours: 10:30 AM – 4:30 PM
BBQ Chicken Flatbread Pizza
Margherita Flatbread Pizza
Soft Serve Ice Cream
Pineapple & vanilla
Assorted Chips
Icees
Whole Fresh Fruit
Full Bar Service Available
Including premium liquor offerings, custom cocktails, draft beer, wine, and more
Non-Alcoholic Beverages
Assorted Coca-Cola Products, bottled water, coffee & tea
Blue Bamboo Bar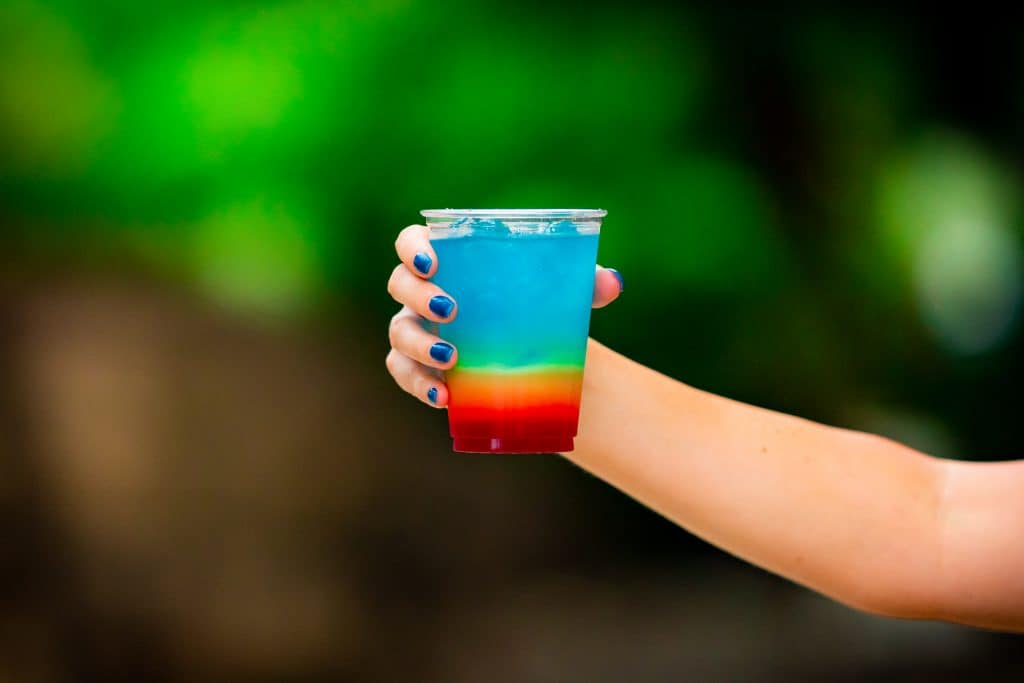 Hours: 10:30 AM – 5:00 PM
Assorted Chips
Fresh Warm Soft Pretzels
Icees
Chocolate Chip Cookies
Whole Fresh Foods

Full bar service available, including premium liquor offerings, custom cocktails, draft beer, wine and more
Premium alcohol offerings (cocktails, craft beer, select wines, and liquor drinks) are available at an upcharge or included with the Premium Drink Package
Non-Alcoholic Beverages
Assorted Coca-Cola Products, bottled water, coffee & tea
Check out everything that Discovery Cove has to offer by purchasing your tickets here!