Skip to: Overview | Drink Selections | Beer Fest Cost | Dining Experience | SeaWorld Orlando
SeaWorld Orlando is known for having festivals almost year-round. One of our favorites here at Orlando Informer is the annual end-of-summer Craft Beer Festival, occurring July 26 through September 2, 2024. When this event rolls around each year, we know fall, football, and festivities are just around the corner.  
This event is included with park admission, and typically occurs for four to five weeks, starting sometime in August and concluding in September. Here's everything you need to know about experiencing the SeaWorld 2024 Craft Beer Festival. 
While we await additional details regarding 2024's Craft Beer Festival, please enjoy the information from 2023's event.
What is the Craft Beer Festival at SeaWorld Orlando?
If you didn't catch it in the name, the main draw of Beer Fest is the drinks. Beer Fest is an annual festival included with park admission at SeaWorld Orlando. This year, the festival will host over 100 craft beers, wine, seltzers, and cocktails, with select stations pairing more than 15 food items with their beverages. Of course, entertainment will also be provided throughout the park to keep the party going.
When is the Craft Beer Festival at SeaWorld Orlando?
July 28 – September 4, 2023
Fridays, Saturdays, and Sundays
12 PM – One hour prior to park close
Although the dates might make it seem like this happens in the fall, keep in mind that this is Florida, home of the endless summer. You can check out our page on Orlando weather to see what to expect upon arrival. When you get here, you'll want a nice cold one.
SeaWorld Orlando Craft Beer Festival 2023 Menu
Flamecraft Bar
South Beach Blood Orange Sunset IPA
South Beach Strawberry Orange Mimosa Sparkling Ale
Suncreek Strawberry Blonde Ambition Ale
Suncreek Whistling Birds Raspberry Sour
New Belgium Fat Tire Amber Ale
Crooked Can Seasonal
Swamphead Wild Night Honey Cream Ale
Sailfish Brewing Co. Tag & Release Amber Ale
SweetWater 420 Extra Pale Ale
Blue Moon Belgium White
Brew Hub Key Lime Pie Sour
Suncreek Sun Squishy IPA Barley Barrel
Barley Barrel
Brewlando Jernigan's Hazy IPA
Brewlando Red Lake Irish Red
Strawberry Whiskey Smash
Jameson, Strawberry, Lemon Juice, Bitters, Strawberry Garnish
Café de Mar
Vermont Woodchuck Oak Aged Cider
Vermont Amber Cider
Sea Star Strawberry Daquiri
Sea Breeze Pina Colada
Orlando Vice
Brews and Chews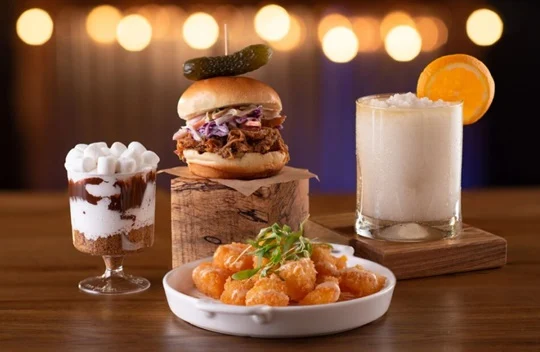 Funky Buddha Floridian Hefeweizen
Funky Buddha Hop Gun IPA
Funky Buddha Tropical Floridian Wheat Ale
Funky Buddha Vibin' Groovable Lager
Fistful Frozen Whiskey Sour
Fistful Bourbon, Citrus – garnished with an orange wedge
Pulled Pork Slider
Brioche bun, Funky buddha infused barbecue smoked pork, Jalapeno slaw
Boozy S'mores
Graham cracker, hefeweizen marshmallow fluff, chocolate ganache
Cheese Curds
Deep-fried Wisconsin Sharp cheddar breaded cheese, spicy ranch
New Orleans Corner
Abita TurboDog Brown Ale
Abita Purple Haze Lager
Hurricane (non-frozen)
Bacardi Light, Sailor Jerry Spiced Rum, Passionfruit, Grenadine – garnished with an orange wedge Food
Totchos
Chili Cheese or BBQ brisket
Beignets
Bananas Foster
Pub Grub
Dogfish Head 60 minute IPA
Dogfish Head Citrus Squall Double Golden Ale
Dogfish Head 90 minute IPA
Sunshine City Dog
All beef hot dog, sunshine city beer-infused sauerkraut & beer cheese, crispy onions
Wish You Were Beer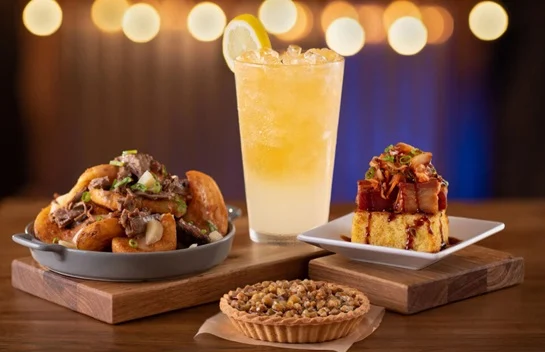 Sierra Nevada Hazy Little Thing Hazy IPA
Sierra Nevada Pale Ale
Sierra Nevada Wild Little Thing Slightly Sour Ale
Summer Shandy
Citrus Ale, Lemonade – garnished with a lemon wedge
Short Rib Poutine
12 hours braised Pale Ale Shor Rib, Sidewinder Fries, Wisconsin Cheese curds and Natural Gravy
Pork Belly & Kimchi
Soy Honey Glazed Pork Belly, Scallion Sweet Corn Bread
Chocolate Bourbon Pecan Pie
Hops & Dreams
Anheuser-Busch Shocktop
Anhueser-Busch Bud Light
Anhueser-Busch Michelob Ultra
Jalapeño Margarita
Jalapeño Tequila, Triple Sec, Lime
Distilled Delights Mezcal Tasting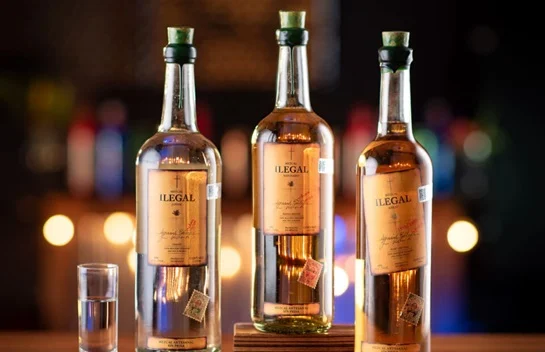 Joven
Reposado
Anejo
The Mango Mescal
Mango, Mescal, Lime sour, Tajin rim
Oaxaca Old Fashioned
Go for the Grain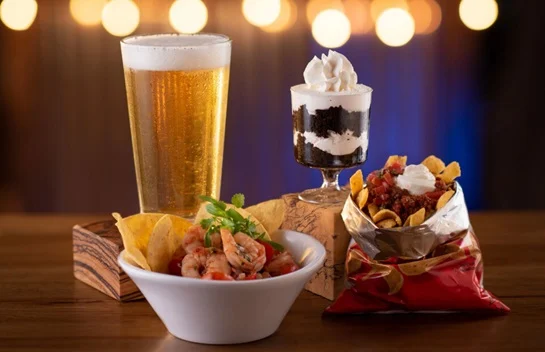 Terrapin Luau Krunkles (Passionfruit, Orange, Guava IPA)
Cigar City Maduro Brown Ale
Cigar City Florida Man Double IPA
Walking Taco
Frito's chips, Cigar City infused chili, pico de gallo, sour cream
Michelada Shrimp Ceviche
Shrimp marinated in lime and Mexican michelada served with corn tortilla chips
Maduro Brown Ale Cupcake
Sponge cake soaked in Jameson simple syrup, Bailey's Irish buttercream frosting
Off the Vine Tasting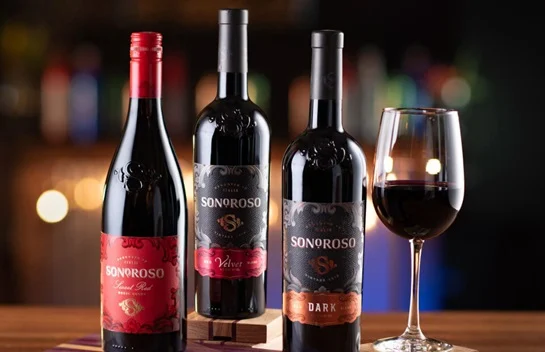 Sonoroso Velvet Red Blend
Sonoroso Sweet Red Rosso Dolce
Sonoroso Dark Red Blend
Lunetta Prosecco
Sweet & Sour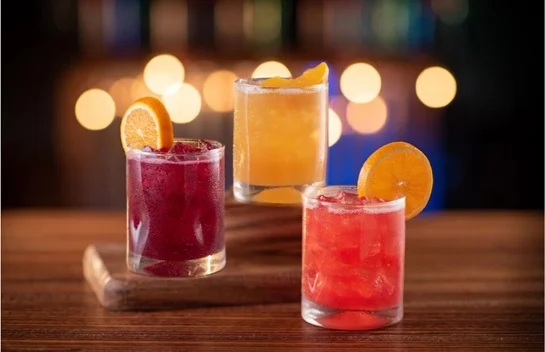 Wicked Weed Fresh Pressed Mango Pineapple Guava Wheat Ale
Wicked Weed Coastal Love Hazy IPA
Wicked Weed Pernicious IPA
Wicked Weed Watermelon Dragon Fruit Burst Sour Ale
Orchard Island
Tito's Vodka, Milagros Tequila, Calypso Spiced Rum, Triple Sec, Peach, Pumpkin, Sour Mix, Peach Garnish
Blackberry Peach Sangria
Tito's Vodka, White Wine, Blackberry, Peach, Orange garnish
Fizzy Shine
Wicked Dolphin Rumshine, Blood orange syrup, Ginger beer, Lemon Juice, Orange Garnish
Sam Adams' Best Bites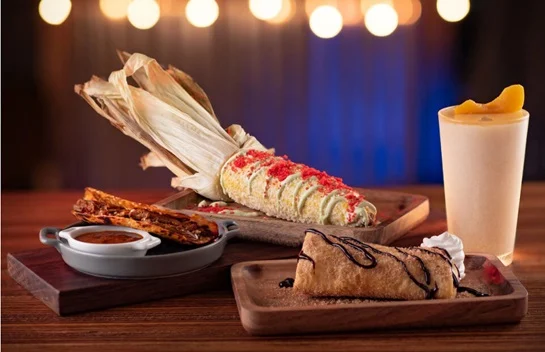 Sam Adams Boston Lager
Sam Adams Seasonal
Sam Adams Wicked Hazy Juicy New England IPA
Fistful Frozen Peach Punch
Fistful of Bourbon, Tea, Peach, Peach Garnish
Birria Beef Tacos
Mazina Tortilla, 8-hour Braised Sam Adams Octoberfest Guajillo Chile beef, Oaxaca Cheese
Street Corn
Corn on the cobb, Cilantro Lime Crema, Cotija cheese and Flame Cheeto Crumbs
Churro Cheesecake
Deep-fried Cheesecake with Cinnamon Sugar Dust served with Dark Chocolate Sauce and Chantilly Cream
Waterway Bar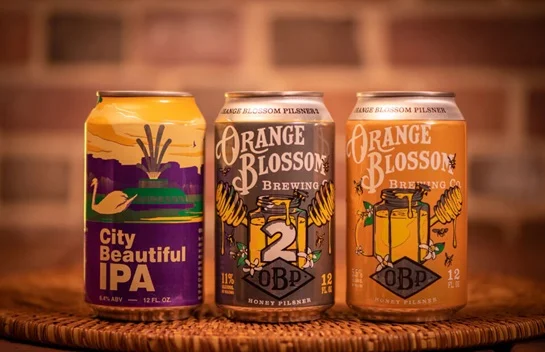 Orange Blossom Honey Pilsner
Orange Blossom City Beautiful IPA
Sam Adams Wicked Hazy Juicy New England IPA
Sailfish Brewing Co Sunrise City American IPA
Sailfish Brewing Co White Marlin Wheat Beer
Michelob Ultra Light Beer
Cigar City Jai Alai IPA
Bud Light
Corona Premier
Wicked Weed Pernicious IPA
Ale Yeah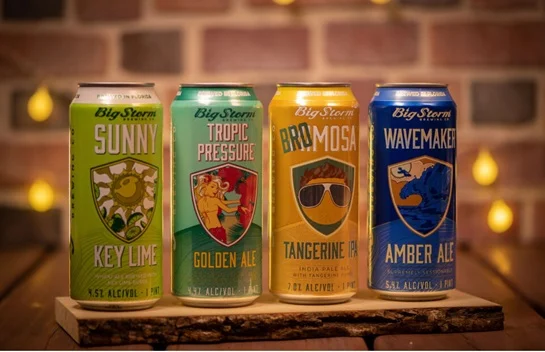 Orange Blossom Honey Pilsner
Orange Blossom City Beautiful IPA
Sam Adams Wicked Hazy Juicy New England IPA
Surfs Up
Coconut Rum, Blue Curacao, Pineapple juice
Strawberry Tequila, Triple Sec, Lime
Mama's Pretzel Kitchen
Florida Ave You're My Boy Blue Blueberry Wheat Ale
Florida Ave Luminescence Hazy IPA
Brew Bus Pumpkin Spiced Latte
Breckenridge Brewing Mako Amber Ale
Florida Ave Tangerine Splash Fruited Wheat Ale
3 Daughters Tropical Hefe Hefeweizen
3 Daughters Coffee Blonde Ale
3 Daughters Key Lime Cider
Bold Rock Apple Cider
Be Malty, not Salty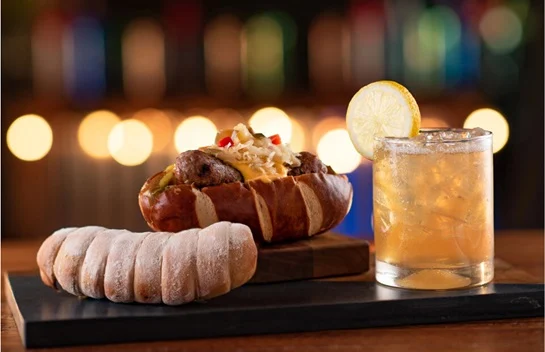 Crooked Can Highstepper American IPA
Space Cowboi Double NE IPA
Crooked Can Florida Sunshine Pilsen Malt Lager Can
Crooked Honey
Fistful Bourbon, Hot Honey Syrup, Sour Mix, Club Soda, Lemon Garnish
Seaworld Fin Pretzel
Served with High Stepper American IPA Beer Cheese
Wisconsin Bratwurst
Warm Pretzel Bun, High Stepper American IPA Beer Cheese, Sauerkraut, Mild Giardiniera
Pretzel Wrapped Bratwurst with Beer Mustard
Beer Garden
Motorworks Pulp Friction Grapefruit IPA
Motorworks Midnight Espresso Coffee Porter
Big Storm Oktoberfest
MotorWorks Hiya Gourdie Pumpkin Ale
Kona Hanalei IPA
Kona Longboard Lager
Doughnut Forget My Beer
Elysian Night Owl Pumpkin Ale
Elysian Space Dust IPA
Wicked Weed Penicious IPA
Elysian Dragons Tooth Stout
Cigar City Jai Alai IPA
Orange Blossom Brewing Honey Pilsner
Sparkling Mojito
Flor de Cana Rum, Fresh Mint, Lime
Spicy Pineapple Margarita
Milagro Silver Tequila, Fresh lime, Spice, and Pineapple
Glacier Bar
Bud Light
Michelob Ultra
Spicy Pineapple Margarita
Milagro Silver Tequila, Fresh Lime, Spice, and Pineapple
Blackberry Bramble
Hendricks Gin, Blackberry, Lemon
What else can I do at SeaWorld Orlando?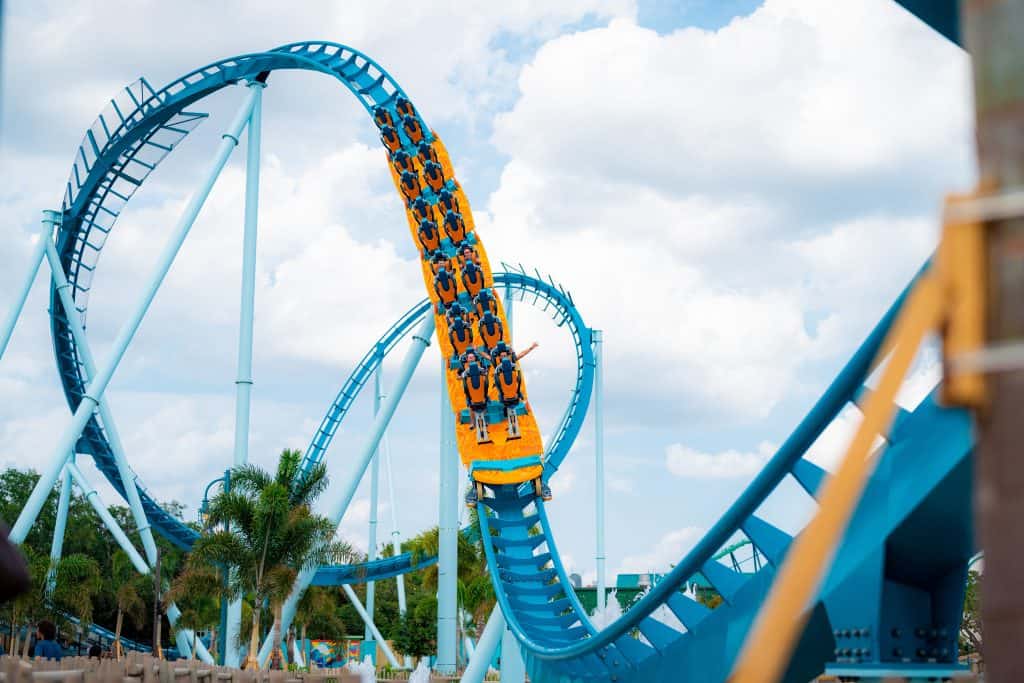 SeaWorld Orlando is a park that boasts seven big rides and a number of smaller attractions. Catch a wave on SeaWorld Orlando's newest thrill – Pipeline: The Surf Coaster – or cool off from the sun on a water ride like Infinity Falls.
No matter your age, the sheer number of animals that call SeaWorld Orlando home will put a smile on your face. From seeing Orcas up close in beautiful encounters to being able to feed and touch stingrays in the Stingray Lagoon, SeaWorld is a park that shows how interconnected we all are.
Little ones will likely find their favorite spot in the park to be Sesame Street Land. A complete recreation of the place where the air is sweet, this part of the park is the perfect place to take your tot on a hot summer day. Here, younger guests can enjoy a splash pad, tyke-sized rides, and grab a treat from Mr. Hooper's store.
For a full overview of SeaWorld Orlando and everything it has to offer, check out our guide page. Even better, we hope you'll come enjoy Craft Beer Festival and check everything out for yourself. Until then – cheers!