One of the age-old questions for theme parkers who are familiar with both coasts (or multiple global locations) is, "Does this park have what that park also has?"
I have to admit, I'm guilty of the same question, and while I know the parks do their best to keep all locations just different enough to entice us on the journey to check them all off our theme-park passport, I still can't help but be fascinated by where the similarities and differences lie.
So, on that note, let's go ahead and tackle a particular form of this question that we still routinely receive here at OI HQ…
Does Universal Orlando have a studio tour like Universal Studios Hollywood?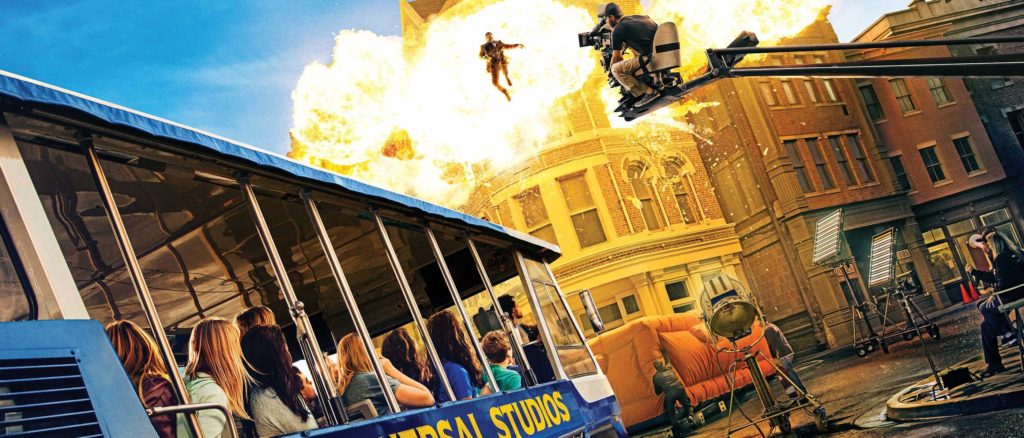 First, a little bit on the world-famous Universal Studio Tour: it's the flagship attraction over at Universal's very first theme park, Universal Studios Hollywood (which is located in – you guessed it! – Los Angeles, California), that takes about 60 minutes to complete. Boarding that tram is a signature experience, one that takes you into a working movie studio that Steven Speilberg helped to build – the 13 city blocks located on just four acres of the historic backlot even have various film shoots taking place at any given time!
Comedian Jimmy Fallon hosts by way of video and takes you through different clips and themed encounters on your tour: you'll experience a flash flood, Earthquake: The Big One, wreckage of the Boeing 747 from Spielberg's War of the Worlds, and Amity Island's most famous finned resident – along with meeting King Kong face-to-face (a confrontation which was created by Peter Jackson), checking in to the Bates Motel, getting backlot peeks of the largest motion picture and TV studio in the world, and, if all that wasn't enough, being taken on the ride of a lifetime with the Fast & Furious family.
If you're asking this Orlando native, the Studio Tour sounds like a wonderful, nostalgic treat of all our favorite rides from Universal Orlando's past blended wonderfully with some attractions that we currently do have on the East Coast (indeed, both Skull Island: Reign of Kong and our version of Fast & Furious – Supercharged come directly from the Tour, and I guess you could even argue that Race through New York Starring Jimmy Fallon also owes some debt to our park's Hollywood counterpart). I won't lie – the description alone for the Backlot Tour makes me want to book tickets out west to go hug my favorite shark right now.
All of which may give the answer to our overarching question away, but let's officially answer it, anyway: Universal Orlando Resort (sadly) does not have a Studio Tour experience like Universal Studios Hollywood does.
There are two buts to this, however. Universal Studios Florida did, for a short period of time, feature a mini-tram tour (called the Production Tour) that even went through a prop graveyard (called the Boneyard) on its travel through the park, although this ended all the way back in 1995. (Want to read all about it? Check out our in-depth retrospective.) And you behind-the-scenes fans aren't completely out of luck – there are still a few ways to discover some movie magic at Universal Orlando.
Live shows at Universal Orlando
Live productions like Animal Actors on Location and the Horror Make-Up Show provide a glimpse of how animals and makeup artists work in the entertainment industry to bring stories to life. These shows are great for kids and adults alike and often leave me feeling inspired by all the work that goes into movies and television – not to mention, you might be able to meet the very famous Frank the Pug at Animal Actors!
These may be just small doses of Universal Studios Hollywood's filmmaking focus, but I still think they're must-dos for any visiting family, movie buffs or not.
Behind-the-scenes tours
Universal offers some excellent VIP and Behind the Scenes tours throughout the year, like the VIP Experience (which grants you a private escort throughout the parks) and Unmasking the Horror during Halloween Horror Nights (lights-on tours through the various haunted houses). Unmasking the Horror, in particular, comes highly regarded – it's a once-in-a-lifetime daytime look at how Universal Orlando's Art & Design team transforms the biggest names in horror into haunt experiences. But both are great ways to experience Universal Orlando in an entirely new way!
Also, a number of individual attractions feature their own guided tours, including some behind-the-scenes sections. Although these consist of Revenge of the Mummy, Skull Island, and Jimmy Fallon, my personal fave is at Men in Black: Alien Attack – called the Immigration Tour, it's a great way to see the agents' operations room in action, including an out-of-this-world look at where technicians Idikiukup and Bob work. You'll likely be able to take some fun photos here and get a chance to see the tabloids and newspapers that dot the queue up close and personal. (Just talk to a team member outside any of these rides, and, if it's a slower day at the park, someone will come out to start your tour.)
Hidden Easter eggs
There are also some great hidden Easter eggs throughout Universal Studios Florida and Islands of Adventure that pay homage to your favorite films, television shows, and comics. Be sure to keep your eyes peeled for these entertainment secrets!
–
Have any more burning questions about Universal Orlando? Ask them in our OI Community on Facebook, where 50,000+ other vacation-planners will be happy to answer them!
And be sure to follow Orlando Informer on Facebook, Twitter, and Instagram for the latest news and tips at Universal Orlando, Walt Disney World, and other Orlando destinations.
What are your favorite ways to get those "behind the scenes" vibes at Universal Orlando? Let us know in the comments below!