Drinking around the world: Epcot edition – round 2
[wptouch target="non-mobile"]
Drinking around the world: Epcot edition
Africa, Germany & Italy
[/wptouch]
[wptouch target="mobile"]
Drinking around the world:
Epcot edition
Africa, Germany & Italy
[/wptouch]
Announcement
You can now follow this list on FourSquare. Click here!
Welcome to round 2 of OI's Drinking around the world: Epcot edition. This is the most comprehensive collection of information and photographs available anywhere to guide you around World Showcase in search of the perfect thirst quencher.
Since Epcot has so much to offer for the festive traveler, this tour has to be split up across four posts. Use the navigation links at the top and bottom to move your way around Epcot's World Showcase. Remember too that you can click on any image to view it full-screen.
On to round 2!
Africa
Yes, I know that Africa technically isn't one of the locales at Epcot's World Showcase, but I didn't feel like putting "Refreshment Coolpost in the area that is supposed to resemble parts of Africa" in the title of my post.  Whatever.
If you get worked up like I just did while you're at the Coolpost, then lucky for you there are sets of drums to bang on and annoy your fellow world travelers. By the way parrotheads, the Refreshment Coolpost is the only place on Disney World property where you can get LandShark on tap.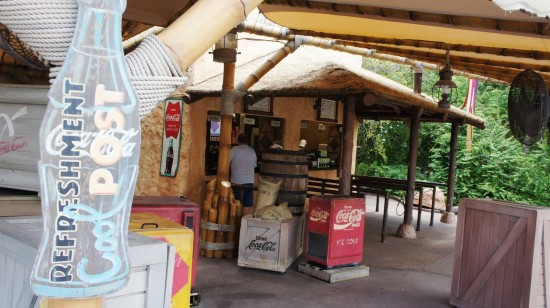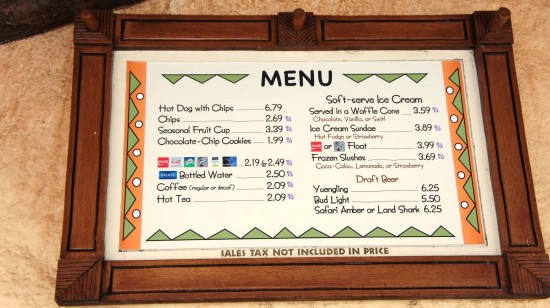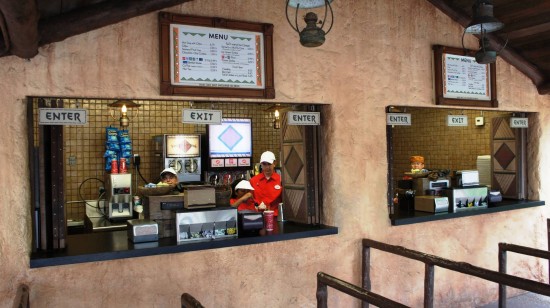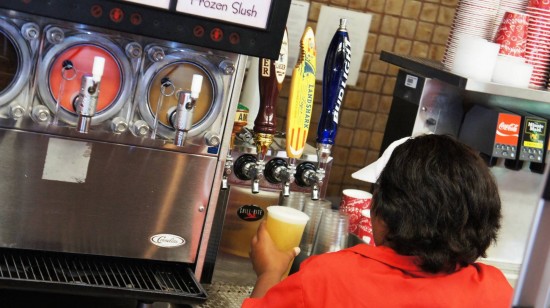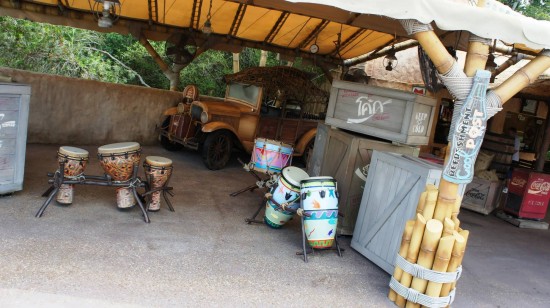 Germany
Welcome to the mecca of "drinking around the world" at Epcot. The Germany Pavilion offers so many diversions for the alcohol connoisseur, you may walk in and never leave.
Let's see. When you first arrive at the pavilion, you're greeted by a beer cart that looks like a train. That's cool, because you can get a beer from this train and then go over and watch the model trains!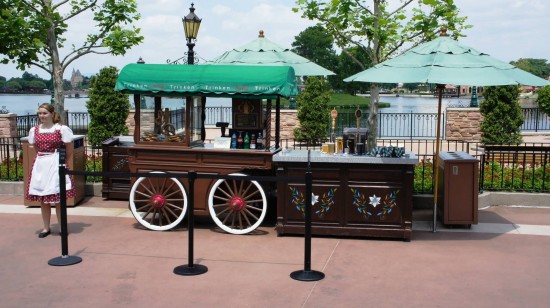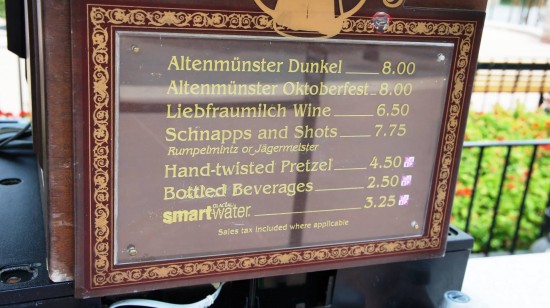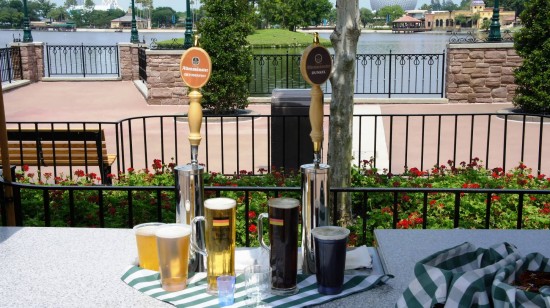 When your glass is empty, walk a few steps into the pavilion and enjoy Germany's second beer cart. This one doesn't look like a train, but they will serve you a shot of Jagermeister (ever thought you'd be doing shots of Jag at Disney World?)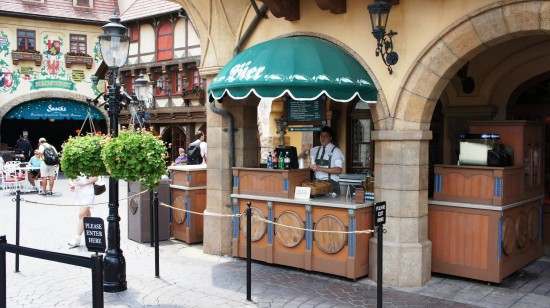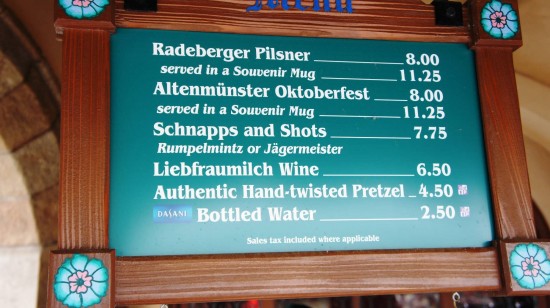 Germany also has the distinction of being the first stop of the official World Showcase Wine Walk. For $20 you get a 2-ounce cup of two wines at Germany, Italy, and France. Not a bad deal, huh? Weinkeller is the place to sign up and get your first two samples.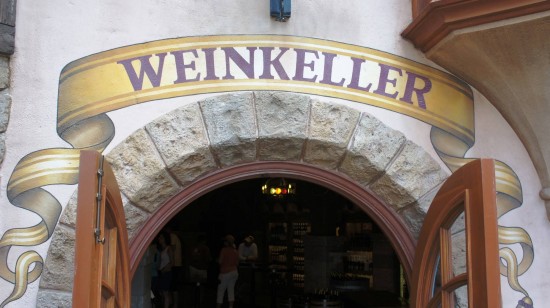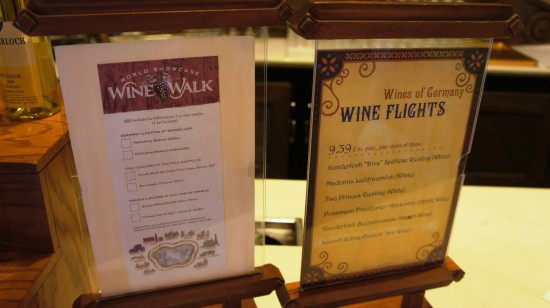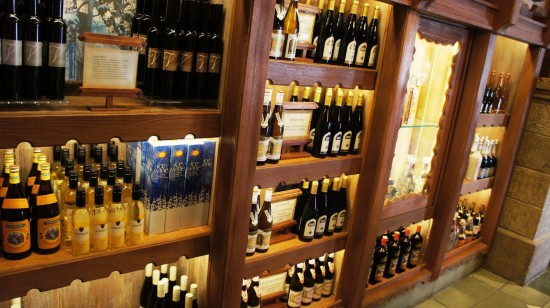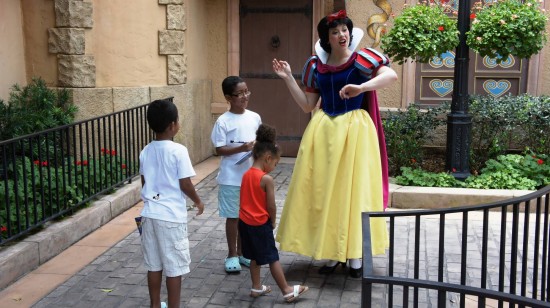 Italy
I think the Italy Pavilion is more concerned about looking good than offering a lot to drink, and I can appreciate that. After all, it is a beautiful pavilion with gorgeous architecture and a splendid area on the lagoon's edge.
Sneak into Enoteca Castello for your taste of Italian wine. Get your timing right, and you might be able to step back outside and enjoy the street performers.
[youtube_video]rHn8re9p794[/youtube_video]
On to the final round at France, UK, and Canada…


[wptouch target="non-mobile"]
Drinking around the world: Epcot edition
Africa, Germany & Italy
[/wptouch]
[wptouch target="mobile"]
Drinking around the world:
Epcot edition
Africa, Germany & Italy
[/wptouch]