Drinking around the world: Disney's BoardWalk edition
We've all heard about drinking around the world at Epcot. Well, it is time to expand your horizons with a second round in Epcot's resort area.  I particularly enjoy this excursion as it gets us out of the park (which can be crowded) to see some new spots.  As any Disney World fan would agree, the resorts at Disney World are in many ways just as impressive as the parks.  This tour allows us to visit three resorts and take in their atmospheres and varied theming.  And of course, there's always lots of people-watching!
Remember, like drinking around the world at Epcot, this tour is designed to keep you moving. As a result there are no full-service restaurants included.
The Tour
View the tour route on Google Maps

Our 1.65 mile tour begins as we leave the turnstiles of Epcot through the International Gateway, located between the France and UK pavilions.  From here we head to our left, over a bridge, and on toward Disney's BoardWalk Inn. Our first three stops are in and around this hotel (Belle Vue Lounge, Leaping Horse Libations, and Screen Door General Store).
We then continue our stroll around Crescent Lake heading clockwise, past Swan and Dolphin, and over to the Disney's Yacht Club Resort.  Inside we have two more stops (Ale and Compass Lounge and Crew's Cup Lounge).  Then we step outside and walk along the edge of Stormalong Bay to Disney's Beach Club Resort next door.  Here we enjoy two more venues (Martha's Vineyard and Beach Club Marketplace).
At last we exit back out to the boardwalk and turn to the right to make our last stop (Hurricane Hanna's Grill).  Once we are done, it's back to the turnstiles at International Gateway as we cheers to the successful completion of Drinking around the World: BoardWalk Edition.
The Venues
The Belle Vue Lounge
This is the cocktail lounge for Disney's BoardWalk Inn.  The actual bar is very small with limited hours, so it is easy to assume that it is actually just a sitting area off the main lobby.  What a surprise it is then, as the evening sets in, to see it open up and serve drinks!
As with many Disney venues, the fun here is in the atmosphere.  The Belle Vue Lounge brings us back to the 1920's.  And as a fairly unknown and easy-to-miss locale (especially since it's right on Disney's BoardWalk, where there are about a dozen highly visible, full-size restaurants and bars), it maintains an intimate, you-need-to-know-someone-to-get-in feel that is tough to find at any Disney World venue.
As you are cruising the BoardWalk, I highly recommend heading inside and up the stairs to discover this lounge for yourself.  Your friends will be impressed.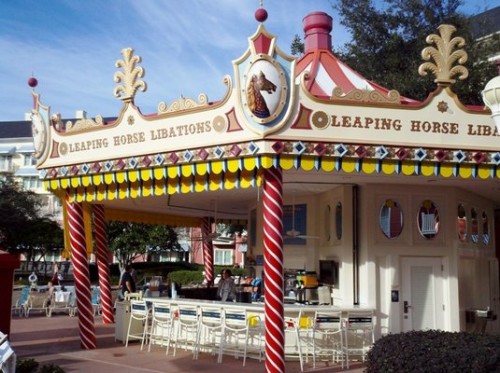 Leaping Horse Libations
Leaping Horse Libations, located at Disney's BoardWalk Inn, is the resort's pool bar and eatery.  The entire area is designed in the theme of Coney Island, and this venue is its carousel.  They serve a small assortment of food and Disney's regular collection of signature cocktails and other drinks.
Overall, the amusement park themed pool area is not particularly impressive, and unless you're staying at the hotel they probably don't want you over here anyway.  Nonetheless, if you're touring the drinking spots around the BoardWalk, you'll need to swing through.  And since this area is usually pretty empty, you won't have a problem getting service.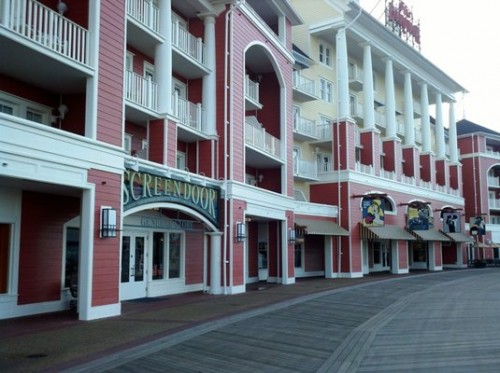 Screen Door General Store
This is a convenience store selling food, wine, and beer to guests visiting the BoardWalk area and staying at the BoardWalk Villas.  It is connected to Character Carnival, which features housewares and mousewares, and Thimbles & Threads, a Disney clothing store.  Like many of Disney's shops, these three stores are actually one big store sharing all of their space and registers.
While visiting the BoardWalk, this is a great place to stop by if you want to grab a cold drink and a cute little gift for your wife 🙂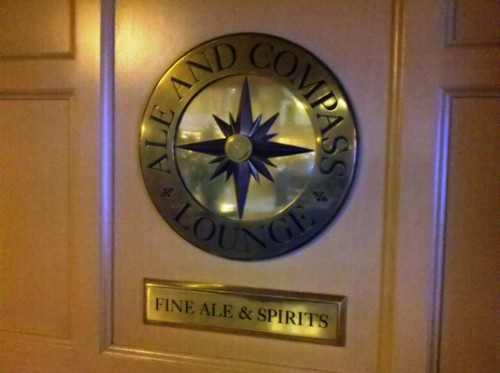 Ale & Compass Lounge
Ale and Compass is the tiny lounge area adjacent to the concierge desk at Disney's Yacht Club.  In fact, it is so small that I completely forgot to include it in this list the first time I complied it.  But yes, it is there, and when it is open its a fun place to grab a cocktail.
Because of the size it's hours are limited.  Nevertheless, it is located directly inside the lobby area at the resort, so it can be a lot of fun to visit, take in the atmosphere of the hotel, and people-watch.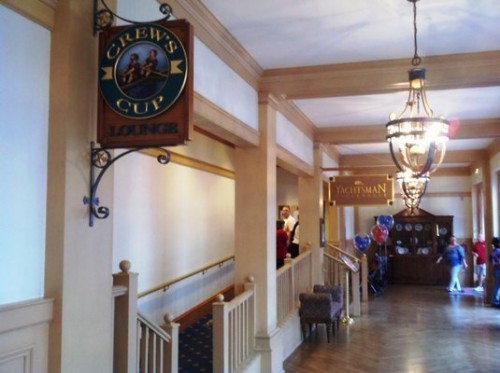 Crew's Cup Lounge
This is Yacht Club Resort's full service cocktail lounge.  It is located down the hallway from the lobby area, right next to Yachtsman Steak House.
This venue has a sports bar feel to it, with its rowing theme and large screen TV.
Despite being fairly dark, it has a very comfortable, inviting atmosphere.  You'll find all your usual Disney cocktails and drinks here.
Even though it is well removed from the activities of the resort, it is known to fill up.  When there's a good crowd enjoying itself, you may very well enjoy yourself too.  And for sure if you have reservations at Yachtsman Steak House, you have to stop by here first.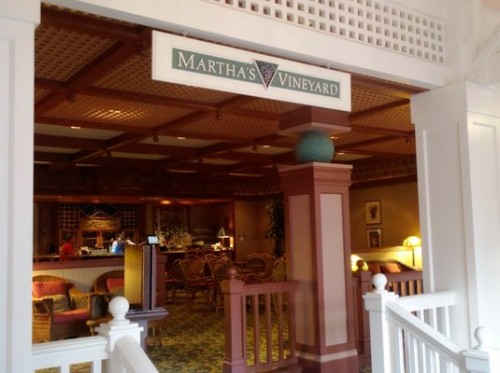 Martha's Vineyard
This is the cocktail lounge at Disney's Beach Club Resort.  Like Crew's Cup, its counterpart next door at the Yacht Club, it is located down a hallway from the lobby area and next to one of the resort's restaurants, Cape May Cafe.
To be honest this lounge is a bit of a disappointment.  It has a stale, unimpressive, almost uninviting feel to it even though it is much more open than Crew's Cup.  Perhaps because of these reasons, it is usually empty.  It is unfortunate, since one would think that the Beach Club would have a more exciting lounge experience than the Yacht Club.  But what are you going to do?
I certainly would recommend stopping in on your tour of the Epcot resort area–but if you happen to go here before Crew's Cup, just know that it gets better.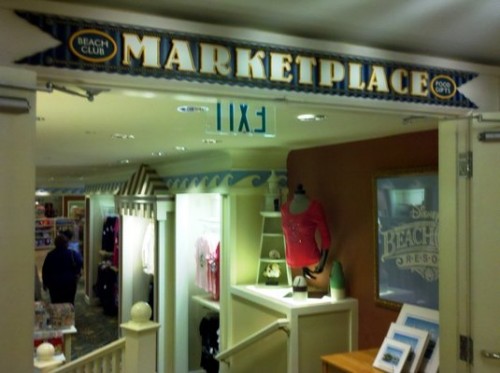 Beach Club Marketplace
Located inside Disney's Beach Club Resort, this venue serves as the gift shop, quick-service restaurant, and convenience store for the resort and for Disney's Beach Club Villas.  It has a large variety of selections from your usual gift shop items to chips, lunch meat, beer, and wine.  It also has a small sub shop inside, serving hot and cold sandwiches, wraps, etc.
I like stopping here on a tour of Yacht and Beach Club.  Whether I'm looking for the newest Disney trinkets, some upscale apparel, or a quick grab-and-go beer, they have it all.
Should you be getting a meal, there are a few different seating areas around.  These include a small, four table outdoor area just behind the marketplace, as well as a well appointed solarium a few steps down the hallway.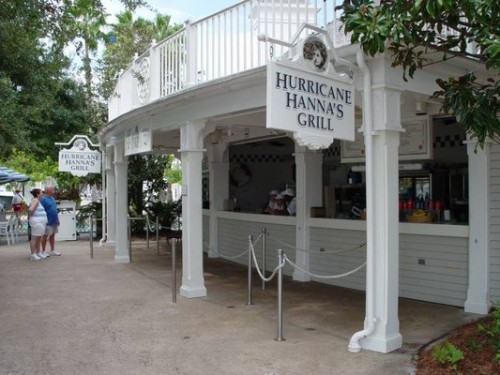 Hurricane Hanna's Grill
Hurricane Hanna's (affectionately referred to as Hurricane Rita's by some) is the pool bar and quick-service restaurant for the Stormalong Bay pool area.  The counter is actually split into two: One side offers all the grill items you'd expect like burgers, fries, and chicken fingers for the kids.  The other side is a full bar serving up Disney's signature cocktails like pina colavas as well as the traditional fare such as beer, long islands, etc.
While touring the BoardWalk loop, this is a must stop.  The people-watching is great, because everyone loves Stormalong Bay (by far the best pool experience on Disney World property).  And even though you're a bit removed from the BoardWalk side of things, you get great views of the area, and you can still feel the excitement.
The tour ends
Congratulations!  Fun, isn't it?  Now, if you're ready for the big leagues, you just need to combine this tour with the standard Drinking around the World tour of Epcot's World Showcase pavilions, and you'll have a little thing I like to call Drinking around the Universe.  Now that makes for a fun Tuesday afternoon, let me tell ya!
In case you missed it: See the Drinking around the World: BoardWalk Edition tour on Google Maps.
Originally published on January 24, 2011 – updated March 4, 2011