It's a Walt Disney World Resort cult tradition to "drink around the world" at Epcot. While this remains tried and true, it's typically a dedicated tour only of one land at only one theme park – but with all the inebriant options lying just outside of Epcot, at its resort area, there's a whole other realm of possibilities that many guests might be missing.
Clearly, some "scientific research" is in order, and I'm just the academic to take it on. As your trusted adviser, my study's concern is with the return on investment of your hard-earned dollar. Especially given Disney's slightly higher average of $13 per drink, I consider the cocktail's craft, pour generosity, and flavor, as well as its overall enjoyment, in my published report's rankings (and don't worry about the prices – I have your best interest in mind and will keep us in a safe range).
With that said, let's expand that "world" you've drank around and take a short stroll over to some often-overlooked potential located just next to Epcot: here are our top six drinks at Disney's BoardWalk.
6. Beer Flight
Venue: Big River Grille and Brewing Works
Location: Disney's BoardWalk
I'll say it first: it's hard finding anything inexpensive at Disney, especially in the "Disney while drinking" department. I also don't typically suggest chain restaurants over a less-common venue without good reason. With that said, there are plenty of reasons to visit Big River Grille and Brewing Works, such as its floor-to-ceiling windows, which allow you to watch as the brewmasters make their specialty beers. The true eye-catcher, though, dear readers, is their menu's Beer Sampler.
The sampler consists of six three-ounce glasses of beer – four are predetermined, and two are your choice. The sheet that comes with them gives a brief description of each sample and pairing suggestions from the menu, such as the Citra Grove Double IPA and the Classic Mac & Chicken. Impressively, there's enough information about each beer's profile that it's almost a crash course.
Even the most novice beer drinker can have a great experience with it – not to mention that the variety you get for less than $10 will leave you feeling like a world-renowned thief!
5. S'mores milkshake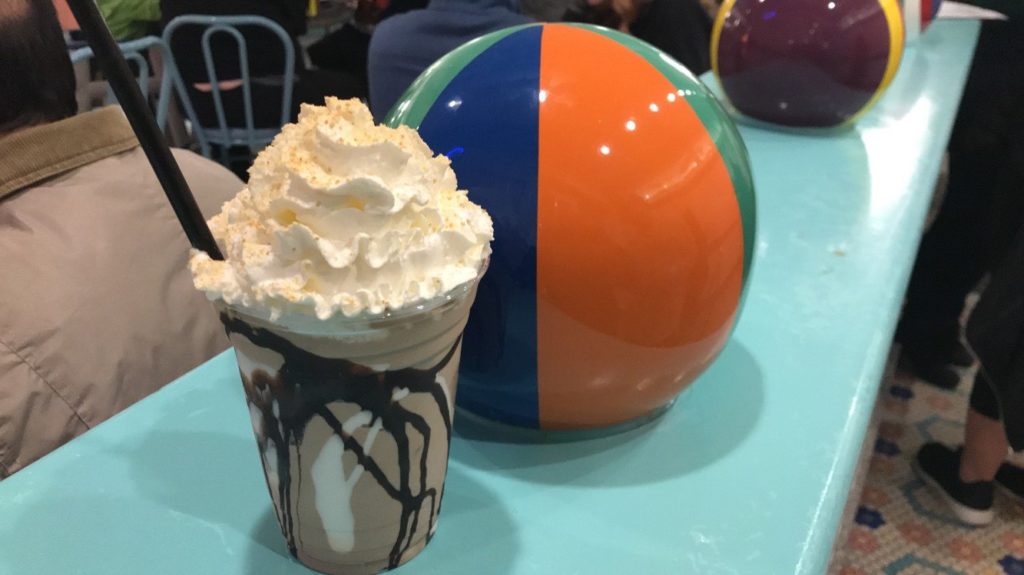 Venue: Beaches and Cream Soda Shop
Location: Beach Club Resort
Yes, this is, by definition, an ice cream parlor, and if you force me to explain myself, I will simply say that we're at Disney World – what better way to fulfill our goals of feeling like a kid again than with ice cream and milkshakes? Especially when they're infused with a little extra spirit! This brings us to my next recommendation: the S'mores adult milkshake.
S'mores is a shake made from vanilla and chocolate ice cream, Amarula cream liqueur, and dark creme de cacao. It's then topped with chocolate syrup, marshmallow fluff, and a dusting of graham cracker crumbs. If the first words that come to mind describing this dessert cocktail are "decadent" or "indulgent," they're clearly understatements we should make note of and immediately brush aside. This is for both you as an adult and for your inner child, so grab a straw or spoon and treat yourself!
4. Sagely Wisdom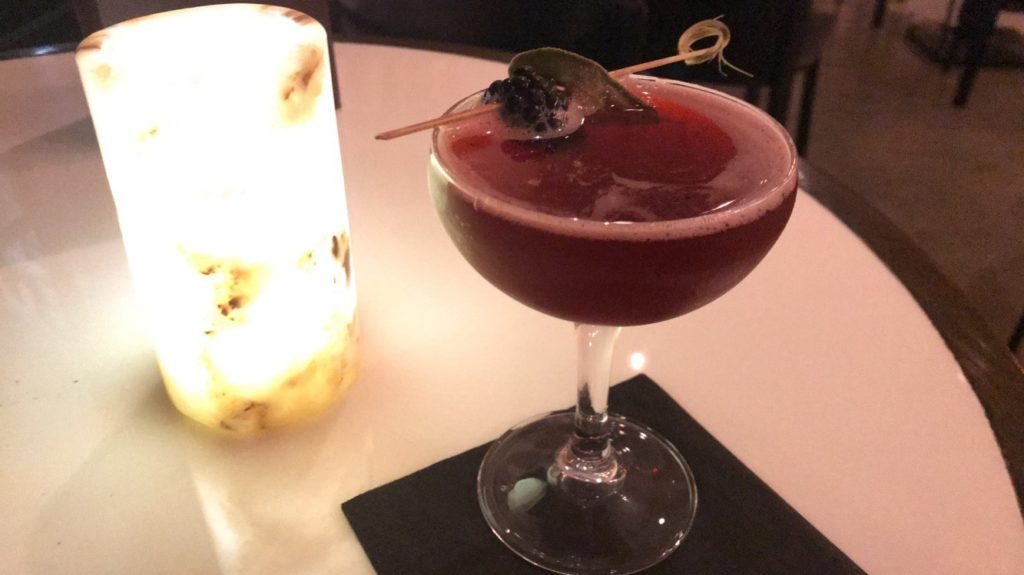 Venue: Il Mulino Trattoria Lounge
Location: Swan Hotel
Given their proximity, it's reasonable to include Disney's Swan and Dolphin Hotels on our list. While Il Mulino Trattoria, located in the Swan, is another chain, it's still an excellent experience, and it still offers one of the best drinks to be found on-property: the Sagely Wisdom.
This spirited cocktail mixes mulberry gin, creme de mure (a blackberry liquor), and lemon juice, then is garnished with sage and fresh raspberries and blackberries on a pick. I was hesitant at first, since I'm not a gin fan; however, the flavor surprised me by being more berry-and-citrus-forward rather than herb-heavy. I should mention that it does list "raspberry and blackberries" as part of the drink, but I only received a blackberry. Nonetheless, it was still a tasty beverage.
If you end up getting stuck on this one, don't worry – it's understandable.
(I also want to say I received the best service here during my "research." While that didn't impact my drink experience, it did add to the overall visit.)
3. Smoked Turkey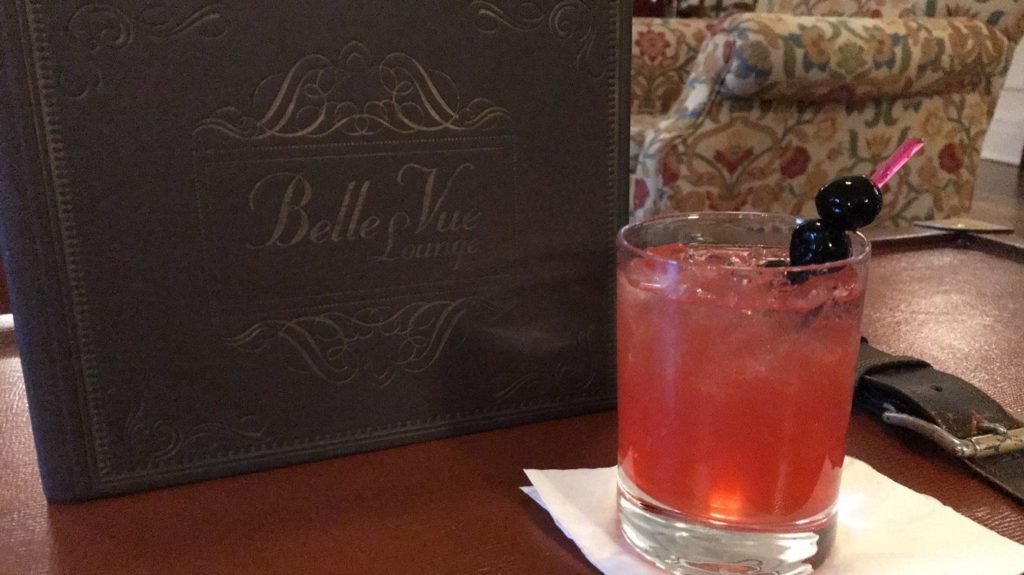 Venue: Belle Vue Lounge
Location: BoardWalk Inn
Walking into the Boardwalk Inn, we make our way to the Belle Vue Lounge. A passed-around phrase accurately describes this hideaway as "relaxed sophistication," but the lounge's quiet sophistication changes at 5:00 pm, when the bar opens and becomes its social space. Guests from all walks of life mingle with one another over their freshly-made cocktails; after absorbing the atmosphere, I chose mine: the Smoking Turkey.
This potable is best described as a "smokey punch." To create it, the bartender mixes two kinds of bourbon (one with black cherry flavoring), lemonade, and grenadine, with a hint of hickory-smoke flavoring added in. The glass is then garnished with a pick of Luxardo gourmet maraschino cherries. I'll forewarn you that the fruity flavor makes this temptation dangerously easy; the hickory smoke adds a bit of "craft" flare as it dances with the cherry and citrus taste while providing some interesting aromatics. (Pro tip: I'd suggest soaking and eating the cherries with this one.) Typically, garnishes are mostly cosmetic; however, in this rare occasion, the flavor of the cherries wrap up – and, dare I say, make – this cocktail's experience.
2. Pepper's Ghost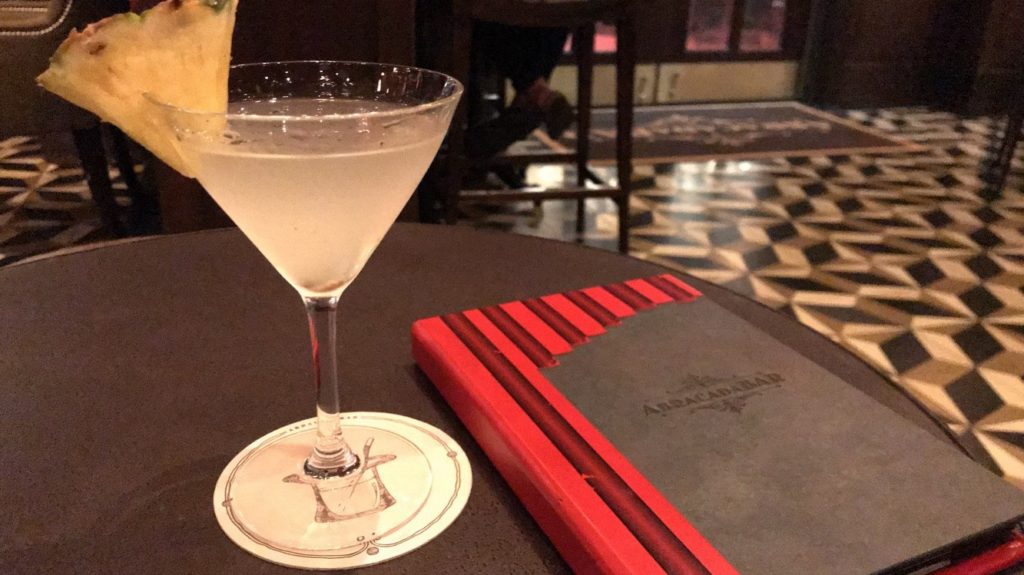 Venue: AbracadaBar
Location: Disney's Boardwalk
Descending the stairs to Disney's Boardwalk, we encounter AbracadaBar. This former magician's lounge is intricately detailed with wall-to-wall theming, complete with its own backstory. Aside from the magic and mystery within the bar's scenery, plenty of "uncanny concoctions" can be found on the menu – and the one to amaze me as a less-generic recipe was Pepper's Ghost.
This ghastly libation is pineapple vodka mixed with habanero-lime syrup, sprinkled with black pepper and garnished with a pineapple slice. Visually, it resembles a delicious specter, haunting the martini-style glass. Its sweet and fruity taste finishes with a very mild heat, playfully tingling down as you swallow. Much like a foreboding spirit, the black pepper is omnipresent in this inebriant elixir, from the tantalizing aromatics down to the nose-tickling finale.
This is second-best on my list not just due to the fun from your consumption, but also its Disney flare – the cocktail's name is a direct nod to the Haunted Mansion and the technique used to project the ghosts within the attraction's ballroom scene.
1. Burnt Orange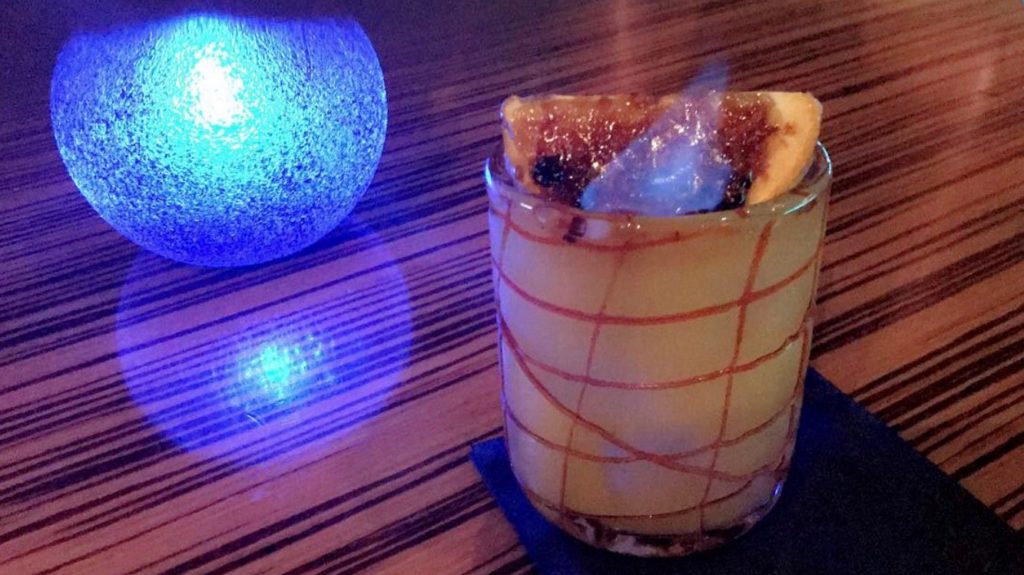 Venue: Todd English's Bluezoo Lounge
Location: Dolphin Hotel
Venturing to the Dolphin Hotel, we turn our possibly-hazed sights to the Bluezoo Lounge. Walking in, I felt like I'd entered a trendy, underwater club. Along the windows, the lighting plays with the curtains, evoking swaying seaweed. Patterns of orbs and rods enhance the lounge as if to imitate swirling bubbles. Behind the bar I sat at, a school of abstract fish seemed to be frozen in time as they swam past.
At the server's suggestion, I opted for the Burnt Orange, which can be playfully thought of as "an artisan's take on arson." Its preparation infuses a tequila with bruleed orange and muddled agave syrup. This is mixed with orange juices and orange liqueur, poured into a glass, then topped with a flaming orange. Visually, the libation is a craft, all the way from its preparation to the glass it's presented in to its blazing top. While the flame doesn't last long after being served, the bruleed aroma lingers seductively as it invites you to take your first, long-awaited sip. It's an excellent drink to nurse on, though I should warn you: its effects could sneak up on you. This fiery temptation delivered the highest value since it was still a reasonable (within the realm of Disney) cost of $16.
If you find yourself at the BoardWalk and faced with decisions, make this priority numero uno on your list.
–
Tell us all about your favorite drinks on Walt Disney World property over at our OI Community Facebook group.
And be sure to follow Orlando Informer on Facebook, Twitter, and Instagram for the latest news and tips at Universal Orlando, Walt Disney World, and other Orlando experiences.