Orlando Informer readers can now share their experiences at Walt Disney World on this page!
Below our information, you'll find real guest reviews and your chance to submit your opinion.
Location
Pandora: The World of Avatar
Two-sentence insider summary
Pandora's only gift shop is one for the history books. Featuring a plethora of movie tie-ins (such as Na'vi tails) as well as more specialized materials (a banshee puppet and a $75 customizable action figure), Windtraders takes the Wizarding World of Harry Potter model and just may do it up one better.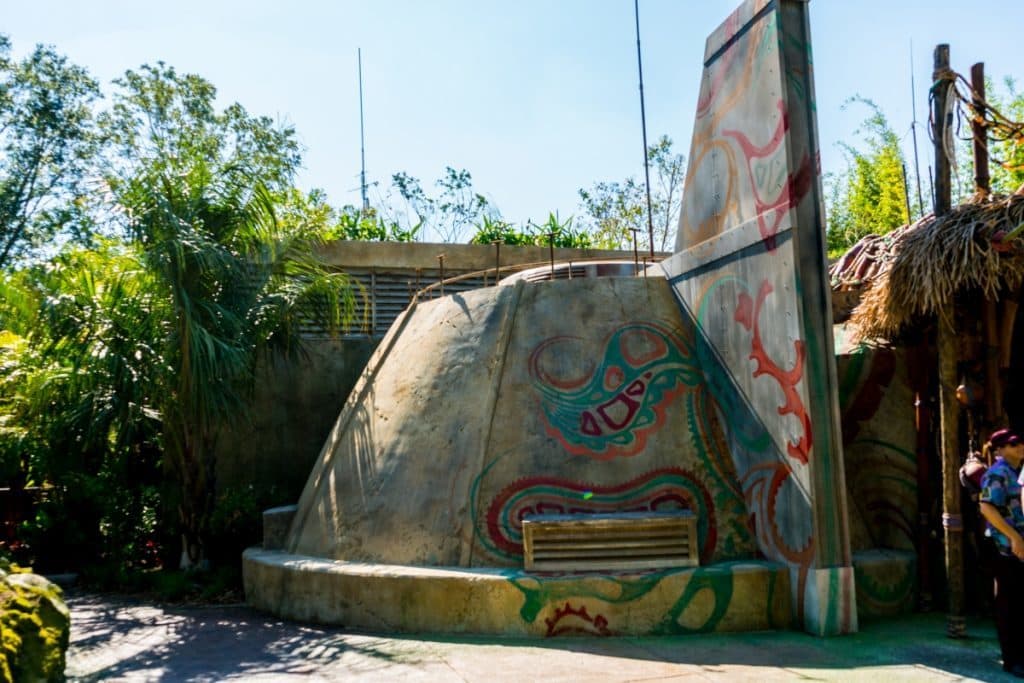 Overview
Yet another repurposed Resources Development Agency building (the roots that have been reclaiming the walls have been made into display stands), Windtraders offers, as one might expect, a whole bevy of your standard theme park merchandise: t-shirts, Na'vi plushies, hats, posters, mugs, and pins. (Some of these items certainly veer more towards the "permanent cosplay" angle of Universal's Wizarding World, what with Na'vi tails, light-up flip-flops [which are supposed to leave a bioluminescent trail in the Valley of Mo'ara at night], and other such accessories. It's unknown right now just how many people are willing to play dress-up as Na'vi as they are wizards and witches, but we'll see.) There's even blueberry almond popcorn offered, in an attempt to move on the Chocolate Frogs and Butterbeer fudge of Harry Potter's splendid sweets shops.
Where Windtraders really shines, however, and where it just might point the way to the themed future, is in two items that attempt to erect an entire, personalized experience for and around guests.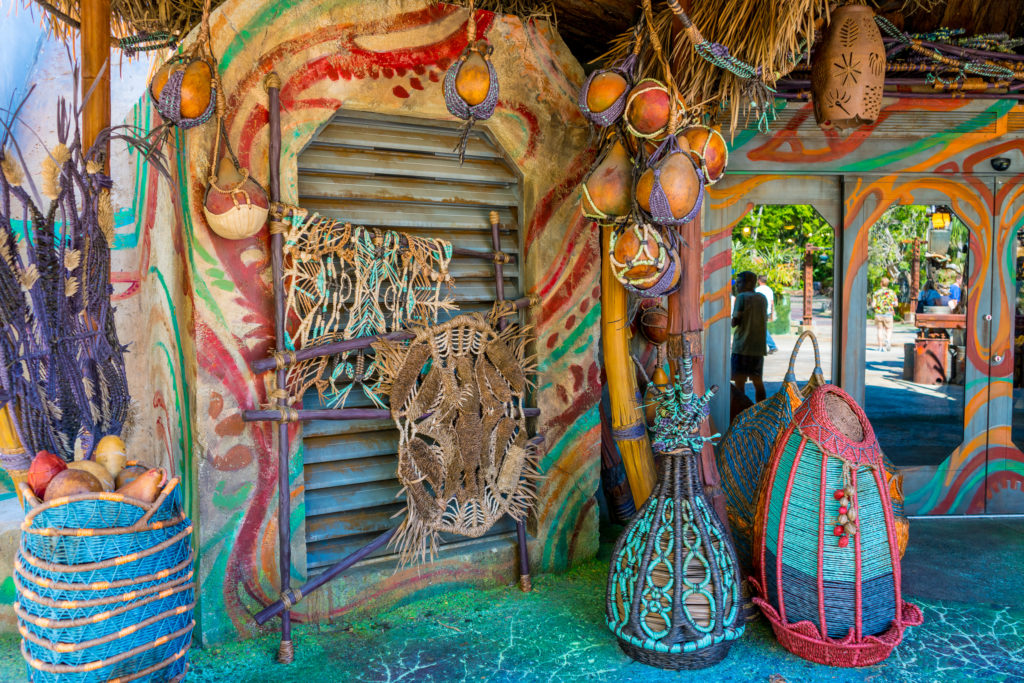 Pet banshee
The banshee rookery, located off to one side of the massive store, is a well-themed area that has banshee puppets that are waiting to be "adopted" by guests; all you have to do is see which one "calls out" to you, have him perch on your shoulder, and then take him back to Earth with you. A cast member is nearby to guide you through the whole process, including the backstory (yes, we've gotten to the point now where even pieces of themed merchandise need to have some type of narrative attached to them): the Pandora Conservation Initiative has breed these mini-banshees in order to better study the nature of the bond between a full-grown creature and her Na'vi rider. The whole experience is meant to underscore the preservation aspect that is introduced in the Avatar Flight of Passage attraction.
The puppets are controlled by a one-handed controller, which is meant to be hidden behind your back or in your pocket (the cable is called a "leash"); this controls the banshee's head, jaw, and wing movements. Once you've sufficiently bonded with one, there is a short adoption ceremony, and then the employee will train you on how to properly greet other banshee owners as you stroll around Pandora: The World of Avatar – a move which is meant to underscore the immersive (as well as the exclusive) nature of the experience.
A puppet costs $49.95, a price which includes your new pet banshee's immunizations and travel fees back to Earth (yes, the Imagineers have thought of everything here). A perch for him can be purchased for $14.95 (just so he has someplace to rest while you're away at work, preventing him from tearing up your Terran house).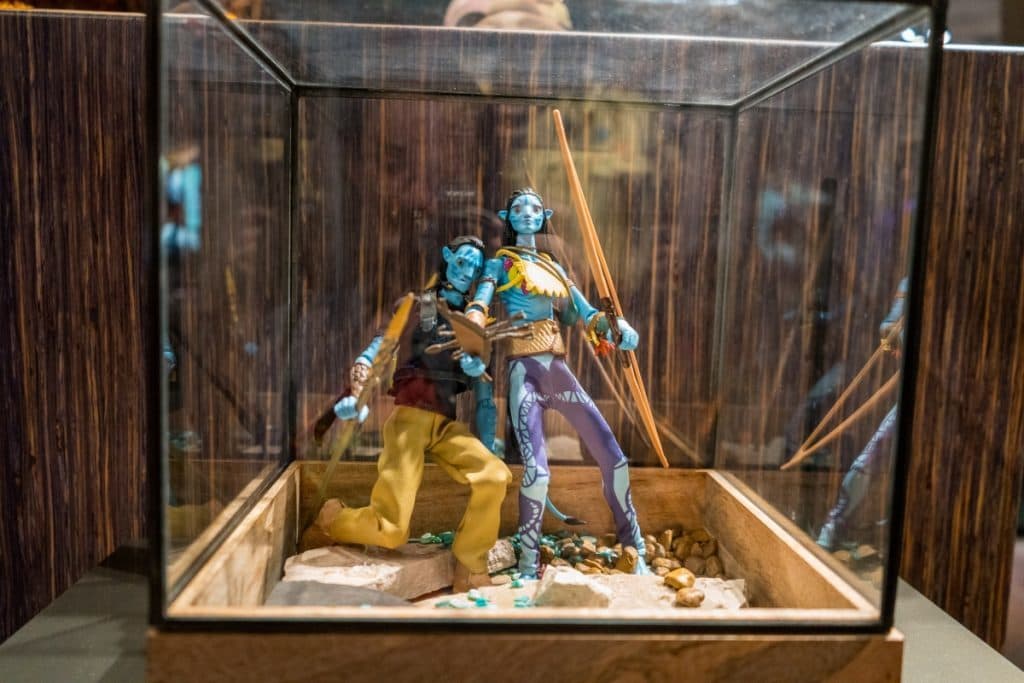 Customized Na'vi action figure
The more technologically-advanced experience has your face scanned in order to have it (loosely) reproduced as the head of a custom-made Na'vi action figure. Once you purchase it (for $75), there are a whole host of special accessories that can also be bought, such as traditional Na'vi weaponry and changes of clothes, to either highlight or reshape your personality. Same-day reservations can be made at the special kiosk in Windtraders; once your figure is completed, it can be picked up in a dispensary that looks like some sort of futuristic vending machine.
This is a more literal attempt to put you, the guest, into the heart of the themed action, although the move pulls double duty of attempting to fill in Avatar's hole of not having any ready-made souvenirs to attach the theme park land to (unlike The Wizarding World's wands or the upcoming Star Wars Land's lightsabers). Should this prove to be a successful enterprise, expect to see customized action figures and other sorts of memorabilia to flood the shelves of parks around the world in short order.
Windtraders – photo gallery
Windtraders – real guest reviews
Orlando Informer
Average rating:
0 reviews