Pandora: The World of Avatar at Disney's Animal Kingdom may have gotten all the attention in 2017, and 2019 may be dominated by Hollywood Studios's Star Wars Land, but there's actually yet another Walt Disney World Resort addition landing in between them: Toy Story Land, also coming to Hollywood Studios.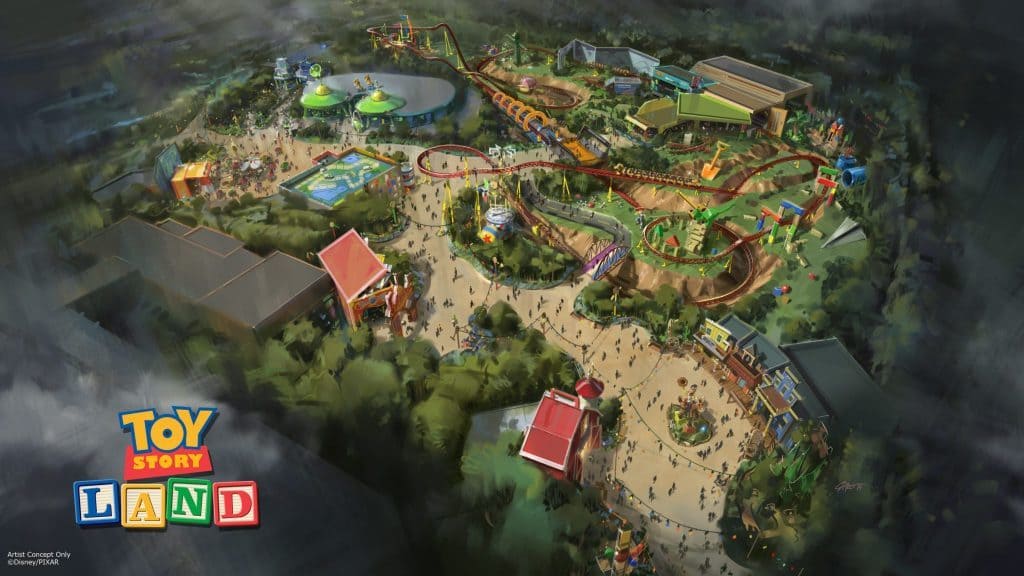 Disney has kept mostly quiet on the 11-acre expansion, which has led some to believe that it'll fall more in the "traditional theme park land" category rather than being yet another envelope-pushing area of the future, much like Pandora and Universal's Wizarding World of Harry Potter are and what all signs are pointing to Star Wars Land being, as well (certainly, the fact that there are already two other Toy Story Lands – with more on the way – at various Disney parks around the globe only reinforces this assumption). Whether more conventional or experimental, however, the new Pixar presence is sorely needed for Disney World's movie park, and it looks to be a family-friendly section that'll provide a nice children's alternative to the likes of the more thrilling Twilight Zone Tower of Terror and Rock 'n Roller Coaster Starring Aerosmith.
Toy Story Land – history
The original Toy Story Land – actually called Toy Story Playland – debuted at Disneyland Paris Resort in August 2010. The story of its arrival is suspiciously similar to what we see in Orlando, and for good reason: it's located at Walt Disney Studios Park, the second theme park at Disneyland Paris and Hollywood Studios's only sister location in the entire world. There as in Florida, Disney has struggled to find a way to keep the "movie backlot" premise relevant and exciting to guests (a fact which is only compounded by Paris's routine status as the least-visited Disney resort on the planet), and bringing in Pixar's flagship franchise was seen as a surefire way to increase attendance at the then-eight-year-old park. (Of course, the fact that Toy Story 3 hit theaters two months earlier certainly didn't hurt, either.)
The premise was simple: shrink visitors down to the size of a toy and have them play in Andy Davis's backyard. To realize this concept, bamboo was planted to act as oversized blades of grass, and three attractions were installed: RC Racer, modeled after a giant Hot Wheels race track fashioned in the shape of a giant U, is the land's flagship ride; Slinky Dog Zigzag Spin is a Caterpillar-style kiddie coaster; and Toy Soldiers Parachute Drop is an 80-foot-tall paratower that has guests rise up and then float back down to the ground.
Just a little over a year later, in November 2011, the land was exported to Hong Kong Disneyland, which was, itself, struggling with anemic attendance; called Toy Story Land, the area represented the first expansion in the park's then-six-year history and was heavily advertised as being an "Asian exclusive" (since Shanghai Disneyland was only in the design phase and Paris, obviously, is located outside of the region). The Hong Kong version is nearly identical to its French forbearer in terms of rides (being bigger, it does feature a few more minor attractions), but its footprint is different in order to accommodate its host park's topography – and the fact that Hong Kong Disneyland is surrounded by a beautiful landscape, including a majestic mountain, only helped to boost Toy Story Land's theming, as well.
Hollywood Studios's version was announced on August 15, 2015, during that year's D23 expo. Although keeping its predecessors' same general concept and thematic touches, its contents are almost completely different from either Paris or Hong Kong's, featuring all-new rides (and one pre-existing, repurposed one – Toy Story Midway Mania, which originally opened in 2008). There has been persistent speculation that Disney originally intended this land to open shortly after its reveal – perhaps as early as fall 2016 – in order to keep the park's attendance up while a good quarter of it was shut down to build Star Wars Land, but since the company never ended up unveiling a release date one way or another, there is no way to know for sure. The current belief is that the area will debut in either the spring or summer of 2018.
Finally, Disney just announced in November 2016 that a fourth Toy Story Land will be arriving at the just-opened Shanghai Disneyland, functioning – just as in Hong Kong – as that park's very first expansion. Disney has long been planning this addition, laying the groundwork from the newest Disneyland's very first day of operation in June 2016 – it already features the Toy Story Hotel (which is the first of its kind), after all. It is currently unknown which attractions will be exported to this Chinese version; furthermore, only a vague release date of 2018 has been offered, but since construction is already underway, it shouldn't be too much longer after the land's Walt Disney World debut.
Toy Story Land – location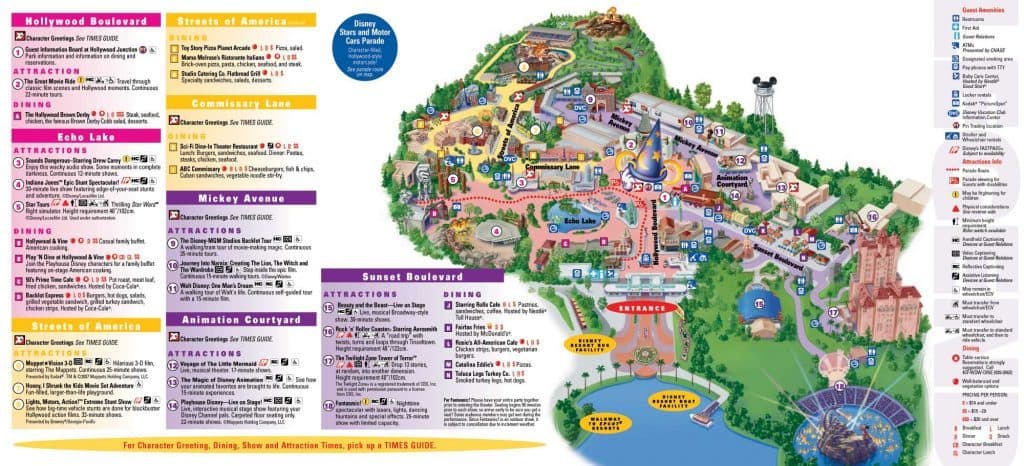 To understand where this all-new Toy Story Land is going to be placed at Disney's Hollywood Studios, we must first look to see where its anchor, Toy Story Midway Mania, is located.
The small stretch of the park currently known as Pixar Place was originally a cluster of working soundstages that guests could only access through the Studio Backlot Tour; a long walking portion of the tour that had opened with Hollywood Studios in 1989 was shut down and eventually transformed into the scaled-down-but-still-accurate recreation of Pixar Animation Studios's campus in Emeryville, California. Although it only consisted of one ride (Toy Story Midway Mania, of course) and one food cart (Hey Howdy Hey! Takeaway), it was immediately popular upon its opening on May 31, 2008.
On September 27, 2014, the rest of the Studio Backlot Tour was shuttered, and its giant swath of real estate (along with tracts of employee facilities, such as offices and the wardrobe department) was wiped clean in order to make way for both Toy Story and Star Wars Lands. The portion of land directly behind Midway Mania, in fact, will be home to the Pixar expansion, meaning that the entrance and exit of the fan-favorite ride will be swapped to the other side of its massive show building. Once completed, Pixar Place just might be closed down and once again transformed into an employee-only area (no production tours allowed this time), or it could get another retheme and be turned into a completely different – albeit even-smaller – section of Hollywood Studios.
Toy Story Land – layout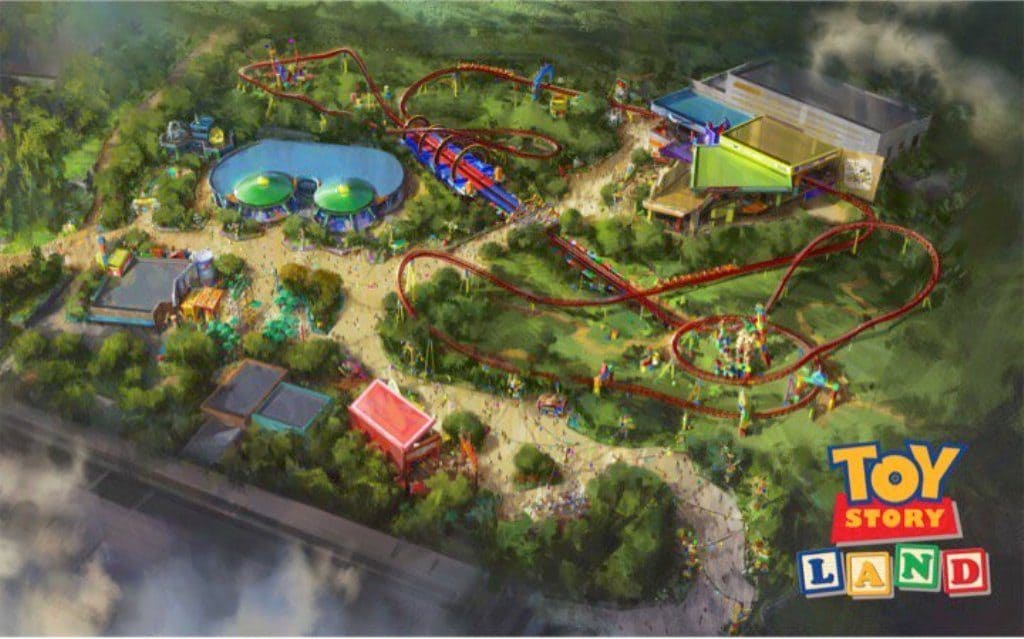 Using the official concept art as our guide, the entrance to Toy Story Land is located at the bottom right-hand corner; off to the left side is an exit that will ultimately lead to Star Wars Land (which opens approximately a year after this expansion). Toy Story Midway Mania is placed in between these, running along the very bottom of the image, mostly off-screen.
Positioned near the exit is Alien Swirling Saucers, the first of the two new rides. The second, Slinky Dog Dash, is located in the upper right-hand section of the artwork.
It is currently unknown what the land will provide in the way of eateries, character meet-'n-greets, and other ancillary attractions, but there are several buildings that can – and certainly will – house such items. Additionally, the concept art shows a lot of aesthetic details that line up with the other two Toy Story Lands, strands of Christmas lights and scatterings of Tinkertoys being chief among them.
Toy Story Land – attractions
As stated previously, Disney World's version of Toy Story Land will feature an entirely different lineup of attractions from its two international antecedents, although it's a roster that will still be familiar to previous visitors of Hollywood Studios, thanks to the continued presence of Midway Mania.
Slinky Dog Dash is a kiddie coaster that has guests sit on the famous character's back as he takes them for a spin throughout Andy's yard. The backstory here is that Andy fashioned the ride himself out of a Mega Coaster Play Kit, and as you zoom along the track, you'll be able to spot several of his other toys scattered throughout the oversized lawn.
Alien Swirling Saucers takes its inspiration from the now-legendary claw aliens from the first Toy Story's Pizza Planet. Once again, it's a home version that Andy has left outside, which features planets and satellites that guests will spin around in their flying saucers as they're being chased by the little aliens, who are – of course – attempting to snatch you with the omnipresent claw. Think Mater's Junkyard Jamboree from Cars Land at Anaheim's California Adventure (that is to say, a combination of a traditional teacups and whip ride), and you'll know exactly what to expect.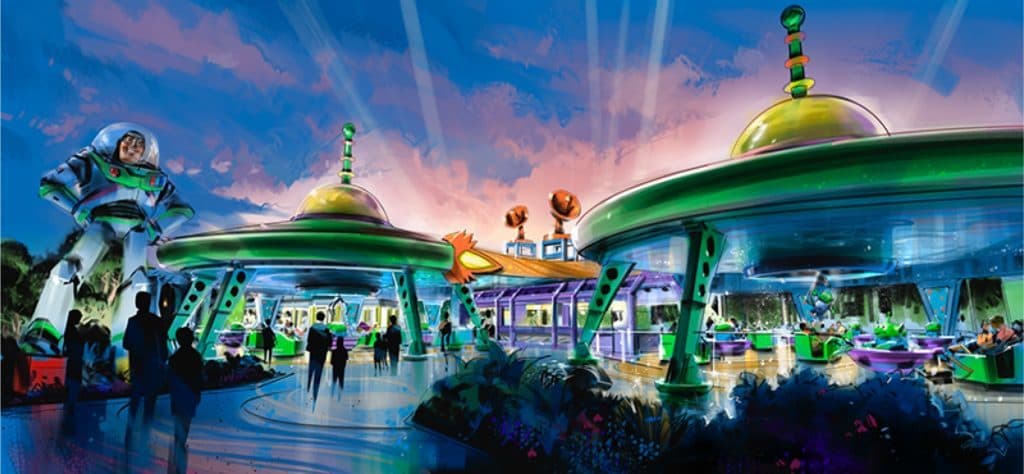 Toy Story Midway Mania opened with its original home, Pixar Place, on May 31, 2008 and immediately became a success. The perennially-long lines for the ride, in fact, caused Disney to expand the attraction, adding on a third track in May 2016 to help alleviate congestion. For the arrival of Toy Story Land, Midway Mania will be getting a second expansion – a brand-new section of the ride that will take passengers under Andy's bed, where he's constructed a carnival-style midway (that little feller sure has been busy, hasn't he?) – along with having its entrance and exit rerouted to face the new Toy Story area, as already mentioned.
As Disney reveals more, we'll be adding to and expanding our collection of Toy Story Land guide pages. Stay tuned for more shortly.