Skip to: Overview | Dining | Areas | Voyage Costs
What is Star Wars: Galactic Starcruiser?
Yes, being able to have an individualized experience on a brand-new planet in the Star Wars mythos – all while being able to take rides on the Millennium Falcon, to boot – is exciting… but, as it turns out, that's not even the best part of Galaxy's Edge.
Star Wars: Galactic Starcruiser, a fully themed hotel, will arrive in 2022 (after about a year's delay), and it promises to be even more revolutionary than everything else Disney has been doing with its crown-jewel property. It'll be located directly adjacent to Hollywood Studios, marking the very first time this has happened in Walt Disney World's history (the exact location will be on the south side of the park, just east of World Drive), and it'll be themed as – yup, you guessed it – a giant starcruiser, specifically one from the Chadrila Star Line called the Halcyon.
The overall experience is simple in concept yet exponential in its application. Guests will book a two-day, two-night package, which will include "travel time" first from Earth, then to the distant world of Batuu, and then back – a concept in the theming industry that is referred to as land-based cruising. Special access to Galaxy's Edge will be included (thanks to a private entrance unto the area), and, during their stay, patrons will "interact with characters and become active participants in stories that unfold around them on their galactic journey," according to Disney. This experience is designed to be so thoroughly immersive, the company has even rolled out a brand-new term for it: Disney 360, so named for having every second of every hour be totally subsumed in a narrative (think live-action role-playing games, but on a much grander scale).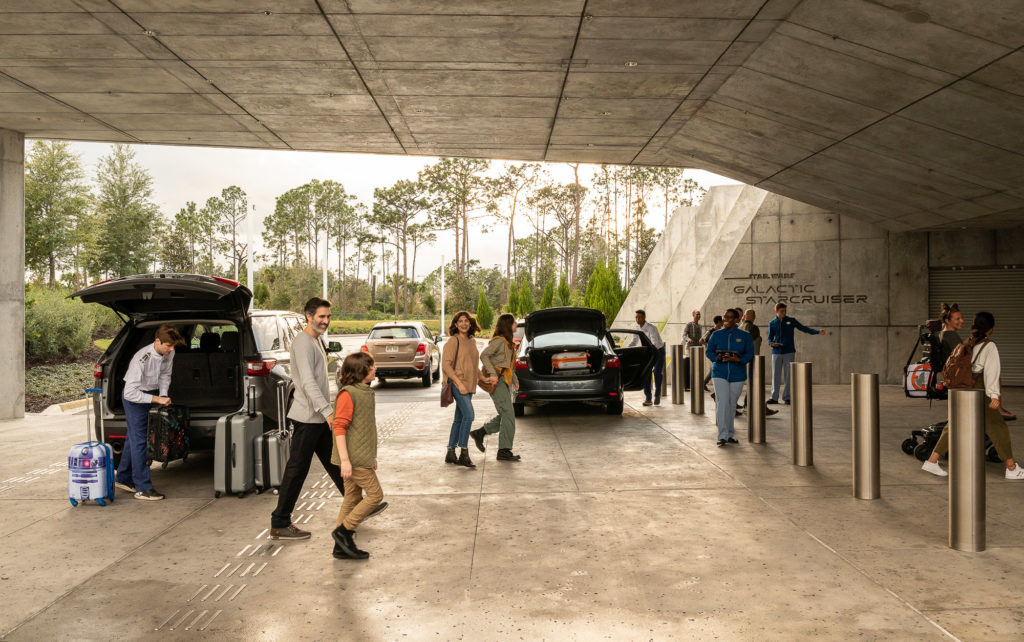 Here's how all this works in practice. When they're dropped off at the "terminal" (read: the outside of the resort), visitors will need to load into a launch pod that blasts them into hyperspace and off to where the Halcyon is waiting; once aboard, they'll set foot into the hotel's lobby, which is called the atrium and is where the starcruiser's crew can be greeted. Several other areas of the luxury liner will be accessible – including the bridge, where guests can learn all about the ship's various systems, such as navigation and (ominously) defense – and a number of activities can be engaged in, including meeting such familiar faces as Rey and Chewbecca or engaging in lightsaber combat (replete with a remote trainer that we've seen Luke Skywalker and Jedi younglings practice with). Every window is really a screen that depicts one space vista or another – something which should be most highlighted in the hotel rooms, where are designed to feel like passenger cabins. And then on "port day," a special shuttle that is owned and operated by Black Spire Outpost will be dispatched to pick tourists up from the Halcyon and deposit them on Batuu (this is really a special bus that is also themed and that transports everyone from the resort to the theme-park land, of course).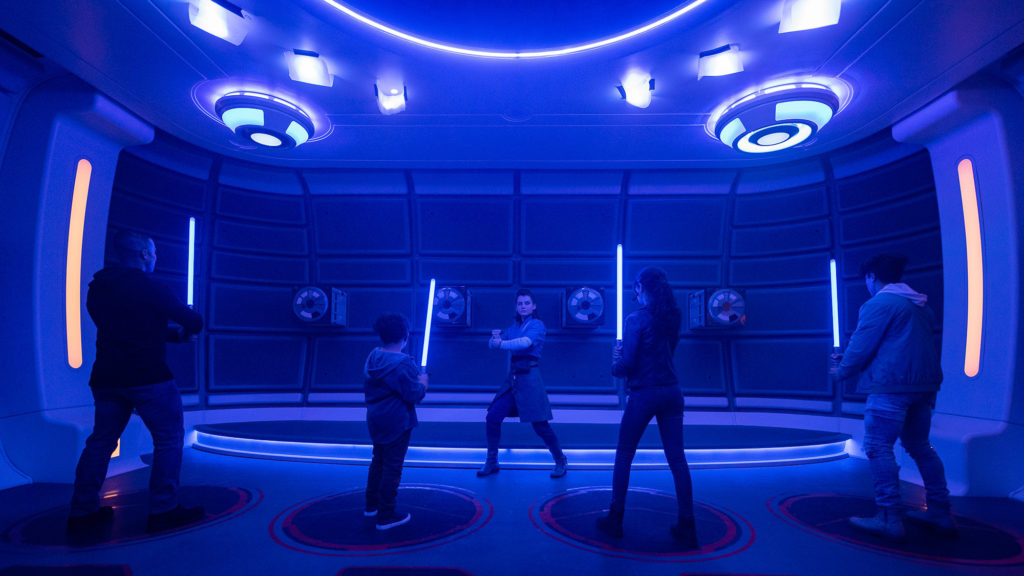 We really need to pause for just a moment on that lightsaber component. Walt Disney Imagineering Research and Development has created a brand-new technology for realizing the iconic and fantastical weapon, which will debut at Galactic Starcruiser first and which has to be seen to be believed. Guests can both use the lightsabers in their training regiments and watch them in full-force use in a battle between Rey and Kylo Ren.
Disney keeps hinting at a whole array of other experiences that will occur over the course of your two-day cruise. The interactions you have with all of the various characters (and, even, other guests) will inform how you're treated throughout the duration of your stay; the faces you'll encounter aboard the Halcyon include Captain Keevan, a strong Pantoran; Resistance heroes Chewbacca and Rey; Cruise Director Lenka Mok; charismatic and beautiful entertainer Gaya; and essential droid SK-620, among other original characters.
At some point, the First Order will attack your galactic starcruiser, with Kylo Ren himself boarding it, presumably to keep looking for those pesky Resistance members Rey and Vi Moradi (you can choose to help defend the Halcyon up on the bridge, if you so desire). And that's when things get interesting!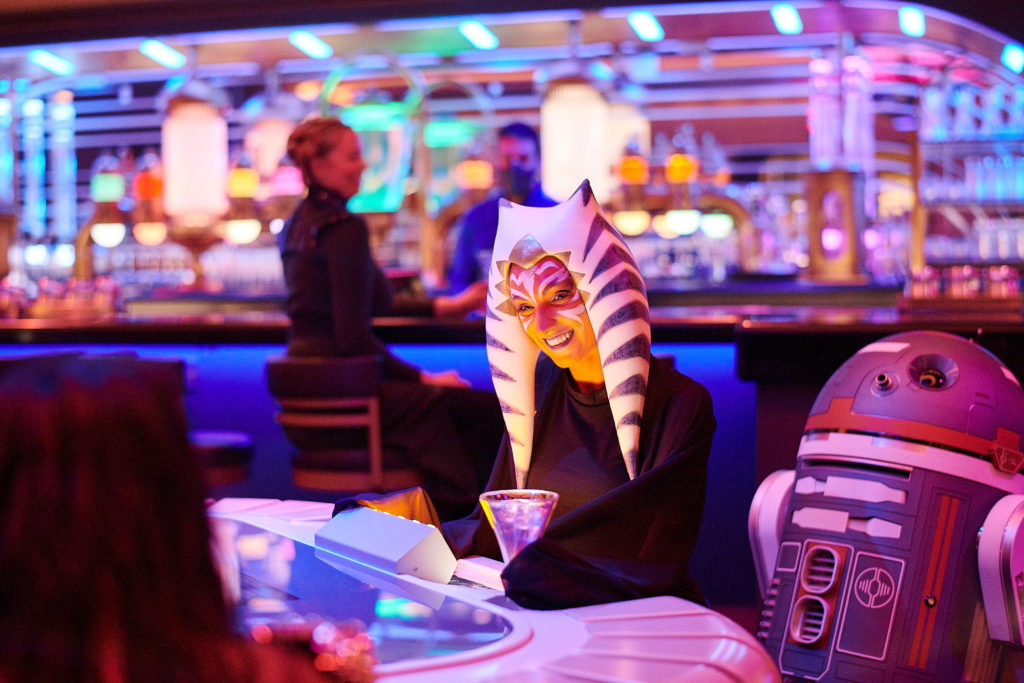 Dining on Star Wars: Galactic Starcruiser
It currently sounds as if dining will be included in the package price (again, think cruises here) with snacks and other smaller food items available in market-style takeaway stalls. We can't think of a better way to "combine luxury with complete immersion into an authentic Star Wars story." What can guests culinarily expect when they step aboard their renowned ship? The main – and, perhaps, only – restaurant will be called the Crown of Corellia Dining Room, named after the planet in the Star Wars galaxy renowned for its shipbuilding (and for being the homeworld of Han Solo, the Millennium Falcon, and the Halcyon, of course). Described as a "bright and welcoming hall," it'll offer breakfast and lunch before transitioning in the evening to dinner.
Breakfast and lunch will be served in the Crown of Corellia Dining Room, featuring food options that guests will recognize from home as well as some plates that are from galaxies far, far away. The usual line-up of coffee and juices will also be available during breakfast – along with (of course) blue milk. On the first night of the voyage, guests will enjoy table-side service in the Crown of Corellia Dining Room, which will boast a "lavish multi-course menu of both otherworldly and familiar origins." It'll also feature a live performance from a "galactic superstar," a purple Twi'lek decked out in jewels and other finery.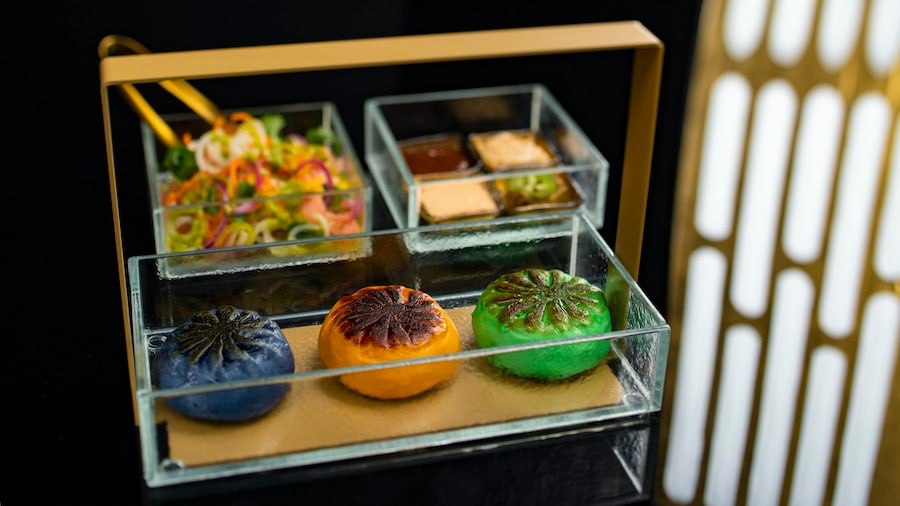 On the second night of the voyage, the dining room will play host to The Taste Around the Galaxy showcase. In this unique dining experience, guests will enjoy foods from some of the most iconic and recognizable places from around the galaxy. The meal will include an appetizer for the table, a choice of entree, and a choice of dessert. Guests can indicate preferences on dinner seating when they book their voyage. Additionally, there is the option for guests to book a Captain's Table seat. For an additional price, voyagers can sit at the captain's table and treat themselves to extra food options and an unforgettable experience.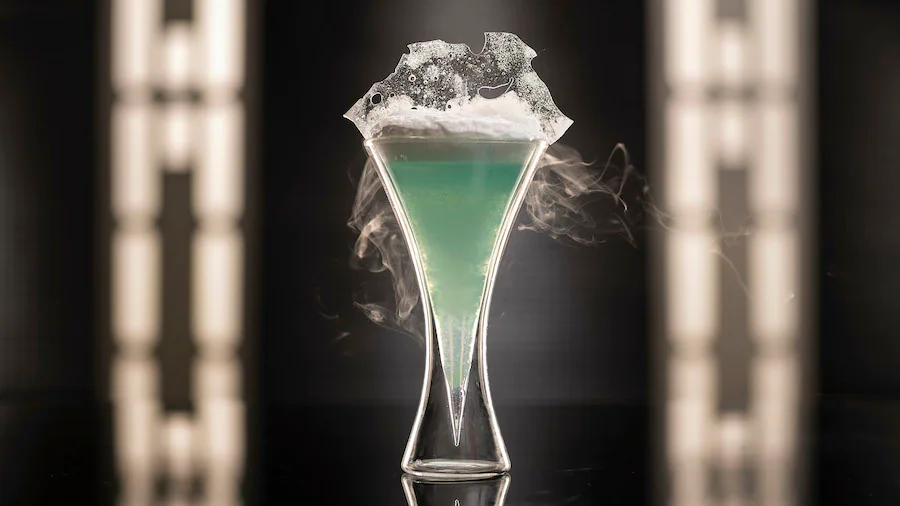 But just because Crown of Corellia may be the only restaurant, that doesn't mean it'll be the only venue. Taking up the customary spot of the hotel bar is The Sublight Lounge (formerly named The Silver C Lounge), which Disney promises will be appropriate for all ages.
Confirmed Areas of Star Wars: Galactic Starcruiser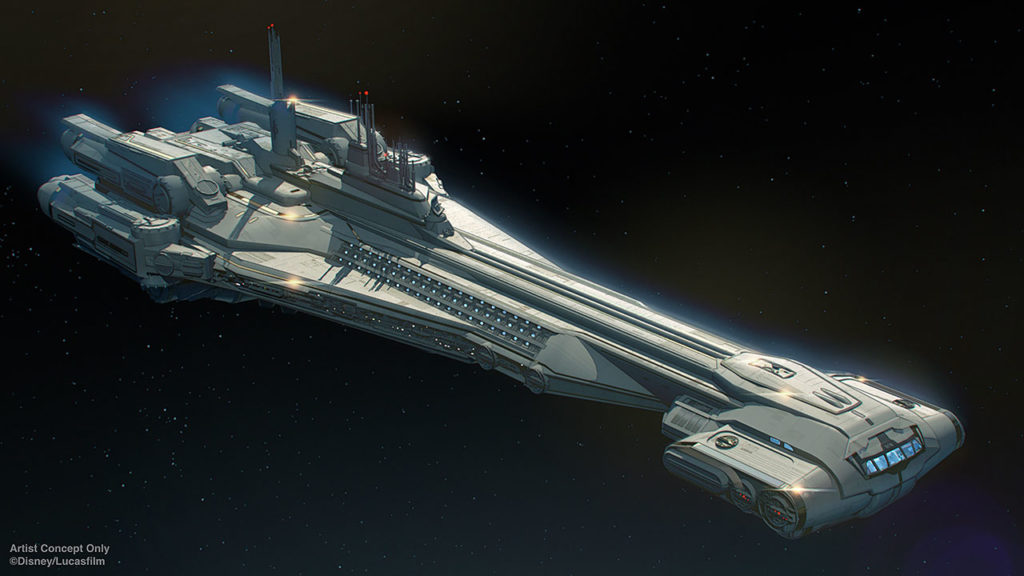 The Halcyon, again, is the name of the luxury liner you'll be boarding for your voyage from Earth to Batuu (in keeping with its reputation for exotic expeditions).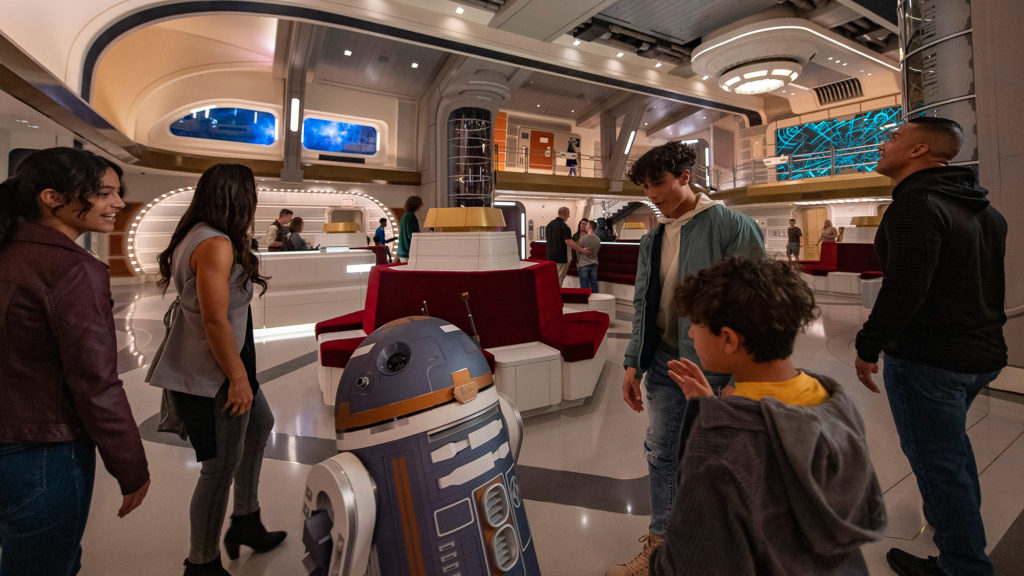 The atrium is the heart of the Halcyon and is "a welcoming place where crew and passengers gather." This spellbinding space is full of couches, smaller tables, and character interactions. The atrium feels very much like home base for the entire experience and acts as a bright tableau for the exciting adventure you and your party will undergo during your stay.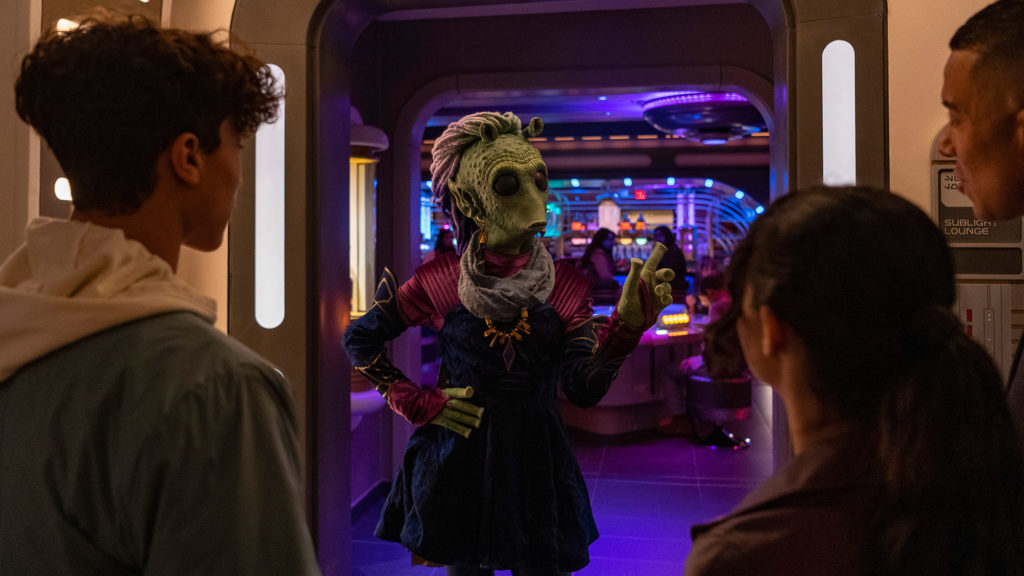 The bridge is where guests will be able to man certain vital controls – under the watchful eyes of the crew, of course – during at least certain parts of the sojourn.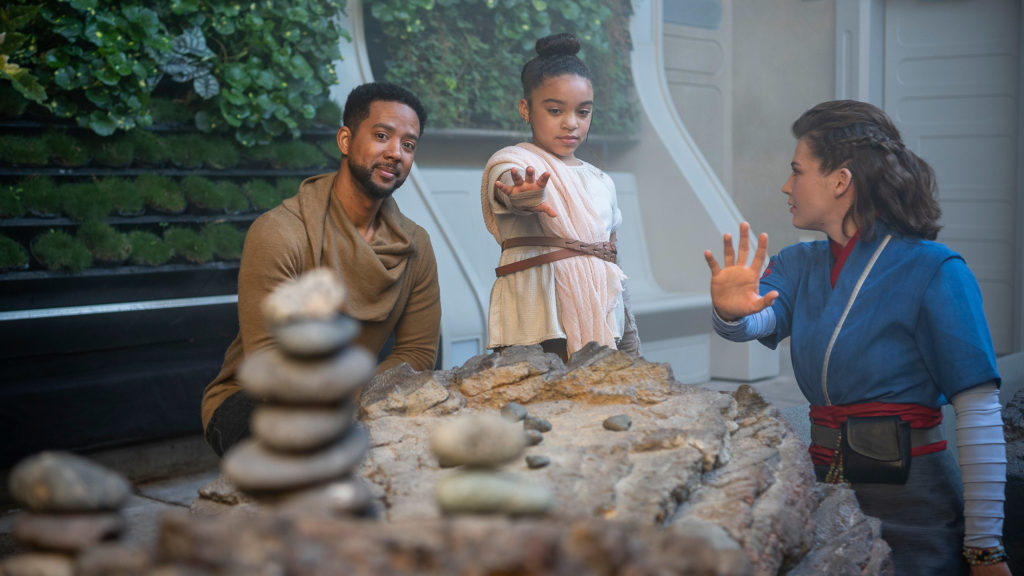 Lightsaber training promises to be just one of several different onboard activities visitors can participate in.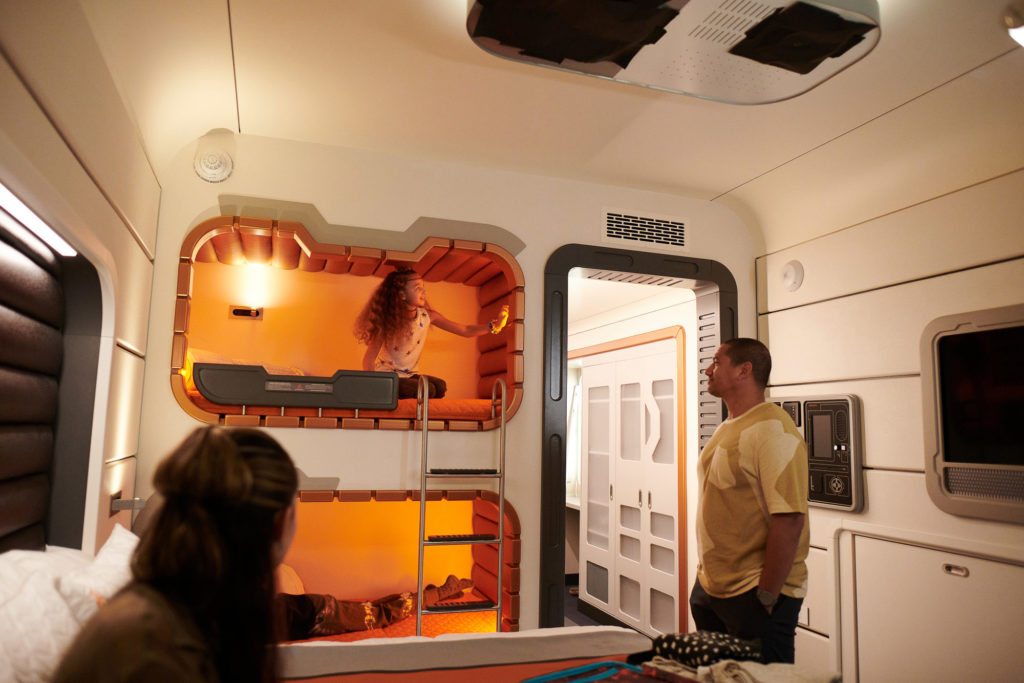 The passenger cabins will offer views filled with "spectacular ships and galactic sights."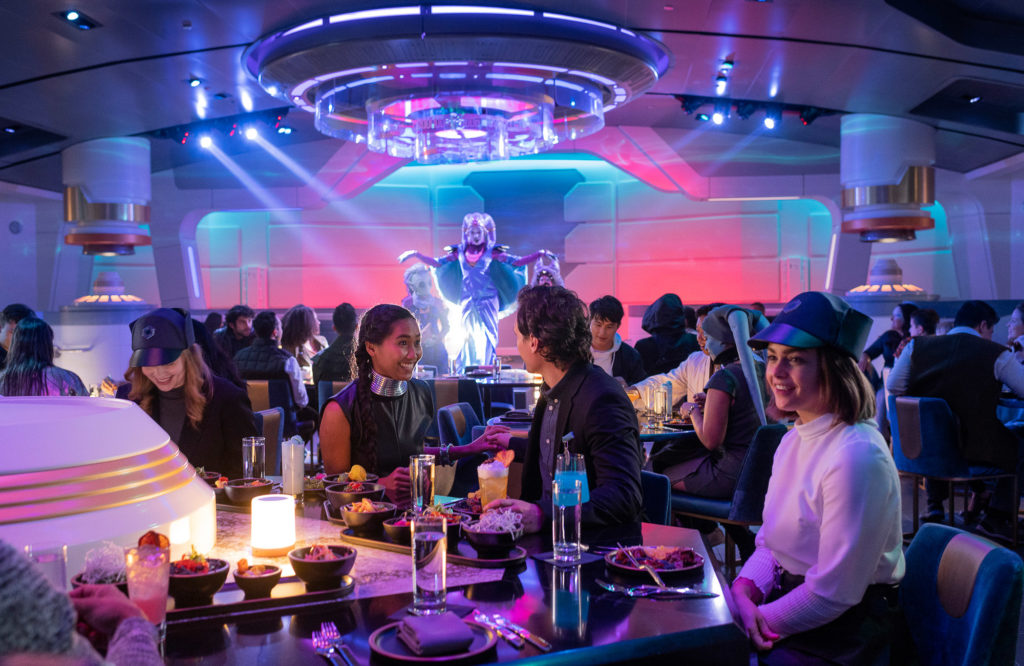 The Sublight Lounge is the Halcyon's stylish bar, which is a "warm and inviting retreat for passengers of all ages."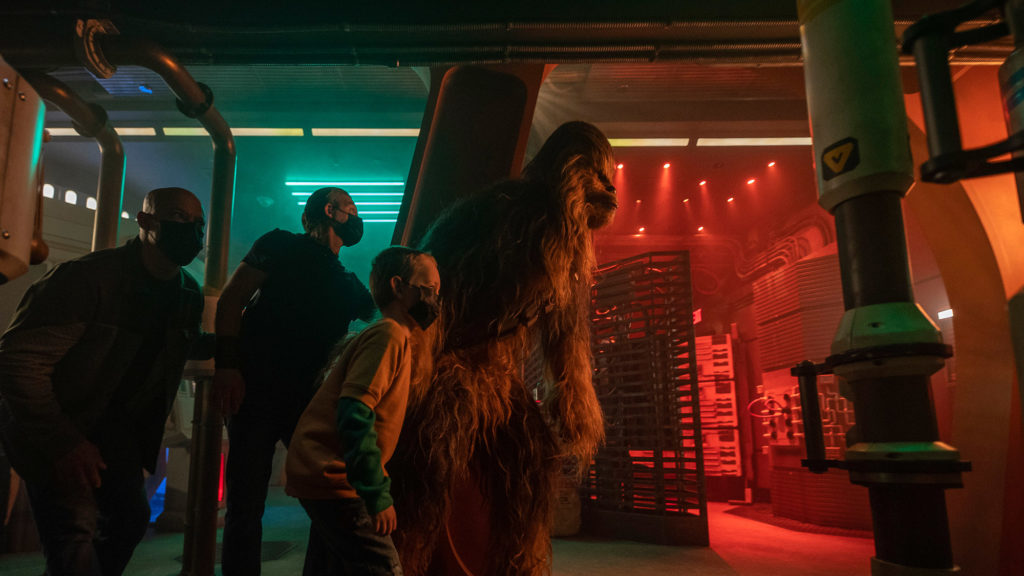 One of the "secret" areas of the starcruiser, the engineering room, is usually meant for crewmembers only but here seems to double almost as a play area for kids.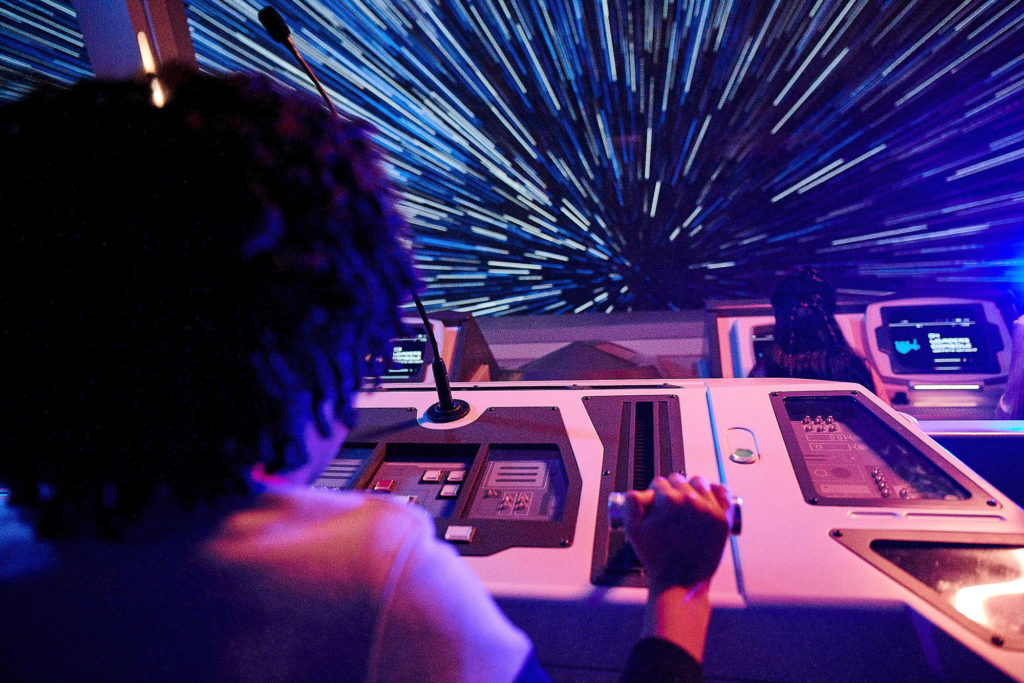 The launch pods are the entrance and exit of Galactic Starcruiser – they are the method through which guests can access the terminal (and parking lot) back on Earth.
Galactic Starcruiser Voyage Costs:
Although voyage rates will depend on your itinerary, time of year, and the number of people in your party, Disney has released a series of example price points for guests to begin planning their excursions. These examples are for voyage departure dates most weeknights between August 20, 2022 and September 17, 2022.
Two Guests Per Cabin
$1,209 per guest per night or $4,809 per voyage
Three Guests Per Cabin (two adults, one child)
$889 per guest per night or $5,299 per voyage

Four Guests Per Cabin (three adults, one child)
$749 per guest per night or $5,999 per voyage