Skip to: Overview | Who is Savi? | Who are the Gatherers? | How old do I have to be? | How the process works | How to build your lightsaber | Any other merch? | The cost | Fun fact
Location
Star Wars: Galaxy's Edge
Two-sentence insider summary
Disney's version of Ollivander's Wand Shop over at Universal Orlando Resort, Savi's Workshop – Handbuilt Lightsabers blends the boundaries between a traditional retail experience and a theme-park attraction. A small group of 14 guests will be guided through constructing their very own lightsabers, choosing from a notable assortment of different pieces and parts to create their own perfectly-customized laser sword.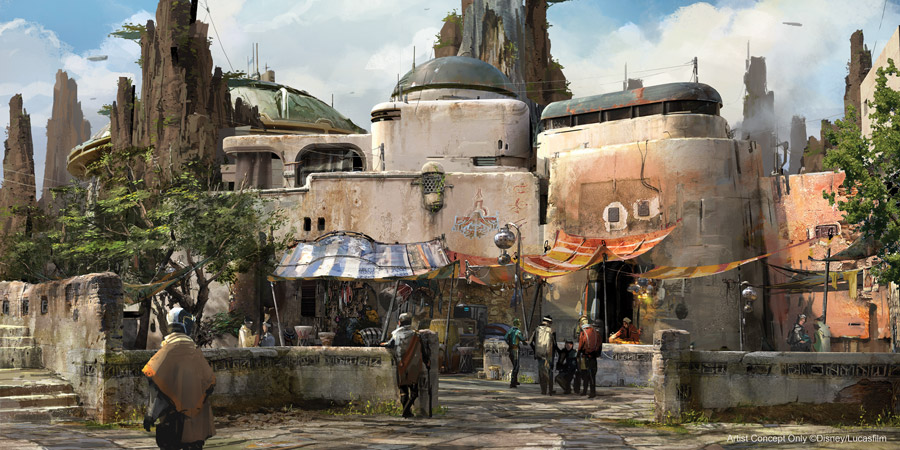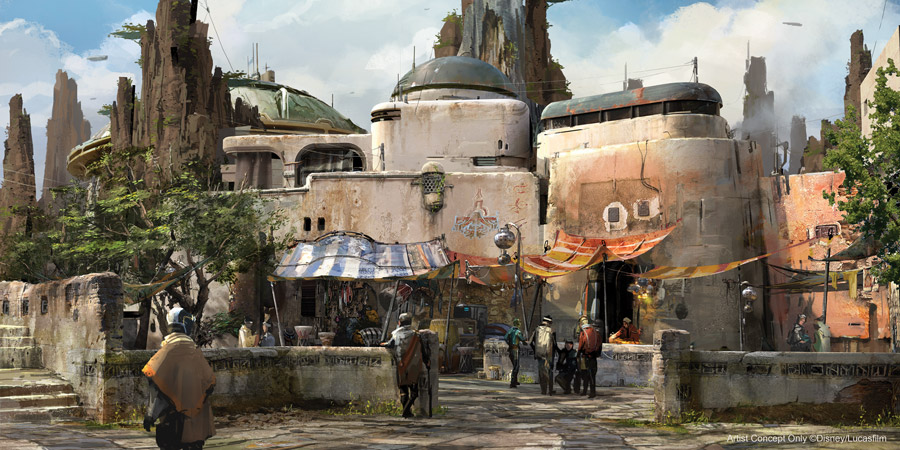 Who is Savi?
At this point, we don't know who – or what – Savi is, but the few clues that we do have paint a pretty interesting picture.
Although we're not certain whether Savi is or isn't Force-sensitive, he is of the belief that the teachings of the Jedi should still be kept alive and cherished by the galaxy at large; in this way, he may very well be yet another member of the Church of the Force, a relatively recent addition to the Star Wars mythos that sees non-Force-sensitives still attempt to follow the Jedi philosophy (the just-retired explorer Lor San Tekka, who was briefly seen at the beginning of 2015's Episode VII: The Force Awakens, belonged to this faith – and was a good friend of Savi's). Apparently, helping individuals to build their own lightsabers falls within this purview – Savi actually owns a junkard, called Savi's Scrapyard, near the main (read: Toy Story Land) entrance to Black Spire Outpost, and he's been silently collecting lightsaber pieces from throughout the galaxy with the hope that, one day, he may be able to assist in the construction of a laser sword for one who will be able to wield it (spoiler: that's you).
Knowing, however, that the just-arrived First Order wouldn't look too kindly on the ancient teachings – and the lightsabers – of the Jedi Order being passed down, he takes his laser-sword workshop underground, hiding it behind the facade of "Savi & Son Salvage" (a playful wink to the '70s sitcom Sanford & Son and its central location of Sanford & Son Salvage).
(In an amusing aside, Disney is really playing up the secrecy angle of this premise, warning guests to avoid being discovered by the neo-Imperials when going to Savi's Workshop. Whether this is just more backstory or if it's actually a part of Star Wars: Galaxy's Edge's interactivity, we're unsure of at this still-early point.)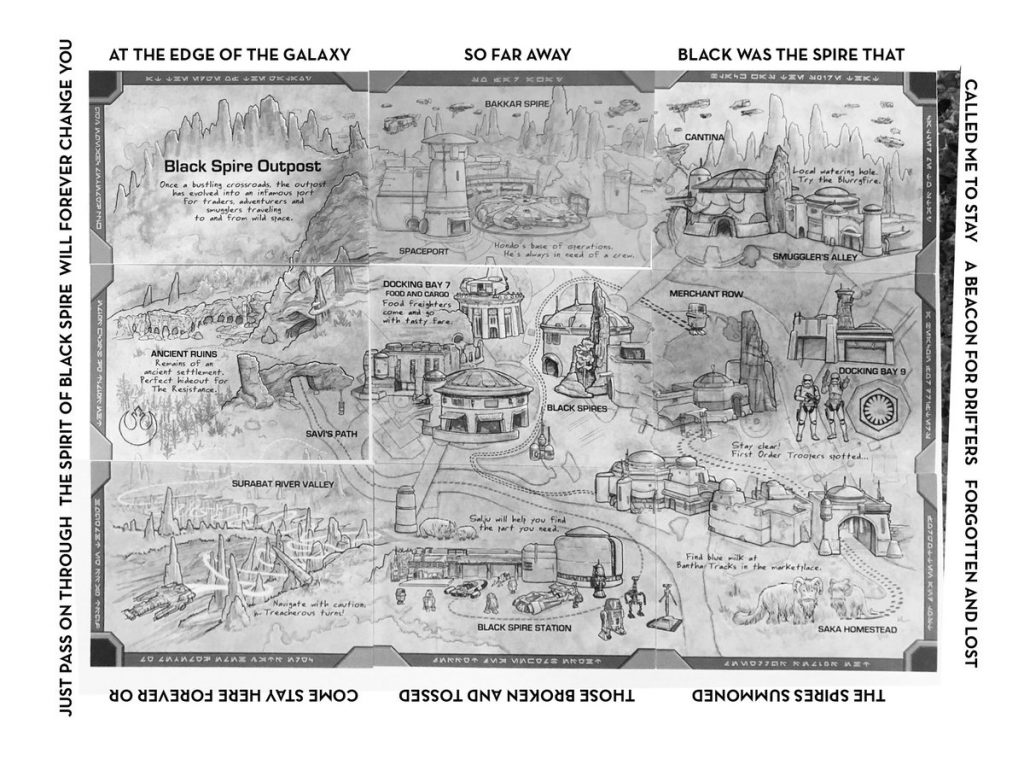 The last little tidbit we have about the central figure that is Savi comes from a map of Black Spire Outpost that Disney released in 2018. Towards the bottom of it, we see something called "Savi's Path" start at Black Spire Station and end in the Surabat river valley, where both the ancient ruins of long-dead civilizations sit and the Resistance has just now set up its new base (thus providing the location of Star Wars: Rise of the Resistance). Presumably, this ties into both the Savi's Workshop store and the slew of related novels and comics.
Who are the Gatherers?
The Gatherers are the individuals who will oversee the lightsaber-construction process, helping guests pick the right materials and craft the exact product they desire. What's important to note here is that they apparently constitute a brand-new organization within the Star Wars universe, one that was co-founded by Savi himself and one that has been designed expressly for Galaxy's Edge – although it's entirely possible they are simply an outgrowth of the Church of the Force (their official description by Disney, after all, states that the Gatherers have devoted their lives to "bringing balance to the Force by sharing their knowledge of it"). For Star Wars enthusiasts, seeing how everything fits together narratively may be just as exciting as building their very own saber.
(For our money, the Gatherers sound suspiciously similar to another still-mysterious group within the Star Wars mythology, the Guardians of the Whills, who were formally introduced in 2016's Rogue One: A Star Wars Story. These monks were the protectors of at least one ancient Jedi temple, and all the pilgrims and acolytes who flocked to it over the centuries.)
How old do I have to be to build a lightsaber at Savi's Workshop?
Disney recommends that builders be at least five years of age, but please note that one member of their parties must be 14.
How does the Savi's Workshop process work?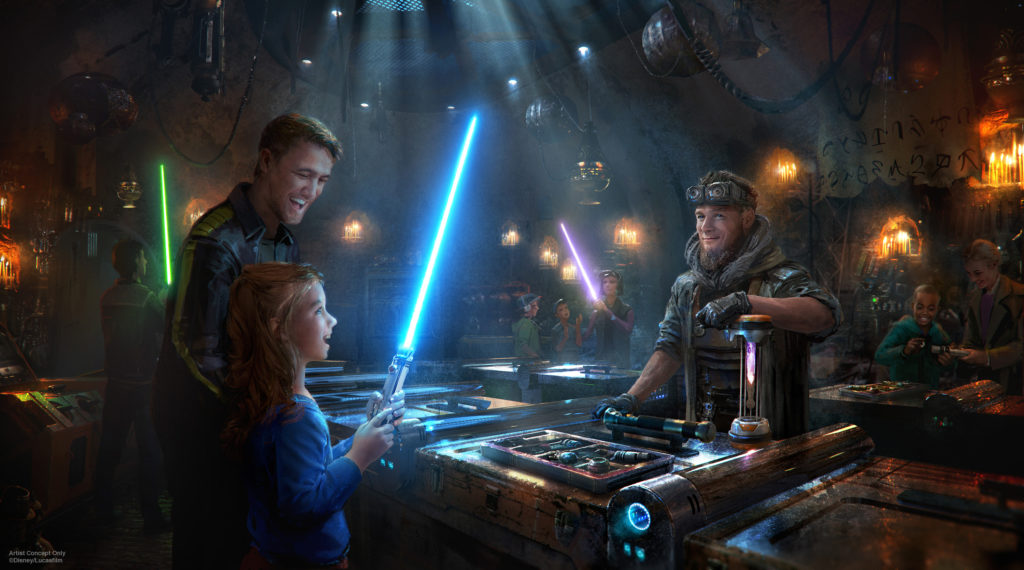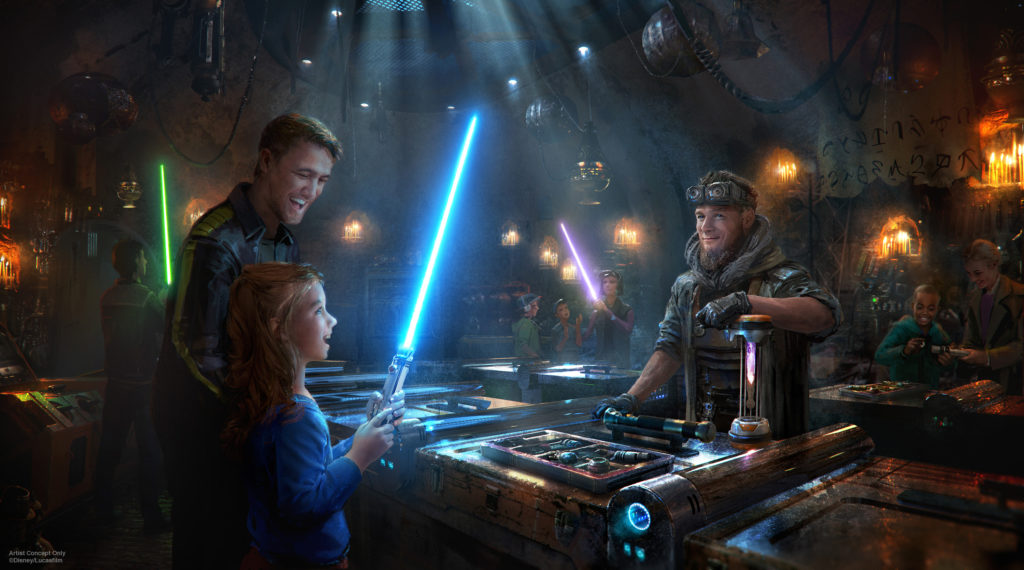 If it's not a particularly busy day (yeah, right), walk-ins will be welcome; at all other times, however, guests will need to schedule their visits to Savi's Workshop – Handbuilt Lightsabers beforehand, selecting one of several times for that date. Only 14 "builder" slots will be available at a time, although each participant will also be allowed to bring one family member or friend along to take photos and otherwise admire the handiwork of her would-be Jedi swordsmith.
Once their arrival time comes, the builders will make their way to Savi's Scrapyard, give the secret phrase to gain entry, and engage in some type of preshow (where the whole experience will be explained and put into the proper storytelling context) that will involve meeting Savi himself. It is here that one of the Gatherers will have you select one of the four available hilt styles (more on this in just a moment), at which point you'll receive a cloisonne pin to identify your selection. And then, finally, guests will follow Savi's Gatherer into the workshop proper.
How do you make your own lightsaber?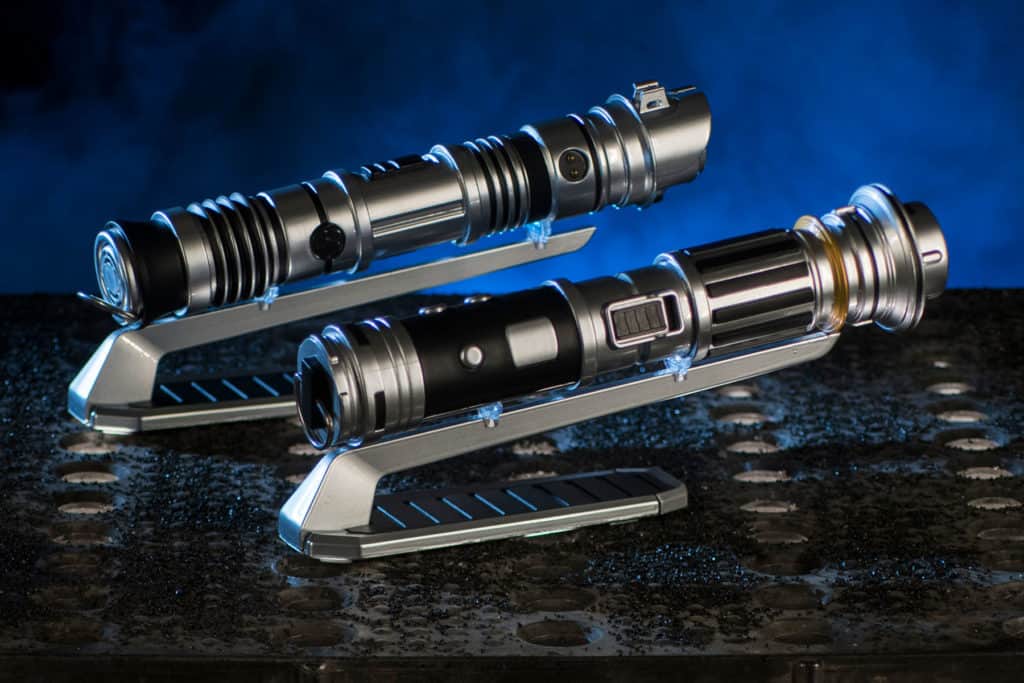 Savi's actual workshop, formally called the Chamber of the Guardians, is filled with "unusual parts, whimsical pieces, and miscellaneous memorabilia collected from the far reaches of the galaxy." This explains where all of the various lightsaber pieces come from and will also justify a surprise or two that occurs over the course of the 20-minute experience.
At the center of the chamber is the large, oval-shaped Builder's Table, which has been fashioned out of ancient pieces that were salvaged from across the galaxy and which is where, unsurprisingly, the construction process will occur. Each element of the laser sword will be selected at each stage of that process, starting, of course, with the kyber crystal, a living crystal that is Force-attuned and which generates the energy needed to project the blade of the lightsaber. All four colors from the movies will be included here – the Jedi's blue, green, and purple and the Sith's red – and, once chosen, some type of personal connection between guest and kyber crystal will be observed.
For the hilt itself, there are four different styles to choose from, with the descriptions provided directly by Disney:
Peace and Justice – utilizes salvaged scraps of fallen Jedi temples and crashed starships. The simple designs are Old Republic-era and reflect the commitment and devoutness of the galaxy's former guardians.
Power and Control – originally forged by warriors from the dark side, objects used in this lightsaber style are rumored remnants from the Sith homeworld and abandoned temples. The shapes here are sharp and strong and meant to showcase the brutality and relentlessness of the Sith Lords' insatiable desire for power and control.
Elemental Nature – craft your lightsaber from special components born from the Force – an energy field created by all living things – like Brylark trees, Cartusion whale bones, and, even, Rancor teeth.
Protection and Defense – cultivated from a time forgotten, these earliest lightsaber pieces contain designs and inscriptions that are shrouded in mystery. Believed to be created for protection and defense, conferring anonymity and symbolizing emotional detachment, a laser sword made from these pieces reconnects the user with the most ancient wellspring of the Force. (Since these are more medieval-esque designs, we're hopeful they'll incorporate Kylo Ren's archaic three-pronged affair.)
(Curious where the references to Brylark trees and Cartusion whale bones come from? An episode of the animated series The Clone Wars, which shows Jedi Master Yoda leading a clutch of younglings to select their own kyber crystals so that they can build their very own lightsabers.)
Based upon which of these four different themes you chose, a Gatherer will bring over a box of various parts that you can use to construct your lightsaber hilt. Each package consists of:
One hilt
Four sleeves (guests get to pick two)
Two emitters (pick one)
Two pommel caps (pick one)
Two sets of activation plates and switches (pick one)
Once builders have finished constructing their hilt, the Gatherers will, well, gather up the unused components and return them to Savi's inventory for the next group to use.
The final step in the process is the connection of the lightsaber hilt to the blade itself, which is 36″ long and, yes, really lights up. Once again, the workshop employees will assist with this task.
At various points throughout the build session, certain special effects will be activated – again, not unlike what one sees in Universal's Ollivander's Wand Shop – in order to incorporate elements of mystery and magic into the proceedings. All of this leads to the session's climax, which not only sees the guest's lightsaber be completed but also incorporates an "old friend" into the proceedings, who comes by to inspect your progress. Your guess on who this may be is just as good as ours, though we have a sinking suspicion it's going to be Savi.
We should note that the make of these lightsabers is rather heavy-duty and detailed, not at all like the previous, plasticy lightsaber toys that consumers could buy in various stores (including at Walt Disney World Resort itself) over the course of the past 40 years; the hilts are metal and the blades are reinforced plastic, detachable so that guests will be able to go on Galaxy's Edge's two rides (the hilts can likewise be attached to waistband clips that will be, of course, sold elsewhere at Black Spire Outpost). The blades will light up and the hilt will produce a series of sound effects, including powering up and down and various "contact" sounds.
Does Savi's Workshop sell anything else?
No. However, there are additional customization items – along with other, pre-built "legacy" lightsabers (i.e., various Star Wars characters' sabers, such as Ahsoka Tano's) – available for purchase at Dok-Ondar's Den of Antiquities.
How much does Savi's Workshop cost?
Even though Disney initially said that the various lightsaber pieces would vary in price, it turns out the company has opted to go the much simpler route of charging per finished product: each lightsaber costs $199.99, plus tax, a price which includes a carrying case.
There are no refunds available at Savi's Workship – Handbuilt Lightsabers, it should be noted, nor are there any discounts (such as from being an annual passholder).
OI fun fact
The kyber crystals are more than just for changing the color of your lightsaber blade – they also can interact with the holocron cubes that are sold at Dok-Ondar's, which will unlock the teachings from long-gone Jedi and Sith (depending upon the nature of the crystal).
Do you have a question about the information on this page, would like to provide feedback, or did you spot an inaccuracy? Please let us know by posting in our
OI Community
 Facebook group.