Skip to: Overview | Who is Savi? | How old do I have to be? | Reservations | How the process works | How to build your lightsaber | Any other merch? | The cost | Fun fact
Location
Star Wars: Galaxy's Edge
Two-sentence insider summary
A unique and immersive experience (and not a free one), Savi's Workshop – Handbuilt Lightsabers blends the boundaries between a traditional retail experience and a theme-park attraction. A small group of 14 guests will be guided through constructing their very own lightsabers, choosing from a notable assortment of different pieces and parts to create their own perfectly-customized laser sword.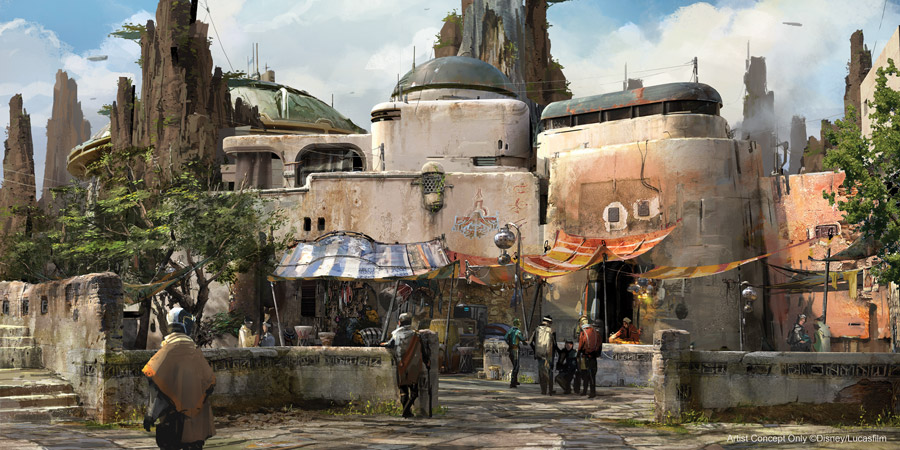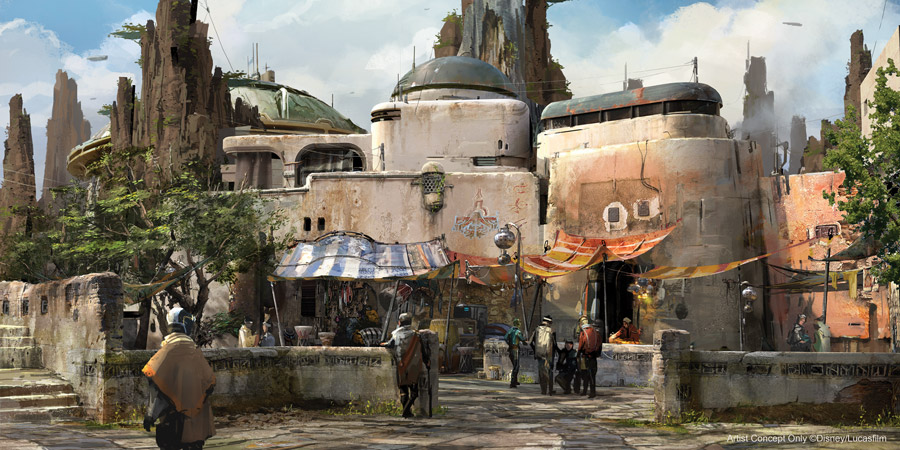 Who is Savi?
Savi is an older human man who grew up – and was lifelong friends – with Lor San Tekka, the retired explorer who helped Jedi Master Luke Skywalker find the very first Jedi temple (and who was recently killed by Luke's nephew, Kylo Ren, at the very beginning of Episode VII: The Force Awakens). Like Lor, Savi is a member of the Church of the Force, a relatively recent addition to the Star Wars mythos that sees non-Force-sensitives still attempt to follow the Jedi philosophy; he's moved by the belief that the teachings of the Jedi Knights should still be kept alive and cherished by the galaxy at large.
His salvage business, called Savi & Son Salvage (a playful wink to the '70s sitcom Sanford & Son and its central location of Sanford & Son Salvage), is the chief means that the old junker attempts to honor the Jedi Code. While he does, indeed, rebuild old vessels or other pieces of technology that he comes across, his main, surreptitious work is to sift through the refuse for any hidden Jedi or Sith artifacts – particularly lightsaber pieces, which he has been secretly stockpiling for, apparently, years now. He tends to hire only those individuals who have been touched by the Force in some way, who he calls Gatherers and who he takes exceedingly good care of, and though he has pledged to not take action yet in that great conflict between the light and dark sides of the Force that's sweeping the galaxy once again, he has vowed to do so once the time is right.
In the meantime, Savi's main goal has been getting all those reclaimed or rebuilt lightsabers into the hands of those who could use them – Force-sensitives who can one day rise up and help to restore balance to the Force.
That's where you come in.
(You can read more about Savi, his Gatherers, and his efforts to keep everything hidden from the suddenly-arriving First Order here.)
How old do I have to be to build a lightsaber at Savi's Workshop?
Disney recommends that builders be at least five years of age, but please note that one member of their parties must be 14.
Reservations at Savi's Workshop
Reservations are routinely accepted at Savi's Workshiop – Handbuilt Lightsaber, given its popularity and how only 14 "builder" spots are available per session – you can make reservations up to 180 days before your visit here or via the My Disney Experience app. (Just be aware that a credit card guarantee is required, meaning that if you don't cancel at least one day prior to your appointment, you will be charged the full $199.99 "builder fee" per person in your party.)
You can arrive no earlier than 15 minutes before your reservation time at the check-in location in front of Savi & Son Salvage. Just ensure that everyone in your party is present and waiting with you.
How does the Savi's Workshop process work?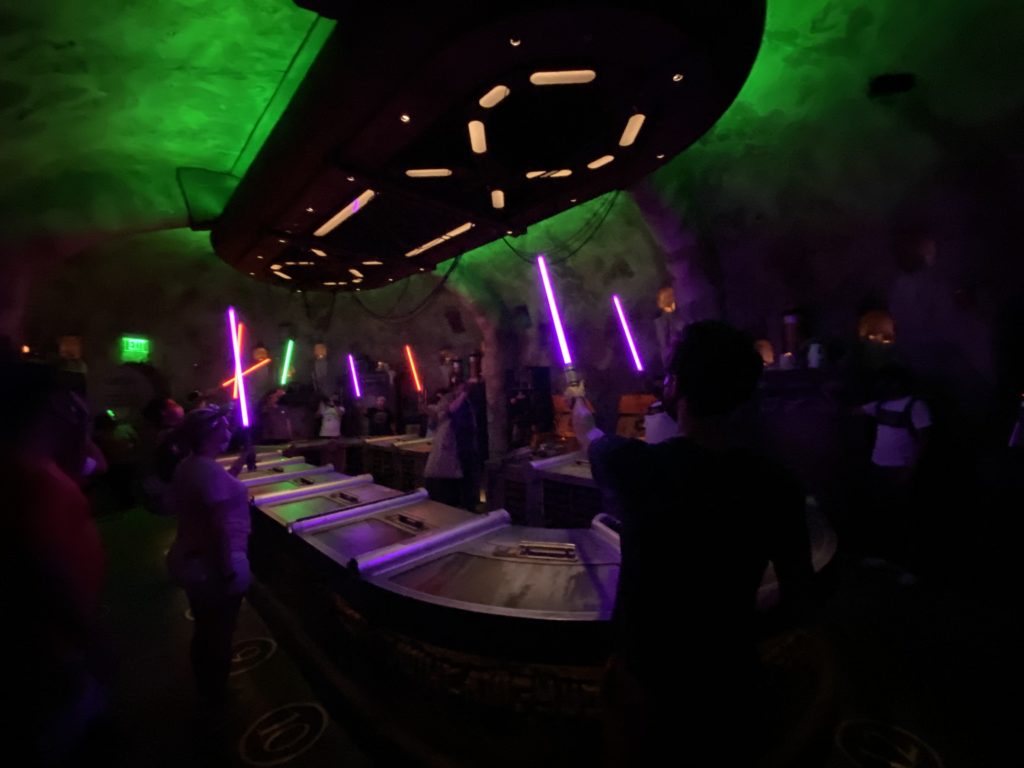 First things first: although there are only 14 "builder" slots available per session, each participant is allowed to bring one family member or friend along to take photos and otherwise admire the handiwork of her would-be Jedi swordsmith.
Once your arrival time comes, you will make your way to Savi's Scrapyard, check in with a Gatherer in front of the storefront, and be presented with the four different lightsaber hilt styles (with the descriptions provided directly by Disney):
Peace and Justice – utilizes salvaged scraps of fallen Jedi temples and crashed starships. The simple designs are Old Republic-era and reflect the commitment and devoutness of the galaxy's former guardians.
Power and Control – originally forged by warriors from the dark side, objects used in this lightsaber style are rumored remnants from the Sith homeworld of Moraband and abandoned temples. The shapes here are sharp and strong and meant to showcase the brutality and relentlessness of the Sith Lords' insatiable desire for power and control.
Elemental Nature – craft your lightsaber from special components born from the Force – an energy field created by all living things – like Brylark trees, Cartusion whale bones, and, even, Rancor teeth.
Protection and Defense – cultivated from a time forgotten, these earliest lightsaber pieces contain designs and inscriptions that are shrouded in mystery. Believed to be created for protection and defense, conferring anonymity and symbolizing emotional detachment, a laser sword made from these pieces reconnects the user with the most ancient wellspring of the Force.
(Curious where the references to Brylark trees and Cartusion whale bones come from? An episode of the animated series The Clone Wars, which shows Jedi Master Yoda leading a clutch of younglings to select their own kyber crystals so that they can build their very own lightsabers.)
Once you make your selection, you will be given a cloisonne pin to identify your choice – and then you'll make your way inside.
How do you make your own lightsaber?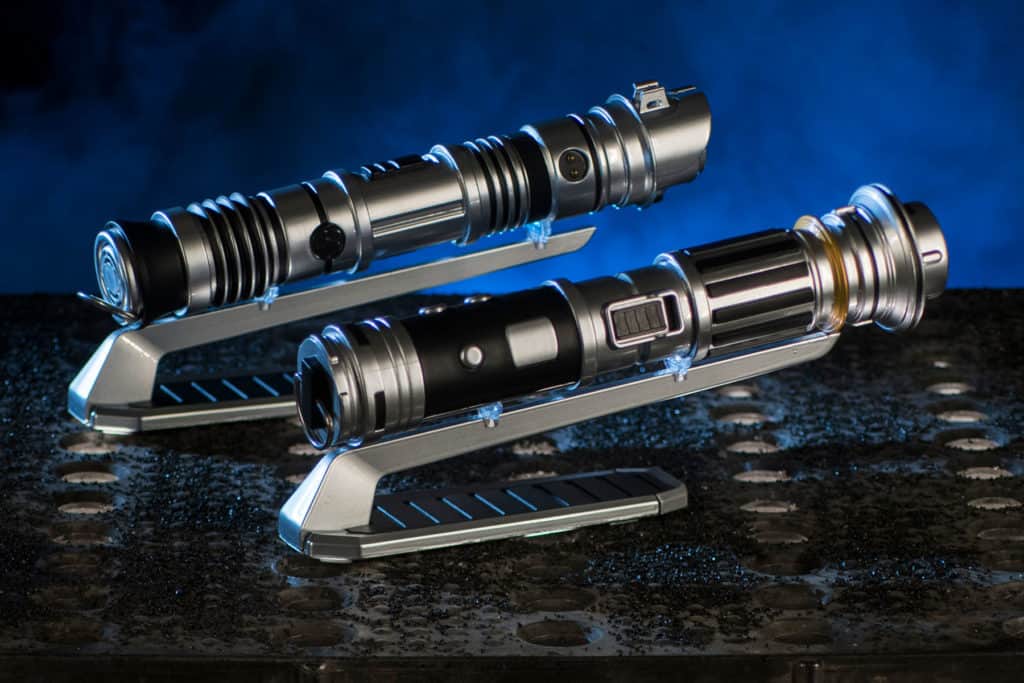 Savi's actual workshop, formally called the Chamber of the Guardians, is filled with "unusual parts, whimsical pieces, and miscellaneous memorabilia collected from the far reaches of the galaxy." This explains where all of the various lightsaber pieces come from and just may justify a surprise or two that occurs over the course of the 20-minute experience.
At the center of the chamber is the large, oval-shaped Builder's Table, which has been fashioned out of ancient pieces that were salvaged from across the galaxy and which is where, unsurprisingly, the construction process occurs. Once at your station, you will be asked to select a kyber crystal, a living crystal that is Force-attuned and which generates the energy needed to project the blade of the lightsaber; all four colors from the movies are included here – the Jedi's blue, green, and purple and the Sith's red – and you will need to pick just one.
From there, a Gatherer will present you with a tray of various lightsaber components that correspond with the cloisonne pin that you're wearing. These pieces consist of:
One hilt
Four sleeves (guests get to pick two)
Two emitters (pick one)
Two pommel caps (pick one)
Two sets of activation plates and switches (pick one)
Once builders have finished constructing their hilt, the Gatherers will, well, gather up the unused components and return them to Savi's inventory for the next group to use.
The final step in the process is the connection of the lightsaber hilt to the blade itself, which is 36″ long and, yes, really lights up. Once again, the workshop employees will assist with this task, giving it the appearance of a ritual.
At a few key points throughout the build session, certain special effects will be activated – again, not unlike what one sees in Universal's Ollivander's Wand Shop – in order to incorporate elements of mystery and magic into the proceedings. While these are nothing too elaborate (different-colored lights radiate across the ceiling), they do culminate in the cameo appearance of an "old friend" – Jedi Master Yoda himself, whose voice fills the chamber and whose dialogue is reminiscent of that previously-mentioned Clone Wars episode.
We should note that the make of these lightsabers is rather heavy-duty and detailed, not at all like the previous, plasticy lightsaber toys that consumers could buy in various stores (including at Walt Disney World Resort itself) over the course of the past 40 years; the hilts are metal and the blades are reinforced plastic, detachable so that guests will be able to go on Galaxy's Edge's two rides (the hilts can likewise be attached to waistband clips that will be, of course, sold elsewhere at Black Spire Outpost). The blades will light up and the hilt will produce a series of sound effects, including powering up and down and various "contact" sounds.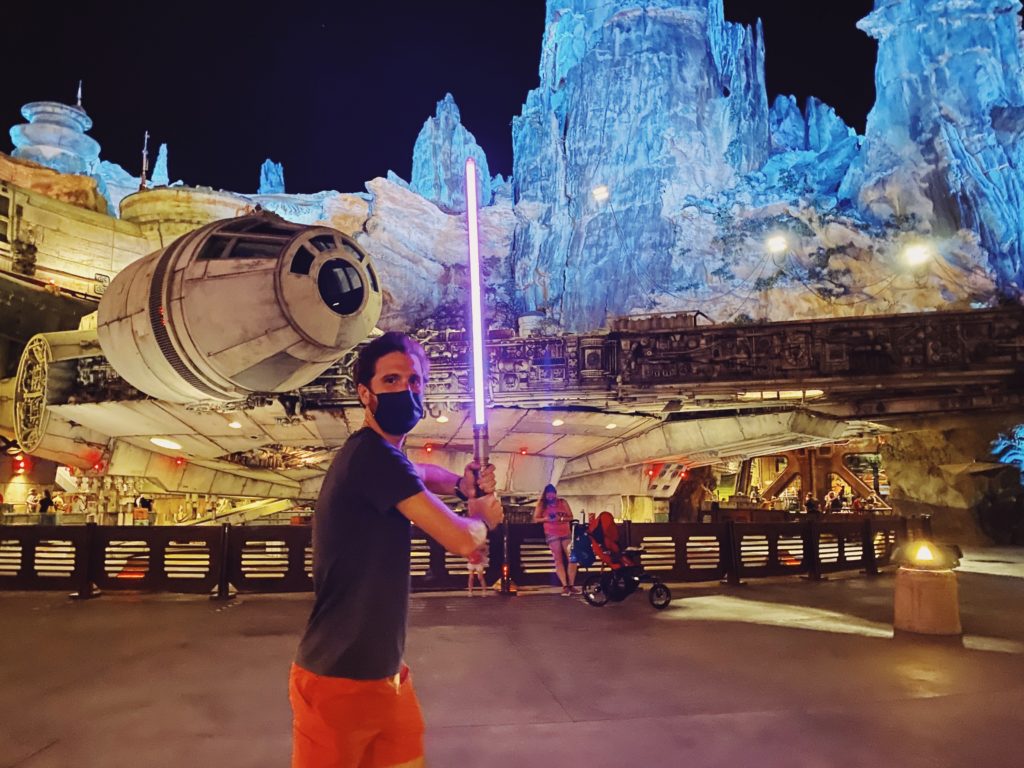 Does Savi's Workshop sell anything else?
No. However, there are additional customization items – along with other, pre-built "legacy" lightsabers (i.e., various Star Wars characters' sabers, such as Ahsoka Tano's) – available for purchase at Dok-Ondar's Den of Antiquities.
How much does Savi's Workshop cost?
Even though Disney initially said that the various lightsaber pieces would vary in price, it turns out the company has opted to go the much simpler route of charging per finished product: each lightsaber costs $199.99, plus tax, a price which includes a carrying case.
There are no refunds available at Savi's Workship – Handbuilt Lightsabers, it should be noted, nor are there any discounts (such as from being an annual passholder).
OI fun fact
The kyber crystals are more than just for changing the color of your lightsaber blade – they also can interact with the holocron cubes that are sold at Dok-Ondar's, which will unlock the teachings from long-gone Jedi and Sith (depending upon the nature of the crystal).
Do you have a question about the information on this page, would like to provide feedback, or did you spot an inaccuracy? Please let us know by posting in our
OI Community
Facebook group.