Skip to: Overview | Hours | Reservations | Theming | Mobile order | Dining plans | Menu | Fun fact
What is Ronto Roasters?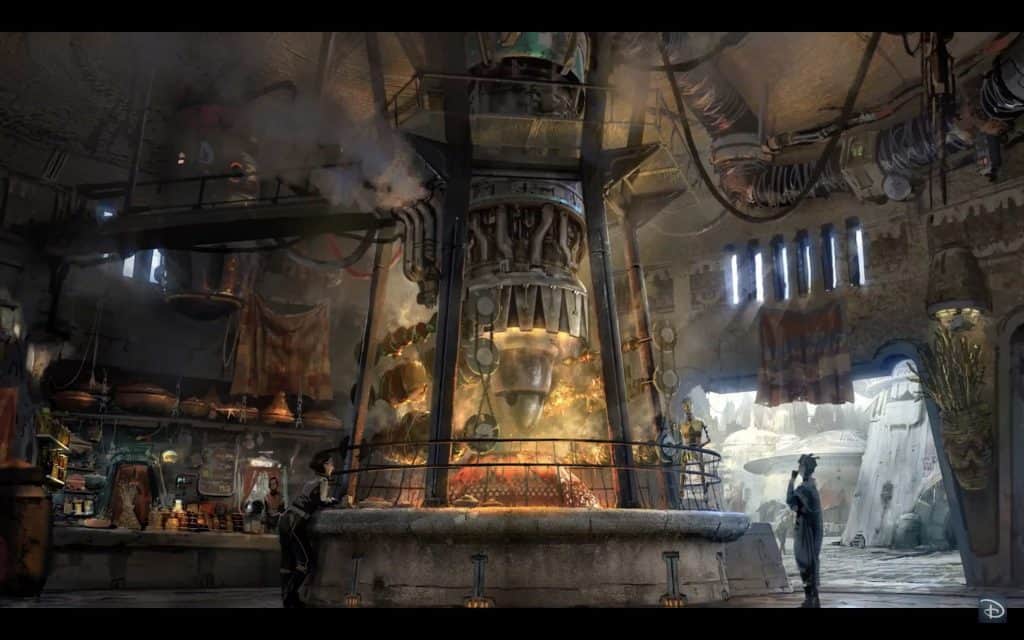 Ronto Roasters is the centerpiece of Black Spire Outpost's marketplace, designed to give guests a small selection of food items (namely, barbecue pork and grilled sausage) that pack a lot of punch, both in terms of their taste and the venue's overall theming. Think of this as a deluxe flourish on a rather simple, straightforward food stand.
What are Ronto Roasters's hours?
Ronto Roasters opens and closes with Disney's Hollywood Studios itself.
Reservations at Ronto Roasters
Given the restaurant's counter-service nature, no reservations are offered.
Theming at Ronto Roasters
Ronto Roasters is a barbecue joint, with "exotic" meats being grilled with a mixture of spicy ingredients. The Star Wars hook here, however, is that there is no ordinary slow-roaster being employed – it's actually a giant, old podracer engine that has been hung from the ceiling and repurposed to the task at hand. And that weary pitmaster who's slowly turning the spit is actually 8D-J8, a former smelter droid, who has likewise been repurposed (and who also might offer some samples to those interstellar tourists waiting in line – when not complaining about his job, that is).
(Does the idea of an audio-animatronic figure cooking your food give you pause? Don't worry, as that's all for show – the real servings are prepared in the back, in the real kitchen.)
This BBQ joint is small, but still with a style all its own, seemingly to complement Docking Bay 7 Food and Cargo – it's open and airy, with giant entranceways.
Mobile order at Ronto Roasters
Guests are able to place an order at Ronto Roasters using the Play Disney Parks app on their smart phones (but only if they're actually in Star Wars: Galaxy's Edge – something which their phones' GPS will attest to). Once the food is ready, patrons will be able to skip the main line and head straight to the mobile order pick-up window.
Dining plans at Ronto Roasters
Dining plans are not accepted.
The menu of Ronto Roasters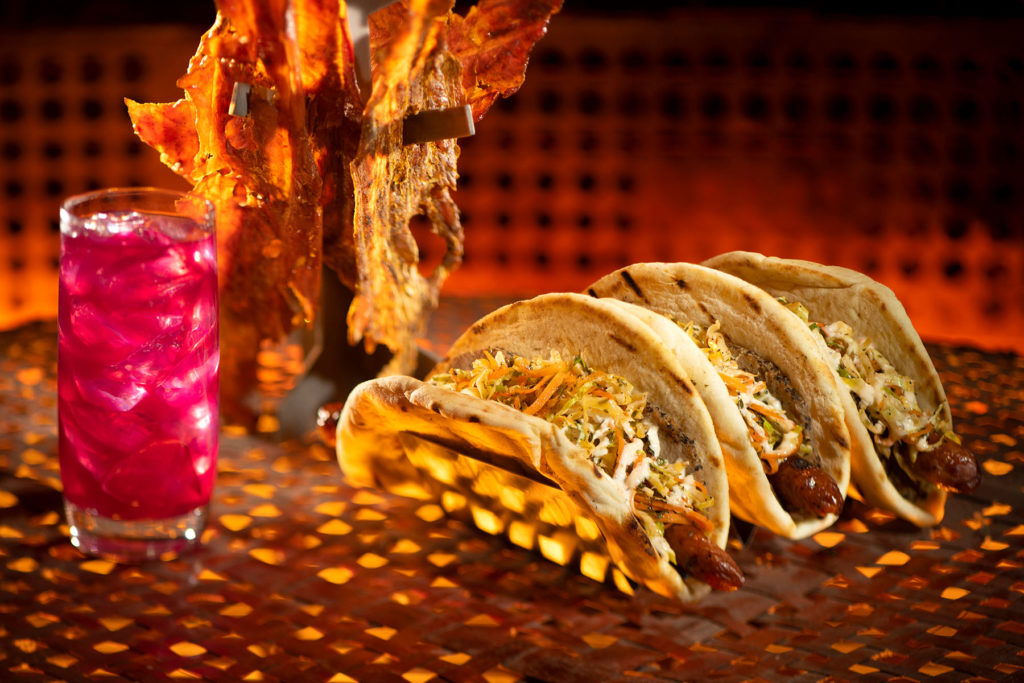 Disney has said that Ronto Roasters is, quite simply, all about just two things: meat and heat. A great example of this approach is something that the company is calling Clutch Sauce, a custom creation made from Szechuan peppercorn and named after Darth Vader's Force choke (since it's so hot, it'll make diners clutch their throats and gasp for air. Get it?).
Breakfast menu
Ronto Morning Wrap – $12.49 – scrambled eggs, grilled pork sausage, shredded cheddar, and peppercorn sauce, wrapped in pita.
Triple Suns Breakfast Wrap – $11.49 – plant-based egg, smoky chickpea-onion slaw, and roasted tomato sauce wrapped in pita bread
Rising Moons Overnight Oats – $6.99 – oats, dragon fruit, yogurt, and seasonal fruit.
All-day menu
Ronto Wrap – $12.99 – roasted pork and grilled pork sausage with peppercorn sauce and tangy slaw wrapped in pita.
Kyryll Pork Rinds – $7.49 – Pork rinds seasoned in a savory blend of ancho chile, cheddar, smoke, and cinnamon.
Andoan Fruit with Muja Sauce – $6.99 – Plant-based. Sticks of Jicama, cucumber, pineapple, melon and dragon fruit doused in a tamarind sauce.
Specialty beverages
Tatooine Sunset – $5.49 – Gold Peak Unsweetened Tea, Odwalla Lemonade, melon, and blueberry.
Beverages
Assorted Coca-Cola offerings – $3.99 (regular), $4.19 (large)
Dasani Bottled Water – $4.25
Alcoholic beverages
Coruscant Cooler – $15 – Maker's Mark Bourbon, Luxardo Maraschino Liqueur, Carpano Antica Sweet Vermouth, cranberry, lime juice.
Trandoshan Ale (Concrete Beach Brewery) – $13 – spiced wheat ale (16 ounce draft).
Surly Sarlacc – $13 – Ketel One Botanical Grapefruit and Rose Vodka, Minute Maid© Limeade, Raspberry, Spicy Mango Flavors
OI fun fact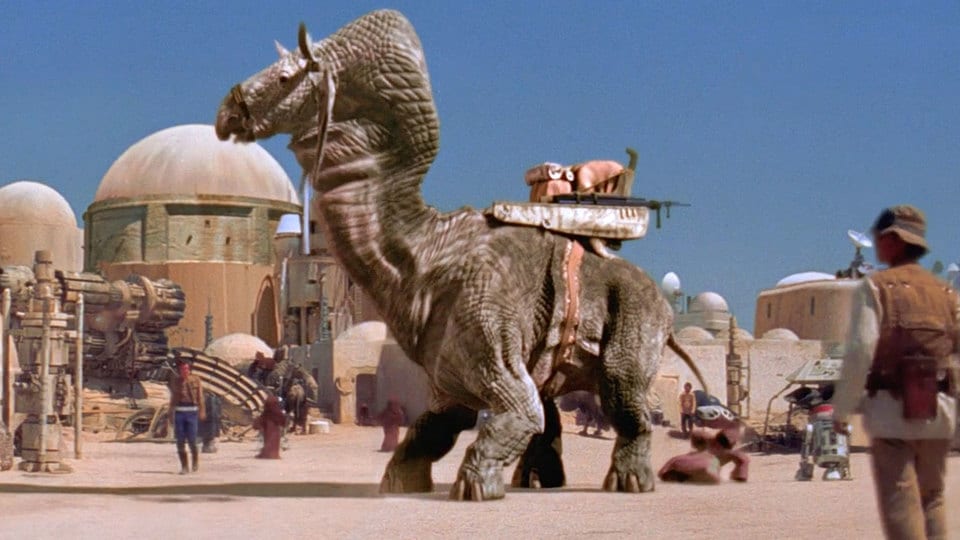 So, what is a ronto, anyway? It's a beast of burden in the Star Wars galaxy, a four-legged saurian herbivore native to Anakin and Luke Skywalker's home planet of Tatooine. It was first introduced in the Special Edition re-release of Episode IV: A New Hope (which hit theaters just four years after Jurassic Park, from whence the design and CG technology originated) and has since become ubiquitous in the depictions of that galaxy far, far away.
Do you have a question about the information on this page, would like to provide feedback, or did you spot an inaccuracy? Please let us know by posting in our
OI Community
Facebook group.