Skip to: Overview | Theming | Merchandise | Prices | Fun fact
Location
Star Wars: Galaxy's Edge
Two-sentence insider summary
Join the Resistance and help liberate the galaxy! Purchase your light-side gear and freedom-fighting supplies at this standard-issue gift shop inside Star Wars: Galaxy's Edge.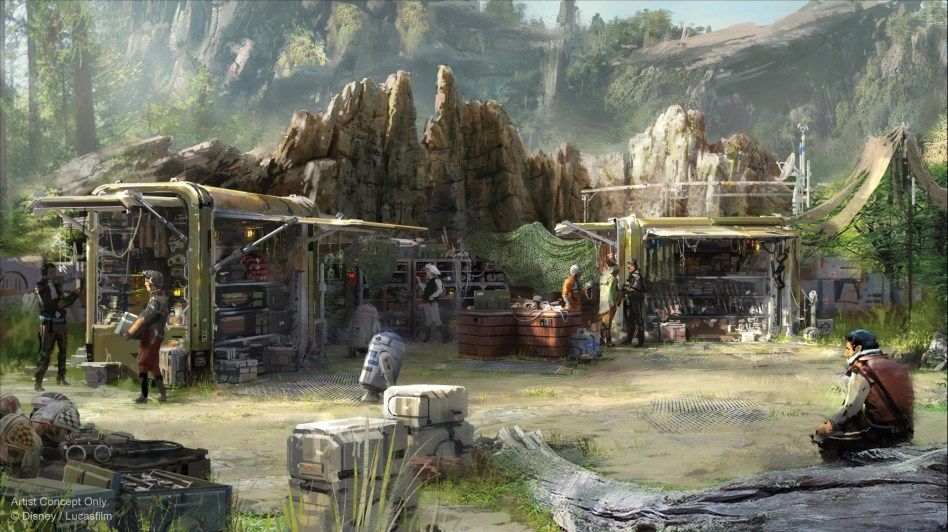 What is Resistance Supply's theming?
Set up in the forested area near the ancient ruins that have just now been transformed into the Resistance's local headquarters, Resistance Supply (along with its dark-side counterpart, First Order Cargo) is the most traditional retail space in all of the theme-park land. But despite its straightforward nature, small(er) size, and just-constructed premise, the store still sports the detailed touch that Disney has applied all throughout Batuu – it really does look like a secret makeshift post, one where rebels and their sympathizers gather to keep fighting the good fight.
What's for sale in Resistance Supply?
Essentially an apparel store, Resistance Supply allows you, the newest recruit for General Leia Organa, to stock up on the essentials as the Second Galactic Civil War spreads to Black Spire Outpost. As such, expect to find lots of clothing and other costume items, such as tank tops, jackets, uniforms, helmets, hats, flags, pins, and a rank badge set.
But there are other light side-affiliated items here, as well, including mugs, water bottles, maps, tools, training supplies, food ration bars, X-wing-branded towels, throw blankets, a Wookiee bag, and, even, toys.
How much does Resistance Supply cost?
We simply have no idea at this early stage in the game. Check back soon!
OI fun fact
The "handmade" look of Resistance Supply's apparel was created with the help of Lucasfilm's wardrobe archives, which were scanned by Disney in order to make Star Wars: Galaxy's Edge's merchandise look as authentic as possible.
Do you have a question about the information on this page, would like to provide feedback, or did you spot an inaccuracy? Please let us know by posting in our
OI Community
Facebook group.