Location
Pandora: The World of Avatar
Style
Pandora's sole bar serves up specialty drinks, beer, margaritas, bottled water, and a flavorful snack.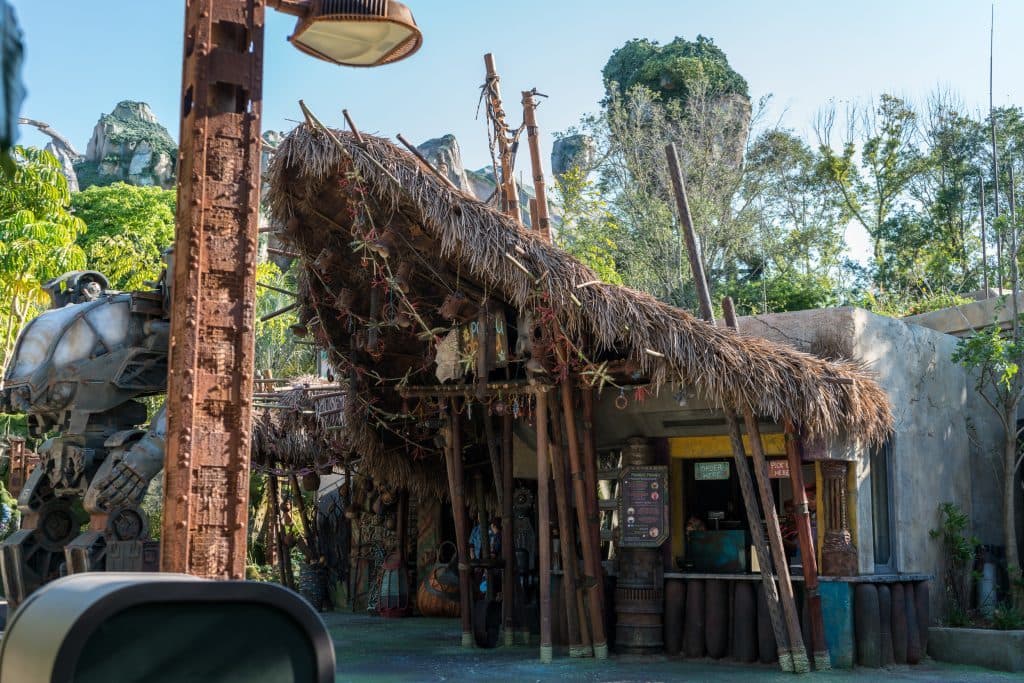 Two-sentence insider summary
A human expat who had visited Pandora and decided to stay has cobbled together this nifty little drink stand at the corner of the Windtraders gift shop. While the menu is rather limited, half of it – the specialty drinks and single munchie – is exclusive to this stop, making it a must-do for Avatar (or Walt Disney World) completionists.
Overview
"Pongu Pongu" means "party party" in Na'vi, and it's easy to see why Disney's Imagineers chose to name this small-but-endearing kiosk the way they did: drinks are the name of the game here, with a particular emphasis on color.
The Night Blossom, the only non-alcoholic beverage available (well, besides the ubiquitous Dasani bottled water, of course), is designed to mimic the surrounding forest's bioluminescence; when combined with the passion fruit boba balls that top it, it's a very sweet concoction that is obviously meant to be Pandora: The World of Avatar's version of The Wizarding World of Harry Potter's Butterbeer. And while the Mo'ara Margarita is positively tame in comparison, it's still an electric hue, frozen, and tasty. (Not too shabby for being based on source material that has no such liquid refreshments anywhere to be seen.) And while the two "indigenous" draft beers on tap – Mo'ara High Country Ale and Hawkes' Grog Ale – are the same as in Satu'li Canteen, having them also available here will be a real luxury when the restaurant is beset with big crowds and long waits.
What may easily get overlooked at Pongu Pongu is its sole small-plate offering: the Pongu Lumpia is a spring roll filled with cream cheese and pieces of pineapple. When combined with the coat of sugar that dusts it, it also veers on the sweet side – which will probably only help its popularity with all of the Terran tourists flocking to the alien moon.
Prices
Drinks range from $4.99 to $13.00.
Pongu Pongu – menu
Breakfast
Sausage, egg, and cheese biscuit – $6.99
French Toast Sticks – $6.29
Pongu Lumpia – $3.79
Snacks
Colossal Pretzel – $10.49
Frozen beverages
Night Blossom – $5.99 – Non-alcoholic specialty beverage. Mixture of Limeade with apple and desert pear flavors, topped with passion fruit boba balls
Mo'ara Margarita – $13.00 – Sauza Conmemorativo Añejo Tequila and Blue Curaçao with Lime Juice topped with Passion Fruit Boba Balls
Draft beer
Sizes: 22 oz. – $10.50
Mo'ara High Country Ale – An amber ale brewed for the nature lover with a herbal spice hop aroma and a malty flavor profile featuring notes of caramel, toffee, and nuts
Hawkes' Grog Ale – Green in color with a fruity hop character, including apricot and peach with a hint of wheat on the finish
Beverages
Dasani bottled water – $3.00
Coca-Cola bottled beverages – $4.19
OI fun fact
The towering MK-6 AMP suit (that stands for Amplified Mobility Platform, for all you Avatar junkies out there) that is perched next to Pongu Pongu was originally depicted wearing a hula skirt in concept art. Sadly, it seems as if this particular touch was dropped, as fun as it would have been.
Pongu Pongu – photo gallery
Pongu Pongu – real guest reviews
Orlando Informer
Average rating:
0 reviews