The closing of the theme parks around Orlando due to the COVID-19 pandemic in early 2020 was an unprecedented and anxious time, but with safety at the forefront, the parks, restaurants, and hotels have since reopened and continue to welcome guests back to Walt Disney World Resort. If you're ready for a visit filled with magic and adventure, there are a few things you'll want to take note of before you pack your bags, and Orlando Informer is here with your pandemic guide – everything you need to know about the ins-and-outs of having fun and staying safe during your visit.
Skip to: Before you travel | Theme parks | Water parks | Disney Springs | Transportation | Dining | Hotels | Events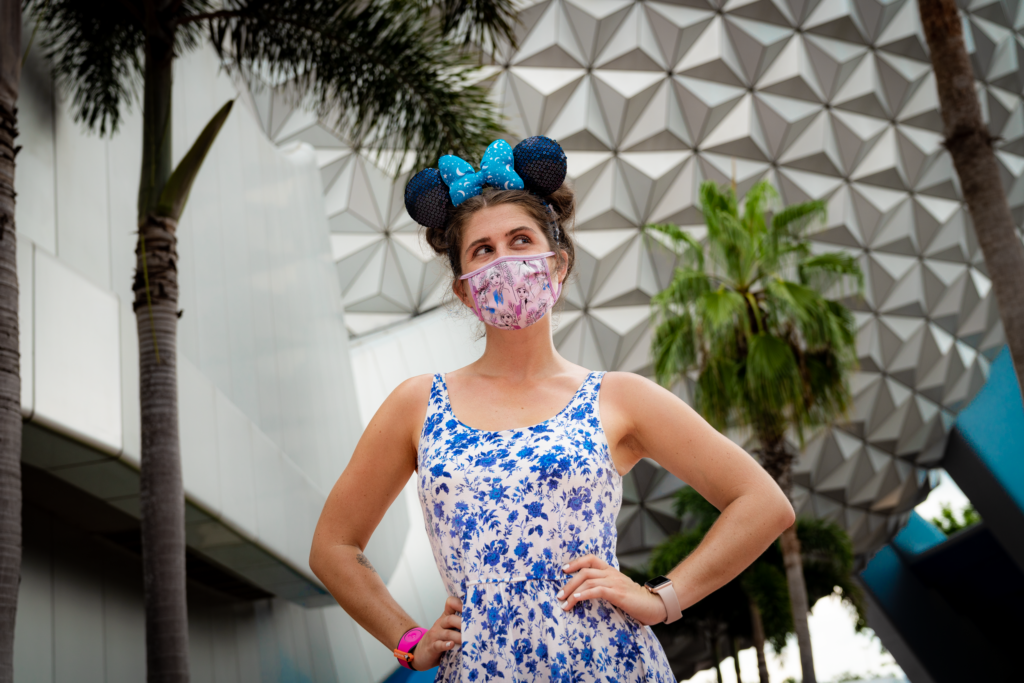 Traveling during the pandemic
Before you book that plane ticket or hop in the car, make sure you consult any travel advisories both going to and returning from your vacation destination. There are no travel restrictions in place when arriving in Florida from other US destinations, but some states and countries have mandatory quarantines upon returning from travel. For the most up-to-date information, check out the FloridaHealthCovid19.gov site, along with your local travel advisories.
Across Disney World, you'll find a number of precautions in place to keep guests safe and healthy. Face coverings are no longer required, but are still recommended for any unvaccinated visitors over the age of two all around the resort. A great deal of helpful signage and distance markers remain, encouraging guests to sanitize frequently and maintain adequate space between parties. Temperature screenings are no longer required for any guests when arriving at any theme or water park, including Disney Springs. Finally, all parks are still operating at reduced capacity and require reservations ahead of time, so you'll have more space to spread out in the ride queues.
What's it like to visit the theme parks during the pandemic?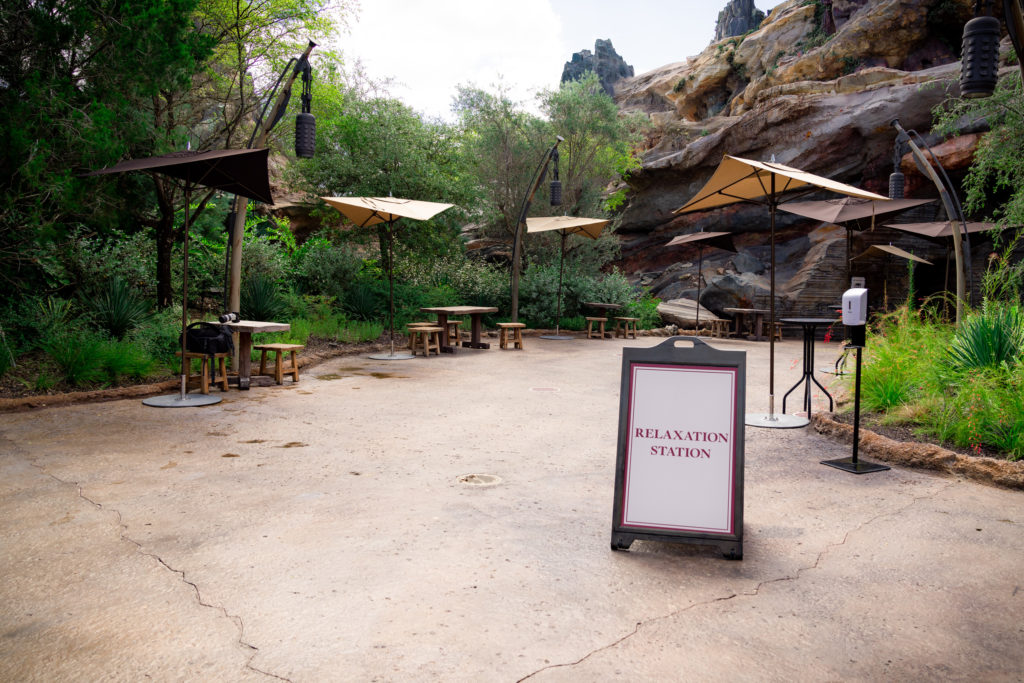 The most important change to Disney's admission protocols is that all guests must have a park reservation to visit their chosen theme park on any given day. Regardless of whether you have dining reservations, dated tickets, etc., you'll have to go online or use the My Disney Experience app to reserve your park pass, as you will be denied entry without it. Although it adds an extra step in the booking process, this is how Disney is capping capacity to each of the four parks to ensure that guests can visit safely. In addition, the park operating hours are also somewhat shorter than in past years, and Extra Magic Hours have been discontinued, so check the calendar for the up-to-date park hours during your trip.
The next major change has been the elimination of FastPass+ reservations for all guests in favor of the Disney Genie+ Lightning Lane system. During the height of the pandemic, the FastPass lines were repurposed as standby queue areas but are now once again being used as the "express lane." Disney continues to utilize the Disability Access Service (DAS) passes, so you may see guests with special needs using alternate entrances, including the Lightning Lane entrance.
Rides and attractions
Now for the good news – most rides and shows are open and operating with normal loading procedures (while requiring guests to wear masks when indoors and in queues). While there is lots to see and do, the following adjustments to operations are currently in effect:
No parades – to avoid drawing crowds, Disney characters may appear in impromptu cavalcades (on a float riding down Main Street, USA at Magic Kingdom, for instance) or cruises (on barges traveling down the Discovery River at Animal Kingdom).
Most playgrounds/play areas are closed – little ones love exploring the play areas, but in order to reduce any contagion in high-touch areas, most of the playgrounds are temporarily shut down.
Some shows are closed – shows and entertainment are slowly being added back to the schedule, including the recent re-installment of Beauty and the Beast Sing-Along at EPCOT, and For the First Time in Forever: A Frozen Sing-Along Celebration, Beauty and the Beast – Live on Stage, and Indiana Jones Epic Stunt Spectacular! at Hollywood Studios, so check the times guide during your visit to see what's open.
Tours – Disney's private tours are exquisitely curated and always fun for guests who want to go behind-the-scenes at the parks, but to protect both visitors and cast members, only a selection of tours are available at this time and must be reserved in advance.
Disney has announced that single-rider lines are returning, and two fireworks and nighttime spectacular shows recently returned. At Magic Kingdom, "Disney Enchantment" is currently showing to the public, while "Harmonious" is showing at EPCOT during Disney's 50th anniversary celebrations.
Character meet-and-greets
Characters can still be found throughout the parks, but the typical meet-and-greets are organized a little bit differently. Guests may get a glimpse of Pooh frolicking in the green areas of the United Kingdom pavilion at EPCOT, or see characters waving from the upper balcony of the train station at Magic Kingdom. Other, more notable characters are once again available for interactions and photos. Review our article here for character details.
Is park-hopping available to guests?
Park-hopping is back, but with some restrictions – guests with park-hopper tickets can only switch parks after 2:00 pm, and can only go to a park with open availability. You do not have to make a reservation for the park you are hopping to.
OI tip
Our number-one tip for visiting Walt Disney World Resort during this time is to download the My Disney Experience app. Nearly everything you could want to do, from booking a park-pass reservation and mobile-ordering your lunch to finding your way with maps and checking wait times, can all be found on Disney's proprietary application. You'll want to get this before you even leave home in order to familiarize yourself with all the content that's available to you within this one little program.
What about visiting the water parks during the COVID-19 pandemic?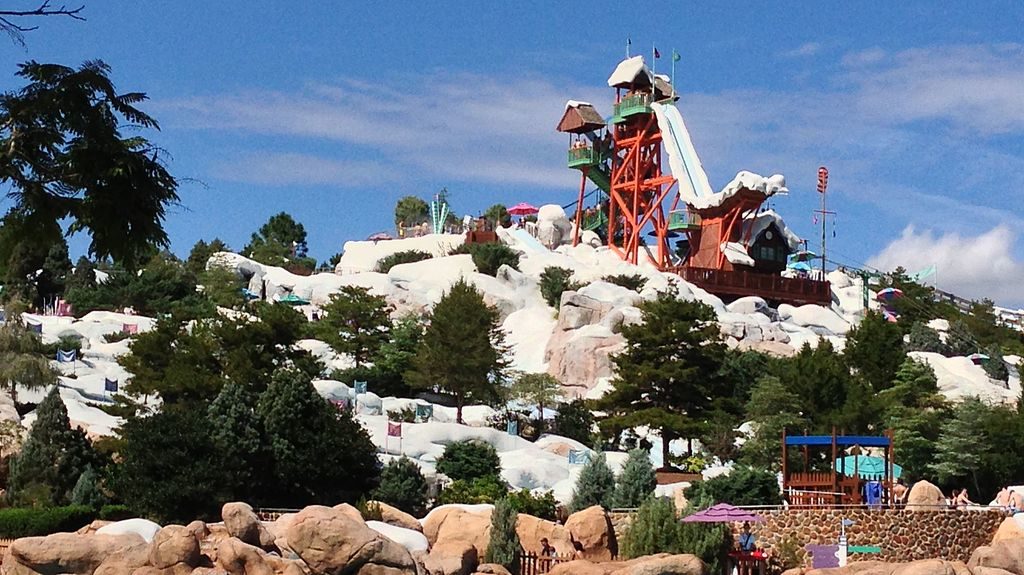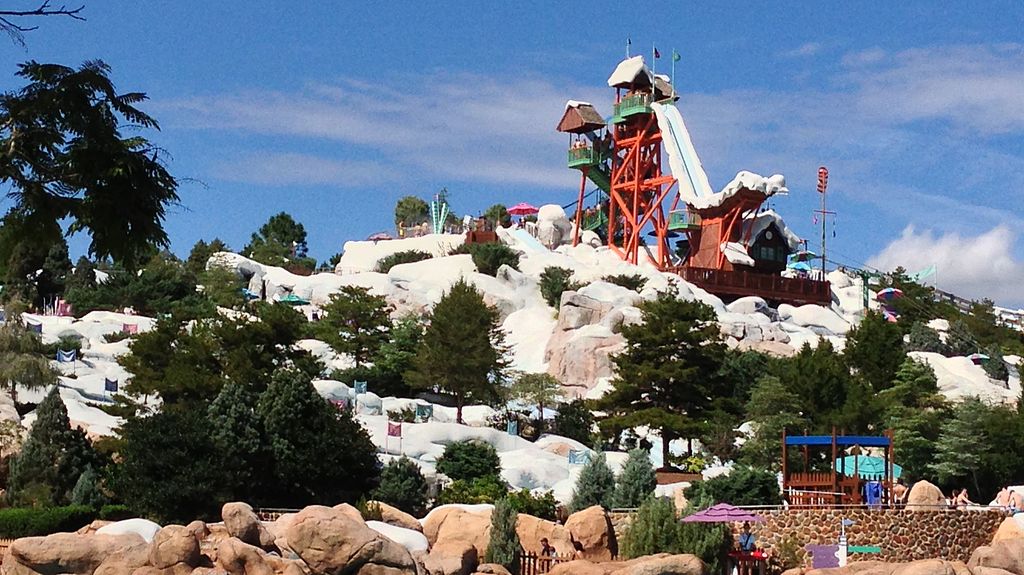 Water-park fans can rejoice – Blizzard Beach reopened for the spring and summer season at Disney World (it had been closed during the winter). Typhoon Lagoon is now open on days when it's warm enough to welcome guests.
To keep everyone safe during the pandemic, the water parks operate with reduced capacity and remind to all attendees to maintain a safe physical distance. Face masks are required for anyone two and up when entering and exiting the park and, also, while in the shops and restaurants. The masks must be removed when in any of the pools or on the slides.
What changes are in effect at Disney Springs during the pandemic?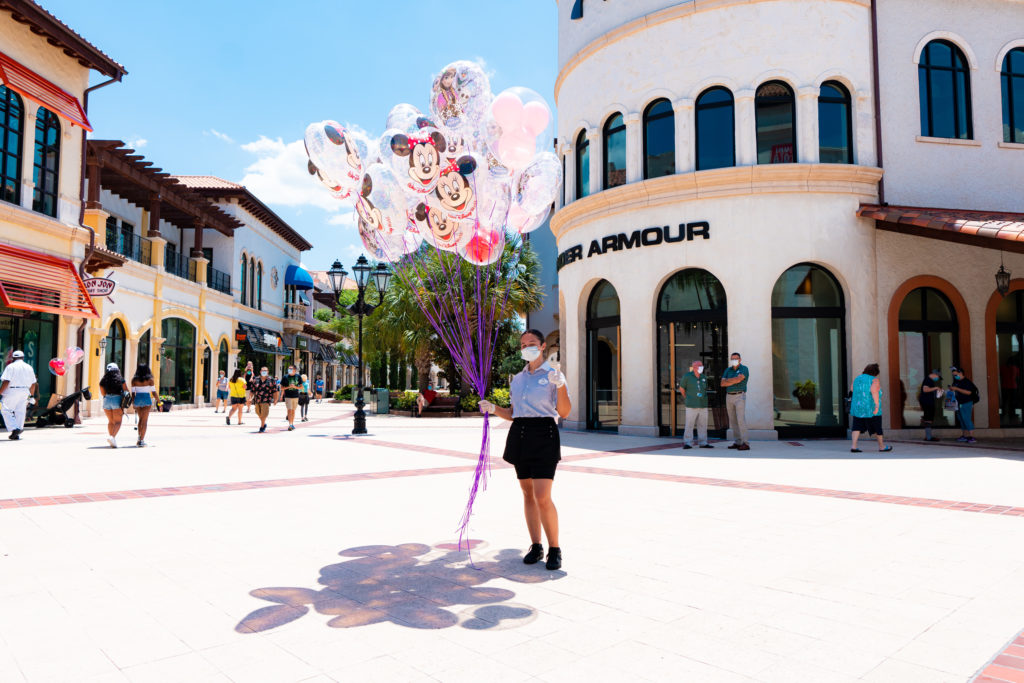 Disney Springs was the first area of the resort to reopen, and it pioneered the safety precautions eventually implemented at the parks: ubiquitous signage and queue barriers reminding you to maintain social distance, plus the requirement to wear a mask. Now, the dining/shopping/entertainment district is operating almost entirely normally. This includes the AMC Disney Springs dine-in movie theater. And while most of the restaurants – including Planet Hollywood, Homecomin', and Raglan Road – are open daily, some entertainment options and experiences are still temporarily suspended.
Again, masks are required for guests to wear when indoors, regardless of vaccination status.
How have Disney transportation options changed during COVID-19?
Disney's Magical Express has long ferried travelers from Orlando International Airport directly to their hotels, even taking luggage straight from the tarmac to their rooms. However, the pandemic has necessitated a few tweaks to the current service, and Disney has announced that Magical Express will end on January 1, 2022 (timed to coincide with the opening of Orlando's proposed high-speed rail).
For now, Disney hotel guests can still book a seat on the Express, but they must grab their own bags off the luggage carousel and bring them to the bus check-in.
Theme-park transportation
Disney's transportation system dwarfs that of even some large cities, and guests may utilize any of the free transportation methods, including buses, Skyliner gondolas, boats, ferries, and, of course, the monorail (depending on access at your hotel, that is). The now-standard precautions have been put in place for all transportation: limited capacity, physical barriers, and spacing between different parties. While the purpose of all these changes is to increase safety, they may mean a longer wait for a bus or a ferry, so plan your travel time accordingly.
Although Uber and Lyft continue to operate in the Disney resort area, the branded Minnie Van service is no longer available.
Dining options, tips, and tricks during the pandemic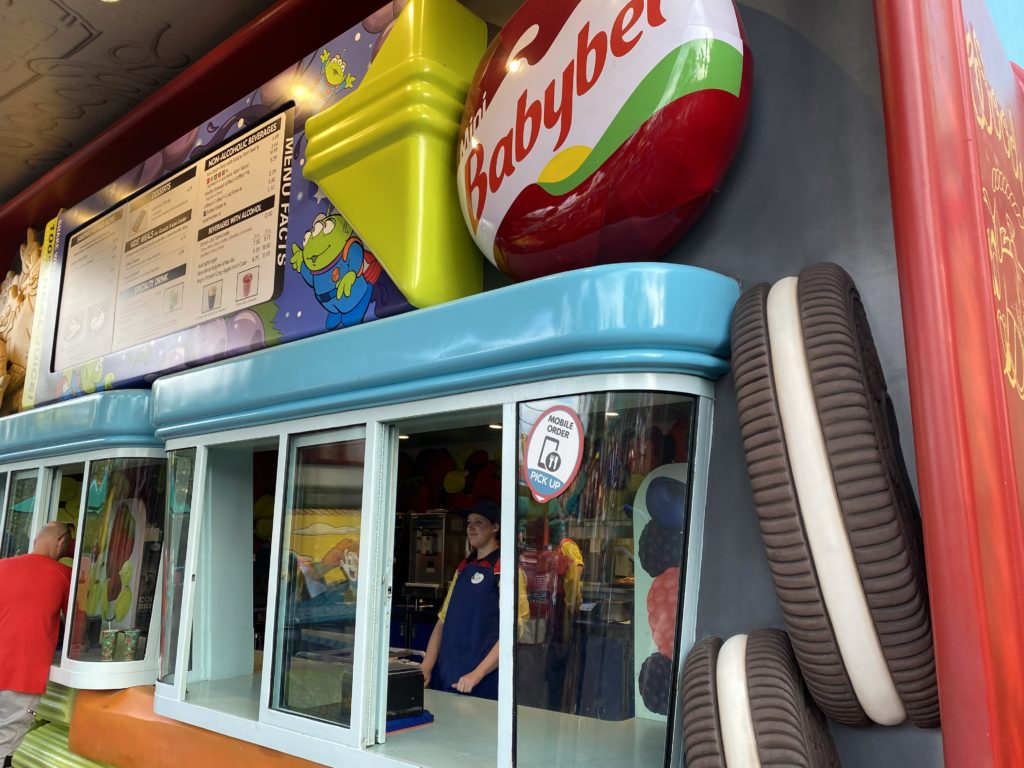 Despite the challenges of the pandemic, the restaurants and dining venues at both the Walt Disney World parks and hotels have been steadily reopening, with some operational and menu changes. For example, many of the buffet restaurants, like The Crystal Palace at Magic Kingdom, now offer a fun family-style option, where a variety of your favorite foods is delivered directly to your table to share and enjoy with your pandemic pod. However, dining plans (and Tables in Wonderland discounts) are not currently available, and capacity is limited, which may make for longer waits at some venues – but which also provides a nice buffer so that you can dine in safety.
Be prepared to use your smart phone to scan a QR code to utilize mobile menus. Contactless payment is encouraged.
To make the most of your dining experience, we offer the following tips:
Reservations may be made at table-service restaurants 60 days in advance. This is strongly recommended, as walk-in availability is very limited.
That said, some restaurants have walk-in spots that can be booked day-of via the My Disney Experience app.
Even if you have a theme-park admission and a dining reservation, you will still need a park reservation to enter the theme park – try to make dining reservations for the park you know you will be in that day.
Check out the current menus, as many have changed in the past year. Peruse the options on the Disney site to find your favorites.
Visit OpenTable to see which Disney Springs restaurants take online reservations to help cut down on your wait for a seat.
Investigate outdoor dining options, or plan to snack at the many kiosks and outdoor stands found throughout the resort – some of our top picks include outdoor seating at Capt. Cook's at Polynesian Village Resort or Flame Tree Barbecue at Animal Kingdom.
And, finally, mobile ordering is your new best friend! Download the My Disney Experience app (seriously – don't go to Disney without it) and see which of your preferred locations offers the ability (and convenience) of ordering right from your phone. Once your food's ready, you just head right over to pick it up. But be forewarned – some mobile-ordering timeslots can fill up quickly at the most popular restaurants, so we recommend checking the app and placing your order 45 minutes to an hour before you want to eat.
Character dining
Character dining continues to return with socially distanced meet-and-greets – characters may wave as they walk by your table, but they won't stop for hugs, photos, or autographs. Available locations include:
Chef Mickey's at Contemporary Resort
Garden Grill at the Land Pavilion at EPCOT
Hollywood & Vine at Hollywood Studios
Topolino's Terrace at Riviera Resort
What safety precautions are in place to prevent the spread of COVID-19 at the hotels?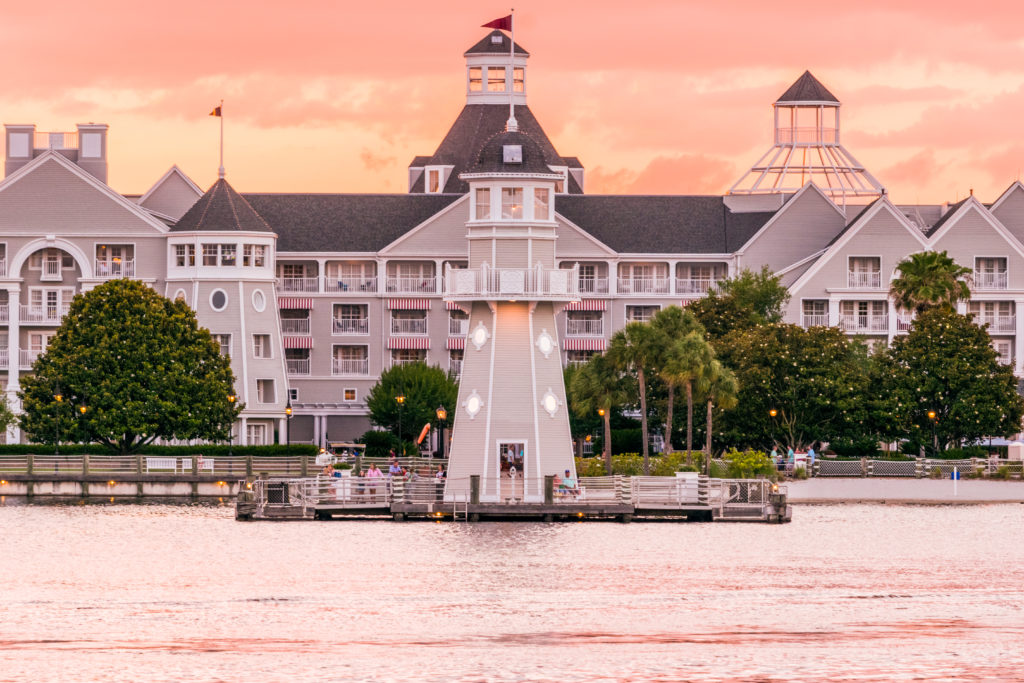 Many changes have been implemented at the hotels to put your mind at ease and let you enjoy your vacation. Disney continues to utilize and recommend contactless check-in via My Disney Experience, and other minor changes are in effect throughout the hotels for the protection of both guests and cast members. If you have any questions during your stay, you can also use Disney's app to chat virtually with an employee to resolve any issues.
When it comes to cleanliness, rooms are given a thorough scrubbing between guest stays, but room cleanings have been relegated to every other day (except for DVC guests, that is, whose rooms are cleaned on the fourth and eighth days). Patrons may opt out of room service at the time of check-in but can always call the front desk for more towels or toiletries.
Some resort experiences are limited and/or unavailable, including arcades, campfires, character experiences, spas and salons, and marina rentals. Disney has brought back some resort activity programming, particularly things that can be done outside and with socially distant rules in place, such as movie nights, dance parties, and games, so don't forget to check with the front desk if you're interested. Pools and fitness centers are open, but with capacity limitations. Dining venues at the hotels may have limited menus or shortened hours – or be closed entirely; as such, we urge all guests to check the restaurants and menus at any hotel before booking to make the best dining strategy for their families.
Which hotels are open?
Most hotels and Disney Vacation Club resorts are open and welcoming guests.
What resort services are unavailable?
Room service food delivery

Disney Floral & Gifts will deliver flowers or gift baskets to your room, but in-room celebrations are not available
Dry cleaning and valet laundry service
Bell Services will bring your luggage to your room but will not accompany guests who are checking in
Club level
Shipping services and resort airline check-in
Are Disney's special events going ahead during COVID-19?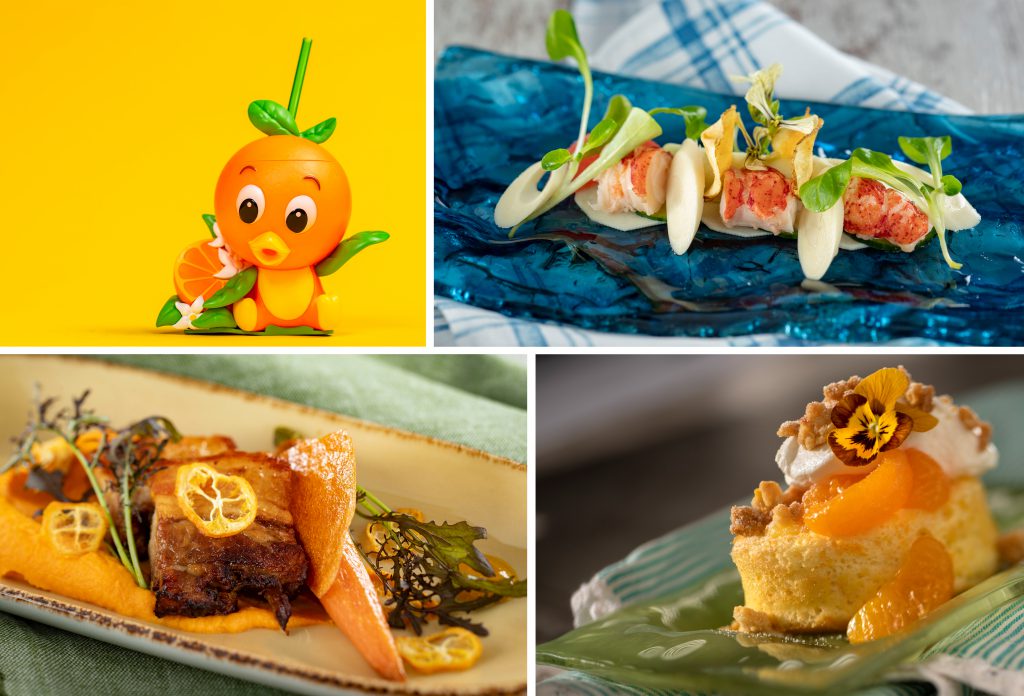 EPCOT's Festivals
The Food & Wine Festival at EPCOT ran in 2021 from July 15 through November 20, and if you are a foodie, this is the can't-miss event at Walt Disney World. With drinks and snacks from around the world, guests can take a culinary tour of Morocco, China, Japan, Germany, France, America, Norway, Mexico, Greece, Ireland, Africa, and more – without ever leaving Orlando!
EPCOT is happily hosting EPCOT's International Festival of the Arts. The Flower and Garden Festival is also scheduled to take place in spring 2022, with current COVID-19 protocols in place.
runDisney
A huge indicator that things were becoming more normalized was the return of in-person runDisney races. These events draw thousands of visitors and their families for the weekend to stay at hotels, enjoy the race expo, run the race, and then go to the parks afterwards. Their absence was sorely felt during the height of the pandemic, and their return met with enthusiasm! Read our article here for full details on these events.
Additional venues and entertainment
ESPN Wide World of Sports – closed to guests
The NBA Experience – closed to guests, closing permanently
Mini-golf at Disney – both Fantasia Gardens and Winter Summerland are open
Electrical Water Pageant on the Seven Seas Lagoon – showing nightly