Skip to: Overview | Hours | Reservations | Other restrictions | Theming | Dining plans | Menu | Fun fact
What is Oga's Cantina?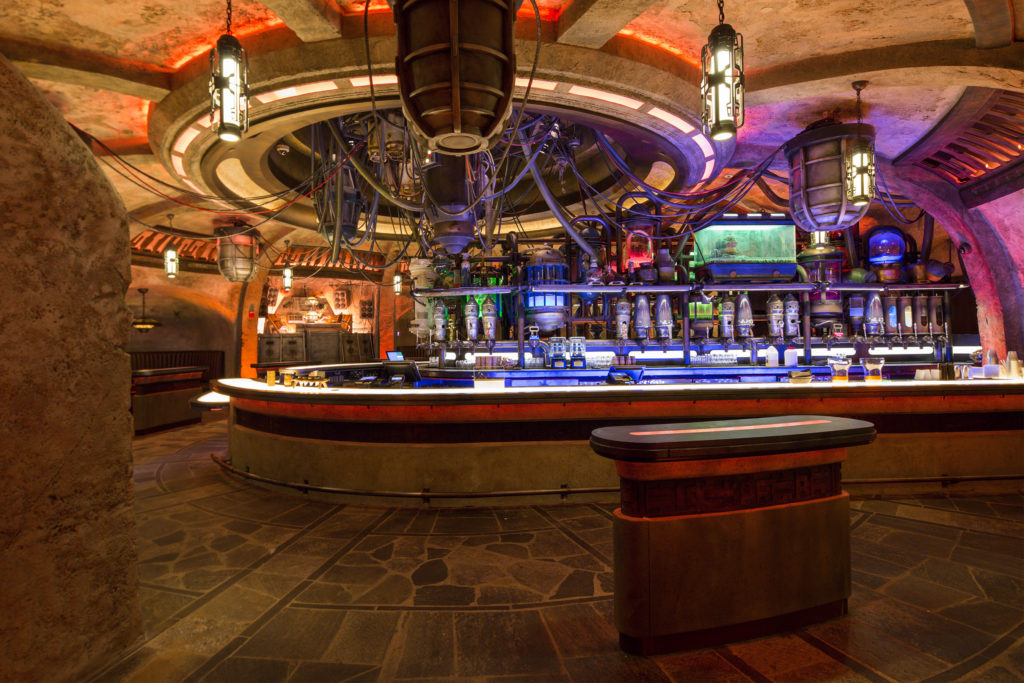 The flagship eatery of Star Wars: Galaxy's Edge is actually way more of a bar than it is an actual restaurant, focusing exclusively (at least, for the time being) on a wide and curious array of drinks. That's okay, though – what makes this a must-do stop on your Black Spire Outpost rounds is the venue's atmosphere, music, and theming, and all of these can best be appreciated with a cool drink in hand. (In fact, this is precisely what guests do – the watering hole is so routinely busy, don't be surprised if you'll require a reservation to get into the door.)
Look for Oga's in the back right corner of the theme-park land, not too far removed from the spaceport, which is where Millennium Falcon: Smuggler's Run is located.
What are Oga's Cantina's hours?
Oga's Cantina opens and closes with Disney's Hollywood Studios itself. Breakfast tends to be served until around 10:00 am; lunch, until around 4:00 pm; and dinner, until shortly before park close.
Reservations at Oga's Cantina
Reservations are routinely accepted at Oga's Cantina, given its popularity and given just how scare seating is in the bar – you can make them up to 180 days before your visit here or via the My Disney Experience app. (Just be aware that a credit card guarantee is required, meaning that if you don't show up, you will be charged a small fee [usually around $10].)
You can arrive no earlier than 15 minutes before your reservation time – look for the cast member at the end of the line into the cantina (if there is one). Just ensure that everyone in your party is present and waiting with you; you all will be admitted as soon as space opens up inside Oga's.
Other restrictions at Oga's Cantina
Please be aware that, due to the popularity of Oga's Cantina, guests will be limited to only two alcoholic drinks, and that each party is only allowed 45 minutes once inside. Furthermore, seating is extremely limited and is by no means guaranteed – and, even if you do manage to snag a booth, you may be asked to share it with other patrons (or, conversely, to have your party be broken up, should it be too large).
Theming at Oga's Cantina
If the look, name, and feel of Oga's Cantina seem familiar, that's because they're supposed to – it's a deliberate play off of the Mos Eisley cantina that Luke Skywalker walked into in Episode IV: A New Hope, making cinematic history in the process (there's even a "droid detector" stationed outside, since their kind isn't served here, either). But this is an entirely different bar on an entirely different planet, and there's plenty to see, hear, and taste here that will be brand new. Consider this the equivalent of being served a new concoction that has just a whiff of the familiar and a pinch of nostalgia.
A giant, U-shaped bar sits in the middle of the venue, with a series of intricate tubes threading their way down from the ceiling, moving behind the bar, and then branching off and forming a "bizarre array of taps that line two opposite walls of the room" (as one of the tie-in novels describes it). These handmade taps, which are forged from such salvaged items as droid arms and antique lightsaber handles, are what will dispatch one specialty drink or another for patrons (or, at least, be made to look like they do).
All around the bar, spread across three of the cantina's four walls, are nine alcoves, with eight containing a booth and the last housing Oga's audio-animatronic DJ, who should be more than a familiar face to Star Wars theme-park fans: the droid RX-24, who was originally introduced in the first version of Star Tours (as the bumbling, accident-prone pilot of the StarSpeeder 3000) before making a quick cameo appearance in the Rebels television series (as a far more successful – and sedate – transport pilot on the planet of Lothal). Disney and its storytelling partners at Lucasfilm, the production company behind the mega-franchise, have developed quite the backstory of how Captain Rex managed to make the transition from shuttle pilot to the self-styled DJ R-3X on Batuu, and while it's one that just may be released in novel or comic-book form at some point in the future, we already know most of the basics: Rex flunked out of Star Tours, found his way into the Rebellion, fought in the Battle of Jakku (the concluding war of the Galactic Civil War, a year after the original trilogy ends), got into a subsequent TIE fighter dogfight over Batuu, crashlanded there, and was recovered by Mubo (the owner of Black Spire's Droid Depot), who patched him back up in his brand-new, DJ configuration. Now, R-3X spins a three-hour playlist (comprised of exclusive songs that were created with the assistance of musicians from all over the world and that were modeled after '80s pop-synth – and at least one of which is from Figrin D'an and the Modal Nodes, the band seen in Mos Eisley's cantina), dancing as he works the controls. (And, yes, Paul Reubens, the original voiceactor, has come back to record all this new material.)
Scattered all throughout the middle of the room is a collection of small, standing-only cocktail tables, which is where the majority of the clientele will be asked to enjoy their potations – one key way in which Disney plans on keeping wait times to get into Oga's to a minimum; not being able to sit while imbibing, after all, tends to cut back on how much time one spends in a bar. (What about those eight booths located on the periphery of the dining area? As of right now, they're essentially first-come, first-serve – but Disney has reserved the right to change their usage at some point in the future or during key periods of the year.)
There have been hints that certain characters may drift in and out of the establishment while diners lounge around inside, such as roaming patrols of First Order stormtroopers, although this will more than likely have to wait until the initial crush of visitors dies down – if, indeed, this mobile meet-'n-greet option ever does come to fruition. One character who definitely won't make an appearance, however, is Oga Garra herself, the alien proprietor of the joint; beyond her general policy of not socializing with her customers, Oga also doubles as the boss of the Black Spire underworld, and her business interests keep her off-world for a good chunk of the time – and even when she is on-site, she tends to reside in her private chambers and the secret passageways that crisscross the ancient dwelling that the cantina is situated inside of. (It's no wonder, then, that most of the Black Spire locals haven't even see Oga in person.)
(Yes, Disney did, indeed, institute this behind-closed-doors backstory for Garra in order to ensure that guests didn't form hours-long lines to meet-'n-greet with her.)
Finally, be on the lookout for some interesting bits of theming scattered all over the tavern's walls, including Oga's (overly) strict code of conduct, blaster burns that were put there by none other than Anakin Skywalker himself 35 years previously, and a bulletin from the space pirate Hondo Ohnaka, who's recruiting for his brand-new smuggling operations aboard the Millennium Falcon.
Dining plans at Oga's Cantina
Dining plans are not accepted.
The menus of Oga's Cantina
Unique beverages fashioned out of exotic ingredients, crafted using otherworldly methods, and served in unique vessels – that's the name of the libation game at Oga's Cantina, and, so far, it seems like Disney has hit the nail exactly on the head. (Oga has also been known to procure unique shipments of beers, ciders, and wines, it should be added, so keep on the lookout for new offerings.)
The sheer variety of options is head-spinning in and of itself, offering a breadth and depth that is nothing short of staggering – Disney is promising a "wide range of classic and unique spirits found throughout the galaxy with a mixture of tastes and flavors to liven your taste buds." In case you thought The Wizarding World of Harry Potter – Diagon Alley's exclusive drink menu was formidable, you better sit down for this!
Menu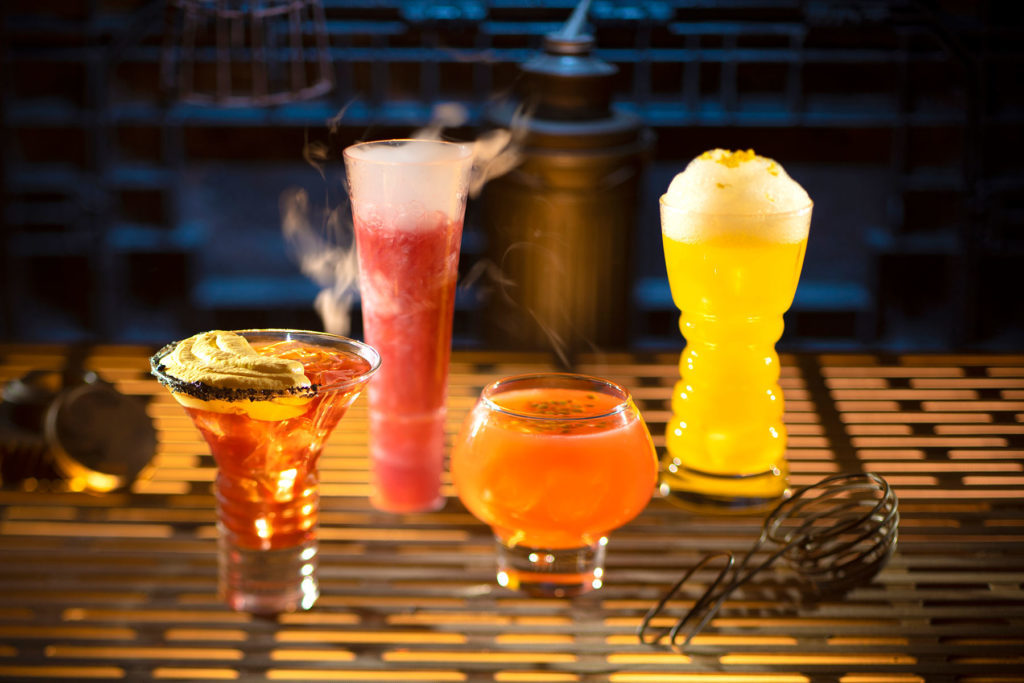 Concoctions with alcohol
Fuzzy Tauntaun – $16 – peach vodka, peach schnapps, orange juice with tangerine, pure cane sugar, and "buzzz" foam – or, in other words, a Fuzzy Navel for the Force sensitive.
Dagobah Slug Slinger – $16 – reposado tequila, blue curacao, citrus juices, ginger, herbs, and bitters.
Jedi Mind Trick – $15 – grapefruit and rose vodka, falernum, blue curacao, white grape juice, lime juice, and grapefruit bitters.
Bespin Fizz – $18 – rum, yuzu puree, pomegranate juice, white cranberry juice, and cloud swirl (a Cosmopolitan for the Star Wars set).
T-16 Skyhopper – $16 – vodka, melon liqueur, kiwi, and half and half.
Jet Juice – $15 – bourbon, chile liqueur, açaí liqueur, white grape juice, and lemon juice.
The Outer Rim – $17 – silver tequila, acai liqueur, lime juice, pure cane sugar, black slat, and exotic fruit puree.
Yub Nub & Souvenir Endor Mug– $45 – pineapple rum, spiced rum, citrus juices, and passion fruit.
Concoctions without alcohol
Hyperdrive (Punch It!) – $6 – Powerade Mountain Berry Blast, white cranberry juice, black cherry puree, and Sprite.
Jabba Juice – $6.50 – Simply Orange with pineapple, kiwi, cantaloupe, and blueberry popping pearls.
Blurrgfire – $7 – Odwalla Lemonade, pomegranate juice, and habanero lime.
Carbon Freeze – $7.50 – Powerade Lemon Lime, wild strawberry, blueberry, and green apple popping pearls.
Cliff Dweller & Souvenir Porg Mug – $35– citrus juices, coconut, hibiscus-grenadine, and Seagram's Ginger Ale.
Blue Bantha – $13 – Blue Milk served chilled with bantha-inspired vanilla-butter sugar cookie.
Black Spire Brew – $7 – Cold Brew Joffrey's Coffee, honey, falernum, passion fruit, and citrus.
Provision with alcohol
Rodian Ration – $13.50 – Tito's Handmade Vodka, Dekuyper pucker sour apple, green apple, Sprite, and boba balls with a pop.
Provision without alcohol
Oga's Obsession – $7.50 – Odwalla Lemonade, cotton candy flavor, and blueberry popping pearls with a bursting dried-fruit mixture.
Beers on tap
Gold Squadron Lager – $13.25 – (ABV 5.0%) golden lager, Blue Point Brewing Co., Patchogue.
Gamorrean Ale – $13.25 – (ABV 5.8%) red ale, New Belgium Brewing Co., Fort Collins.
White Wampa Ale – $14.25 – (ABV 4.5%) hefeweizen, Ballast Point Brewing Co., San Diego.
Bad Motivator IPA – $13.25 – (ABV 6.0%) IPA, Sierra Nevada Brewing Co., Chico.
Rancor Beer Flight – $85 – a sampling of each beer, with souvenir board
Cider on tap
Spice Runner Hard Cider – $12.25 – (ABV 5.0%) cider, Angry Orchard Cider Co., Walden.
Wine on tap
Toniray – $13 – Goldschmidt Vineyards, Sonoma.
Imperial Guard – $16 – Goldschmidt Vineyards, Sonoma.
Food
Batuu Bits – $11 – crispy-galaxy-snack bits with spiced chermoula.
Happabore Sampler– $21 – Cured and roasted meats, cheese, pork cracklings
Hot beverages
Double Espresso – $4
Cappuccino – $5
Caffe Latte – $5
Cold beverages
Orange Juice – $5
Apple Juice – $5
OI fun fact
A number of Star Wars characters have already sauntered into Oga's Cantina and have had one (mis)adventure or another there already. Learn about Anakin Skywalker, Padme Amidala, Darth Vader, and Grand Admiral Thrawn's exploits in the bar here, and then read about Hondo Ohnaka's current shenanigans here.
Do you have a question about the information on this page, would like to provide feedback, or did you spot an inaccuracy? Please let us know by posting in our
OI Community
Facebook group.