Skip to: Overview | Hours | Reservations | Theming | Mobile order | Dining plans | Menu | Fun fact #1 | Fun fact #2
What is the Milk Stand?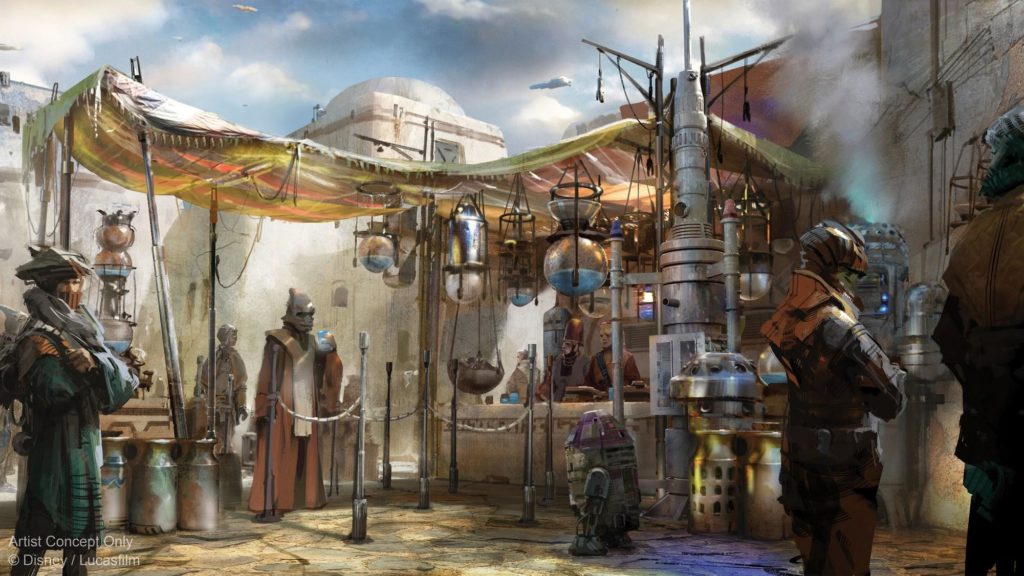 The Milk Stand is a food stall that sells one item and one item only: alien milk. This beguiling beverage has been part and parcel of Star Wars's mystique ever since the first film hit theaters in 1977, and it has since been expanded to include two different forms: Blue Milk was originally introduced in Episode IV: A New Hope, and the more recent Green Milk arrived with Episode VIII: The Last Jedi (ironically enough, Luke Skywalker was involved with both of their debuts). Naturally, Star Wars: Galaxy's Edge will feature both varieties – plus two brand-new entries, which we'll get to in just a bit.
The Milk Stand is located in Black Spire Outpost's Docking Bay 9, the First Order's base of operations on Batuu, right across from the TIE Echelon (a brand-new ship designed especially for the theme-park land).
What are the Milk Stand's hours?
The Milk Stand opens and closes with Disney's Hollywood Studios itself.
Reservations at the Milk Stand
Given the location's counter-service nature, no reservations are offered.
Theming at the Milk Stand
The Milk Stand is exactly what it sounds like – a stand that sells milk (well, "milk," as we'll shortly see). Disney has done an excellent job of dressing it up and making it every bit as themed as all the other nooks and crannies of Black Spire (such as the fact that it's festooned with blue and green bubbles), but it's nothing more or less than a standard theme-park food-and-beverage stand; don't expect the full immersive atmosphere of, say, Oga's Cantina or, even, the audio-animatronic flourishes of Ronto Roasters.
Not that we're complaining! Given all that there is to do at Galaxy's Edge, and given all the lines that tend to plague nearly every last experience, it's nice to have something short, sweet, and simple to tackle.
Mobile order at the Milk Stand
Guests are able to place an order at Docking Bay 7 Food and Cargo using the Play Disney Parks app on their smart phones (but only if they're actually in Star Wars: Galaxy's Edge – something which their phones' GPS will attest to). Once the food is ready, patrons will be able to skip the main line and head straight to the mobile order pick-up window.
Dining plans at the Milk Stand
Dining plans are not accepted.
The menu of the Milk Stand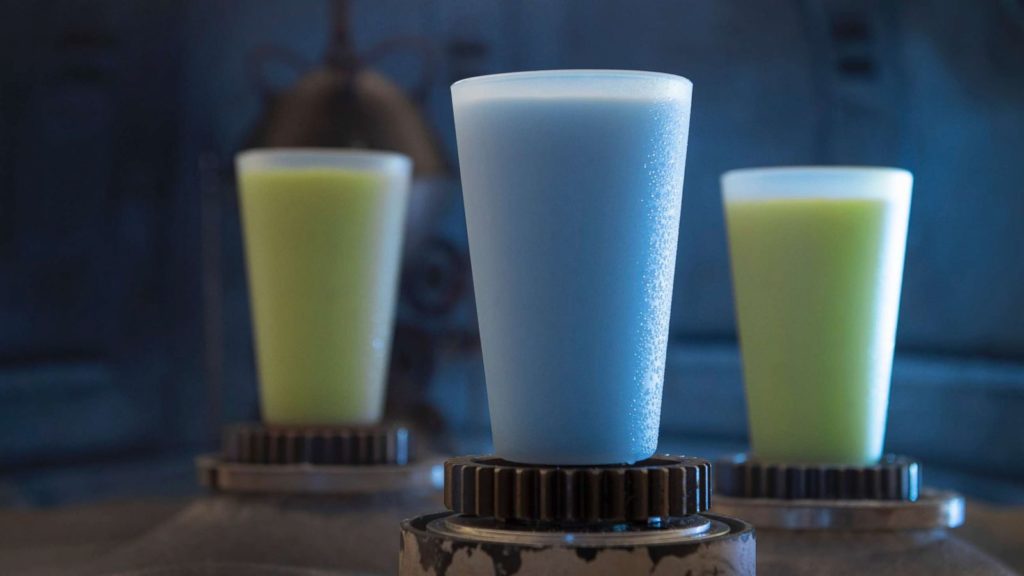 As already stated, the Milk Stand's menu consists of exactly two items: Blue and Green Milk, farm-fresh from Bubo Wamba Family Farms. It's important, however, to describe what, exactly, these alien drinks are like.
For starters, neither variety is actually milk – they're both plant-based non-dairy drinks (they're actually a blend of coconut and rice milks) and are soft-frozen, like a smoothie. Additionally, the two different colors do denote two different flavors: Blue is infused with the flavors of dragon fruit, pineapple, lime, and watermelon, while Green contains mandarin orange, passion fruit, grapefruit, and orange blossom. (Guests can also purchase the drinks in a Bubo Wamba Family Farms novelty drink vessel that lights up.)
Why make these alterations with Star Wars's signature drink, especially when there's nothing in any of the source material to suggest anything of the kind? Easy: Disney went the non-dairy route because, it said, it sincerely doubted patrons would want to walk around the land in the hot summer sun with a glass of milk in their bellies, making them feel ill. (There's also the fact that the company wanted all customers to have the opportunity to finally sample Luke Skywalker's favorite refreshments, not just the lactose-tolerant.) And mixing in the different flavors was meant to make the "milk" function much more like an exclusive, must-have, refreshing treat – not unlike Universal's Butterbeer. (When Disney's Imagineers went to Lucasfilm, the studio behind Star Wars, to get its input on what the taste should be like, the response they got was to essentially work with a blank check, filling it out however they saw fit. Berries and lemon are the result.)
Now, what about those two additional, brand-new versions of the alien milk? For starters, Walt Disney World Resort has gotten an exclusive, booze-infused version of both the Blue and Green Milks (sorry, West Coasters – you won't find it at Disneyland Resort). And then there's a deluxe, non-frozen take on Blue that even throws in a few extra treats on top, such as a sugar cookie, rice crisp, and a Bantha horn made out of frosting. Unsurprisingly, this iteration is called the Blue Bantha, and it's only available at Oga's Cantina.
Specialty beverages
Blue Milk – $7.99 – plant-based blend of coconut and rice milks with alluring fruity characteristics.
Green Milk – $7.99 – plant-based blend of coconut and rice milks with zippy citrus and tropical characteristics.
Bubo Wamba Family Farms light-up souvenir sipper – $17.49 – includes either Blue or Green Milk. Limit of one per transaction.
Alcoholic beverages
Blue Milk Cooler – $14 – plant-based blend of coconut and rice milks with alluring fruity characteristics featuring Bacardi Rum.
Green Milk Cooler – $14 – plant-based blend of coconut and rice milks with zippy citrus and tropical characteristics featuring Corazon Blanco Tequila.
OI fun fact #1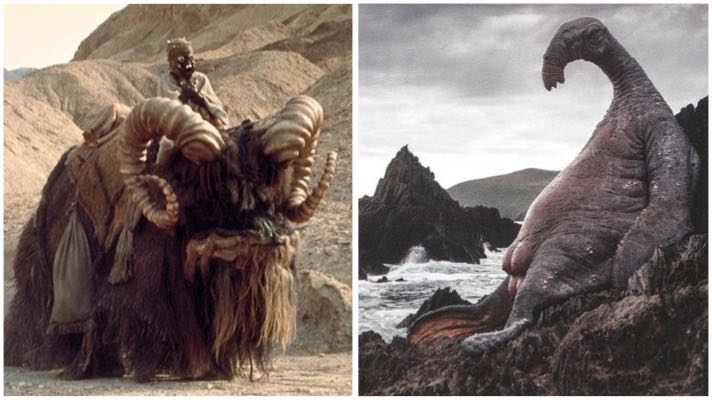 Banthas, those rugged beasts of burden that the Tusken Raiders like to employ on Anakin and Luke Skywalker's homeworld of Tatooine, are the producers of blue milk; green, meanwhile, comes from the strange thala-sirens, which reside on the planet that houses the very first Jedi Order temple, Ahch-To. These fictitious origins provide at least part of the rationale behind doing a plant-based milk for Galaxy's Edge's version of the delicacy – what might a bantha consume in order to produce the colored milk? Why, plants, of course.
OI fun fact #2
It looks like the original name Disney had given the Milk Stand was Bantha Tracks, based upon the initial wave of publicity materials that were sent out (well over a year before the official names and descriptions of everything were announced).
Do you have a question about the information on this page, would like to provide feedback, or did you spot an inaccuracy? Please let us know by posting in our
OI Community
Facebook group.