Skip to: Overview | Location | Schedule | Tickets | Wristbands | Trick-or-treating | Entertainment | Attractions | Characters | Costumes | Premium add-ons | Guest reviews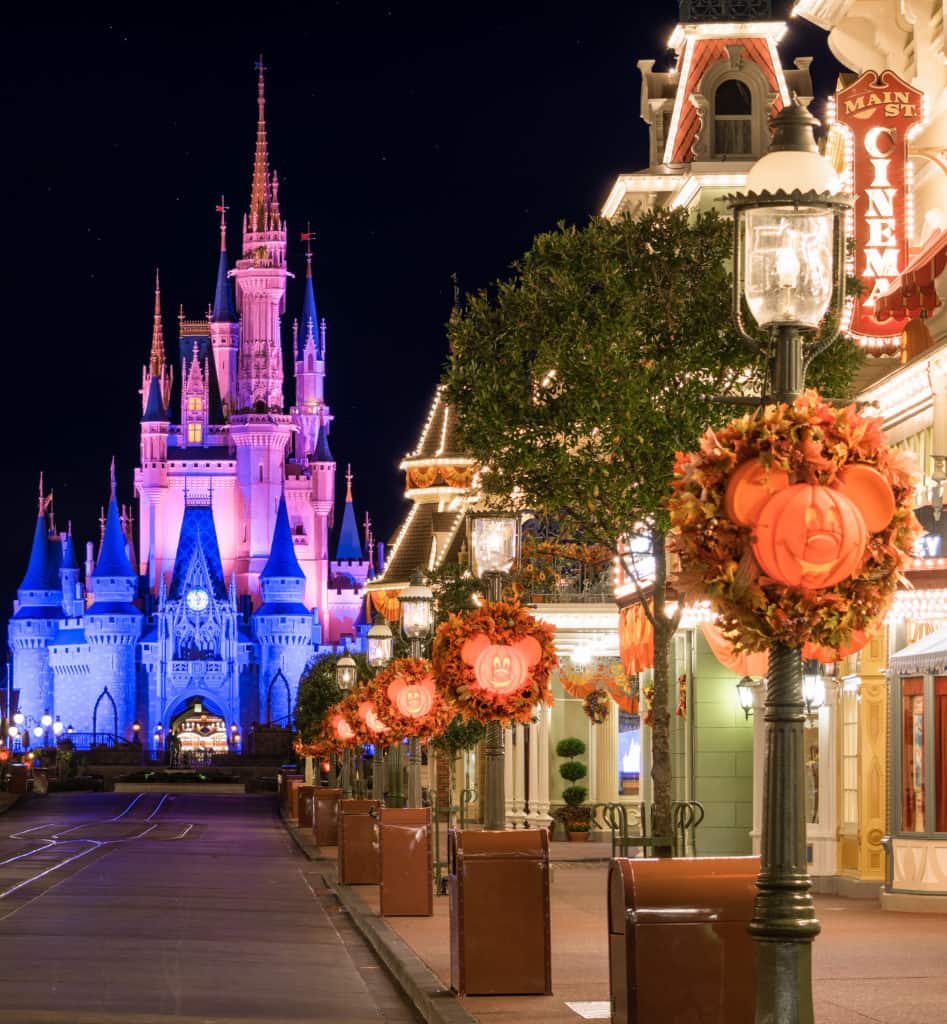 What is Mickey's Not-So-Scary Halloween Party?
Mickey's Not-So-Scary Halloween Party is a separately ticketed seasonal after-hours event at Magic Kingdom. The party includes special character meet-and-greets, trick-or-treating, and shorter-than-usual attraction wait times, plus an event-exclusive parade, stage production, and fireworks show. Since Not-So-Scary is family friendly, it's perfect for all ages hoping to celebrate Halloween (and have another occasion to wear their costumes!).
Where does Mickey's Not-So-Scary Halloween Party take place?
Throughout the entirety of Magic Kingdom.
When is Mickey's Not-So-Scary Halloween Party?
Mickey's Not-So-Scary Halloween Party began in 1995 as a one-night offering and has since spanned into an extended seasonal celebration. Nowadays, it takes place approximately four times a week between mid-August and (very) early November; the Halloween Party tends to start earlier and earlier each year but consistently closes out within the first couple days of November to make way for the Christmas festivities.
Here are the 2020 dates for Mickey's Not-So-Scary Halloween Party:
August
13, 18, 21, 25, 28
September
1, 4, 7, 11, 13, 15, 18, 20, 22, 25, 27, 29
October
1, 2, 4, 6, 8, 9, 12, 13, 15, 16, 18, 20, 22, 23, 25, 27, 29, 31
November
1
Not-So-Scary officially starts at 7:00 pm on event nights, but your ticket grants you access to Magic Kingdom as early as 4:00 pm, with the park closing to regular daytime guests at 6:00. The party take place until midnight each night.
How to buy tickets for Mickey's Not-So-Scary Halloween Party
It is important to note that Mickey's Not-So-Scary Halloween Party is a separately ticketed event, so it is not included in your standard daytime admission or park hopper passes. Some nights sell out (particularly the very first one and the week of Halloween), so we definitely recommend purchasing in advance if you're limited on date flexibility. Tickets can be purchased online and day-of at Magic Kingdom – if they don't sell out beforehand, that is.
How much do Mickey's Not-So-Scary Halloween Party tickets cost?
Pricing fluctuates depending on demand – weekend nights are typically more expensive than weekdays, and "peak" days like Halloween tend to cost more of a premium, as well. Ticket prices range between $84 and $149 for adults and from $80 and $144 for children ages 3-9. Here are the dates in order of pricing:
$85.00 adults/$80.00 children
August 18, 25
September 1, 7, 13, 15, 20
$89.00 adults/$84.00 children
August 13, 21, 28
September 4, 11, 18, 22
$95.00 adults/$90.00 children
September 25, 27, 29
$99.00 adults/$94.00 children
October 1
$109.00 adults/$104.00 children
October 2, 4, 6, 8
$115.00 adults/$110.00 children
October 12, 13, 15, 18, 20, 22
$119.00 adults/$114.00 children
October 9
$125.00 adults/$120.00 children
October 16, 23, 27, 29
November 1
$149.00 adults/$144.00 children
October 31
How do the Mickey's Not-So-Scary Halloween Party wristbands work?
Upon entering Magic Kingdom, you will scan your party ticket for verification (just as you would with normal daytime passes), and a cast member will provide you a wristband in exchange. (If you're already in the park, there are also stations in Tomorrowland, Adventureland, and Fantasyland where you can pick yours up.) While the theme park is clearing of daytime guests and transitioning into Halloween mode, employees will be at all major breaking points in Magic Kingdom, checking wristbands and directing those without them out of the park.
Once you've received your wristband and have entered the proceedings, you will be directed towards Market Street, between Tony's Town Square Restaurant and La Chapeau. This typically-hidden-away back street is where the trick-or-treating fun begins – there are some themed statues of classic characters in costume, photo-ops with props, merchandise carts, and, of course, your first helping of candy.
Speaking of which…
Trick-or-treating at Mickey's Not-So-Scary Halloween Party
Whether a kid or adult, you're free to engage in real-deal trick-or-treating at Mickey's Not-So-Scary Halloween Party. Small, complementary plastic bags are given, but we recommend bringing some sturdier bags of your own for maximum candy storage.
There are usually between 10 and 15 stations located throughout the park, situated within shops, restaurants, and attractions. The candy assortment is similar to what you'd find in real-life trick-or-treating: M&Ms, Twix, Skittles, Starburst, Snickers, and much, much more.
Limited by allergy? No sweat – simply request an allergen-friendly bag so cast members know to get you a different option.
What special entertainment does Mickey's Not-So-Scary Halloween Party offer?
Boo to You Halloween Parade
Because it's been a while since a nighttime parade roamed the streets of Magic Kingdom, Boo to You is that much more beloved. The Halloween procession is overflowing with "rare" characters and impressive floats, the most popular being the Haunted Mansion gravediggers. The only thing better than the catchy song is the variety of villains you'll see along the way.
There are typically two showings of the parade per event night.
Disney's Not-So-Spooky Spectacular
Recently replacing its predecessor, HalloWishes, Disney's Not-So-Spooky Spectacular is the event-exclusive, Halloween-themed fireworks show that makes Magic Kingdom aglow. Lasers, fireworks, and villains take charge of Cinderella Castle for a mind-blowing seasonal spectacle.
Not-So-Spooky Spectacular takes place once nightly.
Hocus Pocus Villain Spelltacular
The Hocus Pocus Villain Spelltacular is a huge fan favorite. The Sanderson sisters take stage and join forces (or face off) with tons of Disney villains – in the form of song and dance, of course. It's truly a high-energy show and, basically, a Not-So-Scary cult classic at this point.
You can catch the Spelltacular three different times per event night.
Cadaver Dans Barbershop Quartet
If you're familiar with Main Street's traditional Dapper Dans, you'll love the Cadaver Dans singing through Frontierland during the Halloween parties. Their "dead pan" humor and seasonal tunes will be sure to entertain.
Monstrous Scream-o-ween Ball
Mike and Sulley, from the Monsters, Inc. series, take over Rockettower Plaza Stage in Tomorrowland for a fun dance party.
Storybook Circus Disney Junior Jam
Over in Storybook Circus, you'll find an entire dance party dedicated to the little ones. Doc McStuffins, Fancy Nancy, Vampirina, Timon, and other Disney Junior faves invite you to move and groove with a live DJ.
Disney DescenDance Party
Dance the night away in Cosmic Ray's Starlight Cafe alongside your favorite villain kids from The Descendants.
What attractions are open during Mickey's Not-So-Scary Halloween Party?
These are subject to change on a night-to-night basis but are typically consistent throughout the run of Mickey's Not-So-Scary Halloween Party. In the past, some attractions have even had special, seasonal overlays! Mad Tea Party lights up with dancing lights, live pirate actors are along for the ride on Pirates of the Caribbean, and a special rendition of Space Mountain gets spooky for the event.
Main Street, USA
Sorcerers of the Magic Kingdom
Tomorrowland
Astro Orbiter
Buzz Lightyear's Space Ranger Spin
Monsters, Inc. Laugh Floor
Space Mountain
Tomorrowland Speedway
Tomorrowland Transit Authority PeopleMover
Liberty Square
Haunted Mansion
Fantasyland
Prince Charming Regal Carrousel
It's a Small World
Peter Pan's Flight
The Many Adventures of Winnie the Pooh
Mad Tea Party
Under the Sea – Journey of the Little Mermaid
Seven Dwarfs Mine Train
Storybook Circus
Dumbo the Flying Elephant
The Barnstormer
Adventureland
The Magic Carpets of Aladdin
Pirates of the Caribbean
Swiss Family Treehouse
Frontierland
Big Thunder Mountain Railroad
Splash Mountain
What characters can you meet during Mickey's Not-So-Scary Halloween Party?
Just as with the rides, these are also subject to change from night to night, but – once again – they usually are rather consistent throughout the season.
Main Street, USA
Mickey Mouse
Jack Skellington and Sally
Tomorrowland
Stitch
Lotso Huggin' Bear
Fantasyland
Elena and Cinderella
Tiana and Rapunzel
Belle and Gaston
Ariel and Eric
Seven Dwarfs
Pooh, Piglet, Tigger, and Eeyore
Alice, Mad Hatter, Queen of Hearts, and Tweedledee and Tweedledum
Anastasia and Drizella
Cruella de Vil
Storybook Circus
Minnie Mouse
Donald and Daisy Duck
Goofy
Adventureland
Moana
Jafar
Captain Jack Sparrow
Tarzane, Jane, and Terk
Genie and Jasmine (alternating with Aladdin and Abu)
What costumes are allowed at Mickey's Not-So-Scary Halloween Party?
What's a Halloween party without costumes? Yes, guests of all ages are free to dress in their make-believe best at Mickey's Not-So-Scary Halloween Party – and we recommend following guidelines to make sure you have the best time possible. Here are a couple of general rules to keep in mind:
Disney can refuse entry – or remove – any guest wearing inappropriate, obstructive, offensive, or violent costumes. Costumes must be family-friendly and not interfere with other visitors' experiences.
Costumes may not include any weapons or anything resembling an actual weapon – no sharp objects, pointed accessories, or materials that could accidentally (or purposefully) hit or harm anyone else.
Attendees may dress as their favorite character, but they can't imply that they're an official meet-and-greet character. That means no posing for pictures or signing autographs for other visitors.
Guests aged 13 and under are permitted to wear masks, as long as their eyes are visible and the mask doesn't cover the entire face. Here are a few additional rules for those who are 14-years-old and up:
Costumes may not reach or drag on the ground. That means no full-length princess gowns, but capes that are waist-up are acceptable.
Layered attire or costumes surrounding the whole body are strongly discouraged. (Heads up – if you dare be so bold, additional security screening is likely.)
Acceptable accessories include transparent wings, plastic lightsabers, toy swords, and tutus. Headwear may be worn as long as it does not cover the face. (Note: no masks.)
Themed tops and hats are acceptable – and an easy way to get in the spirit.
Keep in mind that these rules can change without notice. To avoid any stress of being stopped at security, we really recommend playing it safe with your costume (alternatively, at least make sure your costume is easily modifiable, if needed). You also don't want an uncomfortable costume getting in the way of your attraction-riding, character-meeting fun! It's always worth checking the weather ahead of your party date, too – weather between August and November can vary from unbearably hot to fairly chilly.
(Bonus tip: keep in mind when planning your costume that your party wristband will need to be visible at all times.)
What upgrades are available for Mickey's Not-So-Scary Halloween Party?
Disney's Not-So-Spooky Spectacular Dessert Party
Fruit, cheese, cupcakes, ice cream, and other snacks are at your disposable thanks to a bewitching buffet at Tomorrowland Terrace before being led to Plaza Garden for prime viewing of the fireworks show. Beer and wine are also available for participants that are aged 21 and up.
This upgrade costs $99 for adults (ages 10 and up) and $59 for children (ages three to nine).
Cruella's Halloween Hide-a-Way
A frightfully delicious feast is available for your enjoyment at Tony's Town Square Restaurant. For $99 per person, dig into unlimited hors d'oeuvres and desserts alongside Cruella de Vil – plus, enjoy special viewing for the Boo to You Parade.
Table-service dining
If you're interested in more substantial food beyond the free trick-or-treat candy and quick-service options available for purchase, Be Our Guest Restaurant, Cinderella's Royal Table, Crystal Palace, and The Plaza Restaurant are all open for sit-down dining.
Real guest reviews of Mickey's Not-So-Scary Halloween Party
Orlando Informer
Average rating:
0 reviews