Skip to: Overview | Theming | Merchandise | Prices | Fun fact
Location
Star Wars: Galaxy's Edge
Two-sentence insider summary
Join the First Order and bring structure to the galaxy! Purchase your dark-side recruitment gear and neo-Imperial supplies at this standard-issue gift shop inside Star Wars: Galaxy's Edge.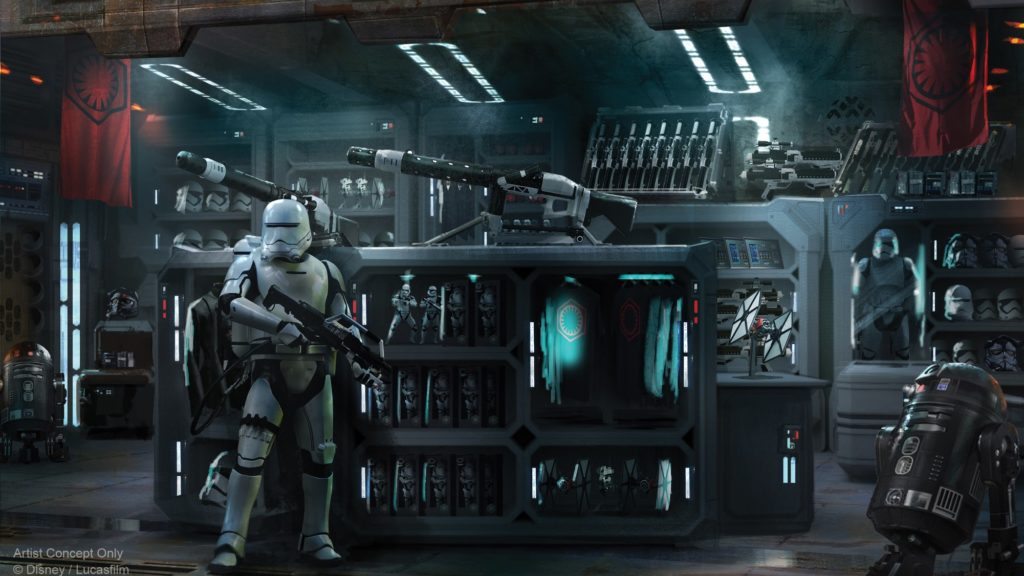 What is First Order Cargo's theming?
Set up in Docking Bay 9, where the designed-exclusively-for-Galaxy's-Edge TIE Echelon is parked and where the First Order's temporary base of operations in Black Spire Outpost has been erected, First Order Cargo (along with its light-side counterpart, Resistance Supply) is the most traditional retail space in all of the theme-park land. But despite its straightforward nature, small(er) size, and just-constructed premise, the store still sports the detailed touch that Disney has applied all throughout Batuu, including the streaming First Order banners hanging from the ceiling of this converted spaceport hangar (and the still-in-their-crates merchandise).
What's for sale in First Order Cargo?
Essentially an apparel store, First Order Cargo wants you, the newest recruit for the supreme leader, to look your (regulation) best as you attempt to win the hearts and minds of the Black Spire locals. As such, expect to find lots of clothing and other costume items, such as t-shirts, helmets, armor, uniforms, flags, and arm bands that display various ranks on them.
But there are other dark side-affiliated items here, as well, including mugs, water bottles, throw blankets, handcuffs, propaganda-style posters, and, even, toys (which consist of action figures of the various First Order heavies and models of the fascistic regime's ships).
How much does First Order Cargo cost?
Items at First Order Cargo primarily fall into the standard range of theme park merchandise. Smaller trinkets will, of course, be less expensive than the costume items. But you will be able to find both and everything in between, here!
OI fun fact
The "handmade" look of First Order Cargo's apparel was created with the help of Lucasfilm's wardrobe archives, which were scanned by Disney in order to make Star Wars: Galaxy's Edge's merchandise look as authentic as possible.
Do you have a question about the information on this page, would like to provide feedback, or did you spot an inaccuracy? Please let us know by posting in our
OI Community
Facebook group.