Skip to: Overview | Location | Schedule | Tickets | Performing arts highlights | Visual arts highlights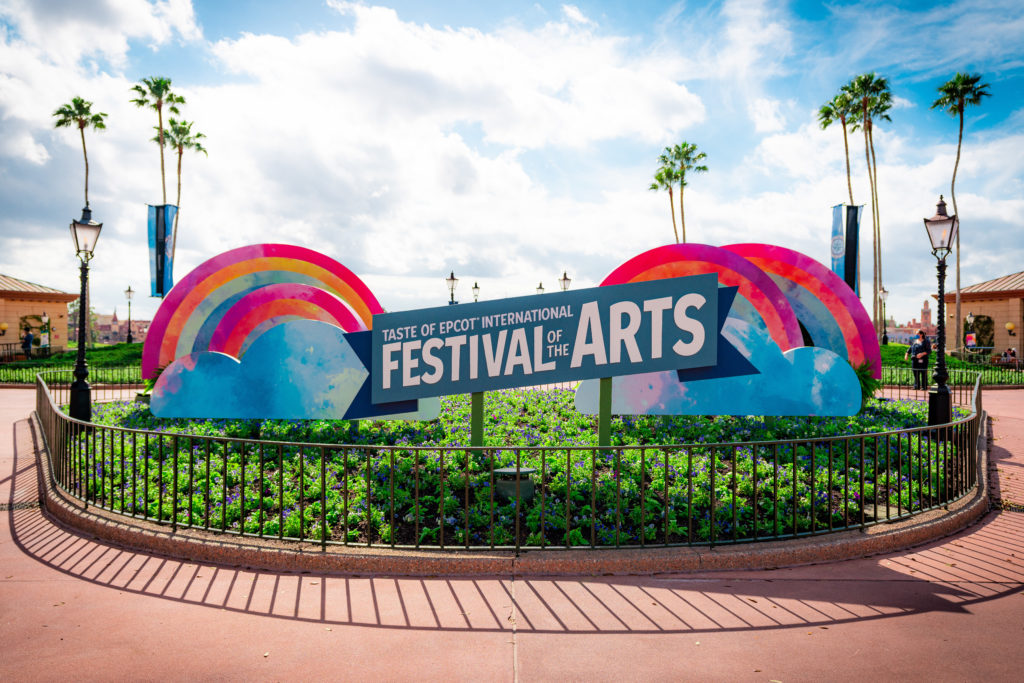 What is the Taste of EPCOT International Festival of the Arts?
The Taste of EPCOT International Festival of the Arts is a seasonal celebration of art, music, performance, and food. Guests can participate in workshops, chat with artists, watch musical performances, explore merchandise and art galleries, pose in photo ops, view exhibits, and partake in eclectic and artistic cuisine.
Where does the Taste of EPCOT International Festival of the Arts take place?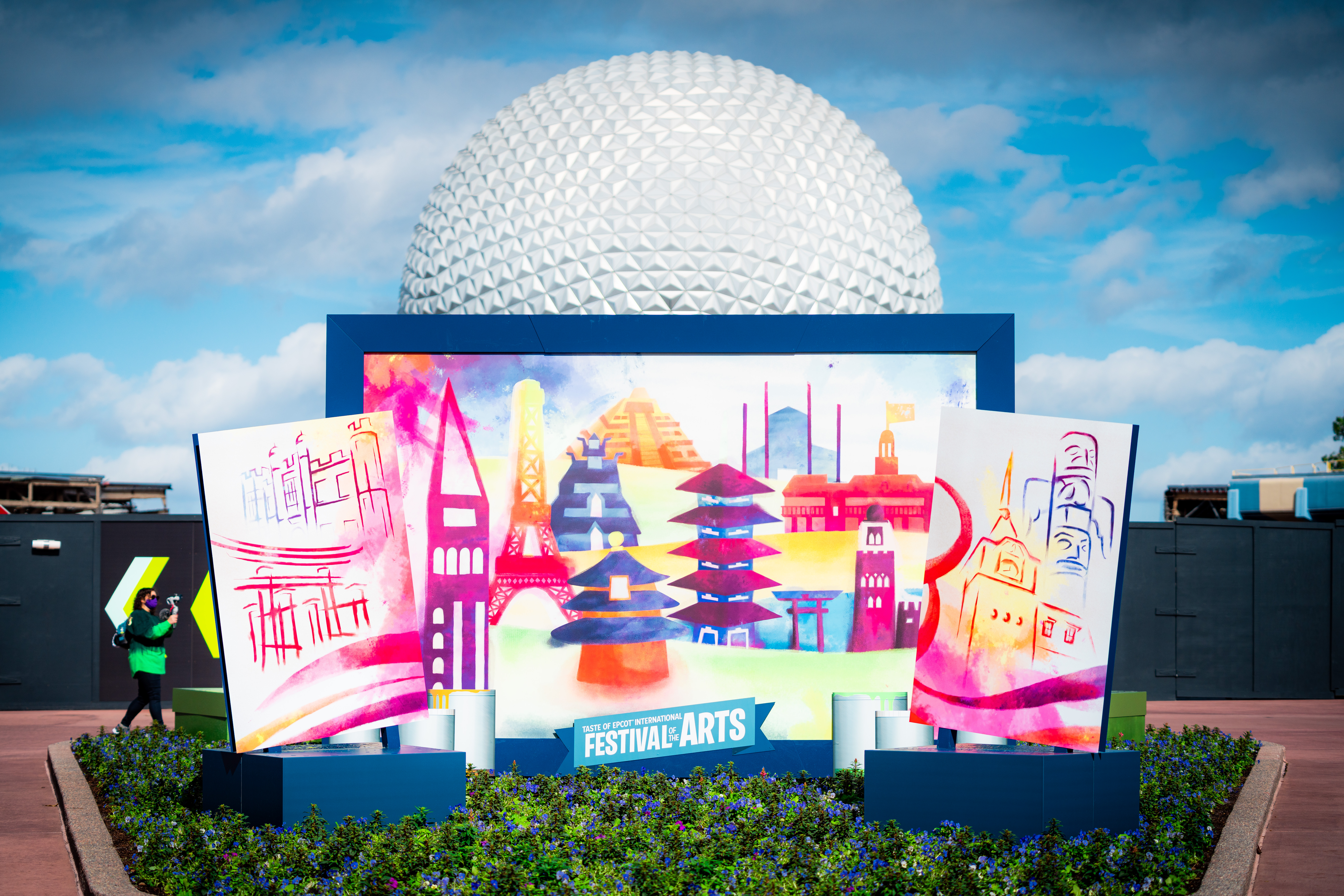 Primarily around World Showcase, with a few activities located in Future World.
When is the Taste of EPCOT International Festival of the Arts?
The festival runs from January 14 through February 21, 2022.
How do I purchase tickets for the Taste of EPCOT International Festival of the Arts?
Your normal theme-park ticket to EPCOT gives you access to the majority of the activities at the International Festival of the Arts. Food and drink require a separate purchase. Additionally, you must have a Disney Park Pass reservation for the day you plan to visit.
Performing arts highlights of the Taste of EPCOT International Festival of the Arts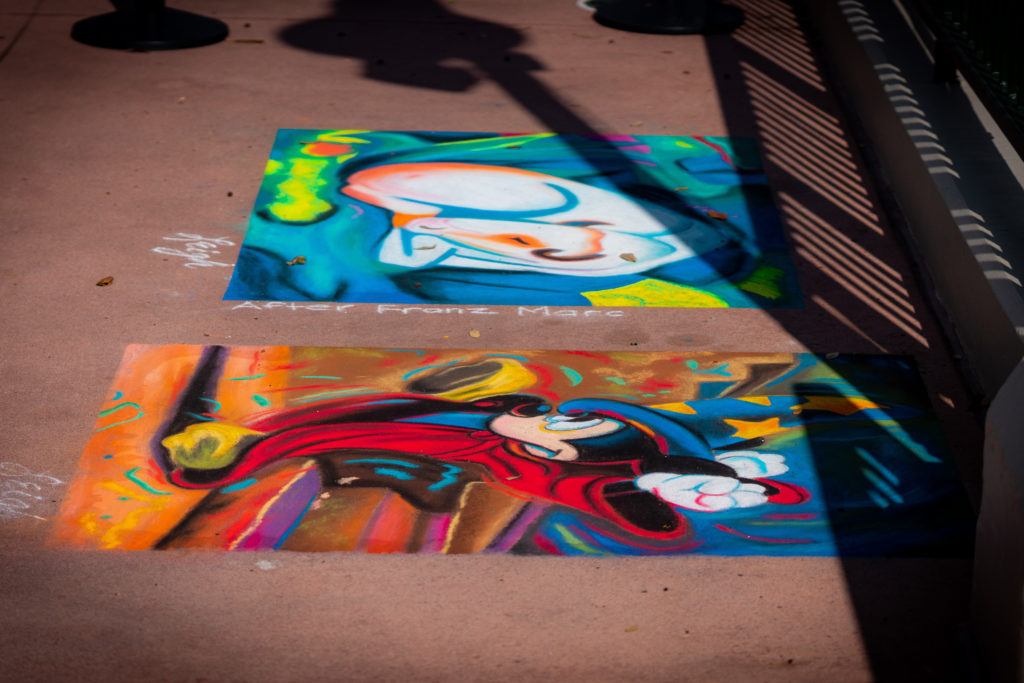 Fill your eyes and ears with these impressive and artistic displays of these international acts, found all around Future World and World Showcase. Check your EPCOT guidebook for times and dates.
Voices of Liberty: The Disney Songbook – the a capella aficionados perform Disney favorites (America Gardens Theater).
Art Defying Gravity – gymnasts and acrobats take to the sky in an imaginative aerial performance (World Showplace).
EPCOT Pianist – entertainers perform some of your favorite show tunes on a beautiful piano (World Showplace).
JAMMitors – part custodians, part performers, these creative percussionists are EPCOT favorites (Mill Stage, Canada Pavilion).
Visual Art in Performance – painting and performance art collide as a guest visual artist paints your favorite Disney characters in a fast-paced and fun show (World Showplace).
Chalk Art – marvel at the work of imaginative chalk artists, then get involved in making your own masterpiece (Future World East).
Visual arts highlights of the Taste of EPCOT International Festival of the Arts
With exhibitions, demonstrations, and design-your-own merchandise stations, you can watch or participate in visual artistry every day at the annual event.
Interactive experiences and activities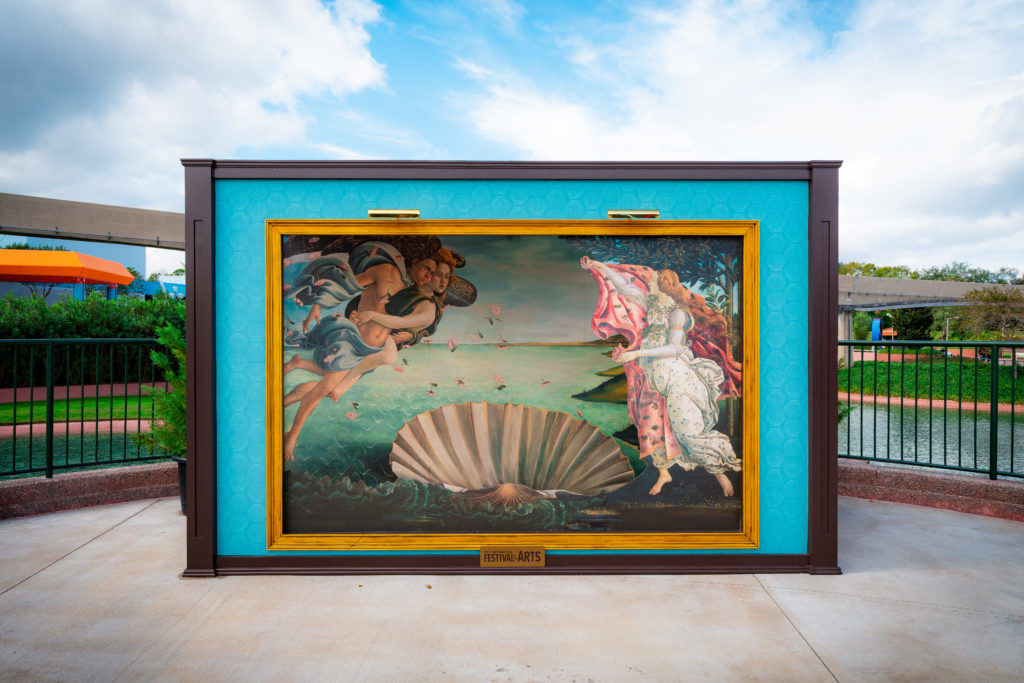 Animation Academy – channel your inner animator as an animation artist guides you step-by-step on how to draw Disney character classics (America Gardens Theater).
Artful Photo Ops – strike a pose in any number of famous paintings. Smile next to Mona Lisa, let your scream out in The Scream, and sail away in Washington Crossing the Delaware (World Showcase).
Chalk Full of Character – search for colorful chalk drawings of your favorite Disney characters (World Showcase).
Enemy Ink – create your own custom (and wearable) masterpiece. Choose the color, design, and style, and watch it come to life with live, on-site, custom t-shirt printing (World Showcase).
Expression Section: A Paint-by-Number Mural – get your paint on as you take part in a larger-than-life paint-by-number experience (Future World).
Kidcot Fun Stops – your little Rembrant can paint his own masterpieces at these fun stations (World Showcase).
Figment's Brush with the Masters Scavenger Hunt – the loveable EPCOT mascot is hiding inside works of art. Purchase a map and stickers inside the park and search for the Figment-themed picture frame. Once you're done, return your map for a surprise (World Showcase).
Exhibits
Visit these World Showcase exhibits to get a taste of cultural artistic expressions:
Art of Disney – American Adventure Pavilion
Mexico Folk Art Gallery – Mexico Pavilion
Stave Church Gallery – Norway Pavilion
House of the Whispering Willows – China Pavilion
Bijutsu-kan Gallery – Japan
Creating Tradition: Innovation and Change in American Indian Art – American Adventure Pavilion
Race Against the Sun: Ancient Technique to Modern Competition – Morocco Pavilion
Tale as Old As Time: French Storytelling on Stage and Screen – France Pavillion
Merchandise and artist galleries
Art of Disney – visit this outstanding art gallery for art prints, original artwork from featured Disney artists, and International Festival of the Arts merchandise (American Adventure Pavilion).
Festival Marketplace – chat with visiting artists from around the world as they create Disney artwork right before your eyes (located throughout Future World and World Showcase).
Disney Art Festival Market – meet visiting Disney artists from Walt Disney Imagineering and Yellow Shoes Creative Group and see their Disney-inspired works of art. Learn more about the process and get your art personalized! (Throughout Future World and World Showcase)
Festival Merchandise – browse exclusive Festival of the Arts merchandise to commemorate your visit. You'll find pins, tees, spirit jerseys, and masks featuring the event logo (Mouse Gear and locations around Future World and World Showcase).
Visiting artists and studios
Explore the unique artistry of these visiting art studios and vendors, who are situated throughout Future World and World Showcase):
Wyland Galleries
Marvel Fine Art by Choice Collectibles
POP Gallery
ACME Archives
James Coleman Studios
WonderGround Gallery
Thomas Kinkade Studios
Disney Fine Art by Collectors Editions
What are the culinary arts choices at the Taste of EPCOT International Festival of the Arts?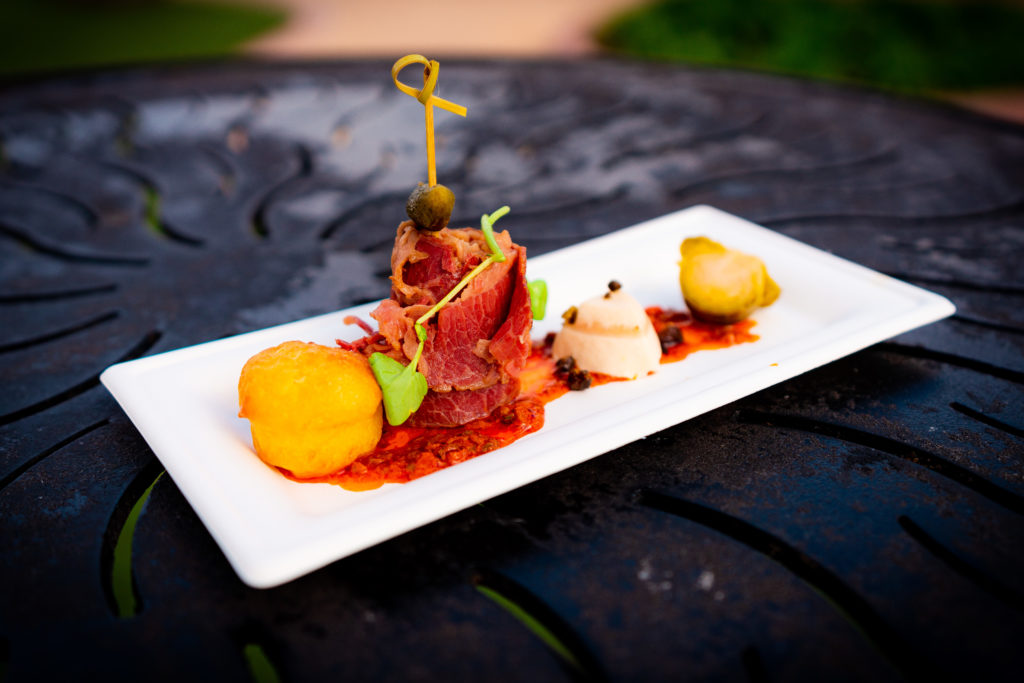 Chefs wow us with creative cuisine. Here's a rundown of the special kitchens that will dazzle your senses at this year's festival. (Note that availability may be limited and items may change without notice.)
The Artist's Table – savory plates prepared using oven and stovetop techniques are the specialty here. Enjoy beef wellington while enjoying sipping a chocolate flight (The American Adventure).
Citrus Blossom – bright fruit flavors blossom at this station. The signature delight is the orange cream shake in a souvenir Orange Bird sipper cup (Showcase Plaza).
Cuisine Classique – feast your eyes and taste buds on traditional Old World delights. Imbibe a rosé flight as you enjoy chicken roulade (Germany).
Decadent Delights – treat your sweet tooth to the Wonderful Walk of Color Cuisine redemption cookie or fruit-flavored soft serve (Promenade Refreshment).
The Deconstructed Dish – a deconstructed (that is to say, ingredients served as individual elements) strawberry cheesecake or BLT can be found here. The adult deconstructed breakfast beverages feature bourbon, tea, waffle crisp, and candied bacon (Showcase Plaza).
El Arista Hambrienio – sail down a menu of Mexican-inspired cuisine. Chile relleno, pork belly pastor, and taco de chocolate await you (Mexico).
Festival Favorites – feast on the guest favorites Remy's Ratatouille or Lemon Blood-orange Tart. And then wash your food down with creative craft brews or a Cold-fashioned Coffee Cocktail (World Showplace).
Goshiki – say konnichiwa to creative Japanese flavors. Enjoy vegetable gyoza or the sushi donut – donut-shaped sushi that features salmon, tuna, shrimp, cucumber, and sesame seed on a plate (Japan).
L'Art de la Cuisine Francaise – from Trio de Macarons to Créme de Brie en Petit Pain (think cheese in a bread bowl), these treats from France are magnifique (France).
L'Arte di Mangiare – with everything from prosecco to chianti flowing into your glass, this taste of Italy also serves imaginative bites (Italy).
Masterpiece Kitchen – dine on fantastic food fusions, such as wild mushroom risotto or a classic sidecar with a chocolate twist (Canada).
Mosaic Canteen – big on bold flavors? Dive into harissa-roasted rack of lamb or mouskoutchou (Morocco).
The Painted Panda – the flavors of China spring up in dishes like old Shanghai shi si tou and "panda" bubble tea, loaded with black and white boba pearl (China).
Painter's Palate – blast your senses with pistachio cake or salt-roasted beer tartare (World Showplace).
Pop Eats – pop in for modern art-inspired eats: tomato soup with grilled cheese (an Andy Warhol homage) and the pop't art, a sugar cookie with strawberry filling (Showcase Plaza).
Vibrante & Vívido – perfectly plated Latin dishes, such as chilled seafood cocktail or passion fruit mousse, satisfy your sweet or savory urges (between Morocco and France).
Do you have a question about the information on this page, would like to provide feedback, or did you spot an inaccuracy? Please let us know by posting in our
Orlando Informer Community
on Facebook.