Skip to: Overview | Who is Mubo? | How old do I have to be? | Reservations | Before you enter | What droids can you build? | How to build your droid | The theming | After you depart | What can your droid do? | Any other merch? | The cost | Fun fact
Location
Star Wars: Galaxy's Edge
Two-sentence insider summary
Not unlike Savi's Workshop – Handbuilt Lightsabers, the Droid Depot allows guests to build an astromech droid from scratch to their personal specifications, including down to its basic personality. The experience unfolds in a highly-themed environment that even has audio-animatronic droids moving around in the background!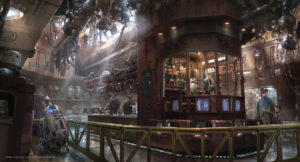 Who is Mubo?
Mubo is the Utai proprietor of Droid Depot (the Utai being the short, stubby aliens introduced in Episode III: Revenge of the Sith). He's highly eccentric but a pure genius when it comes to anything mechanical – particularly droids, of course.
How old do I have to be to build a droid at Droid Depot?
Disney recommends that builders be at least three years of age, but please note that one member of their parties must be 14.
Reservations at Droid Depot
Reservations are routinely accepted at Droid Depot, given its popularity – you can make them up to 180 days before your visit here or via the My Disney Experience app. (Just be aware that a credit card guarantee is required, meaning that if you don't cancel at least one day prior to your appointment, you will be charged the full $99.99 "builder fee" per person in your party.)
You can arrive no earlier than 15 minutes before your reservation time at the check-in location in front of Mubo's Droid Depot. Just ensure that everyone in your party is present and waiting with you.
Before you enter Droid Depot
First things first: each builder is allowed to bring only one family member or friend along to take photos and otherwise admire the handiwork of his robotic wizardry.
The facade of Droid Depot includes four audio-animatronic droids lined up in a fashion that's not too dissimilar from how the Jawas arrayed their robots for Owen Lars and Luke Skywalker in Episode IV: A New Hope – the universal sign of droids being up for sale. Although these are, in reality, set dressing as opposed to movable merchandise, guests are still able to interact with them as they beep, squawk, and swivel, making for a great photo-op.
Think of this as the perfect scene-setter for the experience that is about to unfold inside for you (and your guest).
What kind of droids can you build at the Droid Depot?
The little robotic buddy you'll set out to create will always be an astromech droid, but you get to decide which of two specific sub-models it is: an older R series (which is what R2-D2 is) or the newer BB unit (BB-8). Either way, the finished product will be small (roughly the size of a coffee machine) and will be remote controlled. (Please note: you are not allowed to remote-control your droid on the streets of Galaxy's Edge – you will be forced to keep your new sidekick safely in his "carry box" or the optional, premium backpack, where he will still make noises and be able to interact with everything around him.)
How do you make your own droid?
In order to construct your new mechanical counterpart, you'll first start by telling the clerk which of the two units you want to build when paying for the experience. She'll then hand you a basket to store all of your droid parts that has a blueprint printed on its bottom, making everything nice and easy to follow along with.
From here, you proceed to the Parts Station, where you'll pick out the parts you want to use by snatching them off of a big conveyor belt that runs against the back wall of the shop. There are four different types you'll need, and they differ depending upon which robot series you've selected:
R series
Dome
Body
Center leg
Set of side legs
BB series
Dome
Dome connection plate
Body sphere
Motivator
Once you have everything you need, the next stop is the Build Station, where the actual assembly will happen, using simple placemat instructions or graphic monitor displays and your trusty mechanical screwdriver. Once complete, you'll be asked to press a button, which starts the activation process – your droid is paired with a remote control and brought to life while lights blink and his little domed head swivels around.
After the basic process is completed, you'll have the opportunity to purchase additional, optional items to further customize your new trusty companion (although, to be honest, you'll probably want to pick these up before you start your build process – if you know what you want, that is – so that you can put everything together all at once, at the Build Station). These consist of a whole host of different items, ranging from decals and, even, a drink tray (like what R2-D2 brandishes in Episode VI: Return of the Jedi) to a backpack to carry your new ally around in, but perhaps the most notable of these add-ons is the "personality-affiliation chips": choose from the Resistance, First Order, and Smuggler (two different colors each for a total of six different options) to change the vocalizations of your droid and to have him react differently in different parts of Galaxy's Edge – a First Order chip-equipped robot, for example, will make happy sounds in Docking Bay 9, where the neo-Imperials have set up shop, and nervous ones when in the ruins, where General Leia Organa's militia has hidden out.
Unlike with Savi's Workshop, there is no time limit, so guests are welcome to play and experiment as much as they'd like.
What is Droid Depot's theming?
Again much like Savi's Workshop – Handbuilt Lightsabers, the interior of Droid Depot is beautifully themed, including broken-down droids in various states of disrepair that line the walls and, even, pieces of protocol droids that are suspended from the ceiling on moving conveyor hooks.
Speaking of motion, the biggest draw will undoubtedly be the various full-size audio-animatronic robots that populate the entire space, including a mechanical representation from nearly every single one of the Star Wars films. But, we wager, most guests will be captivated by BB-8, R2-D2, and, even, R5-D4 (the astromech with the faulty motivator that Uncle Own almost purchased instead of R2 in A New Hope), who are given prominent positions from which to watch over you as you create another of their kind right in front of their optical sensors.
After you depart
You leave via the back door, apparently, where another little vignette is waiting to play out for you: in a small courtyard filled with stacks of discarded robot components, an oil bath – the holy grail of droids all over the galaxy – is being enjoyed by two more audio-animatronic droids. There just may be interactive opportunity contained here for both you and your newly-constructed robo buddy.
What can you do with your droid?
Your freshly-minted droid will be able to walk around with you throughout the streets of Black Spire Outpost (in your backpack, that is, and not rolling around beside you on the ground), where he'll light up and make various sounds when entering certain areas of the settlement or when coming across certain audio-animatronic droids (because of beaconing technology that will broadcast the signal to activate).
Disney had previously mentioned that various guests' various custom-built droids would be able to interact with one another, but that doesn't seem to be the case – at least, for the time being. There's always the chance for things to change in the future, we suppose.
Does Droid Depot sell anything else?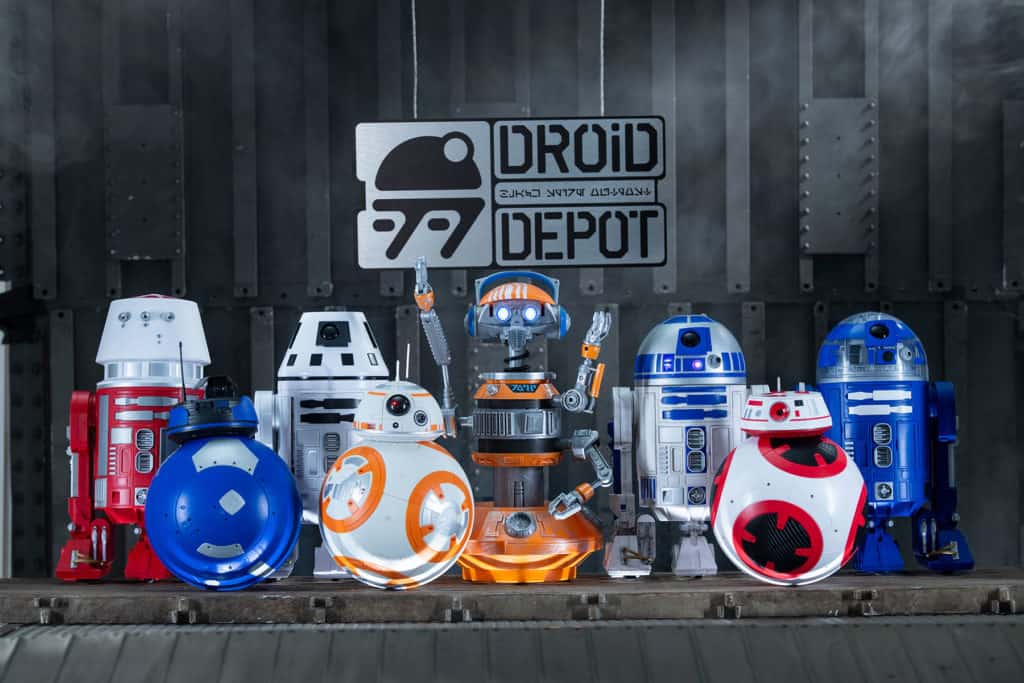 Yes! There are model kits, various types of "droid-inspired" accessories, and a "cool collection of unique, upcycled objects crafted from scrap parts" (read: new collectibles made from old droid pieces).
But the real star here is the premade droids, which are exactly what they sound like – Star Wars robots that have already been made for you. Some of these, in turn, will fall under the premium category and will consist of such elaborate affairs as a talking C-3PO (whose head can be taken off and put back on backwards, like in Episode V: The Empire Strikes Back) and a DJ R-3X (formerly RX-24, the StarSpeeder 3000 pilot from the original incarnation of Star Tours who now serves as the DJ in Oga's Cantina) that plays the music from your smart phone.
How much does Droid Depot cost?
A handbuilt droid costs $99.99, plus tax, a price which includes a carrying box and instructions (but which, again, doesn't include any of the add-ons, such as personality-affiliation chips). The premium premade droids, meanwhile, can go for as much as $25,000 (that's for a full-size, remote-controlled R2-D2 that's a perfect replica of the prop from the movies, right down to its aluminium frame).
There are no refunds available for the custom-made robots, it should be noted, nor are they eligible for any discounts (such as from being an annual passholder) – although the accessories are eligible for discounts.
OI fun fact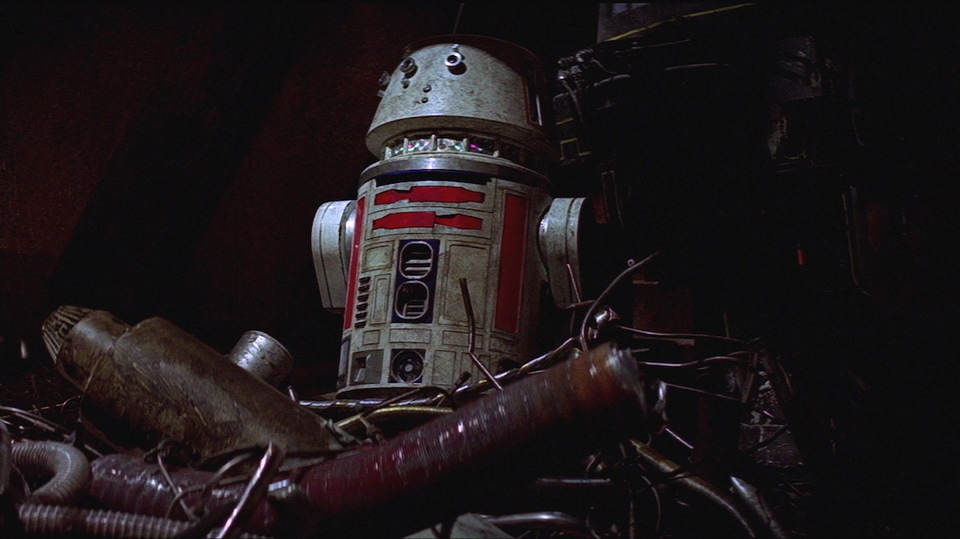 Let's circle back to the ill-fated R5-D4 for a moment. For a "character" that only received a few moments of screentime in the original Star Wars movie, he's since gone on to have something of a big footprint in the wider mythology: after getting a surprisingly substantive tale in the short story collection From a Certain Point of View (seriously – you'll never look at that infamous Tatooine scene the same way again), he's now reported to make at least a cameo appearance in the upcoming live-action television series The Mandalorian, which premieres on November 12.
That little droid certainly gets around.
Do you have a question about the information on this page, would like to provide feedback, or did you spot an inaccuracy? Please let us know by posting in our
OI Community
Facebook group.