Skip to: Overview | Who is Dok-Ondar? | Theming | Merchandise | Prices
Location
Star Wars: Galaxy's Edge
Two-sentence insider summary
Star Wars: Galaxy's Edge's flagship (traditional) store, Dok-Ondar's Den of Antiquities offers a rotating collection of merchandise (sorry – rare collectibles) from all eras of the Star Wars timeline. The extensive theming here includes an audio-animatronic Dok-Ondar himself, who's been name-dropped in the films and has starred in his own comic-book miniseries.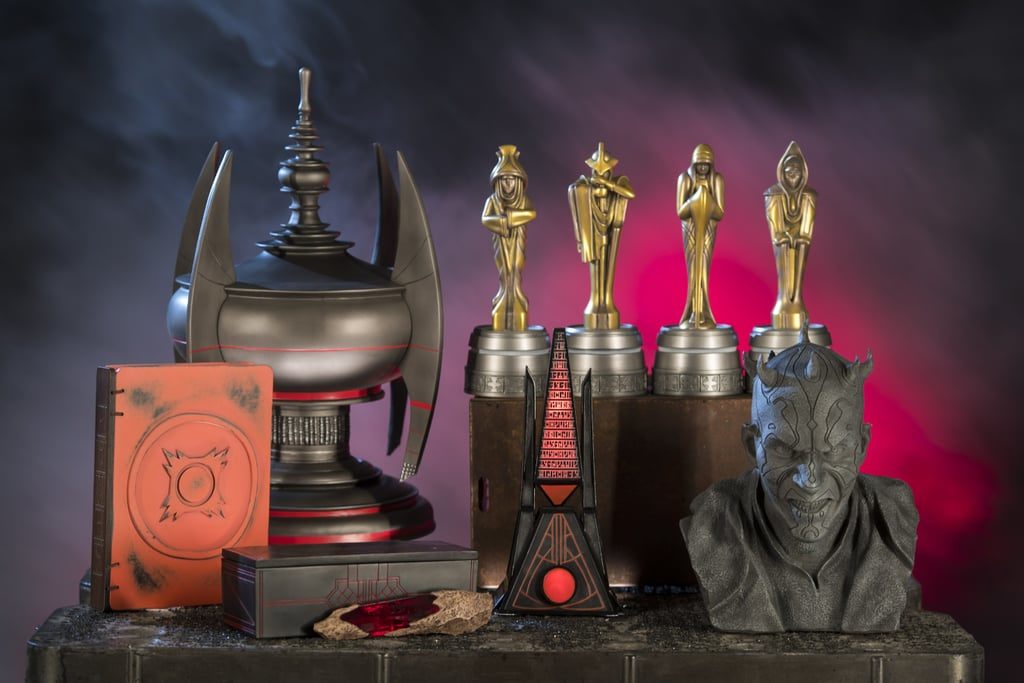 Who is Dok-Ondar?
An Ithorian art and archaeology dealer, Dok-Ondar has been around seemingly forever, making underground connections and securing for himself a reputation of being one of the galaxy's gatekeepers of the black market (hence his presence on the luxury yacht of Dryden Vos, a high-ranking [and art-minded] boss in the Crimson Dawn crime syndicate, during the events of Solo: A Star Wars Story). In fact, the 245-year-old alien is so well-known at this point in the Star Wars timeline, during the sequel trilogy, that all his clients come to him in his cozy corner of Black Spire Outpost instead of the other way around, bringing him whatever goods he desires.
Much like the other proprietors of the other stores in the outpost, Dok is incorporated into the experience guests have inside his Den of Antiquities – in this case, as a large audio-animatronic figure. The "almost mystical" Ithorian sits at his desk behind the fence partition, doing the Star Wars equivalent of paperwork, placing calls on his comm (at certain points, Dok-Ondar will get angry on a call, usually when someone is trying to rip him off), counting his galactic credits, and interacting with his human assistants, who will stop to ask him such questions as how much a particular item should go for (thereby giving the illusion that you, the guest, can barter with this legendary and imposing figure). Disney has promised a good variety of moods and little vignettes, allowing for hours of animation.
To get even more on the shady character, be sure to see our exploration of his comic-book miniseries and his role in the final Galaxy's Edge novels.
What is Dok-Ondar's Den of Antiquities's theming?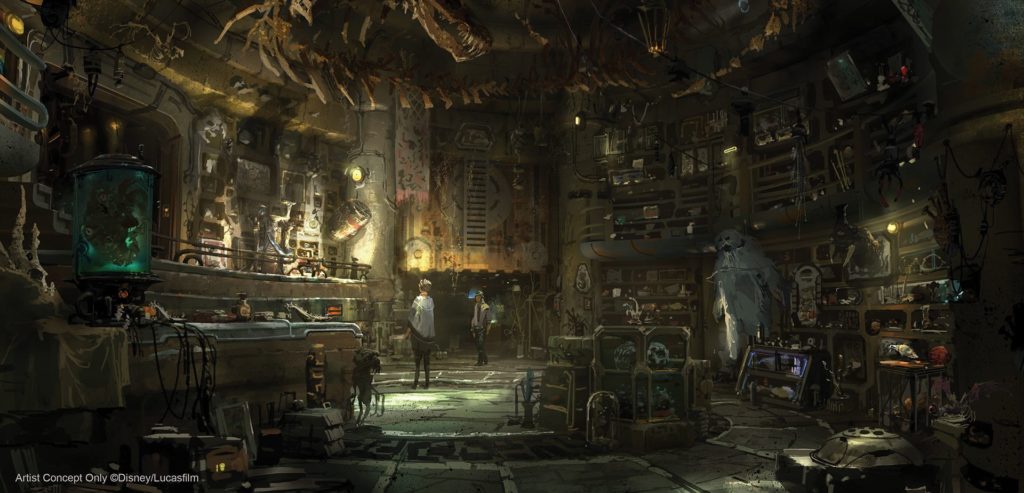 The centerpiece of Galaxy's Edge's shopping scene is rife with details, Easter eggs, and atmosphere – think of it like Universal's Borgin and Burkes, tucked away inside Knockturn Alley, but taken to the nth degree. There is a sense of antiquity that radiates throughout the space, befitting a shop that aims to carry merchandise from every trilogy of the Star Wars saga (don't forget that the theme-park land is set some 66 years after Episode I: The Phantom Menace). Disney describes Dok-Ondar's this way:
His shop is packed with crates, boxes, and assorted carvings, and a close inspection reveals that each object has its own story to tell.
All of these various items won't be laid out in an orderly or logical (read: traditional) fashion; instead, they will be strategically placed to maximize patrons' sense of discovery. And dropped in the midst of this egg hunt will be actual Easter eggs (well, figurative ones, at least), including a baby sarlacc (from Episode IV: A New Hope) inside of a large aquarium and a taxidermized wampa (from Episode V: The Empire Strikes Back) stationed against the wall. Disney has hinted that guests will be able to get lost in Dok-Ondar's wares, spending a lot of time in the shop.
What's for sale in Dok-Ondar's Den of Antiquities?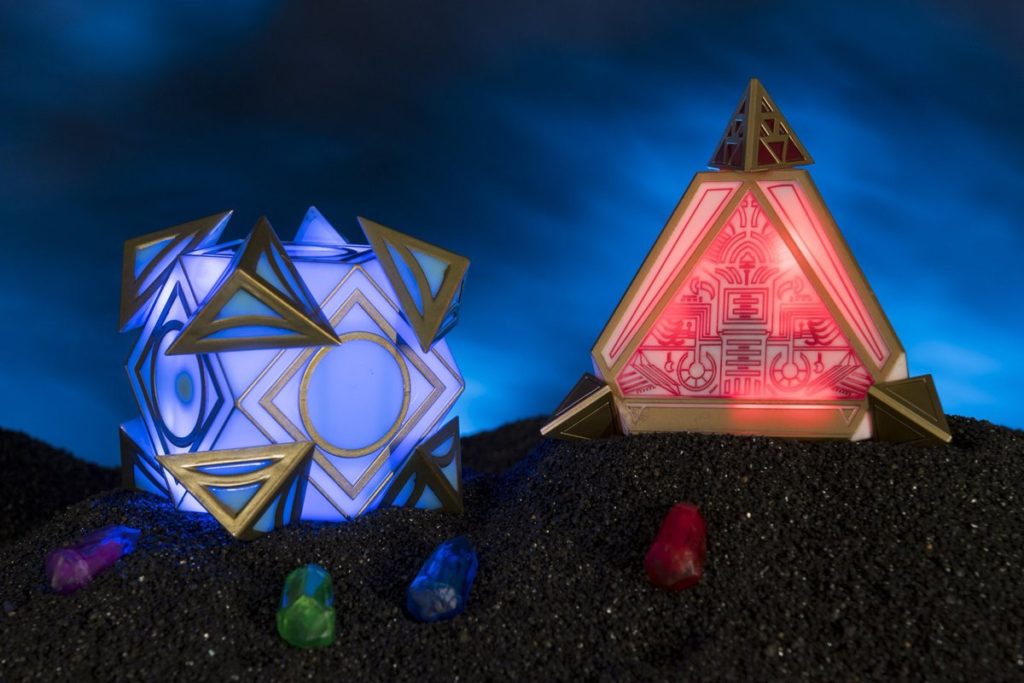 The "mysterious and rare" items to be found in Dok-Ondar's Den of Antiquities include a lot of miscellany connected to both the Jedi Order and the Dark Lords of the Sith, ranging from historic lightsaber replicas (which are separate and not at all like the ones to be found at Savi's Workshop – Handbuilt Lightsabers, we should note), ancient artificats and stone carvings, journals, mugs, patches, costumes (including Luke Skywalker, Leia Organa, and, even, Yoda), and, most intriguingly, holocrons, which are small information-storage devices that can only be activated by Force-sensitive individuals. In the Star Wars Expanded Universe, the holocrons' content was holographic, usually a Jedi or Sith master giving a lesson on one particular aspect of the Force or another; in Galaxy's Edge, the devices' knowledge can only be unlocked when a kyber crystal (the heart of a lightsaber) that a guest has purchased from Savi's Workshop is inserted inside it.
How much does Dok-Ondar's Den of Antiquities cost?
The price range in the Den of Antiquities is pretty big – mini-Jedi figurines, on the one hand, go for $19.99, while, on the other, paintings can go for as much as $399.99. (And that's not even taking the specialty items, such as a $2,000 piece of jewelry, into account!)
Do you have a question about the information on this page, would like to provide feedback, or did you spot an inaccuracy? Please let us know by posting in our
OI Community
Facebook group.