Skip to: Overview | Hours | Reservations | Theming | Mobile order | Dining plans | Menu | Fun fact #1 | Fun fact #2
What is Docking Bay 7 Food and Cargo?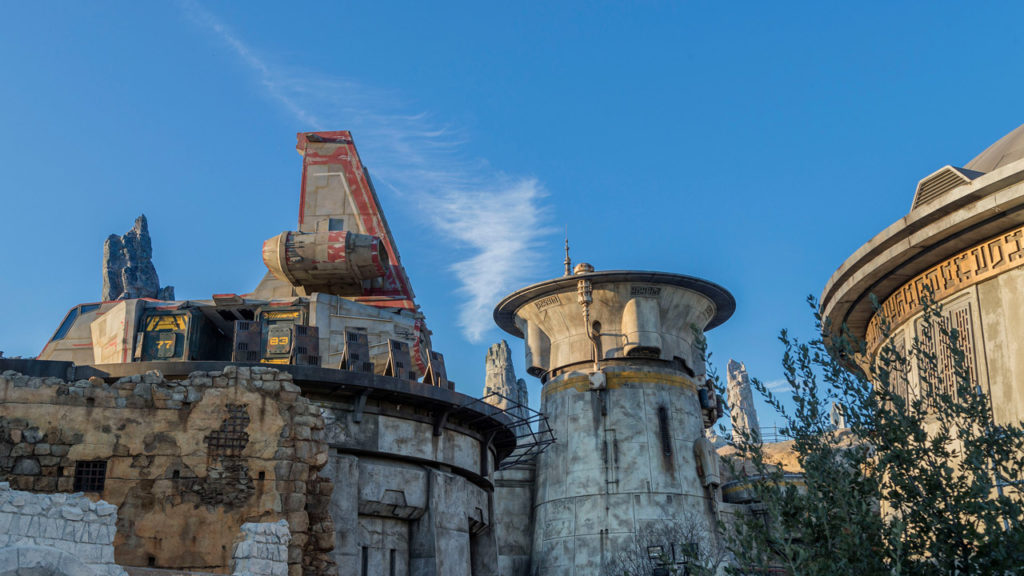 Oga's Cantina may be the centerpiece culinary experience of Star Wars: Galaxy's Edge, especially when it comes to the libation side of dining, but Docking Bay 7 Food and Cargo is the heart of the theme-park land's food options: this fast-casual location will enable you to make a quick selection of exotic food and drink and then choose to eat it either inside the building (in a hangar bay) or outside, in a shaded courtyard that's "surrounded by the crumbling walls of the old marketplace."
Look for Docking Bay 7 right in the center of Black Spire Outpost. It's hard to miss, thanks to its telltale delivery shuttle parked up top (more about which in just a moment).
What are Docking Bay 7 Food and Cargo's hours?
Docking Bay 7 Food and Cargo opens and closes with Disney's Hollywood Studios itself.
Reservations at Docking Bay 7 Food and Cargo
Given the restaurant's counter-service nature, no reservations are offered.
Theming at Docking Bay 7 Food and Cargo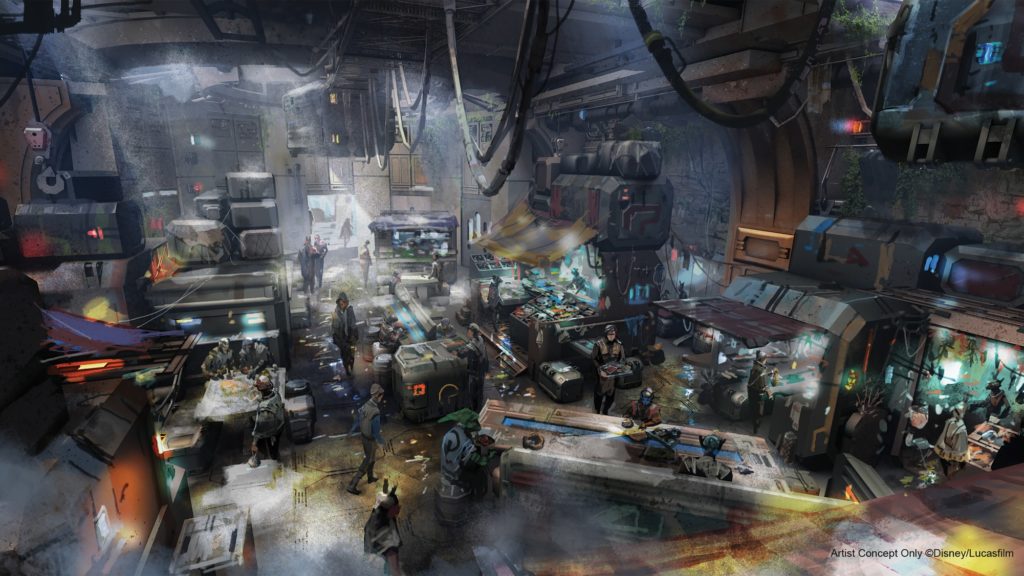 Whereas Oga's Cantina revolves around a brand-new character (that would be Oga Garra, naturally), Docking Bay 7 Food and Cargo cleverly utilizes a pre-existent character from the Star Wars mythology (albeit one barely established in the multimedia canon): Chef Strono "Cookie" Tuggs was originally introduced in Episode VII: The Force Awakens, as the head chef of Maz Kanata's castle on Takodana, who then went on to star in his own short story (called "A Recipe for Death," which was part of the Tales from a Galaxy Far, Far Away: Aliens, Vol. I anthology). Disney has taken the distinctive-looking alien and given him something of a destiny after the First Order assaulted and then destroyed Maz's longstanding castle five months ago, establishing that he has since acquired his own modified Sienar-Chall Utilipede Transport and now routinely plies the galaxy, looking for "exotic flavors and unusual dishes." That starship has now been turned into the Star Wars equivalent of a food truck, called Tuggs's Grub, and it spends just a week out of every month at Black Spire Outpost. Luckily for you, it's just arrived on the morning of your admittance to Galaxy's Edge – Cookie is still unloading his cargo into Docking Bay 7 below, where food freighters constantly come and go with fresh wares.
This "traveling diner for diners traveling" serves new and unusual dishes that use a wide variety of unique ingredients and that are inspired by Cookie's tenure as Maz's chef. You can chow down on these offerings in the large, open space of the docking bay; a number of cargo pods double as dining areas, replete with barrels and crates that serve as chairs (although there are also a small storage room, with a few tables, and the courtyard outside to eat at, which is surrounded by "the crumbling walls of the old marketplace"). While enjoying your food, you can take in all the theming around you – some of the cargo pods brandish provisions and equipment both for and from all the other vessels that are constantly in and out throughout the day; one cargo container, for example, belongs to a fishmonger, who uses a mini-carbonite freezing machine (that regularly shoots out steam) to keep his wares fresh, while another has been transformed into an alien distillery and a third, a fruit vendor.
Speaking of the hustling and bustling nature of the dock, there's one last important thing to mention regarding Docking Bay 7 Food and Cargo: its future. Disney has already hinted that new dishes and drinks can regularly be phased either in or out, using the fleet of cargo ships as the perfect bit of narrative justification for the ever-changing menu. In this way, Oga's Cantina may regularly get the most attention from casual fans, but Docking Bay 7 may end up being the apple of the regular visitor's eye.
Mobile order at Docking Bay 7 Food and Cargo
Guests are able to place an order at Docking Bay 7 Food and Cargo using the Play Disney Parks app on their smart phones (but only if they're actually in Star Wars: Galaxy's Edge – something which their phones' GPS will attest to). Once the food is ready, patrons will be able to skip the main line and head straight to the mobile order pick-up window.
Dining plans at Docking Bay 7 Food and Cargo
Dining plans are not accepted.
The menu of Docking Bay 7 Food and Cargo
The goal of Docking Bay 7 Food and Cargo's food menu is to provide otherwise familiar-looking and -sounding dishes with some flavors that may be surprising – especially those on the bold end of the spectrum, as Disney has specifically used the term "spice forward" to describe its approach to the fast-casual venue's flavor palate.
Morning menu
Entrees
Rising Moons Overnight Oats – $6.99 – oats, dragon fruit, yogurt, seasonal fruit.
Bright Suns Morning – $10.99 – three-cheese egg bite, pork sausage, purple potato hash, mini-Mustafarian Lava Roll.
Mustafarian Lava Roll – $5.99 – sweet galactic delight.
Kids' meals
Bright Suns Youngling Breakfast – $6.99 – scrambled eggs, purple potatoes, and seasonal fresh fruit served with choice of small lowfat milk carton or small Dasani water bottle.
All-day menu
Entrees
Felucian Garden Spread – $12.99 – plant-based kefta "meatballs" served with herb hummus, tomato-cucumber relish, and pita bread.
Smoked Kaadu Ribs – $16.99 – smoked country sticky pork ribs that are served with a "unique" blueberry corn muffin and cabbage slaw.
Fried Endorian Tip-yip – $15.49 – crispy chicken served with roasted vegetable potato mash and herb gravy.
Roasted Endorian Tip-yip Salad – $13.99 – marinated chicken served with mixed greens, roasted seasonal vegetables, quinoa, pumpkin seeds, and green curry ranch.
Yobshrimp Noodle Salad – $15.99 – chilled shrimp served with marinated noodles, vegetables, and cilantro.
Braised Shaak Roast – $18.99 – beef pot roast served with cavatelli pasta, wilted kale, and mushrooms.
Kids' meals
Yobshrimp Noodle Salad – $10.99 – chilled shrimp, noodles, vegetables, and sweet orange dressing served with choice of small milk or small Dasani water bottle.
A Taste of Takodana – $8.49 – black bean hummus, edible soil with nuts, chilled dipping vegetables, and multigrain crisps served with choice of small milk or small Dasani water bottle.
Fried Endorian Tip-yip – $9.99 – crispy chicken, macaroni and cheese, and seasonal vegetables served with choice of small milk or small Dasani water bottle.
Dessert
Oi-oi Puff – $6.49 – raspberry cream puff with passion fruit mousse.
Batuu-bon – $6.99 – chocolate cake with white chocolate mousse and coffee custard.
Specialty beverages
Moof Juice – $5.49 – Simply Fruit Punch and Simply Orange with chipotle pineapple (also available at Oga's Cantina).
Sour Sarlacc – $5.49 – Minute Maid Limeade with raspberry and spicy mango.
Beverages
Assorted Coca-Cola offerings – $3.99 (regular), $4.49 (large)
Dasani Bottled Water – $4.25
Black Caf (regular coffee) – $3.29
Nestle Chocolate Milk – $2.99
Minute Maid Apple Juice – $2.69
Alcoholic beverages
Takodana Quencher – $15 – Bacardi Dragon Berry Rum, Blue Curaçao, Simple Orange with pineapple, kiwi.
Gold Squadron Lager (Blue Point Brewing Co.) – $13.25 – golden lager with lavender and plum flavors (16 ounce draft).
OI fun fact #1
The three trailer-sized cargo pods that Strono Tuggs is off-loading from his multi-purpose transport into the hangar bay contain three interesting Easter eggs: the first is stamped with the number 77, the second one (which is dangling from cables through the roof's opened portal) is marked 80, and the last one (which is still aboard Tuggs's Grub) is branded 83. These are the years that the films of the original Star Wars trilogy came out.
OI fun fact #2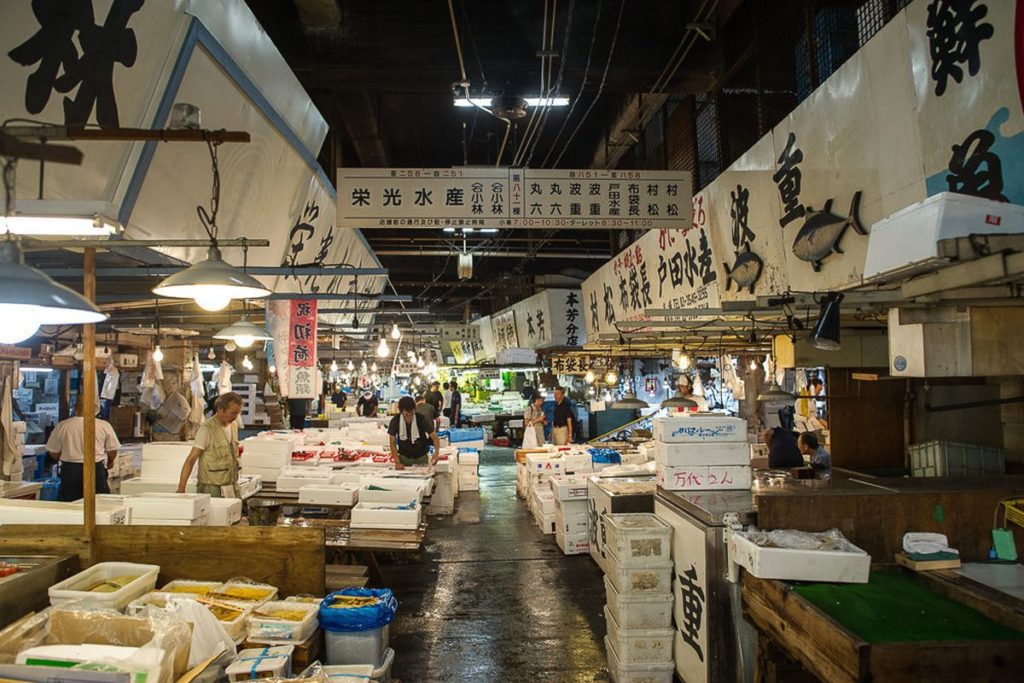 One of the primary sources of inspiration for Docking Bay 7 Food and Cargo is Tokyo's legendary Tsukiji Fish Market, which was the largest wholesale fish and seafood market in the world until it closed at the end of 2018. Disney's Imagineers have spoken of the "celebratory chaos" and "aged rawness" of Tsukiji, qualities which translate more than well to the Star Wars milieu.
Do you have a question about the information on this page, would like to provide feedback, or did you spot an inaccuracy? Please let us know by posting in our
OI Community
Facebook group.