Orlando Informer readers can now share their experiences at Walt Disney World on this page!
Below our information, you'll find real guest reviews and your chance to submit your opinion.
Location
Pandora: The World of Avatar
Restrictions and access
44 inches; loose articles must be stowed in lockers located in the ride; FastPass+ access; has a single-rider line.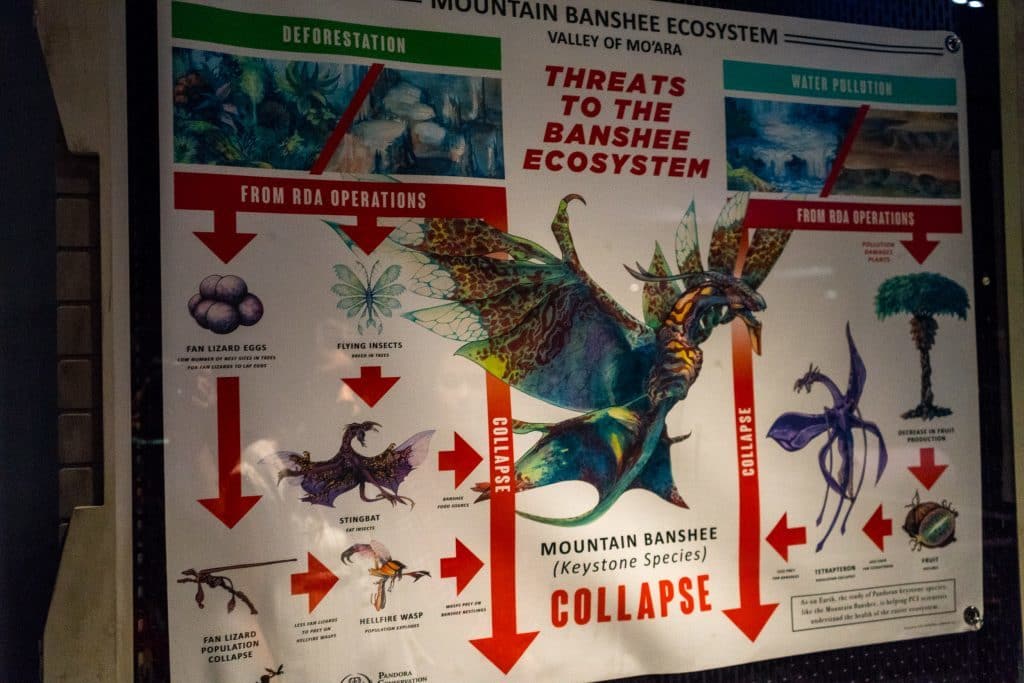 Two-sentence insider summary
Take a journey through a long and impressive queue that features human, Na'vi, indoor, and outdoor elements (and one of the most breathtaking audio-animatronic figures you'll ever encounter). Then hop on the back of a banshee that breathes between your legs and soars all across the Pandoran landscape for an unforgettable ride experience.
In-depth: The queue
On par with Universal's Harry Potter and the Escape from Gringotts and Skull Island: Reign of Kong, Avatar Flight of Passage's queue is an immersive experience that can essentially stand as a walk-through attraction on its own. Guests start by delving ever more deeply into the caves that burrow through the floating mountains, spotting the Na'vi's beautiful artwork that honors the Iknimaya, the rite of passage that has a Na'vi warrior select and join with a banshee for life.
Then it's on to a former Resources Development Administration (that's the bad-guy organization from the Avatar film series) mining facility that has since fallen under the purview of the Pandora Conservation Initiative, being overhauled into the headquarters of the Mountain Banshee Project. Here, human scientists are researching the titular animals in an attempt to prevent their extinction (a nasty by-product from the human-Na'vi war that ended three decades ago), specifically, and to monitor the restoration of the moon's ecosystem, more broadly.
Throughout the queue and pre-show, guests learn that the Avatar program from the first movie has also been bequeathed to PCI and that it's been upgraded with brand-new technology. Rather than having to grow a Na'vi avatar and pair it with just one human operator, the agency can now simply match an individual with a pre-existing avatar that has the closest genetic information; in this way, riders can hop into bodies that have themselves already been matched with a banshee and are already in mid-flight.
In-depth: The ride
Flight of Passage is a giant motion-simulator not unlike Soarin' at Epcot or Despicable Me: Minion Mayhem at Universal Studios Florida: multiple ride vehicles are lined up in front of a giant screen. (In terms of the attraction's story, the motion simulator is called the link chamber, with each individual slot called a link chair – the device that connects you to your newfound avatar.)
Once seated, the ride vehicle has braces that slide up behind your legs and back, locking you into place. It's a weird sensation at first, given the unusual nature of the set-up, but the reason behind it comes into focus soon enough – the ride vehicle has air bladders that fill and then empty in order to simulate the breathing of the banshee underneath you. It's a simple effect, yet a totally believable one, and it's one of the single-most immersive touches ever encountered in a theme park ride.
The ride itself features a mostly-calm, totally gorgeous tour through the skies – and, even, the ocean – of the lush moon. It lives up to Animal Kingdom's promise of making you feel even more connected to the natural world, and much more appreciative of its majesty, even though the moon of Pandora is, of course, a fictitious construct.
Fear factor
3 out of 5. Though not meant to contain a number of visceral thrills (like, say, Harry Potter and the Forbidden Journey does), there are still some more intense sequences. Still, given the storytelling and the mechanics of the ride vehicle, this is not an attraction to be missed.
OI fun fact
Check back again at the end of May.
Touring tip
Both Avatar Flight of Passage and Na'vi River Journey are in Animal Kingdom's FastPass+ Tier 1, which means you're only able to make a reservation for one of the attractions.
Avatar Flight of Passage – photo gallery
Avatar Flight of Passage – real guest reviews
Orlando Informer
Average rating:
0 reviews