There are few theme-park projects anywhere in the world that can compare with the interest or, even, revolutionary nature of Star Wars: Galaxy's Edge.
The new land, which opened at Anaheim's Disneyland on May 31, 2019 and at Orlando's Hollywood Studios on August 29, ups the theming ante in ways both big and small, taking the paradigm-setting nature of The Wizarding World of Harry Potter and the refinements of Pandora: The World of Avatar and running with them to the nth degree. Indeed, just to convey the scope of the undertaking, Galaxy's Edge is 14 acres in size, making it the biggest expansion Disney has ever devoted to just one property; Industrial Light & Magic, the visual-effects company that writer-director George Lucas started in 1975 in order to help him realize his Star Wars films, was recruited to help develop the area; and John Williams, the legendary composer responsible for all of the (main) movies' soundtracks, was tasked with composing an original theme exclusively for the project.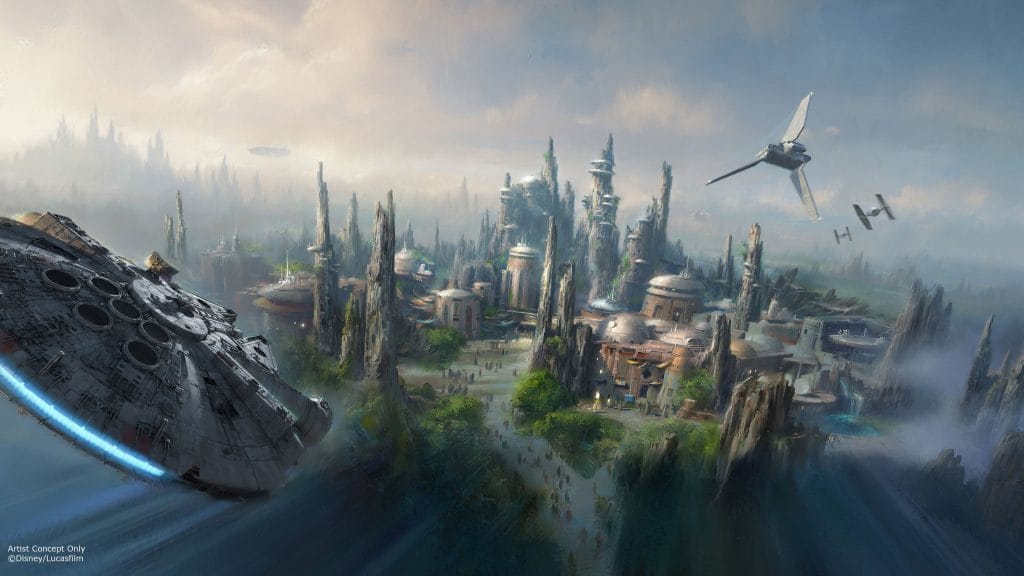 The land's arrival also completes a years-long rebirth of Hollywood Studios, resulting in a park that should now be one of the strongest – and busiest – at Walt Disney World instead of a half-day stop on the way to other adventures at the resort. In this way, Star Wars: Galaxy's Edge just may be a massive game-changer for Orlando, specifically, as well as all future themed additions, generally (Universal's Super Nintendo World, take notice).
Skip to: What is Star Wars? | Galaxy's Edge in the Star Wars timeline | Star Wars's backstory | Galaxy's Edge's story | Galaxy's Edge's books and comics | Galaxy's Edge's location | Galaxy's Edge's layout | Rides | Food | Shops | Meet-'n-greets | Interactive elements | Galactic Starcruiser | Galaxy's Edge's expansions | Star Wars's theme-park history | Articles
What is Star Wars?
Despite being one of the most popular – and profitable – franchises in the entire world, we realize that not everyone who ends up making his way to Star Wars: Galaxy's Edge will be hugely familiar with the intellectual property. So please enjoy our very brief primer on the phenomenon that is Star Wars – one which even the most hardened of space-opera veterans may find surprising. (This just covers Star Wars's creation and development over the decades – we'll get to its narrative in just a bit.)
When writer-director George Lucas originally sat down to write what would become his magnum opus in the early 1970s, he envisioned it as just one film. But as he was unable to fit all of the various characters, locations, and scenes into one two-hour runtime, he quickly decided to expand his story to a trilogy – which, in turn, got expanded to two trilogies once he realized that the backstory he was fashioning for his current movies' plots was interesting enough to carry its own full-fledged narrative. The original trilogy, thus, was ultimately released as Episodes IV, V, and VI, starting in 1977 and ending in '83; a full decade-and-a-half later, the prequel trilogy (consisting of Episodes I, II, and III, of course) landed, running from '99 to '05.
During this lengthy creation process, Lucas had openly talked of his plans to do one and, perhaps, two additional trilogies, just to see how the story would play out over the course of additional generations in that galaxy far, far away; however, by the time he was actively developing the prequels, the director recanted this possibility, saying that everything was resolved with Episode VI, after all. And although fans were shocked and saddened by the closure of this narrative window, it turns out another was just getting opened – George may have sworn off any future cinematic adventures, but he was more than ready to tackle television, a medium that he had only dipped his toes into previously (namely, with his Young Indiana Jones Chronicles in the early '90s). The Clone Wars premiered in 2008 (ironically enough, with a pilot film that was released in theaters) and initially ran for six seasons, paving the way for what Star Wars could look like on the small screen and in animated form both.
All of this changed one fateful day in October 2012, when George Lucas decided to enter retirement a little earlier than previously predicted, selling his sprawling multimedia baby to The Walt Disney Company in the process. The Mouse House was only too happy to revisit the idea of doing a sequel trilogy, announcing Episode VII (2015), VIII (2017), and IX (2019). Disney also upended the Star Wars TV slate, cancelling Clone Wars in favor of a whole slew of new enterprises: Rebels (which ran from '14 to '18), Resistance ('18 to '20), the YouTube microseries Forces of Destiny ('17 to '18), and the live-action Disney+ series The Mandalorian ( '19 – present).
And, it turns out, Star Wars was only getting started. The company has an established series of spinoff movies – 2016's Rogue One: A Star Wars Story and '18's Solo: A Star Wars Story; and expect a new side-story trilogy from Game of Thrones showrunners David Benioff and Dan Weiss from 2022 until '26, with yet another trilogy expected from Episode VIII: The Last Jedi writer-director Rian Johnson at some point along the way. And with the arrival of Disney+, scores of additional television content will also be incoming, starting with one final Clone Wars season (thereby providing the animated show with the closure that Disney had originally denied it years ago) in February 2020 and the temporarily-named Andor series and Obi-Wan Kenobi series, live-action miniseries starring some of the main characters from the various films, at some point thereafter.
Finally, as exciting (and prodigious) as all that may be, it completely overlooks another major aspect of the Star Wars behemoth, one that has also been changed under the Mouse's watch: the Expanded Universe, that teeming collection of novels, audiobooks, comic books, short stories, and videogames, was reset in 2014 in order to allow each new release to be fully in step with every film and TV episode. Now, for the first time ever, every Star Wars product is canon, taking place in the same timeline and building out the giant overarching narrative – and, yes, this even includes Disney's new theme-park land.
Speaking of which…
Where does Galaxy's Edge take place in the Star Wars timeline?
Unlike Universal Orlando's Wizarding World of Harry Potter, which is content to (more or less) reside in a hazy, unspecified period of time within its source material, Galaxy's Edge exists at a very specific point in the Star Wars timeline: namely, some five months after Episode VIII: The Last Jedi, which places it seven months before Episode IX: The Rise of Skywalker, the last chapter of the mainline series. This means that guests should not only expect to see the sequels' cast of characters show up in the theme-park land's various attractions and experiences, but that some of Galaxy's Edge's story elements just may end up getting touched upon (to one degree or another) in that trilogy's final installment. In this way, fans could essentially call the new themed area Episode 8.5.
(Indeed, we've already seen some of the land's new additions, such as its setting of Black Spire Outpost and some of the residents who live there, get referenced in a number of movies and television episodes, including Solo: A Star Wars Story and Resistance [we'll have much, much more on this shortly]).
What is the Star Wars story up 'til now?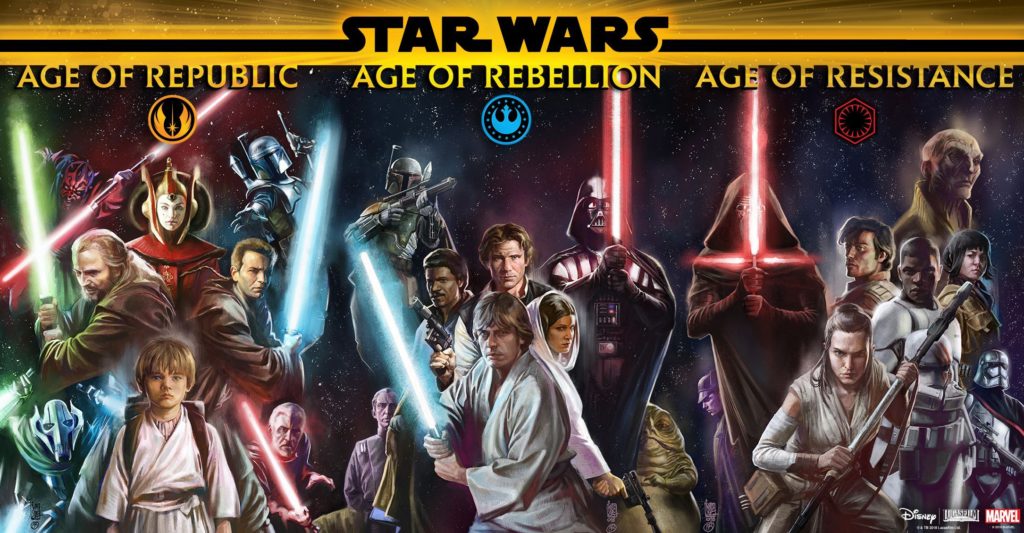 Warning: there are spoilers for all released Star Wars films in this section. Proceed at your own (narrative) caution.
In the prequel trilogy, the Old Republic and the Jedi Order, which had stood for a millennium, were eaten away from within, betrayed by one of their own members: Supreme Chancellor Sheev Palpatine, who was secretly the Dark Lord of the Sith Darth Sidious, and Jedi Knight Anakin Skywalker, who became his apprentice, Darth Vader. In those venerable institutions' demise, a new organization arose: the Galactic Empire, exchanging the democratic spirit of the light side of the Force for the fascistic control of the dark side.
In the original trilogy, which starts up 19 years later, Vader's two illicit children, Luke Skywalker and Leia Organa, rose up to help lead the Rebellion against the evil Empire, starting the First Galactic Civil War in the process. Along the way, Luke became a Jedi – the last of that order – and, with Leia's political and military expertise, ended the Sith Lords' dominion, killing their last two members. The Force was once again in balance.
Or so everyone thought. In the sequel trilogy, which takes place 30 years after the originals, the New Republic may reign, but it's on shaky ground; Jedi Master Luke Skywalker has failed in his efforts to rebuild the Jedi Order, losing Leia's son, Ben Solo, to the dark side in the process. Ben is welcomed with open arms to the First Order, an offshoot of the Galactic Empire that is leaner, meaner, and more ideologically pure, ultimately taking on the Sith-like identity of Kylo Ren and becoming the splinter faction's leader. By the end of Episode VIII: The Last Jedi, the Second Civil War has flared up, with the First Order marching across the entire galaxy and only General Leia Organa's tiny militia, called the Resistance, able to (barely) oppose them.
But not all hope is lost. Though Luke Skywalker may have died (or did he?) in the burgeoning conflict, he first passed on the torch of the light side to an abandoned orphan named Rey, who just may be the most powerful Force wielder in the entire saga and who now has become the last of the Jedi. Working with General Leia; the Resistance's best starfighter pilot, Poe Dameron; Finn, a former First Order stormtrooper; Chewbacca, Leia and Luke's long-time friend and current owner of the legendary vessel Millennium Falcon; and their trusty astromech droid, BB-8, Rey and the Resistance are moving to defeat Supreme Leader Kylo Ren and the dark side of the Force once and for all, bringing a permanent peace, at long last, to the galaxy.
What is Star Wars: Galaxy's Edge's story?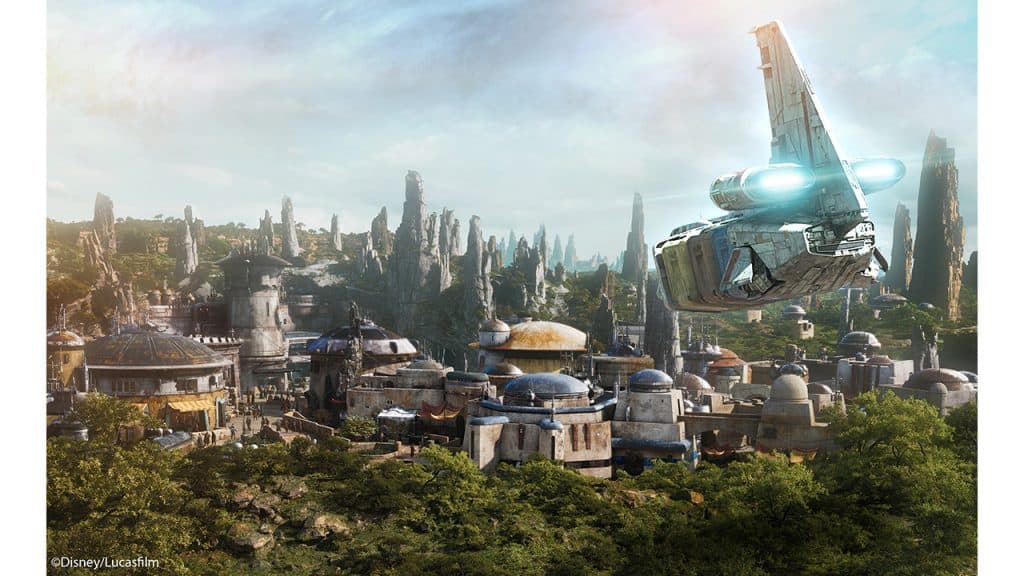 It is about five months after the Battle of Crait (as seen in Episode VIII: The Last Jedi), and the Resistance is all but defeated. In an effort to secure new hiding places, resources, and allies, General Leia Organa orders her top spy, Vi Moradi (a character who, up until this point, had only existed in the books) to head to the ancient planet of Batuu, which is located right on the edge of the Outer Rim's Unknown Regions and which used to function as a vibrant trading port before the advent of faster-than-light travel through hyperspace. Now, interstellar commerce has passed the world by, making it one of countless forgotten destinations – except for by those individuals who don't want to be found, such as smugglers, pirates, bounty hunters, and rogue adventurers (and, now, Resistance spies).
At the very center of this safe haven for the galaxy's seamy underbelly is Black Spire Outpost, Batuu's capital, which Disney describes this way:
Widely known for the petrified remains of its once-towering ancient trees, the spires now stand guard across the river valleys and plains and have long captured the imagination of travelers to this planet. To the first settlers, these petrified spires became more than just landmarks – they became the heart of the outpost itself.
Star Wars: Galaxy's Edge takes place exclusively in Black Spire, meaning that – just like with The Wizarding World of Harry Potter or Pandora: The World of Avatar – the entire theme-park land will be devoted to faithfully recreating just one location. Or, should we say, creating it – Batuu has been designed expressly for both Disneyland and Walt Disney World, making Galaxy's Edge one giant brand-new entry in the Star Wars canon; guests are meant to feel as if they're exploring a fresh chapter of the mythology instead of retreading old cinematic escapades (despite a slew of tie-in stories that lead up to the themed area's setting in the timeline).
And this fresh chapter has all of the action and adventure that any other in the Star Wars series possesses. It turns out that Vi Moradi has been successful in prepping Black Spire Outpost for a bigger Resistance presence, setting up shop in a series of ruins on the outskirts of the settlement and recruiting from the local populace, but the First Order has caught wind of her activities and has dispatched an ever-bigger garrison of stormtroopers, including none other than the 709th legion (also known as the Red Fury), an elite squadron of troopers that comes with its own elite starship, the TIE Echelon (both of these elements have been designed exclusively for Galaxy's Edge).
And not far behind them is their dear leader, Kylo Ren, who has decided to personally oversee the institution of the planetary blockade and the very beginnings of the occupation of Black Spire. Why would the Supreme Leader himself opt to directly get involved? Two reasons, it would seem. Firstly, Vi is a rather big target for the First Order; she was responsible for turning one of the neo-Imperials' own leaders against them (events which are told in the novel Phasma, which now serves as a prelude to Galaxy's Edge), and eliminating her would be a huge vindictive win. But, secondly – and, perhaps, more importantly – Kylo has been on the hunt for any and all Jedi or Sith artifacts he can get his little hands on, and Batuu, it transpires, has a far bigger collection than most worlds.
And in the midst of all of this is Black Spire's massive, titular outcropping of jet-black rock that sits near the center of the settlement. No one's quite certain what it is or how it formed, although everyone has his own theory (guests, for instance, will be able to ask the various townsfolk what they think) – yet no one can deny the Black Spire spike's almost elemental power, which has attracted scores of peoples to its site across the millennia, starting with the original, primitive inhabitants of the region (whose ruins the Resistance has now moved into). It could be that it has some presence in the Force, and that, in turn, is what has drawn both sides of the Second Galactic Civil War to Batuu.
As a matter of fact, there's an old Batuuan ballad that features both in the books and Disney's marketing:
At the edge of the galaxy
So far away
Black was the spire
That called me to stay.
A beacon for drifters
Forgotten and lost
The spires summoned those
Broken and tossed.
Come stay here forever
Or just pass on through.
The spirit of Black Spire
Will forever change you.
Guests will have to see what they can uncover while there in the theme-park land – and wait for the next round of novels and comics to release, of course, perhaps connecting to the story of Galaxy's Edge.
What do Star Wars: Galaxy's Edge's books and comics have to say about it?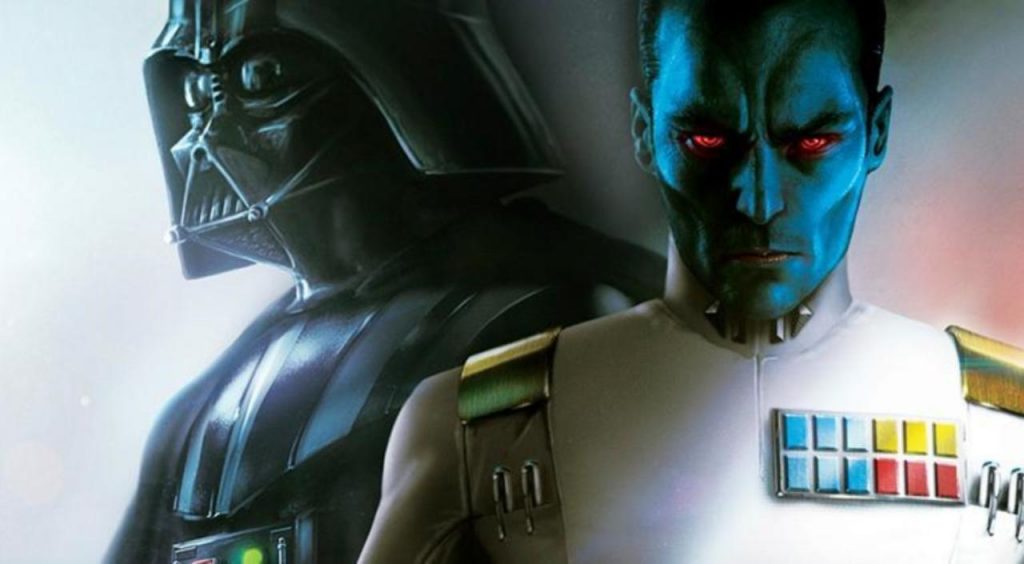 Because Disney reset the Star Wars Expanded Universe back in April 2014, every new release now ties into the same, overarching narrative – and you better believe the company is taking full advantage of this first-of-its-kind Star Wars canon, diving deeply into the new planet of Batuu's history, mythology, and sudden new occupants (that is, the Resistance and First Order). And, on the flip side – of course – the Mouse House is also taking some of the storylines that were already developed in the novels, audiobooks, comic books, short stories, and videogames and, apparently, shuttling them over to Black Spire Outpost for visitors' vacation pleasure.
We'll start with that latter point first, seeing how the canon's background narratives apply to Galaxy's Edge, and then jump into the veritable smorgasbord of new tie-in materials.
The (background) story in the canon up 'til now
Here's a (very) streamlined version of what you need to know about Batuu's (burgeoning) place in the overarching Star Wars story: Emperor Sheev Palpatine has been obsessed with Wild Space – particularly beyond the galactic rim, where no one has ever managed to venture before – since even before the birth of the Empire, thanks to (1) the possibility of expansion that the Unknown Regions represent and (2) his growing belief that the dark side of the Force itself emanates from there. But there are many dangers lying in wait, ranging from natural phenomena that make hyperspace travel difficult, if not outright impossible, to a number of technologically-superior military threats contained in the region, including the Gyrsks, who have been secretly watching both the Old Republic and Galactic Empire for several decades and had even made some tentative steps to invade. (Batuu particularly features here, as its callous, indifferent populace makes the world a useful staging ground for the shipment of supplies and a recruitment zone for future allies – until Darth Vader and Grand Admiral Thrawn discover the Grysks' covert operations and forcibly end them just before the end of the Rebels television series and the beginning of the original trilogy of films, that is.)
Although Palpatine, after years and years of trial-and-error, finally manages to plot a safe trajectory through the Unknown Regions and out into intergalactic space, he dies before being able to do so – but he passes on the information to the remaining Imperial leadership, along with the instructions to finish destroying the Rebel Alliance and then start a new Empire in a brand-new galaxy (no one else will ever be allowed to rule his galaxy, after all). The latter part of the mandate ultimately comes to fruition just one year after the end of the original trilogy, with the leftover Imperial remnant declaring itself the First Order as it heads out for greener interstellar pastures.
At some point across the next 25 (or so) years, this new New Order decides to return to its roots, coming back to a galaxy now governed by the New Republic (as this story has yet to be told, we're not exactly certain why this comes to pass). The First Order quietly prepares for a new Galactic Civil War, one meant to topple the New Republic and its fledgling Jedi protectors once and for all – what the premise of the sequel trilogy (which began with 2015's Episode VII: The Force Awakens and concluded with 2019's Episode IX: The Rise of Skywalker) is. And once that new war does erupt, the neo-Imperials attempt to stamp out every would-be Resistance base they can get their bloodthirsty hands on – including Batuu.
The Galaxy's Edge books and comics
Disney and Lucasfilm started actively incorporating Galaxy's Edge into the Star Wars multimedia mythology in the summer of 2018, lacing references to Batuu in certain films and television episodes, taking characters from the Clone Wars and Rebels shows and making them visit the brand-new planet on adventures of their own, and basing entire novels and comic-book miniseries around the specific characters and locations that guests can interact with in the theme-park land. It would seem that the two companies are not only interested in introducing future visitors to Galaxy's Edge's rich backsory, but also in teasing to readers and viewers Batuu's (and, more generally, the Unknown Regions') role in future franchise developments.
The most salient of these Star Wars: Galaxy's Edge stories include (in chronological order):
Solo: A Star Wars Story (film, May 2018) – both Black Spire Outpost and the brand-new character of Dok-Ondar are namedropped in the second spinoff movie, establishing Batuu's smuggling bona fides.
Thrawn: Alliances (novel, July 2018) – readers make their first journey to Batuu, seeing it in two different time settings: during the last season of the Rebels television series (just before the original trilogy) and then, in flashback form, 18 years earlier, during the final days of the Clone Wars (during the prequel trilogy). This small-but-nonetheless-substantial appearance provides fans with an overview of the new planet's culture and geography, and hints at its significance to stories yet to come. (Read more.)
Myths & Fables (children's novel, August 2019) – this illustrated collection of fairy tales from that galaxy far, far away includes two stories that are set on Batuu: "The Black Spire" takes place centuries (if not longer) ago, following a young girl as she attempts to save her siblings from slavers who have taken up residence near Black Spire Outpost, and "Chasing Ghosts," set after the original trilogy, stars a smuggler who's trying to evade a tireless bounty hunter as he makes for the freedom and anonymity of Wild Space.
Pirate's Price (young-adult novel, January 2019) – Hondo Ohnaka, that legendary veteran of The Clone Wars and Rebels, tells the story of how he comes to temporarily acquire the Millennium Falcon after the events of Episode VIII: The Last Jedi and why he brings it to Batuu, setting up the backstory for the Millennium Falcon: Smuggler's Run ride. (Read more.)
Flight of the Falcon (one-shot comic book, May 2019) – taking place immediately after Pirate's Price, Chewbacca arrives on Batuu to reclaim his ship, the Millennium Falcon. Hondo asks the impatient Wookiee if he can borrow it for some time longer, to keep using it for his criminal enterprises – and, yes, the occasional helping hand for the Resistance, as well, if he has to (he'll even cut Chewie in 8% of the overall profits!). A deal is struck, and the stage is now fully set for the smuggler's run to come.
Galaxy's Edge: Black Spire (novel, August 2019) – four months after Episode VIII: The Last Jedi, General Leia Organa, the founder and leader of the Resistance, dispatches her top spy, Vi Moradi, to Batuu in a desperate search for sanctuary and new allies. After immense setbacks and hardships, she ultimately succeeds, making alliances with the likes of Oga Garra and Savi in the process. But her progress is short-lived, as, just a month afterwards, the First Order arrives in full force, with Kylo Ren himself supervising the operation. (Read more.)
Galaxy's Edge (comic book, April-August 2019) – as the First Order begins its occupation of Black Spire Outpost, we get a proper introduction to and exploration of the infamous Dok-Ondar, a collector of rare (and, usually, illegally-obtained) antiquities and one of the key players at the settlement. Along the way, we learn about how he obtained a number of the rare and precious items in his Den of Antiquities – including the Sword of Khashyun, an ancient Sith blade that would grant Kylo Ren immense power, should he be allowed to have it. (Read more.)
Galaxy's Edge: A Crash of Fate (young-adult novel, August 2019) – a pair of young star-crossed lovers are reunited on Batuu after a 13-year absence, and as they attempt to figure out their relationship with one another, they have to contend with the growing winds of change that are buffeting Black Spire – the increasing First Order presence, a pirate attack on Kat Saka's farm (where one of the characters works), and, in the book's climax, the suddenly-out-in-the-open conflict between the Resistance and the neo-Imperials (which, of course, is where Galaxy's Edge's second ride, Rise of the Resistance, comes into play).
There are, naturally, in typical Expanded Universe fashion, several further references or cameo appearances in several other media, such as Batuu featuring as a picture on the wall in the background of one of the Resistance TV series's early episodes. We only expect these little Easter eggs to continue to grow in the coming months and years.
Where is Star Wars: Galaxy's Edge located?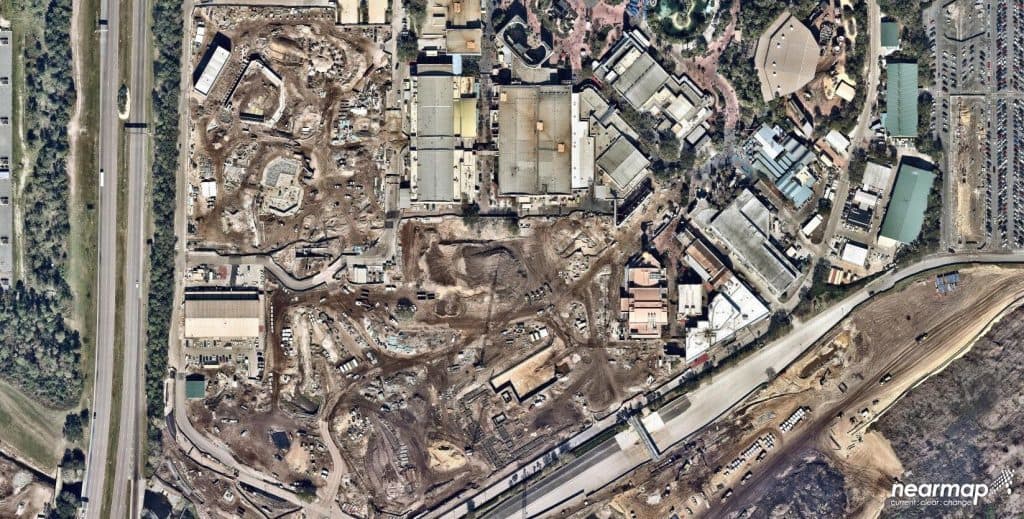 Star Wars: Galaxy's Edge went into that giant swath of Disney's Hollywood Studios that originally belonged to the Studio Backlot Tour, which was the very heart of the movie studio-themed park when it first opened in 1989. This giant complex of working soundstages and employee-only facilities had been slowly-but-surely chipped away at during the first two decades of Hollywood Studios's existence, with Disney eventually creating the Streets of America and Pixar Place lands out of it (along with such attractions as Lights, Motors, Action! Extreme Stunt Show).
The Star Wars-themed land specifically occupies the former Streets of America section, which closed on April 2, 2016 – roughly a year-and-a-half after the stripped-down Backlot Tour itself was axed – in order to make room for that galaxy far, far away. (The leftover portion of Streets of America that Galaxy's Edge didn't touch has been rechristened Grand Avenue and has been made the new home of Muppet*Vision 3D, the area's only attraction left standing.)
This, of course, leaves a fair bit of distance between Galaxy's Edge and the pre-existent Star Tours: The Adventures Continue (and its nearby Jedi Training: Trials of the Temple), not to mention the interfering presence of Grand Avenue. It is currently unknown how – or whether – Disney will connect the two areas to make one continuous Star Wars presence; the company could ultimately choose to snake a road around the Muppets show to link up with Star Tours, possibly even switching the ride's entrance around to the other side of the show-building (just as it did with Toy Story Mania, in order to give it an entrance and exit directly unto the new Toy Story Land), although this seems rather far-fetched. Another possibility that has been rumored is the moving of at least Jedi Training to a closer, now-empty soundstage, but the viability of this scenario also remains dubious.
More likely than not, the two older Star Wars attractions will either have to be shut down or, at the very least, remain disconnected from the new expansion – not only for logistical reasons, but also for narrative and thematic concerns.
What is Star Wars: Galaxy's Edge's layout?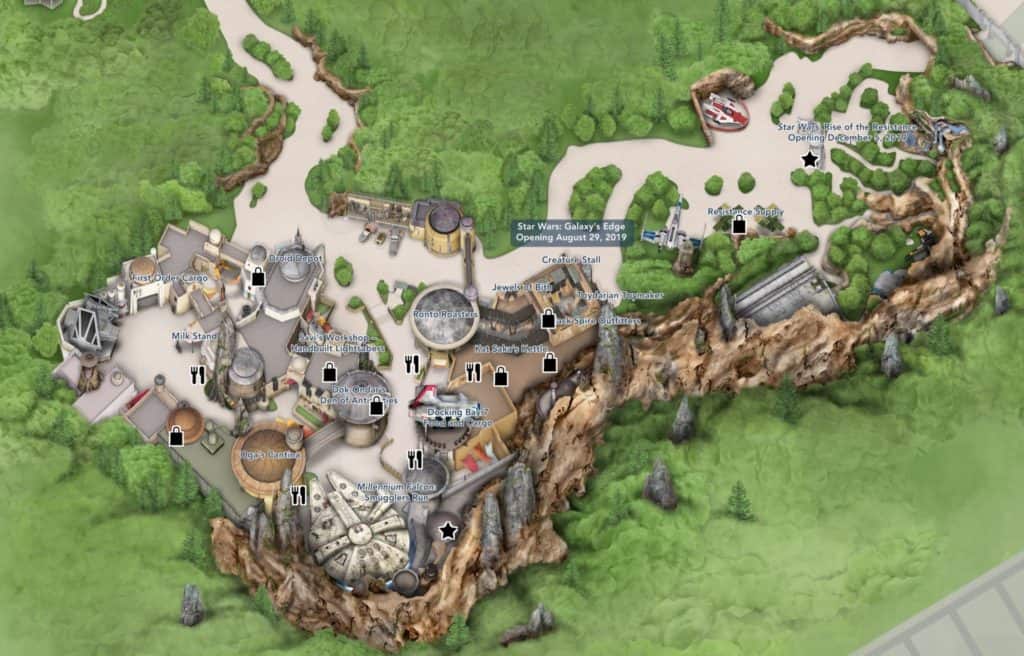 As already stated, Star Wars: Galaxy's Edge is set in the ancient village of Black Spire Outpost, which seems to have been built up over millennia around the central, mysterious, titular black spire that juts out of the ground in enigmatic (and dramatic) fashion.
The main entranceway (connecting to Grand Avenue), in the upper right-hand corner of the map, leads to an area that is technically beyond the borders of Black Spire proper; here sits a collection of ancient ruins scattered in a patch of wilderness, which is meant to feel like a separate, distinct section from all the rest of Galaxy's Edge (creating two different sub-districts, much like how The Wizarding World of Harry Potter – Diagon Alley consists of its own series of individual sub-areas). This is where the Resistance has come to hide out, and where guests can stroll past a full-size A-wing and X-wing (replete with cast members who periodically come out to perform maintenance on the battered fighters). There's a slapdash nature to the surroundings here, in the otherwise-tranquil Surabat River valley – the Resistance has only arrived a month or so ago, and they're prepared to leave at a moment's notice, whenever the bad guys spot them.
Moving beyond it, we enter Black Spire Outpost and come across its exotic-looking marketplace, which houses five street stalls (the Creature Stall, Toydarian Toymaker, Jewels of Bith, Black Spire Outfitters, and Kat Saka's Kettle) and the quick-service eatery Ronto Roasters. At this point, guests will have two options to further explore the theme-park land. To the right is Savi's Workshop – Handbuilt Lightsabers, the Droid Depot, and, beyond that, Galaxy's Edge's second entry point (connecting to Toy Story Land), which will function as the land's exit for the foreseeable future.
To the left, we find Docking Bay 7 Food and Cargo, the main (quick-service) restaurant; Dok-Ondar's Den of Antiquities, the premier retail location; and a dock holding the Millennium Falcon herself, which is, of course, home to the second attraction, Millennium Falcon: Smuggler's Run. In the other pathway radiating from this central point of the land sit all the remaining Galaxy's Edge experiences: Oga's Cantina (the flagship watering hole), the Milk Stand, the First Order Cargo gift shop, and Docking Bay 9, which is where the First Order has set up its base of operations and where the life-sized TIE Echelon is parked (this also doubles as the stage for the Kylo Ren mini-show).
Just walking through Star Wars: Galaxy's Edge, whether it's the streets of the outpost or the trails of the river valley, will be a themed experience unto itself, replete with all sorts of Easter eggs (such as a floating landspeeder that looks suspiciously like Luke Skywalker's X-34 from Episode IV: A New Hope) and, even, the sound of starships periodically taking off and landing. And as the finishing touch, a giant berm will surround the entire area, shielding Batuu from the prying eyes outside, making it as secluded and immersive as is Diagon Alley (where Disney picked the trick up).
(Want an in-universe overview of Black Spire Outpost's geography? Be sure to read our in-depth feature.)
What are Star Wars: Galaxy's Edge's rides?
There are two rides in Star Wars: Galaxy's Edge, although both are so detailed and immersive, they will probably end up feeling like twice that many once guests have worked their way through their long queues and involved ride experiences.
First up, in Batuu's central spaceport, is Millennium Falcon: Smuggler's Run, which will make countless children's (and adults'!) dreams come true by allowing them to climb aboard the most famous starship in movie history and take her out for a spin. Groups of six sit in the Millennium Falcon's cockpit, filling three different jobs – pilots, gunners, and engineers – while a powerful computer system renders the landscape through the viewports around them in real time, reacting to guests' (more or less) active controls. Yes, this may make Smuggler's Run a motion simulator, like the pre-existent Star Tours: The Adventures Continue, but this is clearly next-generation stuff – 200 buttons, switches, and toggles are at riders' service, and how well (or not) they employ them will inform how well (or not) they do on their mission (which will, in turn, impact how they're received in the rest of Black Spire Outpost).
Then, located outside of Black Spire, over in the wilderness section of Galaxy's Edge, is Star Wars: Rise of the Resistance. Described by Disney as the most immersive ride it's ever built, this flagship attraction has guests becoming members of General Organa's titular militia as they wind their way through the group's newly-repurposed base on Batuu (otherwise known as the attraction's queue) – before they're captured by the First Order and taken aboard one of its imposing Resurgent-class Star Destroyers. As they battle to escape from the neo-Empire's clutches, using a troop transport (a trackless ride vehicle) to do so, passengers will come face-to-face with countless stormtroopers, full-size AT-ATs (that are actual physical props instead of digital effects), and, even, the evil Kylo Ren himself, who now acts as the supreme leader of the First Order.
And as exciting as these attractions sound, it's actually what comes both before and after the ride experiences that we should take special note of: neither ride will feature a traditional marquee or sign (taking a page right out of Pandora: The World of Avatar), and neither will follow the timeless exit-through-retail mantra that has served the themed industry for so long.
In ways both big and small, Disney is really working hard to make Galaxy's Edge as seamless and immersive as is humanly possible.
What are Star Wars: Galaxy's Edge's restaurants?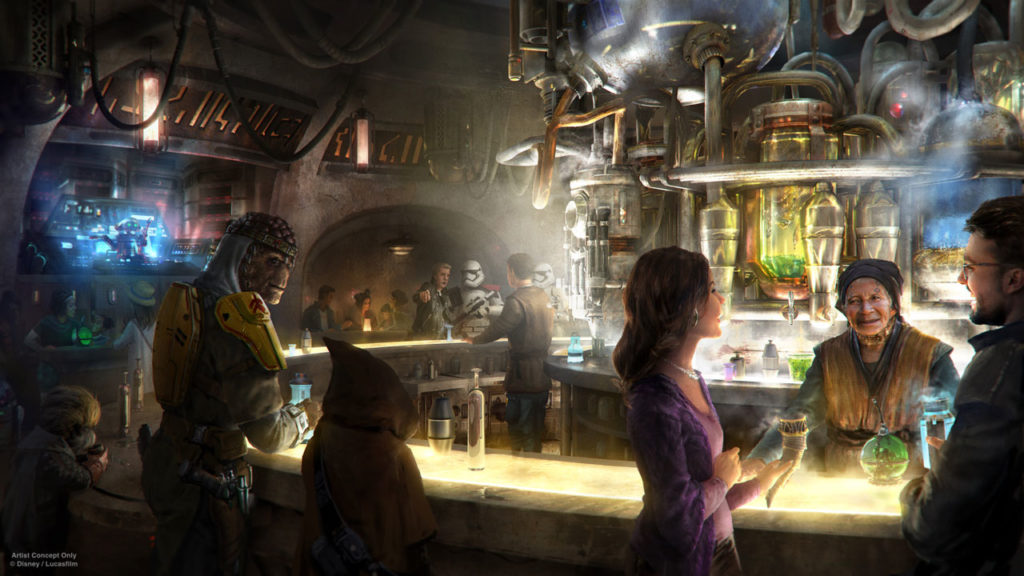 Ever since The Wizarding World of Harry Potter debuted nine years before Star Wars: Galaxy's Edge, incorporating exclusive food and drinks into a theme-park land's proceedings has been of the utmost importance – there are fewer ways to inject guests with a straight dose of immersion (and there are, of course, fewer ways to line the accountants' pockets, making everyone happy all around).
It turns out this is a particular challenge for Star Wars; beyond just a few basic examples (such as the infamous blue milk that has been intriguing audiences ever since the first film landed in theaters in 1977), it's a wide-open playing field. Luckily, Disney has embraced this difficulty head-on, crafting a whole host of brand-new plates and drinks to help convince visitors that they've really found their way to an alien planet in an entirely different galaxy. In fact, given the backstory the company has fashioned for Batuu, generally, and Black Spire Outpost, specifically, there is an entire approach to Galaxy's Edge's gastronomical wares that is both clever and appealing: the Batuuans have developed a "farm to table" style of cooking and preparing their meals, passing down these whole foods and their recipes from generation to generation. As the company itself puts it:
Each dish tells a story of the local culture, drawing inspiration from unique spices, ingredients, and cooking techniques.
The first of Galaxy's Edge's five eateries (and its main watering hole) is Oga's Cantina, which is a type of hybrid venture – half inspired by the legendary Mos Eisley cantina from Episode IV: A New Hope and half an entirely original destination. Guests will no doubt want to spend just as much time here, soaking in the atmosphere along with the wide assortment of beverages, as they do at either of the land's two rides.
Up next is Docking Bay 7 Food and Cargo, a fast-casual restaurant that places its focus on a slew of exotic dishes (and which incorporates some of the pre-existent Star Wars mythology into its premises, mostly in the form of its chef, Strono "Cookie" Tuggs). With its large food lineup and the promise of a potentially-ever-changing menu, this will surely become the favorite venue for many a return visitor.
Ronto Roasters is a barbecue food stand that packages its spicy pork, Portuguese sausage, and turkey jerky wares in a highly-themed, Star Wars-specific presentation. The Milk Stand, meanwhile, is a glorified food-and-beverage cart that sells only Blue and Green Milk (the frozen version, that is – a non-frozen, deluxe version can be found at Oga's Cantina). And, finally, Kat Saka's Kettle is where the grain vendor peddles the "ever popular" Outpost Mix, which is a blend of sweet, savory, and spicy popcorn.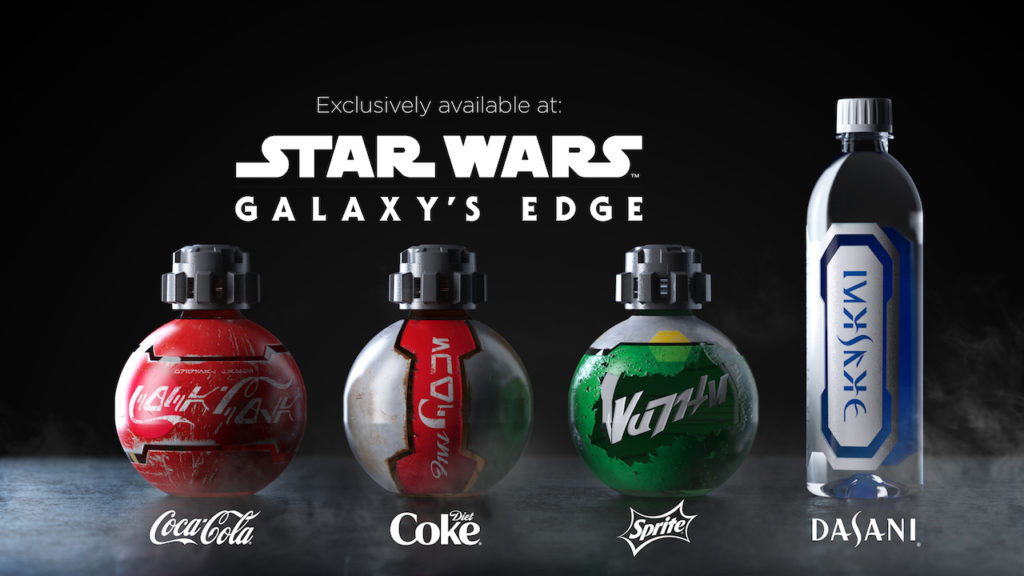 And, finally, you'll also be able to purchase a very cool, very collectible item all throughout the land: Coca-Cola, working in conjunction with Walt Disney Imagineering, has designed brand-new, exclusive bottles for several of its drinks – Coke, Diet Coke, Sprite, and Dasani bottled water – that look like they were slapped together on Batuu, just like any of the rest of the land's various contents (even the company's name is printed in Aurebesh, the written language of the Star Wars universe!).
What are Star Wars: Galaxy's Edge's shops?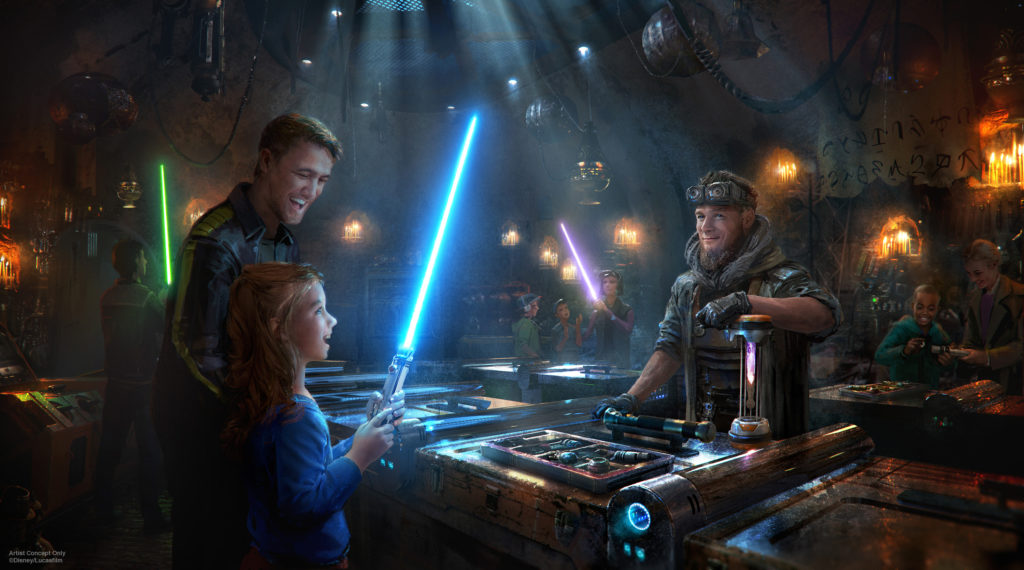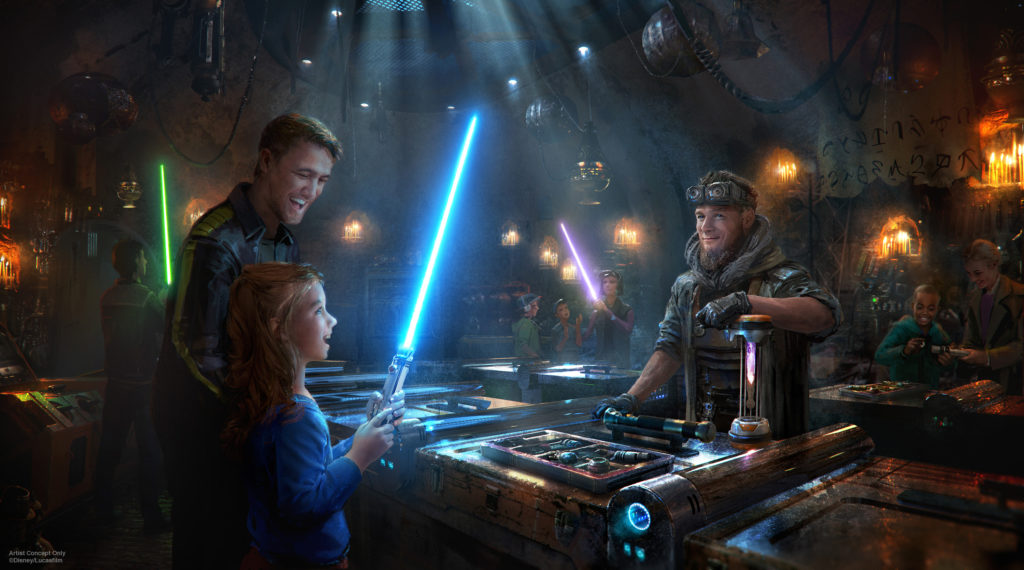 Disney is really attempting to elevate Star Wars: Galaxy's Edge's retail game to the next level, making it just as next-gen as the whole rest of the theme-park land.
The attempt can best be summed up in just one word: immersion. Just as there are no giant marquees proclaiming the area's two rides, there is no Star Wars-branded packaging for whatever item you come across in the various shops; everything will be in-world as much as possible. Likewise, don't expect to find the same merchandise that you've been able to buy for the past 40-plus years at any other store anywhere else in the world, whether they be Darth Vader Christmas blow-up decorations or Luke Skywalker underwear – anything you pick up to purchase in Galaxy's Edge will be exclusive to the land. Think of its wares as items made by Star Wars characters for other Star Wars characters.
But the real brunt of the work here just may be Disney's distinct effort to erase the traditional distinctions between retail spaces and theme-park attractions, such as what we find in Savi's Workshop – Handbuilt Lightsabers. Groups of 14 builders gather at a time to be walked through a themed experience that has them meeting characters and selecting just the right components for their perfect, personalized lightsabers. If this sounds rather in-depth, that's because it is.
Droid Depot is similar, allowing patrons to build their own customizable, mini, remote-controlled astromech droids that can then follow them around the streets of Black Spire Outpost and interact with various elements found throughout the area. (Don't feel like spending the time making your own robot pal? Don't worry – pre-made droids will also be available, with some deluxe models costing as much as $2,000.)
Dok-Ondar's Den of Antiquities is where the suddenly-famous Ithorian, namedropped in Solo: A Star Wars Story and the star of his own comic-book miniseries, sells "rare and uniquely-valued items" from across the galaxy that span all time periods of the Star Wars saga. This is the more traditional retail store, carrying merchandise that can best be described as film replicas, including everything from lightsabers to costumes – although there are still so many Easter eggs (and the audio-animatronic Dok-Ondar himself, who will be at least partially interactive) that patrons will want to take their time looking through here.
Speaking of the more standard-issue gift shops, rounding out the list of Galaxy's Edge's main retail locations are First Order Cargo and Resistance Supply, which are where citizens of the galaxy can go to be equipped as the newest members of the two rival organizations. Both stores carry apparel, gear, and other assorted miscellany for either the dark or light side, and, even more interestingly, both venues have something of a slapdash appearance, having just recently been thrown together (a lot of the merchandise in First Order Cargo, for example, is still in its shipping crates).
In addition to these five main stores/experiences, there are also several market stalls located throughout the Merchant Row district of Black Spire. Toydarian Toymaker offers artisan-style plush characters, wood and tin toys, and musical instruments; the Creature Stall allows patrons the opportunity to "adopt" their very own critter from that galaxy far, far away, covering everything from the cute (porgs) to the scary (rathtars) to the iconic (Kowakian monkey-lizards); the generically-named Black Spire Outfitters features, unsurprisingly, apparel that fits a whole host of occasions that fall outside of the strict purview of the two other clothing suppliers; and The Jewels of Bith sells accessories and trinkets to complete your custom-made Star Wars ensemble.
What are Star Wars: Galaxy's Edge's meet-'n-greets?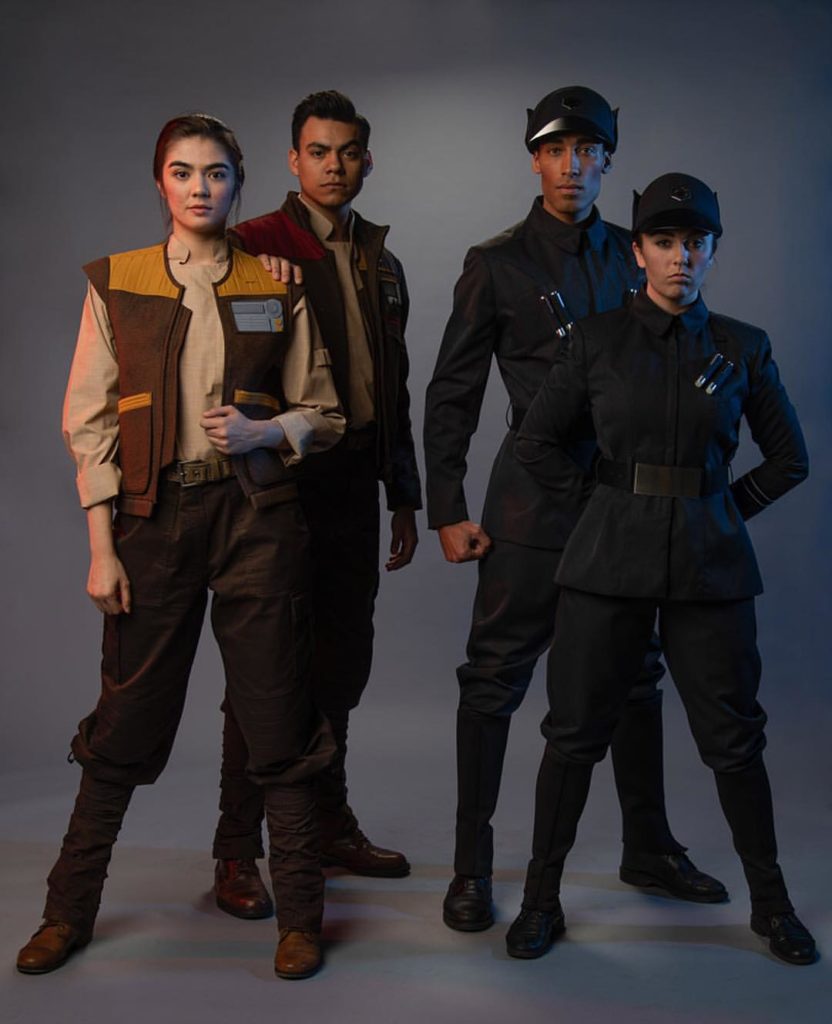 Various meet-'n-greet opportunities will also be on-hand at Black Spire Outpost, although it sounds as if Disney is trying really hard to do away with the standard, wait-in-line-for-your-autograph-and-picture approach and blend these character encounters in with the level of role-playing that the company hopes most, if not all, of its visitors will adopt. For example, the Resistance spy Vi Moradi (who was originally introduced in the novels) will be on hand near the battered X-wing that's stationed close to the entrance of Star Wars: Rise of the Resistance, and chatting with her can lead to guests taking on missions or assignments for General Leia Organa's number-one espionage asset – and, yes, snapping a selfie with Vi can be worked into the proceedings, although it's by no means meant to be the focus.
But an even bigger element at play here just may be to what extent every cast member in Star Wars: Galaxy's Edge has been trained to be in-character, transforming every possible interaction with an employee into a mini-meet-'n-greet itself (the first time in Disney history that this has been done). Each Batuuan has been briefed on the outpost's general backstory and current role within that galaxy far, far away and then given the latitude to come up with their own specific personalities and perspectives on the matters of the day; some, for instance, will be pro-First Order, while others will be aligned with the Resistance – or want the outside world to go completely away. Disney is already encouraging visitors to speak with the cast members as much as possible to help flesh out, say, the mystery of the titular Black Spire formation or to get the latest rumors or gossip on one particular character or another.
And, actually, interacting with the Batuuans will have a whole language all its own – almost literally. "Bright suns" is their expression for "hello" during the day, while "rising moons" is the phrase used for the evening and night; to bid someone farewell, meanwhile, use "good journey" (the most casual), "'til the spires," and "may the spires keep you" (most formal). Children are referred to as "younglings," "padawans" (if they're Force-sensitive), and "youngling transport" (if they're in a stroller), and the even more standard Star Wars lingo of refreshers (bathrooms) and hydrators (water fountains) will also be employed. Finally, "only the ancients know" might come in handy – it's the rather local, flamboyant way of saying, "I don't know."
(Don't worry if all of this seems overwhelming – all of these phrases can be found in the Play Disney Parks app, which we'll cover in some detail in just a moment.)
Underscoring all this immersiveness will be the costuming. While all First Order personnel will strictly adhere to regulation uniforms, the staff portraying Resistance members and general outpost residents will be given an unprecedented degree of flexibility and improvisation; employees get to select the pieces and parts of their costumes from a giant ensemble each and every day, allowing them to be more individualistic and to be more invested in their roles both.
Finally, the last item to fall within the general meet-'n-greet umbrella is the fleet of droids that will roam the streets of Black Spire Outpost – well, one day, at least; as of right now, given the record crowds that are expected to flood the theme-park land for the foreseeable future, it's currently believed that the Mouse has decided to hold off on this last element of Star Wars verisimilitude. Here's to hoping that we'll get to stop and "chat" with those lovable robotic compatriots at some point in the very near future (especially considering that our very own custom-made droids will have the capability of interfacing with Disney's).
What are Star Wars: Galaxy's Edge's interactive elements?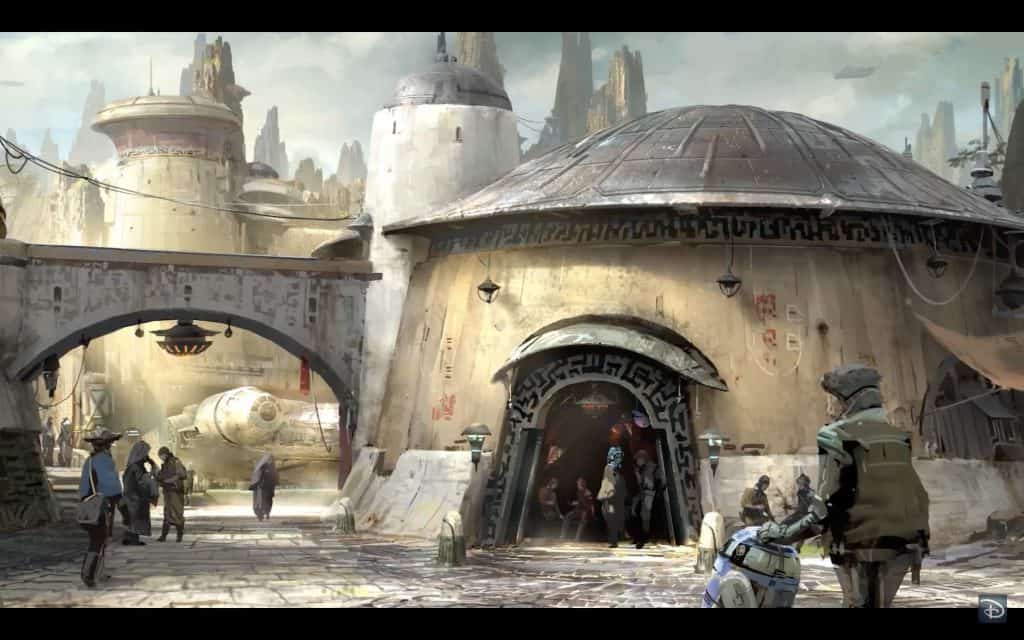 The final attraction in Galaxy's Edge is, arguably, the most exciting – and, certainly, the most revolutionary. User customization is set to play a big role in the land, and it seems the chief method for determining this level of interactivity will be guests' fictitious bank accounts: turning back to Millennium Falcon: Smuggler's Run as an example, riders will be rewarded for their good results by being issued galactic credits (the Star Wars universe's currency); if they do poorly, not meeting the mission's criteria or damaging the ship, they'll be docked money. This, in turn, will influence how the trading outpost's denizens will respond to you, whether they put a bounty on your head (for owing more money than what you currently have) or, possibly, attempt to sidle up to you to get some of those credits for themselves.
All of these stats and figures will be handled through the Play Disney Parks app, which was released on June 30, 2018 and which allows guests to access special content while on-site at either Disneyland or Walt Disney World Resort; games can be played by families while waiting in line for specific rides (such as one of Hollywood Studios's other main attractions, Toy Story Mania), trivia can be conquered, unique playlists can be accessed, and, of course, achievements can be unlocked. (And don't worry – if you don't want to indulge in this more interactive aspect of your Star Wars stay, you can use Play Disney Parks to turn this feature off.)
What is Star Wars: Galactic Starcruiser?
Star Wars: Galactic Starcruiser, a fully themed hotel, will arrive in 2022 (after about a year's delay), and it promises to be even more revolutionary than everything else Disney has been doing with its crown-jewel property. Check out the full details of this next-level immersive experience here. You can also check out a sample itinerary of the experience on our article here.
What are Star Wars: Galaxy's Edge's expansions?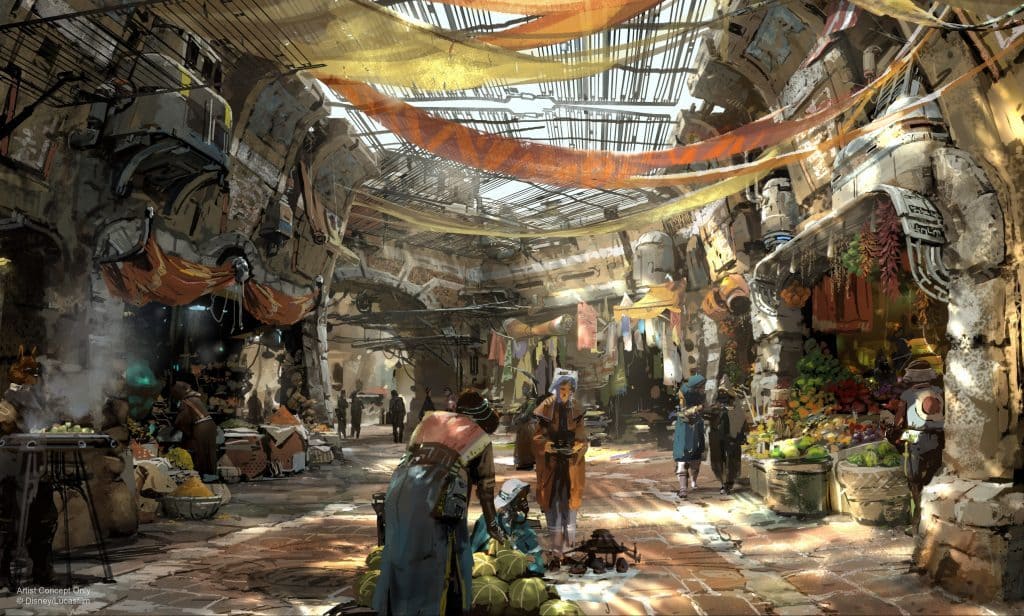 One quick note as we move towards the end of our comprehensive coverage of Star Wars: Galaxy's Edge: it has already been suggested that Disney is saving space at Hollywood Studios (and, perhaps, Disneyland Park) for at least one expansion, should the new area prove to be as successful as the company clearly thinks it will be. Rumors currently indicate that such an addition would consist of one new Black Spire Outpost street, one new E-ticket attraction, and one new restaurant, although those contents could easily be switched up if fan demand or park operations finds that one particular facet of the experience needs to be expounded on.
However, there is another way that the Mouse House can expand the theme-park land's experiences, one that has nothing to do with its physical footprint: interactive elements. Disney has been hinting that new conversations to eavesdrop on, new missions to undertake, and new ways to affect the characters and buildings around you can easily be inserted at any point in the future, thereby adding a level of dynamism that not only keeps Galaxy's Edge fresh, but which should also allow it to continue to respond to all the new Star Wars developments in any future film, TV show, novel, comic book, short story, or videogame.
This may prove to be yet another way that Disney's newest addition is analogous with Universal's Wizarding World of Harry Potter – the two properties could continually see updates and refreshes for a full decade, at least, after their original openings.
What is Star Wars's theme-park history?
Okay – now that we know all about Galaxy's Edge's contents, experiences, and backstory, it's time to take a step back and get a bigger, broader picture of Star Wars's history with The Walt Disney Company's theme parks.
Star Wars may have exploded on the big screen in 1977, but it took another full decade before it would find its way to a theme park. In 1986, at the direct behest of Michael Jackson, George Lucas got involved as the executive producer and co-writer of Captain EO, a 17-minute 3D film that starred Jackson, was directed by Francis Ford Coppola, and (originally) played exclusively at Disneyland and Epcot; using this collaboration as a launching pad, Disney pitched the idea of doing a ride themed to that galaxy far, far away (an attempt to salvage a long-trapped-in-development-hell attraction that had originally started life as a Black Hole motion simulator).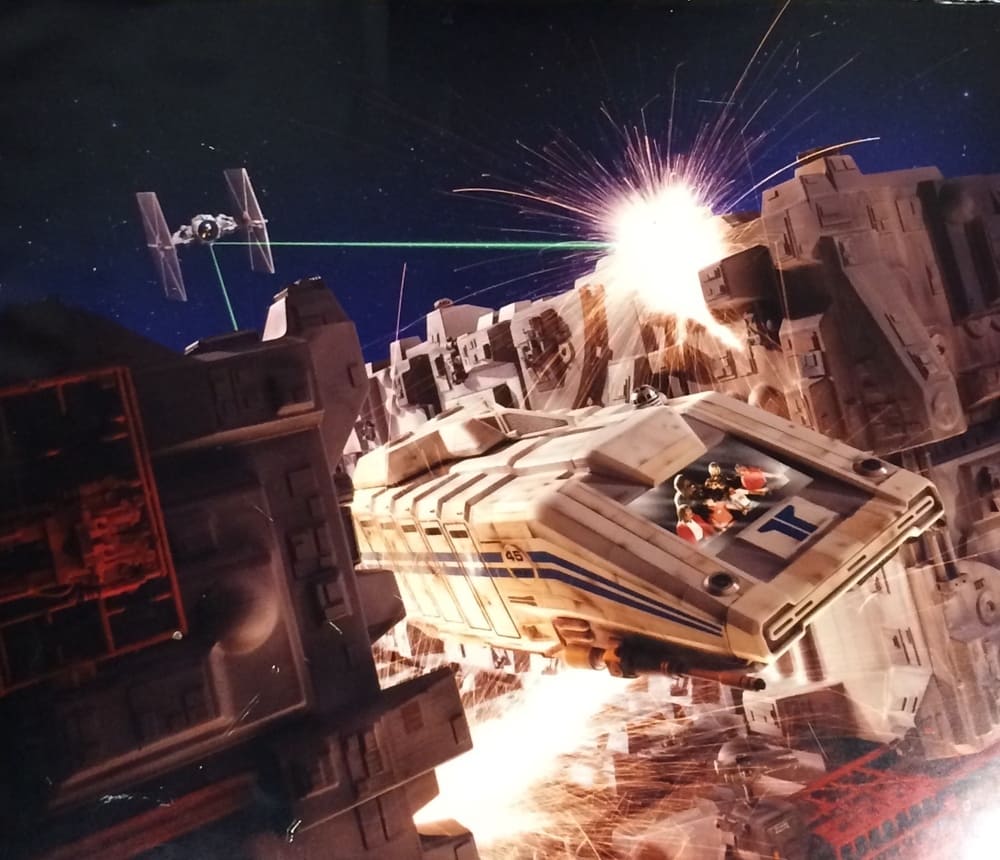 Star Tours arrived a year later at Disneyland's Tomorrowland, marking not only the first Star Wars ride, but the very first attraction in Disney's history to be based off of an intellectual property not owned by the company itself (a fact which is now somewhat ironic, given that Disney would end up purchasing Lucasfilm – and taking full control of the multimedia franchise – 25 years later). Featuring what was then state-of-the-art technology, Star Tours would prove to be so popular, it eventually spread to three other parks, starting with Tokyo Disneyland and the then-brand-new Hollywood Studios in 1989 and finishing up with Disneyland Paris in '92.
Lucas infamously wanted to update first the ride's tech and, then, once the new batch of Star Wars films saw release from 1999 to 2005, its story, but Disney's executive leadership at the time was more interested in keeping costs low than refreshing an attraction that was still popular, even if it was aging. All this changed when Bob Iger became CEO in 2005 – almost immediately thereafter, a Star Tours upgrade was announced. Star Tours: The Adventures Continue arrived in 2011 at both Florida and California, with Japan and France following in the years afterward, and it added a few new tricks to the last-generation motion-simulator technology, such as 3D ride footage and the randomization of locations visited in the attraction (something which continues to be updated to this day, as each new mainline Star Wars release has one of its just-introduced planets be included in the roster).
More importantly, however, this new project once again served as the jumping-off point for a further business venture between the two companies. When Iger and Lucas were gathered at Hollywood Studios's Brown Derby for a pre-opening-celebration meal, the Disney head honcho brought up the possibility of purchasing Lucasfilm, generally, and Star Wars, specifically, from the famed filmmaker. Within the next year-and-a-half, George Lucas agreed to the proposition, and the $4 billion transaction was grandly announced on October 30, 2012.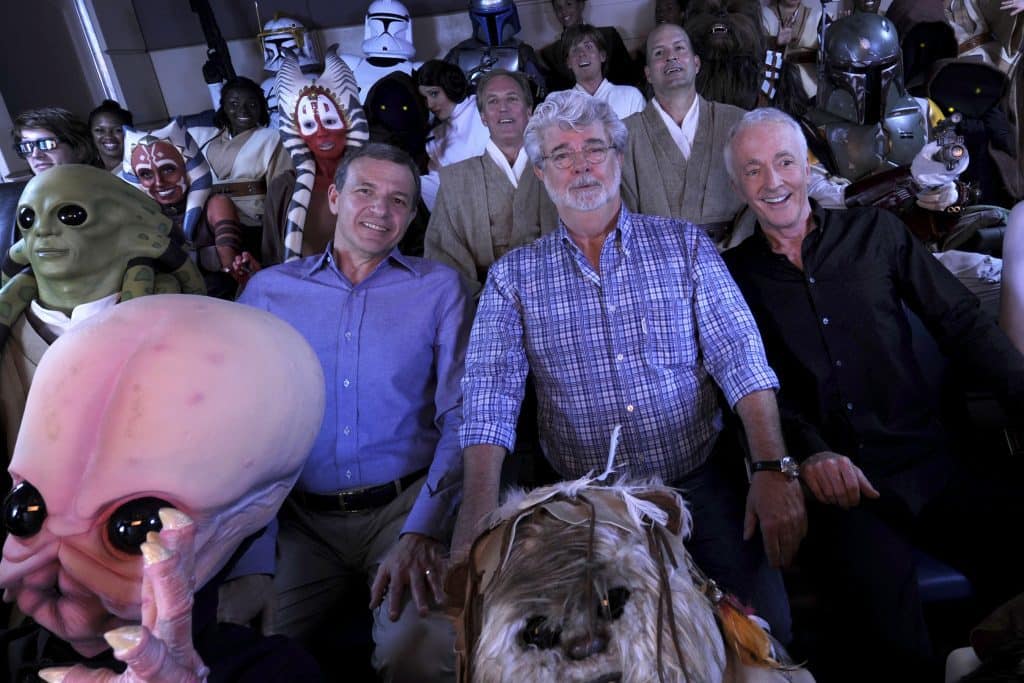 Although the public's immediate attention went to the new slate of films that was confirmed alongside news of the sale, thought about how the property could be further implemented into Disney's parks around the world wasn't far off; although a number of SW-themed shows, meet-'n-greets, and fireworks displays had cropped up in the years since 1987, starting with the annual Star Wars Weekends in 1997 and most recently including Star Wars: Galactic Nights in 2018, these were more half-step experiences, not full-fledged, multimillion-dollar attractions. Rumor had it that an entire land would now be devoted to Lucas's brainchild, one that would represent one of Disney's biggest investments in its theme-park history.
Those rumors, of course, ended up being true, but it took the company a long time to formally acknowledge them, partially thanks to The Wizarding World of Harry Potter – Diagon Alley (which, it was reported, sent the project's Imagineers scrambling back to the drawing board to create a land that was just as detailed and just as immersive as the Boy Wizard's) and partially thanks to the latest round of Star Wars films (Disney wanted to wait and see how well they were received so as to figure out how heavily to incorporate them into the new themed area). After nearly three years of promises, hints, and teases, Disney finally made "Star Wars Land" official on August 15, 2015, during that year's D23 Expo.
Construction started at Disneyland on April 14, 2016 (with Hollywood Studios breaking ground shortly thereafter); an initial opening-date announcement of 2019 followed eight months later, which was issued during a quarterly earnings call. Though the company had been releasing a small-but-steady trickle of information on the project's contents all throughout this time, it really started to open the floodgates during the 2017 D23 Expo, debuting a fully-detailed, 50-foot-long, half-inch-to-one-foot scale model of the entire land; revealing the expansion's name as Star Wars: Galaxy's Edge; and disclosing the new ride vehicle for one of the two attractions.
From thereafter, the information stream was mostly shut back off, but The Walt Disney Company did have one big surprise in store for fans on Friday, November 17, 2017: first, it announced that the name of the mysterious world that Galaxy's Edge is set on is Batuu; then it introduced the ancient trading-port planet as a brand-new location in Star Tours: The Adventures Continue, allowing guests to get just a sneak peek at the future locale.
The next big developments would take several months to arrive. First, late in the evening on May 22, 2018, Disney gave more specific release "windows" for its two versions of Star Wars Land: Disneyland's would arrive in the summer of 2019, while Hollywood Studios's would bow in late fall '19. Then, on July 24, fans got their very first chance to "visit" Batuu in the form of the novel Thrawn: Alliances – a good chunk of the book takes place on the remote planet, offering an overview of its geography, local atmosphere, and, just perhaps, its drink menu (you can find a full analysis of all that in our complete write-up). And speaking of the drink menu, on August 30 the company not only announced the name of Galaxy's Edge's bar (that would be Oga's Cantina), but also confirmed that the establishment would serve alcoholic beverages – a big deal for the Disneyland version of the land, as it represents the first time that booze will be offered to the average guest on a regular basis in the park's 60-plus-year history.
On November 17, 2018, during the Destination D: Celebrating Mickey Mouse special event, Disney let loose a bevy of revelations, including – at long last – the names of Galaxy's Edge's two attractions, a bit more info on how the area's interactivity will work, the little nugget that John Williams would be composing some exclusive music for the project, and, finally, a release-date window for the Star Wars Hotel (which will be anywhere from a year-and-a-half to two years after the land itself bows).
Most recently, in January 2019, the most concrete information we've yet received started to wash ashore. First up, on the 3rd, the financial publication Barron's posted the results of its behind-the-scenes tour of the still-under-construction Star Wars Land over in Disneyland, which included a whole host of little details that covered everything from new snippets on Star Wars: Rise of the Resistance's queue and ride experience to the seating arrangements (or lack thereof) of Oga's Cantina, the area's restaurant. (You can find these little nuggets spread literally from the top to the bottom of this entire guide page.) And then, even more dramatically, on the 8th a young-adult novel called Pirate's Price was released, with its ending all but leading directly into Galaxy's Edge's opening – particularly Millennium Falcon: Smuggler's Run, whose backstory the book spells out in quite some detail. We have another exhaustive feature on this topic, as well.
All of this, of course, culminated in Star Wars: Galaxy's Edge's opening dates: May 31, 2019 at Disneyland Park in Disneyland Resort and August 29 at Hollywood Studios in Walt Disney World Resort.
Star Wars: Galaxy's Edge – index of articles
Here are all of our recent news updates, in-depth features, and speculative pieces regarding Galaxy's Edge, both here in Orlando and in Anaheim. Keep your eyes peeled here for the latest:
2020
Disney makes virtual-queue changes and increases capacity of Star Wars: Rise of the Resistance
Disney, "Star Wars," and a new theme-park hope: A look back at the Lucasfilm purchase
2019
Star Wars: Rise of the Resistance in-depth
The Millennium Falcon ride's story revealed
Star Wars: Secrets from the story of Galaxy's Edge
2018
Major Disney World news on Star Wars, Guardians of the Galaxy, and more
2017
Disney is tying all of its Star Wars attractions together
Disney's new biannual Star Wars party
4 exciting expansions coming to Orlando theme parks
Universal researching Star Wars hotel impact and Express changes
Star Wars: Galaxy's Edge details revealed
Star Wars Land's secret interactivity revealed?
The one way that the Harry Potter and Star Wars lands backfire
Is Star Wars Land getting delayed?
Our first glimpse of Star Wars Land's layout and attractions
Is Disney making Star Wars, Indiana Jones, and Frozen hotels?
Four things we just learned about Star Wars Land
New behind-the-scenes video released about Star Wars Land
Did Disney just confirm a major Star Wars Land rumor?