There are few theme park projects anywhere in the world that can compare with the interest or, even, potential revolutionary nature of Star Wars: Galaxy's Edge. The new land, which will arrive first at Anaheim's Disneyland in summer 2019 (a recent estimate by Barron's places it at early June) and then in the (late) fall at Orlando's Hollywood Studios, looks to up the theming ante in ways both big and small, taking the paradigm-setting nature of The Wizarding World of Harry Potter and the refinements of Pandora: The World of Avatar and running with them to the nth degree. Indeed, just to convey the scope of the undertaking, Galaxy's Edge is 14 acres in size, making it the biggest expansion Disney has ever devoted to just one property; Industrial Light & Magic, the visual-effects company that writer-director George Lucas started in 1975 in order to help him realize his Star Wars films, has been recruited to help develop the area; and John Williams, the legendary composer responsible for all of the (main) movies' soundtracks, has been tasked with composing an original theme exclusively for the project.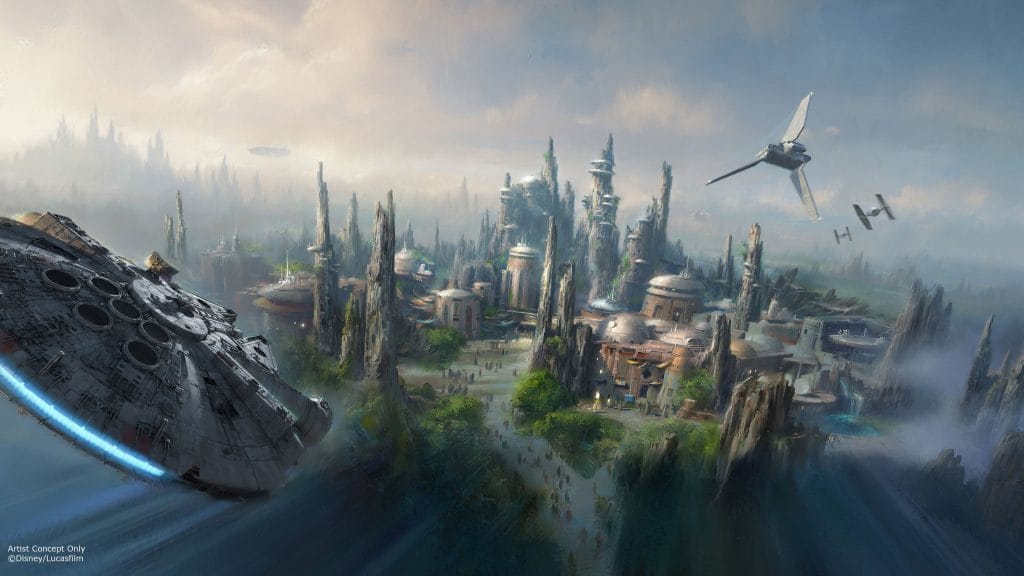 The land's arrival will also complete a years-long rebirth of Hollywood Studios, resulting in a park that will be one of the strongest – and busiest – at Walt Disney World instead of a half-day stop on the way to other adventures at the resort. In this way, Star Wars: Galaxy's Edge will be a massive game-changer for Orlando, specifically, as well as all future themed additions, generally (Universal's Super Nintendo World, take notice).
Skip to: History | Location | Backstory | Continuity | Layout | Attractions | Star Wars Hotel | Expansion(s) | Articles
Star Wars: Galaxy's Edge – history
Star Wars may have exploded on the big screen in 1977, but it took another full decade before it would find its way to a theme park. In 1986, at the direct behest of Michael Jackson, George Lucas got involved as the executive producer and co-writer of Captain EO, a 17-minute 3D film that starred Jackson, was directed by Francis Ford Coppola, and (originally) played exclusively at Disneyland and Epcot; using this collaboration as a launching pad, Disney pitched the idea of doing a ride themed to that galaxy far, far away (an attempt to salvage a long-trapped-in-development-hell attraction that had originally started life as a Black Hole motion simulator).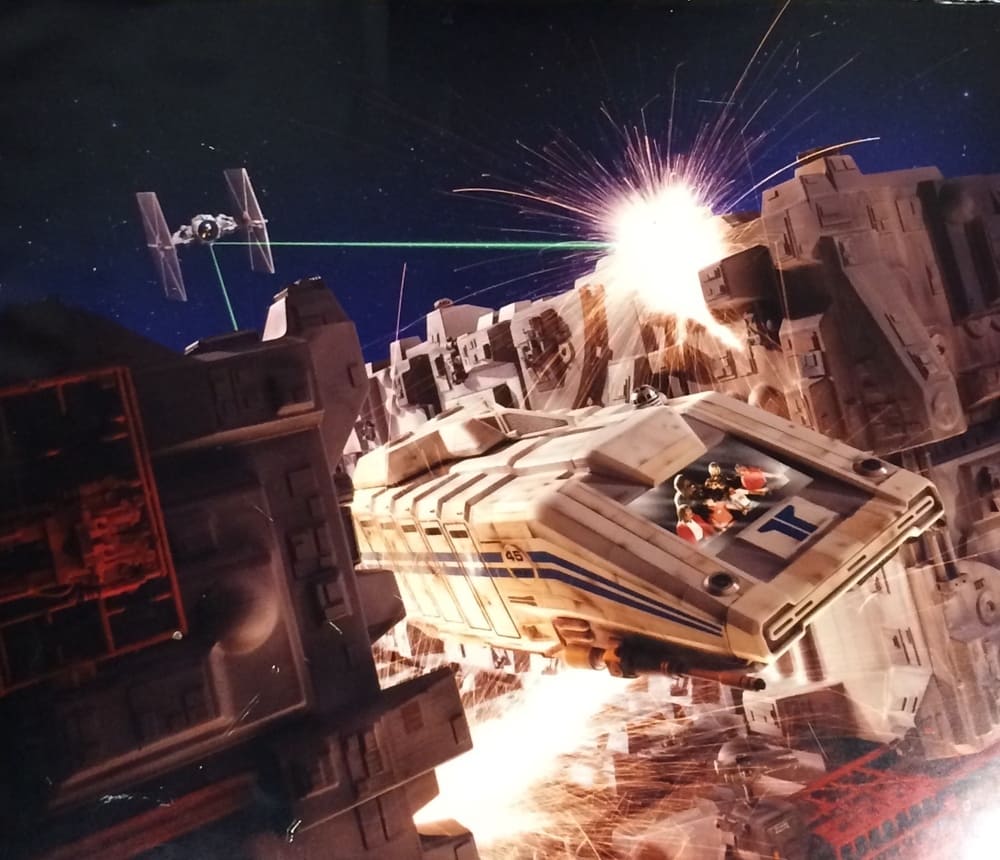 Star Tours arrived a year later at Disneyland's Tomorrowland, marking not only the first Star Wars ride, but the very first attraction in Disney's history to be based off of an intellectual property not owned by the company itself (a fact which is now somewhat ironic, given that Disney would end up purchasing Lucasfilm – and taking full control of the multimedia franchise – 25 years later). Featuring what was then state-of-the-art technology, Star Tours would prove to be so popular, it eventually spread to three other parks, starting with Tokyo Disneyland and the then-brand-new Hollywood Studios in 1989 and finishing up with Disneyland Paris in '92.
Lucas infamously wanted to update first the ride's tech and, then, once the new batch of Star Wars films saw release from 1999 to 2005, its story, but Disney's executive leadership at the time was more interested in keeping costs low than refreshing an attraction that was still popular, even if it was aging. All this changed when Bob Iger became CEO in 2005 – almost immediately thereafter, a Star Tours upgrade was announced. Star Tours: The Adventures Continue arrived in 2011 at both Florida and California, with Japan and France following in the years afterward, and it added a few new tricks to the last-generation motion-simulator technology, such as 3D ride footage and the randomization of locations visited in the attraction (something which continues to be updated to this day, as each new mainline Star Wars release has one of its just-introduced planets be included in the roster).
More importantly, however, this new project once again served as the jumping-off point for a further business venture between the two companies. When Iger and Lucas were gathered at Hollywood Studios's Brown Derby for a pre-opening-celebration meal, the Disney head honcho brought up the possibility of purchasing Lucasfilm, generally, and Star Wars, specifically, from the famed filmmaker. Within the next year-and-a-half, George Lucas agreed to the proposition, and the $4 billion transaction was grandly announced on October 30, 2012.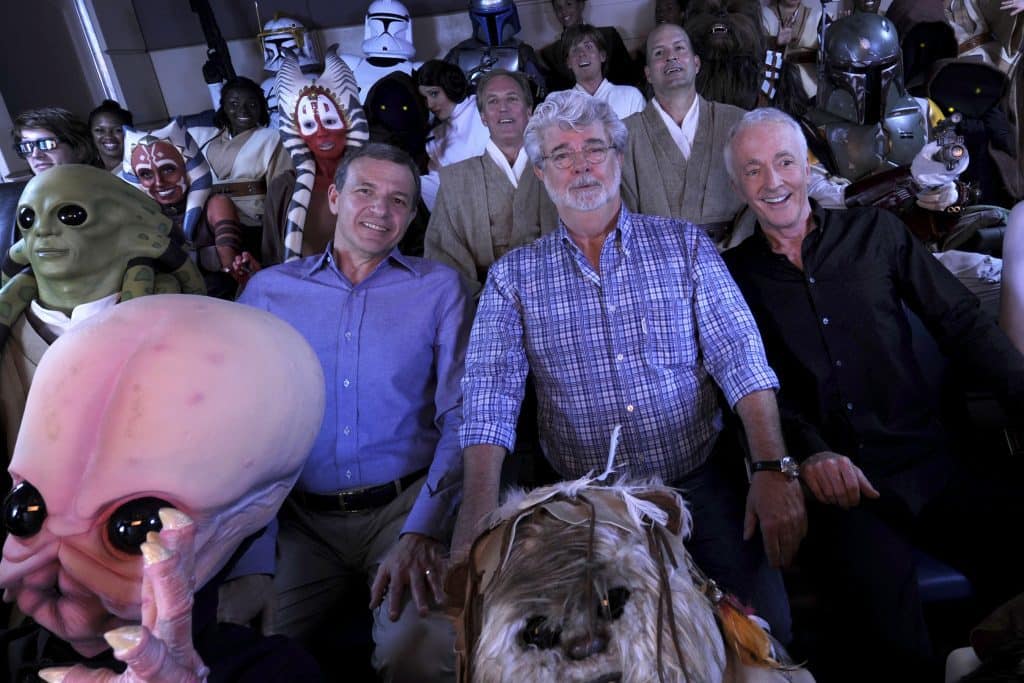 Although the public's immediate attention went to the new slate of films that was confirmed alongside news of the sale, thought about how the property could be further implemented into Disney's parks around the world wasn't far off; although a number of SW-themed shows, meet-'n-greets, and fireworks displays had cropped up in the years since 1987, starting with the annual Star Wars Weekends in 1997 and most recently including Star Wars: Galactic Nights in 2018, these were more half-step experiences, not full-fledged, multimillion-dollar attractions. Rumor had it that an entire land would now be devoted to Lucas's brainchild, one that would represent one of Disney's biggest investments in its theme-park history.
Those rumors, of course, ended up being true, but it took the company a long time to formally acknowledge them, partially thanks to The Wizarding World of Harry Potter – Diagon Alley (which, it was reported, sent the project's Imagineers scrambling back to the drawing board to create a land that was just as detailed and just as immersive as the Boy Wizard's) and partially thanks to the latest round of Star Wars films (Disney wanted to wait and see how well they were received so as to figure out how heavily to incorporate them into the new themed area). After nearly three years of promises, hints, and teases, Disney finally made "Star Wars Land" official on August 15, 2015, during that year's D23 Expo.
Construction started at Disneyland on April 14, 2016 (with Hollywood Studios breaking ground shortly thereafter); an initial opening-date announcement of 2019 followed eight months later, which was issued during a quarterly earnings call. Though the company had been releasing a small-but-steady trickle of information on the project's contents all throughout this time, it really started to open the floodgates during the 2017 D23 Expo, debuting a fully-detailed, 50-foot-long, half-inch-to-one-foot scale model of the entire land; revealing the expansion's name as Star Wars: Galaxy's Edge; and disclosing the new ride vehicle for one of the two attractions.
From thereafter, the information stream was mostly shut back off, but The Walt Disney Company did have one big surprise in store for fans on Friday, November 17, 2017: first, it announced that the name of the mysterious world that Galaxy's Edge is set on is Batuu; then it introduced the ancient trading-port planet as a brand-new location in Star Tours: The Adventures Continue, allowing guests to get just a sneak peek at the future locale.
The next big developments would take several months to arrive. First, late in the evening on May 22, 2018, Disney gave more specific release "windows" for its two versions of Star Wars Land: Disneyland's would arrive in the summer of 2019, while Hollywood Studios's would bow in late fall '19. Then, on July 24, fans got their very first chance to "visit" Batuu in the form of the novel Thrawn: Alliances – a good chunk of the book takes place on the remote planet, offering an overview of its geography, local atmosphere, and, just perhaps, its drink menu (you can find a full analysis of all that in our complete write-up). And speaking of the drink menu, on August 30 the company not only announced the name of Galaxy's Edge's bar (that would be Oga's Cantina), but also confirmed that the establishment would serve alcoholic beverages – a big deal for the Disneyland version of the land, as it represents the first time that booze will be offered to the average guest on a regular basis in the park's 60-plus-year history.
On November 17, 2018, during the Destination D: Celebrating Mickey Mouse special event, Disney let loose a bevy of revelations, including – at long last – the names of Galaxy's Edge's two attractions, a bit more info on how the area's interactivity will work, the little nugget that John Williams would be composing some exclusive music for the project, and, finally, a release-date window for the Star Wars Hotel (which will be anywhere from a year-and-a-half to two years after the land itself bows).
Most recently, in January, the most concrete information we've yet received started to wash ashore. First up, on the 3rd, the financial publication Barron's posted the results of its behind-the-scenes tour of the still-under-construction Star Wars Land over in Disneyland, which included a whole host of little details that covered everything from new details of Star Wars: Rise of the Resistance's queue and ride experience to the seating arrangements (or lack thereof) of Oga's Cantina, the area's restaurant. (You can find these little nuggets spread literally from the top to the bottom of this entire guide page.) And then, even more dramatically, on the 8th a young-adult novel called Pirate's Price was released, with its ending all but leading directly into Galaxy's Edge's opening – particularly Millennium Falcon: Smuggler's Run, whose backstory the book spells out in quite some detail. We have another exhaustive feature on this topic, as well.
Star Wars: Galaxy's Edge – location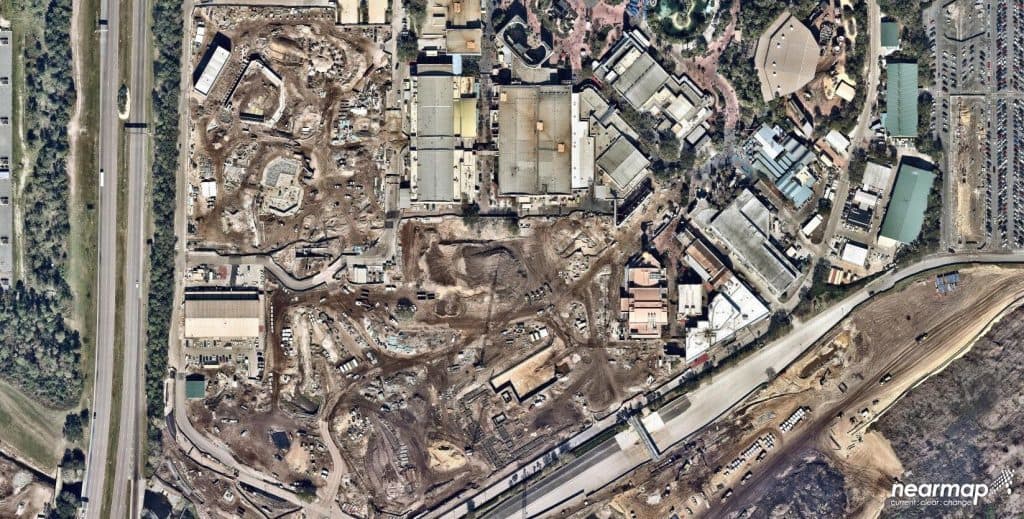 Star Wars: Galaxy's Edge will be going into that giant swath of Disney's Hollywood Studios that originally belonged to the Studio Backlot Tour, which was the very heart of the movie studio-themed park when it first opened in 1989. This giant complex of working soundstages and employee-only facilities had been slowly-but-surely chipped away at during the first two decades of Hollywood Studios's existence, with Disney eventually creating the Streets of America and Pixar Place lands out of it (along with such attractions as Lights, Motors, Action! Extreme Stunt Show).
The Star Wars-themed land specifically is set to occupy the former Streets of America section, which closed on April 2, 2016 – roughly a year-and-a-half after the stripped-down Backlot Tour itself was axed – in order to make room for that galaxy far, far away. (The leftover portion of Streets of America that Galaxy's Edge won't touch has been rechristened Grand Avenue and has been made the new home of Muppet*Vision 3D, the area's only attraction left standing.)
This, of course, leaves a fair bit of distance between the future Galaxy's Edge and the pre-existent Star Tours: The Adventures Continue (and its next-door Jedi Training: Trials of the Temple), not to mention the interfering presence of Grand Avenue. It is currently unknown how – or whether – Disney will connect the two areas to make one continuous Star Wars presence; the company could choose to snake a road around the Muppets show to link up with Star Tours, possibly even switching the ride's entrance around to the other side of the show-building (just as it did with Toy Story Mania, in order to give it an entrance and exit directly unto the new Toy Story Land), although this seems rather far-fetched. Another possibility that has been rumored is the moving of at least Jedi Training to a closer, now-empty soundstage, but the viability of this scenario also remains dubious.
More likely than not, the two older Star Wars attractions will either have to be shut down or, at the very least, to remain disconnected from the new expansion – not only for logistical reasons, but also for narrative and thematic concerns (as we'll see next).
Star Wars: Galaxy's Edge – backstory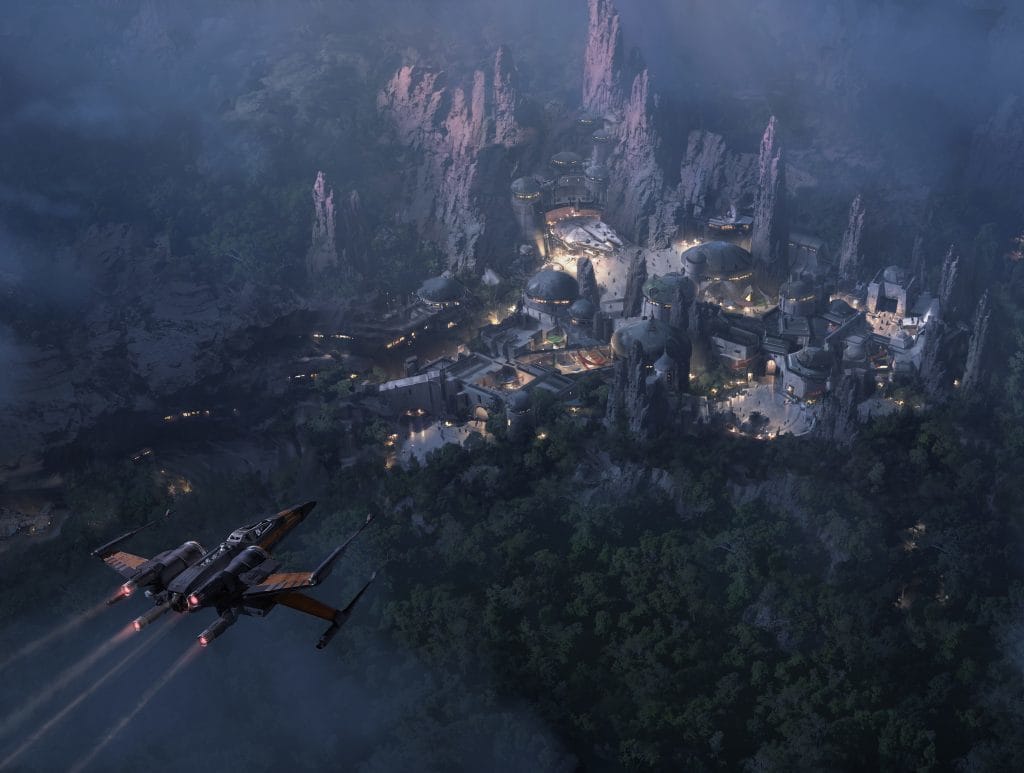 Taking a very big page from The Wizarding World of Harry Potter, Star Wars: Galaxy's Edge inhabits just one specific city from one specific planet: Black Spire Outpost on Batuu (instead of attempting to cram all the familiar locations in together from all nine films). In conjunction with Lucasfilm's Story Group – the division responsible for supervising the narrative of each and every Star Wars release, from the movies to the novels to the videogames – Walt Disney Imagineering opted to make this new planet of Batuu an original entry in the canon, with an entirely new backstory, culture, and inhabitants; guests are meant to feel as if they're exploring a fresh chapter of the Star Wars mythology instead of retreading old adventures.
And what a backstory it is! Located in the Outer Rim in the Unknown Regions, Batuu used to function as a vibrant trading post before the advent of faster-than-light travel through hyperspace. Now, interstellar commerce has passed it by, making it one of countless forgotten destinations – except for by those individuals who don't want to be found, including bounty hunters, smugglers, and rogue adventurers. This planet is now a safe haven for the galaxy's seamy underbelly, and guests will be able to interact with all of these different groups to various degrees.
And, of course, Black Spire Outpost itself has been thoroughly integrated into this sweeping history. According to Disney:
Widely known for the petrified remains of its once-towering ancient trees, the spires now stand guard across the river valleys and plains and have long captured the imagination of travelers to this planet. To the first settlers, these petrified spires became more than just landmarks – they became the heart of the outpost itself.
Star Wars: Galaxy's Edge – continuity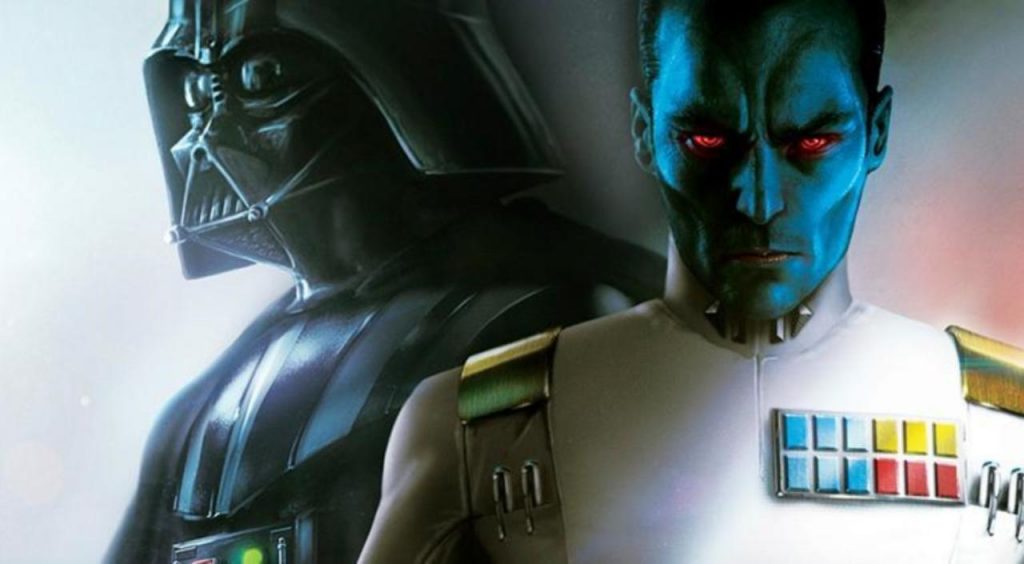 Given the fully interconnected nature of the new, Disney-owned Star Wars Expanded Universe, Batuu has already begun to be integrated into the canon and will undoubtedly feature in future releases, particularly given the importance that the Unknown Regions have been receiving over the past few years.
Here's a (very) streamlined version of what you need to know: Emperor Sheev Palpatine has been obsessed with Wild Space – particularly beyond the galactic rim, where no one has ever managed to venture before – since even before the birth of the Empire, thanks to (1) the possibility of expansion that the Unknown Regions represent and (2) his growing belief that the dark side of the Force itself emanates from there. But there are many dangers lying in wait, ranging from natural phenomena that make hyperspace travel difficult, if not outright impossible, to a number of technologically-superior military threats contained in the region, including the Gyrsks, who have been secretly watching both the Old Republic and Galactic Empire for the past few decades, waiting to launch an all-out invasion. (Batuu features here, as its callous, indifferent populace makes the world a useful staging ground for the shipment of supplies and a recruitment zone for future allies – until Darth Vader and Grand Admiral Thrawn discover the Grysks' covert operations and forcibly end them just before the end of the Rebels television series and the beginning of the original trilogy of films.)
Although Palpatine, after years and years of trial-and-error, finally manages to plot a safe trajectory through the Unknown Regions and out into intergalactic space, he dies before being able to do so – but he passes on the information to the remaining Imperial leadership, along with the instructions to finish destroying the Rebel Alliance and then start a new Empire in a brand-new galaxy (no one else will ever be allowed to rule his galaxy, after all). The latter part of the mandate ultimately comes to fruition just one year after the end of the original trilogy, with the leftover Imperial remnant declaring itself the First Order as it heads out for greener pastures.
At some point across the next 25 (or so) years, this new New Order decides to return to its roots, coming back to a galaxy now governed by the New Republic (as this story has yet to be told, we're not exactly certain why this comes to pass). The First Order quietly prepares for a new Galactic Civil War, one meant to topple the New Republic and its fledgling Jedi protectors once and for all – what the premise of the sequel trilogy (which began with 2015's Episode VII: The Force Awakens and will conclude with 2019's still-untitled Episode IX) is.
Where does Galaxy's Edge fit into all this? The new theme-park land is set shortly after 2017's Episode VIII: The Last Jedi, with the new war now raging, General Leia Organa's Resistance all but smashed, and the First Order freshly dominant. We don't have too many narrative specifics just yet, except for this one doozy: in order to secure new parts and supplies for what's left of the Resistance's fleet, Chewbacca (begrudgingly) loans the Millennium Falcon to grizzled old pirate Hondo Ohnaka, who is eager to use it as the centerpiece of the little smuggling operation he's currently putting together (where is his new base of operations? Why, Batuu, of course).
Perhaps because of this, or, perhaps, because of the galactic conquest that Kylo Ren is now engaged in, both the First Order and the Resistance have just made their way to Batuu, as well…
Star Wars: Galaxy's Edge – layout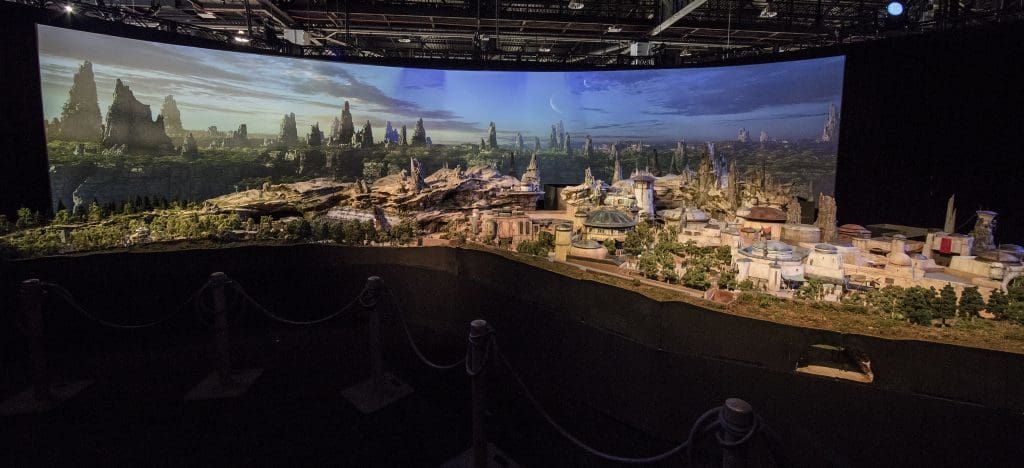 Although plenty of concept art (and that big, beautiful model!) has been released, Disney has yet to unveil where all of Galaxy's Edge's rides and experiences will be located in the land – with one possible exception, that is.
On Sunday, May 27, 2018, Disney threw one of its occasional Galactic Nights after-hours parties at Hollywood Studios (this time to coincide with the theatrical release of Solo: A Star Wars Story), and, during the event, it handed out several trading cards for attendees to collect. More than just being a nice souvenir, all of these cards formed a type of map of Black Spire Outpost when gathered together – and while we're not sure how topographically accurate it is, it at least provides us with a general sense of where everything could be located.
Here's the completed Galactic Nights map, thanks to Twitter user (and, apparently, massive Star Wars fan) Nick Tierce: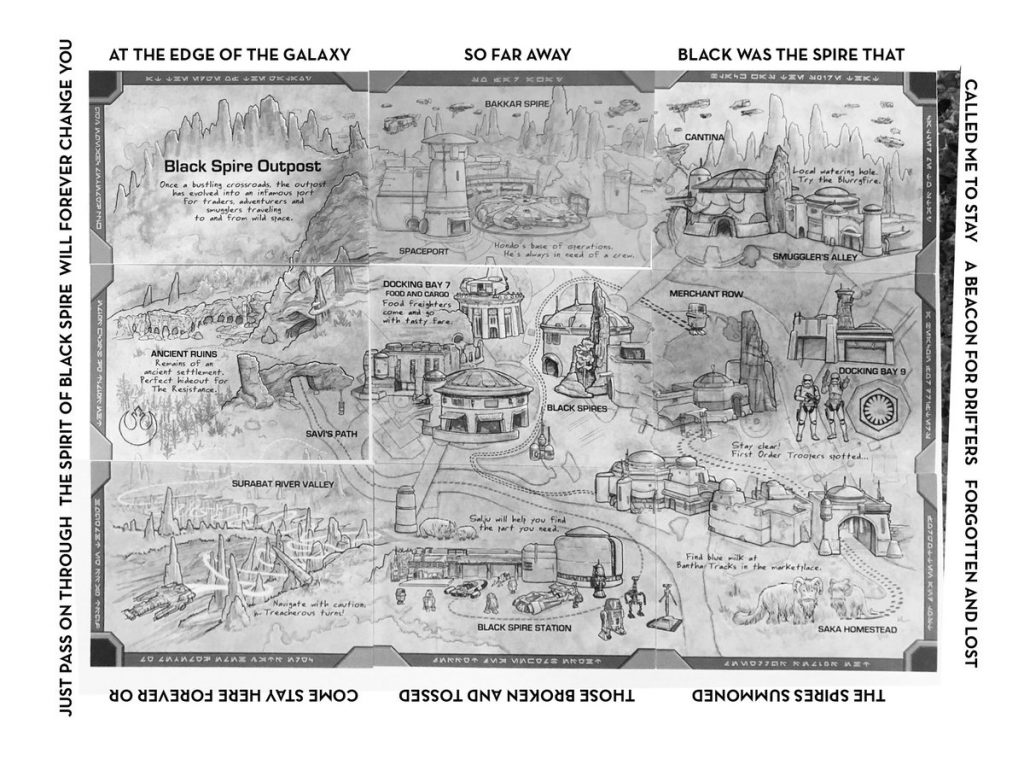 The main entranceway, located in the bottom right-hand corner of the map, will lead to Black Spire's marketplace, which may or may not technically include Black Spire Station (where "Salju will help you find the part you need"). Disney has said that this section will be exotic, will be comprised of low, circular buildings, and will offer up all manner of merchandise, including illicit items from the galaxy's black market. This bazaar will also constitute visitors' first exposure to Batuu's various denizens, which will consist of aliens, droids, and animals.
Straight up the right-hand side of Galaxy's Edge is Merchant Row, which we're assuming will form the heart of the marketplace, with Smuggler's Alley and Oga's Cantina located behind that (while we're not certain what the former will entail, the latter is the land's main restaurant).  They sit side-by-side with Docking Bay 9, the area that doubles as the First Order's main base of operations in the city (and where the first of the land's two attractions will be situated).
Moving to the left, in the center of Galaxy's Edge, we come across the Black Spires (what the outpost is named after) and Docking Bay 7, which appears to be a counter-service venue. Behind it, next to the cantina, is the Spaceport; here one can find Hondo Ohnaka, a recurring character from the Clone Wars and Rebels animated series, and the Millennium Falcon, where both character meet-'n-greets and the second ride will be located.
Finally, all the way on the other side of Black Spire Outpost is the Resistance's secret base, hidden among the Ancient Ruins.
Surrounding the land will be a giant berm, in order to shield Black Spire Outpost from the prying eyes outside, making it as secluded and immersive as is Diagon Alley (where Disney picked the trick up).
(Want an in-universe overview of Black Spire Outpost's geography? Be sure to read our in-depth feature.)
Star Wars: Galaxy's Edge – attractions
Once again like The Wizarding World of Harry Potter and Pandora: The World of Avatar, Star Wars: Galaxy's Edge will have fully-realized experiences all across the board, from shopping and dining to the rides themselves. It looks as if visitors will be able to get lost in their favorite space opera for hours at a time – exactly what both the fan base and Disney's accountants are excited for.
The rides
It is obvious that the land's two rides remain Star Wars's most-closely-guarded secret by Disney, with the company only dribbling out tidbits instead of issuing grand proclamations or sweeping reveals. Still, when everything is combined together, we get to see just what their scope and potential impact will be.
One interesting point to make in this regard is the approach that the Mouse is taking to these experiences' entrances – just as with Pandora, there won't be a traditional ride marquee like we see in practically every other themed land in Orlando; instead, only subtle markings will be present to indicate to guests that they've found the attractions. This will only help to further cement Batuu's sense of place and realism both.
Millennium Falcon: Smuggler's Run
That's right – Disney is making countless children's (and adults'!) dreams come true by allowing them to climb aboard the Millennium Falcon and take her out for a spin.
Six guests will sit in the cockpit of the famous ship and assume one of three "unique and critical flight-crew roles," which seem to include manning the quad guns, prepping the navicomputer for a hyperspace jump, and, of course, piloting. Smuggler's Run's real-time video-rendering technology, which was crafted by Industrial Light & Magic, generates the landscape around passengers on the fly, responding to the way they handle the 200 cockpit controls – which means that, for example, riders can knock over a spire during takeoff. How well crew members perform their duties will follow them out onto the streets of Black Spire Outpost, informing how certain individuals will react to them (if guests opt for this level of interactivity, that is).
(Worried about the throughput of a ride that can only sit six at a time? Don't be. According to Disney, Millennium Falcon will have enough "cockpit pods" to push through 1,800 people an hour.)
Before you can make your way to the cockpit, however, you'll first need to climb through the Falcon's hatch and walk her legendary halls. As the following photograph shows, Disney is really sparing no expense when it comes to immersing guests in the Star Wars experience: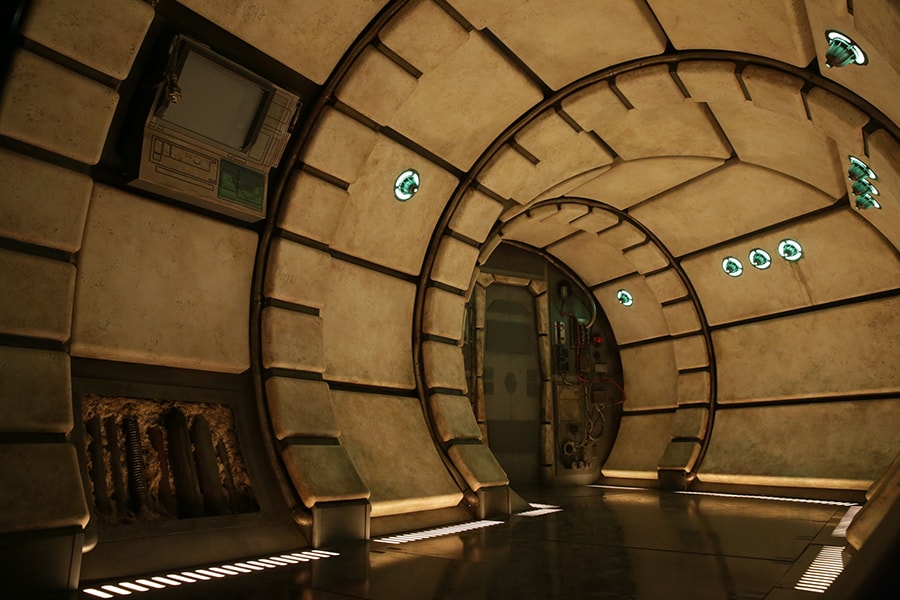 What may perhaps be even more interesting than the ride mechanics themselves is the attraction's backstory. Hondo Ohnaka, that old space pirate from The Clone Wars and Rebels, has entered into an arrangement with Chewbacca and Rey, the current owners of the Millennium Falcon, to temporarily use the fastest hunk of junk in the galaxy for his brand-new, Batuu-based "business venture": Ohnaka Transport Solutions, which is, in reality, a very thin front for a new smuggling operation. Having put the call out for new recruits – experience isn't needed, but discretion is a must – Hondo eagerly welcomes his new dear friends aboard his new dear vessel for the adventure of a lifetime.
(What's important to note here is that we receive all this information from the book Pirate's Price, which essentially acts as a direct lead-up to Millennium Falcon: Smuggler's Run – and which makes clear that the infestation of porgs from Episode VIII: The Last Jedi is still plaguing the ship. Might this mean that the cute little critters will make a cameo [or two] in the ride?)
Star Wars: Rise of the Resistance
Described by Disney as the most immersive ride it's ever built, Rise of the Resistance has guests becoming members of General Organa's titular militia as they wind their way through the group's newly-repurposed base on Batuu (otherwise known as the attraction's queue) – before they're captured by the First Order and taken aboard one of its imposing Resurgent-class Star Destroyers. As they battle to escape from the neo-Empire's clutches, using a troop transport (the trackless ride vehicle) to do so, passengers will come face-to-face with countless stormtroopers, full-size AT-ATs (that are actual physical props instead of digital effects), and, even, the evil Kylo Ren himself, who now acts as the supreme leader of the First Order.
(Just to more fully convey the scale of this attraction, Disney has stated that the above video was actually shot inside the ride. That is impressive, indeed.)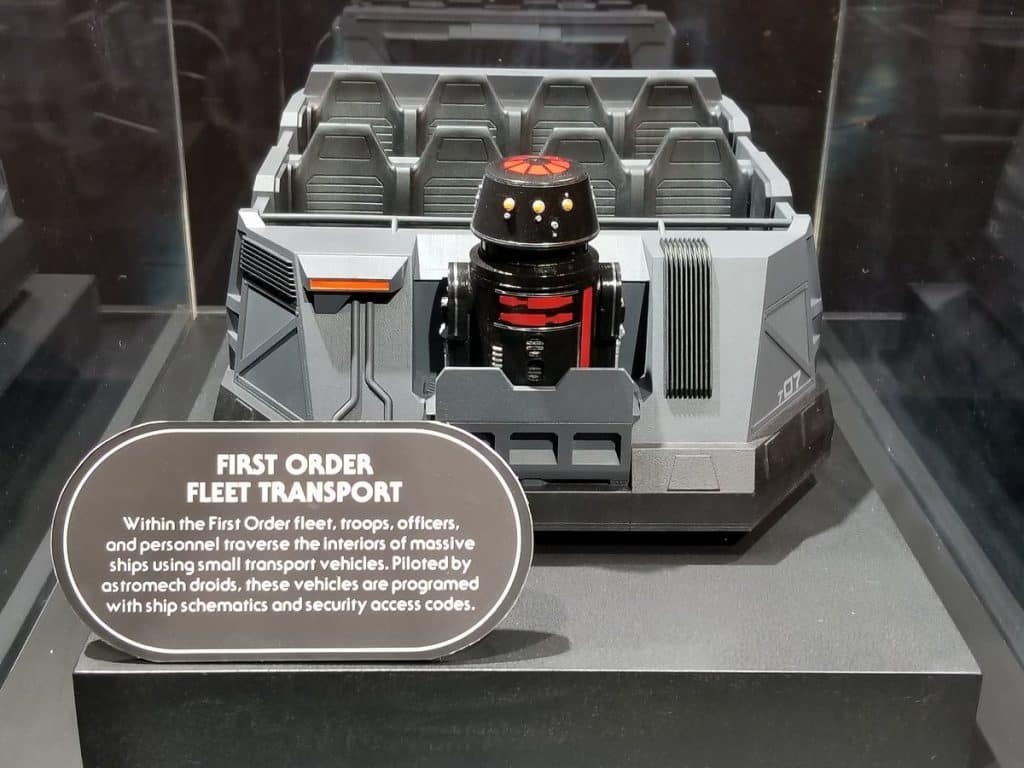 Now, just a further word on the First Order fleet transport/ride vehicle. The official description of this brand-new entry in the Star Wars canon reads:
Within the First Order fleet, troops, officers, and personnel traverse the interiors of massive ships using small transport vehicles. Piloted by astromech droids, these vehicles are programmed with ship schematics and security access codes.
The meet-'n-greets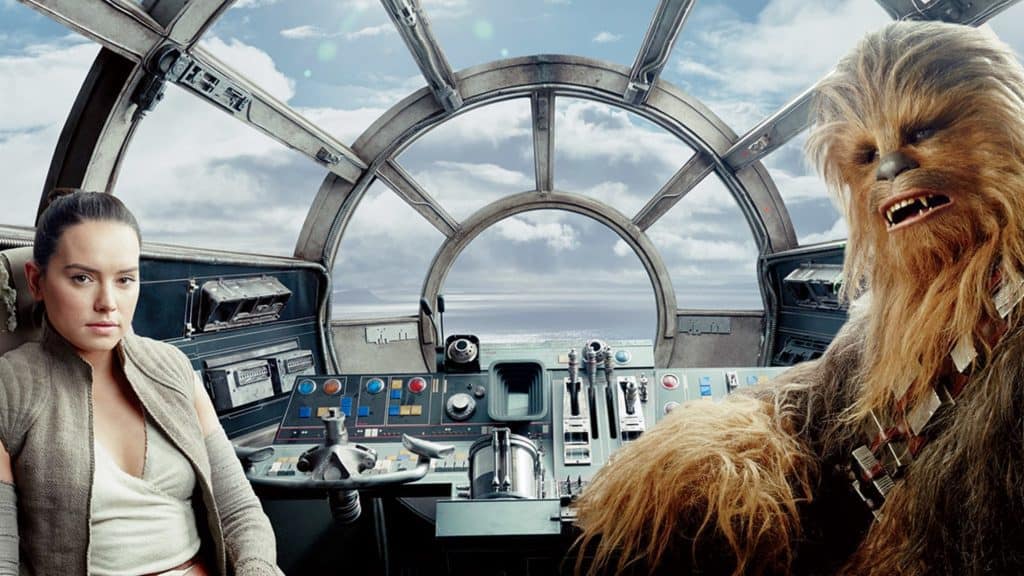 Various meet-'n-greet opportunities will also be on-hand. Although Chewbacca, R2-D2, BB-8, Kylo Ren, Hondo Ohnaku, and Nien Nunb (Lando Calrissian's co-pilot in Episode VI: Return of the Jedi and one of Leia Organa's Resistance pilots in the sequel trilogy) are the only confirmed ones thus far, Disney has stated that several familiar faces will be present in the land; presumably, given the alien-planet premise, it'll be extremely easy for the company to trout out nearly any character for limited appearances when he or she is "in the interstellar neighborhood."
You can look for the Chewie encounter to be stationed at – where else? – the Millennium Falcon (we guess he really wants his ship back from Hondo already!).
The restaurants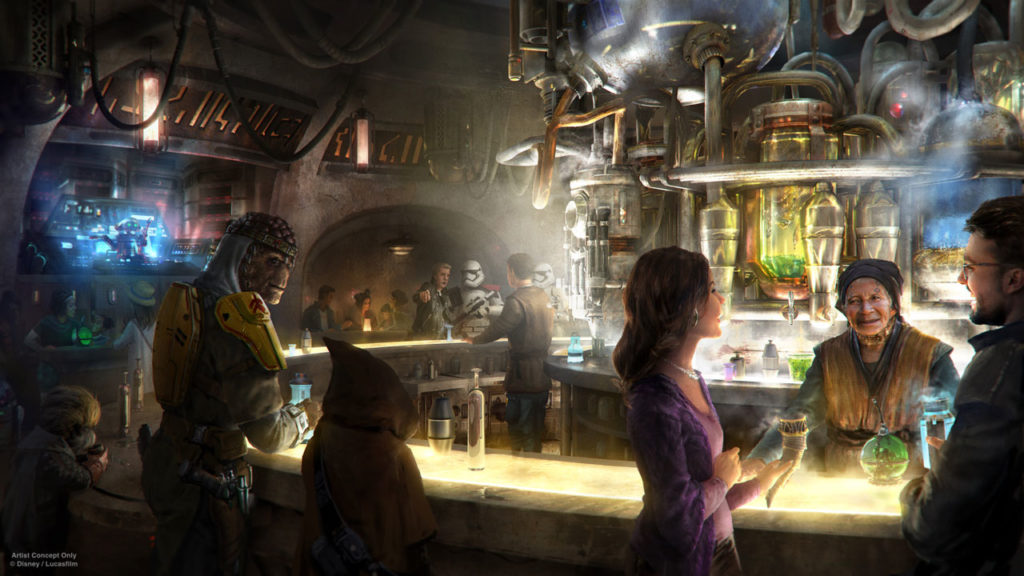 Galaxy's Edge's major eatery is called Oga's Cantina, so named because of its proprietor, Oga Garra, who is an "intriguing" alien. She attempts to keep the pilots, bounty hunters, smugglers, locals, and galactic travelers that she calls her clientele in check by implementing a strict code of conduct, but it seems like trouble still is able to find its way in (and, we're assuming, regularly does so).
Oga's will, of course, brandish a menu filled with exclusive food and beverages, including something called "Blurrgfire"; Disney is already promising that these "famous concoctions" will be fashioned out of exotic ingredients, crafted using otherworldly methods (including, perhaps, being served out of a jumble of tubes that snake their way from the ceiling and behind the bar), and served in "unique vessels." (Yes, some of these drinks will be alcoholic, which – as we've previously mentioned – will be history-making for the Disneyland version of the area.)
And then there are the cantina's inhabitants, who will include both brand-new additions to the Star Wars universe and some familiar faces from it, such as the occasional First Order stormtrooper patrol and none other than RX-24, who was originally introduced in the first version of Star Tours before making a quick cameo appearance in Rebels – and who now is Oga's self-styled DJ (the joint's music will be just as unique as its gastronomical wares, Disney has said). An audio-animatronic chef, who will supposedly provide fun reactions when he's tipped, is the only other character officially confirmed to appear in Black Spire Outpost's watering hole, but it sounds as if a rotating cast of special appearances will also be on hand to add a certain element of surprise to guests' meal experiences.
Speaking of their experiences, the Mouse House is clearly expecting Oga's to be so immersive, it's already afraid that patrons will want to extend their visits well beyond the span of their meals (something which the company saw happen in the early days of Be Our Guest, the detailed Beauty and the Beast-themed restaurant over in Magic Kingdom). To try and prevent this from happening, the decision was made to severely limit the seating in the cantina; most diners, as such, will stand for their entire visit with Oga. (And while there will be a series of booths situated around the outer edge of the eatery, Barron's reports that Disney management has yet to decide on how these will be accessed or whether they can be requested or reserved at all.)
Finally, the possibility of live entertainment has also been floated, although, again, nothing conclusive has been stated one way or the other.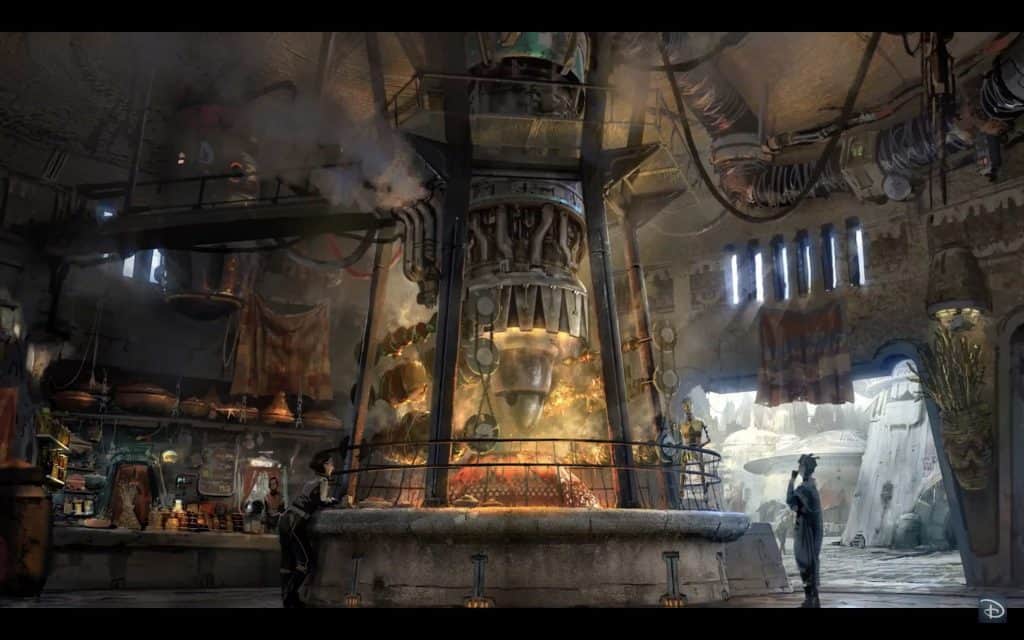 (Keep on the lookout for a giant podracer engine that has been repurposed as a stove, and other such wink-and-nudge references to the greater Star Wars galaxy.)
Other tasty treats will be found over at Docking Bay 7, where food freighters constantly come and go with fresh wares, and Bantha Tracks, some sort of vendor in Black Spire's marketplace, which is where guests will be able to try – at long last! – Star Wars's signature dish, blue milk (which will be non-dairy).
Speaking of which, in the book Pirate's Price, when Hondo Ohnaka first takes possession of the Millennium Falcon and starts rifling through her stashes of food, he comes across a number of intriguing items: blue bantha buttermilk biscuits, blue Bespin breakfast bars, and blue puff cubes. We're assuming that at least some of these will be available for consumption somewhere in Galaxy's Edge.
The shops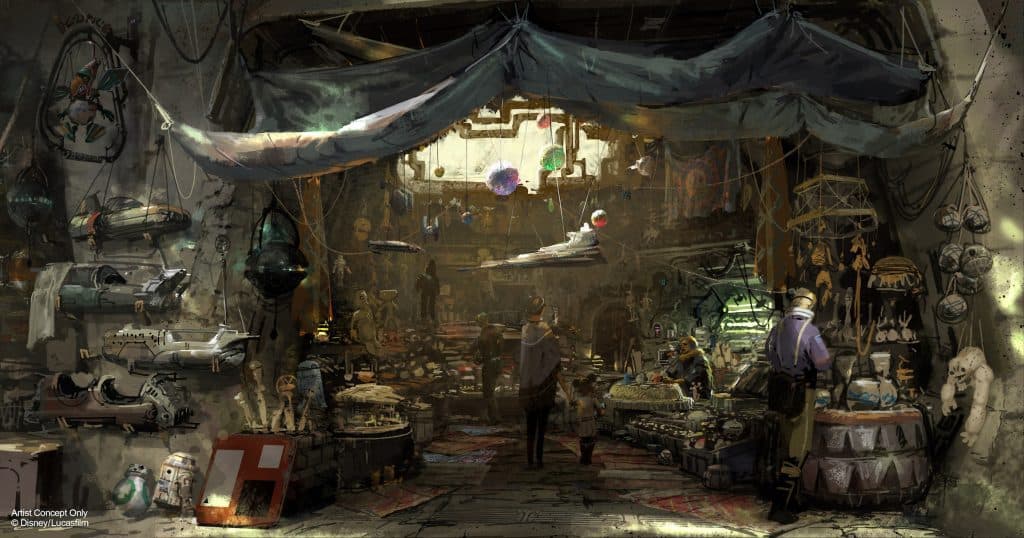 The only shop to get a (somewhat) in-depth reveal by Disney so far is rather illustrative of the level of thought and detail that the company's Imagineers are putting into every nook and cranny of Galaxy's Edge. Toydarian Wares is a toy store that will be designed to look like a street market and that will be presided over by – of course – a Toydarian vendor, presumably in audio-animatronic form (Toydarians, for all those who don't remember, are the flying CG-rendered aliens first introduced in Episode I: The Phantom Menace; Watto, Anakin Skywalker's slaveowner, is one such being). Expect the location to carry a wide range of items that are exclusive to the themed land and which are designed to look hand-crafted by "local artisans," such as the figures seen here: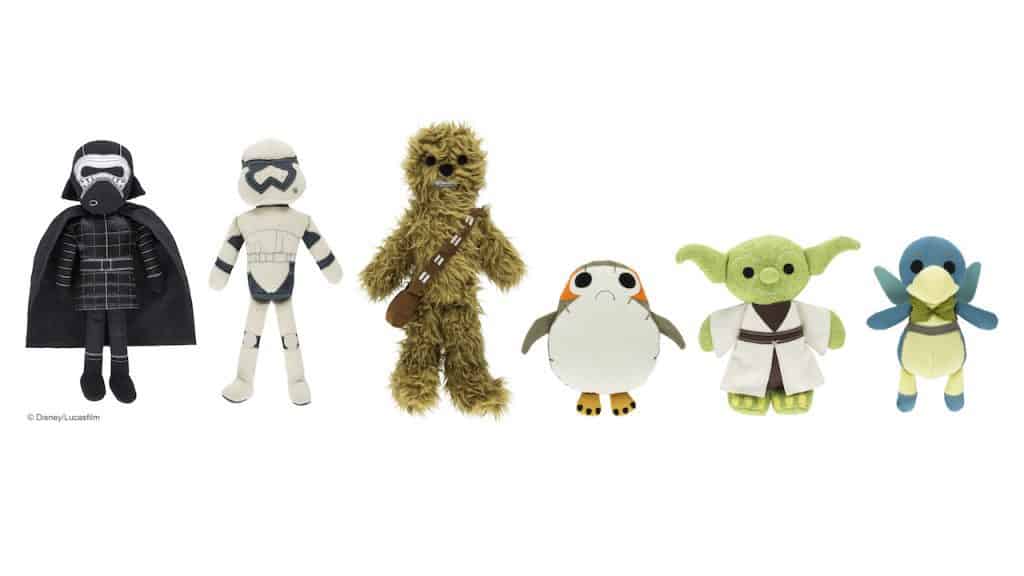 (We should pause here for just a quick moment and discuss a few other possibilities we may see with these distinctly artisan-looking figures: according to Barron's, their packaging may have a minimum of logos, in order to make it just as subdued and immersive as the rides' entrances, and that some familiar characters may end up looking quite different, even going back to George Lucas's original concept art instead of their finalized on-screen appearances [hey – how should the isolated residents of Black Spire know what Luke Skywalker or Poe Dameron looks like?].)
Given the veritable flood of Star Wars merchandise that has inundated store shelves over the past four decades, taking such an apparently Pandoran approach makes perfect sense – and will undoubtedly result in a huge financial win for Disney World.
As also revealed by Barron's, another, as-yet-unnamed store will carry droids that can be customized by guests. The example given in the publication's article uses the hypothetical scenario of the pet robot being programmed to be afraid of stormtroopers – whenever the little guy sees one walking around the streets of Black Spire Outpost, he'll wail with fear. Just how this customization process will work hasn't been revealed, but we do know that some type of "interactive experience" will be involved – perhaps we'll see some sort of variation on the "adoption ceremony" that is held when one buys a pet banshee puppet over at Pandora: The World of Avatar's Windtraders gift shop. (This may be a really good comparison, actually, as those mini banshees come with backstories and "immunization shots" before they can be brought back to patrons' homes.) Additionally, Disney is also playing around with the possibility of selling other, larger droids at this location, including, just maybe, a full-sized R2-D2 that could cost as much as $2,000.
Finally, there's one last detail about one last store that has been floated by Disney in the press: the character of Dok-Ondar, who was briefly mentioned in passing in Solo: A Star Wars Story, will have his own space in Galaxy's Edge. It's currently believed that he will be realized through audio-animatronics and that he will occasionally exchange words with his real, live employees ("Hey, Dok-Ondar – how much does this item cost?").
User customization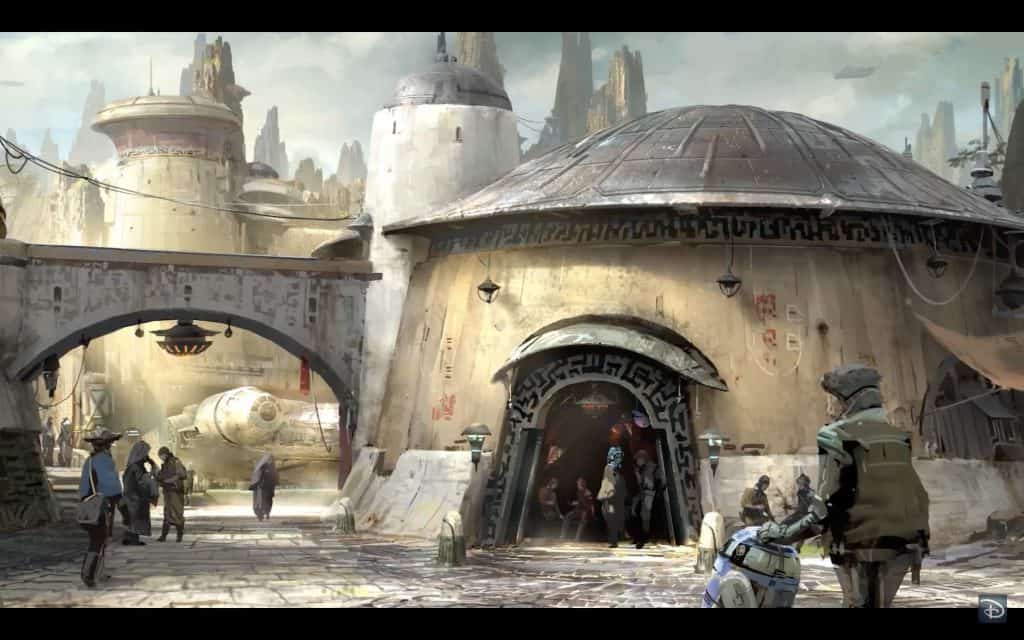 The final attraction in Galaxy's Edge is, arguably, the most exciting – and, certainly, the most revolutionary. User customization is set to play a big role in the land, and it seems the chief method for determining this level of interactivity will be guests' fictitious bank accounts: turning back to Millennium Falcon: Smuggler's Run as an example, riders will be rewarded for their good results by being issued galactic credits (the Star Wars universe's currency); if they do poorly, not meeting the mission's criteria or damaging the ship, they'll be docked money. This, in turn, will influence how the trading outpost's denizens will respond to you, whether they put a bounty on your head (for owing more money than what you currently have) or, possibly, attempt to sidle up to you to get some of those credits for themselves.
All of these stats and figures will be handled through the Play Disney Parks app, which was released on June 30, 2018 and which allows guests to access special content while on-site at either Disneyland or Walt Disney World Resort; games can be played by families while waiting in line for specific rides (such as one of Hollywood Studios's other main attractions, Toy Story Mania), trivia can be conquered, unique playlists can be accessed, and, of course, achievements can be unlocked. (And don't worry – if you don't want to indulge in this more interactive aspect of your Star Wars stay, you can use Play Disney Parks to turn this feature off.)
Star Wars: Galaxy's Edge – hotel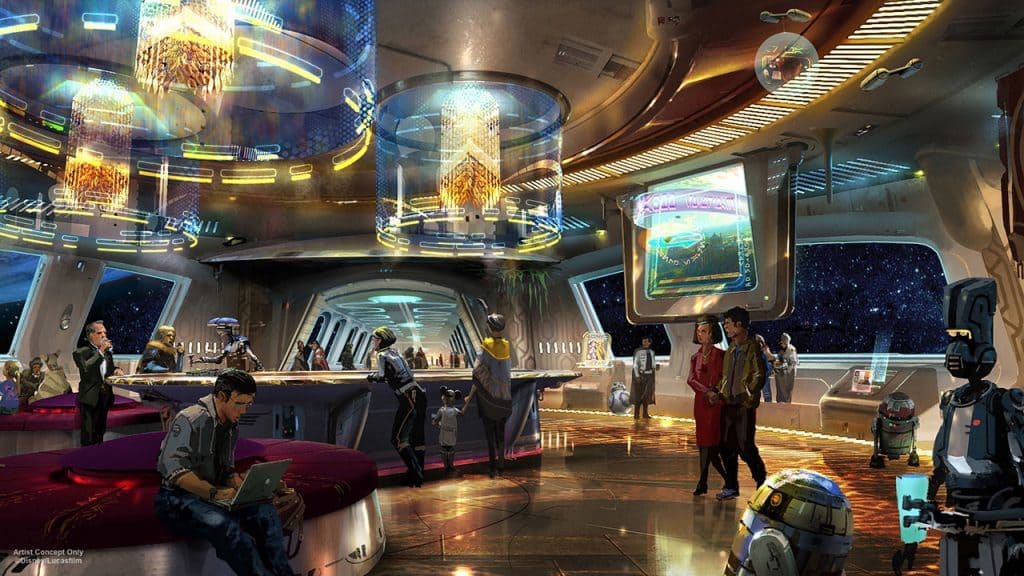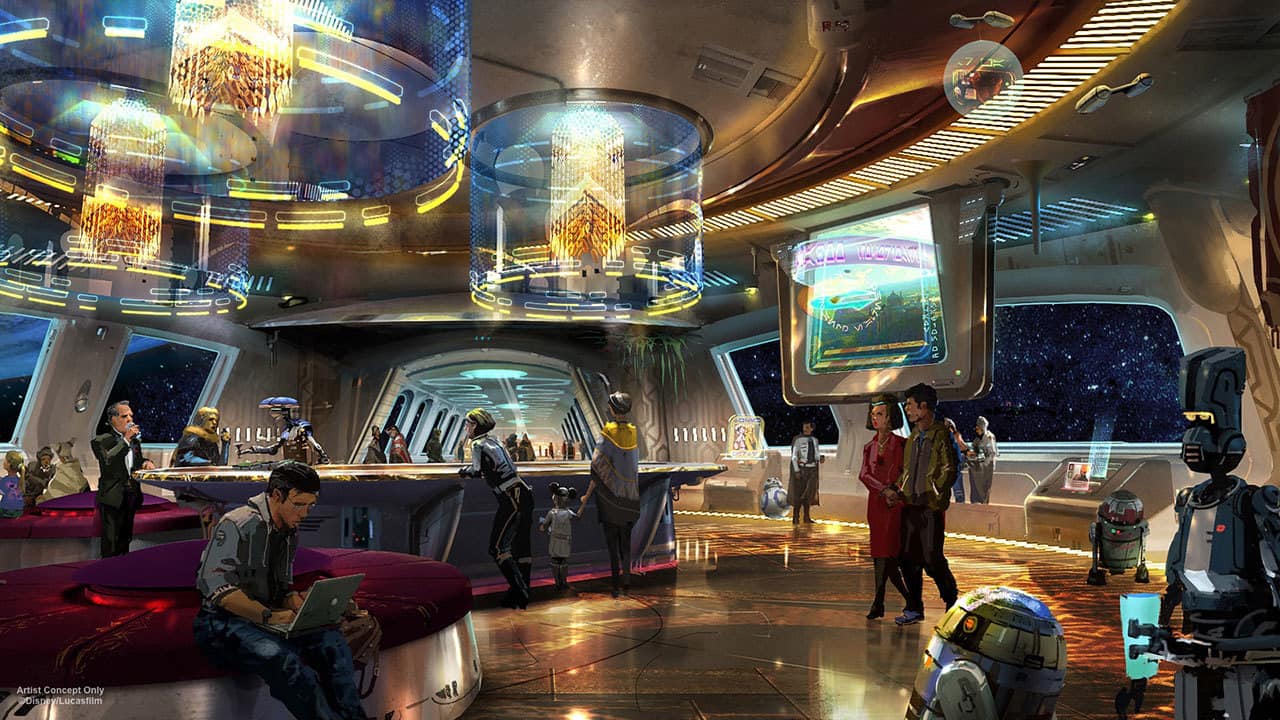 Yes, being able to have an individualized experience on a brand-new planet in the Star Wars mythos – all while being able to take rides on the Millennium Falcon, to boot – is exciting… but, as it turns out, that's not even the best part of Galaxy's Edge
The Star Wars Hotel is coming – some 18 to 24 months after the land itself opens – to Walt Disney World, and it'll be placed directly adjacent to Hollywood Studios property, marking the very first time this has happened in the resort's history (the exact location will be on the south side of the park, just east of World Drive). Themed as a giant starship, guests will board a "launch pod" when first setting foot in the hotel, which will then take them to a "luxury starship" (the resort proper) that, in turn, "transports" them to Batuu (a current trend in the experience business that is referred to as land-based cruising). It is currently believed that visitors will need to book a package – two nights will more than likely be the minimum – that will include "travel time" to the planet, special access to Galaxy's Edge (thanks to a private entrance unto the area that will be themed as yet another shuttle ride), and then "travel time" back home.
Along the way, patrons will become "active citizens of the galaxy" as soon as they set foot in the door; they'll be able to get fully into character by dressing up, undergoing specific "training" (such as for espionage or lightsaber combat, depending upon what disposition they choose for themselves), undertaking certain missions, and interacting with a whole host of individuals that hail from all across the Star Wars Expanded Universe. In other words, guests will be as fully enmeshed in that galaxy far, far away as is humanly possible – or, as Disney itself puts it, the hotel "will combine luxury with complete immersion into an authentic Star Wars story."
It is believed, though not confirmed by the company as of yet, that the promised "high-end dining" will be included in the price, consisting of buffets for both breakfast and lunch and Disney Signature meals for dinner (which would feature live entertainment that would rely more heavily on audience participation – if you chose to do so, of course). The hotel rooms, meanwhile, are themed to starliner cabins, with every single one of them including views out onto (hyper)space instead of boring parking lots back on Earth.
How much will these Star Wars Hotel vacation packages cost? A survey that Disney ran prior to officially announcing everything suggested $900 per person as the starting price – and we have absolutely no doubt that there will be sold-out accommodations nearly every single night for the property's first year of business, at least.
This type of vacation concept has been labeled by the company as a "Disney 360" experience, so named for having every second of every hour be totally immersed in a narrative (think live-action role-playing games, but on a much grander scale). Such a program description, of course, entails the existence of other such theme park/hotel/storytelling combinations, and, indeed, we've already heard from our sources that Disney is contemplating rolling out similar experiences for such properties as Indiana Jones and Frozen.
Needless to say, this may very well represent the future of all theme parks across the globe for decades to come.
Star Wars: Galaxy's Edge – expansion(s)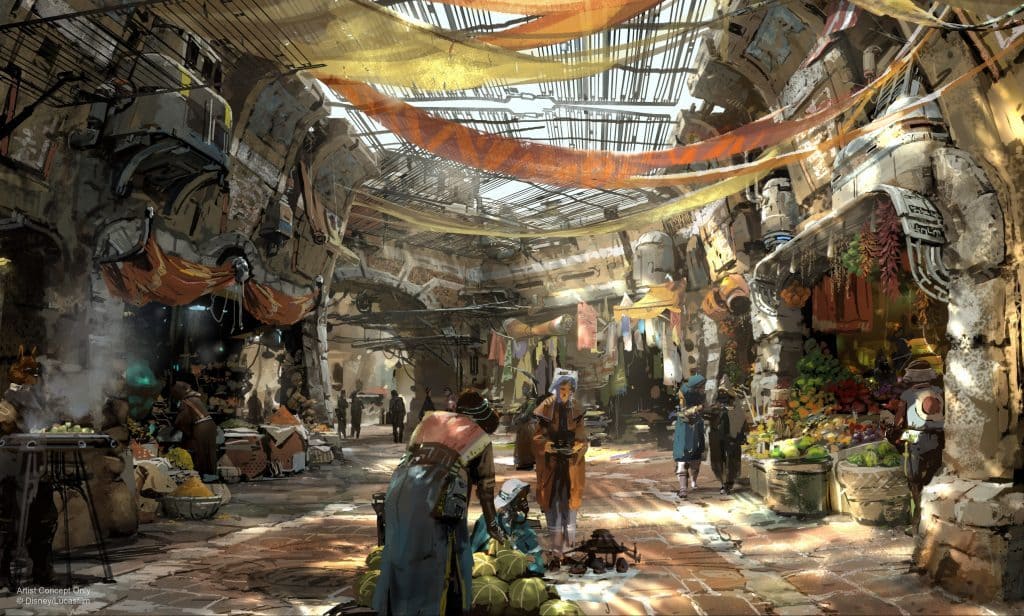 One final, quick note to end our comprehensive coverage of Star Wars: Galaxy's Edge on: it has already been suggested that Disney is saving space at both Hollywood Studios and Disneyland Park for at least one expansion, should the new area prove to be as successful as the company clearly thinks it will be. Rumors currently indicate that such an addition would consist of one new Black Spire Outpost street, one new E-ticket attraction, and one new restaurant, although those contents could easily be switched up if fan demand or park operations finds that one particular facet of the experience needs to be expounded on.
This may yet prove to be yet another way that Disney's Galaxy's Edge is analogous with Universal's Wizarding World of Harry Potter – the two properties could continually see updates and refreshes for a full decade, at least, after their original openings.
Star Wars: Galaxy's Edge – index of articles
Here are all of our recent news updates, in-depth features, and speculative pieces regarding Galaxy's Edge, both here in Orlando and in Anaheim. Keep your eyes peeled here for the latest:
2018
Major Disney World news on Star Wars, Guardians of the Galaxy, and more
2017
Disney is tying all of its Star Wars attractions together
Disney's new biannual Star Wars party
4 exciting expansions coming to Orlando theme parks
Universal researching Star Wars hotel impact and Express changes
Star Wars: Galaxy's Edge details revealed
Star Wars Land's secret interactivity revealed?
The one way that the Harry Potter and Star Wars lands backfire
Is Star Wars Land getting delayed?
Our first glimpse of Star Wars Land's layout and attractions
Is Disney making Star Wars, Indiana Jones, and Frozen hotels?
Four things we just learned about Star Wars Land
New behind-the-scenes video released about Star Wars Land
Did Disney just confirm a major Star Wars Land rumor?