Note that as a result of the COVID-19 pandemic, FastPass+ is not currently available
Plane tickets? Check. Sunscreen? Roger. Matching "WDW Family Outing" shirts? Good to go! A Walt Disney World Resort trip requires a good amount of pre-planning – the more you prepare, the better your trip is. And this is especially true with FastPass+; understanding this ride- and show-reservation system is key to having a great experience.
With this continually-updating guide, we're going to help you become a Disney World FastPass+ expert.
What is Walt Disney World's FastPass+?
FastPass+ is a free reservation system that lets you pre-book a dedicated return/entry time to an attraction. When your one-hour return window opens, you'll scan your MagicBand or ticket and enter a dedicated FP+ line, which is much shorter than the regular standby queue. For shows, such as Festival of the Lion King at Disney's Animal Kingdom, your return time will place you in a special seating area.
It should be noted that FastPass+ is not required for any Disney World ride or show – the standby line is always available, but it will, of course, feature a longer wait time.
How do I make a FastPass+ reservation?
There are three ways to make a FastPass+ reservation:
The My Disney Experience website
The My Disney Experience mobile app
A FastPass+ kiosk, located inside the parks
As you might imagine, some attraction reservations are more desirable than others; depending on your party's priority, Frozen Ever After (over at Epcot) may be more important than Expedition Everest (at Animal Kingdom). Knowing that some reservation slots will be gone before your arrival at the park (yep, it's true), it's key to get an idea of when and how many FP+ reservations you can make.
You must have an active theme-park ticket to make a FastPass+ reservation. For guests staying at an on-site hotel, you may make reservations 60 days in advance of your check-in date (for up to 14 days) – and, no, the days do not need to be consecutive. Those visitors who aren't staying at a Disney resort, meanwhile, may make reservations 30 days in advance of their visit. Depending on your ticket, you can also make reservations for the rest of your trip – for example, a four-day ticket will let you book four days' worth of reservations (again, for up to 14 days).
You may only make three advance FastPass+ reservations per park, per day, although you can make additional reservations after those first three have been used. Once you've used that third FastPass+, you're free to make another reservation through the My Disney Experience mobile app or at a kiosk inside the theme parks. If you plan to hop to another park (we'll get to that in a moment), then you will need to be in that park to make a fourth, fifth, and sixth (and so on) reservation.
(Let's take just a quick moment here to say that we think the My Disney Experience mobile app is an essential tool. In addition to being a convenient way to secure FastPass+ reservations, you can check wait times and order food and, even, tickets. The map feature lets you plot out destinations and is very helpful in finding the nearest restroom. This app is so important to your trip, in fact, that we recommend loading and using it well before your vacation begins. Understanding how to look for characters, shops, entertainment, and wait times will save time once you're in the whirlwind of the Disney parks.
[Another important reason to load the app now is to add your family and friends; connecting your party inside My Disney Experience is the ideal way to keep track of reservations, tickets, and – yes – FastPass+ reservations.])
Why you should plan your FastPasses beforehand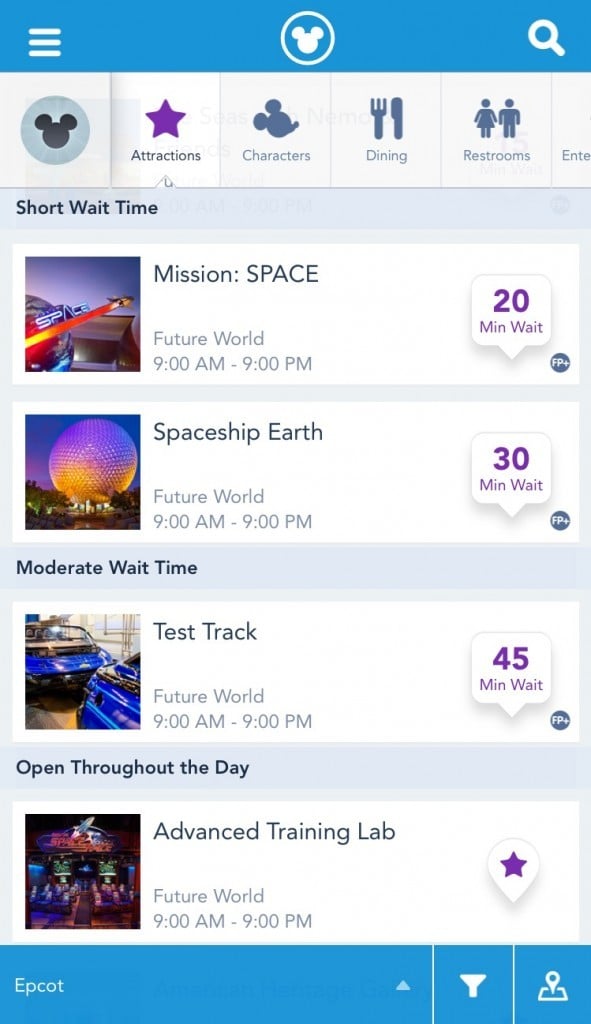 One criticism of the FastPass+ reservation system is that it removes some of the "spontaneity" of visiting a Disney World theme park; for people that enjoy wandering and leaping over to whatever tickles their fancy, a reservation system is constraining. The truth, however, is that the FP+ system can make your visit enjoyable and spontaneous if you play by its rules. Making the system work for your specific visit will let you experience all of your favorites and allows you plenty of room to explore, relax, and refresh.
The first thing to consider is what day you'll want to visit a particular park. Take a look at the park hours and activity/entertainment schedule. Is there a show that only performs on certain days? Can you take advantage of Early Morning Magic or Late Night Magic? Do you have other non-Disney things planned during your Orlando visit? Pick out the days and lock down your week well ahead of time. Remember those 60/30-days-in-advance timelines? Yes, you need to know your plan before those days.
Landing your first FastPass+ reservations
Break out the calendars and prep the personal planners! You need to be on top of your plan and arrival date to have the best chance to score the FastPass+ reservations that you need.
Before your reservation day opens, it's a good idea to have your days planned out and, also, when you want to visit your top attractions (morning, afternoon, or evening). Keep in mind any character greets or dinner reservations that might conflict with your desired FP+ reservations.
As stated before, the reservation window for Disney World hotel guests opens at 7:00 am 60 days before your day of check-in (yes, West Coasters, get set to wake up before 4:00 to snag your favorites). Even if you don't plan to visit a park on the day you check in, your reservation window still opens on that date. Also, you need to have a valid theme-park ticket – you're able to book up to 14 days in advance from your check-in day, and you can only book the number of days you have on your ticket. The same is true for non-Disney World hotel guests, except that, again, their reservation window opens 30 days before their first in-park day.
No matter if you choose to log into the My Disney Experience website or the mobile app, you'll have the same ability and/or chance to book your reservations. Note we say "chance" because there's no guarantee that your preferred attraction or time will be available – it's a gamble, and the best chance of winning is to be logged in to My Disney Experience well before the 7:00 am start time.
Also, it's best if one person is making all of the reservations for the group; having multiple people logging on and grabbing can cause a conflict, often resulting in the desired reservation being denied because the other logged-in person has reached the limit.
A note about FastPass+ and park hopping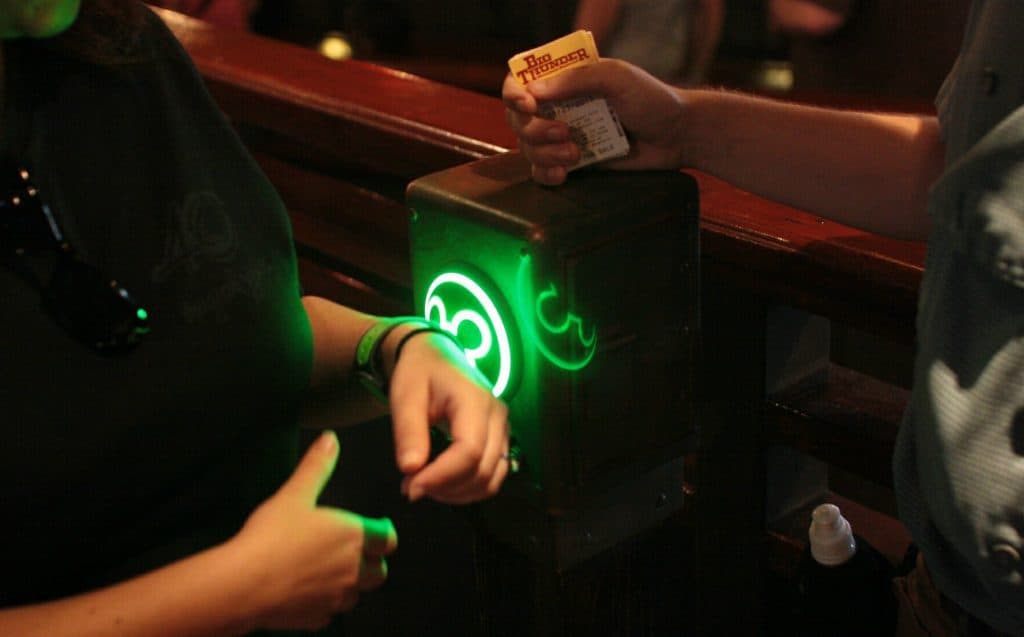 With four parks of fun, park hopping is a tempting way to make the most of your visit – start with breakfast at Magic Kingdom and end with Star Wars: Galaxy's Edge at Hollywood Studios. As delightful as that sounds, let's end this article on why it may be smart to skip park hopping.
As we mentioned, you are only allowed to pre-book three FastPass+ reservations per park, per day. For hoppers, this likely means that desirable FP+ reservations for big attractions will be long gone when you arrive at your second park. Forget about Seven Dwarfs Mine Train or Slinky Dog Dash – if anything, it will be attractions such as Journey into Imagination with Figment and It's a Small World that will have availability. Since rides like these can sometimes have shorter-to-no wait times in the early evening, is it worth hopping away?
The other consideration is travel time. Getting across the Disney World property can take up to two hours, depending on how you travel (car, bus, monorail). That's a good chunk of time that you could be spending on attractions or shows.
If you have little ones (or, yes, adults) that need naps, then leaving the park for a few hours is necessary. Otherwise, consider spending all day in the theme park – you'll have a better chance at securing FastPass+ reservations and knocking out all of your must-see attractions and shows.
–
Have your own FastPass+ tips and strategies? Share them with thousands of other vacation planners in our OI Community Facebook group.
And be sure to follow Orlando Informer on Facebook, Twitter, and Instagram for the latest news and tips at Universal Orlando, Walt Disney World, and other Orlando experiences.