EPCOT began its life as an idea. In fact, Walt Disney had always conceptualized his plans for central Florida to include a city of the future that he called the Experimental Prototype Community of Tomorrow, or EPCOT, for short. He even began designing this city with WED Enterprises (which later evolved into Walt Disney Imagineering) in the 1960s. Although this vision was never realized without the guidance of Walt Disney himself, the principles of innovation and creation lived on in the form of the EPCOT theme park.
Opening in October of 1982, EPCOT welcomed guests to enjoy its two major sections: Future World and the World Showcase. While you'll hear other, slightly more specific nomenclature for different portions of the park, these are the most basic you will need to reference. There are two entrances you can use to get into EPCOT: one that has you entering through the standard entrance and Future World, and one in the back of the park that has you enter through the International Gateway to the World Showcase.
Skip to: Entrance | Security | Rentals |Guest Relations |Overview of Lands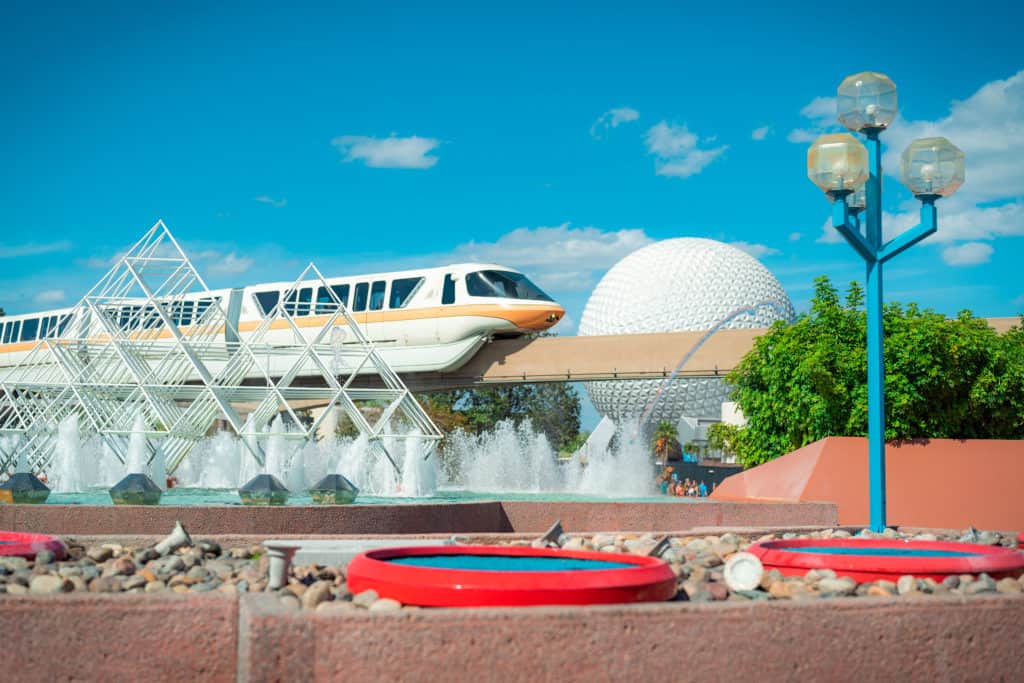 Entrance to EPCOT
Parking
Parking passes (which are good all day and for all four parks) are available for purchase at the entrance to the EPCOT parking lot. The pricing is as follows:
Standard parking (car or motorcycle) – $25 per day
Preferred parking (car or motorcycle) – $45 to $50 per day
Oversized vehicle parking (shuttle, limo, camper trailer, RV, bus, or tractor-trailer) – $30 per day
Resort guests, Cast Members, and select Annual Passholders receive complimentary standard parking with proper identification. These groups all have the option to upgrade to preferred parking by paying the difference in cost between standard and preferred parking.
Parking trams still have not returned to EPCOT, but have been slated for return in 2022.
Electric Vehicle Charging Stations
EPCOT has 4 electric vehicle charging spaces, please speak to a cast member for assistance. ChargePoint stations are first come first serve.
4 spaces at the front of the Journey Parking Lot
Pricing: $0.35 per kilowatt hour, with a minimum service amount of $1.50

To use this service, you will need a credit card or a pre-ordered ChargePoint card—available at chargepoint.com.
EPCOT Transportation to The Magic Kingdom
The EPCOT monorail station features skybound transportation to the Transportation and Ticket Center (aka the Magic Kingdom Parking Lot). The TTC includes entry to the Resort Monorail and the Express Monorail to the Magic Kingdom. Monorails begin service 30 minutes prior to the earliest park opening and operate for an hour after the latest park closing.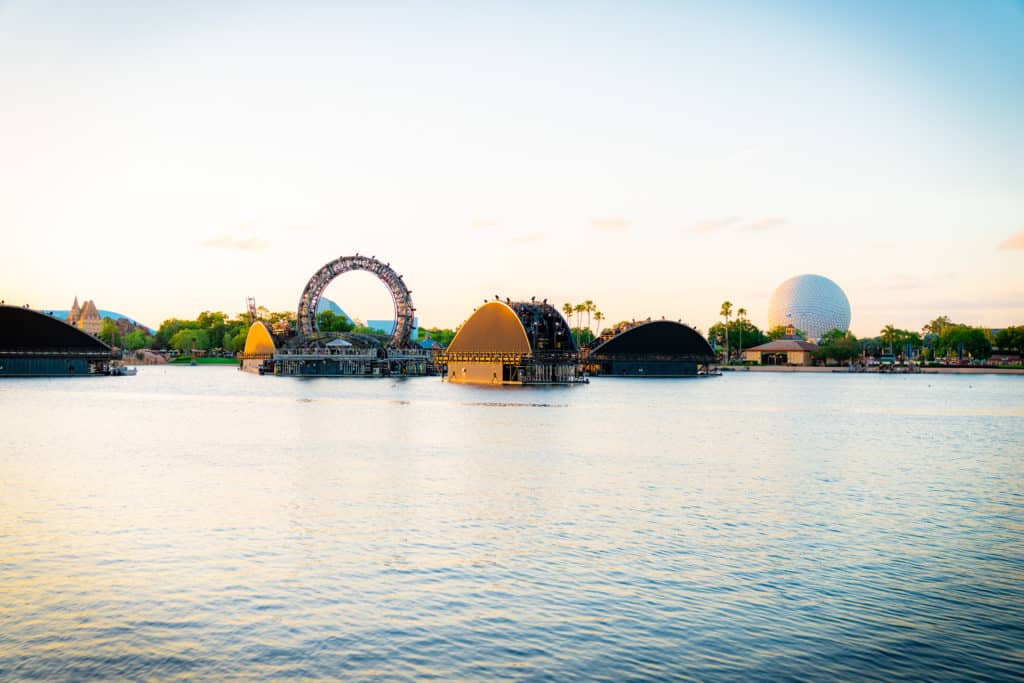 Security at EPCOT
The security process at the Walt Disney World Resort has changed since re-opening from the Covid-19 Pandemic closure. Where every bag needed to be individually checked in the past, there is now a process where you simply walk through a metal detector and are only required to do a physical bag check if the sensor is tripped.
NOTE: Strollers/wheelchairs/ECVs are not allowed through the metal detectors. These will go through a separate line where they will be physically inspected along with any bags stored within.
Pro-Tip: If you are aware of any kind of metal object in your bag – umbrellas, tins, cell phone, glasses cases – take the object out and hold it in front of you as you walk through the metal detector. This will allow the security guards to see that all metal has been removed from your bag and might save you a physical bag check. 
Some items at Walt Disney World are not necessarily banned, but their use is not permitted in the parks. Common examples include vapes and selfie sticks. 

Smoking and vaping are not allowed within the parks (designated smoking areas can be found just outside the front entrance of all theme parks), but you are allowed to have a vape so long as you are not found smoking it in the park. 
Selfie sticks must be in their fully closed position at all times. Any selfie sticks in their full extension will be confiscated by security. Extending a selfie stick on an attraction will result in the ride being stopped and the confiscation of your selfie stick following the attraction. 
Guest Relations at EPCOT
Guest Relations (GR) is found just outside the entrance to the far right near the bus loop. If you are aware of any issues that may prevent smooth entry into the park, you should preemptively head over to Guest Relations. There are generally GR Cast Members just outside the line who can either resolve your issue right then and there or let you know if you'll need to join the line. 
If you do not realize there is an issue with your ticket before attempting to enter the park and getting a "blue" Mickey, there are GR Cast Members who are walking the area and will be ready to assist at the gate.
Smoking Area
The smoking area is to the far left of the entrance. Remember that there are no smoking areas inside the park, so if a member of your party would like to smoke, they must do so before entry. If they want to smoke throughout the day, they will be allowed to exit and re-enter the park from the front entry.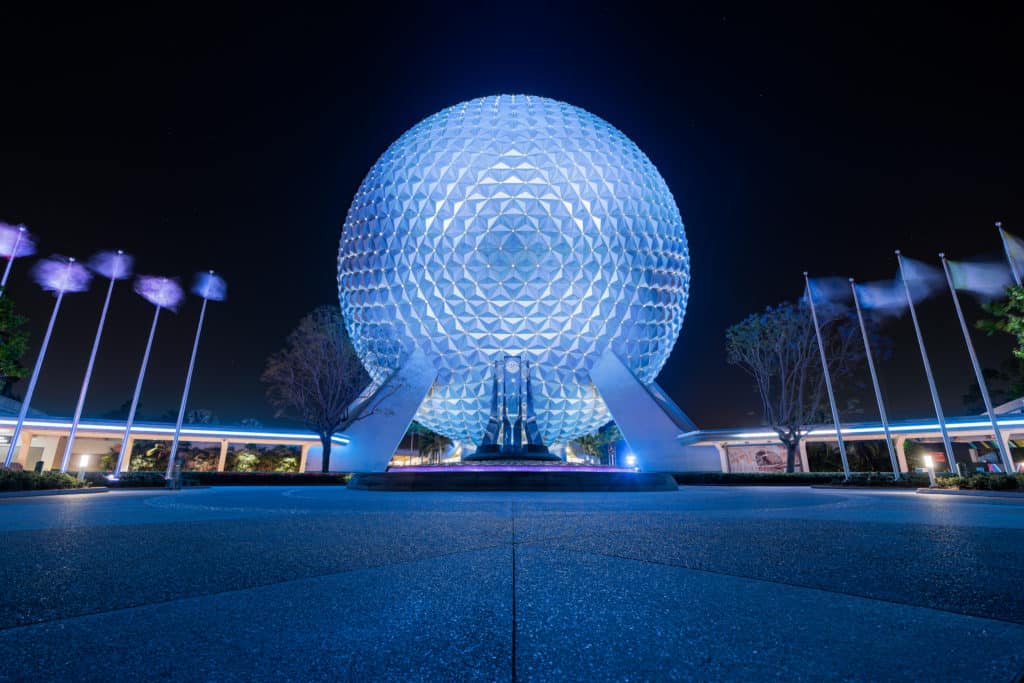 Rentals at EPCOT
Just inside the front entrance to the left side of Spaceship Earth (Looking from the entrance) is where you can go to rent wheelchairs/ECVs and strollers for EPCOT. The rates are as follows:
Wheelchair:

Daily: $12
Length of Stay (multi-day): $10 per day

The daily rentals are transferable through all on-property locations. You only need to pay once per day.
If you purchase a Length-of-Stay rental, it is only transferable between the theme parks. This service can be temporarily suspended during peak seasons.
Wheelchairs cannot be reserved and are issued on a first-come-first-served basis

ECV:

Daily: $50

A refundable $20 deposit is also required for ECV rentals.
There are not Length-of-Stay rentals for ECVs
The daily rentals are transferable through all on-property locations. You only need to pay once per day.
Wheelchairs cannot be reserved and are issued on a first-come-first-served basis

Please note that you are welcome to bring your personal assistive devices including wheelchairs and ECVs to the theme parks.
Strollers:

Single stroller (recommended for children 50 lbs. or less.)

Daily: $15
Multi-Day (Length of Stay): $13

Double stroller (recommended for children 100 lbs. or less.)

Daily: $31
Multi-Day (Length of Stay): $27

Rentals are transferable for the theme parks with a receipt showing purchase

Lockers: Located underneath Spaceship Earth, on the right between the Camera Center and the bathrooms.

Small (12" x 10" x 17"): $10 per day
Large (15.5" x 13" x 17"): $12 per day
Jumbo (17" x 22" x 26"): $15 per day
The in-park Guest Relations for EPCOT is located just past Spaceship Earth on the lefthand side of the park, headed towards Mission: SPACE and Test Track. Guest Relations can assist in many ways during your visit to EPCOT. 
Setting up/troubleshooting DAS
Setting up/troubleshooting Disney Genie+
Lost and Found
Cast compliments for exemplary service
Just about any issues you have throughout your day can be solved through a visit to Guest Relations, either at this location or at one of the satellite Guest Experience Team locations.
First Aid and Baby Care
EPCOT First Aid and Baby Care can be found in the EPCOT Experience building, near the bridge to the World Showcase.
All four of the Walt Disney World Resort theme parks have a "Baby Care" center. These are quiet spaces great for calming upset or over-stimulated children. These are also great for mothers who would prefer nursing in private (please note that nursing is in fact allowed anywhere at Walt Disney World).
Pro-Tip: These centers do NOT have an age limit. It is a great option for those traveling with anyone who may be sensitive to large crowds, noise, and smells.
Pro-Tip: forget or run out of supplies for your baby? Baby Care has a small selection of basics including diapers, wipes, and sunscreen, available for purchase. 
International Gateway
The International Gateway is an alternate entrance to EPCOT that puts you directly into the World Showcase. It places you in-between the England and France pavilions.
Transportation to the International Gateway
This is connected to a walkway from the Boardwalk Inn and Yacht and Beach Club Resorts. You can also access this entrance through the EPCOT Skyliner Station.
Resorts with access to the International Gateway

Walking/Watercraft access:

Disney's Boardwalk Inn
Disney's Yacht Club Resort
Disney's Beach Club Resort
The Swan Hotel
The Dolphin Hotel

Disney Skyliner access:

Disney's Riviera Resort
Disney's Caribbean Beach Resort
Disney's Pop Century Resort
Disney's Art of Animation Resort
The Disney Skyliner and the Watercraft services also offers transportation to Disney's Hollywood Studios
Pro-Tip: Access to the EPCOT parking lot following park close is not possible via the International Gateway If you are attempting to return to a parked car following park close, please use a Disney Bus.
Entrance to EPCOT via the International Gateway
When you make it to the entrance to EPCOT, Cast Members will be guiding you to the quickest lines for entry. Every member in your party who is old enough to have a ticket should be prepared to scan and complete a fingerprint scan.
NOTE: The "fingerprint scan" DOES NOT ACTUALLY TAKE BIOMETRIC DATA. It assigns your fingerprint image to a number, then that number to your park ticket. You are recognized by this number, not the fingerprint itself.
Festivals at EPCOT
The greatest appeal to EPCOT is definitely the festivals, which change your experience in the park and offer new food and merchandise booths that aren't normally found in the park. There is pretty much always a festival going on, so you'll probably catch one no matter when you go. The exact dates of each festival change year-to-year, but here's the general timeframe of each:
Festival of the Arts: Winter/Spring ~ January to March
Flower and Garden Festival: Spring/Summer ~ March to July
Food and Wine Festival: Summer/Fall ~ July to November
Festival of the Holidays: Winter ~ November to December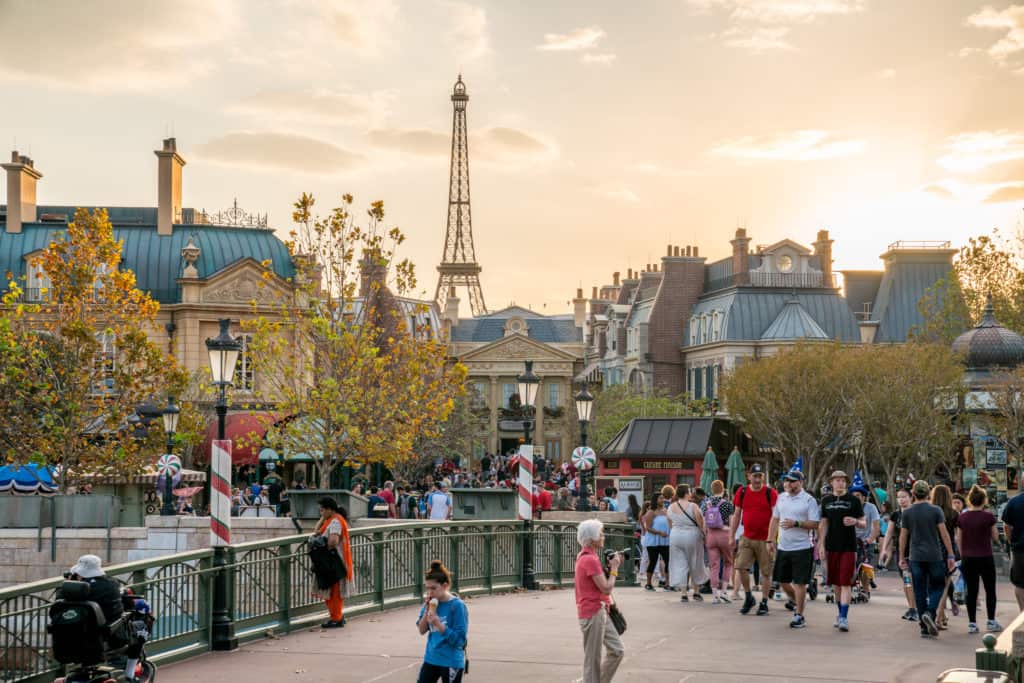 Overview of EPCOT Lands
Things to do:

Test Track
Journey into Imagination with Figment
Living with the Land
Mission: SPACE Green
Mission: SPACE Orange
The Seas with Nemo & Friends
Soarin'
Spaceship Earth
Awesome Planet

Places to eat:

Coral Reef Restaurant
Garden Grill Restaurant
Sunshine Seasons
Showcase Plaza
Places to eat:

Starbucks
Refreshment Port
World Showcase
Mexico

Things to do:

Gran Fiesta Tour Starring The Three Caballeros

Places to eat:

La Cantina de San Angel
La Hacienda de San Angel
San Angel Inn Restaurante

Norway

Things to do:

Royal Summerhus – Anna & Elsa
Frozen Ever After

Places to Eat:

China

Places to eat:

Lotus Blossom Cafe
Nine Dragons Restaurant

Germany

Places to eat:

Biergarten
Karamell-Kuche
Sommerfest

Italy

Places to eat:

Tutto Gusto Wine Cellar
Tutto Italia Ristorante
Via Napoli

The American Adventure
Japan

Places to eat:

Katsura Grill
Takumi-Tei
Teppan Edo
Tokyo Dining

Morocco

Places to eat:

Restaurant Marrakesh
Spice Road Table

France

Things to do:

Remy's Ratatouille Adventure
Beauty and the Beast Sing-Along

Places to eat:

Boulangerie Patisserie
Les Chefs de France
L'Artisan Des Glaces
Monsieur Paul

United Kingdom

Places to eat:

Rose and Crown Dining Room
Rose and Crown Pub
Yorkshire County Fish Shop

Canada
We hope this guide helps start off your day at EPCOT smoothly! Keep looking through our guide pages to learn all the tips and tricks to having the ultimate Disney vacation.