Anyone who calls themselves a diehard Harry Potter fan most likely identifies with one of the four houses, whether J.K. Rowling's website Pottermore picked it for them or if they've always known they're a Hufflepuff from the moment they finished The Sorcerer's Stone. Myself? I'm a hot-headed, thrill-seeking Gryffindor. I had this confirmed by Pottermore, and I always make it known every time I visit the Wizarding World of Harry Potter – Hogsmeade at Universal Orlando.
Hogsmeade prides itself on its attention to detail, from the scream of the mandrake to the sleeping portraits in Dumbledore's office. House pride and house wars are quite prominent in the Potter books, so does the theme park on which they are based carry on the same traditions?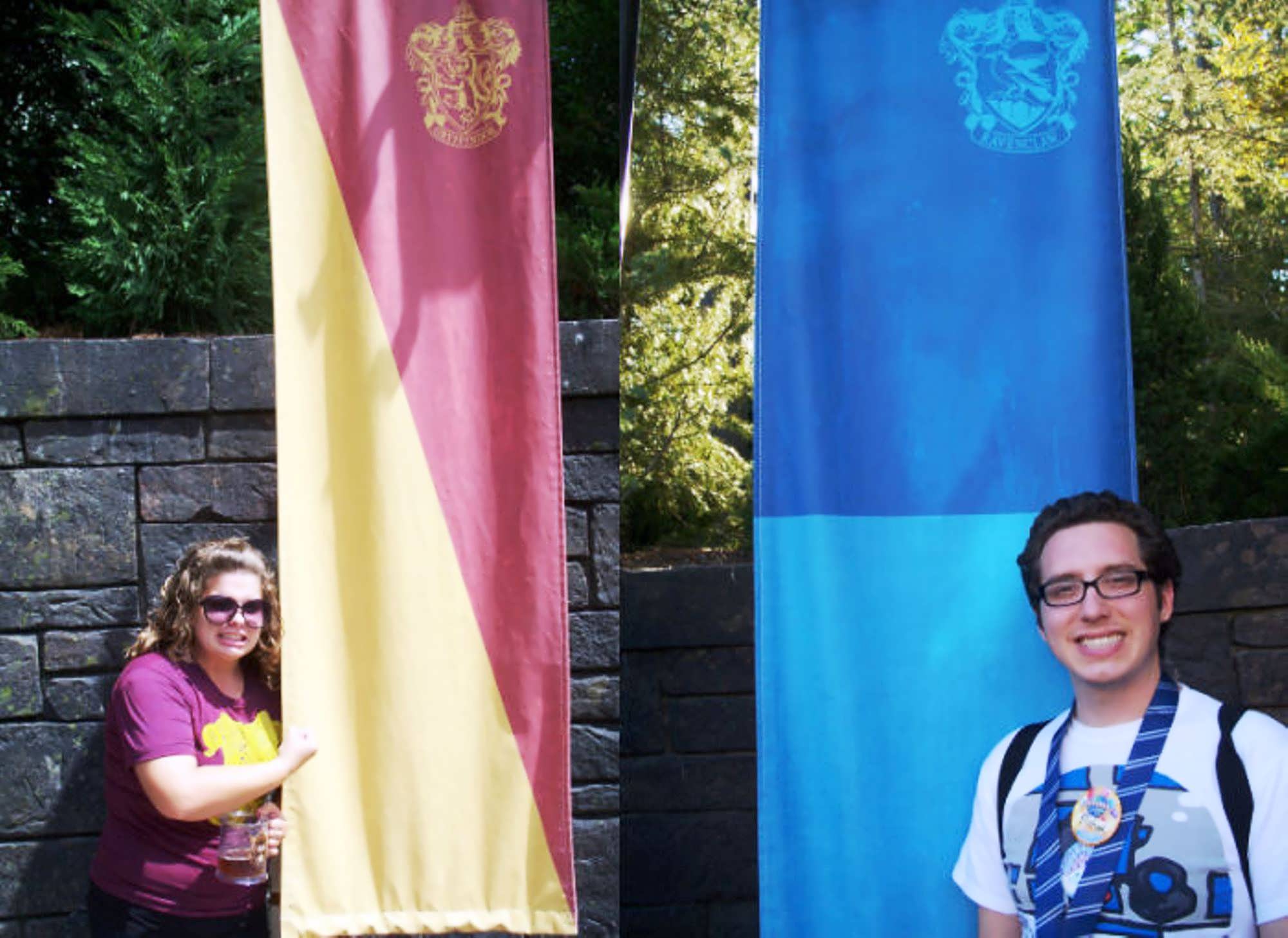 There are only a few reminders of the houses in the décor of Potter World. One example is the stage where the Triwizard Spirit Rally and Frog Choir perform, where flags representing each house are on display.
Another example is a replica of the house hourglasses in the main hall of Hogwarts, which eternally has Gryffindor in the lead and Ravenclaw trailing in last place (see image below). If I were the powers-that-be at the Wizarding World, I would change this piece up every few weeks. It must be very disappointing for the Ravenclaws every time they pass it by. In addition, the Gryffindor common room is the only common room available to walk through, which horrifies some Gryffindors and makes them wonder how all these Slytherins, Hufflepuffs, Ravenclaws, and, even, muggles found out the password!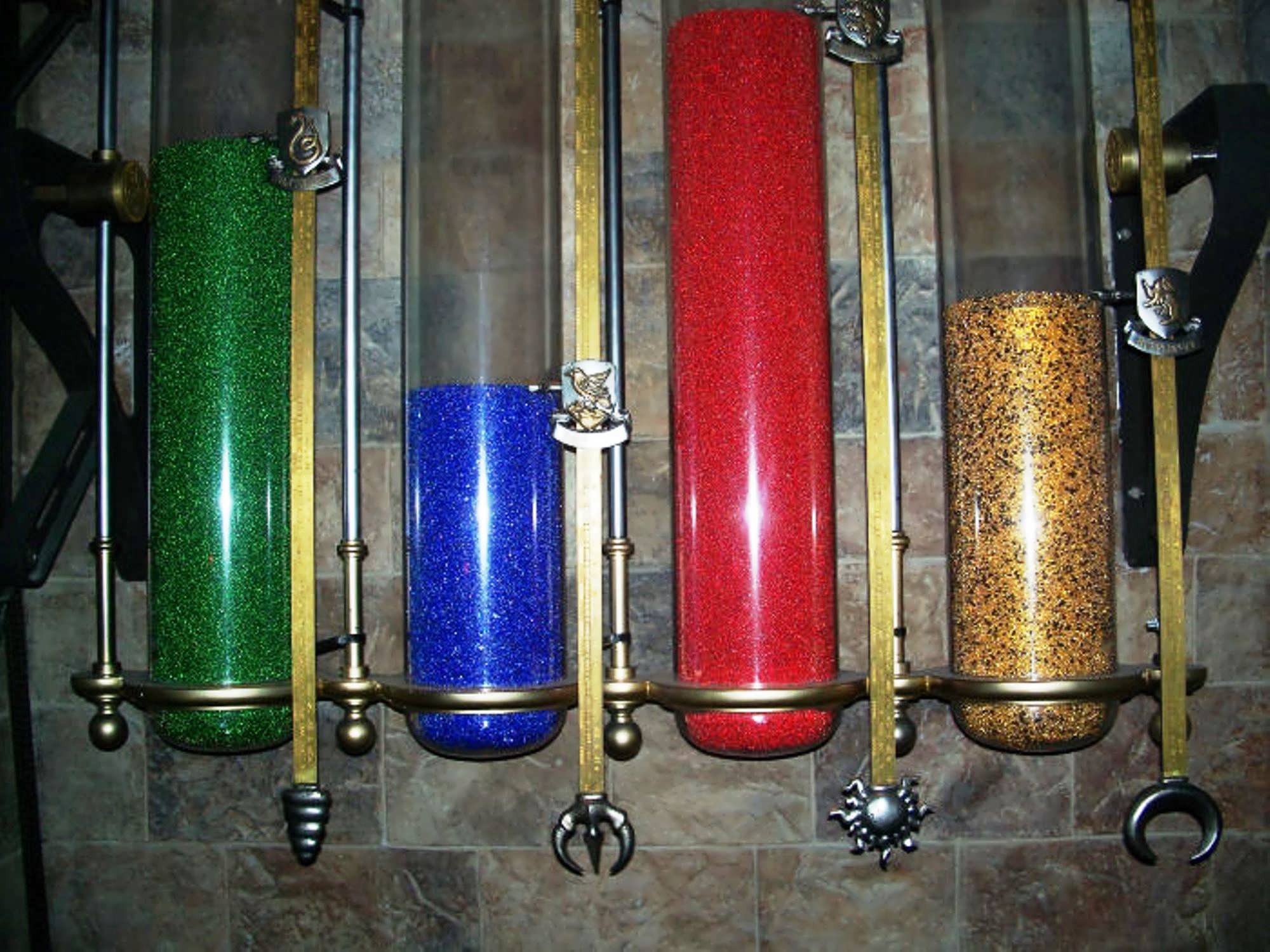 This is about the extent of the details related to houses other than, of course, the massive amount of merchandise the Wizarding World has to offer, such as Gryffindor shirts, Slytherin lanyards, and Hufflepuff wax seals for your letters. But there are many different possibilities for Universal to spice up the park for those who'd like more opportunities to express their house pride.
For one, they could theme all of their shops by house, putting all of their Ravenclaw merchandise in one area and all of their Hufflepuff in another. This is similar to how some stores theme by color, and it would make for a very nice presentation. Sadly, adding things like the other common rooms would result in a great deal of construction, but it's always an idea for the future.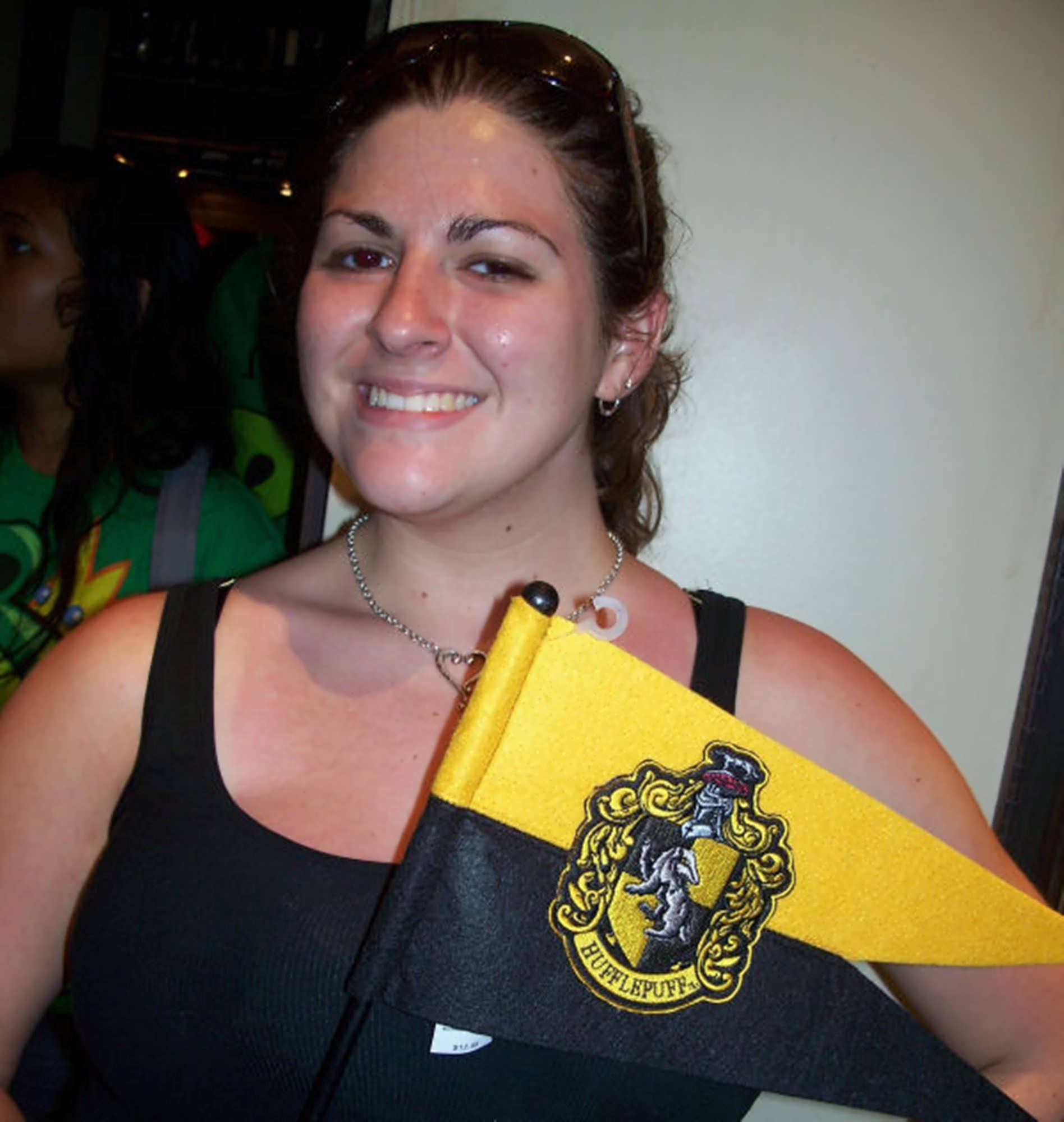 I have always been proud of my house. That's why I was a bit disappointed by the lack of acknowledgement of the houses in Hogsmeade. But a few special cast members are out to change this. I consider this a sort of "hidden Mickey" for Universal, and one that's normally only revealed to you if you're wearing your house colors.
On my friend Michael's first visit, he was still unsure which house he identified with most. He'd always thought of himself as a Ravenclaw, but Pottermore had sorted him as a Hufflepuff. When he stopped to talk to the train conductor, he immediately asked Michael what house he was in. He presented his dilemma, and the conductor was nice enough to talk it over with him. In the end they decided Michael was a Ravenclaw, and the conductor told him not to worry about it anymore. The conductor's decisiveness made Michael very sure of his choice, and he's been a proud Ravenclaw ever since.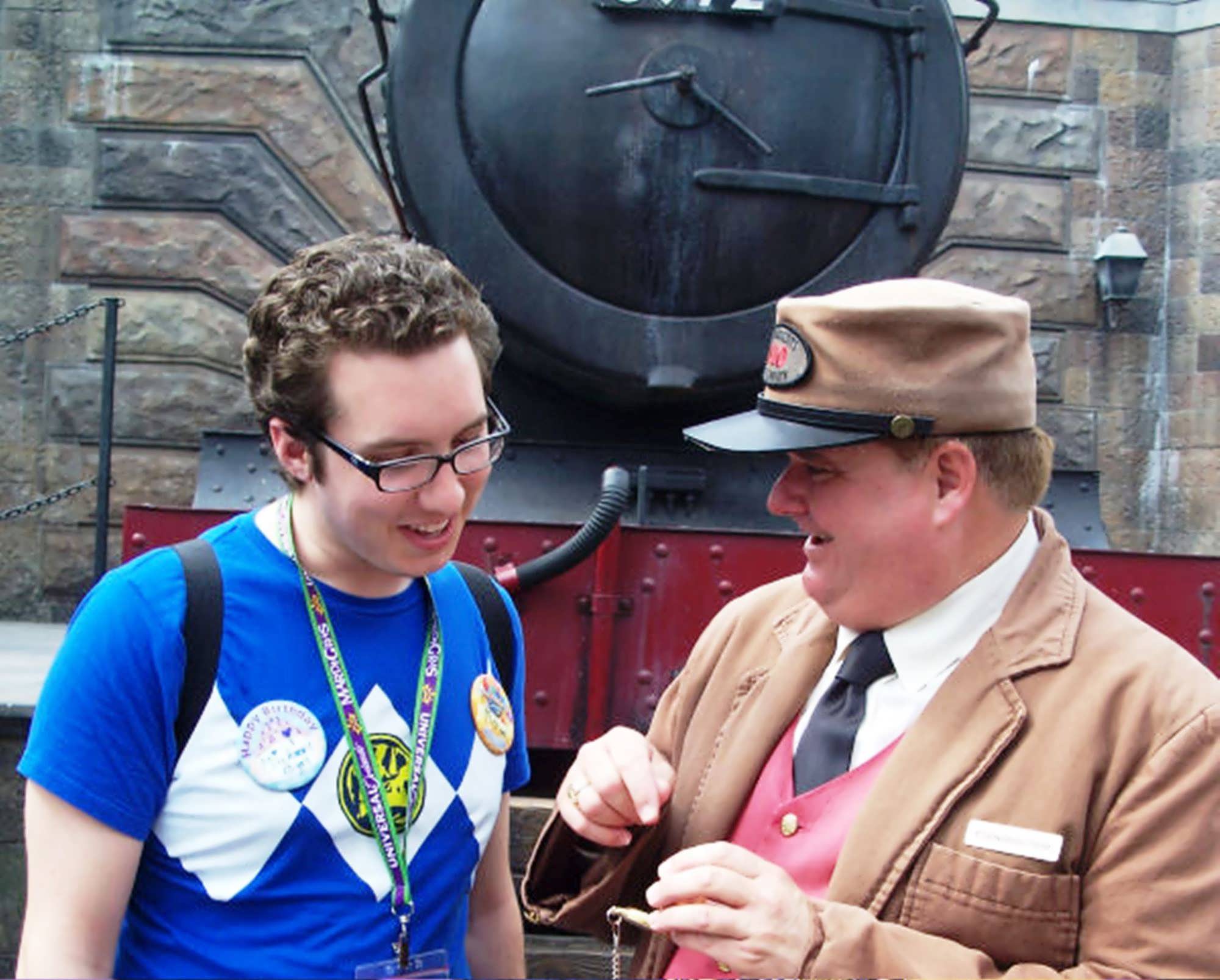 More house recognition: the team member who rang me up at Honeydukes noticed my badge, congratulated me on becoming a prefect, and told me to make sure to get back to Hogwarts early. Multiple team members have awarded me "five points to Gryffindor" because they liked what I was wearing. Also, when I was in a group of four and waiting for the front row of the Hungarian Horntail coaster at Dragon Challenge, the team member deemed me and my friends the new Marauders, which we tried to live up to for the rest of the day.
My favorite example of house recognition involves a team member that we'll call Dave. My friend Lea and I, both Gryffindors, were on our way to ride Forbidden Journey and, of course, we were wearing our house colors. Just as we were walking through the warthogs at the castle gates, the team member stationed there held out his arms. We noticed he was wearing a red and gold tie.
"Gryffindors!" he called, grinning. "When you get to the Slytherin girl up there at the door, tell her, 'Go, Gryffindor!' and that Dave sent you!"
He grinned at us again and started waving at other people without telling them what he had told us. We walked on and did what he told us. The Slytherin team member laughed and told us that once we put our bags in our lockers, we should stay to our right and say the same thing to the next Slytherin that would be waiting for us. We did so, and that Slytherin team member stepped aside and said "Up the stairs, Gryffindors!"
We had only ever gone to our left at this point, past the Mirror or Erised and through the greenhouse, so we happily skipped up the stairs. We were alone in an entirely different portrait room, containing new portraits of the house founders and many other portraits we hadn't seen before. We stood in awe for a moment, and when we moved on, we realized we'd been pushed ahead in the line! We let each subsequent cast member know that Dave sent us, and the hour-and-a-half wait we had been dreading was cut down significantly.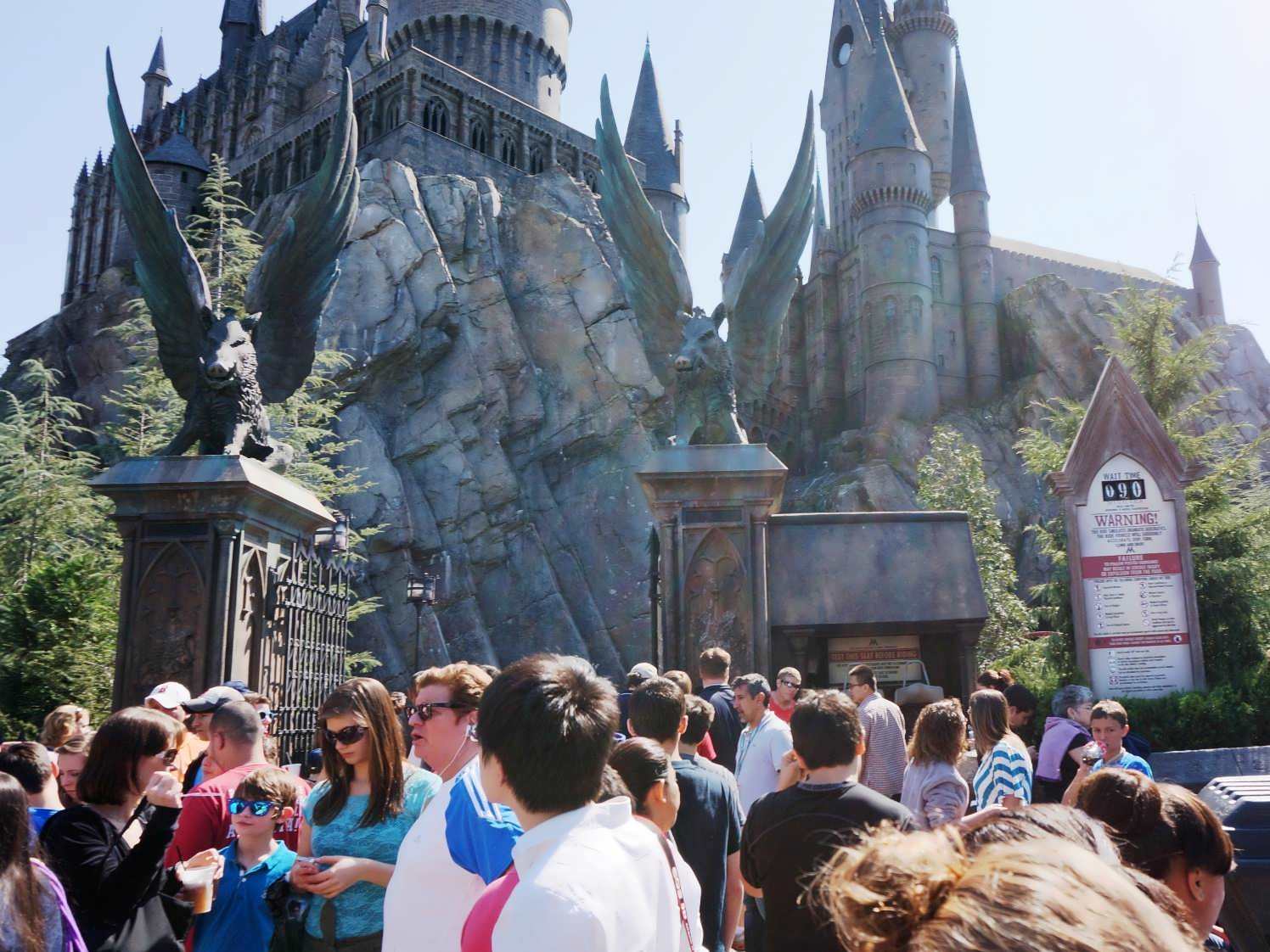 I don't know where else this trick works, or how many others take part in it, but Lea and I will always be grateful to Dave for letting us see a bit of the castle we hadn't seen before, and for making us feel that special camaraderie between you and other members of your house that the Potter books made famous. This sort of interaction truly makes you feel like you're part of Harry's world.
Now I'll always wonder if I'd end up in the dungeons if a Slytherin cast member told me to go a certain way!
How do you display your house pride in the Wizarding Word – and how has it paid off for you? Tell the world in the comments below.
Planning a vacation to Orlando?
Want to skip all the work and just price out a vacation to Universal Orlando? We'll find the best deals for you – for free (seriously.) Learn more, or check out some of the current deals: