We may have known that Super Nintendo World was going to have two rides, but that secondary experience was always overshadowed by its bigger, flashier sibling, partially thanks to Mario Kart: Koopa's Challenge's promised revolutionary nature and partially thanks to Yoshi's Adventure's status as the tamer, quieter family attraction. But, yet, this more kid-focused ride always maintained a certain level of interest, fueled by the fact that at least part of its track wound outside of its show building (allowing for some beautiful views of the Mushroom Kingdom) and also because, simply, Universal never seemed to talk about it that much.
Well, recently, we got to learn all that we could ever hope to.
The inaugural version of the theme-park land, located at Universal Studios Japan, entered technical rehearsals back on December 20, 2020, which gave us the chance to hop on the mysterious Yoshi's Adventure for ourselves. And while it is, indeed, that smaller, more laid-back experience that we assumed it was, we can also now say that it is filled to bursting with a certain amount of charm and character – not unlike a classic Nintendo game, come to think of it.
Here's everything to know about Super Nintendo World's smaller, gentler ride, from its queue and story to its outdoor portions and multi-colored egg buttons.
(But before we list everything out for you, you may also want to know that we have a similar in-depth piece about Mario Kart: Koopa's Challenge and the third of the main attractions, Bowser, Jr. Shadow Showdown.)
Yoshi's Adventure: The queue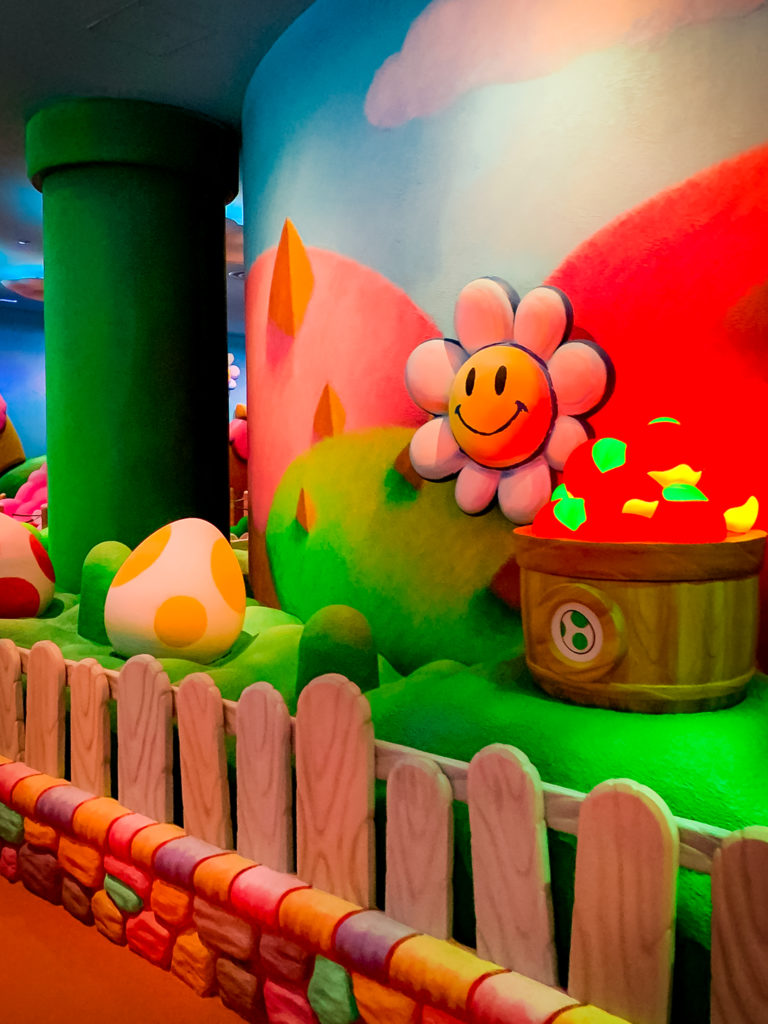 In many ways, the queue of Yoshi's Adventure sets the stage for the ride experience that follows: it is a simple, straightforward affair, with its rather basic nature wrapped in a quaint, engaging veneer.
Instead of following the newer, more detailed approach to queues that has been employed by such attractions as Harry Potter and the Escape from Gringotts or, to a lesser extent, Mario Kart: Koopa's Challenge, Yoshi follows the old-fashioned model, having guests line up in switchbacks across a couple of different (but similar) rooms. But this approach is no less immersive than its brethren – as you wait, you'll make your way past the rolling hills, fluffy clouds, and cartoony trees that come straight out of the videogame series that started with Yoshi's Island all the way back in 1995. And just like those games, everything has something of a hand-drawn, 2½D feel, which is very obviously meant to be the star of the show here, as opposed to expansive spaces filled with grandiose touches. (The whole thing actually reminded us a bit of The Cat in the Hat back here in Universal Orlando Resort, if we're being honest, although there are, obviously, some rather big differences between it and Yoshi's Adventure.)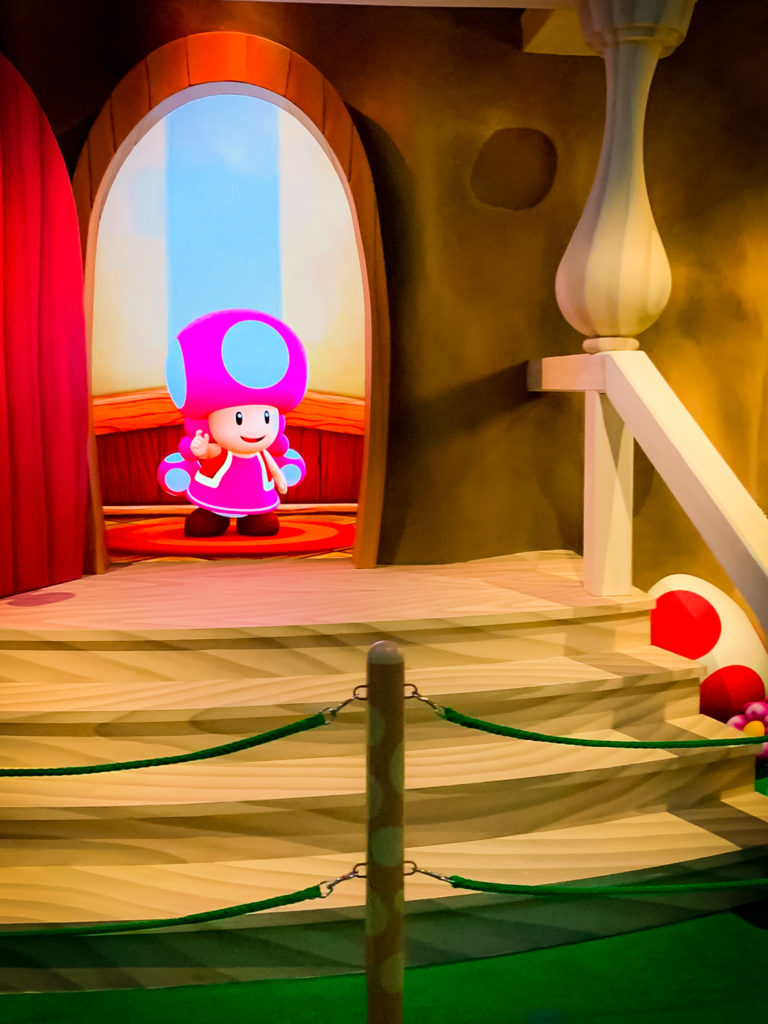 And there are still a few key details to be noticed and appreciated in the impressionistic queue, ranging from the clouds that double as the rooms' lights to the lit berries that hang in the trees to the various objects that hail directly from the source material, such as the iconic Super Mario flowers or the Winged Clouds or – of course – the Yoshi eggs. Additionally, there is a Yoshi Block that will earn you a virtual character stamp or two for your collection in the Universal Studios Japan app (if you have purchased – and equipped – a Power Up Band, that is), and you'll pass by Toadette's house in the woods, with the character appearing in her doorway and explaining the journey that you're about to embark upon.
Yoshi's Adventure: The ride experience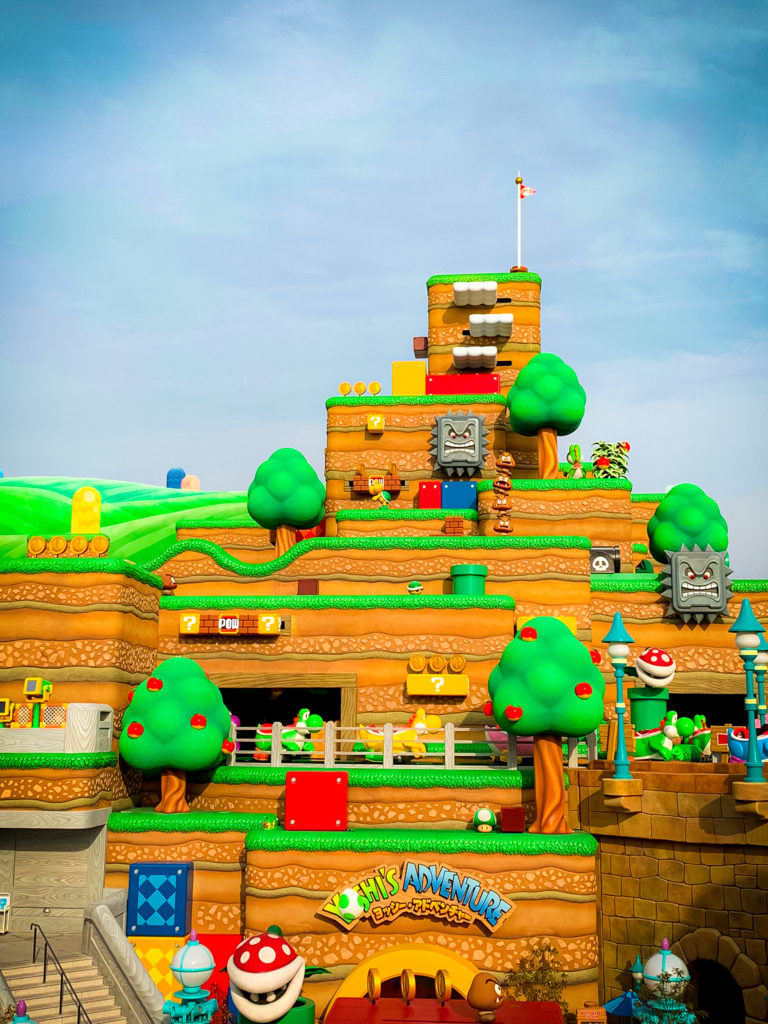 Yoshi's Adventure is a lot like a traditional Disney dark ride, with Omnimover-esque vehicles that take passengers through a slow-paced, relaxing experience. (Or, to put it in more traditionally Universal terms, the attraction feels a bit like the vintage E.T. Adventure back at Universal Studios Florida – just minus all of the alien weirdness, naturally).
The ostensible reason for climbing on the back of your very own Yoshi is to find Captain Toad, who had originally invited you on a type of Mushroom Kingdom safari to help him track down the Golden Egg but who has since gone missing (his treasure map can actually be spotted back in the queue, replete with a giant X to mark the spot). In actuality, however, this somewhat threadbare backstory is simply an excuse to leisurely take in a few different classic environments from the various Mario and Yoshi titles, experiencing them up-close and personal for the very first time (as opposed to doing so digitally on a screen). The biggest of these environs is the Mushroom Kingdom – which is to say, Super Nintendo World itself, as a goodly portion of the attraction actually takes place outside, crossing to and fro throughout the land. When this particular part was originally revealed in concept art a few years ago, one wouldn't be blamed if the immediate conclusion he jumped to was the outdoor sections providing some sense of movement or dynamism to the theme-park area (something which Walt Disney himself was fond of doing with his baby, Disneyland) – but when on Yoshi's Adventure, one instantly appreciates the views that the elevated track provides for the ride experience itself. It's actually a rather clever move, rendering the complete land into an elaborate backdrop for just one experience – a script which gets flipped, of course, once you set foot back on the ground and are engrossed in tackling the interactive activities or running to Kinopio's Café.
Along with the familiar sights also come a few familiar faces – as you progress through the Super Mario vistas, you'll encounter Mario, Peach, and Yoshi all in baby form, along with Magikoopas, Pokeys, Shy Guys, and a few others that we'll leave as pleasant surprises. These audio-animatronic figures are simple but colorful, telling little vignettes that once again seem to hail from the yesteryear of theme-park design. Along the way, you'll also get the chance to slip through another warp pipe (which has another, complementary light effect to the introductory one that doubles as Nintendo World's entrance), checking off yet another classic item on your videogame list.
Hidden amongst the friendly scenes are three different-colored eggs, which correspond with three different buttons on your ride vehicle. If you manage to press all three in time, you will be rewarded with yet another digital stamp – a small level of interactivity, yes, but also one needed to help flesh out the ride experience, even if it's just a little bit more. Ultimately, however, the reason for Yoshi's Adventure's existence is to get the younger members of your family off their feet for a bit and to have the whole family join them in smiling, and this will be accomplished whether or not you take a Power Up Band along for the ride.
---
Will you climb aboard Yoshi's back for this pleasant journey through the Mushroom Kingdom when it arrives here in America? Share your thoughts with 110,000+ other die-hard Universal fanatics in our Orlando Informer Community on Facebook.
And be sure to follow Orlando Informer on Facebook, Twitter, and Instagram for the latest news, tips, and rumors at Universal Orlando, Walt Disney World, and other Orlando attractions.
(Photo credit to @Bee_my_honeyyy.)