One of the greatest strengths – not to mention draws – of Halloween Horror Nights each and every year is how Universal manages to build in a great deal of versatility into its haunted-house roster; last year's event, for example, featured the likes of extra-dimensional monsters, carnies, witches, ghosts, masked killers, werewolves, and zombies. It's hard to get bored or desensitized to one particular type of scare with that kind of eclecticness.
Fortunately for us all, it seems that the company is keeping this tradition alive and well for Horror Nights 2019, as Yeti: Terror of the Yukon is the fifth house announced for this year. Indeed, it's hard to get more varied than setting an entire haunt in the Yukon, bringing blizzards to bear on sweaty Orlando tourists (a fact which is only underscored by how rarely Universal has done an artic maze over the past 28 years).
Yeti is inspired by a house from last year: Slaughter Sinema was a compilation of fictitious '80s B-flicks, each more ridiculous than the last, which was capped off by the perfectly-titled Attack of the Swamp Yeti. True to its name, this section of the haunt had guests make their way through a swamp in which yetis jump out to snatch up their would-be visitors; it's hard to capture the tone or feel any better than the fake movie's fake tagline: "It's open season on these campers." (The premise apparently had four young friends go camping in the woods one night, which results first in the story of the Swamp Yeti being told around the fire and then the creature itself making an appearance to scarf them all down.)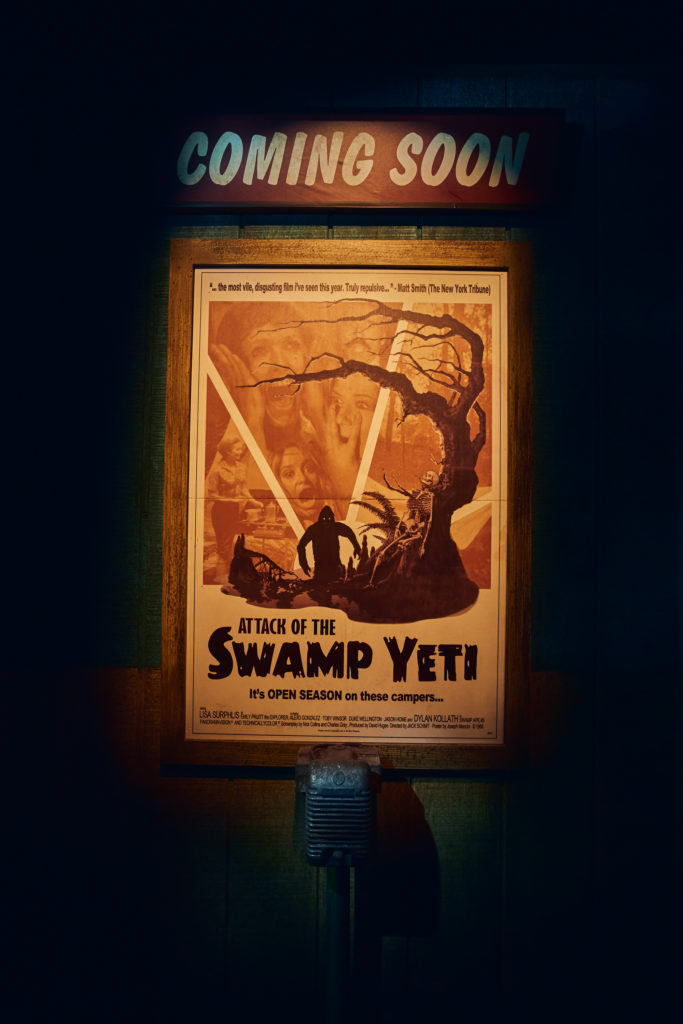 Needless to say, the Swamp Yeti became an instant hit with the HHN fanbase (having the final curtain scare certainly didn't hurt in this regard, nor did the equally amazing/ridiculous costumes), and his sudden fame was enough to tilt Universal in the Terror of the Yukon territory for this year.
But don't expect the Yukon Yeti to have the same cheesy tone – at all. As Universal itself puts it:
But beware, because this experience will trade B-movie scares for bloodthirsty terror that will send you running in the opposite direction. The snows will be red with blood in the Yeti: Terror of the Yukon haunted house.
The story has guests following a trail of blood that leads through remote Canadian tundra, past a loggers' and trappers' camp that's been torn apart – all while an arctic blizzard bears down upon the area. The path leads to a labyrinth of caves, which seem to be the ancestral home of the titular yetis, replete with the echoing sounds of the creatures' human prey and floors that are "caked with snow, bones, and gore."
(Here's a fun fact to help tide you over until you can be chased by the mythological beasts yourself this fall: Mount Logan, located in Yukon, is not only Canada's tallest mountain, it's also the namesake of Marvel Comics's Wolverine, whose real name is Logan.)
Yeti: Terror of the Yukon will join Stranger Things, Nightingales: Blood Pit, Universal Monsters, and Depths of Fear at Universal Orlando's Halloween Horror Nights, which runs for a record-breaking 41 select nights, from Friday, September 6 to Saturday, November 2.
–
Find out everything you ever wanted to know about HHN – plus more! – in our insider's guide. And then discuss it all with 60,000 other Halloween die-hard fans in our OI Community Facebook group.
And be sure to follow Orlando Informer on Facebook, Twitter, and Instagram for the latest news and tips at Universal Orlando, Walt Disney World, and other Orlando experiences.