In case you missed the big news from last week – seriously, it's one of the most popular stories we've ever run in Orlando Informer's entire six-year history – Christmas is coming to The Wizarding World of Harry Potter this year. The festivities will start on November 18 and will consist of exclusive décor, seasonal food and live entertainment offerings, and a "state of the art" projection-mapping show revolving around Hogwarts Castle.
That's a lot – enough to make anyone's Christmas extra special – but, being the selfish fanboys (and -girls) that we are, we want more. And, as it turns out, there's a lot more that Universal can do to infuse a little extra cheer into Harry's wondrous world, to make the most magical time of the year even more magical and immersive.
We actually have three wishes that are more or less practical, tangible steps that the company actually could take for this upcoming holiday season – that is, items that don't require, say, new show buildings to be constructed or entire new technologies to be invented or installed. We've ranked them from most to least likely, and we'd like to hear which you'd most like to see either in the comments below or over in our Facebook group. (Even better: tell us your own personal wish list!)
1. A Yuletide Hogwarts Express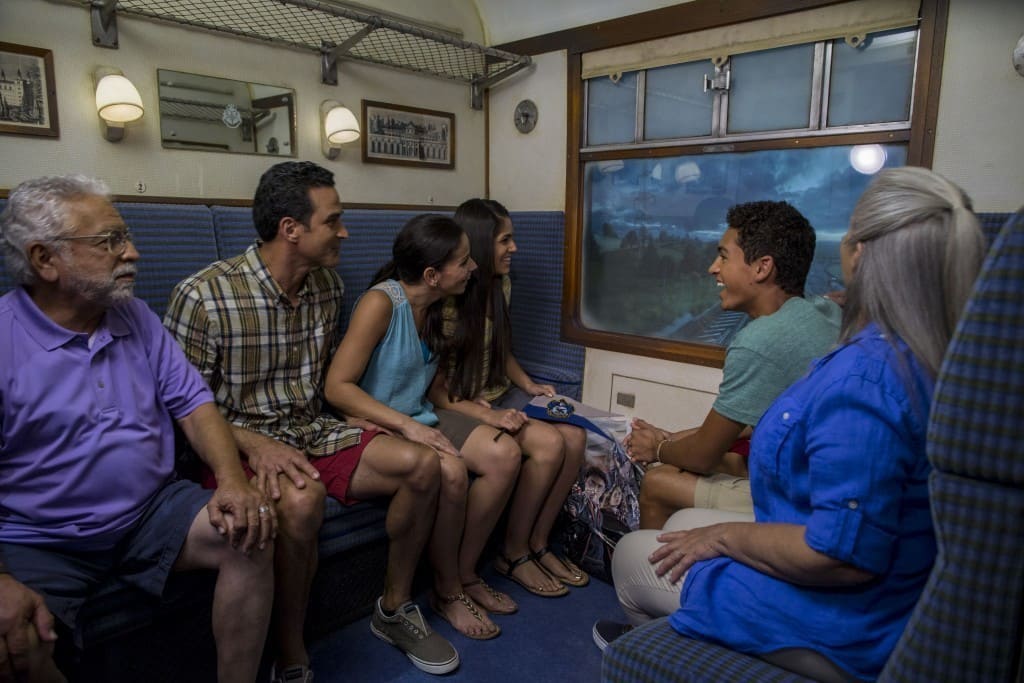 Universal promises that festive offerings will be available at both Hogsmeade at Islands of Adventure and Diagon Alley at Universal Studios Florida. While that's terrific – and exactly as it should be – that does present one particular problem: while hopping on the Hogwarts Express to journey from one land to the next, you're going to be taken out of the Christmas experience.
While this isn't the end of the (wizarding) world, it could still be easily remedied. We want to see the decorations that we already know will be coming to the train stations extend to the Express herself – a giant bow on the front of the locomotive, garland running down the hallways, and, even, mistletoe in the cabins (hello, stranger!).
This is just the bare minimum, however; to get even more festive, why not install caroling groups of Hogwarts students on the train platforms to serenade guests as they await their ride? (Since the Frog Choir will be doing a special Christmas show, we feel this isn't that much of a stretch at all.) Even better – though probably far outside the realm of feasibility – have a special ride video be installed in which, say, the Weasley twins brandish Santa hats or their fireworks display reads "Merry Christmas!" This would ordinarily be too much to ask out of just a month-and-a-half event, but given that this will be ongoing for the next several years, at the very least, the expenditure would more than pay for itself, and do so quickly.
2. A giant, interactive Christmas tree
As exciting as the Orlando Christmas at The Wizarding World is, it's actually not the first seasonal party that Universal has thrown in Hogsmeade – that distinction goes to Universal Studios Japan, which just last year managed to host both a Christmas and Halloween event.
What makes this interesting to note is that the Japanese wizarding Christmas looks to have served as a test bed of sorts for the (eastern) American one: the décor that Universal is so happy to talk about got its start in Osaka, and it seems that the Christmas Feast dinner (which consists of roast chicken, chipolata sausages, roasted potatoes, garden salad, and steamed vegetables) that the Japanese got to enjoy last year will be making its way stateside, as well.
That leaves one USJ element conspicuously absent: the centerpiece of the entire event, a towering Christmas tree in the center of Hogsmeade Village that just so happened to also contain a number of new interactive spell effects, such as making candles flicker to life or making its various ornaments "dance." While it might not seem like much – and while Universal might have more problems finding a suitable space for the tree in the Floridian Hogsmeade, which is more sprawling than its Asian counterpart – exclusive wand experiences would go a long way to making the event even more memorable.
3. A Yule Ball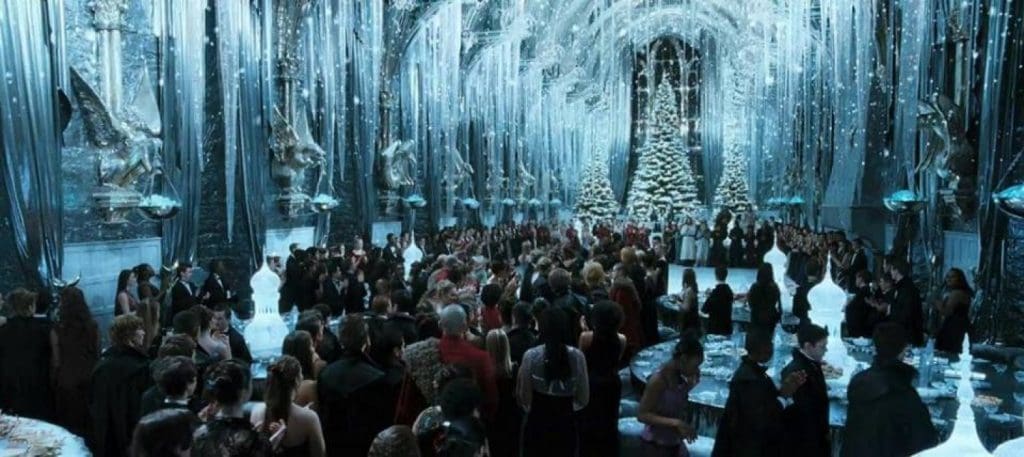 Yes, there is a certain "yeah, right" caveat involved here – it's next to impossible to see Universal pull off anything like this, at least at this point – but it's still the epitome of our holiday wishes, nonetheless.
When we first broke the story that Universal was looking into doing such a holiday bash in the form of guest surveys, one of the possibilities that was listed was a Yule Ball, just like the one depicted in Harry Potter and the Goblet of Fire, right down to attendees wearing dress robes (preferably not Ron's), dining on special food and beverages, and dancing to themed music. Of course, all of this was said to come at a cost – it would have been a separately-ticketed event, which it seems like the announced Christmas at the Wizarding World won't be. (Some permutations of this rumor even held that the event would've started at one of the five on-site hotels and would've included transportation to either Hogsmeade or Diagon Alley.)
We don't necessarily need anything that grandiose – just, say, a special night (or two) where guests are encouraged to come dressed in their finest gowns in, say, Diagon Alley's Carkitt Market or in front of Hogwarts Castle in Hogsmeade. Special music could be played, witches and wizards could dance awkwardly with one another (if desired), and drinks could be handed out by wandering waiters.
Oh, yeah – we'll we're at it, why don't we have scenes of the Yule Ball from Goblet of Fire be projected on the castle behind us, or have Celestina herself sing "Magic Works"?
All of the new holiday events will kick off on Saturday, November 18, 2017, and run through Saturday, January 6, 2018.
–
Be sure to follow Orlando Informer on Facebook, Twitter, and Instagram for the latest news, tips, and rumors at Universal Orlando, Walt Disney World, and other Orlando attractions.