It was my sister, Stefanie, who first experienced Yard House at a South Florida location of theirs, as well as one in Los Angeles. When she caught wind that they were expanding into the Central Florida market, she was supremely excited and began sharing the details with me as we awaited their grand opening.
The Yard House founders wanted to create a restaurant that would offer guests one of the largest selections of draft beers with a wildly diverse menu of American fare, while classic rock jammed from a state-of-the-art sound system. Immediately, I was hooked.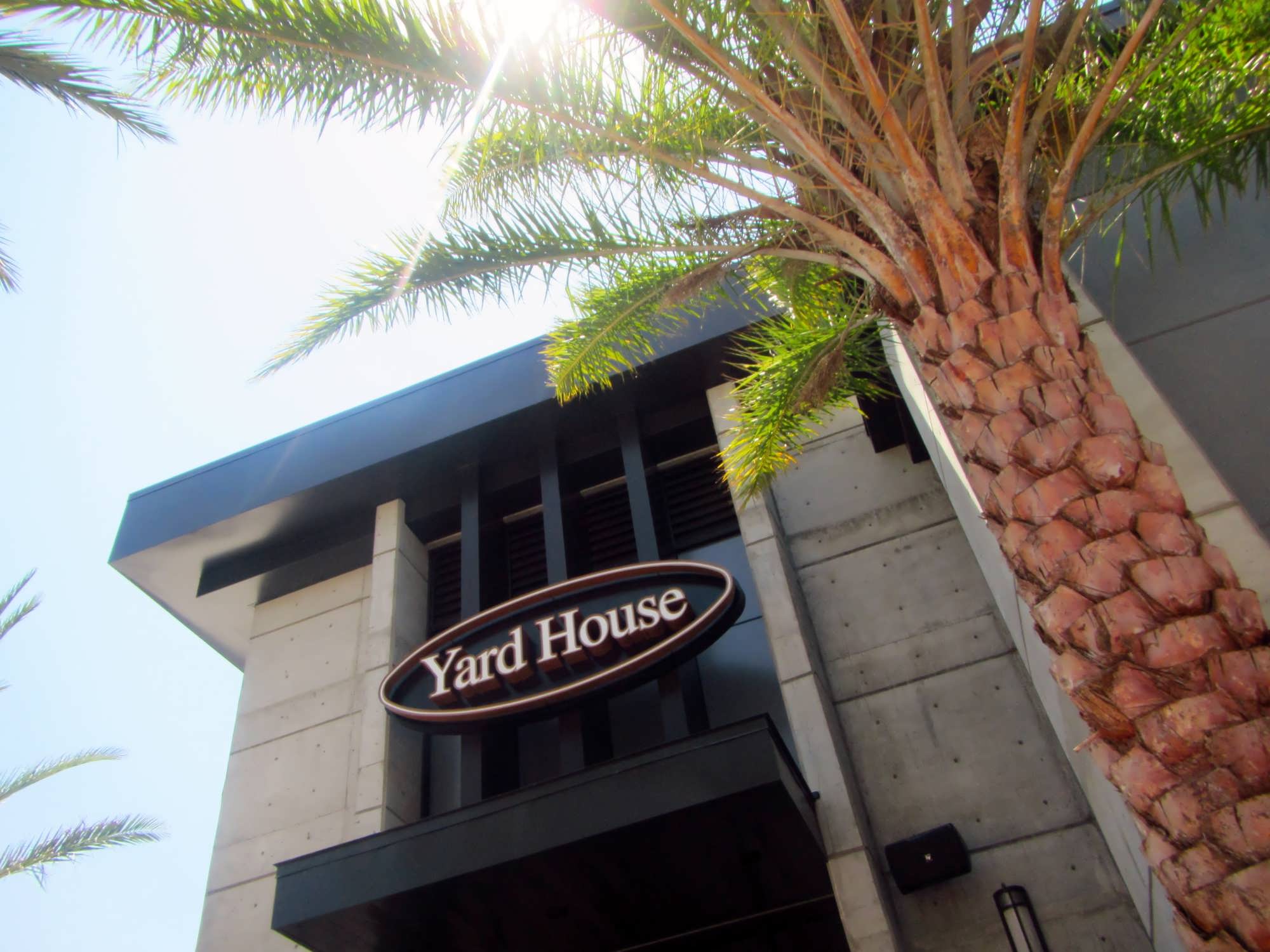 My sister and I decided to give the Orlando Yard House a try one recent afternoon for lunch. Located at I-Drive 360, lunch is served daily between 11am and 5pm.
We entered and were welcomed by two energetic and delightful hostesses who showed us to a massively-large-but-comfy booth. Our server, Ron, stopped by to introduce himself, and, although he was busy with what appeared to be a few other tables and a larger group, he was attentive and very informative. As I looked around, the staff seemed to be very happy, and the bartenders all had big smiles on their faces as they catered to those seated around the bar.
Yard House offers over 130 items, from appetizers, salads, and soups to pastas, sandwiches, burgers, pizza, and ribs. Many of these dishes are award-wining, and it's easy to see why.
With a seemingly endless number of beer choices in front of me, I asked what Ron recommended. Luckily, the beer menu is really well-organized, beginning with lighter brews and ending, three pages later, with the darker selections. I chose the House White Ale ($6.50 for a pint), which is, of course, a Craft Beer brewed by Yard House.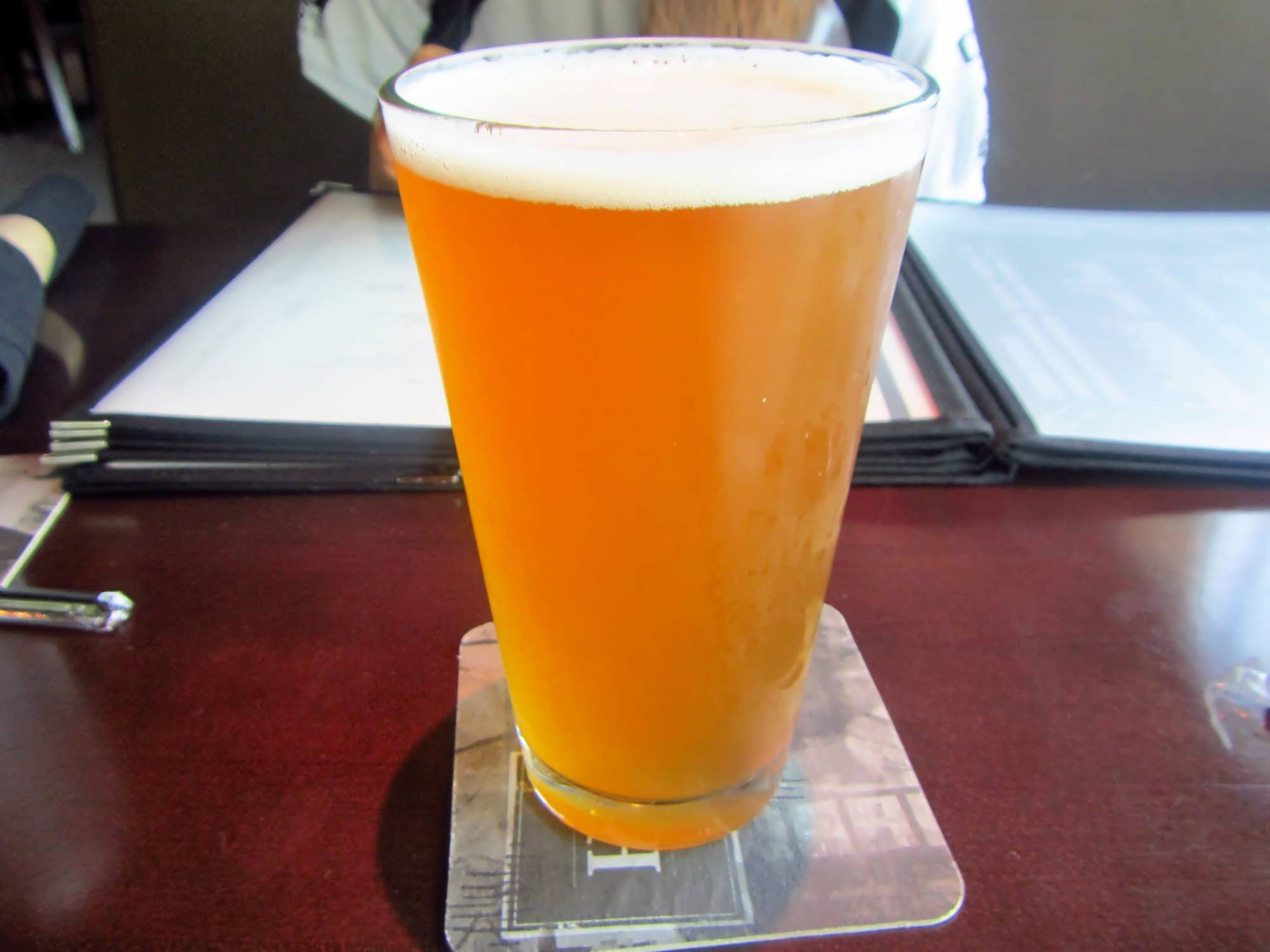 This beer was really light and tasty, and I was very happy with the choice. The draft beers can also be ordered in two other sizes – shorty (starting around $3.00) and Half Yard (starting around $10.50). These prices vary and are listed beside the different beers on tap.
It should also be noted that the beers sometimes change at Yard House, but I was really happy to see that even their website is very accommodating in searching for what every location currently offers – and it even organizes them accordingly from light to dark, showcasing their "difficulty" in drinkability as it does. I'm excited to try their infamous beer cocktails next time, which are exactly what they sound like: traditional cocktails that happen to be infused with the Yard House brews.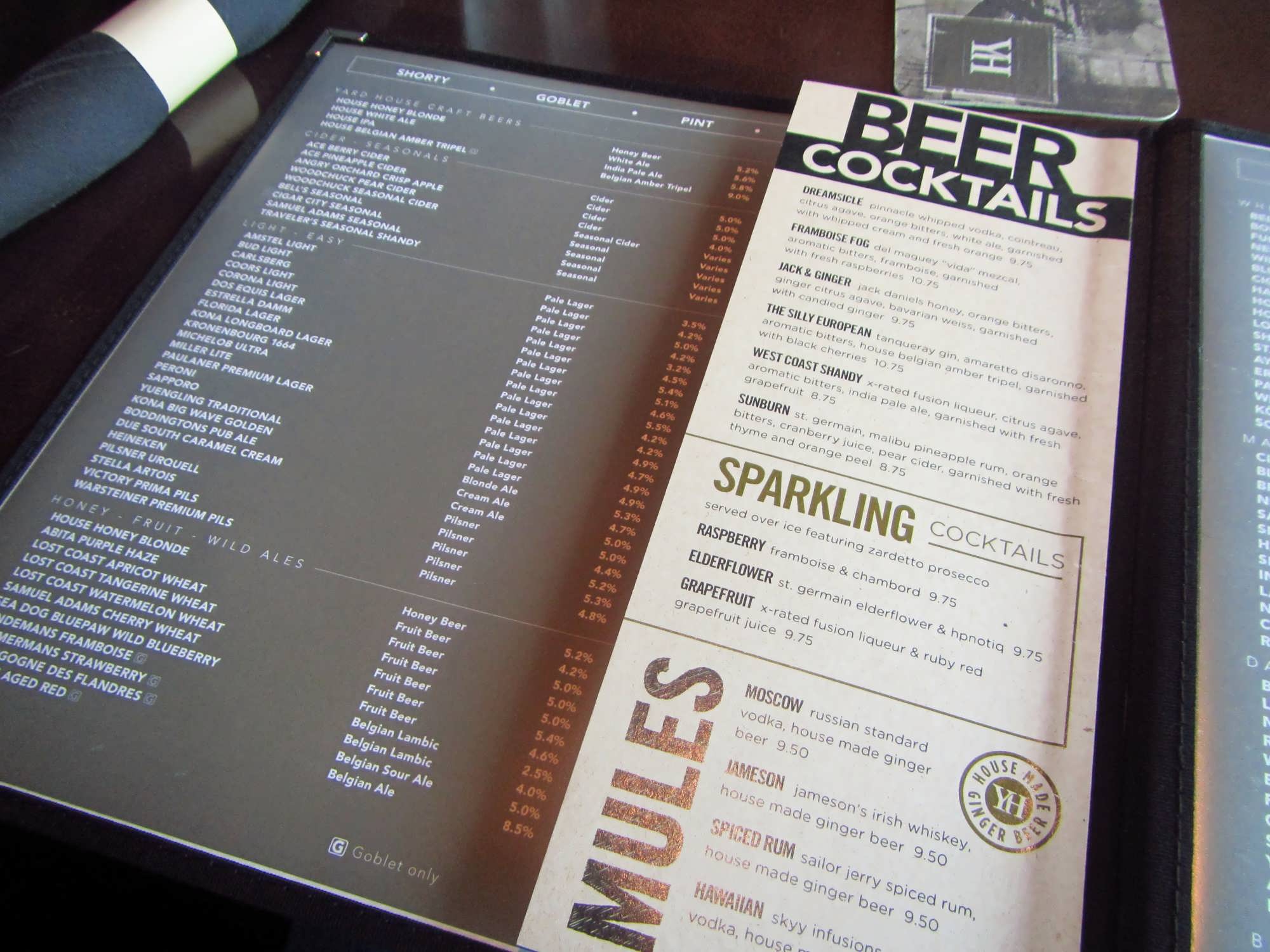 Conveniently, they also offer "My Yard House," which you can sign up for online and allows you to track your beers and rate your favorites. With as many beers as Yard House provides, this is a great resource for the locals who are interested in experiencing and tracking all they have to offer!
<script async src="//pagead2.googlesyndication.com/pagead/js/adsbygoogle.js"></script>
Our meals came very quickly and were absolutely beautiful. My sister ordered a salad-soup combo with the Citrus Soy Salad and Organic Tomato Bisque, while I ordered a salad-sandwich combo that included Mixed Field Greens and a half Roast Beef Dip sandwich.
The Roast Beef Dip sandwich was really filling, and it was a fairly large "half" – I know that if I had ordered the full sandwich for lunch, and, possibly, even dinner, I never would've finished it in one sitting! Stefanie really enjoyed her soup and salad, as well, noting that both were very flavorful and the perfect portion size for lunchtime.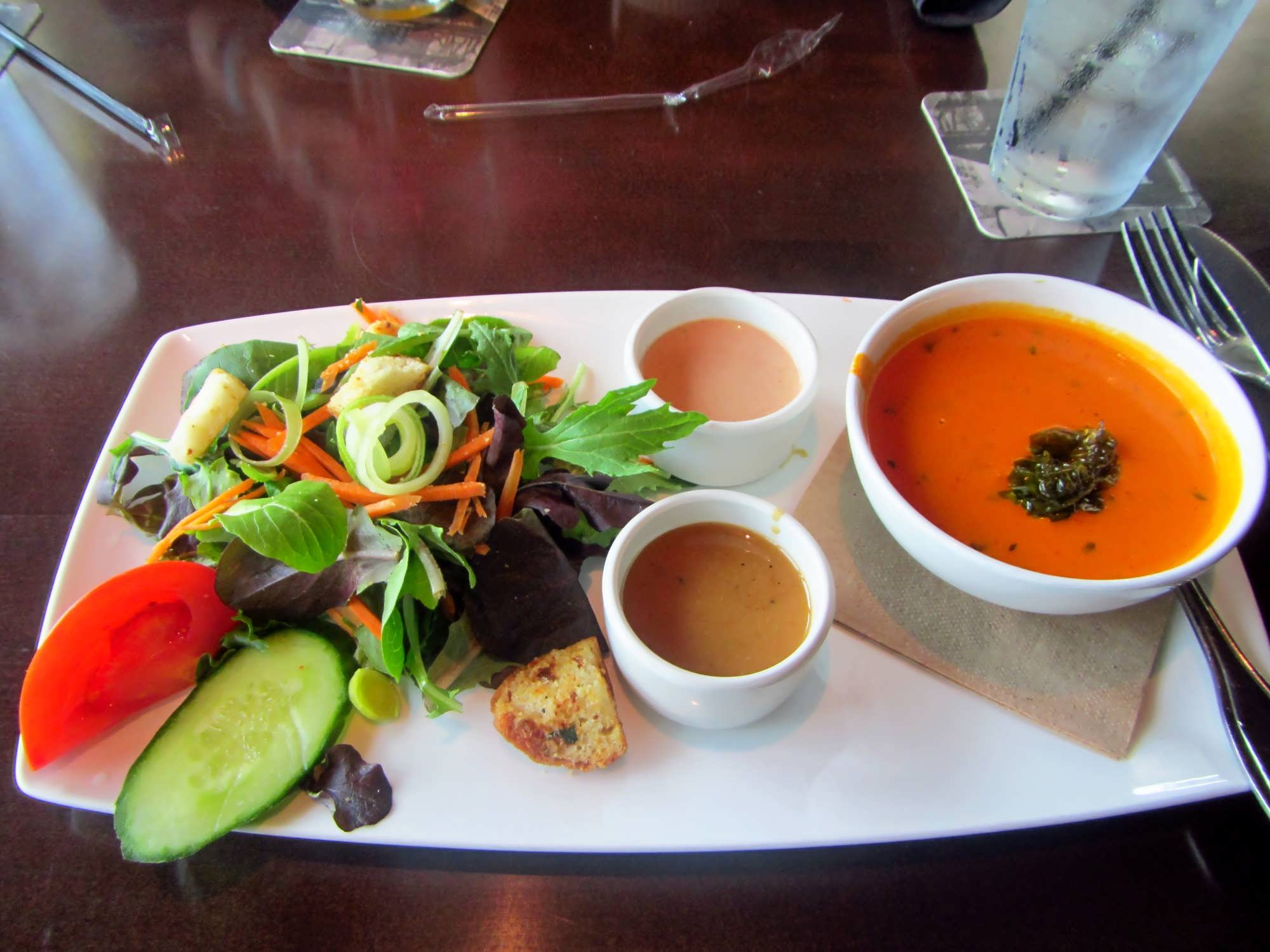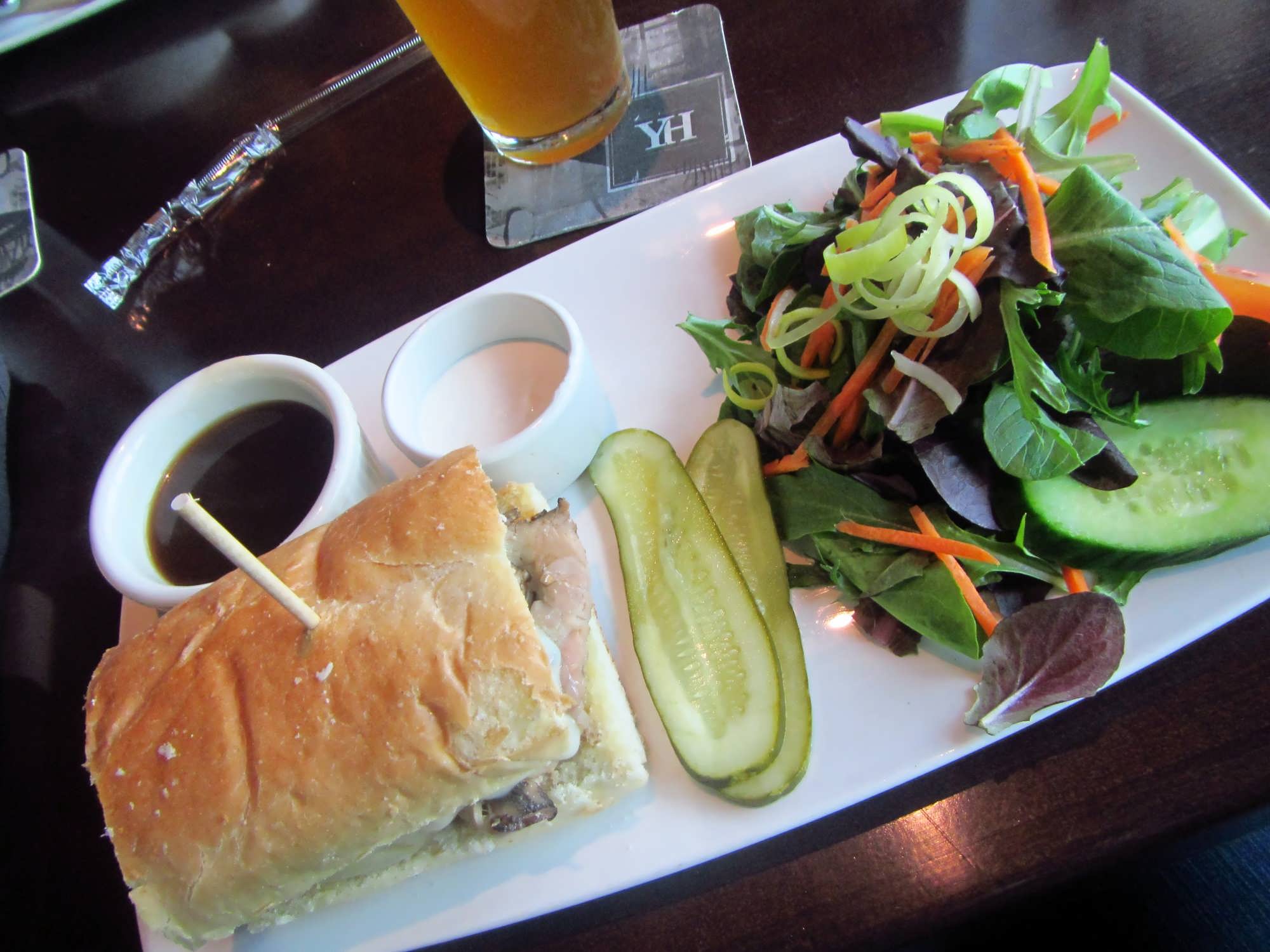 As we visited Yard House around 3pm, it was fairly quiet and a really great first visit, allowing me to take everything in. Even during lunch, you could feel the energy permeate the building, much of which centers around the island bar that was overflowing with a fleet of tap handles.
Also visible is their keg room, which houses as many as 5,000 gallons of beer at any given time. Three to five miles of individual beer lines run the course of the ceiling, which transport the beer from the keg room to the taps at a perfectly chilled temperature.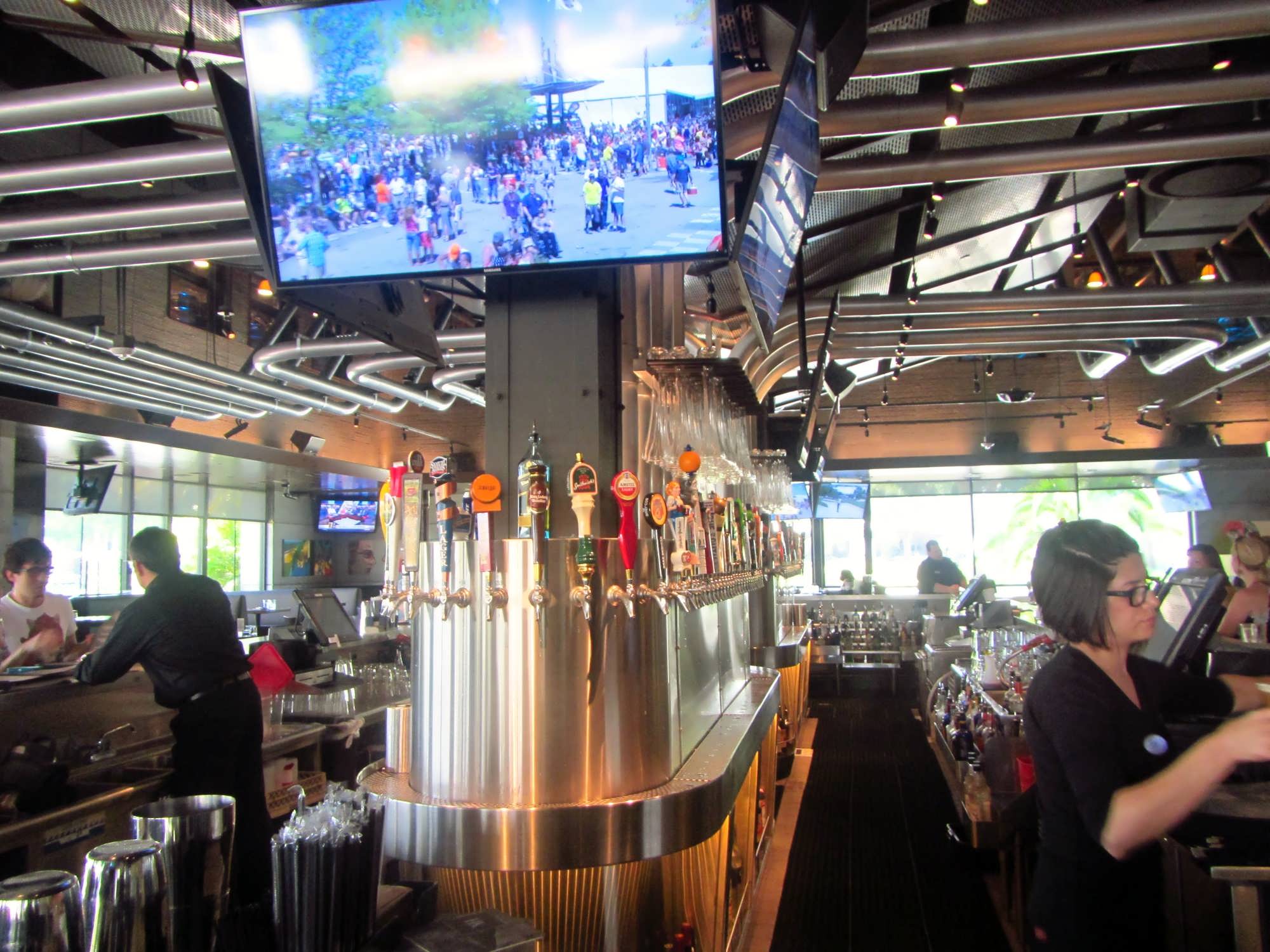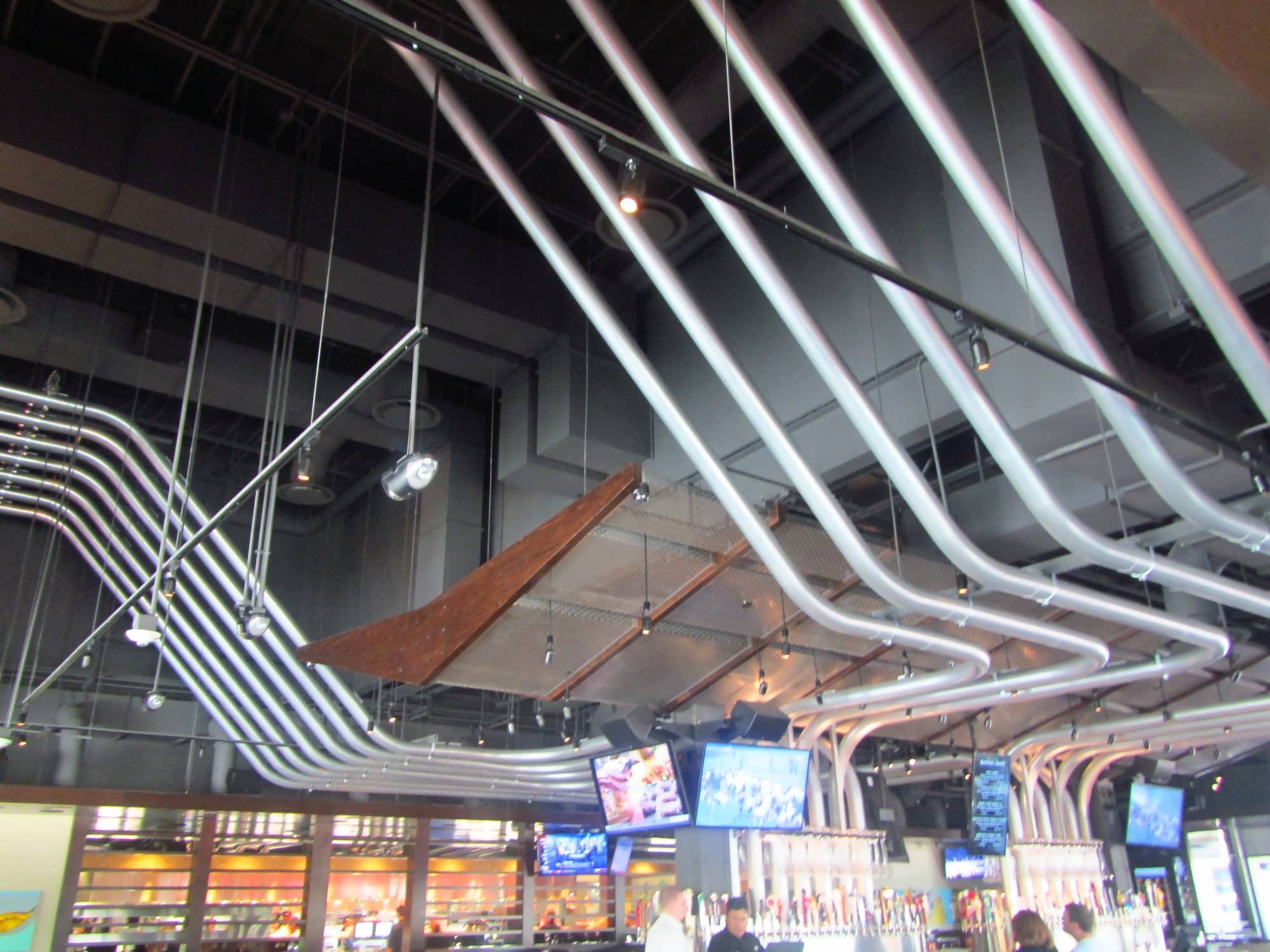 I also love that Yard House is committed to charity work and supports a program called "Round It Up, America." Happy Hours are available and can be viewed on their website. These times also include half-off on select drinks and appetizers, which I think is really great for those looking to enjoy a night out while sticking to a budget!
I'm happy to say that the anticipation of Yard House joining the I-Drive 360 family was easily worth the wait. It's a fantastic addition to the Orlando area for foodies, fans of beer, and, even, families, and I can't wait to see what the next wave of I-Drive 360 additions will have in store for us.
Will you be stopping at Yard House on your next jaunt to Orlando? Have you already been there? Tell us all about it below.
And be sure to check out these other attractions at I-Drive while you're in the area:
Planning a vacation to Orlando?
Want to skip all the work and just price out a vacation to Universal Orlando? We'll find the best deals for you – for free (seriously.) Learn more, or check out some of the current deals: